They were married 11 Mar 1925 in Black Hawk County, Iowa, USA. The had no children.
"Mary and Herm, as he was known, were married in 1925, two years after the death of her first husband, Geo. Stewart, and lived a few miles north of Dysart on his well-kept farm with a two-story house. It had plumbing and central heating but she preferred to cook on an old-fashioned range. The living and dining rooms were separated by bookcases and colonnades on either side of the open doorway where they displayed an unusual set of Gouda candlesticks that had been a wedding gift. The dining room had a hand-painted border of fruit stencils, china cabinet and large round dining table with plenty of room for company. The living room was furnished with a comfortable sofa and large oaken rockers upholstered in leather. There was a large porch on the southwest side which opened to the dining room. However, everyone used the kitchen door as is often the case with farm homes.
They took a western trip through the Black Hills, SD, Yellowstone,WY, Yosemite, CA, Petrified Forest, AZ etc. It was quite a trip at that time, probably in an auto similar to a Model T or a touring car of some kind. Many of the roads were not paved and there were not as many places to stay. A few mementos of that trip have been handed down such as an ostrich egg and a piece of petrified wood. The candlesticks and their coffee grinder are also still in the family.
They entertained close family, friends and neighbors frequently. The table was set with her Haviland china. They normally served a tasty beef roast, potatoes, home-grown vegetables, homemade sliced pickled beets, kosher dill pickles, Jello salads,etc. Her sour cream apple pie for dessert was traditional. It was baked to perfection and sort of transparent and caramelized. They played cards,( 500 Rummy , Pepper and Yahtzee, in the afternoons and evenings, followed by more refreshments. Dad's Root Beer was generally offered. Company was always welcome. \
They attended many movies at the local theaters, especially after the Avon Theatre opened in Dysart, and often shopped in Waterloo. Herm bought a white Plymouth coupe in the 1940's which he drove until he was nearly 90. When it was necessary for him to give up driving, his nephew's wife became his chauffeur.
Soon after Robert Reed, his nephew by marriage, bought one of the first TVs in 1953, a new tower was put up for the Cedar Rapids station, WMT. It was in operation before that year's World Series games and he visited them to see every game. His favorite expression was "Aye God!" and "Aye God" he went out and bought a TV set because the reception was so improved. He also modernized their home with a window air conditioner and well-designed sofa bed for the necessary care-givers so someone could always be at Mary's side during her last illness.
Mary was generous to her nieces, nephews and their families and she fussed over each and every one.. Many can still recall her visits when she would bring holiday candy, fruit and gifts for weddings, newborns, etc. The family was also well- remembered in her will.
Both were loved and respected in their community."
Notes for George Herman Milne:
1910 census, with parents, Andrew and Isabella Milne.
1920 census, Monroe, Benton, Iowa: Milne, George H. head 44 S IA SCOT IRE farmer; Fillgraf, Henry boarder 39 M immigrated 1881 Na GER GER GER farm laborer; Anna boarder 27 M GER GER GER; Grim, Floyd hired man 19 S IA IA IL farm laborer.
1925 IA census: Milne, Herman 49 is still single.
1930 census, Monroe, Benton, IA: Milne, G.H. (indexed as G.M.) head 55 M when 50 IA SCOT IRE Free State farmer; Mary wife 54 M when 25? IL OH IL.
1938 Atlas of Benton Co., IA, landowners: MONROE 85N 12W 6 G.H. Milne 200; MONROE 85N 12W 4 John F. & Geo. H. Milne 159
Benton Co., IA Death Records, Vinton, IA: vol 6, p. 145; d. 27 Aug. 1964, b. 23 Jan 1875, of coronary occlusion, bur. in Dysart Cem., Dysart, IA.;
Notes for Mary Christina Reed:
She was very slender with brown eyes and wore her slightly wavy hair in a tailored short cut.
Mary owned two houses in Dysart from her first marriage and worked in the hotel dining room in Dysart after her first husband's death.
Photographs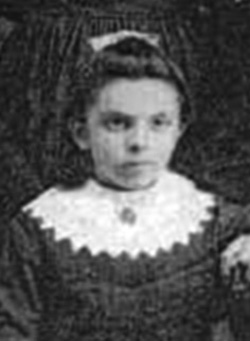 Left To Right: 1) "Aug. 21, 1949 Chas & Isabella Vaubel's 61st anniversery in Graer with Uncle Herm & Aunt Susannah", inscription by Mary Vaubel; 2) Mary Christina Reed, detail from a family portrait on line http://familytreemaker.genealogy.com/users/r/e/e/Ruby-B-Reed/PHOTO/0005photo.html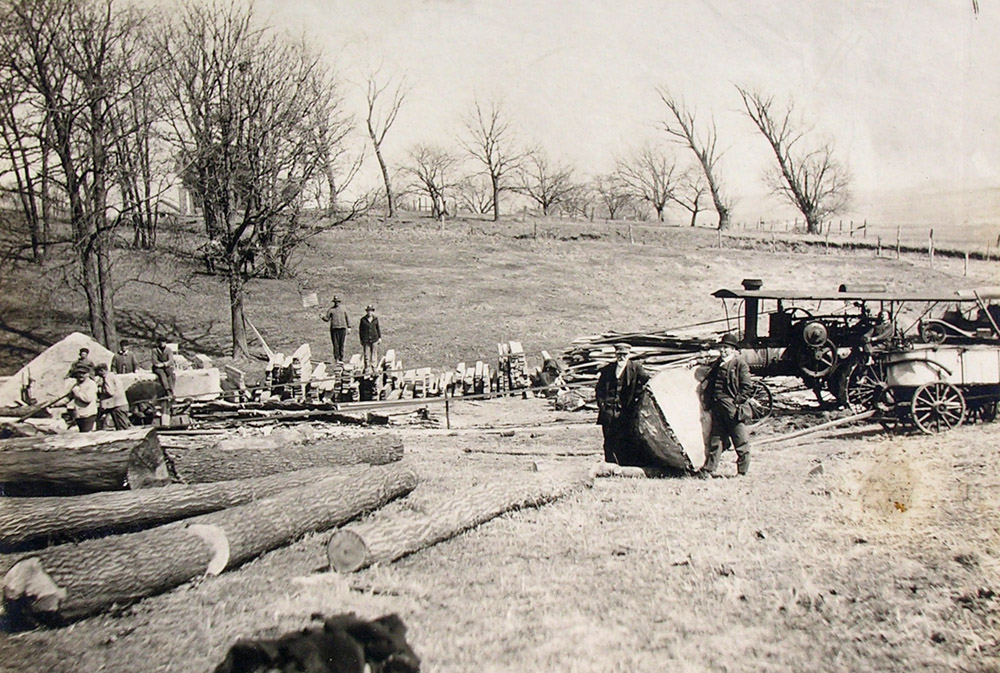 Inscription on the back, probably by Lyle or Mary Vaubel:
'North of Herman's home [Herm Vaubel]. Herman in center of picture, left, wearing sweater, holding Amer. flag. Otto Schmidt at Herman's side - to the right in picture. Mr. Waller (Cora Waller Barber's father) with white beard. John Ackerman beside Waller, with tree trunk (split) between John Christian, hands clasped around knee, at engine at right. Walt Degner's father at left + front.'
From a large group of photographs from Mary and Lyle Vaubel.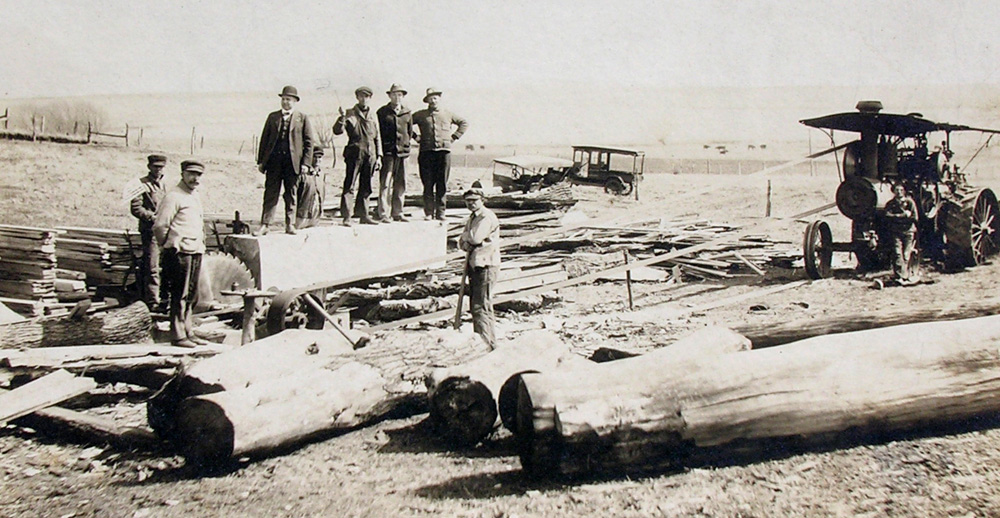 Inscription on back:
'Taken north of Herman Milne's house - Return photo to Lyle Vaubel. Standing up on block of wood: Herman Milne on right, wearing sweater. Otto Schmidt next to Herman Milne. John Ackerman with homberg hat, white shirt. John Christian at right against engine. Near saw, at left of photo: Otto Schmidt's father with sweater on - 2nd from left. Walt Degner's father - leaning on axe - (center of photo). Man at left and the one next to Otto S. - have American flags. This was probably taken during World War I (Patriots).'
From a large group of photographs from Mary and Lyle Vaubel.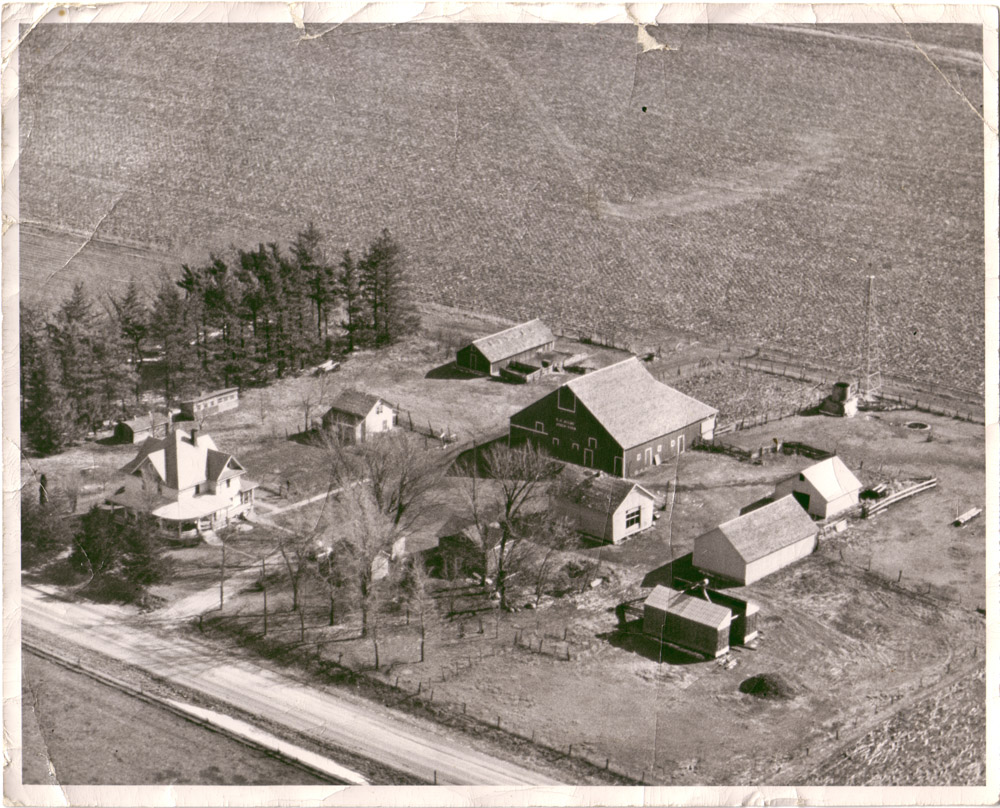 This is recognizable from the large house (left) Herm Milne remodeled to have a wrap-around porch in 1916. Above and to the right is probably the original Andrew Milne farm house. Herm lived there while renovating the large house. After Herm died, Dorothy and Dean Vaubel bought it and lived there. After Dorothy died, Dean allowed a woman to live there and it became the infamous "cat house" when she let farm cats roam the place. In the attic was a box of diaries, papers, etc from Andrew Milne which the the cursed estate lawyer for Dean, contrary to my instructions, threw away. The moral of the story is that if you are wandering through a deceased person's house and see something of historical value, take it then and sort out who gets it later. If you are scrupulous like I was, then the treasure gets thrown away.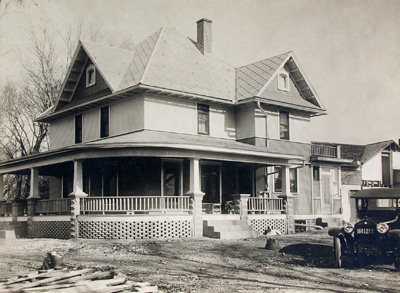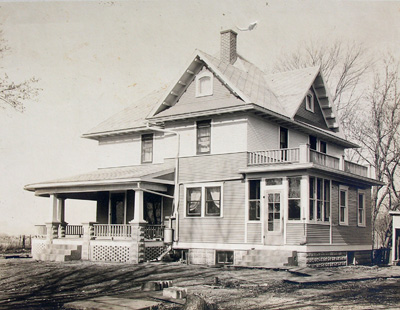 Inscription by Mary Vaubel:
'1. Uncle Herman Milne's new home 1917.
2. He first built on to the old house in the rear [Andrew Milne's house]
3. Then he later added onto the front with the porch over the next years.
4. Now it belongs to Dean + Dorothy Vaubel!!! Dorothy knows how to improve in little ways to make it convenient without changing its character or style.
5. Many more happy days for you two to enjoy your coast into 1990 + many more. Lyle says I should not have scribbled on it like this. Now he won't take it over to you give for Dean's birthday after all.
Shame on me! Always scribbling!
[But a huge thank you, Mary, from us who came after, for scribbling - otherwise, we wouldn't know who most of these people are].

Return to Index