Anna Mabel (Shafer) Vaubel Extended Family Photographs, Benton County, Iowa, USA
The northern portion of Monroe Township, Benton County, Iowa was settled by persons of varying origin. Some were descendents of early German settlers of upstate New York (Elmer Shafer's father) or from New England Puritan stock from the 1630's (Elmer Shafer's mother). Others were born in Germany and recently arrived (Charles Vaubel from Reichensachsen [see THIS LINK for records of Reichensachsen). Still others had emigrated from Ireland or Scotland or England during the potato blight (Jane and Sarah Stringer, Andrew Milne, William Boyd, Anthony Rampton). They intermarried and thrived at a time when photography was novel, taking and preserving images of themselves and their lives. These web pages attempt to present those photos and relate the persons in them to each other and their surroundings. In the above map of Benton County (from Atlas of Benton County Iowa, Anderson Pub. Co., Mason City, IA, 1917), persons found in these pages are highlighted in red, and linked in the descendency charts below to further information and photographs.
The photographs themselves were passed through the family to relatives who had stayed in the area to farm, and eventually into the hands of Dean E. Vaubel. Many of the photographs had apparently been collected by Mary (Gordon) and Lyle Vaubel (Dean's uncle), as indicated by comments on the back, and we are indebted to Mary for the identification of many of the persons here.
Also included are letters: 1) written by John Stringer and William Stringer to their sister Jane (Stringer) Milne, c. 1863; John was in the Missouri (Union) cavalry at the time; 2) written by Earl Vaubel during his stint in the army 1918 and 1919 - three from France; and 3) written by a Anna Dorothea Dölle, a niece of Charles F. Vaubel about the horrendous conditions in Germany after the war ended.
Below: portions of Bruce and Monroe Townships from Atlas of Benton County Iowa, Anderson Pub. Co., Mason City, IA, 1917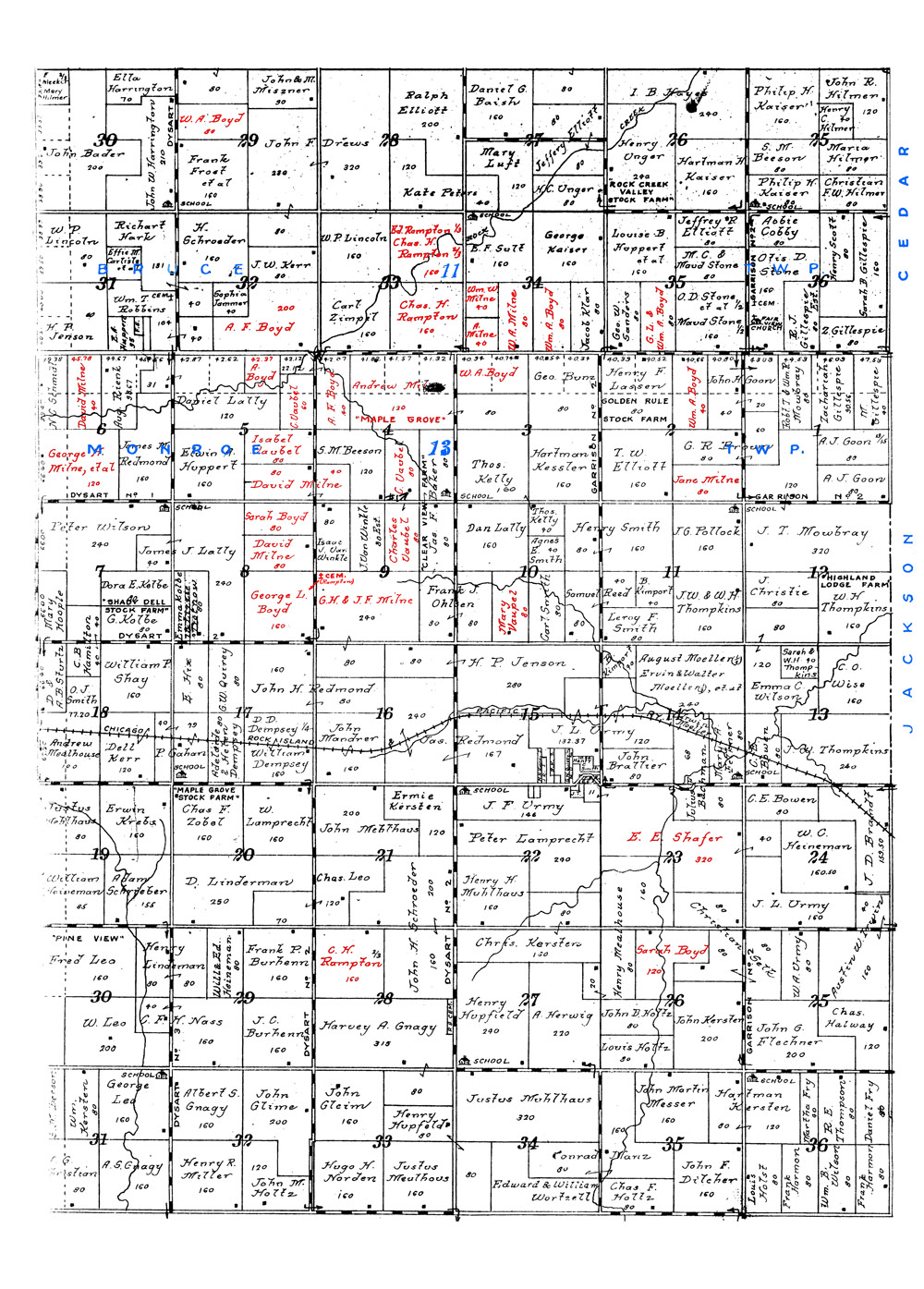 In order to capture the relationships of the these Monroe County Photos, it is necessary to present three descendency charts, one for John Stringer (from whom the Boyd and Milne family photos can be related), one for Elmer Shafer, and one for Wilhelm Vaupel. The three lines intersect at the marriage of Ollie Vaubel (whose mother was Isabella Milne) and Anna Mabel Shafer. The full ancestry with notes (data and fact documentation) is given at:
http://familytreemaker.genealogy.com/users/p/i/e/Larry-S-Pierce/index.html?Welcome=1042344479
Outline Descendents of John Stringer
..... 1 John Stringer (1806 - 1848) b: Abt. 1806 in County Tyrone, Ireland, d: Abt. 17 Apr 1848 in Derrykintone, County Tyrone, Northern Ireland
..... + Susanna Collins (1804 - 1847) b: Abt. 24 Mar 1804 in Caledon, Ireland (Aghaloo, County Tyrone, Northern Ireland), m: 22 Jul 1825 in Caledon, Ireland (Aghaloo, County Tyrone, Northern Ireland), d: Abt. 07 Jul 1847 in Derrykintone, County Tyrone, Northern Ireland
........... 2 William Stringer (1826 - 1900) b: Abt. 30 Apr 1826 in Caledon, Ireland (Mullaghmossa Townland), d: Bet. 1900–1910 in Calhoun County, Michigan, USA
........... + Anne (1831 - 1870) b: Abt. 1831 in France, d: Bet. 1870–1880 in Landis, Cumberland County, New Jersey, USA
................. 3 John P. Stringer (1857 - 1930) b: Sep 1857 in New York, USA, d: Aft. 1930 in Calhoun County, Michigan, USA
................. + Mary A (1867 - 1930) b: Sep 1867 in England, d: Aft. 1930 in Calhoun County, Michigan, USA
....................... 4 Florence C. Stringer (1892 - ) b: Mar 1892 in Calhoun County, Michigan, USA
....................... + John S. Thompson (1893 - ) b: Abt. 1893 in Michigan, USA, m: Abt. 1913 in Michigan, USA
............................. 5 J. Duane Thompson (1913 - ) b: Abt. 1913 in Michigan, USA
................. 3 Sophia Stringer (1860 - ) b: Abt. 1860 in New York, USA
................. 3 James F. Stringer (1862 - 1944) b: Nov 1862 in New York, USA, d: Nov 1944 in Battle Creek, Calhoun County, Michigan, USA
................. + Fannie A. Nye (1878 - 1925) b: Abt. 1878 in Michigan, USA, m: 11 Sep 1901 in Emmett, Calhoun County, Michigan, USA, d: Nov 1925 in Calhoun County, Michigan, USA
....................... 4 Mildred M. Stringer (1902 - 1992) b: 30 Oct 1902 in Calhoun County, Michigan, USA, d: 29 Mar 1992 in Battle Creek, Calhoun County, Michigan, USA
....................... + William F. Roberts (1893 - 1977) b: 21 Aug 1893 in Kentucky, USA, m: 03 Jul 1924 in Calhoun County, Michigan, USA, d: 14 Jun 1977 in Battle Creek, Calhoun County, Michigan, USA
............................. 5 Martha C. Roberts (1925 - ) b: Abt. 1925 in Calhoun County, Michigan, USA
............................. 5 Margaret E. Roberts (1927 - ) b: 1927 in Calhoun County, Michigan, USA
....................... 4 William G. Stringer (1910 - 1986) b: 03 May 1910 in Calhoun County, Michigan, USA, d: 11 Feb 1986 in Battle Creek, Calhoun County, Michigan, USA
....................... + Frances A (1912 - 1997) b: 02 Dec 1912 in Michigan, USA, m: Abt. 1930 in Battle Creek, Calhoun County, Michigan, USA, d: 13 May 1997 in Battle Creek, Calhoun County, Michigan, USA
....................... 4 Alice R. Stringer (1918 - ) b: Abt. 1918 in Calhoun County, Michigan, USA
................. 3 William Stringer (1864 - ) b: Abt. 1864 in New Jersey, USA
................. 3 George H. Stringer (1870 - ) b: May 1870 in New Jersey, USA
................. + Jennie (1871 - ) b: May 1871 in Canada, m: Abt. 1892
....................... 4 Arthur C. Stringer (1893 - ) b: Mar 1893 in Michigan, USA
....................... + Frances (1908 - ) b: Abt. 1908 in Tennessee, USA
............................. 5 Arthur Stringer (1928 - ) b: Abt. 1928 in Illinois, USA
....................... 4 Elsie M. Stringer (1898 - 1900) b: Oct 1898 in Michigan, USA, d: Bet. 1900–1910 in Calhoun County, Michigan, US
................. + Henrietta H (1872 - ) b: Abt. 1872 in Illinois, USA
....................... 4 Elizabeth S. Stringer (1909 - ) b: 1909 in Calhoun County, Michigan, USA
....................... 4 George P. Stringer (1916 - ) b: Abt. 1916 in Calhoun County, Michigan, USA
........... 2 Sarah Stringer (1828 - 1922) b: Abt. 24 Aug 1828 in Caledon, Ireland (Mullaghmossa Townland), d: 1922 in Dysart, Tama County, Iowa, USA
........... + William Boyd (1812 - 1897) b: 20 Jan 1812 in Ireland, m: 1853 in New York, USA, d: 04 Feb 1897 in Benton County, Iowa, USA
................. 3 George L. Boyd (1854 - 1925) b: Sep 1854 in New York, USA, d: Bet. 1925–1930 in Benton County, Iowa, USA (Monroe Township)
................. + Hester "Hettie" A. Rampton (1866 - ) b: Dec 1866 in Benton County, Iowa, USA, m: Abt. 1882 in Benton County, Iowa, USA
....................... 4 William A. Boyd (1887 - ) b: Nov 1887 in Benton County, Iowa, USA
....................... + Gladys Render (1890 - ) b: Abt. 1890 in Iowa, USA, m: Abt. 1910 in Benton County, Iowa, USA
............................. 5 Verlinda Boyd (1912 - ) b: Abt. 1912 in Benton County, Iowa, USA
....................... 4 John (Jack) A. Boyd (1890 - ) b: 01 Jan 1890 in Benton County, Iowa, USA
....................... + Mabel Longaker (1891 - ) b: Abt. 1891 in Iowa, USA, m: Abt. 1916 in Benton County, Iowa, USA
............................. 5 Helen M. Boyd (1916 - ) b: Abt. 1916 in Benton County, Iowa, USA
............................. 5 Maxine A. Boyd (1918 - ) b: Abt. 1918 in Benton County, Iowa, USA
............................. 5 Dorthea M. Boyd (1921 - ) b: Abt. 1921 in Benton County, Iowa, USA
....................... 4 Violet "Viola" E. Boyd (1892 - ) b: Apr 1892 in Benton County, Iowa, USA (Monroe Township)
....................... + Albert Silverman (1887 - ) b: Abt. 1887 in Germany, m: Bet. 1915–1920 in Iowa, USA
....................... 4 Robert J. Boyd (1894 - ) b: Jul 1894 in Benton County, Iowa, USA (Monroe Township)
....................... 4 Mary Lucena Boyd (1896 - ) b: Oct 1896 in Benton County, Iowa, USA (Monroe Township)
....................... 4 Fulton A. Boyd (1899 - 1948) b: 1899 in Benton County, Iowa, USA, d: 1948 in Benton County, Iowa, USA
....................... + Ignacio McCormack m: Abt. 1922 in Benton County, Iowa, USA
............................. 5 Kathryn Boyd (1924 - ) b: Abt. 1924 in Iowa, USA
............................. 5 George T. Boyd (1927 - ) b: Abt. 1927 in Benton County, Iowa, USA (Monroe Township)
............................. 5 Elizabeth L. Boyd (1930 - ) b: Abt. Apr 1930 in Benton County, Iowa, USA (Monroe Township)
....................... 4 Marguerite Boyd (1901 - 1970) b: 25 Jan 1901 in Benton County, Iowa, USA, d: Apr 1970 in Dysart, Tama County, Iowa, USA
....................... + John Frederich Milne (1875 - 1948) b: 24 Feb 1875 in Benton County, Iowa, USA, m: Abt. 1925 in Benton County, Iowa, USA, d: 22 Nov 1948 in Benton County, Iowa, USA
............................. 5 George Herman Milne (1926 - 1981) b: 18 Jun 1926 in Iowa, USA, d: Jan 1981 in Kansas City, Jackson County, Missouri, USA
............................. 5 John Frederick Milne (1930 - 2007) b: 10 Dec 1930 in Iowa, USA, d: 30 Jun 2007 in Waterloo, Black Hawk, Iowa, USA
................. 3 William A. Boyd (1857 - 1931) b: 1857 in Benton County, Iowa, USA (Bruce Township), d: 1931 in Benton County, Iowa, USA
................. 3 John M. Boyd (1859 - ) b: Feb 1859 in Benton County, Iowa, USA (Bruce Township)
................. + Clara C (1869 - ) b: Mar 1869 in Indiana, USA, m: Abt. 1889 in Iowa, USA
................. 3 Mary E. Boyd (1860 - ) b: Jun 1860 in Benton County, Iowa, USA (Bruce Township)
................. + Milan Brown (1855 - ) b: Mar 1855 in Indiana, USA
....................... 4 Millard M. Brown (1892 - ) b: Mar 1892 in Colorado, USA
....................... + Ida
................. 3 Abraham Fulton Boyd (1863 - 1936) b: Jan 1863 in Benton County, Iowa, USA (Bruce Township), d: 1936 in Benton County, Iowa, USA
................. 3 Margaret Boyd (1866 - 1891) b: Abt. 1866 in Benton County, Iowa, USA (Bruce Township), d: Feb 1891 in Benton County, Iowa, USA (Bruce Township)
........... 2 Jane Stringer (1831 - 1836) b: Abt. 20 Mar 1831 in Caledon, Ireland (Mullaghmossa Townland), d: Bef. 1836 in Caledon, Ireland (Mullaghmossa Townland)
........... 2 James Stringer (1833 - 1879) b: Abt. 09 Nov 1833 in Caledon, Ireland (Mullaghmossa Townland), d: 09 Nov 1879 in St. Louis, St. Louis County, Missouri, USA
........... + Maria (1831 - ) b: Abt. 1831 in Ireland
................. 3 Margaret Stringer (1855 - ) b: Abt. 1855 in New Jersey, USA
................. 3 Sarah Stringer (1858 - ) b: Abt. 1858 in New Jersey, USA
................. 3 Mary Jane Stringer (1861 - ) b: Abt. 1861 in St. Louis, St. Louis County, Missouri, USA
........... 2 Jane Stringer (1836 - 1922) b: 17 Jun 1836 in Caledon, Ireland (Mullaghmossa Townland), d: 10 Oct 1922 in Dysart, Tama County, Iowa, USA
........... + Andrew Milne (1836 - 1918) b: 24 Aug 1836 in Dundee, Forfar, Scotland, m: 15 Nov 1856 in Chicago, Cook County, Illinois, USA, d: 17 Sep 1918 in Dysart, Tama County, Iowa, USA
................. 3 Sarah M. Milne (1857 - 1877) b: 1857 in Chicago, Cook County, Illinois, USA, d: 1877 in Benton County, Iowa, USA
................. + Daniel B. Scott (1845 - ) b: Abt. 1845 in Iowa, USA, m: Abt. 1875 in Benton County, Iowa, USA
................. 3 Susannah A. Milne (1860 - 1949) b: 1860 in Chicago, Cook County, Illinois, USA, d: Aft. 21 Aug 1949
................. + Daniel Zwilling (1844 - 1918) b: 18 Oct 1844 in Ohio, USA, m: Bet. 1900–1910 in Chicago, Cook County, Illinois, USA, d: 19 Jun 1918 in State Center, Marshall County, Iowa, USA
................. 3 Isabella Sophia Milne (1862 - 1952) b: 03 Dec 1862 in Chicago, Cook County, Illinois, USA, d: 08 Apr 1952 in Traer, Tama County, Iowa, USA
................. + Carl Christoph "Charles Frederich" Vaupel (1864 - 1951) b: 31 Mar 1864 in Reichensachsen, Hesse, Germany, m: 21 Aug 1888 in Vinton, Benton County, Iowa, USA, d: 12 Jun 1951 in Waterloo, Black Hawk, Iowa, USA
....................... 4 Jennie Reah Vaubel (1889 - 1903) b: 04 Jul 1889 in Benton County, Iowa, USA (Monroe Township), d: 20 Oct 1903 in Benton County, Iowa, USA (Monroe Township)
....................... 4 Oliver Charles Vaubel (1891 - 1939) b: 21 Feb 1891 in Benton County, Iowa, USA (Monroe Township), d: 14 Feb 1939 in Dysart, Tama County, Iowa, USA
....................... + Anna Mabel Shafer (1893 - 1973) b: 11 Jan 1893 in Garrison, Benton County, Iowa, USA, m: 17 Dec 1912 in Vinton, Benton County, Iowa, USA, d: 06 Sep 1973 in Rochester, Olmsted County, Minnesota, USA
............................. 5 Ellis Kendall Vaubel (1914 - 1996) b: 05 May 1914 in Dysart, Tama County, Iowa, USA, d: 18 Mar 1996 in Mesa, Maricopa County, Arizona, USA
............................. + Helen Christensen (1915 - ) b: Abt. 1915 in Clay Township, Clay County, Iowa, USA, m: 1940 in Royal, Clay County, Iowa, USA
............................. 5 Dean Ellsworth Vaubel (1915 - 1997) b: 05 Aug 1915 in Dysart, Tama County, Iowa, USA, d: 06 Sep 1997 in Dysart, Tama County, Iowa, USA
............................. + Dorothy B. Johnson (1919 - 1985) b: 22 May 1919 in Laurens, Pocahontas County, Iowa, USA, m: 30 May 1943 in Laurens, Pocahontas County, Iowa, USA, d: 27 Jun 1985 in Iowa, USA
............................. 5 Helene Mae Vaubel (1919 - 2003) b: 14 Dec 1919 in Dysart, Tama County, Iowa, USA, d: 08 Nov 2003 in Wisconsin, USA
............................. + James Robert Frank Pierce (1918 - 1973) b: 21 Feb 1918 in Woodville, Wilkinson County, Mississippi, USA, m: 23 Jun 1938 in St. Louis, St. Louis County, Missouri, USA, d: 11 May 1973 in Milwaukee, Milwaukee County, Wisconsin, USA
............................. + Richard Daub
............................. 5 Rex Oliver Vaubel (1922 - 1977) b: 05 Feb 1922 in Dysart, Tama County, Iowa, USA, d: 27 Mar 1977 in Phoenix, Maricopa County, Arizona, USA
............................. + Eileen Riley (1922 - 1989) b: 14 Aug 1922 in Burlington, Des Moines County, Iowa, USA, m: 27 Sep 1944 in Burlington, Des Moines County, Iowa, USA, d: 18 Mar 1989 in Phoenix, Maricopa County, Arizona, USA
....................... 4 Earl Fredrich Vaubel (1895 - 1989) b: 10 May 1895 in Benton County, Iowa, USA (Monroe Township), d: 08 Dec 1989 in Traer, Tama County, Iowa, USA
....................... + Lydia E. Griffith (1895 - ) b: Oct 1895 in Clark Township, Tama County, Iowa, USA
............................. 5 Maxine L. Vaubel (1921 - ) b: Abt. 1921 in Benton County, Iowa, USA
............................. 5 Loraine D. Vaubel (1924 - ) b: Abt. 1924 in Benton County, Iowa, USA
....................... 4 Lyle Andrew Vaubel (1905 - 1985) b: 21 Dec 1905 in Benton County, Iowa, USA (Monroe Township), d: 03 Jun 1985 in Waterloo, Black Hawk, Iowa, USA
....................... + Mary Lou Gordon (1901 - 1987) b: 24 Nov 1901, m: 01 Jan 1930, d: Sep 1987 in Dysart, Tama County, Iowa, USA
................. 3 David A. Milne (1864 - 1945) b: 27 Jun 1864 in Chicago, Cook County, Illinois, USA, d: 24 Jun 1945
................. + Lillian "Lilly" Paton (1892 - ) b: Mar 1892 in Clark Township, Tama County, Iowa, USA, m: Abt. 1922 in Benton County, Iowa, USA
....................... 4 Jane Milne (1923 - 1992) b: 11 Jun 1923 in Dysart, Tama County, Iowa, USA, d: 18 Feb 1992
........................ 4 June Milne (1928 - ) b: Abt. 1928
....................... 4 Jean Milne (1928 - ) b: Abt. 1928
................. 3 William W. Milne (1866 - ) b: Feb 1866 in Chicago, Cook County, Illinois, USA
................. + Jane "Jennie" M. Wallace (1869 - ) b: Aug 1869 in Wisconsin, USA, m: Abt. 1901 in Iowa, USA
....................... 4 Gail B. Milne (1902 - ) b: Abt. 1902 in Iowa, USA
....................... 4 Joseph Milne (1903 - 1975) b: 11 Jun 1903 in Minnesota, USA, d: 07 Mar 1975 in La Porte City, Black Hawk County, Iowa, USA
....................... + Louise (1905 - ) b: Abt. 1905 in Iowa, USA, m: Abt. 1926 in Iowa, USA
............................. 5 Marjorie E. Milne (1926 - ) b: Abt. 1926 in Big Creek, Black Hawk County, Iowa, USA
............................. 5 Shirley M. Milne (1928 - ) b: 1928 in Big Creek, Black Hawk County, Iowa, USA
....................... 4 Marjorie Milne (1905 - ) b: Abt. 1905 in Iowa, USA
....................... + John Kettleson (1905 - ) b: Abt. 1905 in Iowa, USA, m: Abt. 1930 in Black Hawk County, Iowa, USA
................. 3 Robert B Milne (1869 - ) b: 1869 in Benton County, Iowa, USA (Monroe Township)
................. + Lillian K. Fintzel (1878 - 1964) b: 12 Feb 1878 in Racine, Racine County, Wisconsin, USA, m: Abt. 1902, d: Nov 1964 in Iowa, USA
....................... 4 Donald R. "Pinky" Milne (1906 - 1982) b: 09 Jun 1906 in South Dakota, USA, d: Feb 1982 in Hayward, Sawyer County, Wisconsin, USA
................. 3 James M. Milne (1871 - 1961) b: 20 Mar 1871 in Benton County, Iowa, USA (Monroe Township), d: 30 Aug 1961 in Benton County, Iowa, USA (Monroe Township)
................. + Christine H. Stepel (1875 - 1906) b: 08 Feb 1875 in Germany, m: Abt. 1896 in Benton County, Iowa, USA, d: 12 May 1906 in Benton County, Iowa, USA (Monroe Township)
....................... 4 Clifford Andrew Milne (1896 - 1988) b: Dec 1896 in Benton County, Iowa, USA, d: 1988 in La Porte City, Black Hawk County, Iowa, USA
....................... + Anna B. Schmidt (1895 - 1919) b: 15 Oct 1895, m: Bet. 1910–1919 in Iowa, USA, d: 1919
....................... + Helen Stewart (1906 - ) b: Abt. 1906 in Iowa, USA, m: Bet. 1920–1925 in Benton County, Iowa, USA
....................... 4 Clarence F. Milne (1899 - 1972) b: 17 Mar 1899 in Benton County, Iowa, USA, d: 20 Apr 1972 in Benton County, Iowa, USA
....................... + Gladys G. Angel (1901 - 1990) b: 21 May 1901 in Iowa, USA, m: 24 Dec 1919 in Benton County, Iowa, USA, d: Nov 1990
............................. 5 Marjorie L. Milne (1921 - 2002) b: Abt. 1921, d: 2002
............................. 5 Clyde A. Milne (1922 - ) b: Abt. 1922
............................. 5 Arlene M. Milne (1926 - ) b: Abt. 1926
............................. 5 Mabel F. Milne (1927 - ) b: Abt. 1927
............................. 5 Mae Milne
............................. 5 James F. Milne (1936 - 2006) b: 17 Nov 1936 in Benton County, Iowa, USA, d: 22 Feb 2006 in Waterloo, Black Hawk, Iowa, USA
................. 3 George Herman Milne (1875 - 1964) b: 23 Jan 1875 in Benton County, Iowa, USA (Monroe Township), d: 27 Aug 1964 in Benton County, Iowa, USA
................. + Mary (1876 - 1949) b: Abt. 1876 in Illinois, USA, m: Abt. 1925 in Benton County, Iowa, USA, d: Bef. 1949 in Benton County, Iowa, USA
................. 3 John Frederich Milne (1875 - 1948) b: 24 Feb 1875 in Benton County, Iowa, USA, d: 22 Nov 1948 in Benton County, Iowa, USA
................. + Marguerite Boyd (1901 - 1970) b: 25 Jan 1901 in Benton County, Iowa, USA, m: Abt. 1925 in Benton County, Iowa, USA, d: Apr 1970 in Dysart, Tama County, Iowa, USA
....................... 4 George Herman Milne (1926 - 1981) b: 18 Jun 1926 in Iowa, USA, d: Jan 1981 in Kansas City, Jackson County, Missouri, USA
....................... 4 John Frederick Milne (1930 - 2007) b: 10 Dec 1930 in Iowa, USA, d: 30 Jun 2007 in Waterloo, Black Hawk, Iowa, USA
................. + Carrie (1885 - 1915) b: Abt. 1885 in Illinois, USA, m: Bet. 1910–1915 in Benton County, Iowa, USA, d: Bet. 1915–1920 in Benton County, Iowa, USA
........... 2 John Stringer (1839 - 1910) b: Abt. 09 Jun 1839 in Derrykintone, County Tyrone, Northern Ireland, d: Bet. 1910–1920 in Calaveras County, California, USA
........... 2 Susanna Stringer (1843 - 1844) b: 23 Mar 1843 in Derrykintone, County Tyrone, Northern Ireland, d: Bef. 1844 in Derrykintone, County Tyrone, Northern Ireland
........... 2 Susanna Stringer (1844 - ?) b: 01 May 1844 in Derrykintone, County Tyrone, Northern Ireland
Outline Descendents of Elmer Elsworth Shafer
..... 1 Elmer Elsworth Shafer (1863 - 1939) b: 05 Sep 1863 in Lorain County, Ohio, USA, d: 05 Jun 1939 in Benton County, Iowa, USA (Monroe Township)
..... + Anna Mabel Backer (1868 - 1893) b: 02 Jan 1868 in Pekin Township, Tazewell County, Illinois, USA, m: 14 Mar 1888 in Benton County, Iowa, USA (Monroe Township), d: 03 Feb 1893 in Garrison, Benton County, Iowa, USA
........... 2 Lee Earl Shafer (1889 - ) b: 10 Jan 1889 in Garrison, Benton County, Iowa, USA
........... + Winifred Wilson (1891 - 1971) b: 05 Jun 1891 in Iowa, USA, m: Abt. 1917 in Iowa, USA, d: Dec 1971 in Le Claire, Scott County, Iowa, USA
................. 3 Wallace Shafer (1918 - ) b: Abt. 1918 in Davenport, Scott County, Iowa, USA
................. 3 Margaret Lois Shafer (1921 - ) b: Abt. 1921 in Davenport, Scott County, Iowa, USA
........... 2 Clarence Ray Shafer (1891 - 1968) b: 05 Feb 1891 in Garrison, Benton County, Iowa, USA, d: Apr 1968 in Waterloo, Black Hawk, Iowa, USA
........... + Mabel E. Peterson (1893 - 1982) b: 14 Apr 1893 in Iowa, USA, m: Abt. 1915 in Iowa, USA, d: Sep 1982 in Waterloo, Black Hawk, Iowa, USA
................. 3 Delphia E. Shafer (1916 - 1987) b: 13 Apr 1916 in Benton County, Iowa, USA, d: Dec 1987 in Waterloo, Black Hawk, Iowa, USA
........... 2 Anna Mabel Shafer (1893 - 1973) b: 11 Jan 1893 in Garrison, Benton County, Iowa, USA, d: 06 Sep 1973 in Rochester, Olmsted County, Minnesota, USA
........... + Alfred Dietrich Lindeman (1902 - 1996) b: 31 May 1902 in Benton County, Iowa, USA (Monroe Township), m: 28 Aug 1946 in Iowa, USA, d: 05 Dec 1996 in Waterloo, Black Hawk, Iowa, USA
........... + Oliver Charles Vaubel (1891 - 1939) b: 21 Feb 1891 in Benton County, Iowa, USA (Monroe Township), m: 17 Dec 1912 in Vinton, Benton County, Iowa, USA, d: 14 Feb 1939 in Dysart, Tama County, Iowa, USA
................. 3 Ellis Kendall Vaubel (1914 - 1996) b: 05 May 1914 in Dysart, Tama County, Iowa, USA, d: 18 Mar 1996 in Mesa, Maricopa County, Arizona, USA
................. + Helen Christensen (1915 - ) b: Abt. 1915 in Clay Township, Clay County, Iowa, USA, m: 1940 in Royal, Clay County, Iowa, USA
................. 3 Dean Ellsworth Vaubel (1915 - 1997) b: 05 Aug 1915 in Dysart, Tama County, Iowa, USA, d: 06 Sep 1997 in Dysart, Tama County, Iowa, USA
................. + Dorothy B. Johnson (1919 - 1985) b: 22 May 1919 in Laurens, Pocahontas County, Iowa, USA, m: 30 May 1943 in Laurens, Pocahontas County, Iowa, USA, d: 27 Jun 1985 in Iowa, USA
................. 3 Helene Mae Vaubel (1919 - 2003) b: 14 Dec 1919 in Dysart, Tama County, Iowa, USA, d: 08 Nov 2003 in Wisconsin, USA
................. + James Robert Frank Pierce (1918 - 1973) b: 21 Feb 1918 in Woodville, Wilkinson County, Mississippi, USA, m: 23 Jun 1938 in St. Louis, St. Louis County, Missouri, USA, d: 11 May 1973 in Milwaukee, Milwaukee County, Wisconsin, USA
................. + Richard Daub
................. 3 Rex Oliver Vaubel (1922 - 1977) b: 05 Feb 1922 in Dysart, Tama County, Iowa, USA, d: 27 Mar 1977 in Phoenix, Maricopa County, Arizona, USA
................. + Eileen Riley (1922 - 1989) b: 14 Aug 1922 in Burlington, Des Moines County, Iowa, USA, m: 27 Sep 1944 in Burlington, Des Moines County, Iowa, USA, d: 18 Mar 1989 in Phoenix, Maricopa County, Arizona, USA

..... + Ann Elizabeth Gordon (1872 - 1900) b: 23 Oct 1872 in Illinois, USA, m: 07 Mar 1894 in Garrison, Benton County, Iowa, USA, d: 11 Apr 1900 in Benton County, Iowa, USA
........... 2 Bessie Mae Shafer (1894 - 1970) b: 30 Dec 1894 in Garrison, Benton County, Iowa, USA, d: 23 Jul 1970 in Belton, Bell County, Texas, USA
........... + Clarence Leslie "Pat" Blakely (1889 - 1964) b: 02 Dec 1889 in Williams, Hamilton County, Iowa, USA, m: 24 Mar 1914 in Iowa, USA, d: 23 Apr 1964 in Belton, Bell County, Texas, USA
................. 3 Herbert Burton Blakely (1915 - 2008) b: 14 Oct 1915 in Trimont, Martin County, Minnesota, USA, d: 08 Apr 2008 in Eldrige, Scott County, Iowa, USA
................. 3 Gordon Keith Blakely (1918 - ) b: 02 Apr 1918 in Martin County, Minnesota, USA
................. 3 Leonard Leslie Blakely (1921 - 1989) b: 29 Sep 1921 in Martin County, Minnesota, USA, d: 03 Apr 1989 in Winnemucca, Humbolt County, Nevada, USA
................. 3 Rolland Elmer Blakely (1925 - 1929) b: 28 Sep 1925 in Benton County, Iowa, USA, d: 09 Mar 1929 in Benton County, Iowa, USA
................. 3 Marion Darlene Blakely (1928 - ) b: 25 Mar 1928 in Cluttier, Tama County, Iowa, USA
................. + R. B. Voight m: 21 Nov 1972
........... 2 George E. Shafer (1898 - 1962) b: 14 Mar 1898 in Benton County, Iowa, USA, d: 24 Nov 1962 in Middletown, Butler, Ohio, USA
........... + Carrie A. Zurmahr (1901 - 1989) b: 06 Jun 1901 in Iowa, USA, m: Abt. 1927, d: 04 Dec 1989 in Middletown, Butler, Ohio, USA
................. 3 William Roger Shafer (1931 - 2007) b: 17 Feb 1931 in Middletown, Butler, Ohio, USA, d: 12 Oct 2007 in Middletown, Butler, Ohio, USA

..... + Nellie A. Hatch (1868 - 1951) b: 20 Feb 1868 in Wisconsin, USA, m: 02 Jul 1902 in Benton County, Iowa, USA, d: 14 Sep 1951 in Benton County, Iowa, USA
........... 2 Elsie Evangeline Shafer (1905 - 1999) b: 24 Nov 1905 in Benton County, Iowa, USA, d: 19 Mar 1999 in Grinnell, Poweshiek County, Iowa, USA
........... + Leslie Abel Moore (1902 - 1950) b: 08 Mar 1902 in Marsailles, LaSalle County, Illinois, USA, m: 08 Mar 1927, d: 14 Jun 1950 in Vinton, Benton County, Iowa, USA
................. 3 Robert Leslie Moore (1931 - ) b: 02 Sep 1931
................. 3 Shirley Jean Moore (1928 - ) b: 29 Feb 1928
........... 2 Floyd Welton Shafer (1907 - 1988) b: 24 Jan 1907 in Benton County, Iowa, USA, d: 04 Feb 1988 in Dysart, Tama County, Iowa, USA
........... + Gladys B. Jacoby (1912 - ) b: Abt. 1912 in Benton County, Iowa, USA, m: Bet. 1930–1940
................. 3 Raymond Shafer
................. 3 Esther Shafer
Outline Descendants of Wilhelm Vaupel
..... 1 Wilhelm Vaupel b: 09 Dec 1827 in Reichensachsen, Hesse, Germany, d: 08 Mar 1873 in Reichensachsen, Hesse, Germany
..... + Helene Christine "Lena" Külmar b: 25 Apr 1830 in Reichensachsen, Hesse, Germany, m: 22 Feb 1852 in Reichensachsen, Hesse, Germany, d: 17 Feb 1867 in Reichensachsen, Hesse, Germany
........... 2 Dorothea Anna Martha Vaupel b: 20 Dec 1852 in Reichensachsen, Hesse, Germany, d: 30 Jan 1869 in Reichensachsen, Hesse, Germany
........... 2 Heinrich Vaupel b: 13 Jan 1855 in Reichensachsen, Hesse, Germany, d: 21 Jan 1855 in Reichensachsen, Hesse, Germany
........... 2 Anna Juliana Vaupel b: 26 Mar 1857 in Reichensachsen, Hesse, Germany, d: 27 Apr 1868 in Reichensachsen, Hesse, Germany
........... 2 Elisabeth Vaupel b: 24 Nov 1859 in Reichensachsen, Hesse, Germany, d: 10 Oct 1923 in Reichensachsen, Hesse, Germany
........... + Carl Phillipp Dölle b: 23 May 1860 in Reichensachsen, Hesse, Germany, m: 08 Apr 1883 in Reichensachsen, Hesse, Germany, d: Aft. Oct 1923
........... 2 Anna Dorothea Vaupel b: 13 Mar 1862 in Reichensachsen, Hesse, Germany, d: 08 Oct 1921 in Reichensachsen, Hesse, Germany
........... + Friedrich Wilhelm Beck b: 05 Mar 1861 in Reichensachsen, Hesse, Germany, m: 07 Dec 1884 in Reichensachsen, Hesse, Germany, d: 19 Mar 1909 in Reichensachsen, Hesse, Germany
........... 2 Charles Fredrich Vaubel b: 31 Mar 1864 in Reichensachsen, Hesse, Germany, d: 12 Jun 1951 in Waterloo, Black Hawk, Iowa, USA
........... + Isabella Sophia Milne b: 03 Dec 1862 in Chicago, Cook County, Illinois, USA, m: 21 Aug 1888 in Vinton, Benton County, Iowa, USA, d: 08 Apr 1952 in Traer, Tama County, Iowa, USA
................. 3 Jennie Reah Vaubel b. 04 Jul 1889 in Monroe Twp., Benton County, Iowa, USA, d. 20 Oct 1903 in Monroe Twp., Benton County, Iowa, USA
................. 3 Oliver Charles Vaubel b. 21 Feb 1891 in Monroe Twp., Benton County, Iowa, USA, d. 14 Feb 1939 in Dysart, Tama County, Iowa, USA
................. + Anna Mabel Shafer b. 11 Jan 1893 in Garrison, Benton County, Iowa, USA, d. 06 Sep 1973 in Rochester, Olmsted County, Minnesota, USA
....................... 4 Ellis Kendall Vaubel b. 05 May 1914 near Dysart, Tama County, Iowa, USA, d. 18 Mar 1996 in Mesa, Maricopa County, Arizona, USA
....................... + Helen Elizabeth Christensen b. Abt. 1915 in Clay Township, Clay County, Iowa, USA
....................... 4 Dean Ellsworth Vaubel b. 05 Aug 1915 near Dysart, Tama County, Iowa, USA, d. 06 Sep 1997 in Dysart, Tama County, Iowa, USA
....................... + Dorothy B. Johnson b. 22 May 1919 in Laurens, Pocahontas County, Iowa, USA, d. 27 Jun 1985 in Iowa, USA
....................... 4 Helene Mae Vaubel b. 14 Dec 1919 near Dysart, Tama County, Iowa, USA, d. 08 Nov 2003 in Brookfield, Waukesha County, Wisconsin, USA
....................... + James Robert Frank Pierce b. 21 Feb 1918 in Woodville, Wilkinson County, Mississippi, USA, d. 11 May 1973 in Milwaukee, Milwaukee County, Wisconsin, USA
....................... + Richard Daub
....................... 4 Rex Oliver Vaubel b. 05 Feb 1922 near Dysart, Tama County, Iowa, USA, d. 27 Mar 1977 in Phoenix, Maricopa County, Arizona, USA
....................... + Eileen Riley b. 14 Aug 1922 in Burlington, Des Moines County, Iowa, USA, d. 18 Mar 1989 in Phoenix, Maricopa County, Arizona, USA
................. 3 Earl Fredrich Vaubel b. 10 May 1895 in Monroe Twp., Benton County, Iowa, USA, d. 08 Dec 1989 in Traer, Tama County, Iowa, USA
................. + Lydia E. Griffith b. Oct 1895 in Clark Township, Tama County, Iowa, USA
....................... 4 Maxine Lavonne Vaubel b. Abt. 1921 in Benton County, Iowa, USA
....................... + Karl E. Krause b. Dec 1919
....................... 4 Loraine Isabella Vaubel b. 10 Oct 1923 in Benton County, Iowa, USA, d. 20 Oct 2004 in Paris, Lamar County, Texas, USA
....................... + Hal T. Drummond
................. 3 Lyle Andrew Vaubel b. 21 Dec 1905 in Monroe Twp., Benton County, Iowa, USA, d. 03 Jun 1985 in Waterloo, Black Hawk, Iowa, USA
................. + Mary Lou Gordon b. 24 Nov 1901, d. Sep 1987 in Dysart, Tama County, Iowa, USA
........... 2 Heinrich Wilhelm Vaupel b: 10 Feb 1867 in Reichensachsen, Hesse, Germany, d: 13 Feb 1867 in Reichensachsen, Hesse, Germany
..... + Christine Maria Rathgeber b: 30 Jun 1846 in Netra, Hesse, Germany, m: 19 Jan 1868 in Reichensachsen, Hesse, Germany, d: 12 Jun 1919 in Reichensachsen, Hesse, Germany
........... 2 Eva Catharina Elisabeth Vaupel b: 02 Jul 1869 in Reichensachsen, Hesse, Germany, d: 25 Oct 1918 in Reichensachsen, Hesse, Germany
........... + Martin Röse b: 03 Jul 1868 in Reichensachsen, Hesse, Germany, m: 07 Feb 1897 in Reichensachsen, Hesse, Germany, d: 22 May 1907 in Reichensachsen, Hesse, Germany
........... 2 Georg Vaupel b: 05 Sep 1871 in Reichensachsen, Hesse, Germany, d: 01 Feb 1872 in Reichensachsen, Hesse, Germany
........... 2 Georg Wilhelm Vaupel b: 10 Jan 1873 in Reichensachsen, Hesse, Germany, d: 07 Apr 1873 in Reichensachsen, Hesse, Germany
<![if !vml]>
<![endif]>