Lee Earl Shafer (1889 - ?) and Winnifred Wilson (1891 - 1971)
Lee Earl Shafer was born 10 Jan 1889 in Garrison, Benton County, Iowa, USA. He was the son of Elmer Elsworth Shafer and Anna Mabel Backer. He was a physician/surgeon. He died sometime between 1939 and 1961.
Winifred Wilson was born 05 Jun 1891 in Buchanan County, Iowa, USA. She was the daughter of Samuel L. Wilson (04 Jun 1853, Pennsylvania, USA - 09 Jul 1894, Buchanan County, Iowa, USA) and Mary E. Agnew (16 Oct 1862, Fairbank Twp., Buchanan County, Iowa, USA - 28 Feb 1901, Buchanan County, Iowa, USA. Her father was a farmer and physician/surgeon in Buchanan County, Iowa. She died Dec 1971 in Le Claire, Scott County, Iowa, USA.
They were married about 1917 in Buchanan County, Iowa, USA, after he finished medical school and about the time he registered for the WWI draft (as a physician). They had two children:
Arthur Wallace Shafer (20 Jun 1917, Davenport, Scott County, Iowa, USA - 02 Mar 1989, Scottsdale, Maricopa County, Arizona, USA)
Margaret Lois Shafer (Abt. 1921 - ?)
Notes for Lee Earl Shafer:
DOB: Helene M. Vaubel, 1990
Living in Davenport, IA in 1939
Up to 1910, living with father.
WWI Draft Registration Card: Lee E. Shafer Born January 10, year not entered Born Garrison, Iowa Physician Surgeon Self Employed at Walcott Married Tall, Slender, Brown eyes, light brown hair Without disabilities Signed: June 5, 1917 at Scott County Iowa
1920 census, Davenport Ward 6, Scott, Iowa: Shaffer, Lee head 30 M IA IA IA physician medical employed; Winnifred 28 wife IA IA IA; Wallace son 2 6/12 IA. Wallace is named after Arthur Wallace, uncle of Winnie's, with whom she lived when orphaned.
1925 IA census, Davenport, Scott: Margarett Shafaie abt 1921 Female White 1925 Scott Daughter Lee E Shafor, Winnefred Wilson; Arthur W Shafor abt 1918 Male White 1925 Scott Son Lee E Shafor,
Winnefred Wilson
1930 census, Davenport, Scott, IA, 1225 E. Rusholme St.: Shafer, Lee E. head 41 M when 23 IA IA IA surgeon general; Winifred W. wife 38 M when 21 IA IA IA; Wallace son 12 IA; Margaret dau 9 IA; Moeller, Ella servant 37 S IA GER GER.
Notes for Winifred Wilson:
1910 census, Independence Ward 3, Buchanan, IA: Agnew, Fred. F. 35 M1 4y IA IN IN physician surgeon; Minnie wife 38 M1 4y IA NY WI; Wilson, Neva A. niece 22 S IA IA IA teacher public school; Agnew, Isaac B. father 78 WD IN SCOT PA; Turner, Olive M. servant 23 IA IL MN servant private house; McBride, James father-in-law 65 WD NY NY NY painter house. Same page: Wallace, Arthur A. head 49 M1 11y IA NY NY proprietor drug store; Nanette E. wife 44 M1 11y IA IN OH; Wilson, Inez niece 20 IA IA IA; Winnie niece 18 IA IA IA.
1925 IA census, Scott Co.: Winnefred Shafer Female White 1925 Scott abt 1892 Wife Fa Samule Wilson, Mo Mary Agnew, Sp Lee E Shafor
United States, Appellant v. Winifred W. Shafer, as Executrix, Etc., 293 F.2d 629 (8th Cir. 1961)
Federal Circuits, 8th Cir. (August 24, 1961)
Docket number: 16653
Permanent Link: http://vlex.com/vid/36684387
Id. vLex: VLEX-36684387
Appeal from the United States District Court for the Southern District of Iowa.
Louis F. Oberdorfer, Asst. Atty. Gen., Meyer Rothwacks, Acting Chief, Appellate section, Washington, D.C., Roy W. Meadows, U.S. Atty., Conrad A. Amend, Asst. U.S. Atty., and Richard J. Wells, Asst. U.S. Atty., Des Moines, Iowa, for appellant.
Henry R. Ottesen, Davenport, Iowa, for appellee.
PER CURIAM.
Judgment of District Court reversed; complaint ordered dismissed, except as to specified portion of judgment which portion is affirmed.
SSN index: Winifred Shafer 5 Jun 1891 Dec 1971 Le Claire, Scott, Iowa
Photographs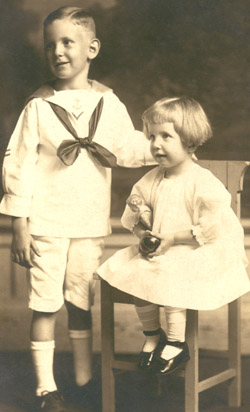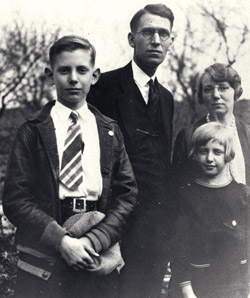 Left to Right: 1) unmarked photo, but c. 1924 photo of Arthur Wallace Shafer (age 7) and sister Margaret Lois (age 3), identified from the photo at right; 2) Lee E. Shafer family: Arthur Wallace Shafer, Lee Shafer, Margaret Lois Shafer and Mabel (Peterson) Shafer.
Return to Index