Earl Fredrich Vaubel (1895 - 1989) and Lydia E. Griffith (1895 - ?)
Earl Fredrich Vaubel was born 10 May 1895 in Monroe Twp., Benton County, Iowa, USA. He was the son of Wilhelm Vaupel (09 Dec 1827, Reichensachsen - 08 Mar 1873, Reichensachsen) and Helene Christine "Lena" KŁlmar (25 Apr 1830, Reichensachsen - 17 Feb 1867, Reichensachsen). He died 08 Dec 1989 in Traer, Tama County, Iowa, USA.
Lydia E. Griffith was born Oct 1895 in Clark Township, Tama County, Iowa, USA. She was the daughter of Isaac Oliver Griffith (27 Feb 1872, Benton County, Iowa, USA - ?) and Christina Rost (Abt. 1870, Illinois, USA - ?).
They were married 1918-1920. They had two children:
Maxine Lavonne Vaubel (Abt. 1921, Benton County, Iowa, USA - ?). She married Karl E. Krause.
Loraine Isabella Vaubel (10 Oct 1923, Benton County, Iowa, USA - 20 Oct 2004, Paris, Lamar County, Texas, USA). She married Hal T. Drummond.
Notes for Earl Fredrich Vaubel:
DOB/DOM: Newspaper Article, Dysart, IA
[BrÝderbund Family Archive #110, Vol. 2, Ed. 3, Social Security Records: U.S., SS Death Benefit Records, Surnames Beginning with V, Date of Import: 20 Feb 1997, Internal Ref. #1.112.3.90726.180]
WWI draft registration: stamped 1567 then written #27: Earl F. Vaubel age 22 home address: Dysart, Ia; date of birth May 10, 1895; where: Benton Co., Ia; trade: Manager of picture show; by whom employed: self; where: Dysart, Ia; single, caucasion, medium height, medium build, blue eyes, light hair. Clark precinct, Dysart, Ia. dated 6/5/17. [Have a number of letters written while in the service; transcribed below]
Earl served in the army in WWI.
1930 census, Monroe, Benton, IA: Vaubel, Earl F. head 34 M when 24 IA GER IA farmer; Lydia E. wife 34 M when 24 IA IA IA; Maxine L. dau 9 IA; Loraine D. 6 IA.
SS index: Vaubel, Earl Birth date: 10 May 1895 Death date: 8 Dec 1989 Social Security #: 481-44-8111 Last residence: 50675 State of issue: IA
Photographs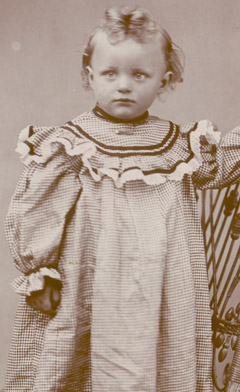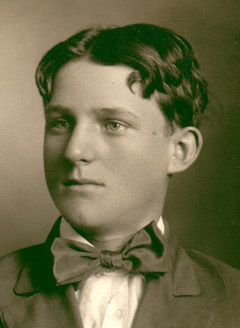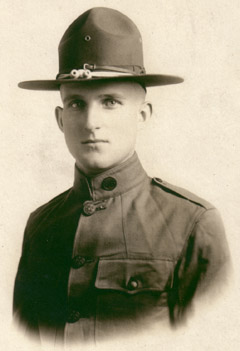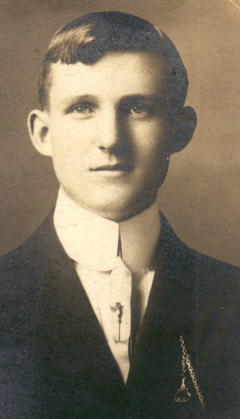 Left to Right: 1) Cabinet card, c. 1897 'Earl Vaubel' inscription on back by Mary Vaubel; 2) Inscribed 'Earl Vaubel' on the back. The photographer is Kennedy, LaPorte City, Ia. Could be a high school graduation photo, which would be 1913; 3) c.1918 'Earl Vaubel' inscription on back by Mary Vaubel. Postcard taken at Hanley's Photo Shop, Kansas City, Mo; 4) Unmarked photo of Earl Vaubel. The photographer, Salars, dated it 1913.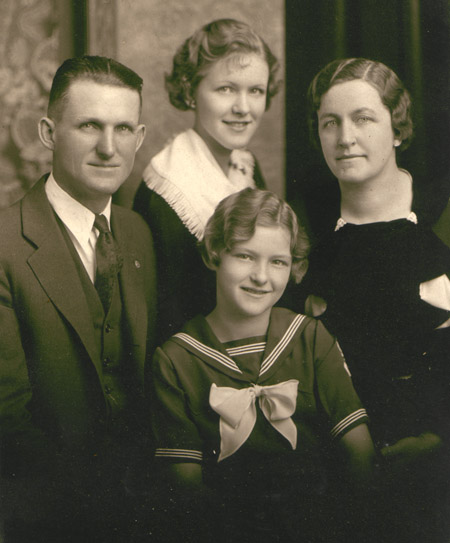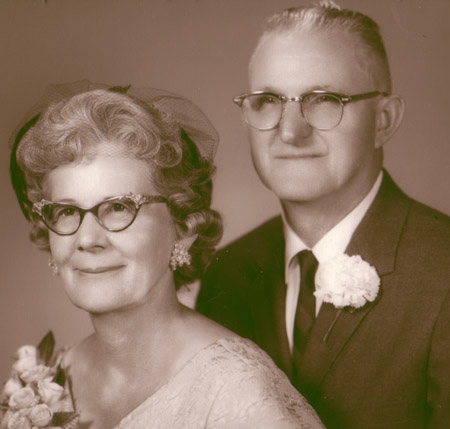 Left: " Mr. & Mrs Earl Vaubel, Maxine (standing) and Loraine, Dysart, Iowa Lyle's brother"; Right: "Earl and Margaret Vaubel, Traer, Iowa. Sat., August 22, 1964"; inscriptions by Mary Vaubel.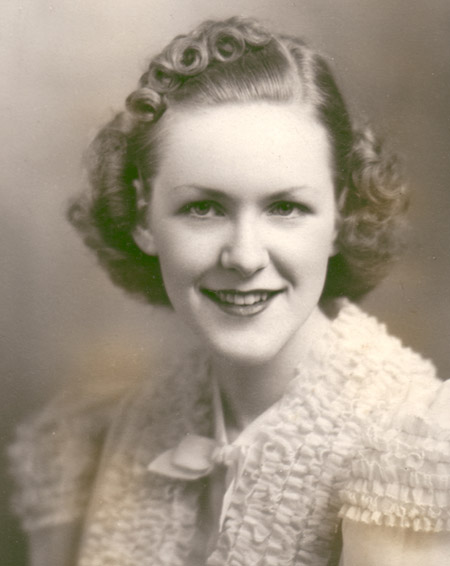 Left: Unmarked photo, but identified by Helene (Vaubel) Pierce as Maxine (Vaubel) Krause, Earl Vaubel's daughter, who lived in Cresco, Ia. Helene and Maxine went to school together in Dysart, and would see each other at school reunions. This is probably her high school graduation photograph. Right: Inscribed on back: "Lois Mason, Bob Braden, Loraine Vaubel". The photo here is a close-up of just Loraine.
Thirteen letters from Earl to his brother Lyle 1918-1919 during his army training/posting
Transcription of the Letters:
Letter No. 1 M301
Postmarked Kansas City Apr 20, 1918
To: Mr. Lyle Vaubel, Dysart, Iowa
From: Earl F. Vaubel, Raheís Army School, North Kansas City, Mo
[YMCA paper]
April 20, 1918
Dear Lyle
I received your letter the other day, but I have been so busy I could hardly find time to answer. They sure keep me on the jump all the time. When we are not at class we are drilling. I had examination this morning, but I donít know how I made out yet. I will get the papers back monday. It sure was hard. We will get exams every week. I got a letter from Grampa, but have not had time to answer it yet. It has rained here for the last two days, but it has quit now. I just got word that Ellsworth Bond, that is one of the boys that come with us from Iowa, died this morning. his home is at Garwin, Ia he surely was a nice fellow. he took sick just a week ago. fell over while at drill, but had not been feeling well a few days before. the cause was Pneumonia. his folks has been here the last few days. we all gave a nickel a peace for flowers. that accounts to about $25.00.
We had new onions for dinner. I suppose you can almost smell them on this letter. How is papa. by this time, I hope he is much better. I havenít the least idea how long I will be here, but I am quite sure it will be a few weeks. I am writing this letter in a hurry, so I donít know if you can read it or not. How is White making it with the show? If he wonít pay you for playing, tell him to go to the dickens. [Earl Vaubel had a business of showing movies in Dysart]
I have not been to town yet, as they will not let any of us go till we get our uniforms. as far as we get is about two blocks. there is a few small stores there.
Tell mamma to be sure and write soon, as a letter sure seems good. well as it is almost 1 p.m. I must get a moving.
Yours lovingly, Earl
Rakeís Army School
North Kansas City, Mo.
P.S. I was surprised of what a nice letter you could write
Letter No. 2 M302
Postmarked Kansas City May 29, 1918
To: Mr. Lyle Vaubel, Dysart, Iowa
From: Earl F. Vaubel, Rahes Army School, North Kansas City, Mo
[YMCA Paper]
Tuesday evening
Dear Lyle and all
I received your letter a few days ago, and being its raining I have time to answer. We had an awfuly bad storm last night, lots of wind with it. It blew one of our trucks of[f] a large platform, but did not break anything.
I suppose papa has arrived home by this time. I was sory I did not get to be with him longer, but we can not get off when we want to. I have been instructing drivers all day. it certainly is disgusting with some of them.
Our Superintendent gave a talk this afternoon, and said he did not know when we was to leave here, or where we are going to, but we would be here from one to three weeks, as the war department does not know yet where they will send us. They start grading us and classifying in the morning, and from now on they are going to work us harder than before. earlier in the morning and later at night. if they keep on we wonít get any sleep at all.
They kept us busy last night til 10:00 p.m. and thatís bed time.
I am glad you passed all of your exams [Lyle is 13]. keep up your good work and study hard. you will regret it as you grow older.
I am well and feeling fine since they got through with the ennoculations.
I sent some pictures along with papa. do you think I make a good looking soldier? I forgot to tell papa to give Grandpa one of them.
The jelly sure goes good being itís so long since I had any.
Well, I donít know what to write so will have to close.
as ever with love, Earl
Letter No. 3 M304
Postmarked Atlanta July 4, 1918
To: Mr. Lyle Vaubel, Dysart, Iowa
No return address
[YMCA Paper]
Wed July 3, 1918
Dear Lyle,
I have just received your letter and will answer now, for a have a little time this evening. we have been quite busy this week, so evidently I didnít write to anyone. I like to read your letters so much, as they are very interesting.
The weather is about the same here. its awfuly warm in day time. last night I almost froze. I like it much better now than I did at first, but would rather be someplace else. We are still fixing streets and grubing? trees, and will start puting up twelve more buildings soon. its getting so crowded, they need more room. Yes, Lyle, I think its a good thing for you to go out and help ollie, being help is so scarce, and after they take that large draft, it will be still worse.
Tomorrow is the 4th. I am going to Lake Wood Park. There is a ball game and races and fire works in the evening. There is 180 men going from here the first of next week for Detroit, Mich to drive trucks back. I donít know yet if I will be one or not. it will take nearly a month to make the trip and all cooking will be done on the road and sleep on the trucks. I will know some time this week if I get to go. It sure will be a hard long dirty trip it must be nearly 2000 miles from here.
They are sertainly doing some hot fighting at present time in France and Italy. I donít think it will last later than fall. I would like to be over there and do my bit, as donít feel as though I am doing it here.
Well Lyle, I hope you have a good time on the 4th, and tell all the folks Hell-o. hoping youre all well,
Lovingly, Earl
Letter No. 4 M303
Postmarked Atlanta July 11, 1918
To: Mr. Lyle Vaubel, Dysart, Iowa
[Letterhead: Quartermaster Mechanical Repair Shop Unit 305 (then handwritten: Co. C)], Camp Jessup, Fort
McPherson, Georgia
Wed eve. July 10, 1918
Dear Lyle:
I received your letter to-day. was glad to hear you was out on the farm working. keep it up thatís a good place for any body. The boys left for Detroit this morning. Art was one of them. I and Ray could of went but we drove them enough at K.C. to know what it would be like. they took mess kits and packs. and will have to eat and sleep on the road. the government orders that they must sleep ten miles from any town. they will be gone about a month.
Everything is about the same here. more recruits coming in every day . there was about thirty come this afternoon. we are starting to build more barracks. I got mamma letter yesterday. so this is for you all as I donít get time to answer so often. It got so cool last night I felt like getting up and walking around a while. Talk about rain we donít know what rain is in Iowa. it only rains for a short time here but theyíre regular cloudbursts. the wind never blows but there is a nice breeze most of the time. I got a letter from Aunt Susie [Susannah Zwilling] yesterday and I had just wrote to her before I got it. There was a prize fight at Atlanta Sat. night between Jack Dempsey and Porky Flynn. Dempsey knocked out Flynn in the first round. less than two minutes. How is the movies coming? White says theíre rotten. I am feeling fine. have gained almost twelve pounds.
Well I must close with love for all, Earl
Letter No. 5 M305
Postmarked Atlanta July 30, 1918
To: Mr. Lyle Vaubel, Dysart, Iowa
[Letterhead: YMCA ďWith the Colors
Monday, July 29, 1918
Dear Brother. I received you most welcome letter yesterday also the two dollars. I hardly know how to repay you for it but the best I can do is only thank you many times. I sertainlhy enjoy reading your letters so much. I believe you know more about the war than I do, as I donít get time to read very much. They are keeping us so busy and what little time we get off we feel like either resting or having a goo time if we possibly can.
Yesterday was Sunday and I and Ray went to Camp Gordon, and as luck would have it we found all the Dysart boys that arrived there Sat. they sure was a tickled bunch of fellows, and it was only luck that we found them as Camp Gordon is nearly as large as Cedar Rapids. I must say they was a tire and sickly looking bunch. I have to laugh to think that we must a looked the same way when we arrived at K.C. We stayed there till about 6.00 pm and they would not let us leave till we promised to come back sometime next week. They are quar[an]tined for two weeks, so will have to stay a camp during that time.
The is four units twenty-seven men to a unit leaving here this week. About ten of them are men that come from K.C. with us, but have no idea when I will have to go. It is imiterial to me, as they will put me where they most need me. The are building new barracks all the time, so must be looking for more men coming in soon.
I got weighed yesterday tiped the scale at 168 lbs. I weighed 149 at tama and 150 at K.C. when I first went there. The boys at Gordon said they hardly knew me but I donít think its anything like that at all.
Well I had better go now, as I should be at the shops working, but thought I would take a chance a writing, so must hurry.
Good-by with love to all
Earl
Letter No. 6 M306
Postmarked Atlanta August 7, 1918
To: Mr. Lyle Vaubel, Dysart, Iowa
[Letterhead: YMCA ďWith the Colors
Wed Aug 7, 1918
Dear Lyle & all
I received your letter yesterday, also one from mamma Sunday, but didnít get to answer any sooner.
Every thing is about the same here, only its much hoter than it was last week. Its so hot I can harly eat. I am still driving a truck yet, but think it wont last long, as the lumber is nearly all hauled.
Art left here Sat eve suppose he is home by this time. I wished I could of went along, but it was impossible. One boys receved a telegram to-day, stating his sister inlaw was dead, but could not get a furlough, so you see how hard it is to get away. I got a letter from Fred Rampton the other day and he said he thought they was going across soon. He also stated that a furlough was impossible there.
I suppose they have started thrashing by this time. Donít suppose Iíll get to see a machine this year. I havenít seen a corn field this year. Nothing but cotton. They are all in bloom now. About my knit goods. It will be a long time before Ill need them. Inless I should happen to be sent across, but I think it will be a good while yet.
Its almost dinner time so will have to close. With love to all.
Earl
Letter No. 7 M300
Postmarked Atlanta August 11, 1918
To: Mr. Lyle Vaubel, Dysart, Iowa
[Letterhead: Rotary Soldierí Club Maintained by Rotary Club of Atlanta
Sunday afternoon
Dear Lyle: Well how are you these hot days? Suppose your busy helping thrash by this time. Would like to be there and help a while, but thereís no chance.
Suppose you got to talk with Art when he was home. Do you think he looks natural? I was going out to Camp Gordon to-day to see the boys, but its to hot, so will try and keep cool, and rest up some. This is Sunday and sertainly is dead. There is no shows to go to, as there not allowed to run on a Sunday. They enforce the blue laws in this state.
I donít see how Jim Bannon gets home so much, its impossible for us to get away any length of time. We get off every other week from Sat noon till Monday morning 6:45 if we want it and it sure seems good to get out of the camp. Say have mamma send two of my best white shirts, and cuff buttons, but no collars, as we have regular military collars we have to ware. Also send collar buttons. We can ware white shirts in this camp, but some places they donít allow it. They let us for a while at Kansas City, but made us quit a while before we left. I have met some very fine people here. They take us out riding and to dinners. It sure seems like a real treat to soldier. There was a new bunch of men come in this noon from So. Carolina to get some trucks to drive back. They sertainly looked tough, burned black from the sun.
How is the movies coming? Suppose things is getting pretty dead since all the boys are leaving. They sure are doing some great fighting over there now. Looks quite interesting at present.
I got a letter from Fred Rampton the other day. Says he is going across soon: seemed to be tickled of that. No reason why he shouldnít. Well Lyle donít work to hard these hot days.
Will close with love to all
Lovingly, Earl
Letter No. 8 M307
Postmarked Atlanta August 28, 1918
To: Mr. Lyle Vaubel, Dysart, Iowa
[Letterhead: YMCA ďWith the Colors
Tuesday eve
Dear Brother: I received your letter yesterday; was glad to know you are feeling better and was able to write.
Suppose your vacation is very short, but go to school with a will to learn as you donít realize how much it means to you, but you will after you grow older and if you have the chance finish school and donít quit.
Every thing is about the same here. I am still driving a truck at the Depot G.M.B. I guess thatís about as good as any thing.
I am glad the crops are good around there, as that is sure what we need. Ollie must have had good oats. I donít have any idea when Iíll have to go across but there is another large bunch to leave here soon. Donít know who they are as yet. I wish I could be one of them if they go over, but would as soon be here as any camp in this country. I suppose Billy Hansen will be taking a shot at the germans [note his grandfather was born in Germany, and his grand aunt still lived there] before long. The boys that was at camp Gordon left last Sunday. The only ones left there was Will Mathesen Albert Reimers, Loid Tupper.
I am writing this letter to you but its for you all because I havnít time to write to every one. I have written to Uncle Herman and David but I guess they donít like to write every week as I havenít heard from them. The boys are singing so loud I can hardly write, so you can see we are all happy but never-the-less we have our hard ships too. You can be thankful your whare you are. I donít know of much to write about so will have to close. As ever with love to all.
Earl
Letter No. 9 M308
Postmarked Atlanta Sep 9, 1918
To: Mr. Lyle Vaubel, Dysart, Iowa
From: Earl F. Vaubel, Camp Jesup Co. E. Atlanta, Ga
[Letterhead: YMCA ďWith the Colors
Mon. noon
Dear Brother: I go the box of cloths this noon. I am sending back the shirts and one pair socks, by parsel post. Also a large box by express. We leave in the morning. I am all packed and ready. All the things we can take is what we can carry on our back in the pack, one blanket, two suits underware, two shirts, six pair socks, tooh brush, and paist, one comb, on coat, one pants, one mirnior, on hat, one pair shoes. That will be our over sea equipment. I am inclosing the key to my brip, as I forgot to leave it in it. Also a small pin for you. I think its very cute. Oh yes we have a heavy over coat, and rain coat, mess kit and a few other small things. Well I donít know of much news, so will close as ever with love to all.
Earl
Letter No. 10 M309
Postmarked USArmy Nov 2, 1918
To: Mr. Lyle Vaubel, Dysart, Iowa, USA
[Letterhead: YMCA On Active Service with the American Expeditionary Force]
Oct 31 1918
Some whare in France:
My dear Brother: I just received mammas letter of Sept. 30. saying how much she has wrote to me, but this is the only letter I have got of hers so far, and I would not of knew of Grandpas death if I had not received a letter from Aunt Susie yesterday. I was so surprised to hear of it but she did not mention much about it, as she talked as though some of you must of wrote about it.
I am located at a very nice camp and like it as well as could be expected. I am close enough to the real thing so I can hear the big guns and have air raids quite often.
It is very hard for me to write much, as lots of things I would like to write we are not allowed to. All the lights we have nights is candles, and must be out at nine oclock. Us boys are all to gether get, so makes it pretty nice. Mother talked about not getting any mail. I have wrote from one to three letters every week since I left the camp in the States. I have not got but two letters the one from aunt Susie and one from Mother today. Every thing is done in such a slow and old fationed way that I donít believe I ever could get used to this country, so hereís hoping Iíll soon be back in gods country soon. Well Lyle donít forget to write real often and let me know all the news.
Hoping your all well I will close as ever,
Lovingly to all
Sgt. Earl F. Vaubel
Mechanical Repair Unit 308 Co. H
Motor Transport Corp
American E.F. Via New York
a.p.o. 731
Letter No. 11 M310
Postmarked Us Army Dec 28 5PM
To: Mr. Lyle Vaubel, Dysart, Iowa, USA
[Letterhead: YMCA On Active Service with the American Expeditionary Force
Dec 26 1918
My dear Brother & all. I received your letter of Dec 4 yesterday. Sure was glad to hear from you and to know that you are all well. Yesterday was Xmas but was spent in a very quiet way, although I had the pleasure and honor to hear Miss Margarite Wilson sing. Sertainly was fin. Santa Claus was quite good to me considering where I am. The Red Cross gave tobacco and cigarites, socks, chewing gum and a handkerchief. The YMCA gave each man a plug of chewing, a can of Prince Albert and a package of cigalets, and at last but not least, the government through the comessary a pound of chocolates. With all this an what you floks sent Christmas wasnít so bad after all. Oh Yes, we had some dinner too. Nice Roast beef with brown gravy, mashed potatoes, apple pie, and several other things to make the mess kit full. Say I got so much from the Red Cross, I forgot to mention two packages of cookies, a can of grape jam, and a good wollen suit of underware. So donít think that all thatís given to the UMCA and Red Cross doesnít go to the soldiers for a good cause.
There was a light snow storm. Just enough to make the ground white, but didnít stay on long.
You must have lots of snow over there to go sleigh riding so early. I suppose your having a big time hunting now. And the idea asking me if you could use my rifle. Why of course you can. Just the same as though it was yours, and if there is anything else you want donít hesitate a minute in taking it.
I havnít heard from Aunt Susie or Lydia for two weeks. I donít know whats wrong. Art Lincoln isnít with us any more. I havenít hear where he is at, for he has been transferred elsewhere. I hope this will find you all well as ever. With love to all from your brother.
Sgt E.F. Vaubel
MTC Unit 308 Section C.1
APO 781 American E.F.
Via New York
Letter No. 12 M311
Postmarked Us Army Feb 9, 1919 5PM Soldiers mail
To: Mr. Lyle Vaubel, Dysart, Iowa, USA
[Letterhead: American Red Cross On Active Service with the American Expeditionary Force,
E.F. Vaubel, MTC Unit 308 Section A.3, APO 731 American E.F.
Feb 8, 1919
Dear Brother & all: I am at the YMCA this evening so will answer the letter I received from you last evening. I also got two letters from mamma. I just returned last night from a trip of about 350 miles with some trucks, so I didnít get to write any all the time I was away. We took a convoy of trucks to Husamont that is near Paris and returned by the way of Verdun, St. Michiel, Clearmont, and St. Rimey, whare all the hardest fighting took place. It sure was a very interesting sight although it was quite cold at times. The last night out we stayed near Verdun on no mans land in a dug out. I thought that would be as good as sleeping in a truck. The barb wire entanglements sertainly are something awful and there is hundreds of miles of trenches, and is a wonderful sight to see, but it doesnít look much like it did while the fighting was going on.
It started to snow last night and nearly five inches have fallen. This evening it is turning cold, so I begins to look like real winter.
We have a swell YMCA in camp now and last night was the first picture show and we all enjoyed it very much.
The clippings you and mother sent were quite interesting, for the reports is very slow a coming. I have only got two so far. I hope you are all over the flue now and able to be out again.
I donít have any idea when we will leave here, but it looks as though it will be some time next summer if nothing else turns up to keep us over here.
As I and the other boys are all well and ther isnít much more I can think of to write about, I will close as ever with love to all
From you brother
Sgt E.F. Vaubel.; MTC Unit 308 Section A.3; APO 731 American E.F.
P,.S. notice my address is a little different again A.3 instead of C.1
Letter No. 13 M312
Postmarked Us Army Mar 9 1919 5PM
To: Mr. Lyle Vaubel, Dysart, Iowa, USA [stamp: passed as censored]
[Letterhead: YMCA On Active Service with the American Expeditionary Force
Mch 6, 1919; Neufchateau, France
Dear Brother and all. I received a letter from you some time ago. Also one from mamma of Feb 14th morning. Was glad to know your all well and that the flue is about over.
Everything is going along about the same. Itís like [sring?] here all the time. I was glad to know your getting along so well with your school work, so study hard and get good grades on your final examinations. Then you will be in High School next year.
I got a letter from Uncle David yesterday. He sure writes a interesting letter and I enjoy reading them the same as I do yours.
There is a number of the boys here getting discharges. I understand their folks got it through there local board and Post Master. Its impossible to get it from this side. I put in for a leave to visit southern France, and I understand I will go about the 14th of this month. I havenít had a day off since Iíve joined the army. There was a order posted yesterday stating that it would be five months or more before the M.T.C.s would get to go home. But that is about as soon as I was expecting it anyway. There is so much work to be done.
The boys that are getting back now can feel lucky for itís the right time of the year to start work.
We Lyle there isnít much news, so will have to close. Give my love to all and write often.
Lovingly, from your brother
Sgt. E.F. Vaubel
M.T.C. Unit 308 A.c
American E.F.
France
APO 731
Return to Index