Daniel Zwilling (1844 - 1918) and Susannah A. Milne (1860 - aft.1949)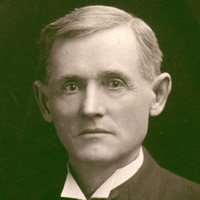 Daniel Zwilling was born 18 Oct 1844 in Ohio, USA. He died 19 Jun 1918 in State Center, Marshall County, Iowa, USA. He was the son of Henry Zwilling (b. abt. 1812, Baden-Württemberg, Germany (formerly Wirtemberg), d. Bet. 1860/1870 De Kalb County, Illinois, USA) and Julian Ann Howell (b. abt. 1811, ,Baden-Württemberg, Germany (formerly Wirtemberg), d. Bet. 1885/1900, Marshall County, Iowa, USA), one of nine children. He married firstly Alda B. Miller 23 Dec 1885 in Marshall County, Iowa, USA. She was born 23 Dec 1866 in Ohio, USA and died 11 Jun 1895 in State Center, Marshall County, Iowa, USA. They had two children:
Elizabeth Zwilling (Aug 1891 - ?).
Daniel Zwilling (27 Mar 1895, Iowa, USA - Oct 1968, Lombard, Du Page County, Illinois, USA)
He married secondly Bet. 1900–1910 in Chicago, Cook County, Illinois, USA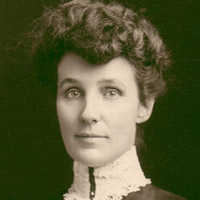 Susannah A. Milne. She was born in 1860 in Chicago, Cook County, Illinois, USA. She was the daughter of Andrew Milne (1836 - 1918) and Jane Stringer (1836 - 1922). She died After 21 Aug 1949 (see photo below). They had no children.
Notes for Daniel Zwilling:
1880 census, State Center, Marshall, IA: Zwilling, Julia 69 mother keeping house Wurtemberg Wurtemberg Wurtemberg; Daniel 35 son Dry Goods Merchant OH; Kattie 28 dau clerk in dry goods store IN.
1885 IA census, Marshall: Daniel Zwelling 38 S druggist NY.
1900 census, Chicago, Cook, Illinois: Zwelling, Daniel boarder Dec 1841 55 M12y OH FR FR capitalist; Sarah H. boarder Dec 1860 39 M12 2ch 2liv IL SCOT IRE; Elizabeth boarder Mar 1891 9 IA OH IL; Daniel F. boarder Mar 1895 5 IA OH IL.; living with Cargill, Charles & lots of boarders. [Sarah is a boarder, not his wife].
1910 census, Chicago Ward 35, Cook, IL, 219 North Central Ave.: Zwilling, Daniel head 65 M2 11y OH GER GER Dealer farm land; Susannah A. wife 49 M1 11y IL SCOT IRE; Elizabeth dau 19 S IA OH IL; Daniel F. son 15 S IA OH IL; Friedland, Ida M. servant 36 S NOR NOR NOR housework private family.
Iowa Cemetery Records Name: Daniel Zwilling Death Date: 19 Jun 1918 Page #: 196 Birth Date: 18 Oct 1844 Cemetery: State Center Level Info: Gravestone Records of Marshall County, Iowa[Marshall Co. just west of Tama Co.]
Notes for Susannah A. Milne:
DOB: Newspaper Article, Dysart, IA paper
Probably named for her [died young?] Aunt Susannah Stringer. [Or did Susannah immigrate to the US like the other surviving members of her family?]
1925 Iowa State Census, Marshall Co.: Zwilling, Susan A. lodger 64 Wid b. IL father Andrew Milns Scotland, mother Stringer, Jane Ireland mar. IL., living w/ Dobbin, Alex 81 Wid b. NY father Dobbin, Samuel IRE mother Christy, Elizabeth NY mar NY; Dobbin Martha 37 dau of Alex b. IA, father Dobbin, Alex NY, mother Zwilling, Katherine b. IN mar IA. So Susan is living probably living with her brother in law - both of them had married Zwillings.
1930 census, State Center, Marshall, IA: Dobbin, Alexander head 76 Wd 40 when 1st married NY North IRE NY; Dobbin, Martha dau 42 S IA NY IN; Zwilling, Susannah lodger 63 WD 37 when 1st married IA US US.
Have photo of her and Herm (and see) on Aug 21, 1949
Photographs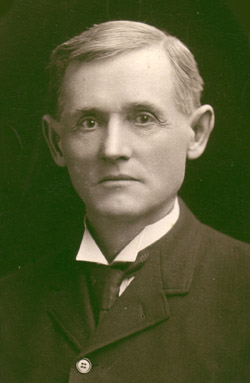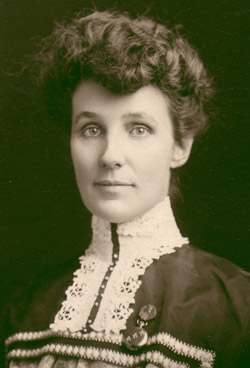 Left: Inscribed on the back: "Daniel Zwilling (Died 1918) (Susan's husband)." Right: "Susannah Zwilling". Both photos probably taken at the same sitting as their children (they have uniform mounts and photographer inscriptions), below, i.e., c. 1902, and this is probably on occasion of their marriage.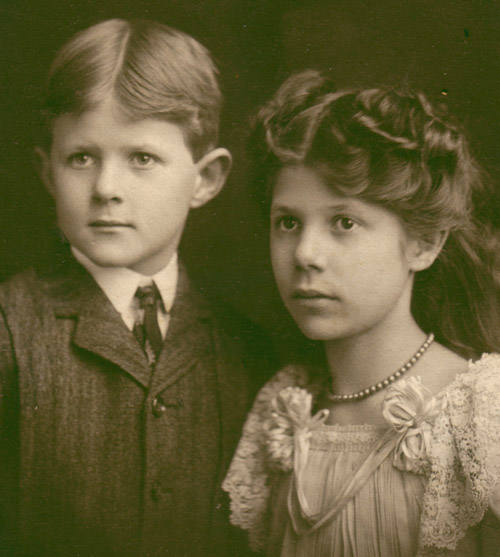 Inscribed on the back: "Daniel & Elizabeth Zwilling, Aunt Susan's step-children". One of three uniformly mounted photographs from the Gibson Art Galleries, Chicago. From the photographs of Mary and Lyle Vaubel. Susan was Lyle's aunt.

Return to Index