American Optical Co., Scovill Mfg. Co., props.
Cone

View Camera

(Model No.'s 51-58)

Descriptive Catalogue and Price List of the Photographic Apparatus Manufactured by the American Optical Co., Scovill Mfg. Co., proprietors and managers (New York, NY), Sept. 1884, p.52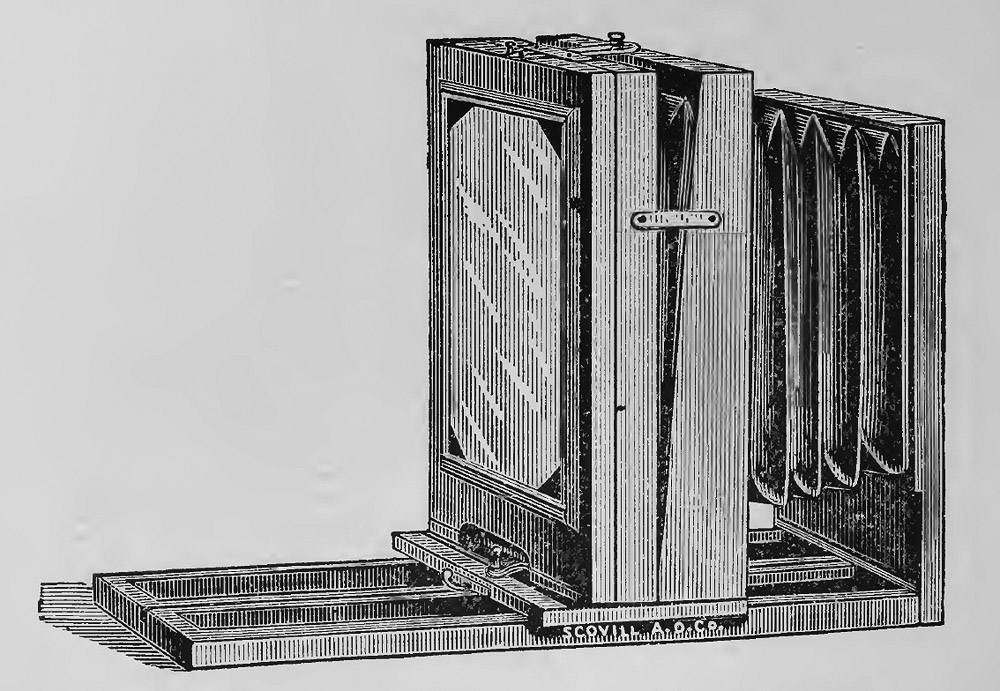 Manufacturer: American Optical Co. New York, NY factory
Date Introduced: 1873; Years Manufactured: c.1873 - c.1884
Construction: rear focus via push-pull; 0/1/2 swing; non-reversing; three-piece lens board
Materials:
Sizes Offered: #51=4¼x5½; #52=6½x8½; #53=8x10;#54=10x12; #55=11x14; #56=14x17; #57=17x20; #58=20x24
Notes:
This is the first of a long line of cone or non-tapered bellows cameras.
This model is still advertised in 1884, but it is essentially an artifact of the wet plate era, with its square ground glass frame that must be removed and replaced by massive, square, wet plate-type plate holders. It is non-reversing, since the wet plate can be mounted in its holder either horizontally or vertically, or just a square plate used, as the photographer desires.
References:
Photographic Times, Vol. 3, June 1873, Scovill Mfg. Co. (New York, NY), p.83 (as "Our New View Boxes")
Descriptive Catalogue and Price List of the Photographic Apparatus Manufactured by the American Optical Co., Scovill Mfg. Co., proprietors and managers (New York, NY), Sept. 1884, p.52

Back to American Optical & Scovill