American Optical Co., Scovill Mfg. Co., props.
View Camera Boxes Transitional to Improved

View Camera

Boxes/Cone View Camera

Cone View Camera, Thos. H. McCollins Catalog, 1882, p. 14 - almost identical, but has tapering bellows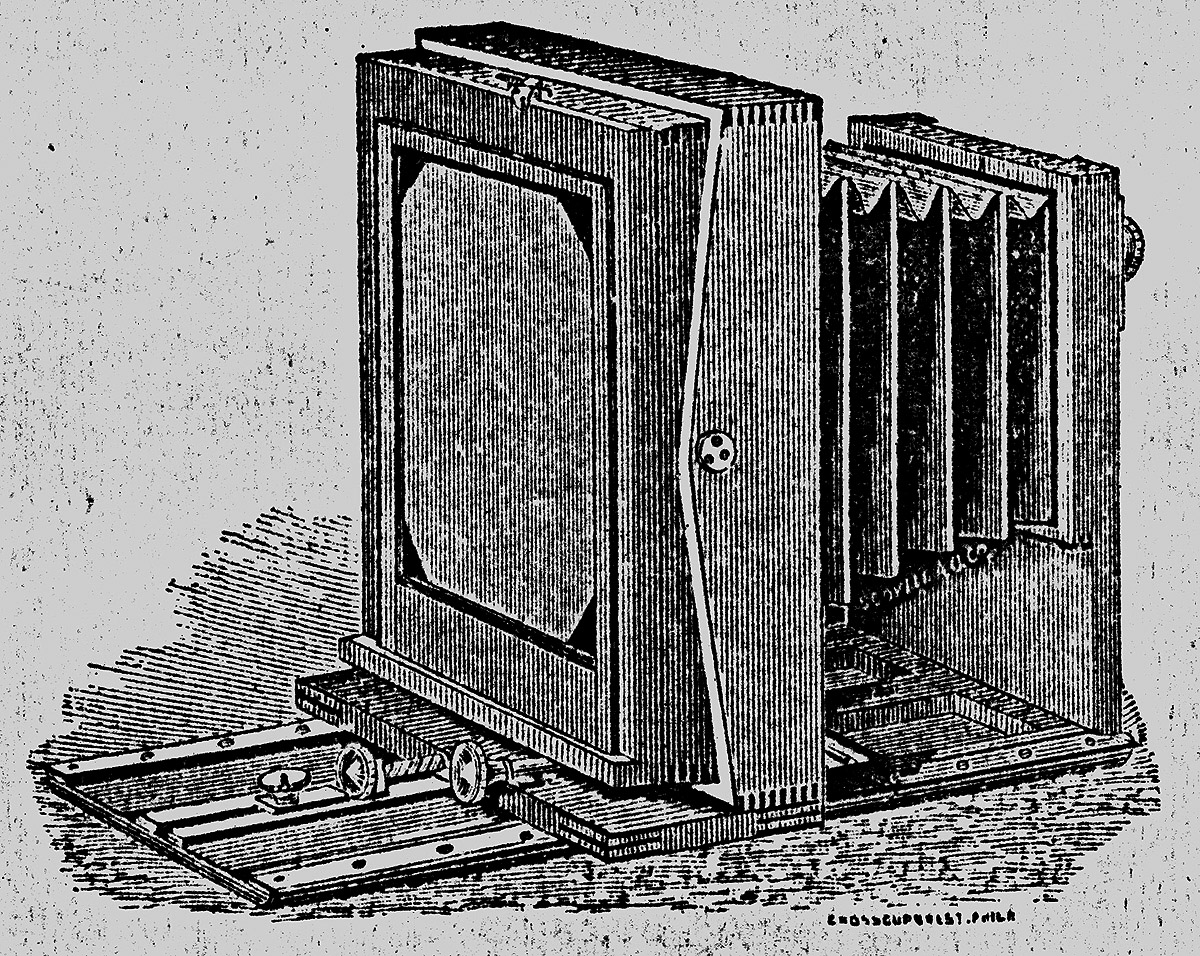 4¼x5½" Transitional Camera - same as Cone View Camera above, but the bellows are straight, not tapered, and the base is a frame instead of solid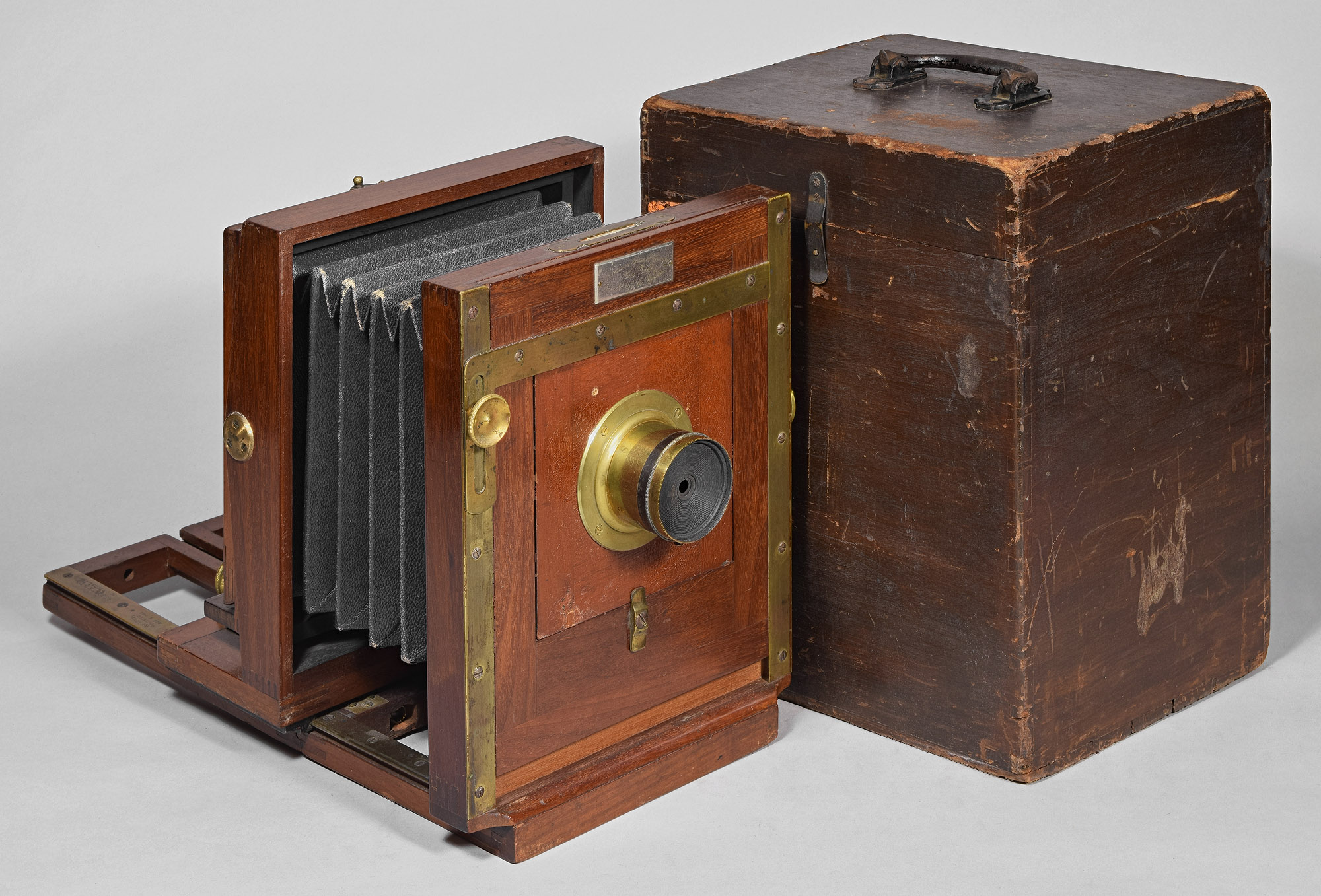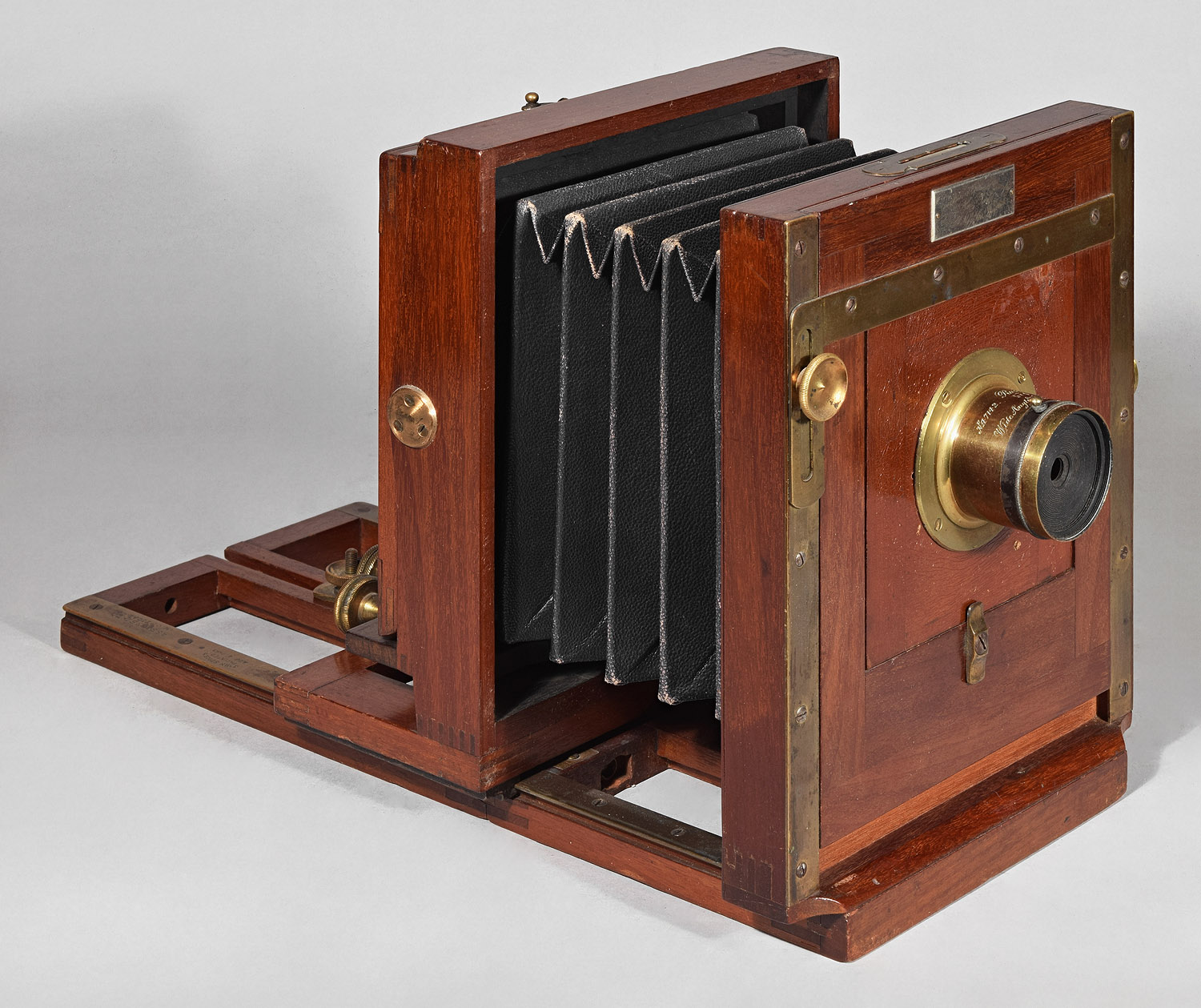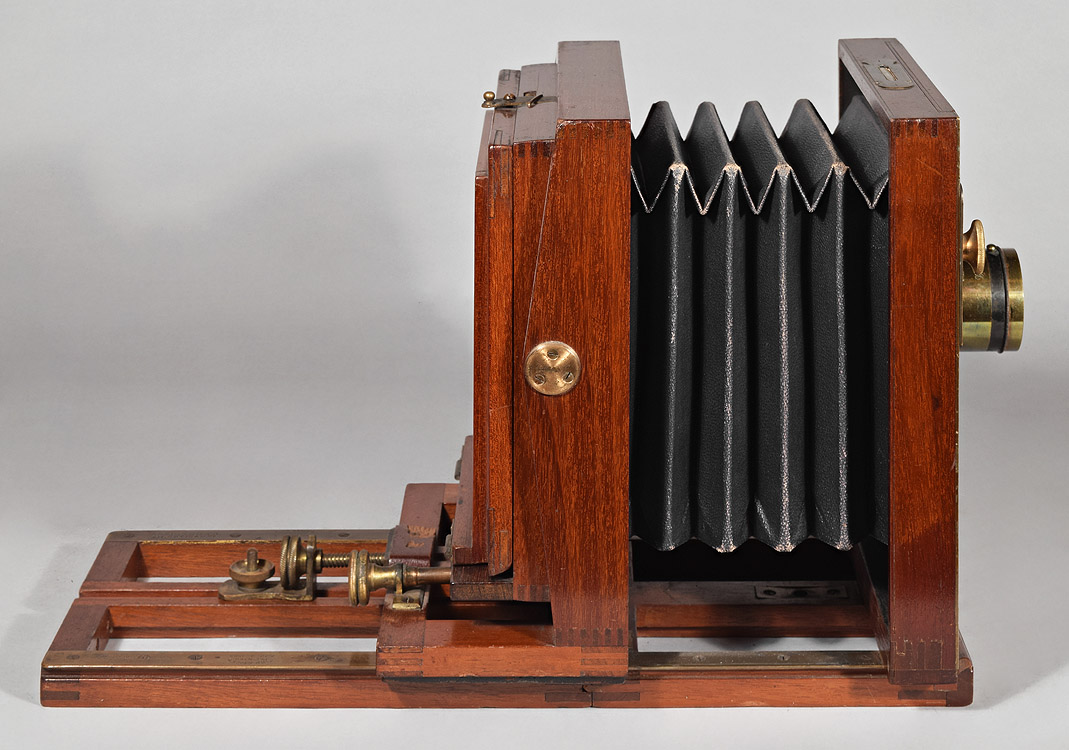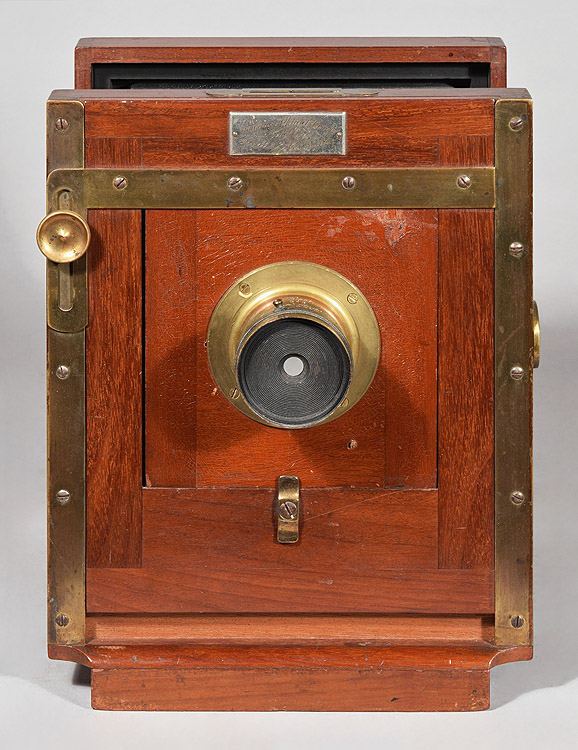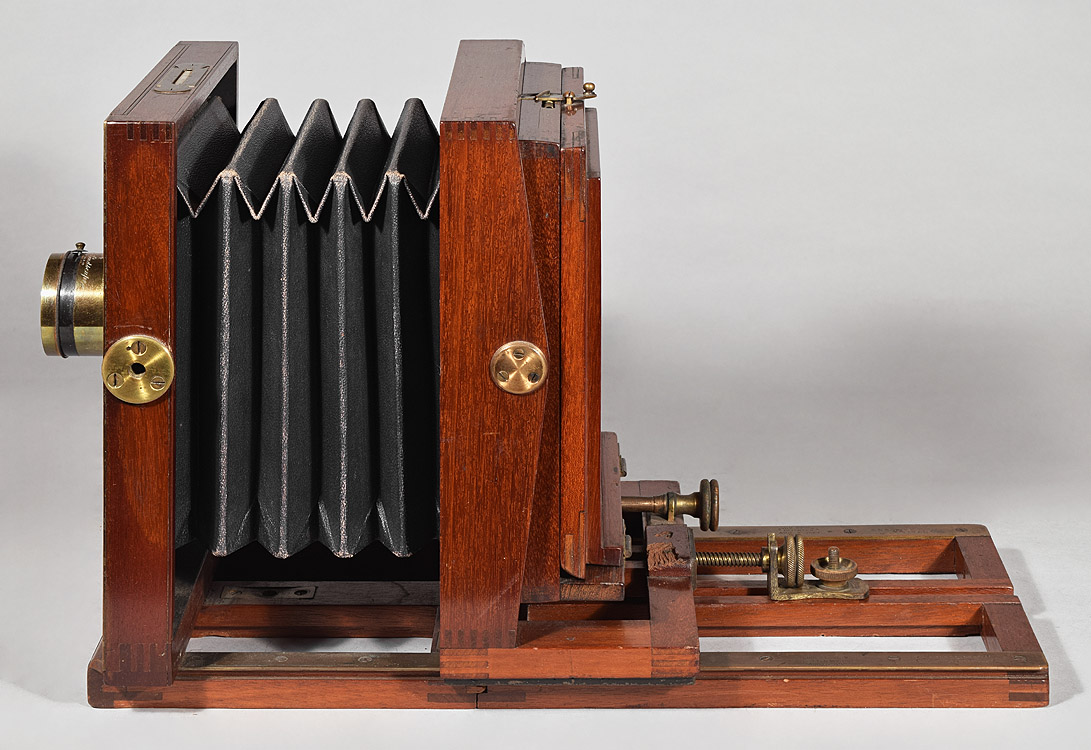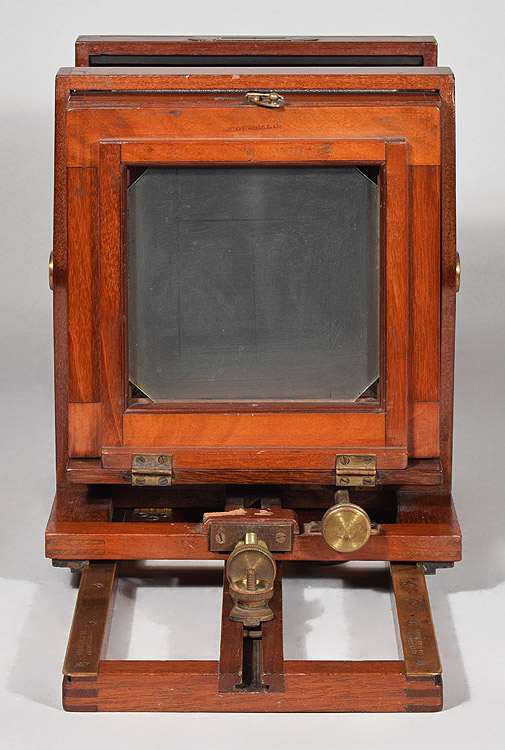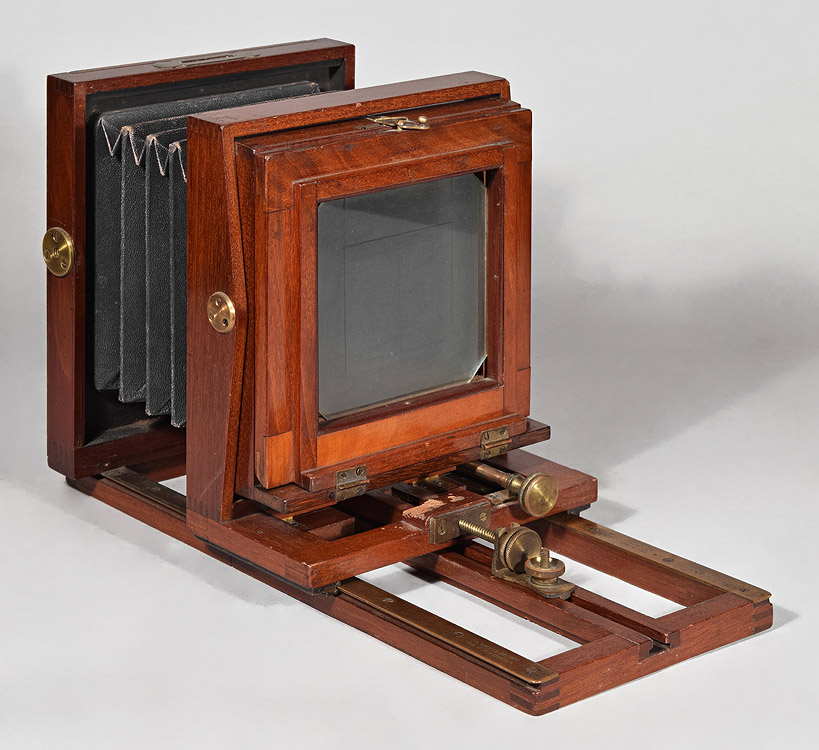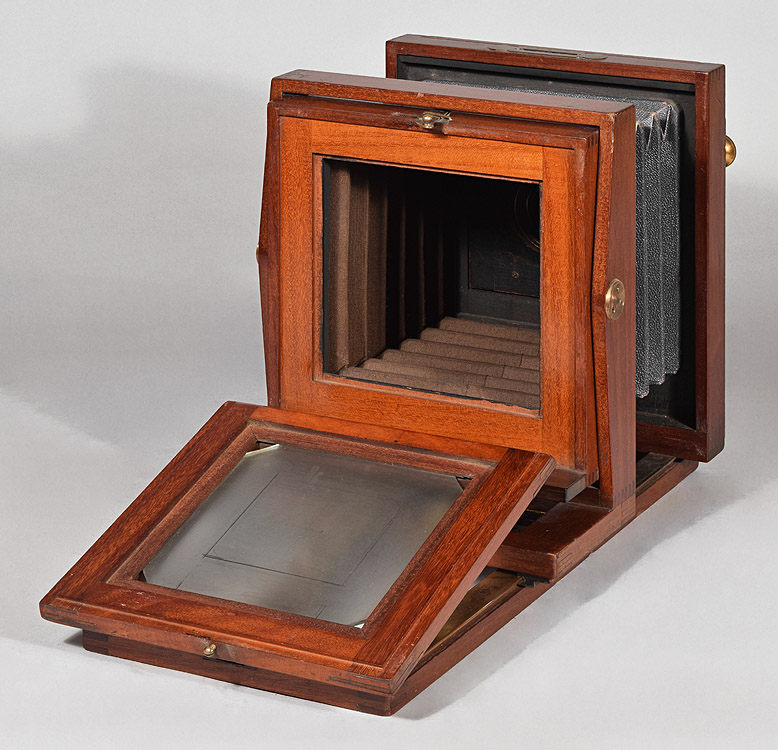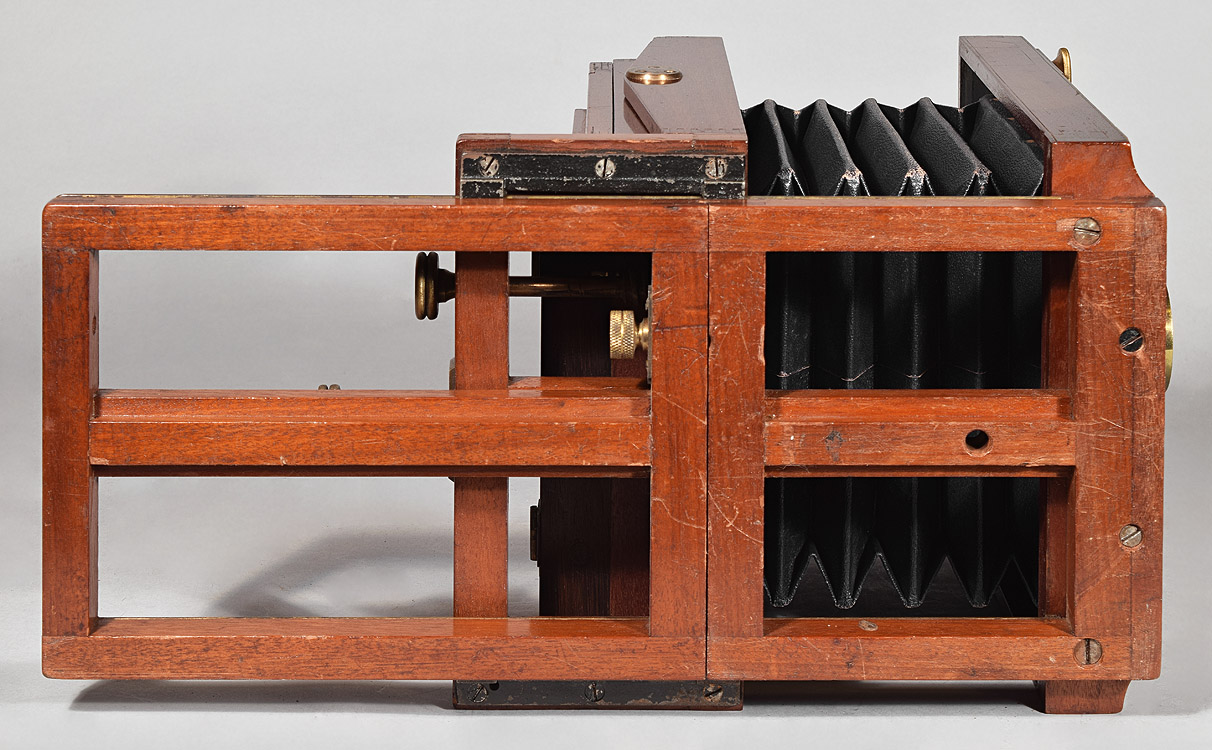 Metal label on the front standard: "American Optical Comp'y New York Scovill M'fg. Co. Prop'trs."


Stamps on the back ground glass frame: "Am. Optical Co.", and the assembly number: "1"


Stamps on the brass frame rails: "John Stock's Patented Aug. 4, 1863" and "Assigned to Am. Optical Co."


Bubble level inlet into the top of the front standard. It may have been installed at the factory, considering its aligned screw slots and filed finish.


Manufacturer: American Optical Co. New York, NY factory
Date Introduced: 1870 ; Years Manufactured: 1871-c.1882
Construction: rear focus via push-pull with fine focusing screw; 0/1/2 swing; non-reversing; three-piece lens board
Materials: mahogany body; cherry base; black fabric bellows; brass hardware
Sizes Offered: #51=4¼x5½; #52=6½x8½; #53=8x10;#54=10x12; #55=11x14; #56=14x17; #57=17x20; #58=20x24
Notes:
American Optical's View Camera Boxes had non-tapering bellows, while their Improved View Camera Boxes/Cone View Camera had tapering bellows, which allow the camera to be much more compactly folded.
Like the engraving of the Improved View Camera Box/Cone View Camera, this camera has 1) a slider and thumbscrew for focusing, 2) has single swing rather than double of the View Camera Boxes, and 3) a thumbscrew at the bottom controlling the swing, rather than the side location of the View Camera Boxes.
Unlike the Improved View Camera Box/Cone View Camera, it has 1) straight bellows rather than the cone (tapering), and 2) a frame-like base containing no fill wood between the sides. It therefore appears to be transitional model between the View Camera Boxes and the Improved View Camera Boxes.
It is almost identical to the New Haven Reversible Back View Camera advertised in a J.W. Queen catalog, except that it is less robust and it is single swing rather than double.
References:

Back to American Optical & Scovill