E. & H.T. Anthony
View and Portrait Boxes (#20-27)

Climax

Compact Camera


Climax Camera

Illustrated Catalog of Photographic Materials, Thomas H. McCollin & Co. (Philadelphia, PA), 1897, p. 38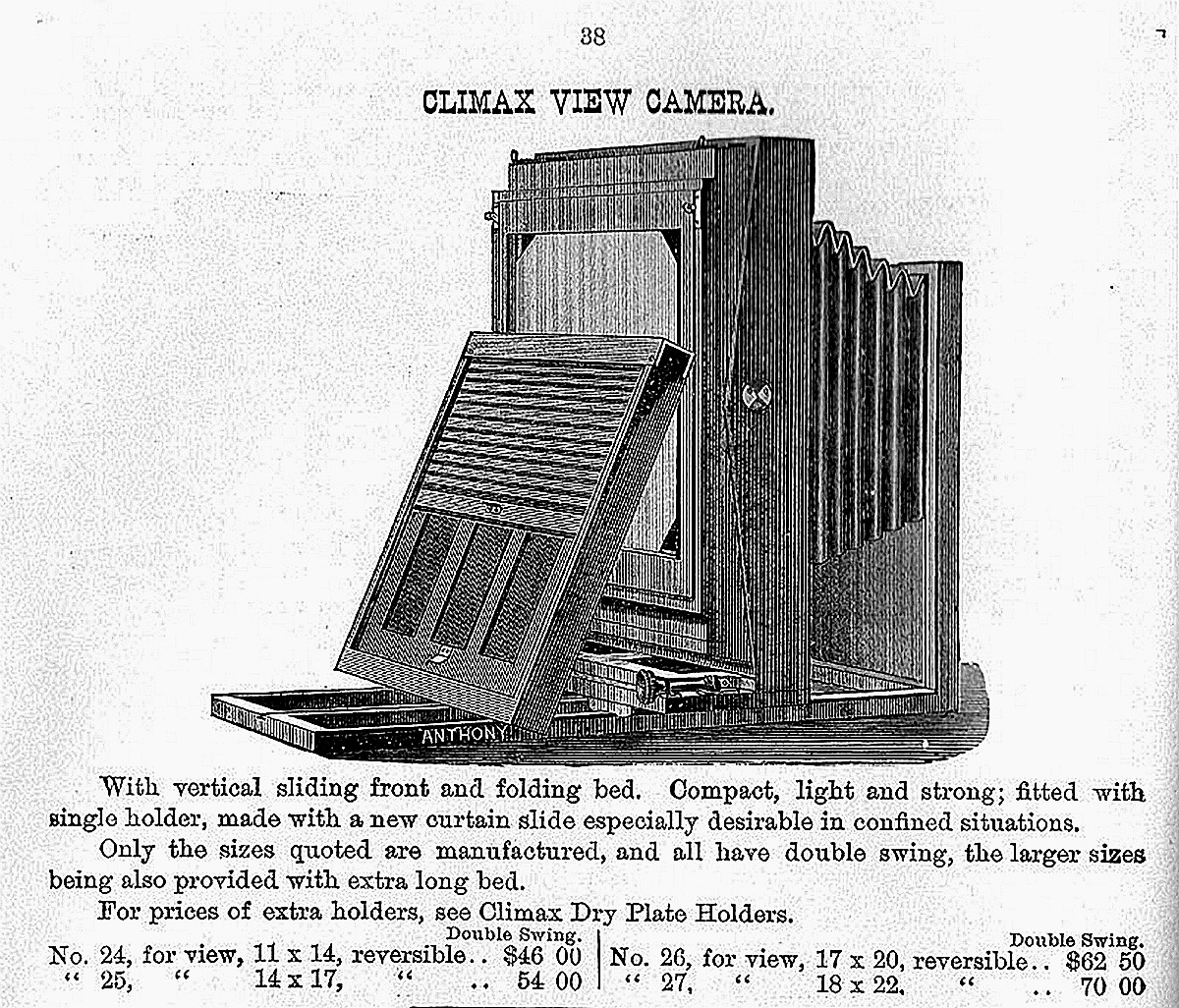 8x10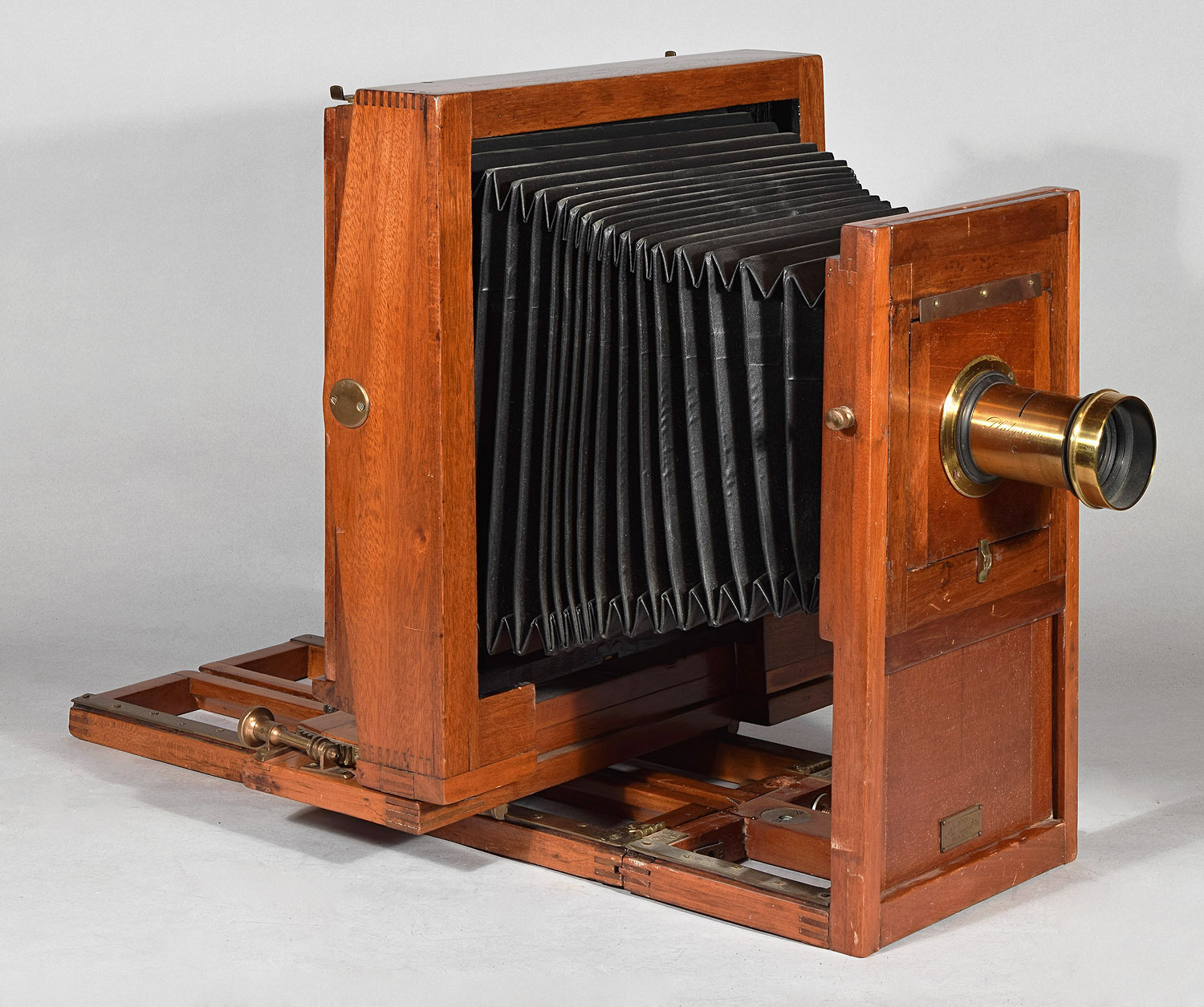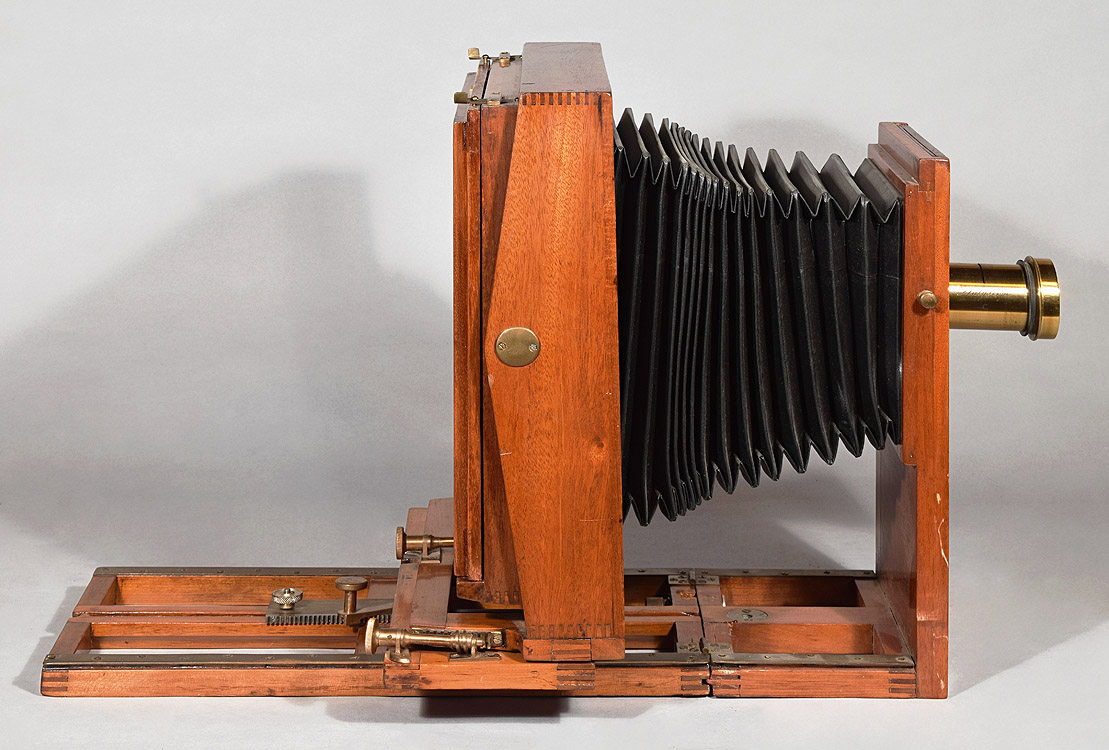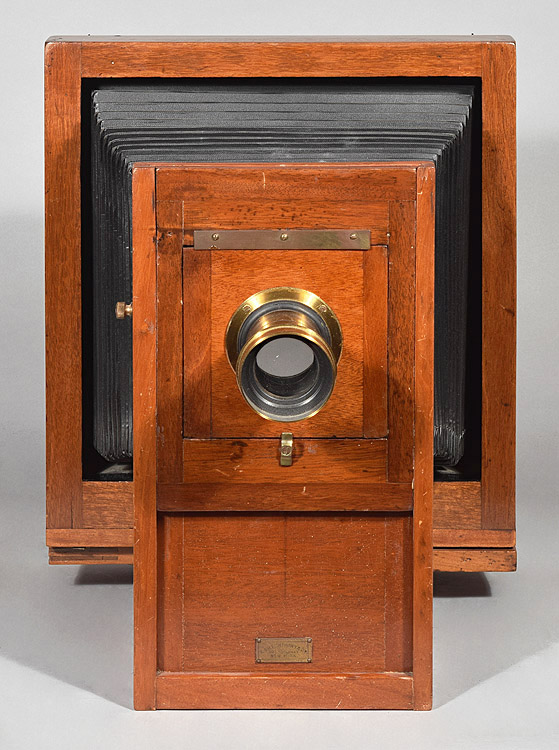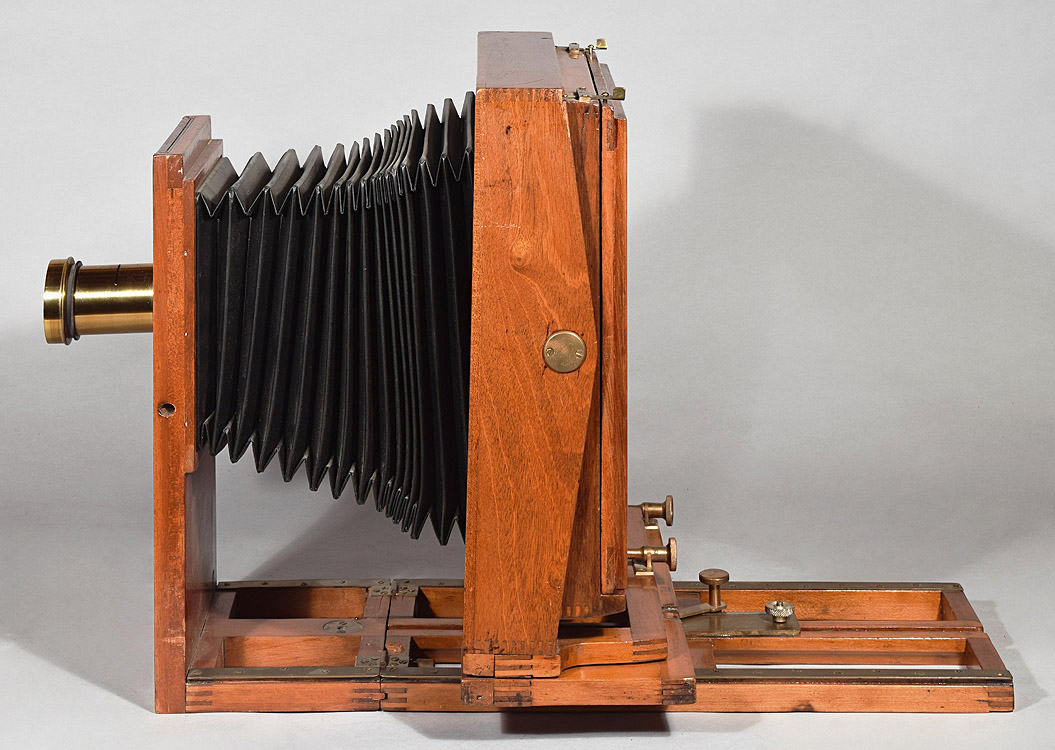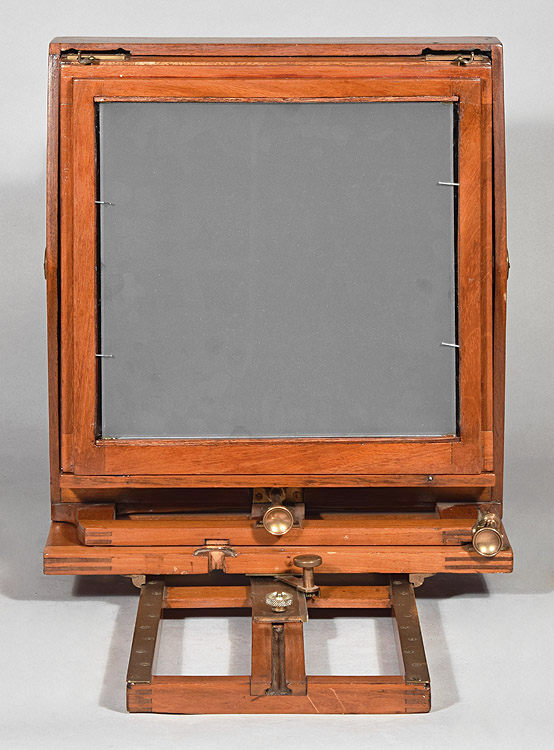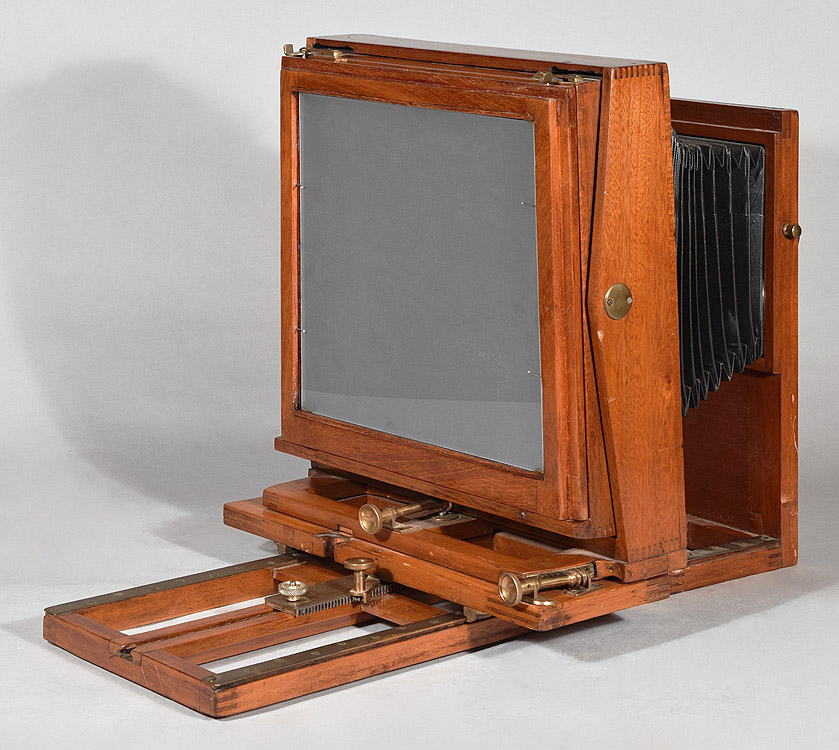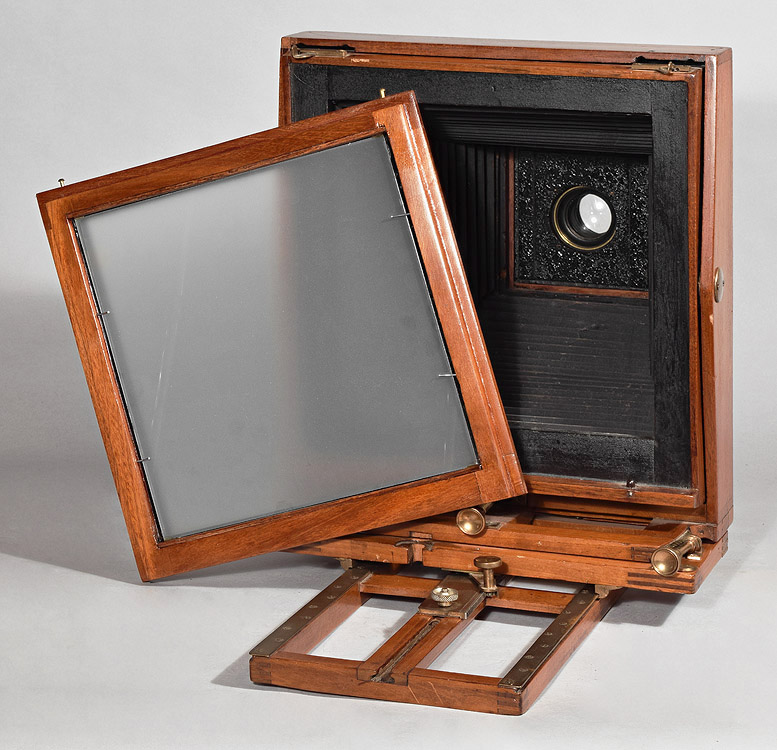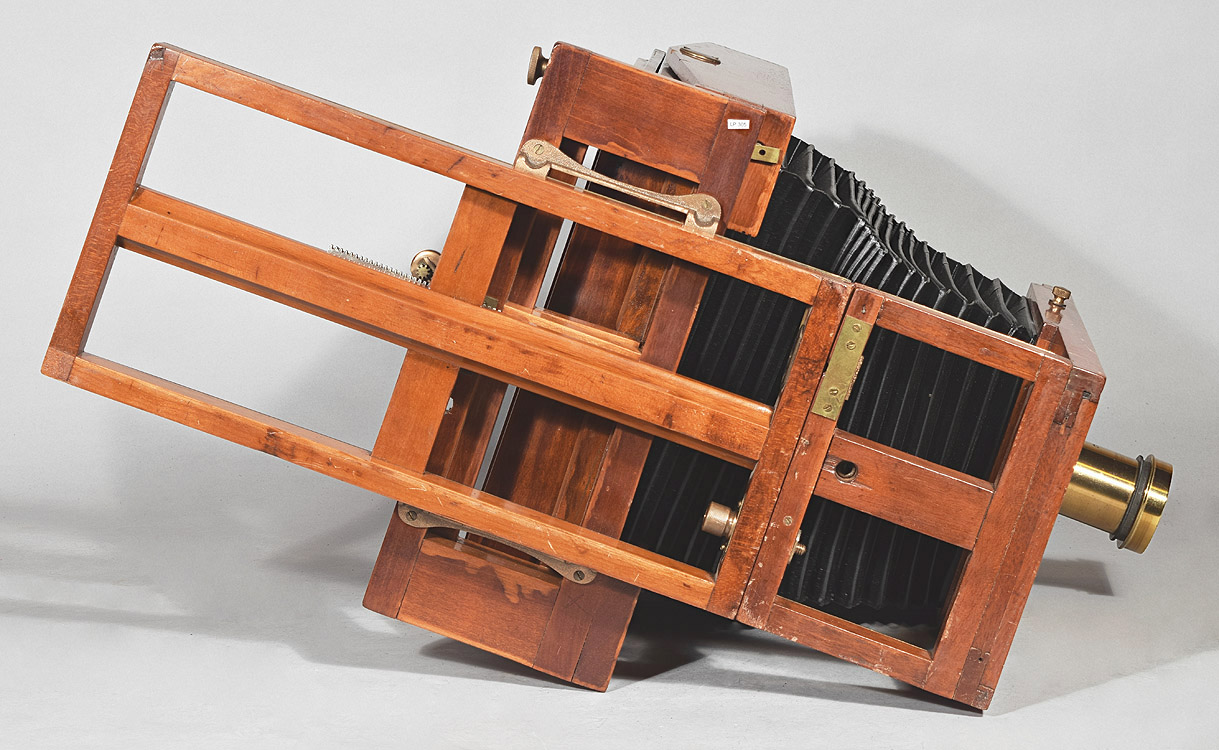 Label on the front standard


Date Introduced: - ; Years Manufactured: c. 1872 - c. 1897
Construction: rear push-pull focus with fine focus lever; double swing, front rise
Materials: mahogany body; cherry base; brass hardware
Sizes Offered: #21=6½x8½; #22=8x10; #23=10x12; #24=11x14; #25=14x17; #26=17x20, #27=18x22
Notes:
The wet-plate-era View and Portrait Box features a focus screw, folding bed, sliding front, brass rail guide. It looks as if it is a fairly standard portrait studio camera of the era that has been precariously balanced on a folding bed - thus the name View and Portrait Box. It has a typical feature of wet plate cameras that almost never occurs in dry plate amateur cameras - that is, its ground glass is square (10x10") and the back must be completely removed to fit the plate holder in its place. A change of horizontal format to vertical format is performed within the plate holder by rearranging wood guides.
A dry-plate-era camera of essentially the same design was called the Climax View Camera - the two share the same model numbers and sizes. But the many extant Anthony amateur catalogs from the 1880's and early 1890's do not list the View and Portrait Box or the Climax View Camera; they may have been considered only of use to professionals, and only listed in professional catalogs.
A 20x24 version of this camera was sold on eBay in 2008. It would have been a special order, since that size is not in the catalog.

The above example was probably well used, like many professional-type cameras, and there have been a number of alterations to it that should not be used to identify other examples of the View and Portrait Box:
1) it has lost its back. This is a common occurrence for cameras where removing the back is a daily event. The back currently on it is a recent reproduction based on another Anthony 8x10 back of the same era.
2) the Anthony clips to hold the top of the back were originally spring-loaded mechanisms that were inlet into the wood. But they have been replaced by functional but simpler Scovill clips, and the holes in the wood were expertly filled in. This probably also happened over 100 years ago. This may have accommodated a Scovill plate holder.
3) the camera has been refinished, logically done when the holes of the Anthony clips were filled in. This would have removed any dark traces of wet plate chemicals.
4) the lens board is a recent replacement, the camera having lost its original Anthony lens board.
The lens on the above example is engraved: "Platyscope C". The Platyscope was the name of a rapid rectilinear-type of lens sold by Anthony in their many amateur camera catalogs.
References:
Illustrated Descriptive Price List of Photographic Apparatus, E.& H.T. Anthony & Co. (New York, NY), 1872, p. 14 (as View and Portrait Boxes)
Descriptive catalogue and price list of the photographic apparatus manufactured by E. & H. T. Anthony & Co., E. & H. T. Anthony & Co. (New York, NY), distributed by J. Haworth (New York, NY), February 1884, p. 32 (as Compact Climax Camera)
Illustrated Catalog of Photographic Materials, Thomas H. McCollin & Co. (Philadelphia, PA), 1897, p. 38 (as Climax View Camera)
Back to E.& H.T. Anthony