Flammang Camera Co.
New York, NY
Panorama / Custom View Camera
19 x 36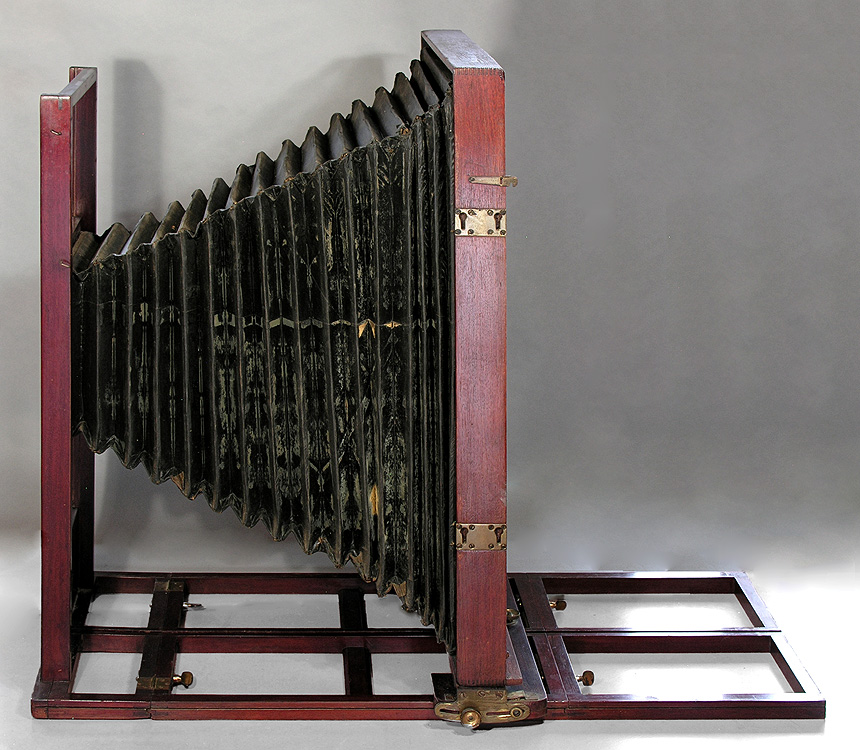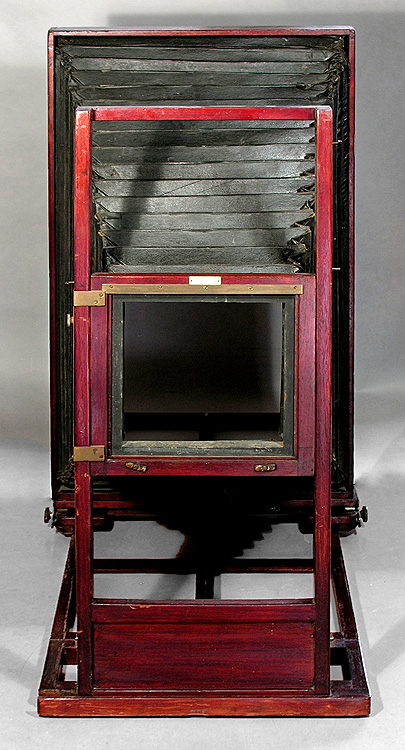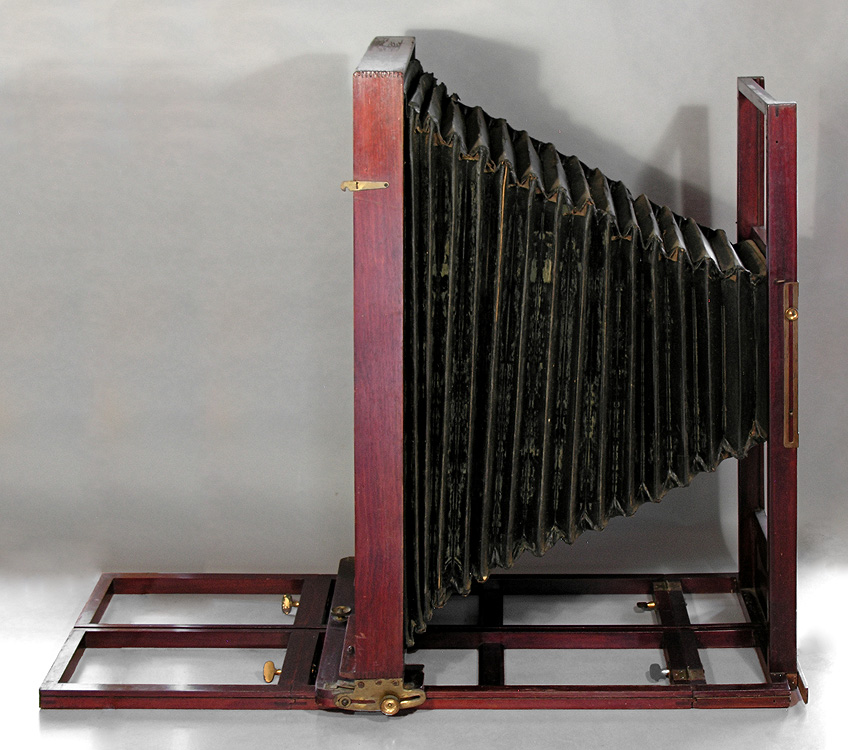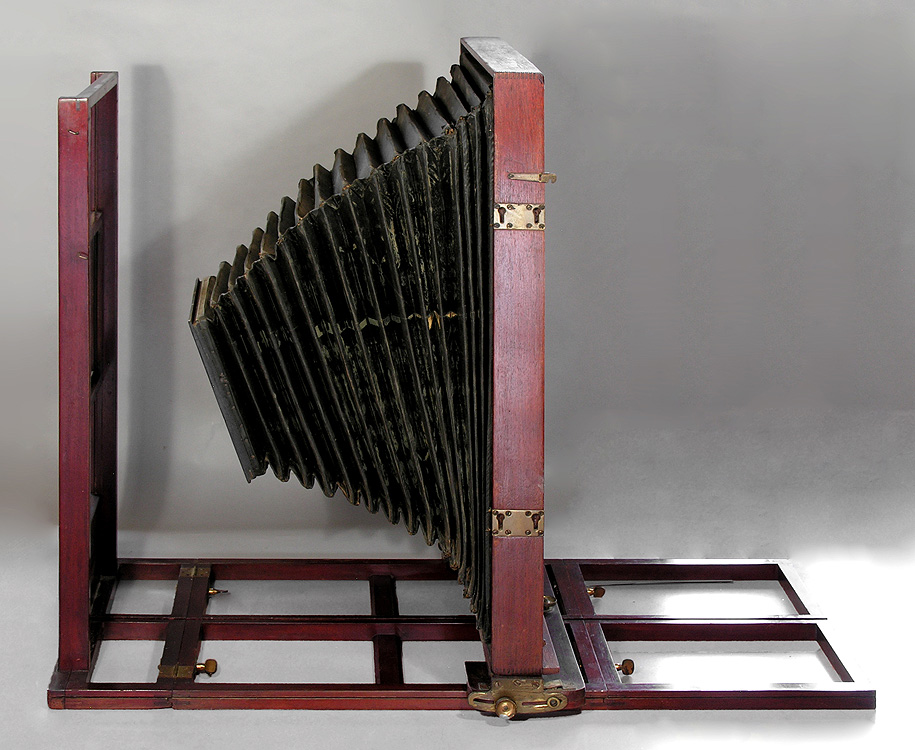 Date Introduced: - ; Years Manufactured: c. 1896
Construction: rear focus via push-pull; single swing; reversing by re-positioning bellows; rising front standard
Materials: mahogany body; cherry base; dark finish; black rubberized fabric bellows; brass hardware
Sizes Offered: 19x36
Notes:
Mathias Flammang, at least his last name, is well known to those who study field view cameras because the phrase "Flammang's Patent" is stamped into many an American Optical/Scovill camera bed. There are actually two patents that merit the stamp, both of which came while he was employed by the Scovill Mfg. Co. The first, 283,589; Aug 21, 1883, consists of a plate holder that is mounted on a circular track on which it can be rotated from horizontal to vertical format without removing the back. This invention forms the foundation of two relatively rare American Optical models c.1886, known as Flammang's Patent Revolving-Back Camera Front Focus, and Flammang's Patent Revolving-Back Camera Back Focus. The second, 328,664; Oct 20, 1885, is the the very common rod and cylinder mechanism that makes the folding bed rigid on almost every American Optical or Scovill camera made from 1886 though about 1900.
According to an article by Rodger Digilio in the Graphic Historic Quarterly, Vol. 15, Issue 1, p. 1 Flammang had an agreement in 1895 with the Folmer & Schwing Co. to make hand cameras (covered in leather and similar to the Cycle Graphic). Flammang was the superintendent of the Scovill & Adams factory in Waterbury, CT at the time, and presumably had an arrangement to contract with the factory or factory workers to make cameras under the name Flammang Camera Co. He was in default of the agreement with Folmer & Schwing by summer 1897, not being able to supply sufficient cameras for them because he had also making cameras for Scovill & Adams, G. Gennert and other dealers. He probably had to fill the Scovill & Adams orders first, since he seems to have been using their factory.
Wilson's Photographic Magazine, Vol. XXXIII, No. 476, p. 352; August 1896, has a note from a recent photographic convention in Celoron (a town in Chatauqua Co., NY) that available was "an illuminated catalogue (entirely new) of cameras, etc. by the Flammang Camera Co., 180 and 186 West Houston St., New York City."
It is interesting that the above camera does not use the Flammang patent revolving bellows. If it did, it would have been about twice as heavy, twice as large, and twice as expensive, since the back would have had to be 36" square. The bellows release from the front standard of this camera by pushing the front end upwards against a leaf spring hidden in the slot, which frees the bottom of the bellows first. This same "up and out" method was also used by Century Camera Co. lens boards.
Judging from those still in existence, cameras having a Flammang Camera Co. label are not common. The catalog would seen to have been printed up, and most of the capacity used to try to keep up with contracts rather than making Flammang models.
References:
American Annual of Photography and Photographic Times Almanac for 1898, The Scovill & Adams Co. (New York, NY), 1897, ads p. 94 (mention of view cameras only, not specific model - advertisement is shown below)

American Annual of Photography and Photographic Times Almanac for 1898, ads p. 94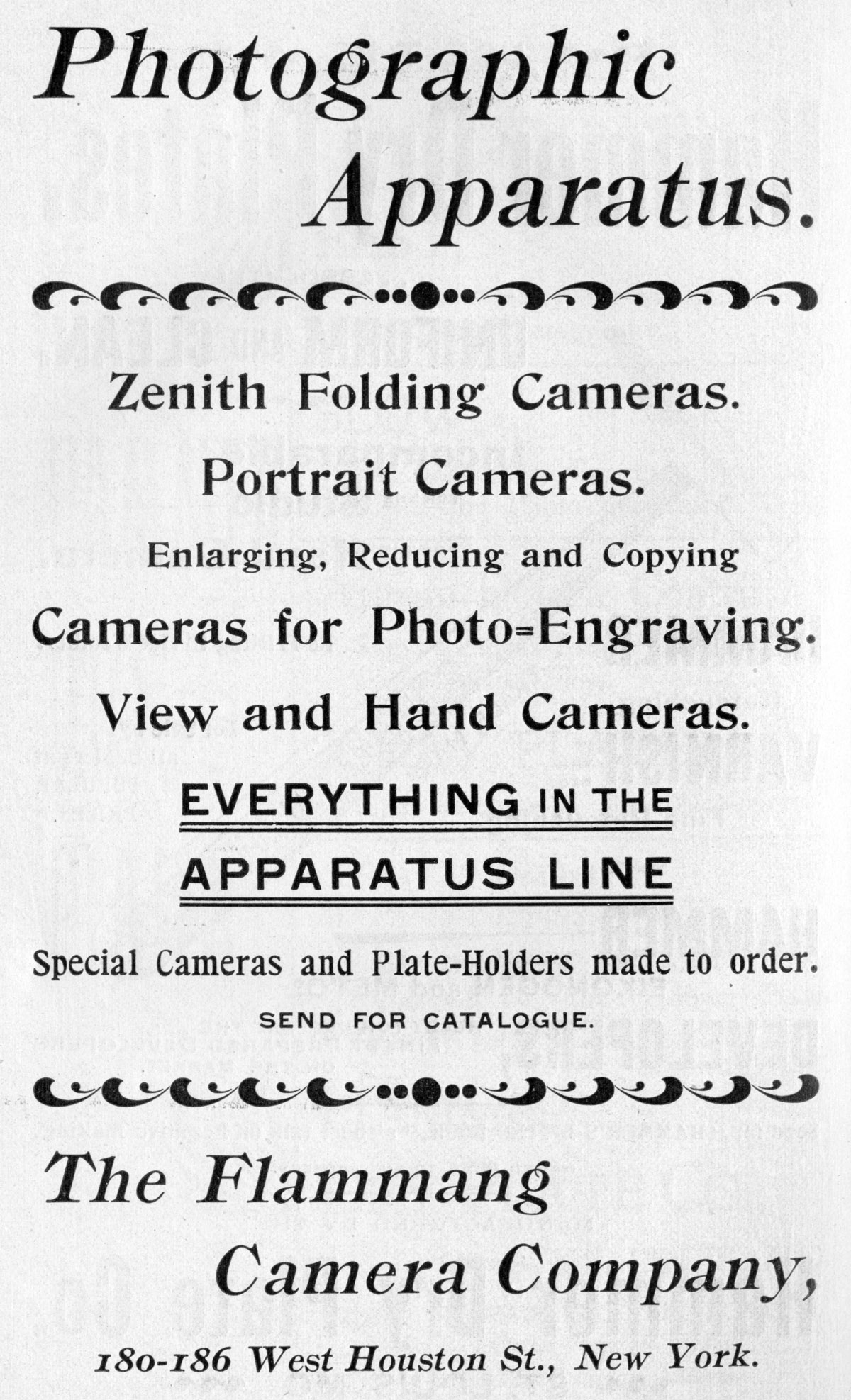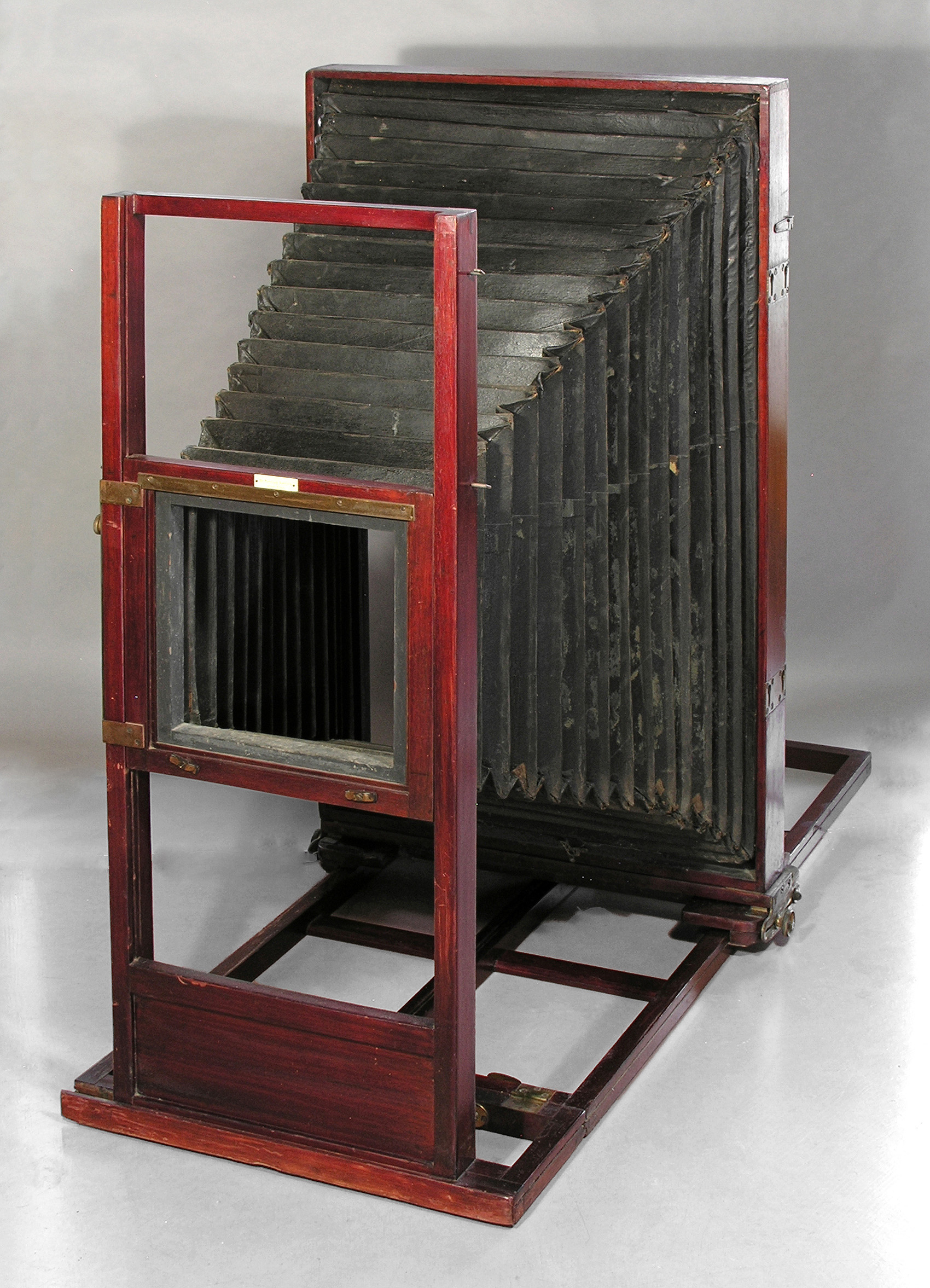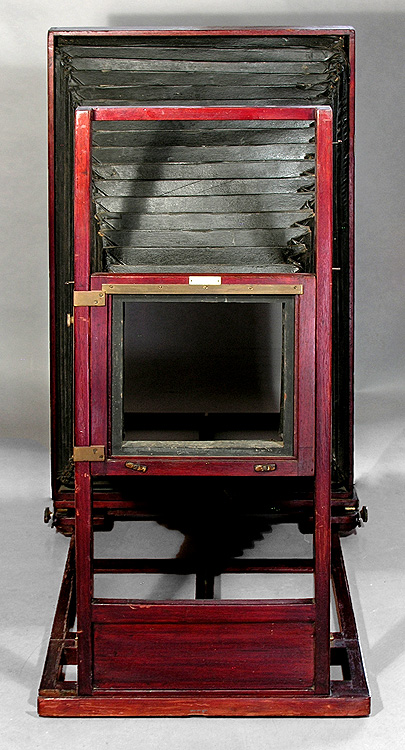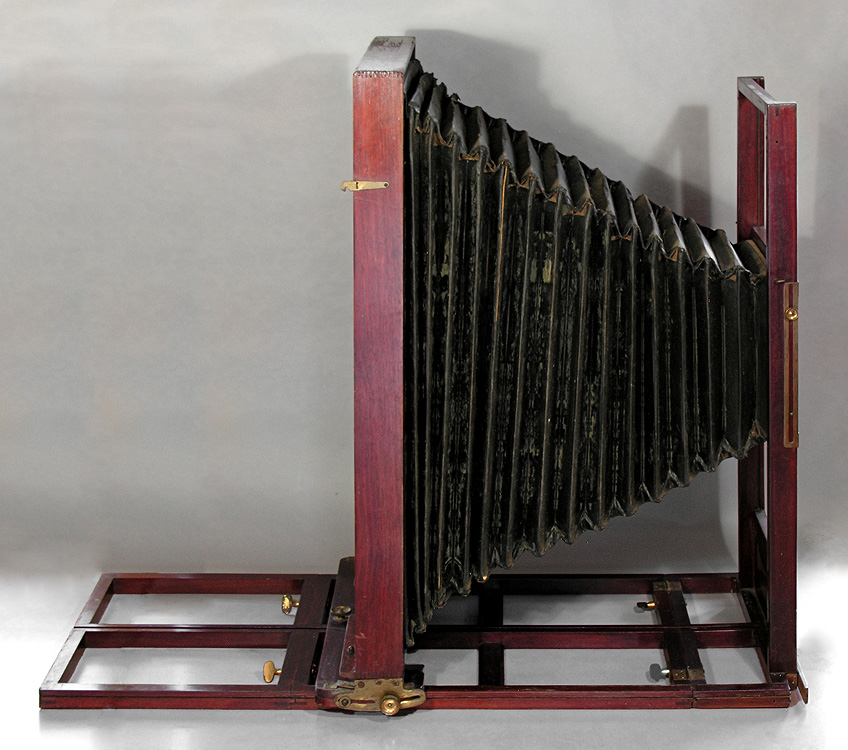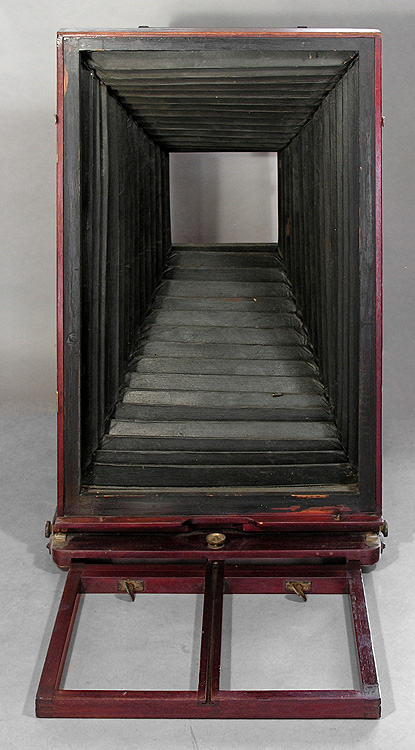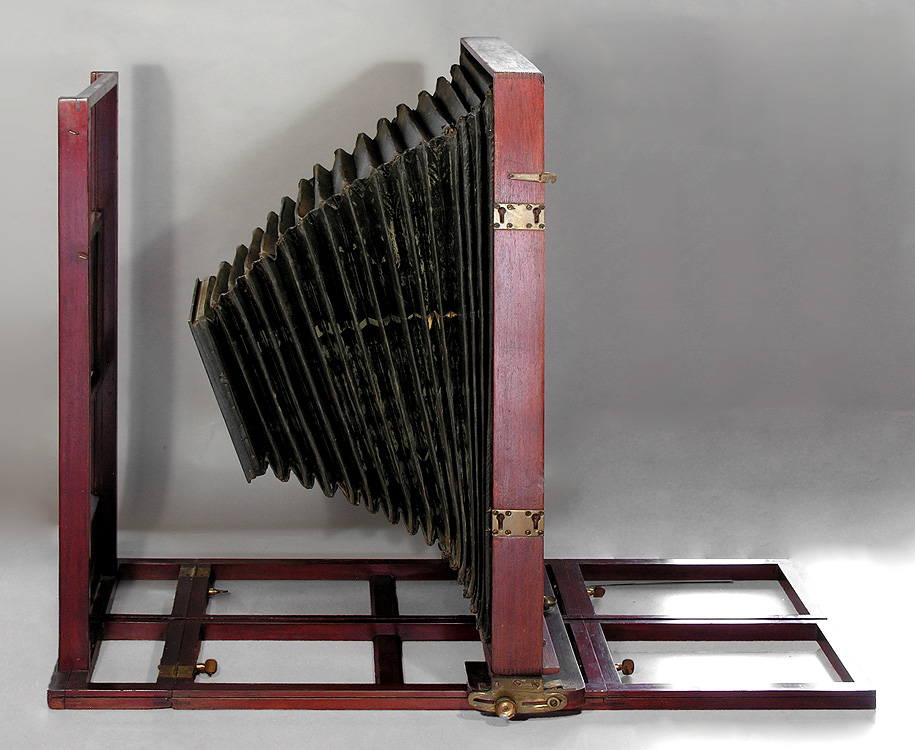 Back to Rochester Optical Co.