James Robert Frank Pierce (1918 - 1973) and Helene Mae Vaubel (1919 - 2003)
James Robert Frank Pierce (he was born James Robert but changed his name to James Frank in honor of his uncle Frank Bond) was born 21 Feb 1918 in a farm (plantation ) in Woodville, Wilkinson County, Mississippi, USA. He was the son of Norval Lee Pierce (31 Dec 1871, Marion, Crittenden County, Kentucky, USA - 08 May 1951, Natchitoches, Natchitoches Parish, Louisiana, USA) and Margaret Ramey Bond (14 Dec 1874, Ghent, Carroll County, Kentucky, USA - 18 Feb 1970, Natchitoches, Natchitoches Parish, Louisiana, USA). He died of a heart attack 11 May 1973 in Milwaukee, Milwaukee County, Wisconsin, USA, and was buried at Pinelawn Memorial Park, Wauwatosa, Milwaukee County, Wisconsin, USA.
Helene Mae Vaubel was born 14 Dec 1919 on a farm near Dysart, Tama County, Iowa, USA. She was the daughter of Oliver Charles Vaubel ( 21 Feb 1891, Monroe Twp., Benton County, Iowa, USA - 14 Feb 1939, Dysart, Tama County, Iowa, USA) and Anna Mabel Shafer (11 Jan 1893, Garrison, Benton County, Iowa, USA - 06 Sep 1973, Rochester, Olmsted County, Minnesota, USA). She died from complications of Alzheimer's disease 08 Nov 2003 at Elmbrook Memorial Hospital, Brookfield, Wisconsin, USA, and was buried at Pinelawn Memorial Park, Wauwatosa, Milwaukee County, Wisconsin, USA. Helene married second Richard Daub.
Notes for James Frank Pierce:
Delayed Certificate of Birth #43187, Mississippi State Board of Health:
James Frank Pierce, b. 21 Feb 1918 in Wilkerson Co., MS; father Norval Lee Pierce (b. Marion, KY); mother Margaret Bond (b. Carollton, KY). Affidavit by N.L. Pierce and Mrs. O.W. Spalding (aunt) 24 Feb 1944.
Honorable Discharge #5929-11: Pierce James F., ser #37 630 531; Sgt.; service: AAF; component AUS; organization Sq H 64th AAF Base Unit. Date of Separation 8 Apr 46 at Fort George G. Meade Md. Date of induction 9 Dec 43; Jeff Barracks MO; home address at time of entry into service: 7241 Balson Ave., University City MO; specialty #405 (Administrative and Technical Clerk)
James was known during his lifetime as James Frank, but was born James Robert. At the age of 14, he started using the middle name Frank, the name of his uncle instead of Robert, the name of his grandfather, who had died by the time he was born. When he was drafted, 3 Dec 1943, his parents made an affidavit so James Frank would be on his service record.
He grew up on the Pierce's farm in Woodville, played basketball as a youth. He went to 2 yr business college at Chilicothe, OH (probably Southeastern Business College, now Samuel Stephen College) and there met Helene Vaubel. They married after graduation. During WWII he was stationed in the States as an accountant. After the war, the family lived in Memphis, TN and St. Louis, MO. They then moved to Milwaukee, WI in 1952 where he worked as an accountant and eventually office manager for the Firestone Tire & Rubber Co.
In 1965, after more than 20 years with Firestone, he quit and became a purchasing agent for Kickhaefer Mfg. Co. of Grafton, WI, a manufacturer of clamps and fittings. He suffered at heart attack after a stress EKG in 1973 and died less than 24 hours later at St. Michael's Hospital, Milwaukee. An autopsy showed that he must have had a previous heart attack that he never knew about. A true son of the South, he ate bacon and eggs almost every day and smoked, habits which undoubtedly contributed to his early death.
Notes for Helene Mae Vaubel:
Timeline, written by Helene Vaubel Pierce Daub on 1-18-1994
-1918 Helene Mae Vaubel born on farm in Benton County 12-14-18
-1936 graduated Dysart Consolidated High School
-1936 September Enrolled Chillicothe Business College (Mo.)
-1937 December received diploma for Complete Bus. Course (stenography & bookkeeping)
-1938 January went to St. Louis and roomed with Hazel Ringwald - a former roommate from Chillicothe (moved twice)
-1938 February started work with Met Life Ins Co. June 17 married James F. Pierce who I had met while at Chillicothe. He obtained work at Blackwell-Wielandy which was an office supply co. (two years)
-1940 Jim left the office supply co. for a better job at Firestone Tire & Rubber Co. (moved three times)
-1942 June transferred to Memphis, Tn - Karen was born 9-15-42
-1942 December transferred back to the St. Louis office
-1943 Dec 9 Induction into Air Force at Jefferson Barracks, Mo. Sold our furniture at 7241 Balson Ave and Karen & I moved to Iowa and lived with my mother in Dysart. Jim was stationed at Andrews Air Field, Md until Aug 1945 (end of war VJ Day) Sg H. 64th AAF Base Unit.
-1946 April Separation Center, Fort Meade, Md
-1946 Sept the three of us moved back to St. Louis and with Firestone
-1949 March 29 Larry born
-1951 Dec transferred to Milwaukee. Rented an apt. on Lincoln Ave. in West Allis
-1952 Bought home on 57th St., Milw
-1960 Karen graduated from Pulaski High School
-1966 summer moved to Colonial Apts., Grafton while our future home was built
-1967 April moved to 1564 Crestview Dr., Grafton
-1967 Larry graduated Grafton High School
-1973 May 11 Jim died at Columbia Hsp.
-1976 sold home and moved the Milw - Cloisters Condominiums
-1984 June 23 Richard Daub & I were married
-1984 July bought home in Brookfield. Lived in the condo unit until Sept 84
-1985 Condo sold
-1994 Still at 4750 Wessex Dr., Brookfield, WI (time of writing)
[-2003 Died in a palliative care facility in Wauwatosa, WI.]
Obituary Milwaukee Journal/Sentinel:
Daub, Helene Mae (nee Vaubel) Found Peace Sat., Nov 8, 2003, age 84. Beloved wife of the late James F. Pierce and the late Richard Daub. Dear mother of Karen "Kari" (Brian) Olson and Larry (Sharon) Pierce of Arizona. Step-mother of Richard (Nina) and Michael Daub. Loving grandmother of the Eric (Brenda), Anders and Kristian Olson. Also loved by other relatives and friends.
Visitation at Mt. Zion Lutheran Church 12012 W. North Ave., Tue. Nov. 11, 5-7 PM. Funeral Service at 7 PM. Private Burial Pinelawn.
Helene grew up in Dysart, IA and was a graduate of Dysart Consolidated Schools and later of Chillicothe Business College. She worked for Met-Life Insurance until first married. While raising her two children she was a Den Mother and Block Warden. She earned a certificate in Red Cross home nursing.
She enjoyed many hobbies including reading, arts and crafts, dancing and especially loved cats. She was a Deaconess for the First Baptist Church of West Allis, and a member of the Choir and Bell Choir at Mot. Zion Church in Wauwatosa. Other affiliations were many varied club memberships and officer positions and service in the Ladies Auxiliary of American Legion Post 449.
Memorials appreciated to Alzheimer's Association of Southeaster Wisconsin;, 6130 W. National Ave., Suite 200, West Allis, WI 53227 or Mt. Zion Church.
Helene will be remembered for her sense of humor and was loved by many who came in contact with her.
condolences to: www.krausefuneralhome.com
Krause Funeral Home and Cremation Services 9000 W. Capitol Dr. 414-464-4640
Photographs
Left to Right: 1) James F. Pierce, c.1934 Chicago; 2) James visiting his parents in Natchitoches, Louisiana, c.1950; 3) James when stationed at Andrews Air Force Base, c. 1944; 4) portrait, c. 1945. All photos from albums of his mother.
Left two photographs: Helene Mae Vaubel, c. 1924; Right two photographs: c. 1938; probably high school graduation photos, although she may be a bit older than 18 here. The photographer is Pierce Studio, Waterloo, IA, so it was before her marriage and residence in St. Louis.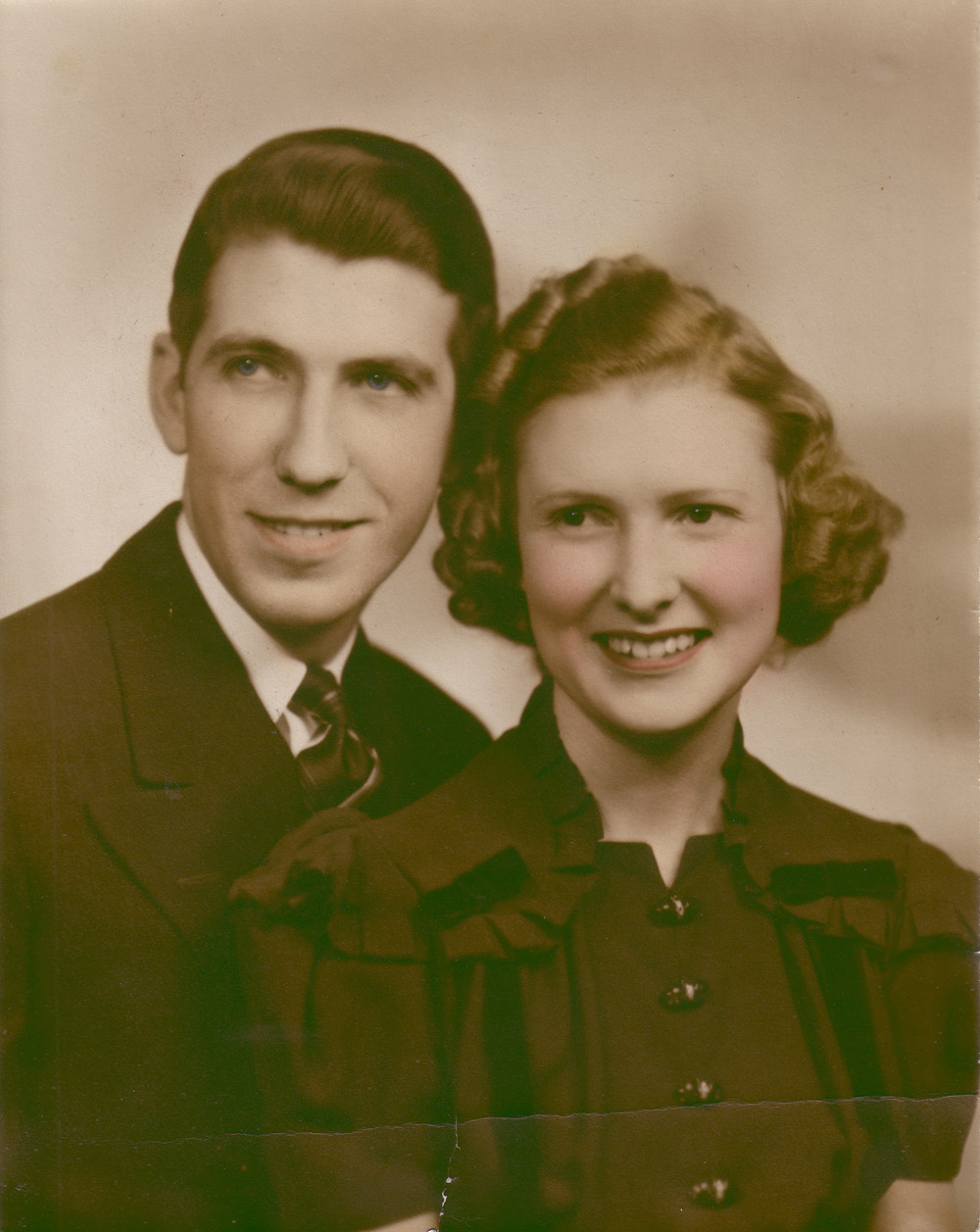 James F. Pierce and Helene M. Vaubel wedding photo
FOND MEMORIES OF THE FARM
My first recollection must have been around the time when I was three or four years old and I realized I had a Mom and Dad, three brothers and many, many cats - - all sizes everywhere. Most of the cats, tho, stayed close to the barn where they hunted for mice and waited for fresh milk every morning and evening.
Our house was a white, two story with a front porch and a privy in back near a grove of trees. There was a nice grove on the west and also on the north side of the farm which made a wind break against the winter winds. Our home was in Benton County which was four and a half miles northeast of Dysart, Iowa.
Mom was a neat and tidy homemaker and a good Mother. Dad was a quiet, gentle man. Both were up early every morning, Mother starting breakfast and Dad doing the chores. Both were ambitious and hard workers, as were most farm people.
Ellis was my oldest brother and Dean was fifteen months younger. They were always very active and full of "beans". Never a dull moment as they could always think of something to do. When they weren't helping Dad, they were usually in the tool shed putting some darn thing together with wheels or pedals so they could ride down the road. Rex was the youngest and often followed behind the older boys. He was quiet and amiable like our Father.
The wide assortment of cats and kittens seemed to be an important part of my life before I went to school. A black and white male, which was naturally called "Tom" was very lovable and on occasion was allowed in the house. I had fun dressing him in doll clothes and would take him for a ride in my doll buggy. He seemed to love it and never moved a hair until I was through playing with him. Tom lived a long life and then one day just disappeared.
Lots of things happened every day on the farm, especially in summer, Threshing time was always exciting and we would look and look for the big steam engine to come up the road to our place. Farmers around the area helped each other so we always knew it would mean around fifteen men or more for dinner. Mom and I worked for days planning dinners and sometimes, if we had larger fields of oats, it could take several days to finish the threshing.
I remember my love for baby mice that were found in the corn shed and I would put them in a cotton lined match box. Much to my Mother's embarrassment, I'd bring out my box of mice and show the threshers while they were eating their dinner. They didn't seem to mind, tho. Dean always worked along with the men and every year we knew he would get sick sooner or later, either because he worked so hard or maybe he would overeat - We never knew which.
I seem to remember more about Dean than my other two brothers, probably because he teased me so much. Some times, I would go to my room and cry. Maybe I was over sensitive but to this day, I don't care to be teased.
One time, Dean talked me into climbing up to a tree house he and Ellis had built and then I didn't know how to get down. A darn bee stung me on my head and I was a mess before Dean offered to help me. I'd always heard that most brothers were mean and ornery and I sure thought so that day!
One day, Dean and Ellis looked at their old bicycle which they shared and wondered what they could do with the tire which wouldn't hold air. Dean thought he had a bright idea and went after a pail of oats. Somehow, the two of them stuffed oats in the tire though a large hole, then put a tire patch over it. They tried to ride the bike but it didn't work too well. The rest of us had a good time laughing about it tho.
Summer days in Iowa meant very hot days, many violent thunder storms and sometimes the threat of a tornado which would have us flying down to the basement. Mother and Dad were very strict about having us come to the house if there was even a hint of a storm brewing and we always did. Other days were beautiful and sometimes Mom would take us fishing in the afternoon or would make lemonade and we'd sit in the shade and relax before starting the evening chores. Dad always joined us if he had time but usually we'd drive through the field and take refreshments to him. When the boys were older, they would work along with him. By the time I was fourteen, I was allowed to take the car alone and drive to wherever they were working. In Iowa we could get a driver's license at age fourteen. Now, I think sixteen is a little too young!
Sundays were quiet and we always went to the Methodist Church in
Dysart, then home to a big dinner which had been previously prepared and put in the oven, then a trip to the Grandparents
One Sunday at Grandpa and Grandma Vaubel's in Dysart and the following Sunday at Grandpa and Grandma Shafer's on their farm near Garrison. There was quite a difference in personalities. Grandpa Vaubel always met us at the door in his usual jovial manner and very German accent saying, "Mell, ya wanna play some rummey?" Grandpa Shafer always had a baseball game on the radio and we had to sit quietly until it was over. After that, however, he would smile and take us out to a shed where he would show us all the beakers, chemicals, vials etc. and talk to us about his latest invention. We would stand there in awe thinking he was the smartest Grandpa around and he did manage to obtain a few patents. One I remember was called "Solderene". Guess it was some type of formula to be used with solder to bind things together. -
Mother and Dad were early risers as were most farm people. Bedtime, then was around 8:00 P.M. and that included all of us! We really didn't mind too much as we all had our chores, homework and it was a full day. Sometimes, if we weren't quite ready for sleep, one of us would start telling a story. Ellis and Dean had a double bed in the south bedroom, Rex was in the north room and mine in the southeast with short halls connecting. It was easy to hear the storyteller and when one got tired, he would pass it on to another until finally we all drifted off to sleep. Dean, as usual, came out with some outrageous tales and in those days, we had vivid imaginations and had some weird nightmares.
Maxine Vaubel, my first cousin, and I were very close friends. She lived a mile away and we often met halfway on our bikes, then we'd go to her house or mine. We loved the usual things like dolls but also were fascinated by tap dancing. We never had any lessons but spent hours working on the steps we would see in the days when there was always a chorus line or vaudeville act between the movie and Pathe news. We never learned the steps too well but had a lot of fun trying.
I think it must have been the 30' s when my Dad, his brother, Earl, and a step-brother-in-law, Blakely thought they were real sports with their new automobiles. I clearly remember them racing up and down the dirt road in front of our house. Earl had an Essex, Blakely, a Hudson Super- Six" and Dad, a Maxwell. They laughed a lot and had loads of fun. My brothers were very envious but I thought they were just plain foolish for their age.
One summer, Dean and Ellis ordered a root beer kit from Sears & Roebuck. We checked the mail every day and finally it came. I can't remember the ingredients we had to add but Mom insisted that we do the whole process on a table in the back yard. We all took part in the mixing and bottling, then waited patiently for several weeks for it to "work". We thought it was magnificent but I'm sure it wasn't all that great but we drank it anyway.
We went to school at Dysart Consolidated which meant being picked up by a school bus. There were times when we never made it due to heavy snow and then the teachers were very patient and spent extra time with us so that we could make up the work we had missed.
When Ellis and Dean were old enough to drive, fourteen then, they obtained an old Model T. Ford. I'm not sure where, but they thought it needed a coat of paint among other things. That meant another order to Sears Roebuck for a few cans of maroon paint. The paint arrived and it was a bright red but that didn't bother them at all. Rex and I were allowed to help them paint and it was time to show it off. NOW they had a way to get to school without riding the bus. We would wait until the bus had picked up the last kid and on it's way, then we would come roaring up behind the bus, honking and waving as we went around. One day, just as we had passed the bus, a wheel flew off and rolled into the ditch. We came to a sudden stop. The bus driver and all the kids hooted and hollered and nearly cried as we had to get on the bus after all. All four of us were embarrassed, even Dean.
School was something we had to attend. We never objected or questioned it like the kids of today. I can't say that I ever enjoyed school very much but I did study enough to graduate in the "Super Six", as it was called. Don't think the school system today would go for that title or be allowed to. There weren't many, if any, dropouts in those days but I thought all the boys in the class were plain dumb. I've learned since that many went on to college and obtained important jobs, so I guess I could have been wrong.
After graduating, I went to Chillecothe Business College, graduated and went to St. Louis and worked for Metropolitan Life Ins. Co. Ellis and Rex went to Iowa University and became Doctors. Dean enjoyed the farm life and still loves it.
Many years have passed since the days on the farm - work, marriage, a family and an entirely different way of life but the Memories of the farm will live forever.
Helene Vaubel Pierce Daub Summer - 1991
Return to Index