Oliver Charles Vaubel (1891 - 1939) and Anna Mabel Shafer (1893 - 1973)
Oliver Charles Vaubel was born 21 Feb 1891 in Monroe Twp., Benton County, Iowa, USA. He was the son of Charles Fredrich Vaubel and Isabella Sophia Milne. He died 14 Feb 1939 in Monroe Twp., Benton County, Iowa, USA. He caught pneumonia after stubbornly attending a community dance while already suffering from a cold.
Anna Mabel Shafer was born 11 Jan 1893 near Garrison, Benton County, Iowa, USA. She died 06 Sep 1973 at the Mayo Clinic in Rochester, Olmsted County, Minnesota, USA, while being operated on for an aortic aneurysm. She married second Alfred Dietrich Lindeman (31 May 1902, Monroe Twp., Benton County, Iowa, USA - 05 Dec 1996, Waterloo, Black Hawk, Iowa, USA). He was the grandson of Dietrich Lindeman, an early settler of Monroe Twp.
They were married 17 Dec 1912 in Vinton, Benton County, Iowa, USA. They had four children:
+ Ellis Kendall Vaubel (1914 - 1996)
+ Dean Ellsworth Vaubel (1915 - 1997)
+ Helene Mae Vaubel (1919 - 2003)
+ Rex Oliver Vaubel (1922 - 1977)
Notes for Oliver Charles Vaubel:
Vinton Eagle, Vinton, IA, 10 Dec. 1912:
Shafer-Vaupel
Miss anna Shafer and Charles O. Vaubel, both residents of near Dysart, were married at the Christian parsonage in this city Tuesday morning at 7:30, Rev. W. E. Reavis performing the ceremony. They boarded the 8:40 train for a short wedding trip to Chicago. Upon their return they will go to housekeeping on the Vaubel farm east of Dysart.
Mrs. Vaubel is a daughter of Mr. and Mrs. Elmer Shafer, of Monroe township, and has been engaged in the millinery business in Dysart. Mr. Vaupel is the eldest son of Mr. and Mrs. Chas. Vaupel and was born and raised on the farm in Monroe township. His parents will move to Dysart and leave them in possession of the home farm. The best wishes of their many friends will follow them on their journey through life.
21 Feb 1939 Probate #6740: died intestate 14 Feb 1939; buried 16 Feb 1939. Real property: 1) South 62.12 acres of the East Half of the Northeast Quarter of Section 5, Township 85 North, Range 12 West of the 5th P.M.; 2) West Fractional Half of the Northwest Quarter Lot 4 85 North Range 12 West (both mortgaged)
From Helene M. Vaubel: after Charles Oliver Vaubel died, Isabel (who owned the land he farmed with Mabel) decided that Lyle Vaubel (Isabella's other son) should farm that land. Helene was already out of the house by that time, but Dean Vaubel and Mabel moved to Earl Vaubel's former house and farmed there. When Dean married, Mabel moved to Dysart and a hired hand lived on Earl's place.
1910 census, with father Charles.
1920 census, Monroe, Benton, Iowa: Vaubel, Ollie head 28 M IA GER IA farmer; Mabel wife 25 IA OH IA; Ellis K. son 5 (or 6) IA; Gean E. 4 6/12 IA; Helene M. 1 1/12.
1925 Iowa Census, Benton Co.: Vaubel, Ollie 33 college or university attended father= Vaubel, Chas Ger mother= Milne, Isebe IAl; Mabel 32 college or university attended father= Safer, E.E. OH mother = Baber, Anna birthplace not filled in; Ellis 10; Dean 9; Helene 6; Rex 2.
1930 census, Monroe Twp, Benton Co., IA April 4, 1918: Vaubel, Ollie (indexed as Allie) head39 M when 21 IA GER IA farmer; Mabel wife 37 M when 19 IA OH IA; Ellis K. son 15 IA; Dean E. son 14 IA; Helene dau 11 IA; Rex son 8 IA.
1938 Atlas of Benton Co., IA, landowners: MONROE 85N 12W 4 Ollie Vaubel 82; MONROE 85N 12W 5 Ollie Vaubel 61
Obituary
Pneumonia Fatal to Ollie Vaubel at Farm Near Dysart
Cedar Valley News (Special to Daily Times)
Dysart, Feb. 14. Ill since last Wednesday, Ollie Vaubel, 47, died at his farm home three and one half miles northeast of Dysart at 2:00 a.m. today, of pneumonia. Two trained nurses had been caring for him and he had been placed in an oxygen tent Monday afternoon in a vain attempt to save his life.
He was born Feb. 21, 1891 on a farm north of Dysart. When two years old he moved with his parents, Mr. and Mrs. Charles Vaubel, to the farm on which he died and which had been his home continuously. He and his wife celebrated their twenty-fifth wedding anniversary last December. Surviving are his wife and four children, Ellis, an interne at a hospital in Indianapolis, Ind., Mrs. James Pierce, St. Louis, Mo., and Dean and Rex at home. All the children were at his bedside when he died. His parents and two brothers, Earl and Lyle, also survive. One sister, Jennie, is deceased.
Relatives and friends who attended the funeral services of Ollie Vaubel held at 2:30 Thursday afternoon at the Methodist church by the pator, the Rev. E. E. Coe, from a distances were: Mrs. James Pierce, St. Louis, Mo.; Dr. E.K. Vaubel, Indianapolis, Ind.; Mr. and Mrs. Lyle Vaubel, Waterloo; Mrs Daniel Zwilling, State Center; Maxine Vaubel, Chillicothe, Mo.; Mr. and Mrs. W. W. Milne, Mr. and Mrs. R.B. Milne, Mr. and Mrs. Joe Milne, Mr. and Mrs. Fred Rampton, Alfred Bauer, La Porte City; Donald Milne, Waterloo; C.A. Milne, udson; Dr. and Mrs. L.E. Shafer, Davenport; Mr. and Mrs. Ray Shafer, Mr. and Mrs. Leslie Moore, Mr. and Mrs. Fred Moore, Mt. Auburn; Mr, and Mrs. E.L. Blakely and sons, Herbert and Leonard, Clutier; Mr. and Mrs. Fred Shafer, Garrison; Mr. and Mrs. Will Boyd, Mr. and Mrs. All Silverman, Deep River; Mis Helen Christenson, Algona; Mrs. J.W. Kluge and daughters, Maxine and Goldene, Henry Weichman, and Mrs. Sarah Wood, Vinton. The Masons had charge of the services at the grove where interment was made in the Rampton cemetery three miles northwest of Dysart.
Notes for Anna Mabel Shafer:
DOB/DOD: Helene M. Vaubel, 1990
DOM: Newspaper Article, Dysart, IA paper
Anna Mabel Shafer was known as Mabel during her lifetime. He mother died in childbirth, and her father did not remarry until 7 years later. Since he had a farm to work, she lived with her grandparents in 1900, and probably from her birth until 1900. Mabel reportedly attended the Tilford Academy in Vinton. There is a website of the Tilford Middle School beginning to put records on line: http://www.vinton-shellsburg.k12.ia.us/tms/history/academy.html
1900 census, Jackson, Benton, Iowa: Shafer, George W. head Sep 1838 61 M for 38y OH OH OH Occupation: n.g. (0-0-2) [unknown meaning); Nettie, wife Sep 1840 59 M 38y OH CT NY; Mabel A. grand-daughter Jan 1893 7 S IA OH IA.
1910 census, with father Elmer E.
1920, 1930 census: with husband Charles Vaubel.
August 29 1946 newspaper clipping in photos belonging to Dorothy (Johnson) Vaubel and Dean Vaubel - the saver made notes in the margin[ ]
Mabel Vaubel Bride of Alfred Lindeman
Before an altar flanked with baskets of pink, yellow and white gladioli and two candelabra banked with gladioli, Mrs. Mabel Vaubel became the bride of Alfred D. Lindeman. The double ring ceremony was performed by the Rev. A. F. Frankhauser [sat by them at dinner, nice & young] , pastor of the First Evangelical church, at 4:30 p.m. Wednesday in the Dysart Methodist Church.
Before the bridal party approached the altar, Margaret mary Barnes played a prelude of selections on the marimba accompanied by her mother, Mrs. Howard Barnes. Mrs. Homer Miller [nice singer], accompanied by Mrs. Barnes, sang "At Dawning" and "Just Been Wondering".
The bride wore a powder blue suit with puff sleeves, a silver pin and matching ear rings set with rhinestones. Her corsage was of pink roses. A black hat with pom-pon of ostrich feathers completed her bridal outfit.
Mrs. J. F. Pierce [looked very nifty, black hat, gray plume, black shoes], daughter of the bride, attended her mother as matron of honor, wearing a wet-sand color suit, a corage of lilies and roses, and hat with plume.
Howard Lindeman, of Vinton, served as best man. Ushers were sons of the bride, Dr. Ellis Vaubel and Dean Vaubel.
A three-course dinner for 60 [crossed out and 50 written in] guests was served in the Blue room at Blacks in Waterloo with Mrs. Dean Vaubel, daughter-in-law of the bride, acting as hostess. A three-tiered cake decorated in pink and yellow centered the bridal table, which was decorated with vases of gladioli.
Out of town guests were Mrs. E.E. Shafer, Vinton; Floyd Shafer, Mr. and Mrs. Leslie Moore, Shirley and bob, Mt. Auburn; Dr. and Mrs. Ellis Vaubel, Estherville; Mrs. and Mrs. J.F. Pierce, St. Louis, Mo; First Lieut. and Mrs. Rex Vaubel, Chicago, Ill.; Mr. and Mrs. Earl Vaubel, Buckingham; Sam Harbaugh, S. Waterloo; Mrs. and Mrs. Joe Schuck and Peggy, Mr. and Mrs. Ted Mueller and Calvin, Waterloo; Mrs. and Mrs. John Eenhuis, Kanawha; Miss Polly McKenzie, Kalona [not complet many "kids" didn't come to W'loo].
Mr. and Mrs. Lindeman left on a two and one-half week wedding trip through the Black Hills and Yellowstone National Park. They will be home after September 15 at 817 Euclid, Waterloo.
She had an anurism in her aorta or other large artery. At the Mayo Clinic in Rochester, MN, in an attempt to repair it, she died on the operating table.
Typed obituary from family:
Mabel Lindeman 1893-1973
Ann Mabel Shafer was born in Monroe Township, Benton County, Iowas, on January 11, 1893, to Mr. and Mrs. Elmer Ellsworth Shafer.
Soon after her birth Ann Mabel lost the mother for whom whe was named. Mabel attended local schools, including Tilford Academy at Vinton.
On December 17, 1912, she married Charles Oliver Vaubel (Ollie). To this union were born four children: Dr. E.K. Vaubel of Estherville, Dean E. Vaubel of Dysart, Mrs. Helene Pierce of Grafton, Wisconsin, and Dr. Rex. O. Vaubel of Phoenix, Arizona.
On February 14, 1939, Ollie Vaubel died of pneumonia and its complications.
On August 28, 1946, Mabel Shafer Vaubel married Alfred D. Lindeman at Dysart, Iowa. They lived at 721 Russell Road in Waterloo and maintained a winter residence at 1024 North Shore Drive, St. Petersburg, Florida.
She was a member of First United Methodist Church in Waterloo, was a past Worthy Matron of Eastern Star, and had her fifty year pin.
Mabel Lindeman's death occurred at St. Mary's Hospital following surgery at Rochester, Minnesota, on September 6, 1973.
She leaves to mourn, her husband, Alfred D. Lindeman, four children, nine grandchildren, four great grandchildren, one sister Elsie Moore of Vinton and a brother Floyd Shafer of Vinton.
She was preceded in death by her brothers Ray Shafer, Dr. Lee Shafer, and George Shafer. One sister, Bessie Blakely, also preceded her in death.
Photographs
All Ollie Vaubel: Left to Right: 1) c. 1902-1903, 2) c. 1912, when he was married; 3) 1930's

All Anna Mabel (Shafer) Vaubel: Left to Right: 1) unmarked cabinet card, c. 1896, but identifiable from a marked photo of her as a child, 2) unmarked photo on charcoal mount, c. 1900; 3) unmarked c. 1960, as I knew her.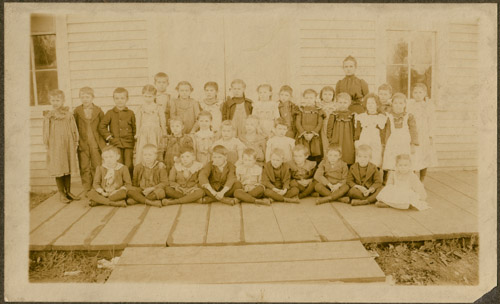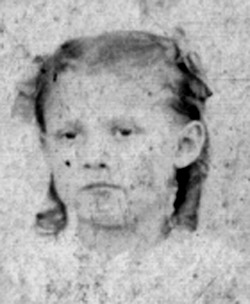 Unmarked 5x8" albumin print on charcoal mount, a school print, c. 1899. The girl in the back row, standing ninth from the left is Anna Mabel Shafer, shown enlarged in b&w, as recognized from a marked photo of her of that age.
Left: 8x10 gelatin print of the Ollie Vaubel farm, c. 1949, where the children were born. The house has a peculiar peaked roof that makes it readily recognizable. Right: 8x10 sepia toned gelatin print, c. 1915, in which Ollie is marked.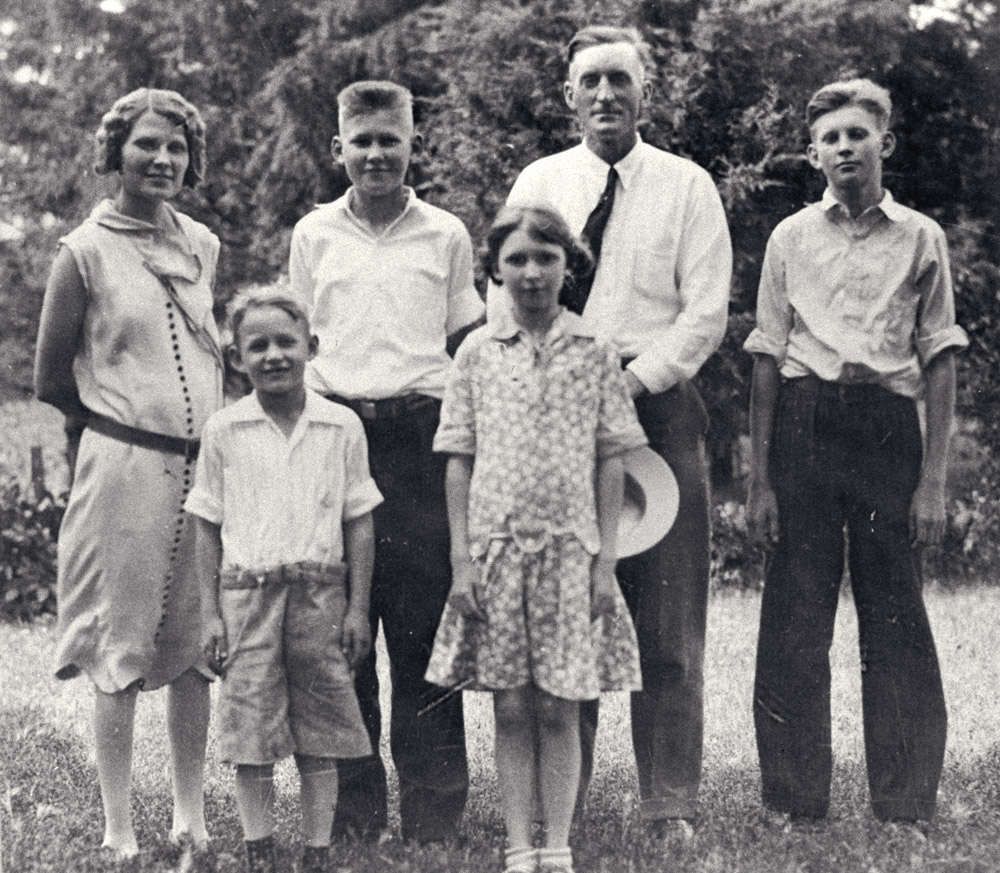 Ollie Vaubel family, c. 1929: left to right: Mabel (Shafer) Vaubel, Rex Vaubel, Ellis Vaubel, Helene Vaubel, Ollie Vaubel, and Dean Vaubel.
Return to Index