John Stringer (1839 - Bet. 1910 and 1920) and Adeline Siegal (Feb 1860 - ?)
John Stringer was born Abt. 09 Jun 1839 in Derrykintone, County Tyrone, Northern Ireland and was christened there on 09 Jun 1839. He was the son of John Stringer (Abt. 1806, County Tyrone, Ireland - Abt. 17 Apr 1848, Derrykintone, County Tyrone, Northern Ireland) and Susanna Collins (Abt. 24 Mar 1804, Caledon, Ireland (Aghaloo, County Tyrone, Northern Ireland) - Abt. 07 Jul 1847, Derrykintone, County Tyrone, Northern Ireland). He died 19 May 1864 at Regimental Hospital, DeValls Bluff, Arkansas, USA.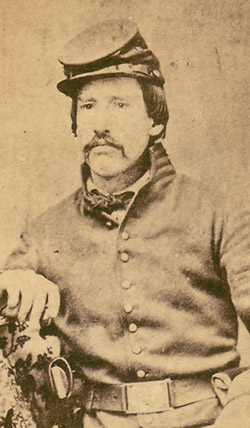 Unlike his brothers William and James and sisters Jane and Sarah, it is not known when he emigrated to the USA.
He first appears in the 1860 census in Lamar, Barton, Missouri as a farm laborer, but enlisted in the Union Army as a sergeant in Company L, 8th cavalry regiment, Missouri. While in the service, 1863, he wrote the two letters to Jane (Stringer) Milne, his sister, that are shown below. He also mentions another sister, Sarah (Stringer) Boyd, her husband, William Boyd, and his brothers James and William. In one of the letters he mentioned that he was enclosing a likeness. That likeness is shown at right. He is in uniform and carries a pistol (which could a Colt Navy model 1851 revolver, a common sidearm for a sergeant) on his belt. That he could enlist as a sergeant instead of working up implies some previous experience or horsemanship, but what that was is unknown.
In his last letter home, he indicated that he was re-enlisting for 3 years. There is no record after that. He died within a year.
Notes for John Stringer:
That John Stringer, brother of William, Jane and Sarah, made it to the US is certain, since he corresponded with them, mentioning them by name and also as brothers and sisters.
Church of Ireland Aghaloo, St. John's Caledon Baptisms 1825-1855 (MIC/1/326/A/1-4): Baptised 9 Jun 1839 John to John and Susan Stringer - he is a labourer - residing in the townland of Derrykintone.
New York Passenger Lists, 1820-1957 Name: John Stranger Arrival Date: 19 Apr 1853 Estimated Birth Year: abt 1831 Age: 22 Port of Departure: London, England Place of Origin: Holme,England Ship Name: Wisconsin Search Ship Database: Search the Wisconsin in the 'Passenger Ships and Images' database Port of Arrival: New York Line: 4 Microfilm Serial: M237 Microfilm Roll: M237_124 List Number: 266 Port Arrival State: New York Port Arrival Country: United States [this is a different John Stringer, due to the age discrepancy (one who went to Calaveras Co., CA about 1861), and also the Holme, England could be the birthplace]
1860 census, Lamar, Barton, MO: Charles Vastine 24 farmer PA; J.B. Torbert (m) 35 farmer PA; John Wilson 26 farm laborer PA; Martha E. Wilson 21; Benjamin White 21 farm laborer OH; John Stringer 22 farm laborer IRE
American Civil War Soldiers Name: John Stringer Side Served: Union State Served: Missouri Service Record: Enlisted as a Sergeant. Enlisted in Company L, 8th Cavalry Regiment Missouri. Sources: 304 [Letters from John confirm Co. L, 8th Cav. Mo.].
History of Company L Missouri:
8th Regiment Cavalry (Union Army, Regular (there is a State Militia of the same number)
Organized at Springfield, Mo., August 6 to September 15, 1862. Attached to 2nd Brigade, 3rd Division, Army of the Frontier, Dept. of Missouri, to June, 1863. 1st Brigade, 1st Cavalry Division, District of Southeast Missouri, Dept. of Missouri, to August, 1863. 1st Brigade, 1st Cavalry Division, Arkansas Expedition, to December, 1863. 2nd Brigade, 1st Cavalry Division, Army of Arkansas, to January, 1864, and 7th Army Corps, Dept. of Arkansas, to May, 1864. 3rd Brigade, 2nd Division, 7th Army Corps, to September, 1864. 3rd Brigade, Cavalry Division, 7th Army Corps, to February, 1865. 2nd Brigade, Cavalry Division, 7th Army Corps, to March, 1865. 1st Separate Cavalry Brigade, 7th Army Corps, to July, 1865.
SERVICE.--Springfield, Mo., August 9, 1862. Blount's Campaign in Missouri and Arkansas October 17-December 27. Battle of Prairie Grove, Ark., December 7. Expedition from Fayetteville to Huntsville December 21-23. Expedition over Boston Mountains to Van Buren December 27-29. Bloomfield, Mo., May 12, 1863. Join Davidson's Division at Pilot Knob, Mo., June, 1863, and march to Clarendon on White River, Ark. Steele's Expedition against Little Rock, Ark., August I-September 10. Grand Prairie August 17. Brownsville August 25. Bayou Metoe or Reed's Bridge August 27. Reconnaissance from Brownsville August 29. Ferry's Landing September 7. Bayou Fourche and capture of Little Rock September 10. Pursuit of Price September 11-14. Near Little Rock September 11. Duty at Little Rock until March, 1864. Duvall's Bluff December 1 and December 12, 1863 (Detachments). Indian Bay February 16, 1864. Clarendon March 15. Fitzhugh's Woods, near Augusta, April 1 (Detachment). Cache River Cotton Plant April 21-22. Operations against Shelby north of the Arkansas River May 13-31. Stony Point May 20. Searcy June 3 (Detachment). Bealer's Ferry, Little Red River, June 6 (Detachment). Expedition from Little Rock to Little Red River August 6-16. Jones' Hay Station and Long Prairie August 24. Expedition in pursuit of Shelby August 27-September 6. Expedition from Lewisburg to Strahan Landing November 26-December 2. Expedition from Brownsville to Augusta January 4-27 (Detachment). Duty in the Dept. of Arkansas until July. Mustered out July 20, 1865.
Regiment lost during service 1 Officer and 26 Enlisted men killed and mortally wounded and 3 Officers and 352 Enlisted men by disease. Total 382.
Letters to Jane (Stringer) Milne
Transcriptions of the Letters:
John Stringer Letter No. 1
Envelope is addressed to Mr. Andrew Milne, Lansing Station, Cook County, Ill.
Arcadia [Twp?], June 25th, Ď63
dear Sister,
I received a letter from you and one from Sarah the same time, I am glad to hear that you are alive and well. I would like to see you all, if I possibly could. I joined the army for three years. I have about twenty-five months to serve yet, I am well and hearty and intend to fight under the stars and stripes while the war lasts, if I live that long. I am very well contented, you want to know if there are many rebels where I am. I will say no, they donít make a practice of staying close to us, we always have to go a considerable distance to find many, I just got back last Monday, from a five days scout after them, there were ninety of us, and when we got ten or fifteen miles, we heard that there were three companys of them and so our Major turned back to camp with us. Our regiment have never been engaged particularly in any big battle, we were at the battle of Prairie grove but took no active part in it, we only had some slight skirmishing with them. We have taken some Bushwhackers occasionally, and such as that, but new arangements are being made now we shall likely have plenty of fighting to do before long, we are forming in Brigades of Cavalry now, and training new horses and small tents called flies large enough for two men to sleep under, we are as well armed as any in the service of the U.S., well fed clothed paid and everything a Soldier requires, we were scouting through Arkansas most of last winter, we were seldom in our tents. I had a letter from James a short time ago, he is well and belongs to Col. [Brissells?] Engineer of mechanics if you want to write to him Direct your letter to James Stringer Co. H Mo. [Missouri] Engineer Regt of the West Bose 3313 St. Louis Mo. His family lives in St. Louis but his Reat [Regiment?] is about Vicksburg. I havenít heard from William by letter yet. James and him writes to each other regularly. how many children have you got Jane, does any of them look like me. write me a long letter and tell me how you have got along since I saw you, you want to know how I like crackers, I like them very well, but we only eat them on a scout, when we canít take other provision along, we live better than the citizens, and far better than Jeff Davis . Jane my dear sister, I want to ask you one or two questions, do you live in the fear and love of God and bring your children up in the same way, as you promised you would do , if not begin now before it is too late. My love to you and family. John Stringer.
[upside down at top:] write soon and direct to John Stringer Co. L 8th Mo. Vol. Car Rolla, Mo. your affectionate brother
John Stringer Letter 2
Dunalls Bluff, Ark. March 15
Dear sister and brother,
I received your welcome letter & I assure you that I am glad to hear that you were all well, as this leaves me at present (thank God for it I had a letter from James the same day that I got yours he was well & his time will soon be out. he had received a letter from William, his family were well, I have had no letter from him yet, but I think that I shall write to him Shortly, he lives in Barrytown Dutchess County. I had a letter from Sarah a few weeks ago, She says that she thinks i am an old miser, because i did not send her some little jewelry that she told me to send for her & you, but she might know that there is no such things here in this State, at the present time, at least not where I can get it, but I sent her two silver finger rings & one of them was for you & I suppose Sarah will send it to you.
You speak about Wm Boyd not going to see you, but you must learn, Jane that true friends are hard to find, a person can have friends while they have plenty of money, or can be of any service to others, but as a general thing, it is every body for himself, I have lived long enough to know a little about such things and as far as friendship is concerned, I have had as true friends in strangers as ever i had in relations, except my Father and Mother, but even the friendships of the best will fail & it is a knowledge of such facts that makes me try to live for another World, for there we have a friend that never fails & the hope of one day being out of this unfriendly world cheers me as I go along, for I have a hope that I shall see the Lord in Peace, if i continue faithful.
Well Jane, i have reinlisted for three years, provided our regiment will be received as Veterans by the War Department & the Colonel is going to petition them to take us in, but i donít care much either way, for if we can enlist now, i will join, & if not i wonít go in when my time is almost out. I send you my likeness in this, it does very well only that it is rather too light. no more at present but write soon to your affectionate Brother John Stringer.
N.B. Jamesí wife sends her love to you & Sarah.
[inset:] Co. L 8th Mo. Vol. Cav. that find me anyplace.
Return to Index