Dean Ellsworth Vaubel (1915 - 1997) and Dorothy B. Johnson (1919 - 1985)
Dean Ellsworth Vaubel was born 05 Aug 1915 near Dysart, Tama County, Iowa, USA. He was the son of Oliver Charles Vaubel ( 21 Feb 1891, Monroe Twp., Benton County, Iowa, USA - 14 Feb 1939, Dysart, Tama County, Iowa, USA) and Anna Mabel Shafer (11 Jan 1893, Garrison, Benton County, Iowa, USA - 06 Sep 1973, Rochester, Olmsted County, Minnesota, USA). He played baritone horn in high school, the same as his nephew, Larry Pierce. He died 06 Sep 1997 in his sleep while taking a nap at his house in Dysart, Tama County, Iowa, USA.
Dorothy B. Johnson was born 22 May 1919 in Laurens, Pocahontas County, Iowa, USA. She was the daughter of Charles Johnson (10 Aug 1886, Marshall Township, Pocahontas County, Iowa, USA - Apr 1975, Spencer, Clay County, Iowa, USA) and Bessie Amber Walker (05 Sep 1891, Swan, Marion County, Iowa, USA - aft. 1885). She died suddenly of an aortic aneurysm 27 Jun 1985 in Iowa, USA.
They were married 30 May 1943 in Laurens, Pocahontas County, Iowa, USA.
Notes for Dean Ellsworth Vaubel:
Dean and Dorothy first bought a farm near La Porte City, Black Hawk Co. When Herm Milne died, they bought his farm and moved there (Section 6 of Monroe Twp., marked George H. Milne et al 120ac on the 1917 Benton Co. map)
ss#484-10-6354
The Dysart Reporter, Thurs., Sept. 11, 1997:
Dean Vaubel
Dean E. Vaubel, 82, of Dysart, died Saturday, Sept. 6, 1997, at his home of an apparent heart attack.
Funeral services will be held Thursday, Sept. 11, 1997, at 10:30 a.m. at the United Methodist Church in Dysart. Officiating will be the Rev. Ron Blix. Burial will take place in Rampton Cemetery, Dysart.
Visitation hours will be held at Overton Funeral Home in Dysart from 2-8 p.m. Wednesday, Sept. 10, with the family present from 6-7 p.m.
Casket bearers will be Curtis Wellman, Bill Brown, Bill Fleck, Larry Fleshner, Gary Ohrt and Donald Sparks. Marilyn Mehlhaus will serve as organist, and Paul Lindeman will be the vocalist.
Floral tributes will be handled by Mr. and Mrs. John Messer.
Dean E. Vaubel was born Aug. 5, 1915, north of Dysart, Ia., the son of Oliver "Ollie" Charles and Mable Anna Lindeman (Shafer) Vaubel. Dean attended school at Dysart and graduated from Dysart High School. He continued his education at Iowa State University in Ames for a short time.
On May 30, 1943, he was united in marriage to Dorothy Johnson at Lorenz, Ia. Dean and Dorothy made their home farming in the Dysart and La Porte City area for many years.
Following Dorthy's death June 27, 1985, Dean continued to make hs home at Dysart.
He was a member of the Dysart Rural Fire Department.
Preceding him in death were his wife, and two brothers, Rex and Ellis.
He is survived by one sister, Mrs Richard (Helene) Daub of Brookfield, Wis., and nine nieces and nephews, and a special friend, Dorothy Senn.
Notes for Dorothy B. Johnson:
She died of an aortic anurism during a visit to her mother.
Social Security Death Index: Individual: Vaubel, Dorothy Birth date: 22 May 1919; Death date: Jun 1985; Social Security #: 485-46-7632; Last residence: IA 52224; State of issue: IA; Zip of last payment: 52224
Photographs
Left to Right: 1) Dean Vaubel, c.1920; 2) Unmarked candid photo. Helene (Vaubel) Pierce identified it as her brother, Dean Vaubel, posing as a scholar; 3) Unmarked 8x10, appears to be his high school graduation photo.
Left to right: 1) Unmarked studio portrait of Dorothy B. Johnson, identified by her sister-in-law, Helene (Vaubel) Pierce ,.c.1947, assuming that it is her high school graduation photograph; 2) Dorothy c. 1943; appears to be taken around the time of her wedding; 3) an unmarked 8x10; identified as Dorothy by her nephew, Larry Pierce.
Left: Young Dorothy B. Johnson, c. 1940. The photo is inscribed "Spencer, Ia". Spencer is to where Dorothy's parents retired. I don't suppose we were supposed to see the top of that stocking. Above: Looks like a war-time propaganda effort, like Rosie the riveter, only it's Dorothy the gas attendant. Dorothy b. Johnson is on the right.
Left to Right: 1) Dorothy, 30 May 1943; 2) Dean and Dorothy; 3) probably honeymoon; 4) marked "July 1948", probably when they bought the farm near La Porte City.
Left: Dean and Dorothy's La Porte City farm, aerial photo c. 1950's or 60's; same photographic service as a photo of Herm Milne's farm of the same era. Right: an unmarked snapshot of the same house from the front, probably taken when they bought it.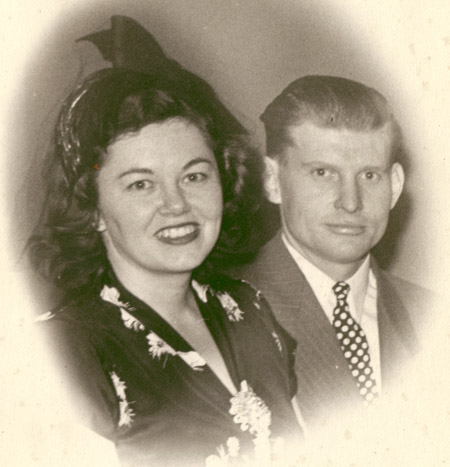 Left: "The Vaubel Estate", inscription by Dorothy. The La Porte City farm, c. 1950. The tree in the foreground would serve, later as a stump, as a launching point for Dean's 4th of July fireworks. Right: This is a 5x7 detail that a photographer made from a larger photo in a folder marked: Memories of Hotel Chase, St. Louis. In addition to Dorothy and Dean Vaubel in this photo, the other also has James and Helene Pierce and Mabel and Alfred Lindeman. The Vaubels and Lindemans were visiting the Pierces, who lived in St. Louis at the time.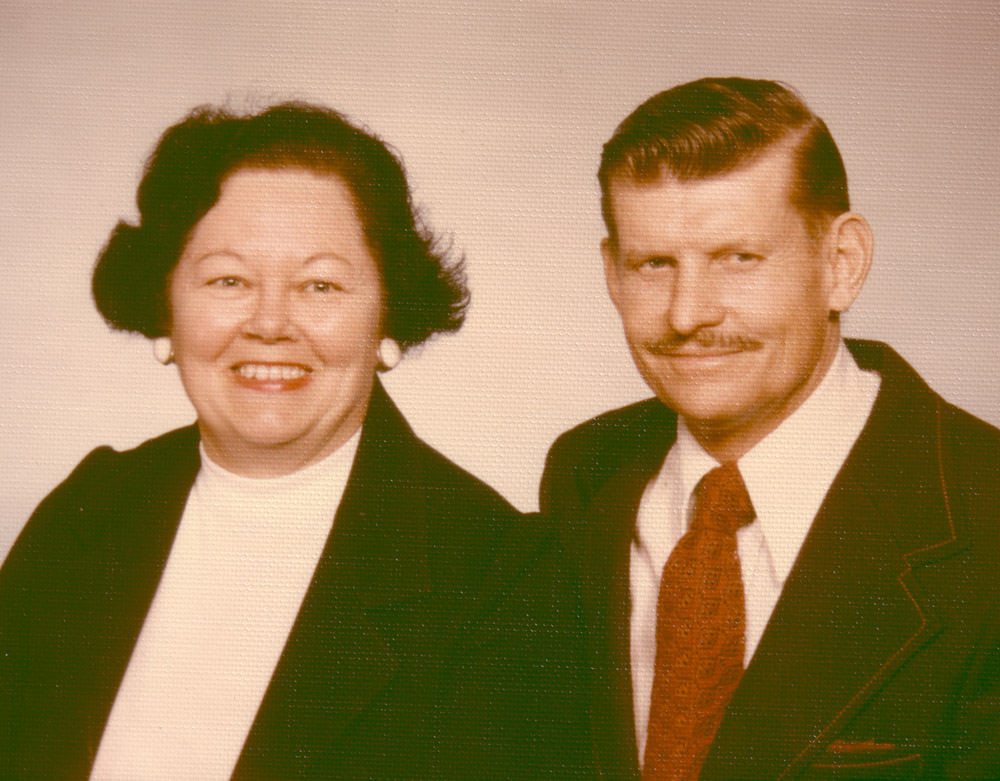 "April 1, 1974"; Dorothy (Johnson) and Dean Vaubel; 5x7 photo.
Return to Index