American Optical Co., Scovill Mfg. Co., props.
Model
Stereoscopic

Camera Box

Thos. H. McCollin Catalog, 1882, p. 10 (may not actually represent the Model Stereo Camera)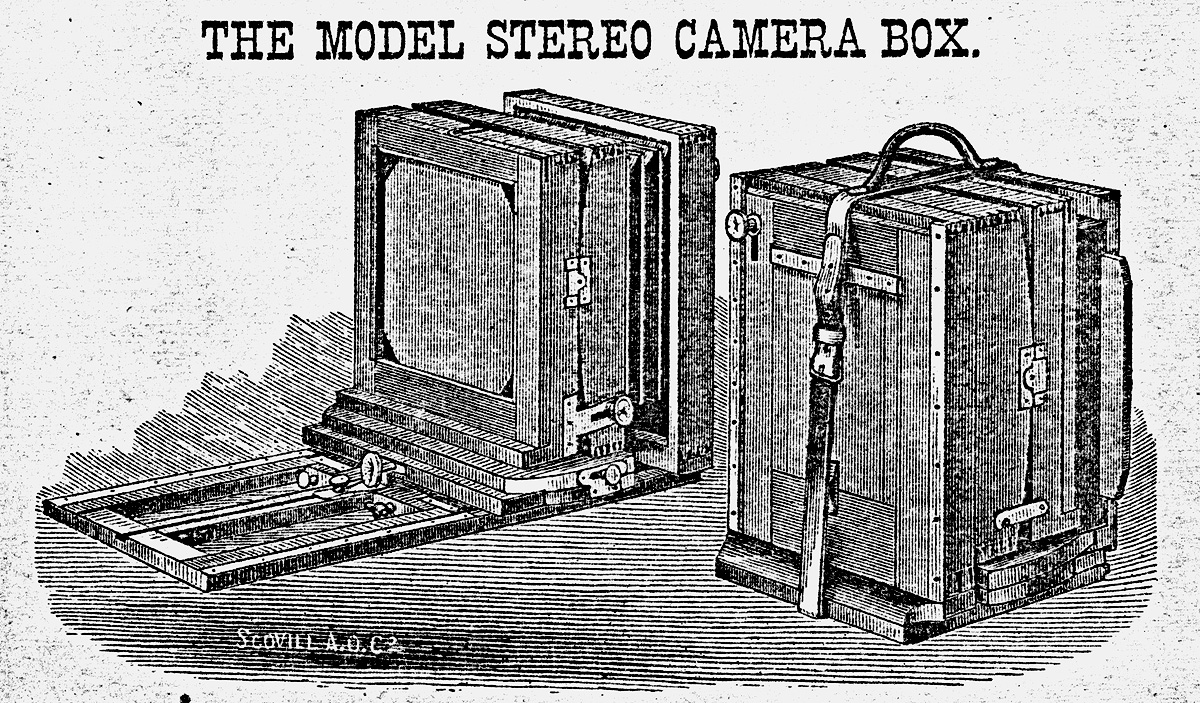 Manufacturer: American Optical Co. New York, NY factory
Date Introduced: - ; Years Manufactured: c.1878-1884
Construction: rear focus via push-pull with fine focusing screw; single or no swing; three-piece lens board
Materials: mahogany body; cherry base; black fabric bellows; brass hardware
Sizes Offered: 4x7; 4x8; 5x8
Notes: The 1878 Photographic Times reference indicates that the Model Stereo has "the same design and appearance is the same as The 76 Camera" (albeit without an engraving illustrating it). Unfortunately, the engraving for the Model Stereo that the 1882 McCollin's catalog (above) hardly looks like The 76, rather being clearly an upright camera not particularly suited to stereo use. In fact, this same engraving is used in the very same catalog for the different model: American Optical View Camera Boxes. So much for truth in advertising. Because they were advertising something that may not have actually been in hand, McCollins might not have noticed that they used the wrong engraving to illustrate the Model Stereo. Per Scovill's statement, which we can assume is accurate because it appears in their own periodical, the actual Model Stereo is probably identical to or at least very similar to what is shown under 76 Camera, Model Stereo Version.
References:
Photographic Times Vol. 8, Scovill Mfg. Co. (New York, NY), 1878, p. 100
Illustrated Catalogue of General Photographic Supplies, Thos. H. McCollin (Philadelphia, PA), 1882, p. 10
Descriptive Catalogue and Price List of the Photographic Apparatus Manufactured by the American Optical Co., Scovill Mfg. Co., proprietors and managers (New York, NY), Sept. 1884, p.56

Back to American Optical & Scovill