American Optical Co., Scovill Mfg. Co., props.
View Camera Boxes Transitional to the 76 Camera
4¼x6½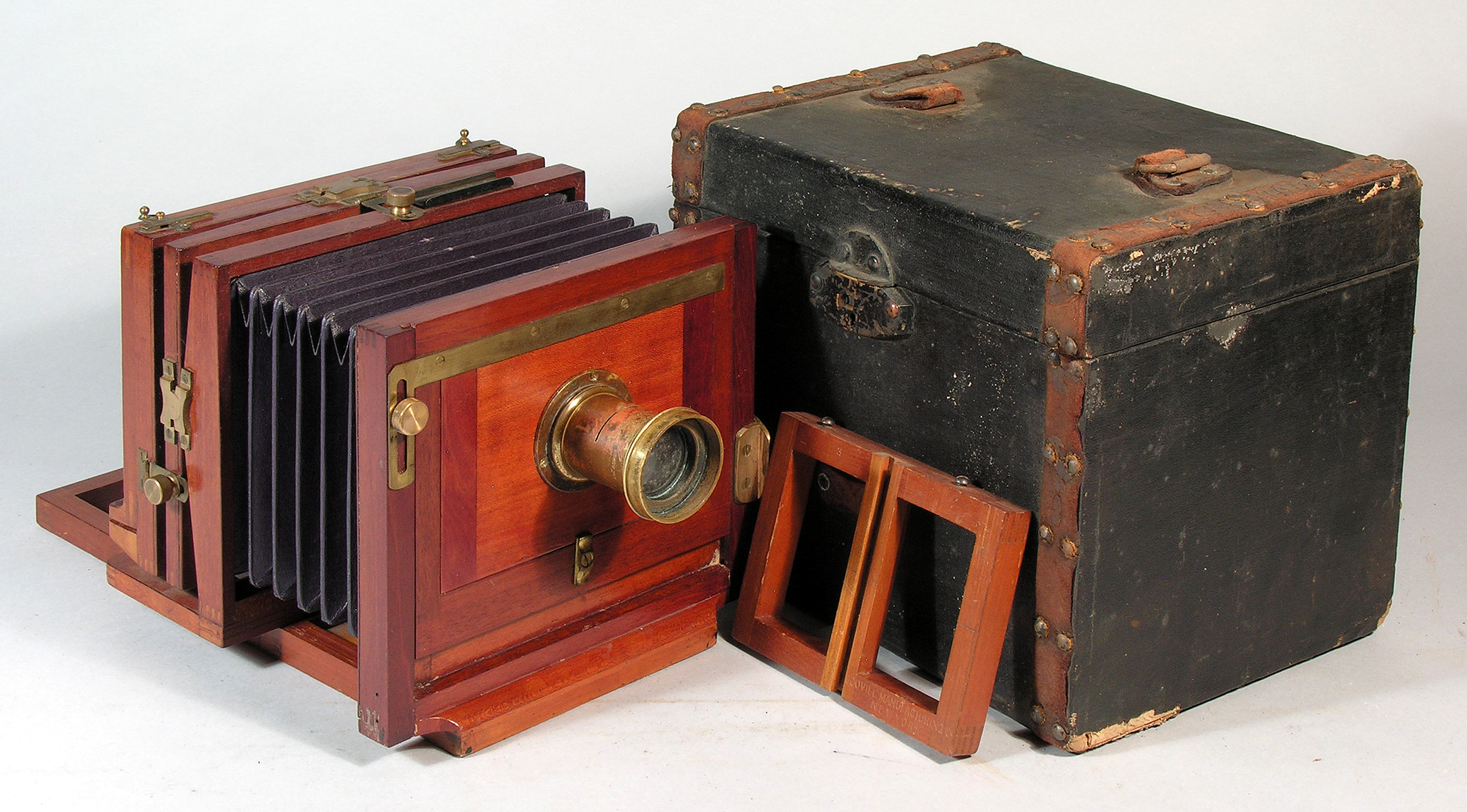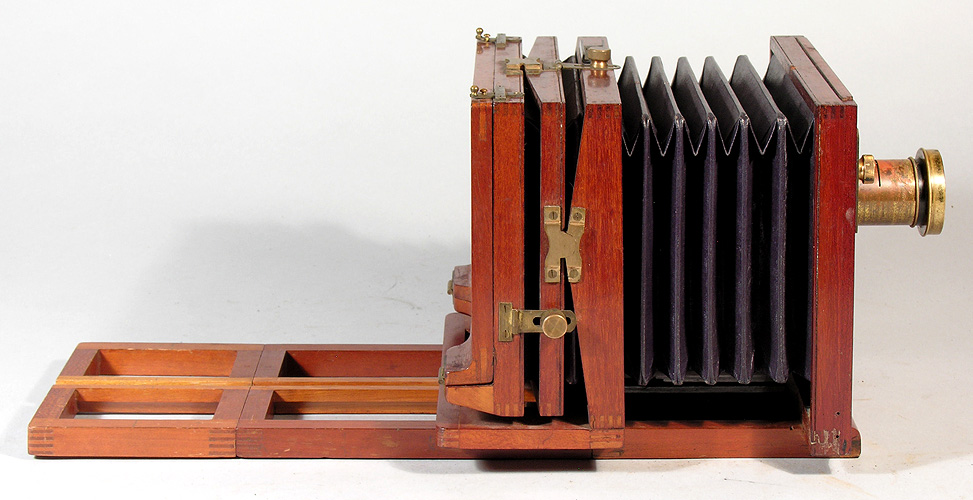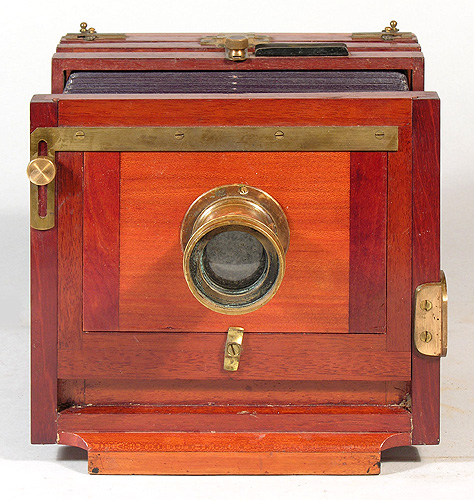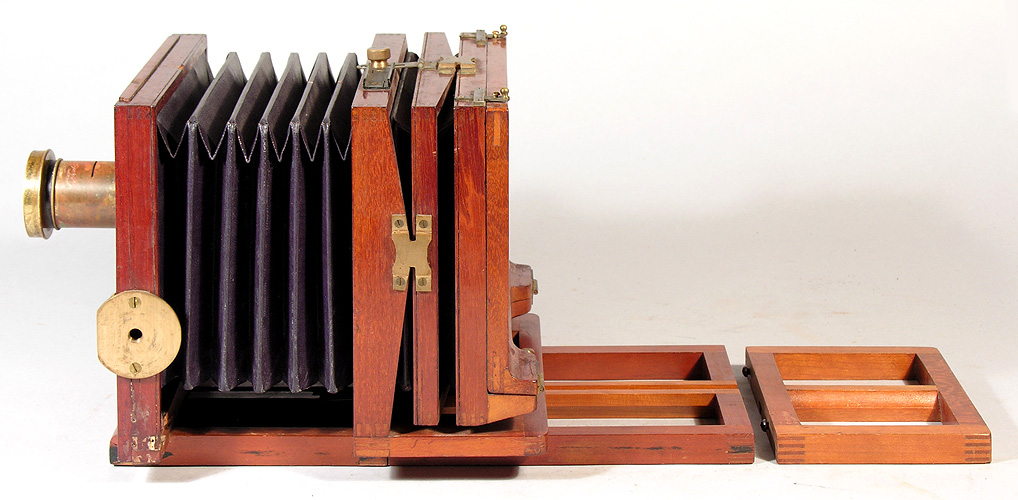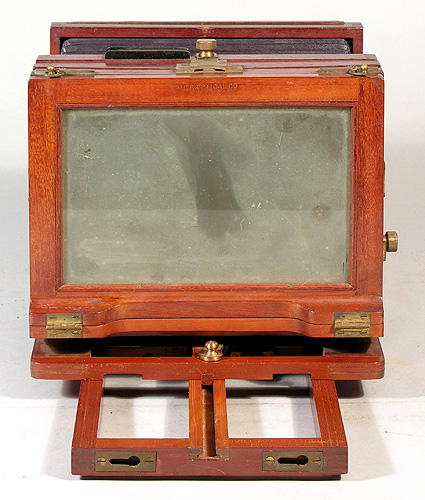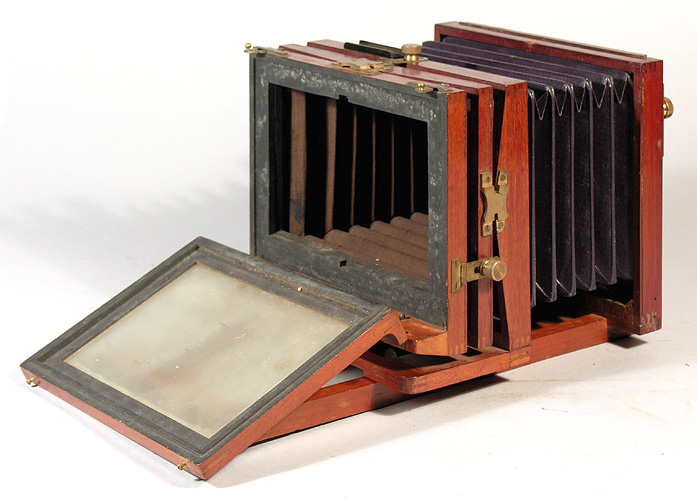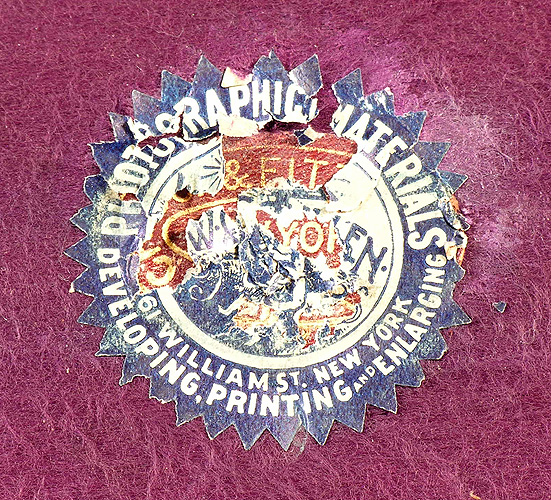 Manufacturer: American Optical Co. New York, NY factory
Date Introduced: ; Years Manufactured: c.1876
Construction: rear focus via push-pull; double swing; reversing via second tripod screw; three-piece lens board
Materials: mahogany body; cherry base; black fabric bellows; brass hardware
Sizes Offered: 4¼x6½;
Notes:
The photographs above are of a 4¼x6½" camera in a period case. Though unmarked, it is presumed to be an American Optical camera because of 1) its ground glass frame clips which are identical to the clips on many American Optical and Scovill cameras, 2) the excellent fit, featuring close tolerances and choosing screws so that their slots line up parallel, and 3) smooth finish, having the French polish that AO gave its cameras.
The camera has straight (rather than tapered) bellows, and a double tilt mechanism involving two sliding thumbscrews, also seen on the c.1886 Flammang's Patent Revolving Back Camera. The focus is push-pull on a plain wooden track (no brass guides), tightened by a lever screw mechanism. The front rise is protected by a metal surround that doubles as the top lens board retainer. The camera has the careful fit and beautiful and smooth French polish finish of the typical American Optical product. The case has a label from Crouch & Fitzgerald of New York (luggage makers, founded 1839), over which has been placed a label from J. W. Queen, 61 Williams St., New York (see 1891 Jas. W. Queen catalog).
Straight-bellow Scovill products are well known through advertisements to differ from this camera and also much more inexpensively made, so it is an American Optical product rather than Scovill. Even as identified as an American Optical product, it has a configuration unlike any advertised straight bellows models, of which there are only a few: The 76 Camera, the Kilburn Gun Camera, the early AO View Camera Box.
It seems to be an AO View Camera Box transitional to The 76 Camera.
- It is double swing, like the View Camera Boxes, but uses a different device for the left-right swing.
- It has a focus-tightening lever, like The 76 Camera, unlike the focusing screw of the View Camera Boxes. Focusing screws seem to be a wet plate/early dry plate-era device.
- It does not have brass plate strengthening/wear shields on its front, as are present on View Camera Boxes, Neither this camera nor The 76 Camera have them. Such brass plates also seem to be a wet plate/early dry plate-era feature.
- It has a rather short rear extension for the base. No advertised AO straight bellows model has such a base extension. It was probably a special order for a pet lens, although the lens currently installed does not require the extension, having a back focal length of only 9-10 inches.
References:

Back to American Optical & Scovill