E. & H.T. Anthony
Bicycle Equipment
Illustrated Catalogue of Amateur Equipments and Materials, E. & H.T. Anthony & Co. (New York, NY), September 1886, p. 22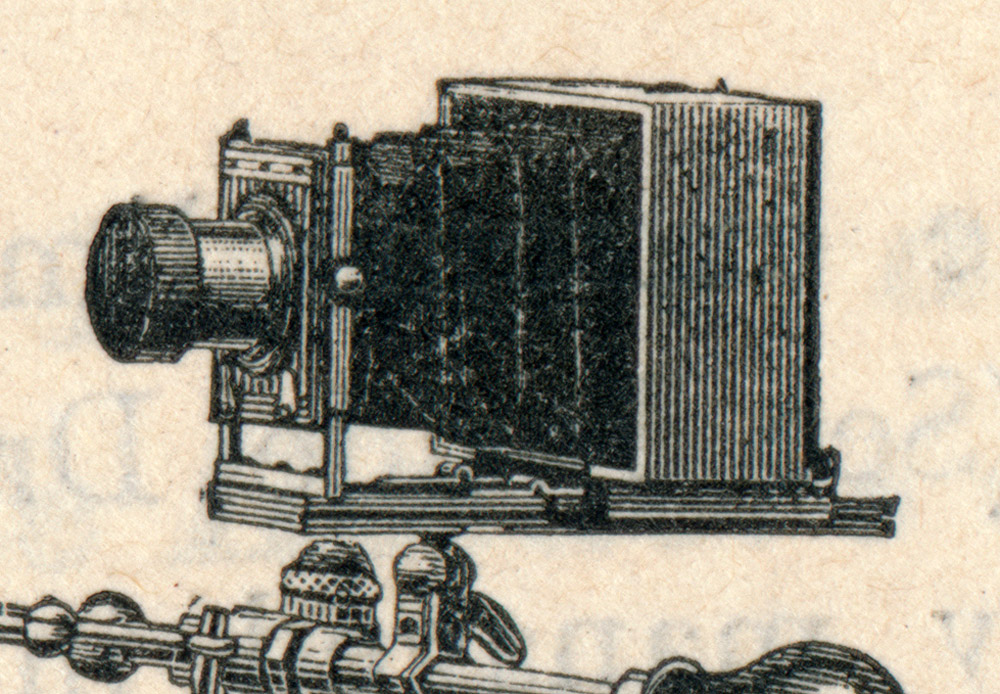 3¼x4¼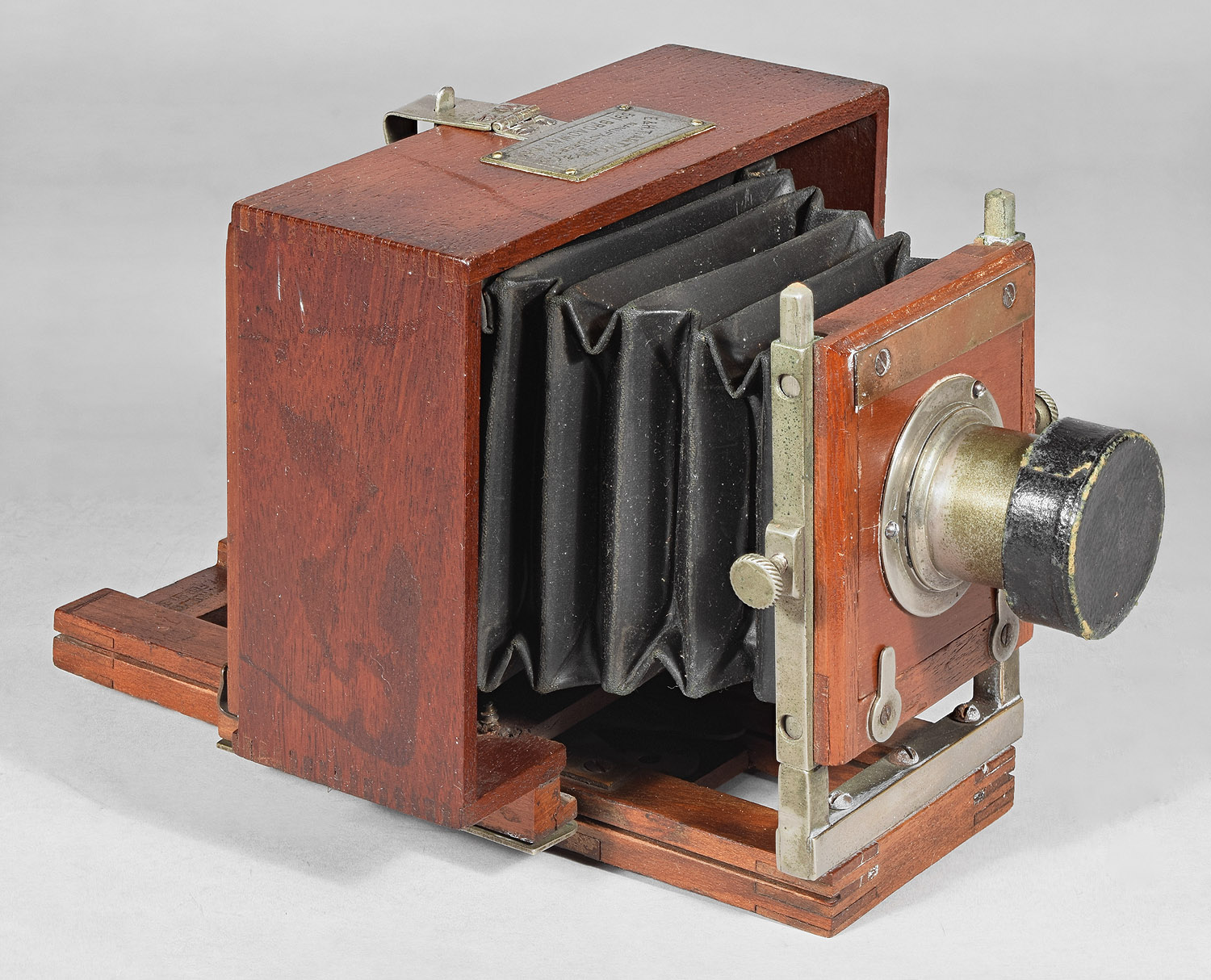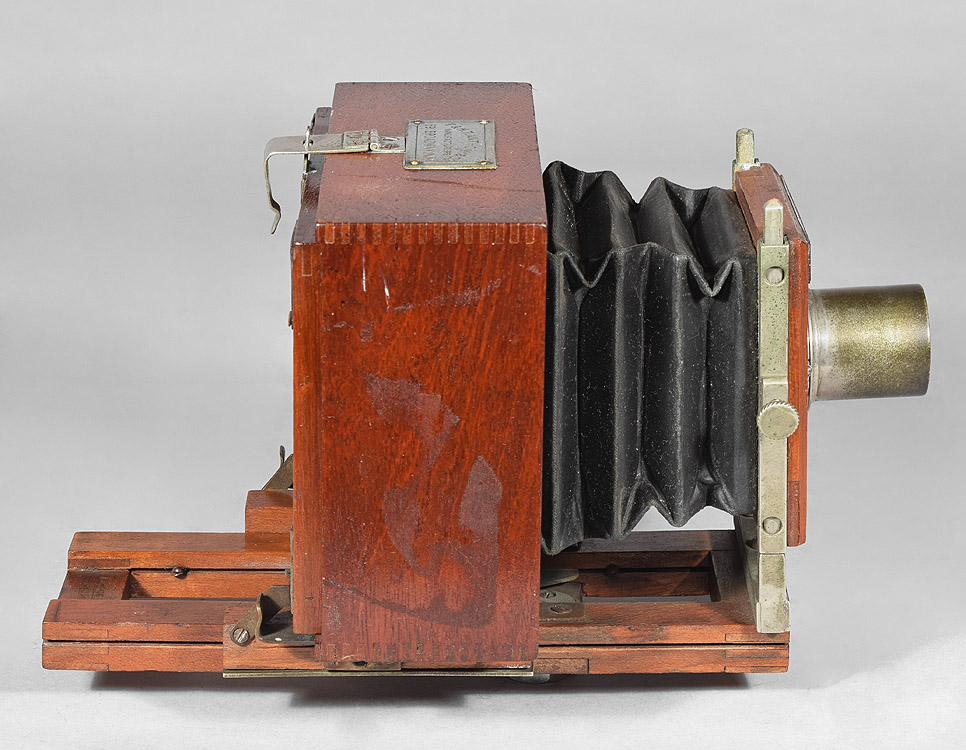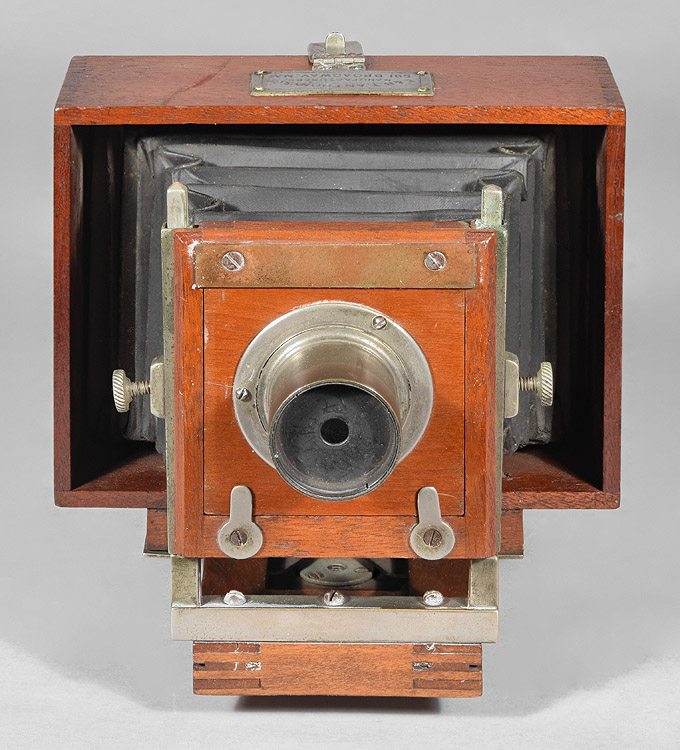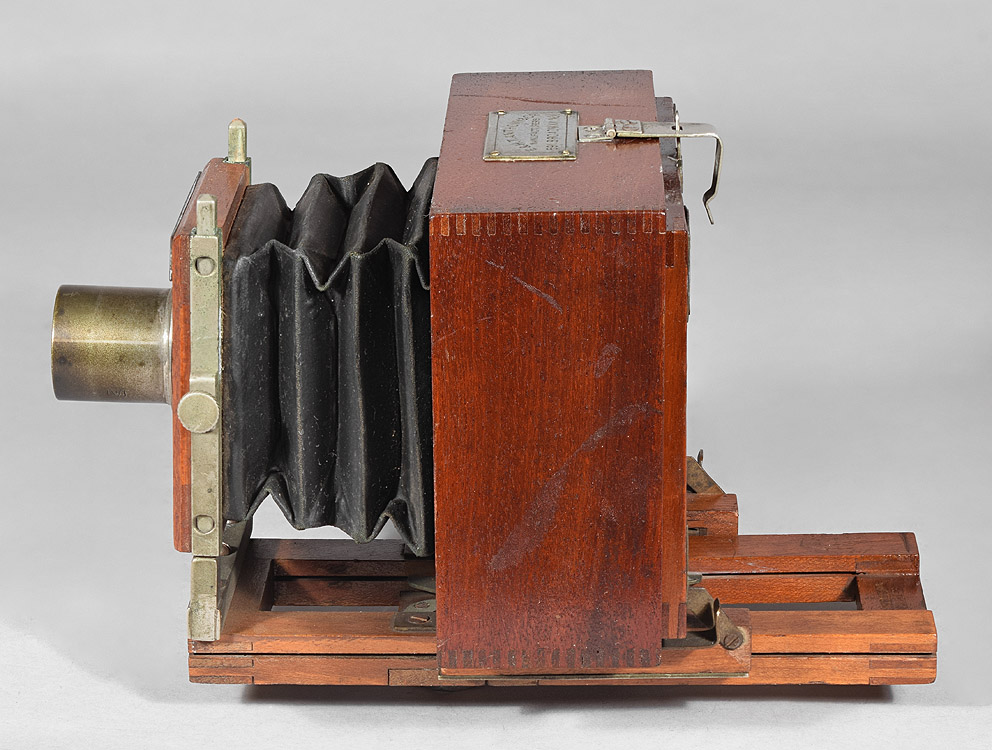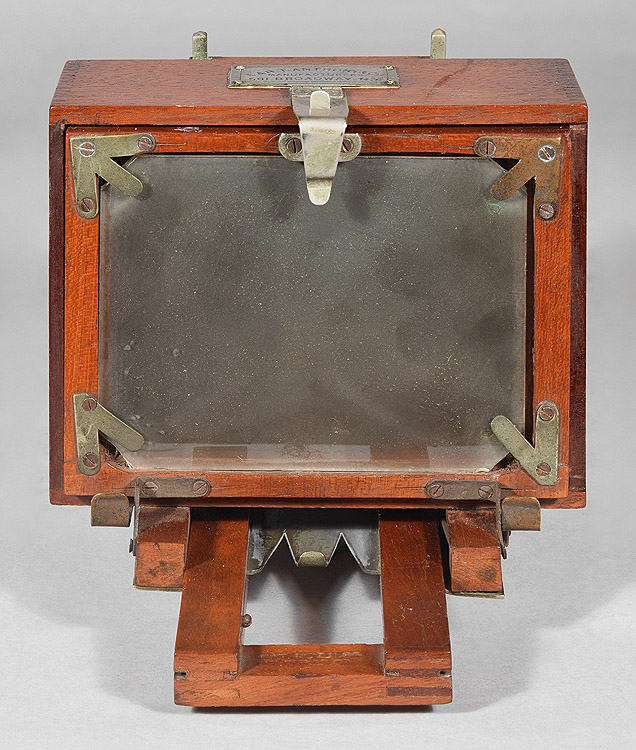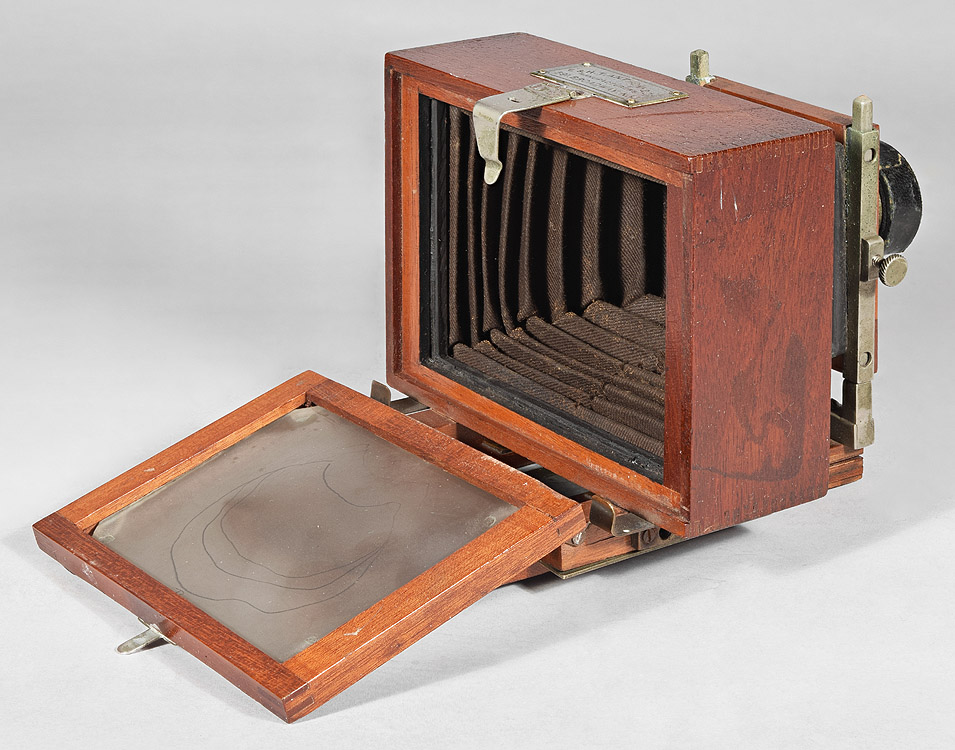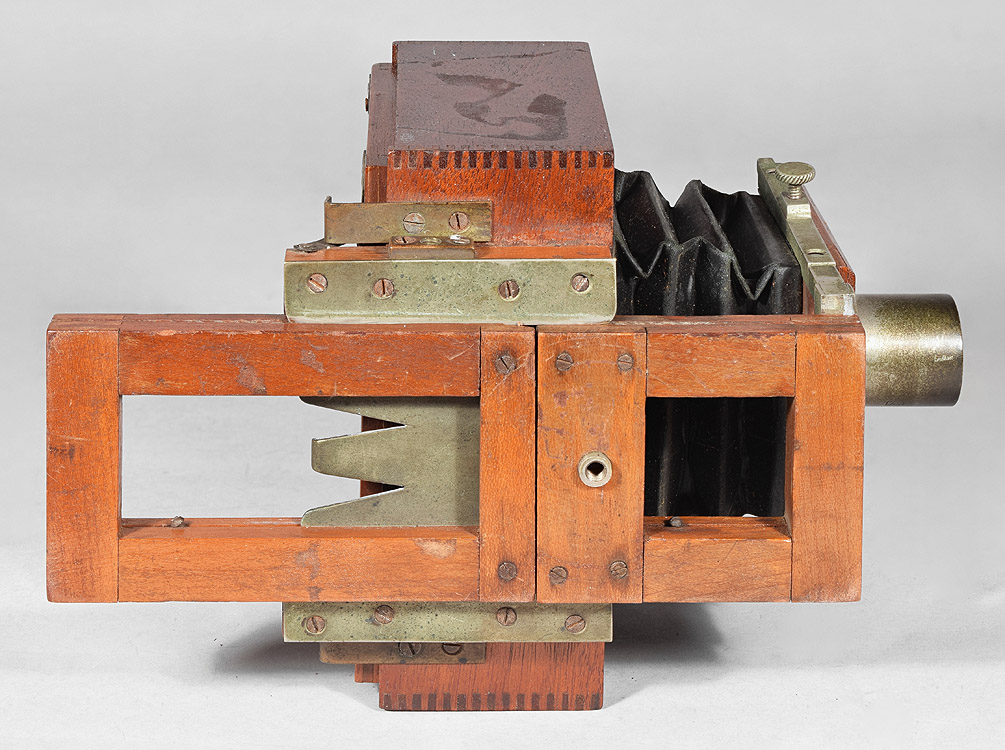 Label on top of body


Stamp on rear rail of base: "Pat. Nov. 11, '84"; "Pat. Feb 20, '83"


Date Introduced: - ; Years Manufactured: c.1885 - Dec 1895
Construction: rear focus; no swing; non reversing;
Materials: mahogany body; cherry base track; black fabric bellows; brass hardware
Sizes Offered: 3¼x4¼
Notes:
The Bicycle Equipment was marketed to persons taking up the hobby of bicycling, which was extremely popular at this time, and that the high-wheeled bicycle would be used as the tripod.
The front standard of this model is metal, similar to the novel/novelette, but it does not have a novel-style revolving bellows, and the format is fixed as horizontal. It has a threaded barrel, smaller in diameter and having finer threads than a normal tripod socket, on its bottom into which to screw it to the hardware that mounts onto a bicycle handlebar.
The Bicycle was discontinued between the December 1895 and August 1896 catalogs. But bicycling was still popular - bicycle people must have been buying roll film cameras to the detriment of the demand for the Bicycle.
References:
Illustrated Catalogue of Amateur Photographic Equipments & Materials, E. & H.T. Anthony & Co. (New York, NY), September 1885, p. 13
Illustrated Catalogue of Amateur Equipments and Materials, E. & H.T. Anthony & Co. (New York, NY), September 1886, p. 22
Catalog P, Photographic Material, J. W. Queen & Co. (Philadelphia, PA), 1886, pp. 76-77 (As the Light Roadster Photographic Outfit, Queen designation P-480)
Illustrated Catalogue of Amateur Photographic Equipments & Materials, E. & H.T. Anthony & Co. (New York, NY), August 1887, p. 11
Illustrated Catalogue of Amateur Photographic Equipments & Materials, E. & H.T. Anthony & Co. (New York, NY), January 1888, p. 11
Illustrated Catalogue of Amateur Photographic Equipments & Materials, E. & H.T. Anthony & Co. (New York, NY), January 1889, pp. 11
Illustrated Catalogue of Photographic Equipments and Materials for Amateurs, E. & H.T. Anthony & Co. (New York, NY), 1891, p. 6-7
Illustrated Catalogue of Photographic Equipments and Materials for Amateurs, E. & H.T. Anthony & Co. (New York, NY), September, 1894, p. 10
Illustrated Catalogue of Photographic Equipments and Materials for Amateurs, E. & H.T. Anthony & Co. (New York, NY), January 1895, p. 10
Illustrated Catalogue of Photographic Equipments and Materials for Amateurs, E. & H.T. Anthony & Co. (New York, NY), August, 1895, p. 10
Illustrated Catalogue of Photographic Equipments and Materials for Amateurs, E. & H.T. Anthony & Co. (New York, NY), December, 1895, p. 10
Not in the August 1896 catalog

Back to E.& H.T. Anthony