E. & H.T. Anthony
Novelette, Long Bellows (Novelette Copying Camera)
McCollin Catalog 1897, p. 42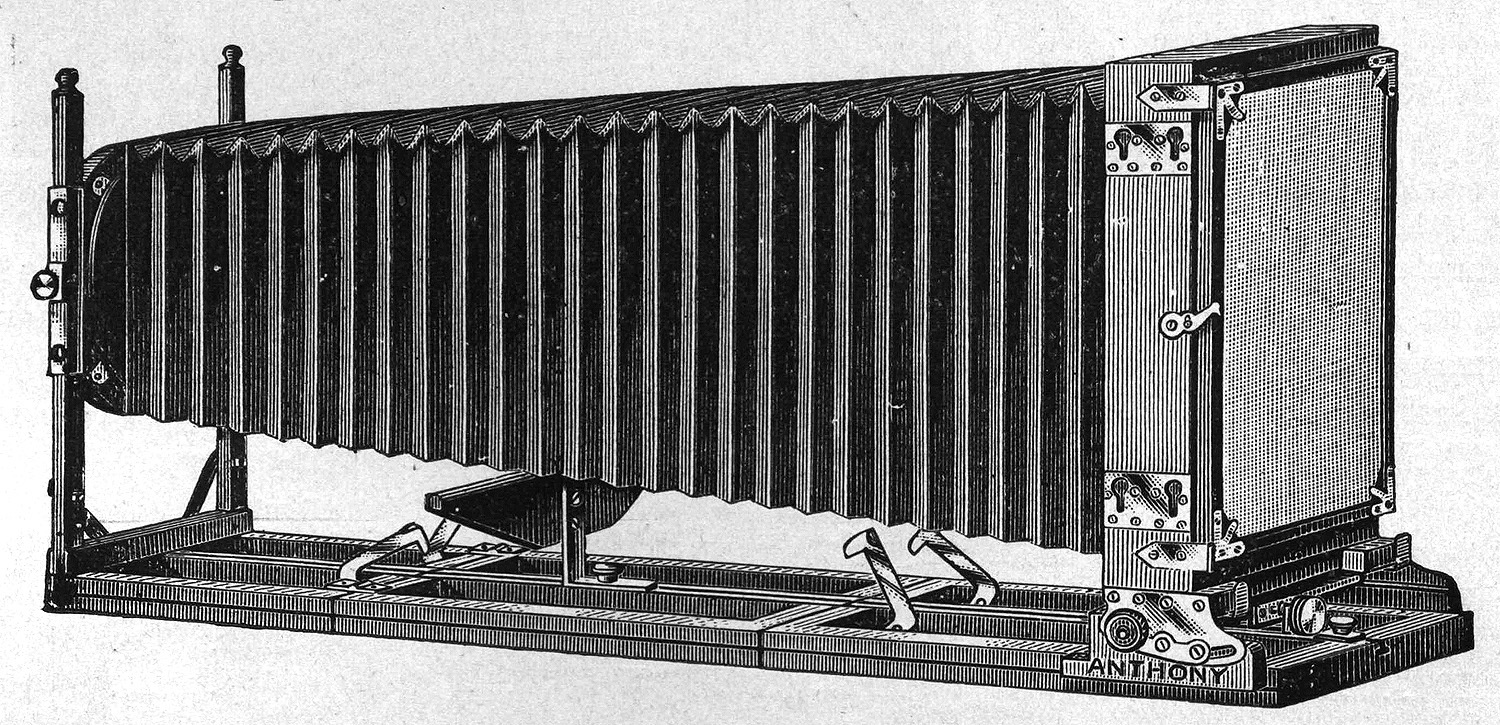 Date Introduced: 1885 ; Years Manufactured: 1885-1901
Construction: rear focus via push-pull but with fine-focusing screw; single swing; reversing by rotating bellows and back; plywood lens board
Materials: mahogany body; cherry base; black fabric bellows; brass hardware
Sizes Offered: 8x10 only (as stated in Anth. Photo. Bull. 17, p. 279)
Notes: This model is sometimes referred to in catalogs as the Copying Novelette. The middle bed section is removable.
References:
Illustrated Catalogue of Amateur Equipments and Materials, E. & H.T. Anthony & Co. (New York, NY), September 1886, p. 19
Catalog P, Photographic Material, J. W. Queen & Co. (Philadelphia, PA), 1886, p. 79 (as the New Novelette Camera)
Illustrated Catalogue of Amateur Photographic Equipments & Materials, E. & H.T. Anthony & Co. (New York, NY), August, 1887, p. 19 (as Novelette Copying Camera)
Illustrated Catalogue of Amateur Photographic Equipments & Materials, E. & H.T. Anthony & Co. (New York, NY), January 1888, p. 19 (as Novelette Copying Camera)
Illustrated Catalogue of Amateur Photographic Equipments & Materials, E. & H.T. Anthony & Co. (New York, NY), January 1889, pp. 19 (as Novelette Copying Camera)
Illustrated Catalogue of Photographic Equipments and Materials for Amateurs, E. & H.T. Anthony & Co. (New York, NY), January 1891, p. 27
Photographic Material, Catalogue O & P, James W. Queen & Co. (Philadelphia, PA), 1891, p. 63 (as New Novelette)
Illustrated Catalogue of Photographic Equipments and Materials for Amateurs, E. & H.T. Anthony & Co. (New York, NY), September, 1894, p. 27
Illustrated Catalogue of Photographic Equipments and Materials for Amateurs, E. & H.T. Anthony & Co. (New York, NY), August, 1895, p. 27
Illustrated Catalogue of Photographic Equipments and Materials for Amateurs, E. & H.T. Anthony & Co. (New York, NY), December, 1895, p. 27
Illustrated Catalogue of Photographic Equipments and Materials for Amateurs, E. & H.T. Anthony & Co. (New York, NY), August, 1896, p. 27
Illustrated Catalogue of Photographic Materials, Thos. H. McCollin & Co. (Philadelphia, PA) undated, c. 1897, p. 42
Illustrated Catalogue of Photographic Equipments and Materials for Amateurs, E. & H.T. Anthony & Co. (New York, NY), February, 1898, p. 19
Descriptive Catalogue and Price List of Photographic Apparatus (Professional Catalog), E. & H.T. Anthony & Co., New York, NY, July 1899, p. 41
Illustrated Catalogue of Photographic Equipments and Materials for Amateurs, E. & H.T. Anthony & Co. (New York, NY), August, 1899, p. 24
Illustrated Catalogue of Photographic Equipments and Materials for Amateurs, E. & H.T. Anthony & Co. (New York, NY), April, 1900, p. 24
Illustrated Catalogue of Photographic Equipments and Materials for Amateurs, Illustrated Catalogue of Photographic Equipments and Materials for Amateurs, The Anthony & Scovill Co. (New York, NY), June, 1901, p. 25 (pasted insert states discontinued)

Back to E.& H.T. Anthony