Gundlach and Manhattan
Catalogs
Gundlach Optical Co. and Manhattan Optical Co. merged in 1902 to become the Gundlach-Manhattan Co.
The catalogs listed below are specific to these three companies. All catalogs may be found here.
For each catalog, two facing pages are shown per image. Catalogs are marked as (complete), meaning all pages were scanned or (the pages scanned). Each image is about 1mb, so downloads can take considerable time for complete catalogs.
1891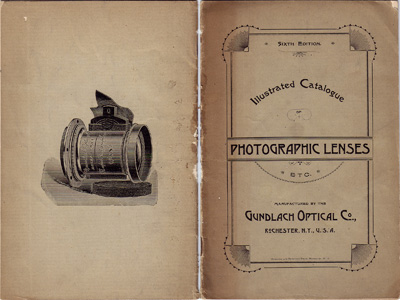 Illustrated Catalogue of Photographic Lenses, Gundlach Optical Co., (Rochester, NY), dated June 1891, ~6"x9", 24pp
1899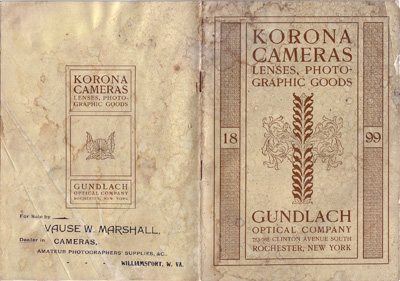 Korona Cameras, Lenses, Photographic Goods, Gundlach Optical Co. (Rochester, NY), dated 1899, ~5¼"x7¾", 36pp
1900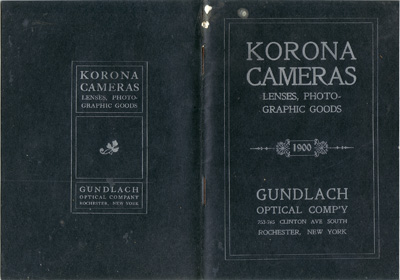 Korona Cameras, Lenses, Photographic Goods, Gundlach Optical Co. (Rochester, NY), dated 1900, ~5¼"x7¾", 48pp
1899

The Wizard Catalogue 1899, Manhattan Optical Co. of N.Y., (Cresskill, NJ), dated 1899, ~8¼"x6", 64pp
1900

The Wizard Catalogue, Manhattan Optical Co. of N.Y., (Cresskill, NJ), dated as the combination date 1900-1901, ~7¾"x5¼", 56pp
1901

Korona Cameras, Gundlach Optical Co., (Rochester, NY), dated 1901, ~7¾"x5¼", 56pp
1902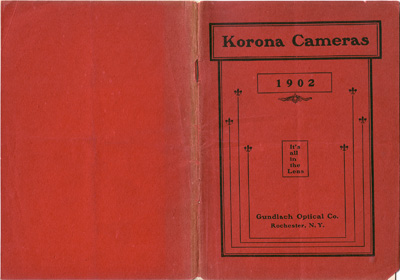 Korona Cameras, Gundlach Optical Co., (Rochester, NY), dated April 1902, ~5½"x7½", 56pp
1903
1903 Koronas, Gundlach-Manhattan Optical Co., (Rochester, NY), dated March 15, 1903, ~6"x8¼", 64pp
1906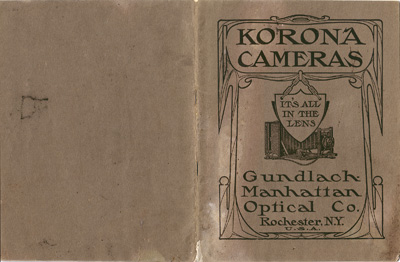 Korona Cameras, Gundlach-Manhattan Optical Co., (Rochester, NY), dated 1 Jan 1906, ~5¾"x7½", 56pp
1909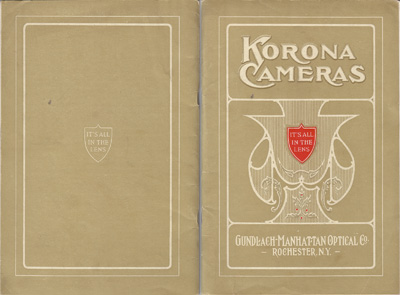 Korona Cameras, Gundlach-Manhattan Optical Co., (Rochester, NY), dated 1 Jun 1909, ~6"x9", 48pp
1912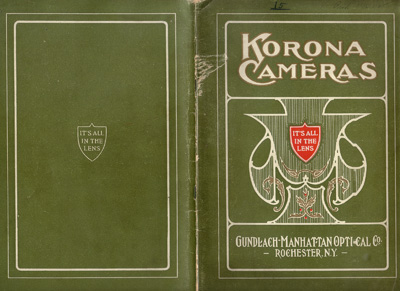 Korona Cameras, Gundlach-Manhattan Optical Co. (Rochester, NY), dated July 1, 1912, ~6"x8¾", 48pp
1915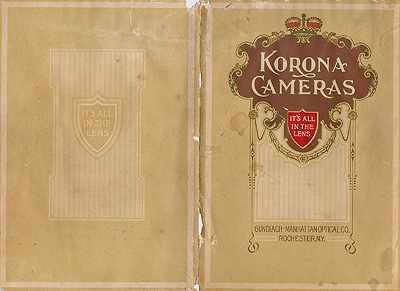 Korona Cameras, Gundlach-Manhattan Optical Co. (Rochester, NY), dated 1 Jan 1915, ~6"x8¾", 56pp
1918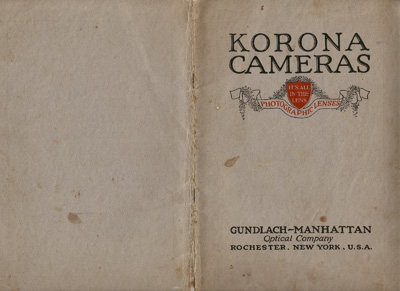 Korona Cameras, Gundlach-Manhattan Optical Co. (Rochester, NY), dated 1 Jan 1918, ~6"x8¾", 48pp
1920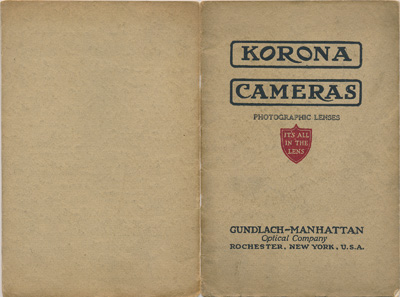 Korona Cameras, Gundlach-Manhattan Optical Co. (Rochester, NY), dated 1 May 1920, ~6"x9", 48pp
c.1922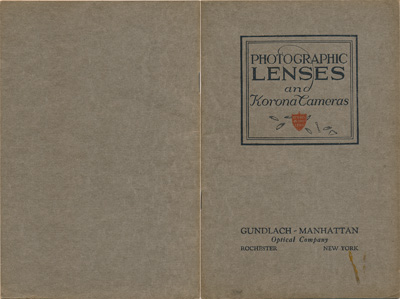 Photographic Lenses and Korona Cameras, Catalog No. 22, Gundlach-Manhattan Optical Co. (Rochester, NY), undated c. 1922, ~6"x9", 52pp
1925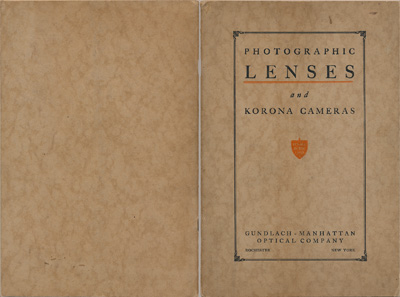 Photographic Lenses and Korona Cameras, Catalog No. 25, Gundlach-Manhattan Optical Co. (Rochester, NY), dated 1 Jan 1925, ~6"x9", 52pp
c.1932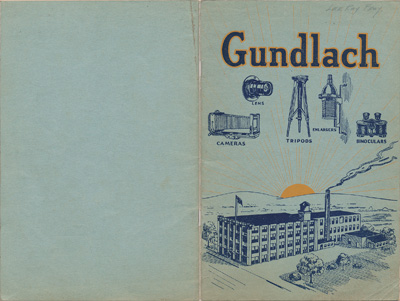 Cameras - Lenses - Equipment, Catalog No. 3, Gundlach Manufacturing Corporation (Rochester, NY), undated c. 1932, ~6"x9", 52pp