The Eastman
Dry Plate & Film

Co.
Genesee

View

5 x 8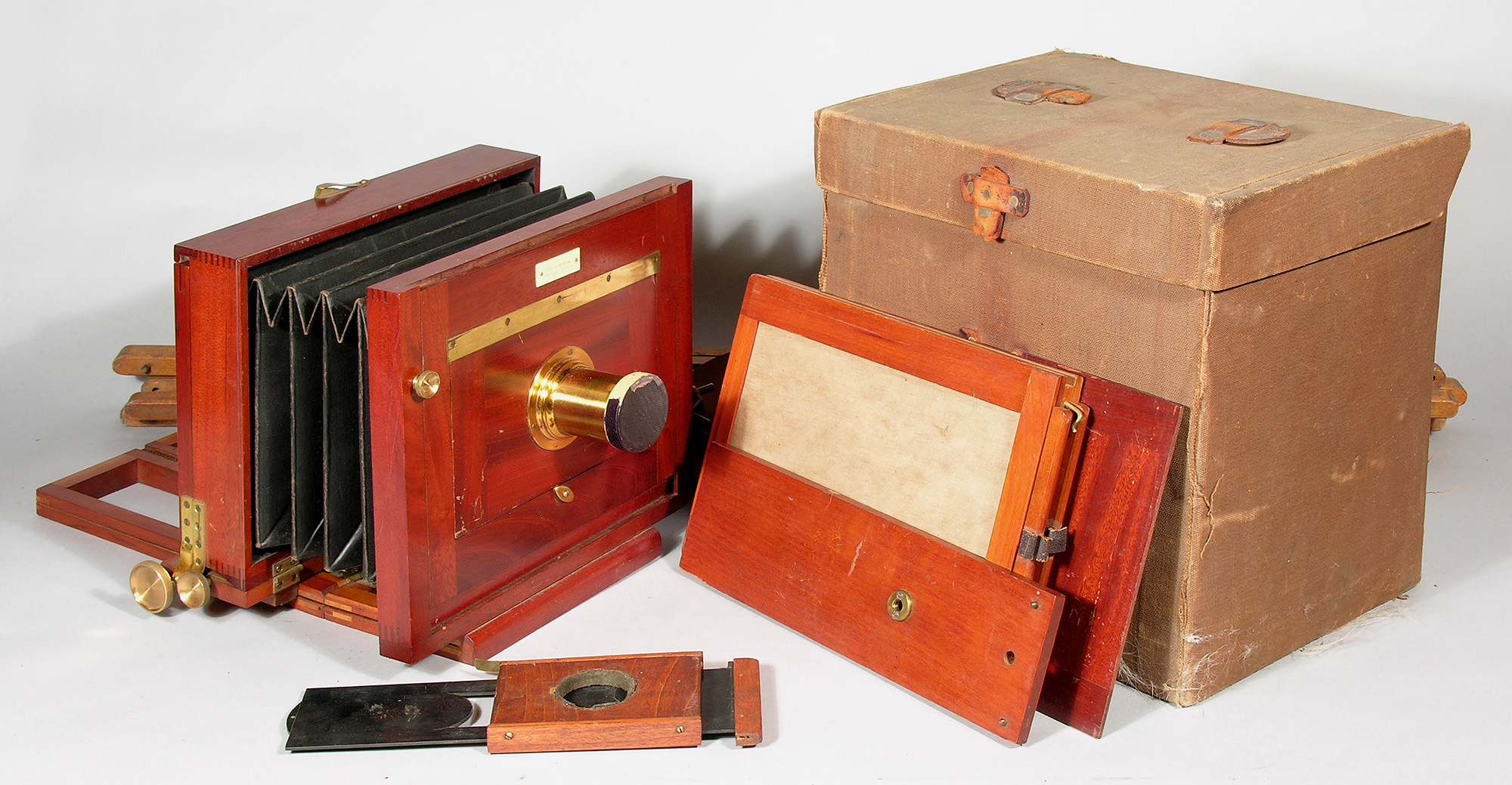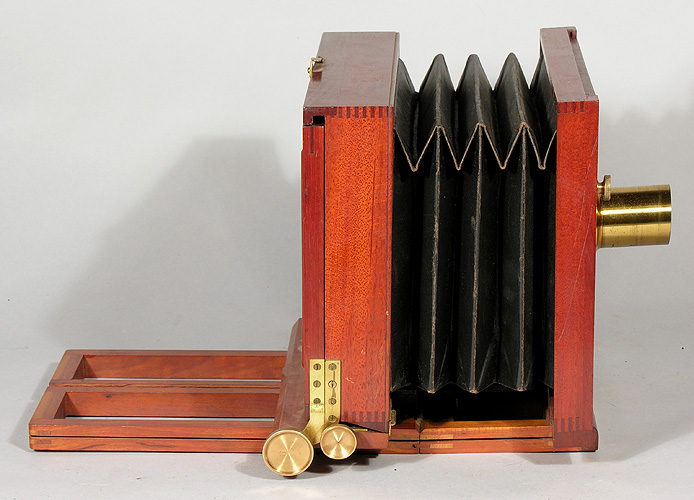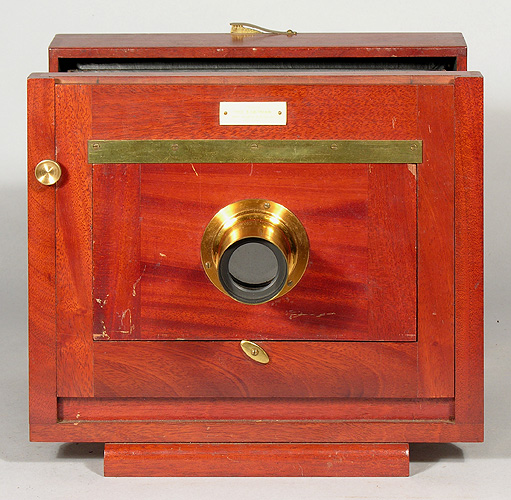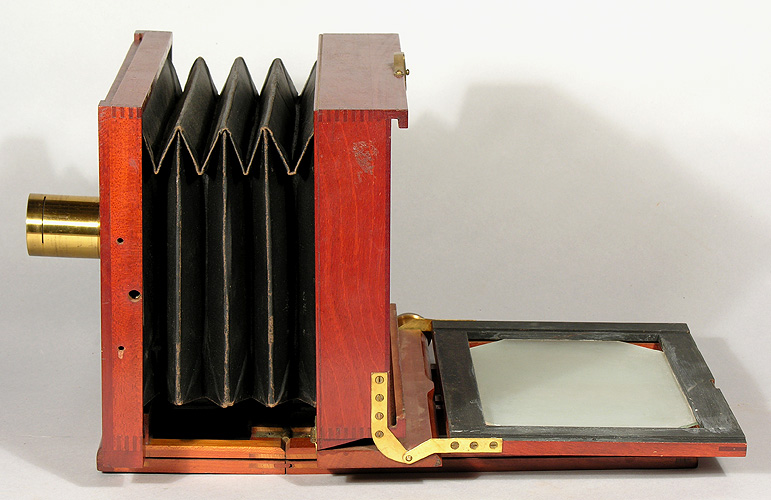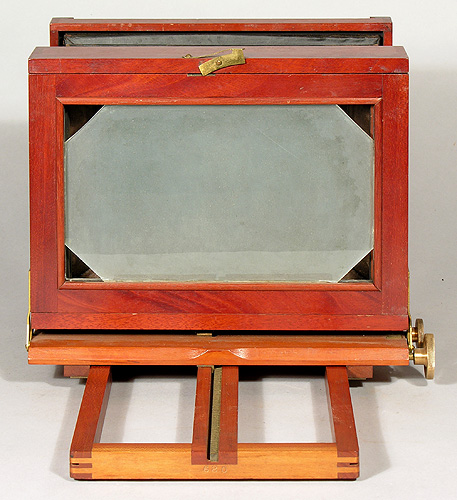 Left side showing attachment of device for reversing to vertical format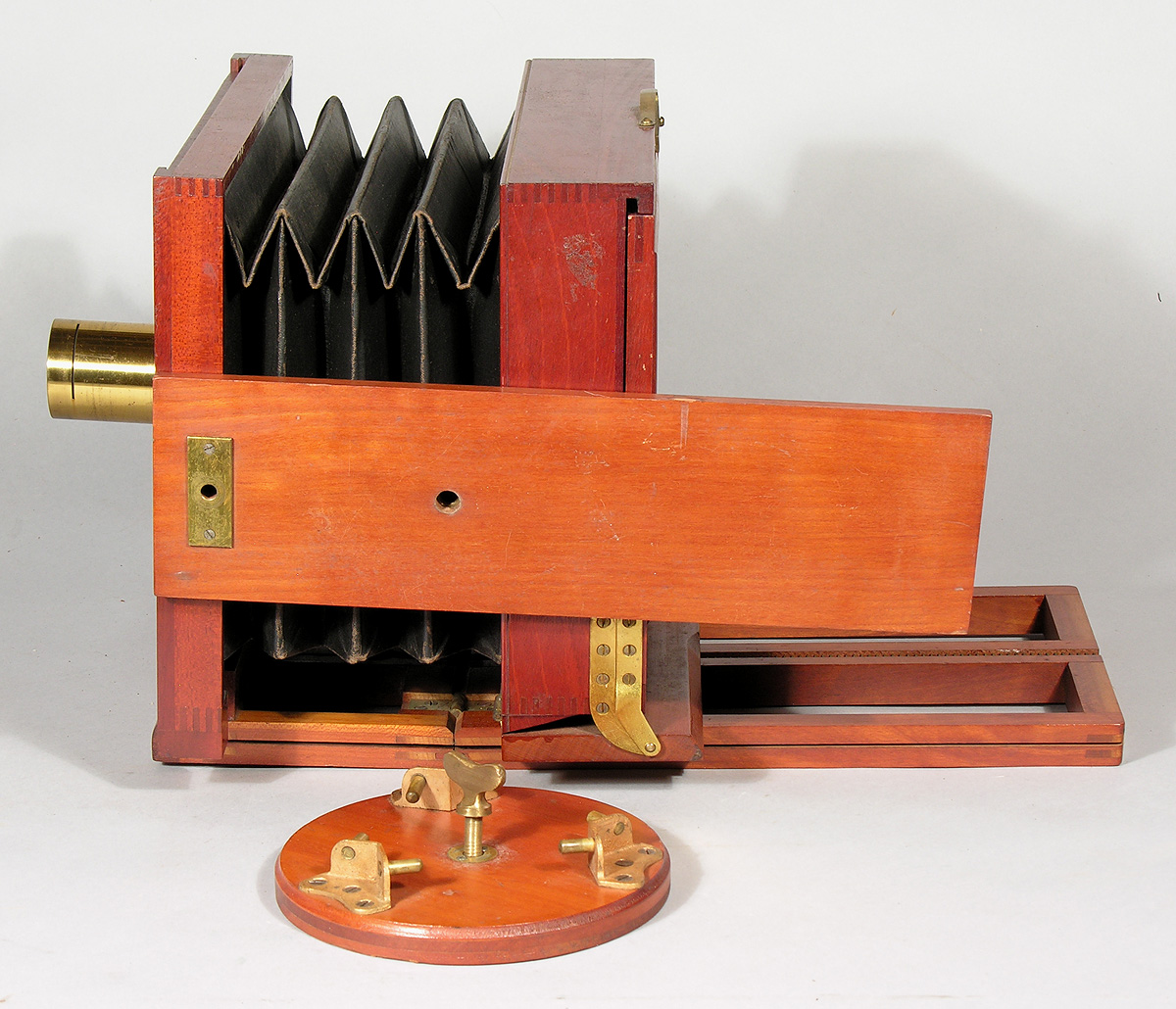 Date Introduced: - ; Years Manufactured: c.1885-1887
Construction: rear focus via rack and pinion (one gear tracks on top of middle base rail); single swing; reversing by second tripod mount (gone in above photos), fixed back
Materials: mahogany body; cherry base; black fabric bellows; brass hardware
Sizes Offered: View 5x7, 5x8
Notes: In addition to the Interchangeable View (well advertised and featured in catalogs), Eastman produced two cameras apparently only known from production records: the Eureka View and the Genesee View. It is not known what these models looked like, but the Genesee was only made in small sizes, whereas the Eureka was made in sizes up to 18x22. The above style is more suited to small cameras, so is identified here as the Genesee. A 5x8 example is shown above and the 5x7 below (which has an altered back). The Genesee has a unique brace to be used when the camera is in vertical format. It consists of a slab of cherry wood, one end of which has posts that fit into three holes in the left side front standard. The other end of the slab floats under the back standard to permit focusing. This accessory is shown uninstalled in the first photo above, and installed in the last photo above, whereas the three holes can be seen in the fourth photo above or below.
References:
Eastman Kodak typed production record, 1921 copy
Note: The Eastman Dry Plate and Film Co. catalog, Photographic Materials and Apparatus, Jan., 1888, only contains the Interchangeable View. The Eureka and Genesee are apparently not advertised in any catalogs, and must have been discontinued early.

5 x 7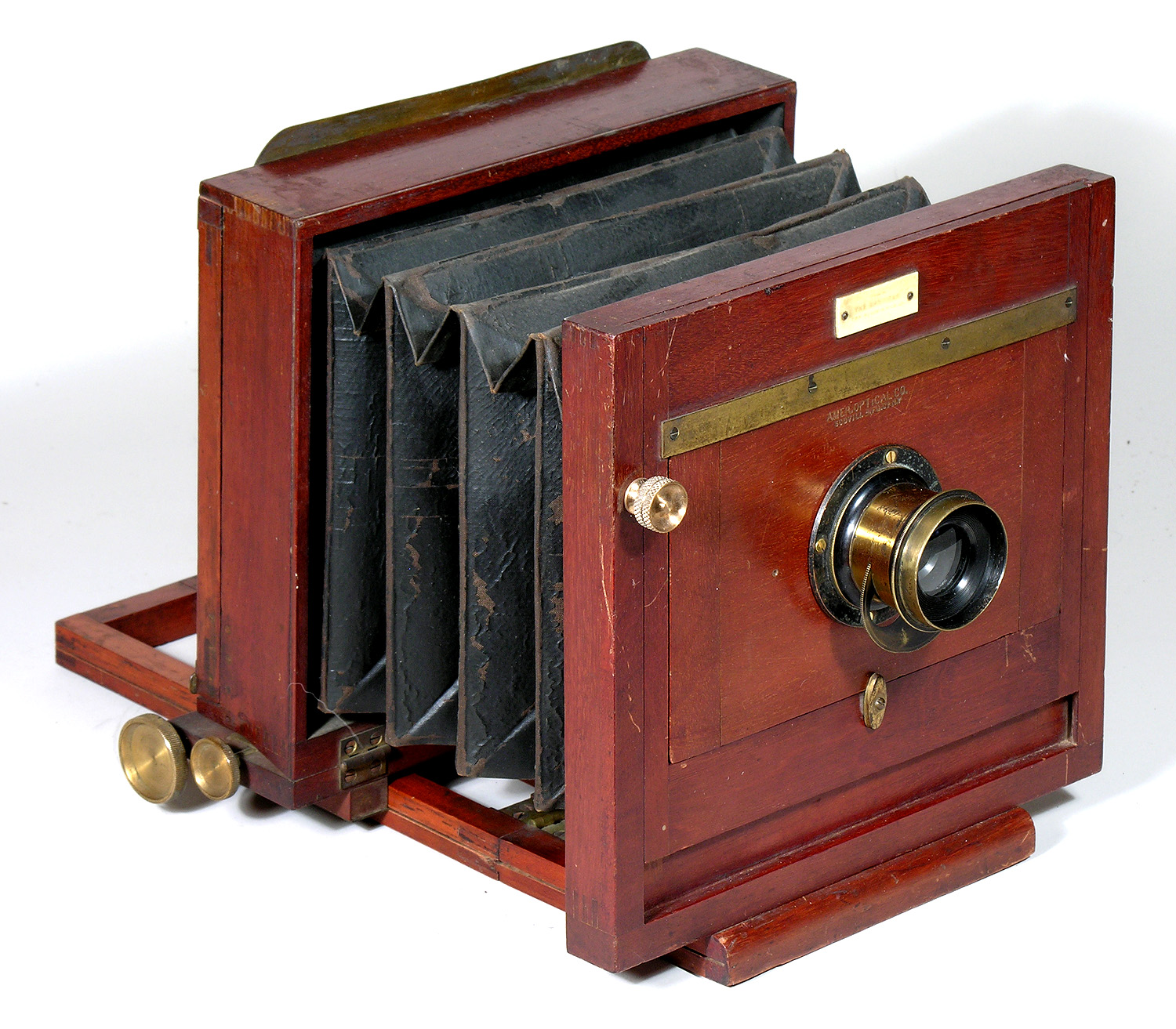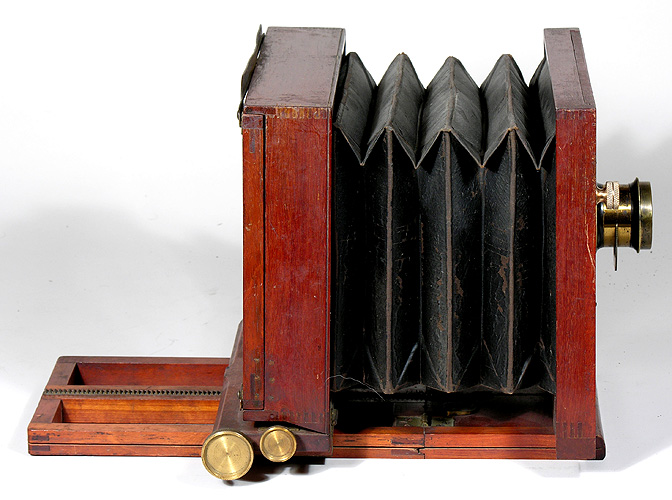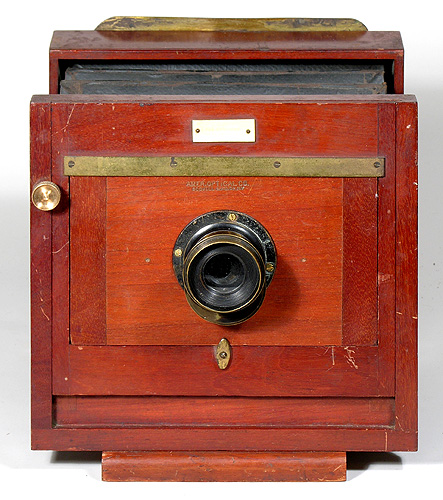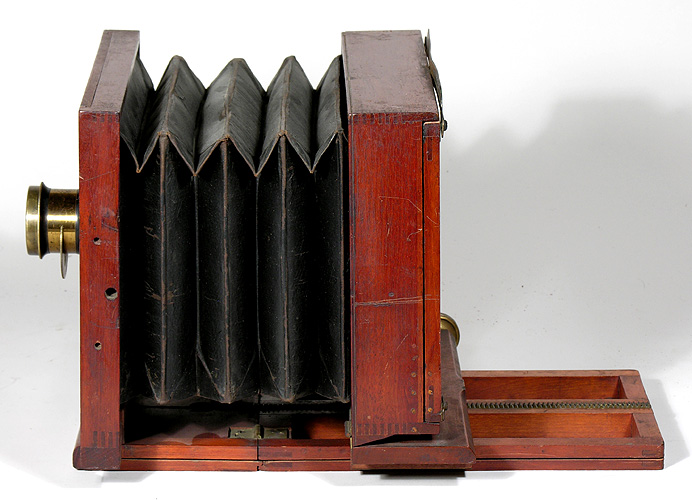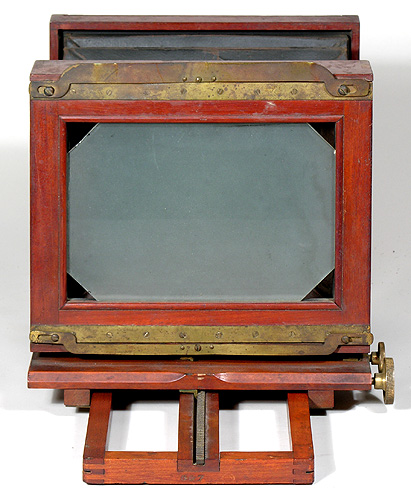 Back to George Eastman Companies