Seneca Camera Manufacturing Co., Rochester, NY
Camera City View Camera, Variation 1
Seneca Camera Manufacturing Co. Catalog J, 1910, pp. 29-33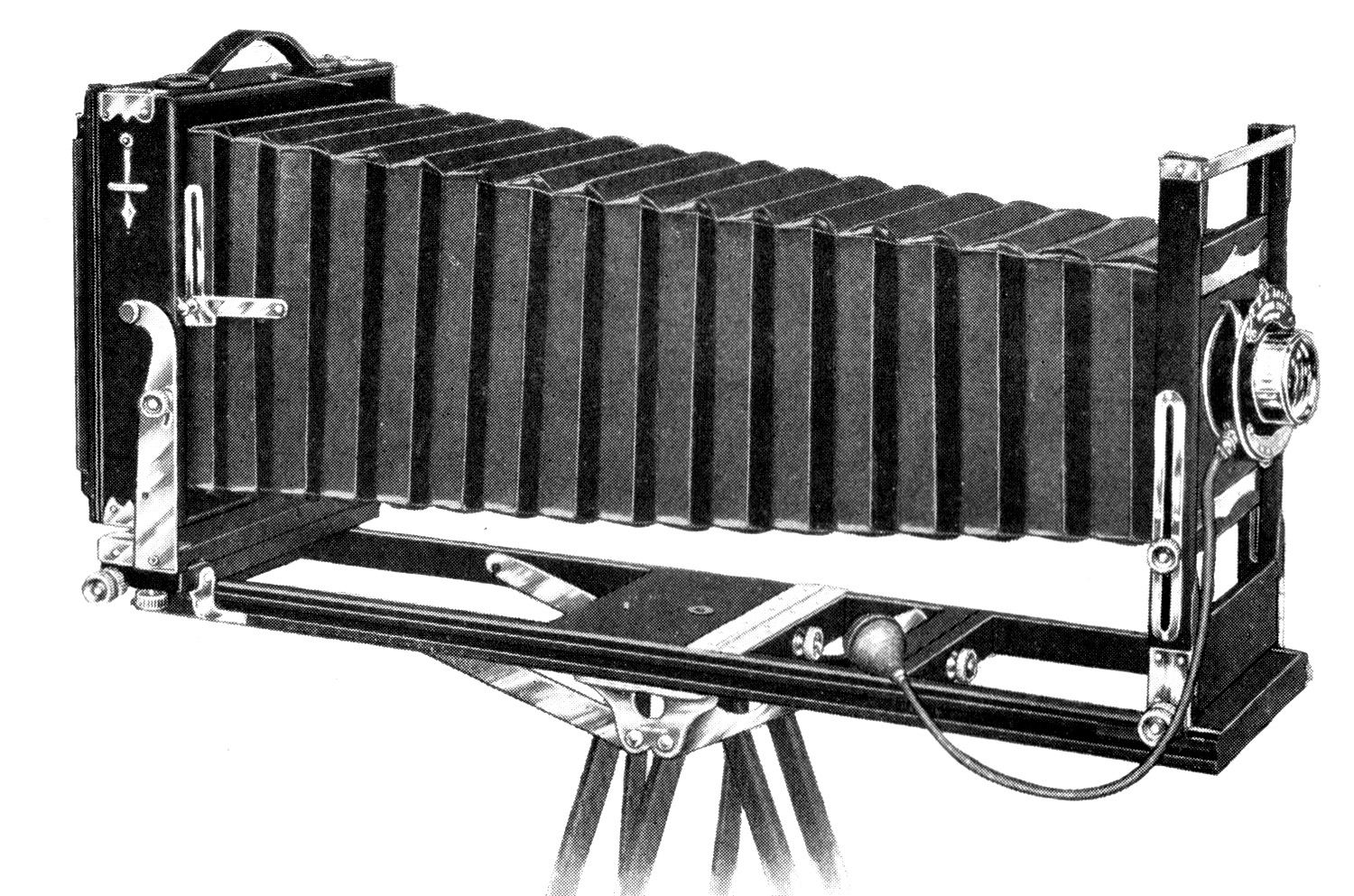 5x7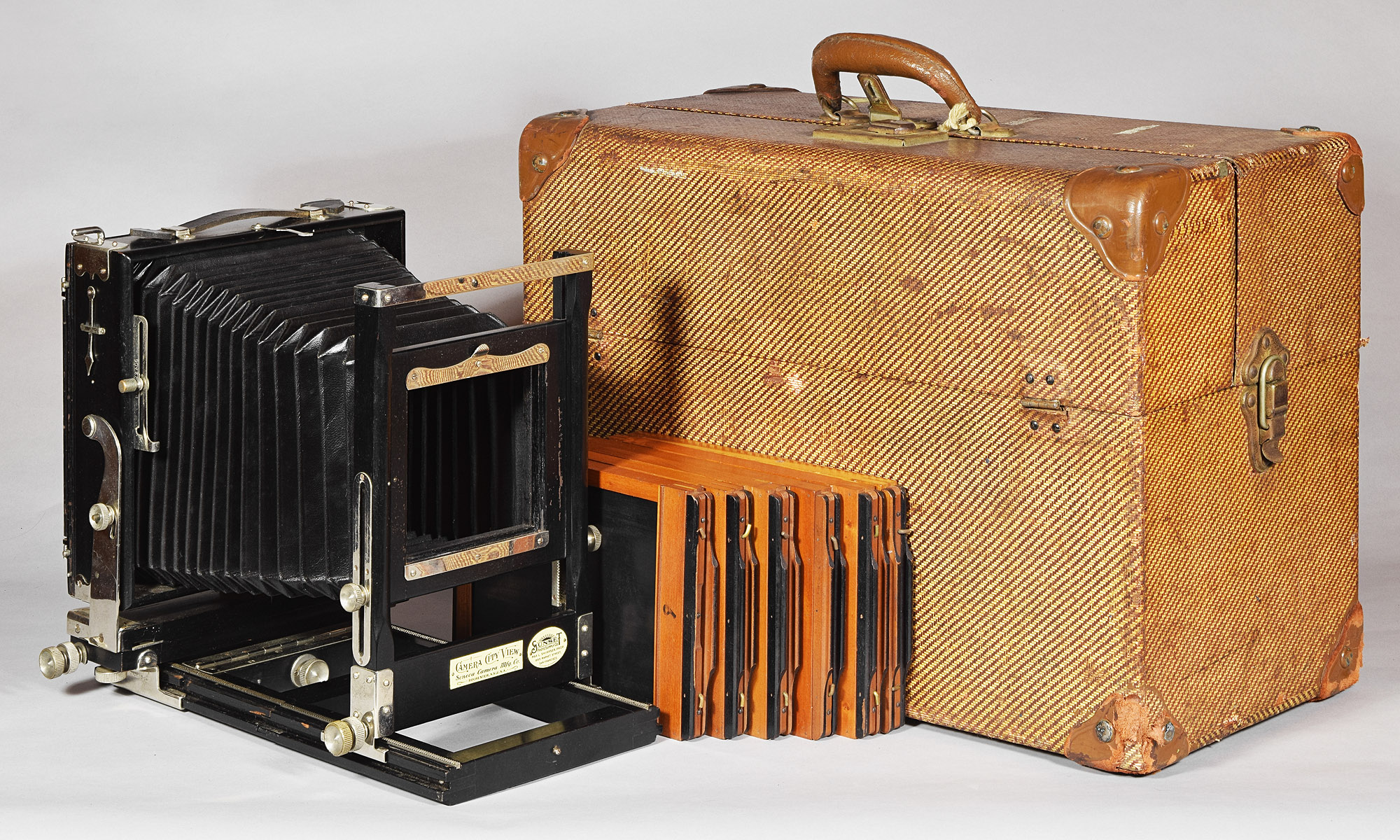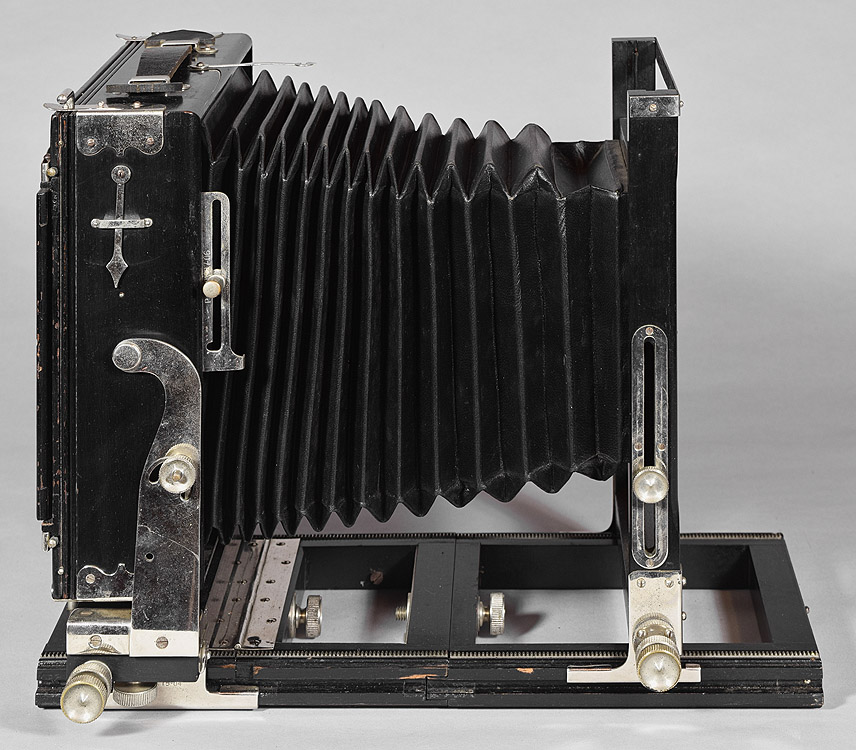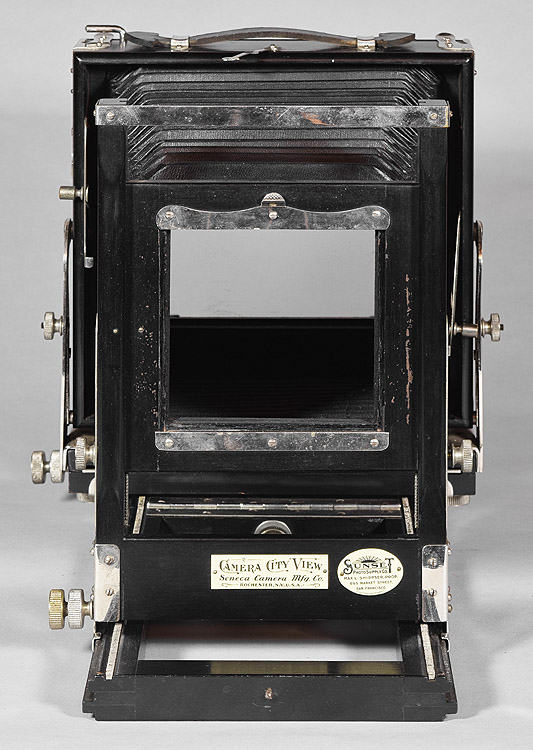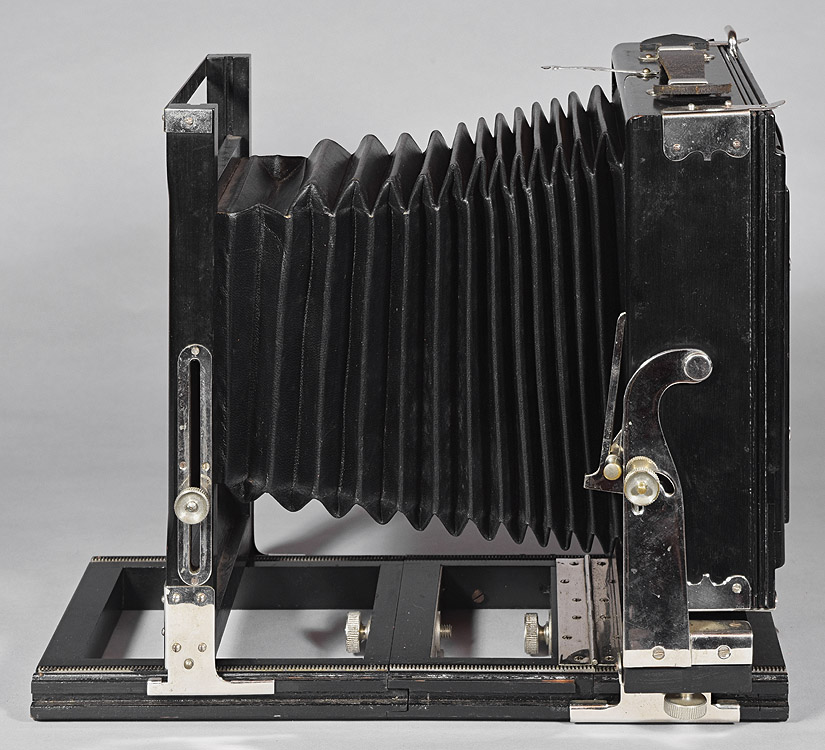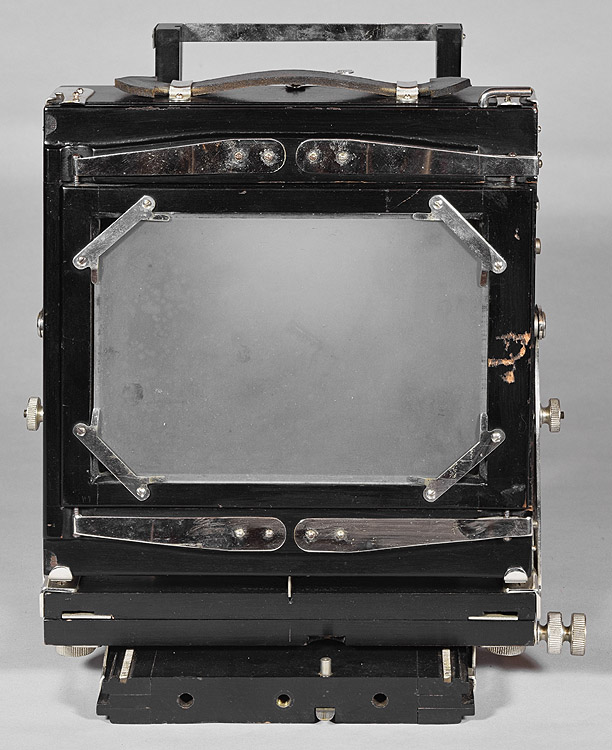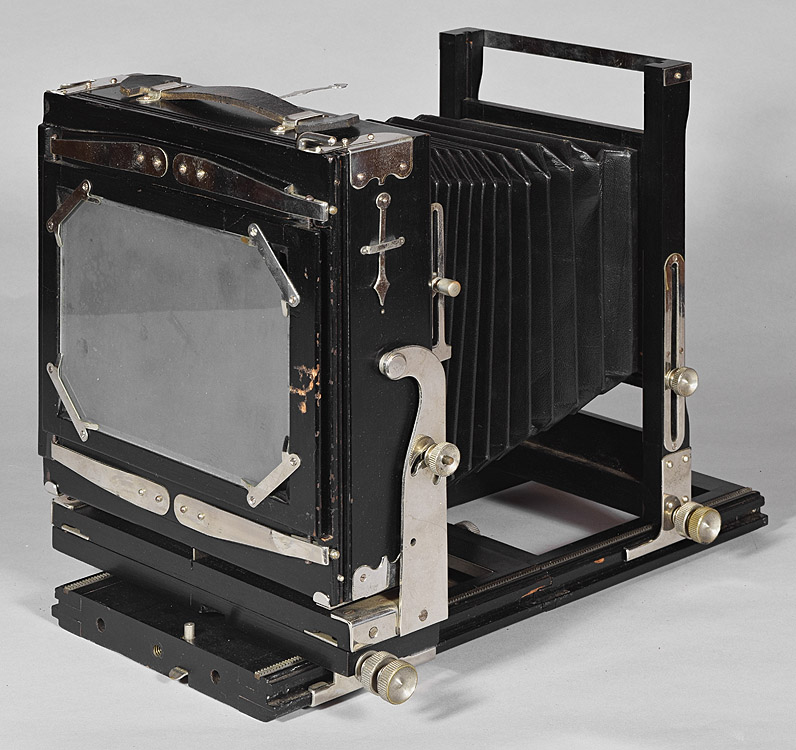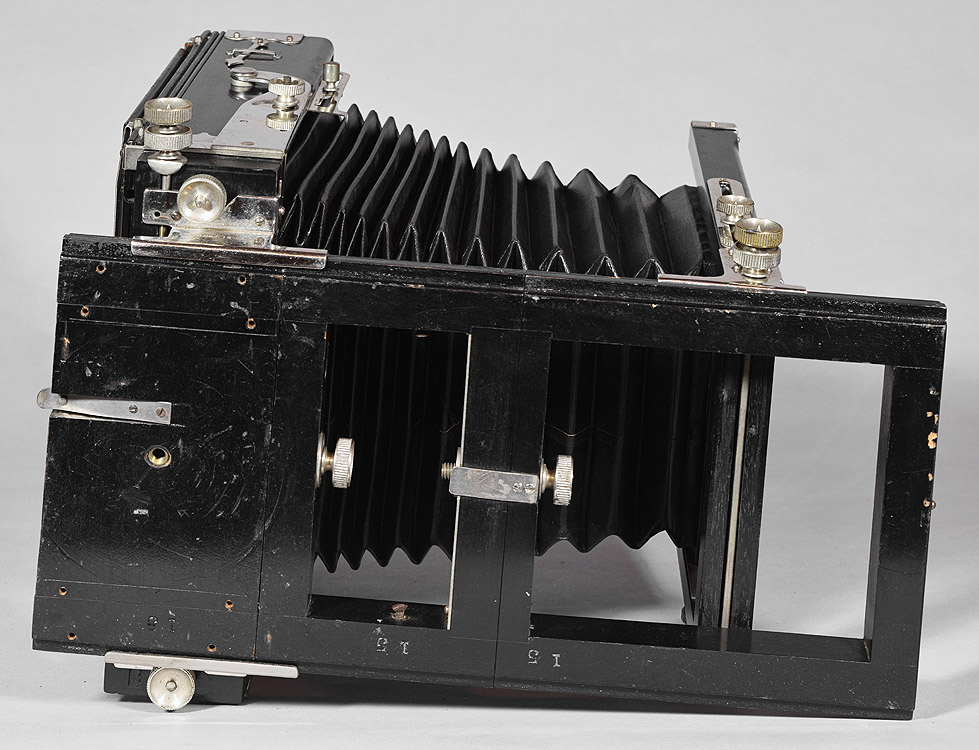 Labels on front of camera


Date Introduced: 1907 ; Years Manufactured: 1907-1913
Construction: back and front focus via rack and pinion (two gear tracks on top of the base rails); double swing; reversing by removable back;
Materials: cherry base, black fabric bellows; lacquer finish
Sizes Offered: 5x7; 6½x8½; 8x10; 11x14; 14x17; 17x20
Notes:
The Camera City View model kept its early-type swing hardware (having the thumbscrew in a slot halfway to the top) much longer than did the Seneca View and Seneca View Improved.
One of the interesting and puzzling features of all Camera City View Cameras is their extremely short hinged front base, followed by a fairly short detachable front extension. Most cameras of this era had just one hinged, full-length (that is just long enough to reach the top of the camera when folded) front base. The camera came with a canvas case holding the camera and six holders. The two largest Camera City cameras were constructed of quarter-sawn oak.
References:
Not in the 1906 Seneca Catalog
Seneca Plate, Film & View Cameras, Seneca Camera Manufacturing Co. (Rochester, NY), 1907, pp. 22-23
Seneca Plate, Film & View Cameras, Seneca Camera Manufacturing Co. (Rochester, NY), 1908, pp. 28-32
Seneca Plate, Film & View Cameras, Seneca Camera Manufacturing Co. (Rochester, NY), 1909, pp. 28-32
Photographic Supplies and Cameras 1909-1910, Sunset Photo Supply Co. (San Francisco, CA), 1909, pp. 34-35
Seneca Cameras, Seneca Camera Manufacturing Co. (Rochester, NY), Catalog J, 1910, pp. 29-33
Seneca Cameras, Seneca Camera Manufacturing Co. (Rochester, NY), Catalog K, 1911, pp. 33-37
Seneca Cameras, Seneca Camera Manufacturing Co. (Rochester, NY) Catalog L, 1912, pp. 35-39
Seneca Cameras, Seneca Camera Manufacturing Co. (Rochester, NY) Catalog M, 1913, pp. 35-38
Catalogue of Cameras, Kodaks, Lenses and Photographic Accessories, 1919-1920, Central Camera Co. (Chicago, IL), 1919, p. 32
1914 catalog shows Variation 2
Back to Seneca