Photographs from the family of James Perry Pierce (1841-1916)
including photos from Pierce, Bettis, Yandell, Greenlee, Gwaltney, Brewer and Oliver families of western Kentucky.
Best viewed at 1024x768.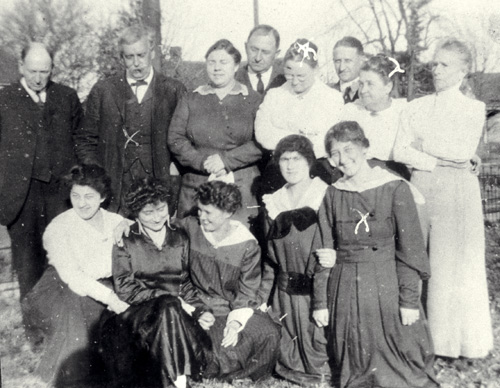 The Collection:
In 1995, I received a box of photos that had been found in the attic of a house once owned by Florence E. (Pierce) Yandell. The Yandells had lived near James Perry Pierce and Florence's husband, William B. Yandell, had been in partnership with James Perry Pierce in land transactions. As the oldest child, and a woman (usually the keepers of family history), Florence collected James Perry Pierce's photos, if any, and her own. The result, a collection of approximately 180 photos covering the years ~1850-1930 document the members of the extended Pierce family. These have been arbitrarily numbered for reference. Unfortunately, only a few of these photos are marked with identification.
The Identification:
1) Fortunately, Florence's are not the only photos in existence. Margaret (Bond) Pierce, a daughter-in-law of James Perry Pierce and married to Norval L. Pierce, had an extensive collection of photographs in her own right. Most of these were from her siblings and are of Bond family members, but she carefully preserved many Pierce photographs that she had been given in 5 photo scrapbooks, along with identifications. Her photos enable the identification of the immediate family of James Perry Pierce.
2) Photos from Judith Funderburg, a descendent of George Washington Pierce have allowed the members of his family to be identified.
3) One of the few inscriptions on the Florence Pierce photos was on the back of a photo of a father and a newborn, c.1895. The inscription referred to a child born in 1895, thereby allowing the father, Willis Champion Pierce, to be identified. His inclusion in other photos allowed images of the Jacob Ayhart Pierce family to be guessed. Unfortunately, later data from a Pierce book including identified photos of the Jacob Ayhart Pierce family showed that the guesses were in error. Therefore, the captions and file names of photos of Stanton Pierce, Jacob Ayhart Pierce and his family have been changed on 15 Mar 2015. Warning: Only photos downloaded from this site after this date will be correct.
4) Photos of the Greenlee family (Mary Jane D. Pierce) can only be guessed to be present. It is the hope that this posting on the internet will bring forth information on the Greenlee family that will allow photos to be identified.
5). Often, identified photos of an individual can be used to identify photos taken earlier or later in life. This is not as easy as one might think, especially considering family resemblance among brothers or sisters. In such cases, I have adopted a forensic style of facial comparison, in which the head images are made a uniform size and superimposed one over another, to check the positioning of and shape of eyes, ears, nose, mouth, the contour of the chin, shape of head, hairline, etc. In cases of a match, an eerie transformation from young to old can be made by adjusting the transparency of the top photo. In non-matching cases, at least one feature will not line up, e.g., the distance from the nose to the mouth, or the spacing between eyes is different. Below is shown a montage of all the images of James Perry Pierce in the collection. Only the one on the far left was identified (being in Margaret Pierce's scrapbooks); the others were identified one by one working back towards the right from it.

Genealogy (click family for photos):





Other Photographs:
Known But Not Related
These are identified (by various means) photos, but they are of persons not directly related to those in the above families.
Unknowns
These are photos that haven't been identified as yet, but are family and friends. Please help to identify them.
075 6.5x8.5" School Photo, c.1890
Third from the left and in back is probably Jacob Marion Pierce (1878-1868), the one with the ears, of course, and the reason that this photo was amongst the other Pierce images. How do you get 10 year old boys to wear dresses to get their picture taken? Apparently, the practice was quite common in the era.