American Optical Co., Scovill Mfg. Co., props.
Compact View, Variation 1
How to Make Photographs and Descriptive Price List, The Scovill and Adams Co. (New York, NY), January 1892, p. 12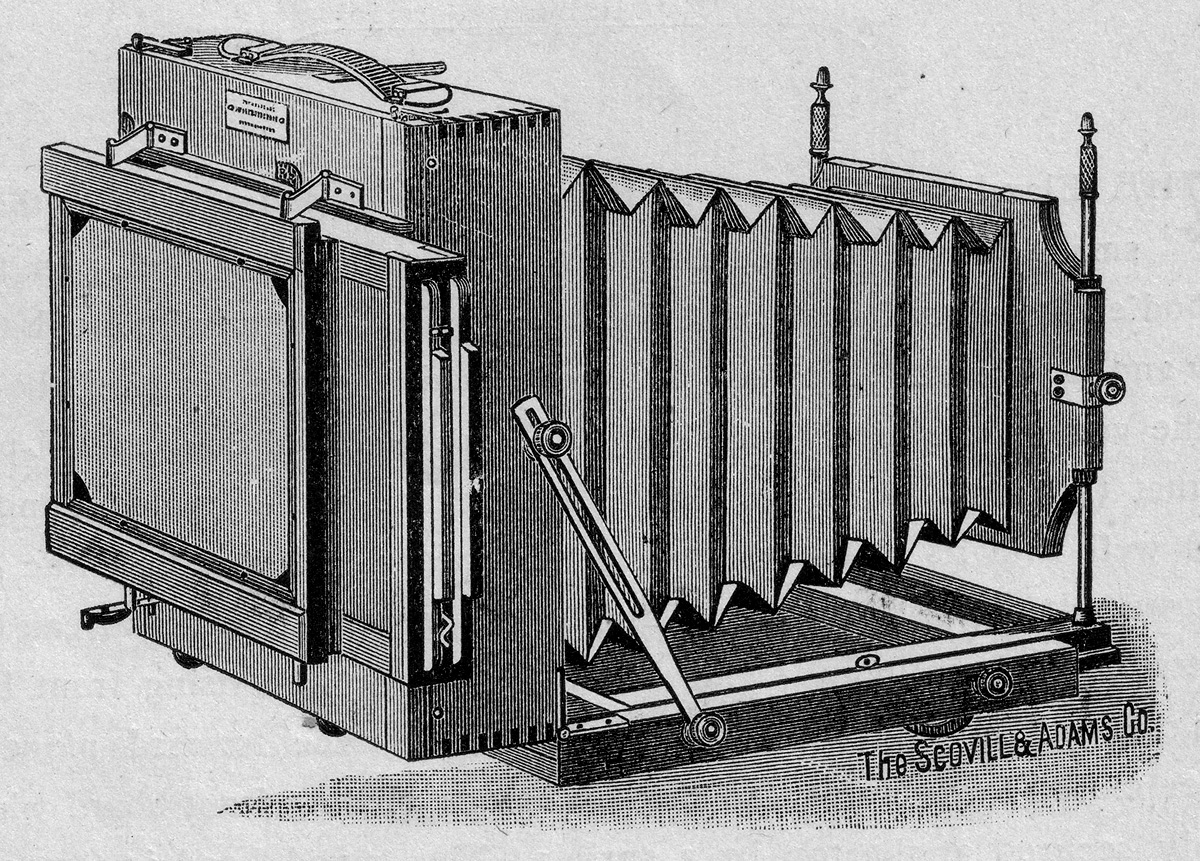 5 x 8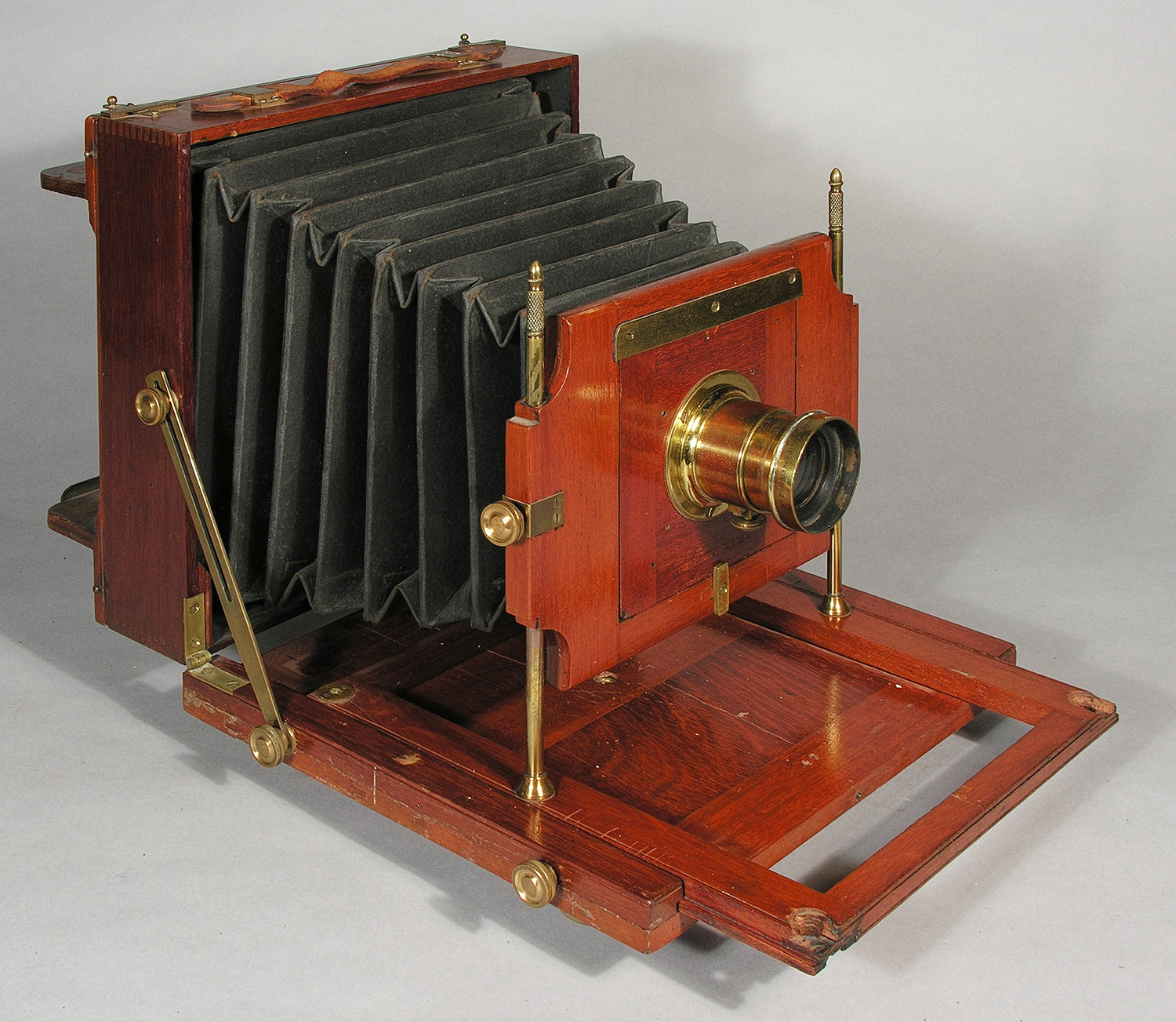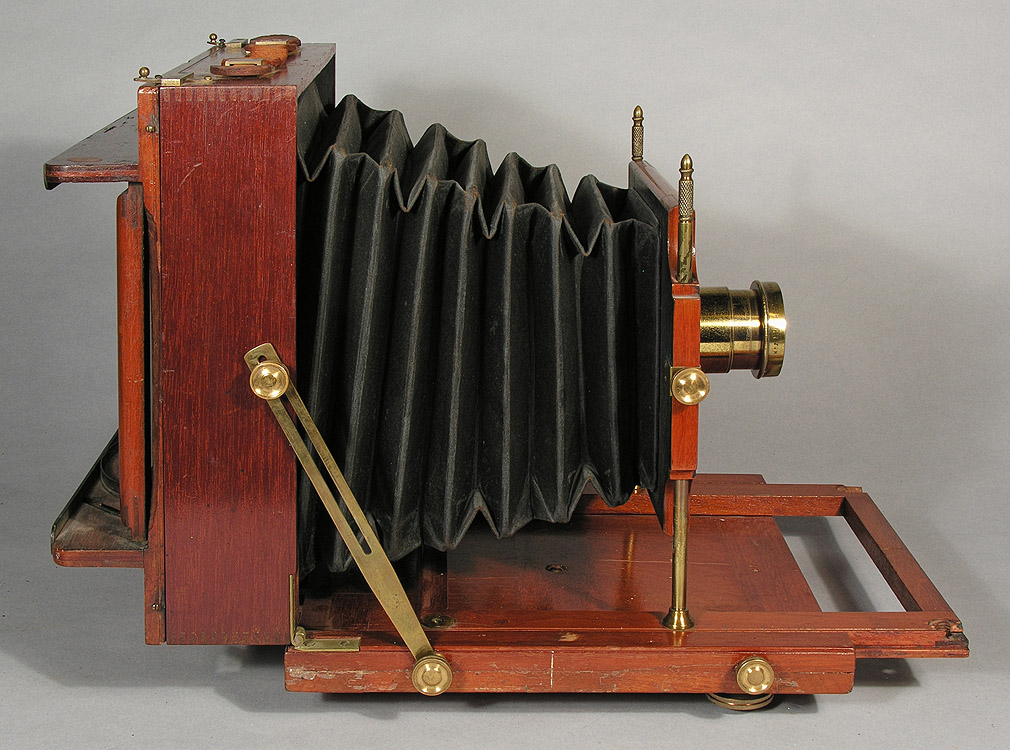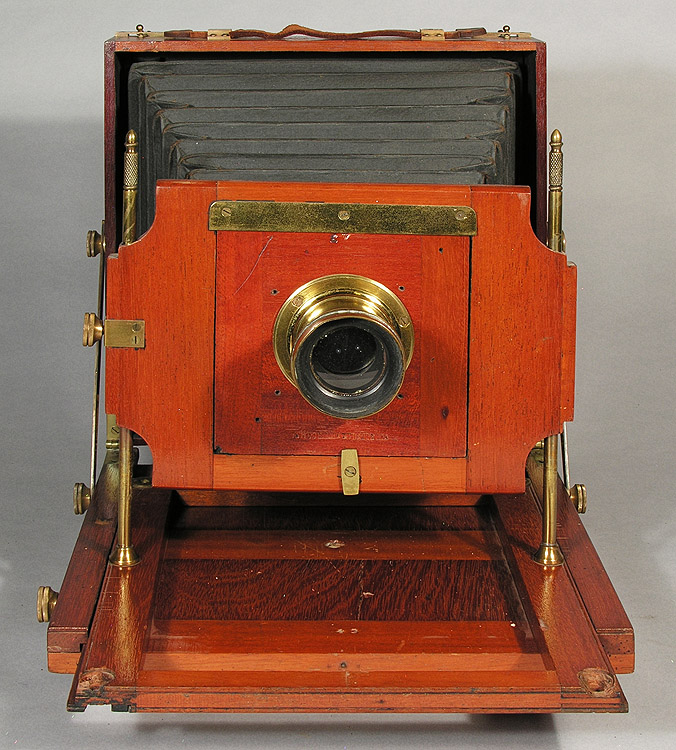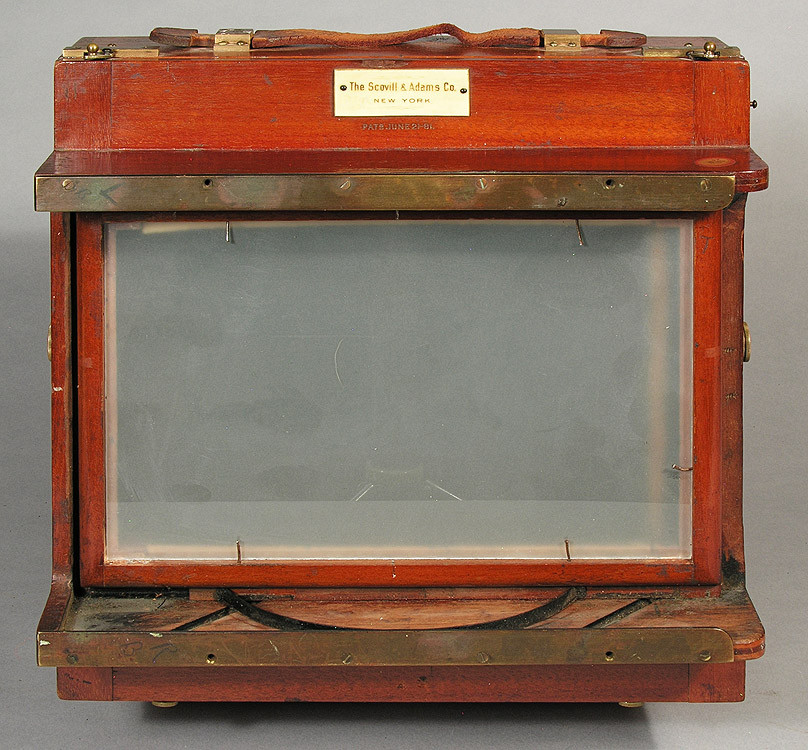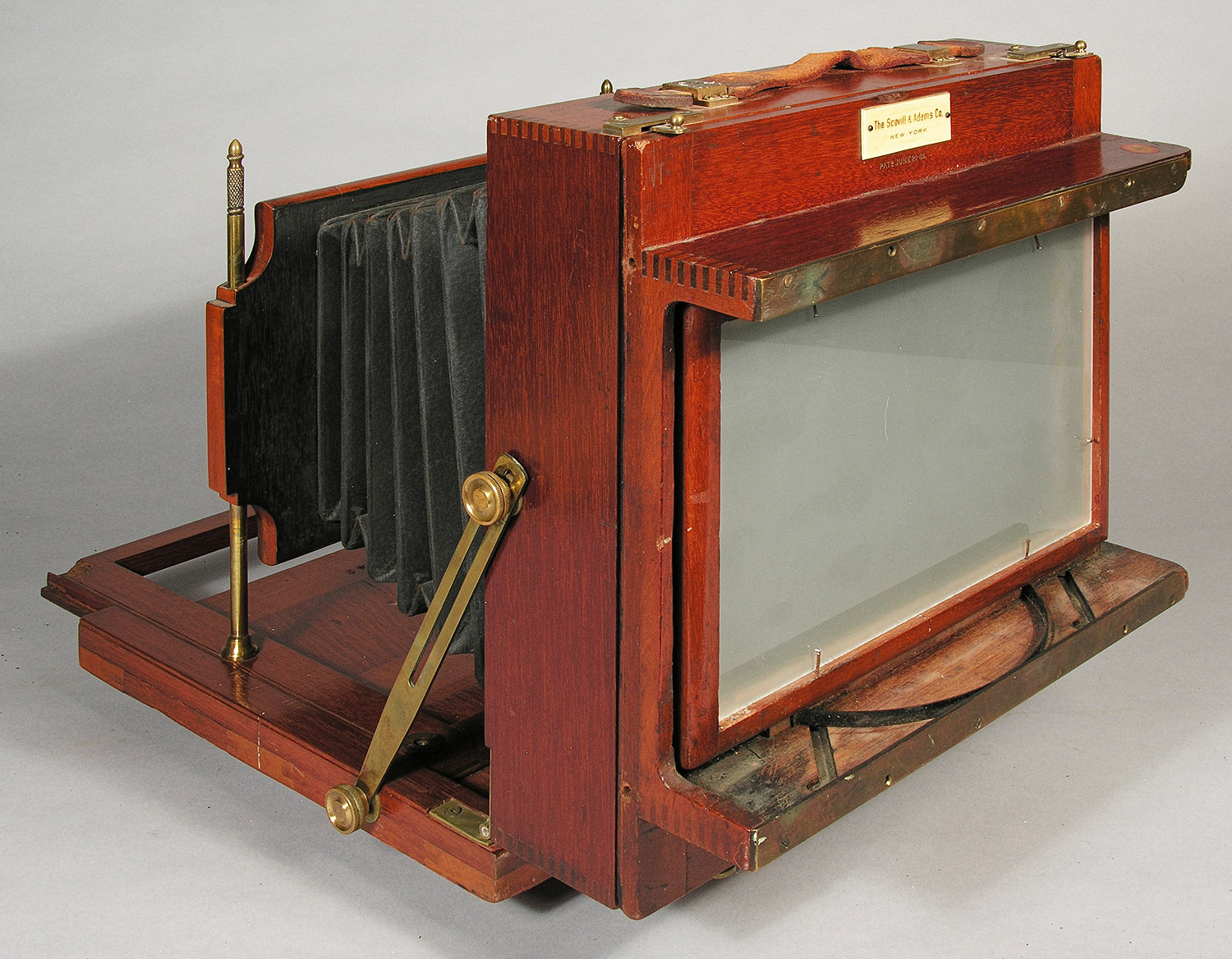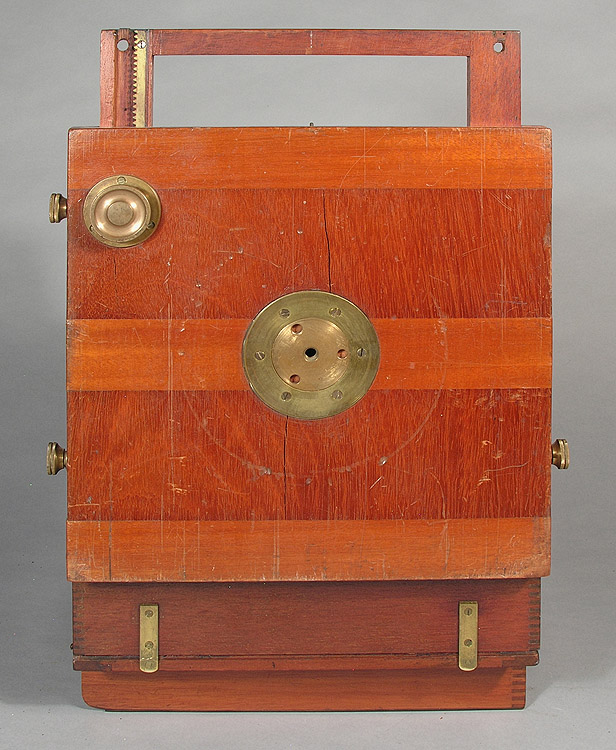 8x10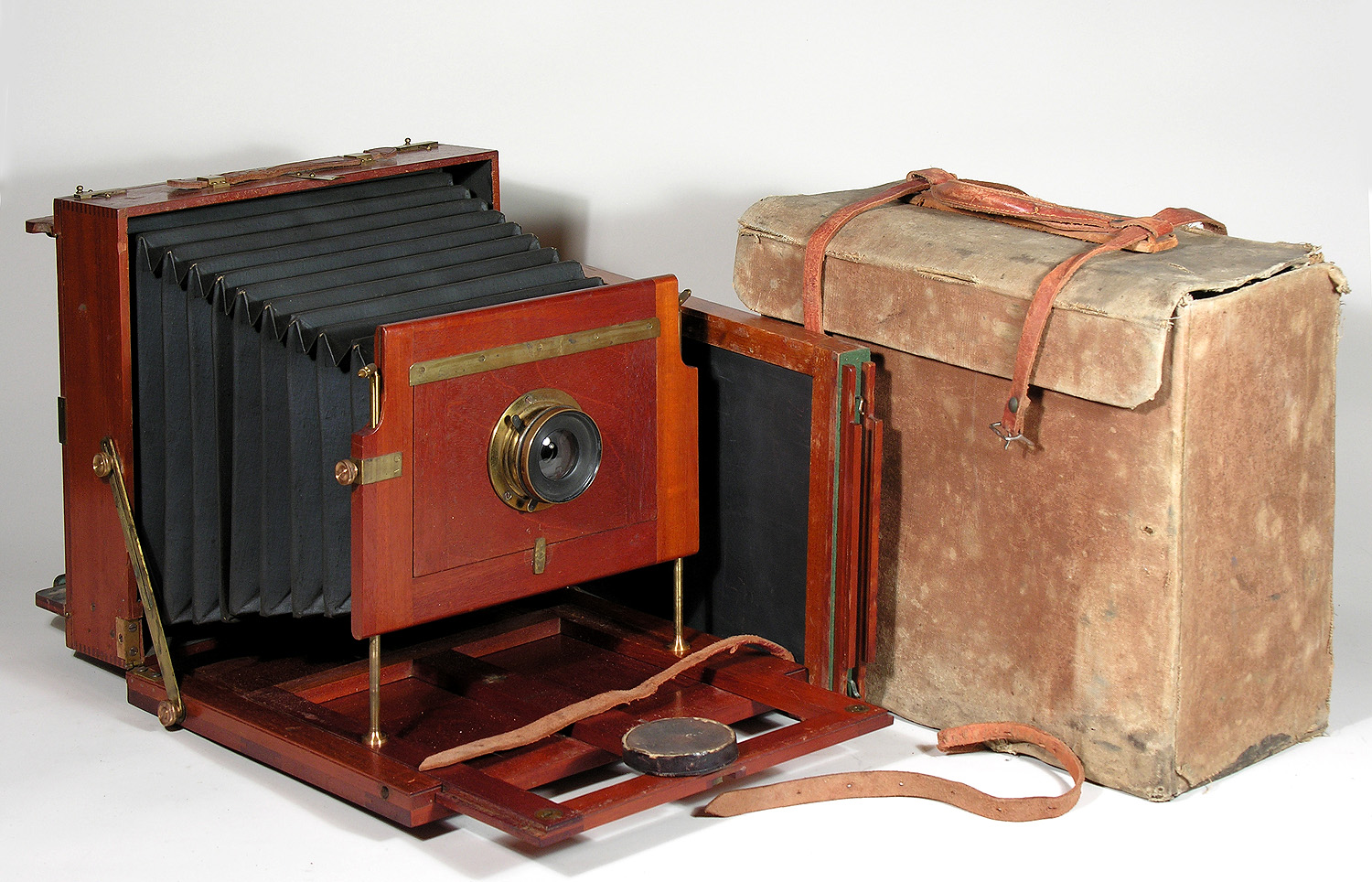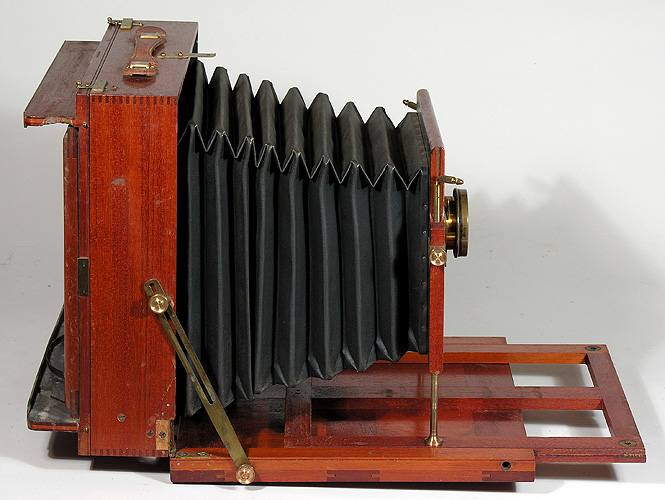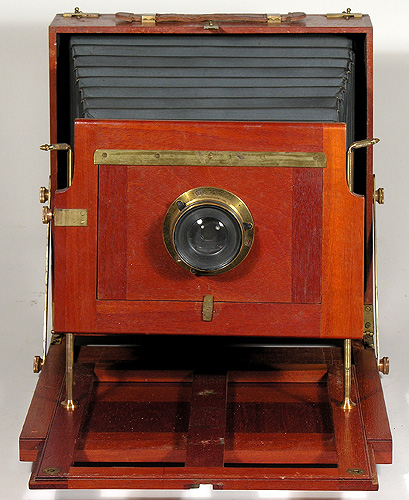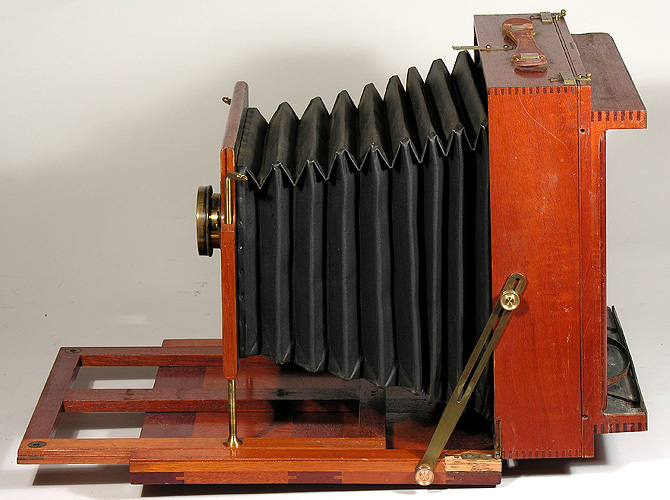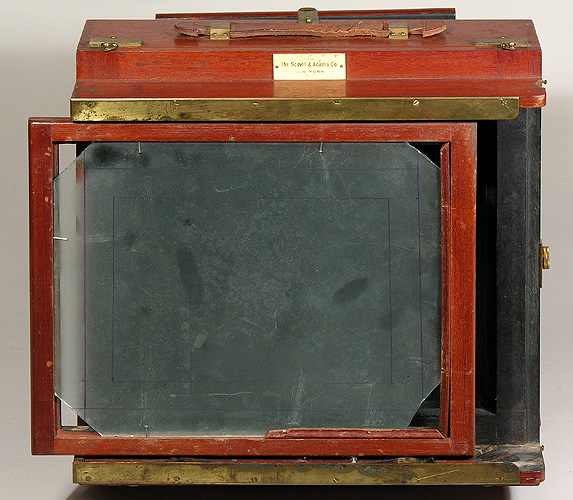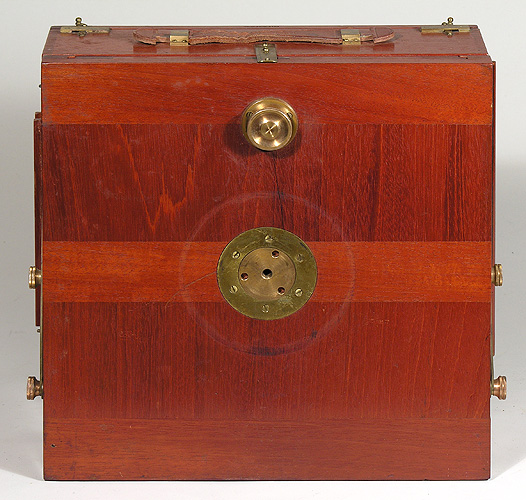 Manufacturer: American Optical Co. New York, NY factory
Date Introduced: - ; Years Manufactured: c.1892-1896
Construction: front standard can attach at three points plus crank-out the bed to focus; single swing; reversing by removable back; three-piece lens board; internal gears
Materials: mahogany body; mahogany base; red leather bellows; brass hardware
Sizes Offered: 5x7; 5x8; 6½x8½; 8x10
Notes:
The compact is essentially an English Compact style camera, like the Albion, in that it folds and focusing is through the bed, but it has a unique (and annoying when you place it anywhere but on a tripod) focusing knob position on the bottom of the camera instead of the more normal position on the side. It also has a cumbersome attachment of the front standard which involves screwing the brass posts into one of two sets of holes, depending on the focal length of the lens. The engraving shows the position for long focal length lenses, while the camera photos show the position for short focal length lenses.
Variation 2 has a wooden front standard instead of the metal rods of the above camera. By late 1896, the Compact View was consigned to the "Bargain Page" of the American Annual of Photography and Photographic Times Almanac for 1897 (page lxi), which probably indicates an attempt to get rid of discontinued stock.
The patent date below the label on the back, June 21, 1881, is the patent for a dry plate holder, originally patented by J. Milton Howe, who also held another patent used by Scovill.
References:
How to Make Photographs and Descriptive Price List, The Scovill and Adams Co. (New York, NY), January 1892, p. 12
American Annual of Photography and Photographic Times Almanac for 1893, The Scovill & Adams Co. (New York, NY), ads p. 109
The American Annual of Photography and Photographic Times Almanac for 1894, The Scovill & Adams Co. (New York, NY), 1893, p. 97
How to Make Photographs and a Descriptive Catalogue of Photographic Materials Illustrated, The Scovill & Adams Co. (New York, NY), 1896, p. 31
American Annual of Photography and Photographic Times Almanac for 1897, The Scovill & Adams Co. (New York, NY), 1896, ads p. 61 ("Bargain Page")
American Annual of Photography and Photographic Times Almanac for 1898, The Scovill & Adams Co. (New York, NY), 1897, ads p. 115 ("Bargain Page")

Back to American Optical & Scovill