Scovill Mfg. Co., Waterbury, CT & New Haven, CT
Albion
Variation 1
How to Make Photographs and Descriptive Price List, The Scovill & Adams Co. (New York, NY), January 1889, pp. 22-25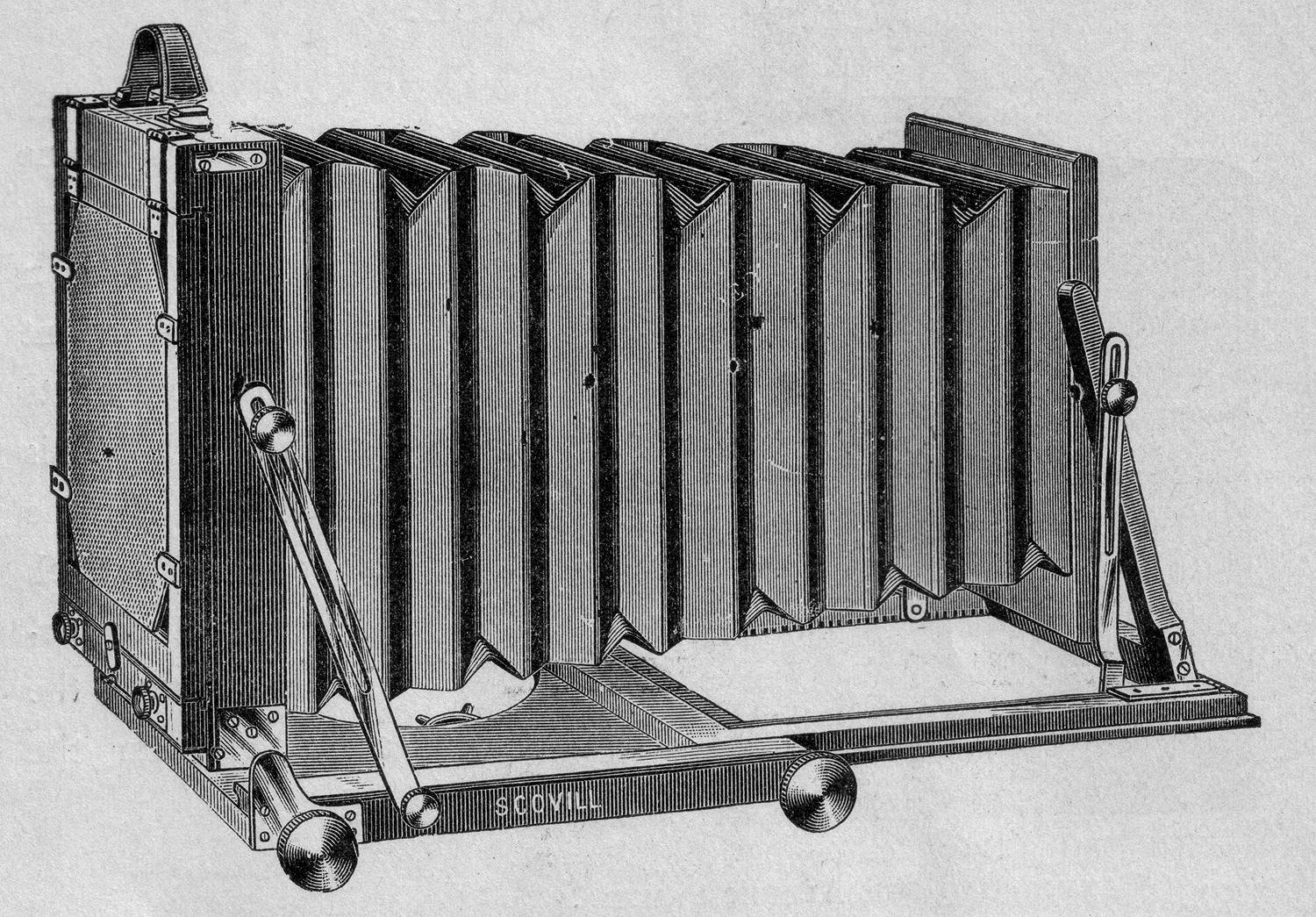 6½ x 8½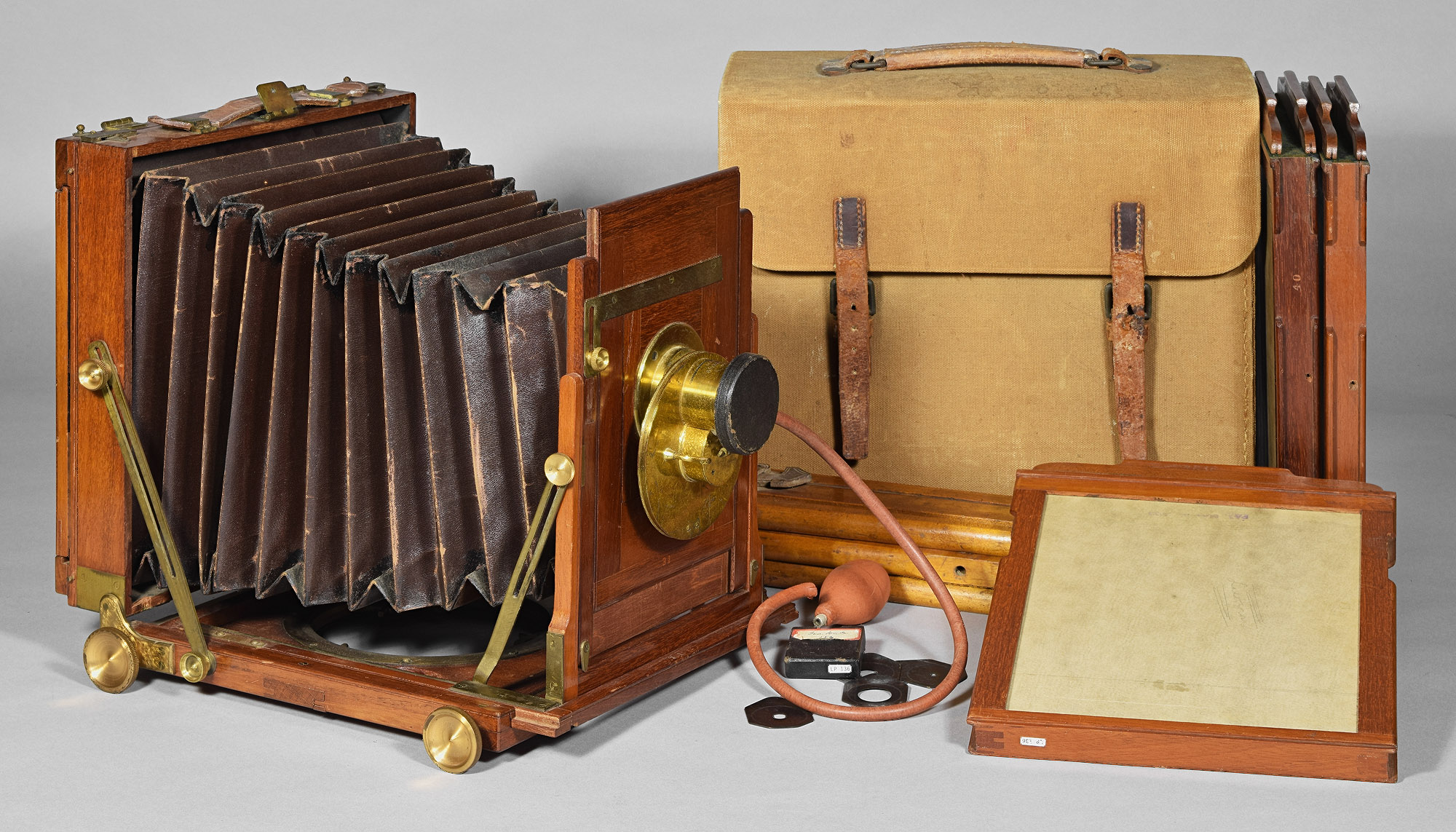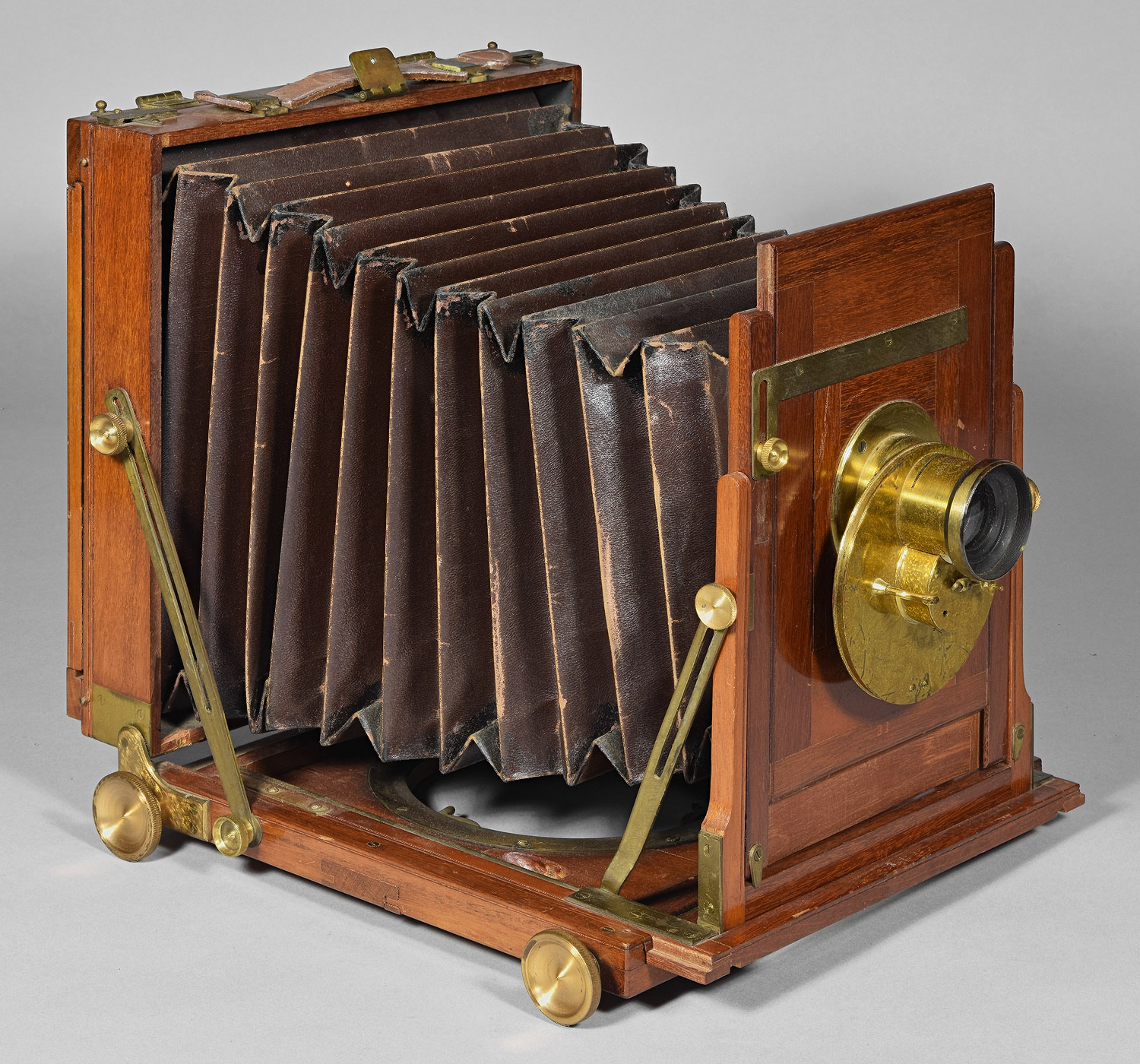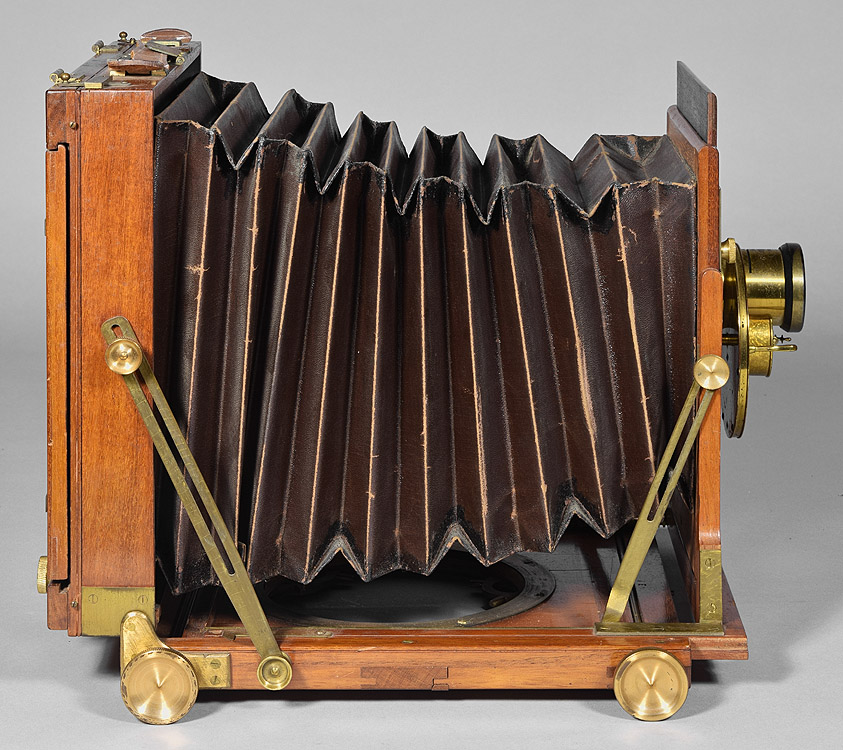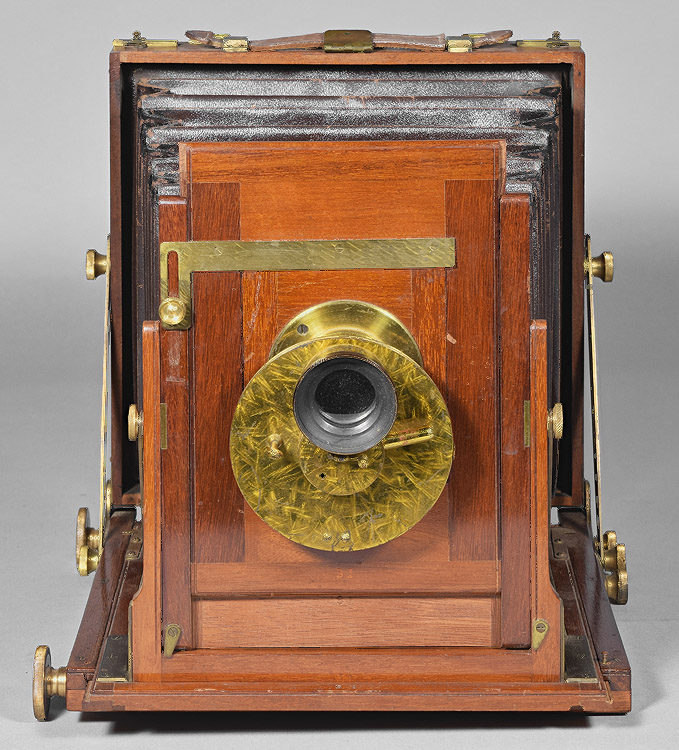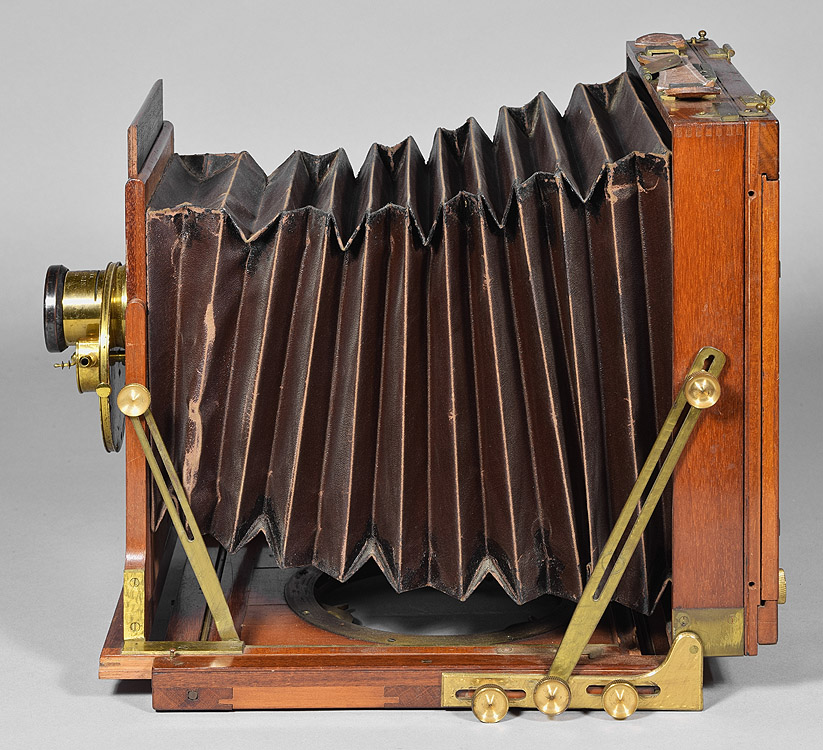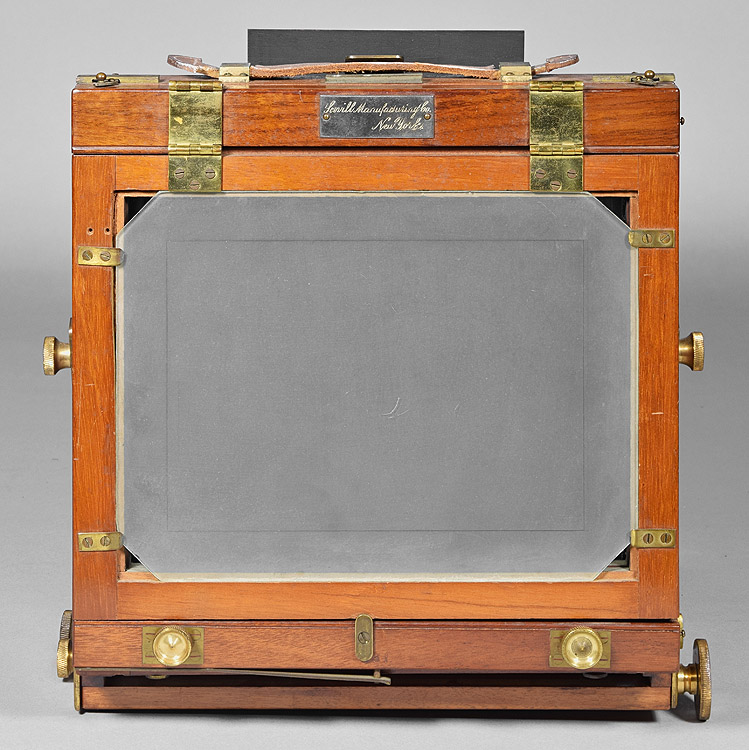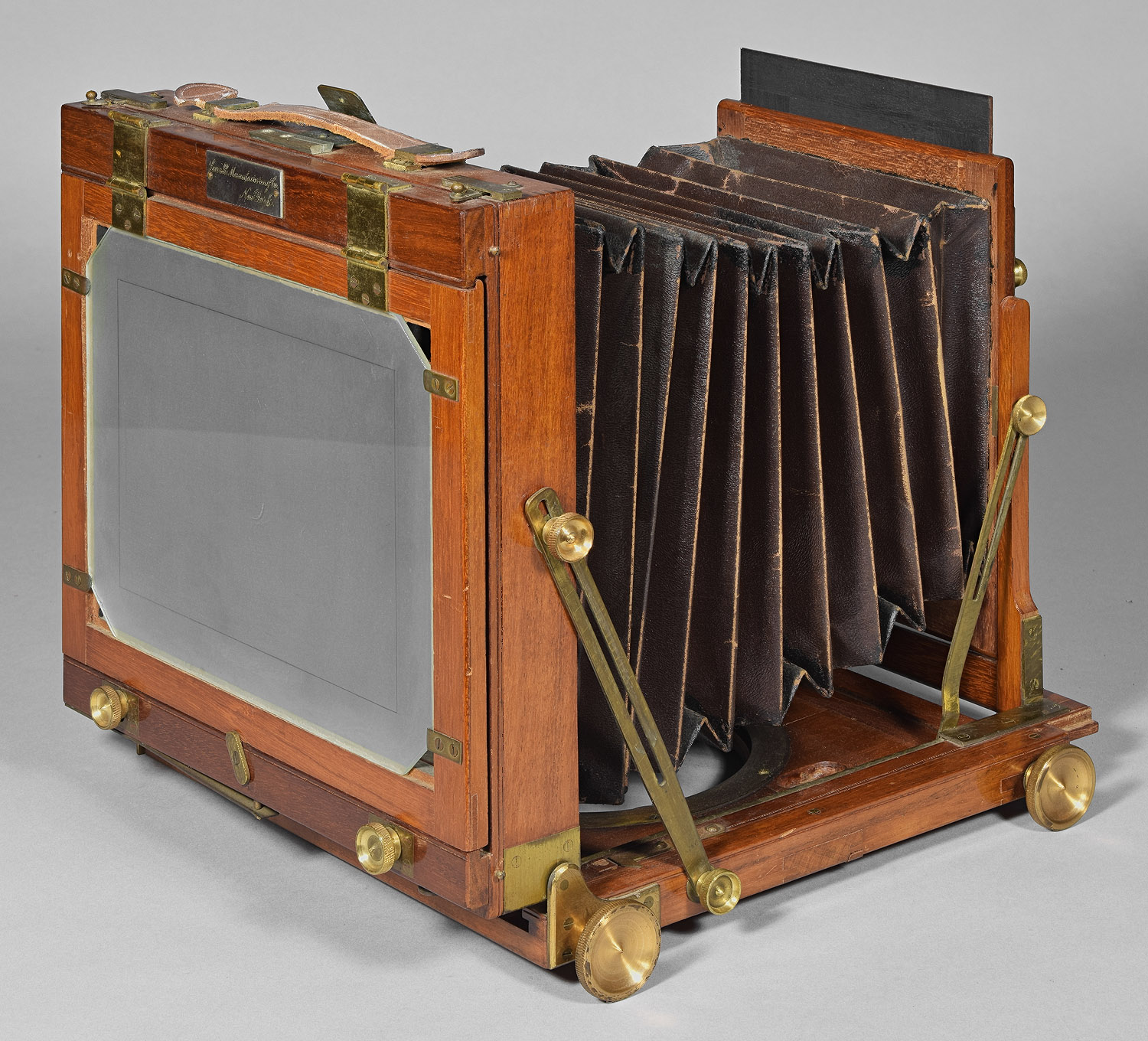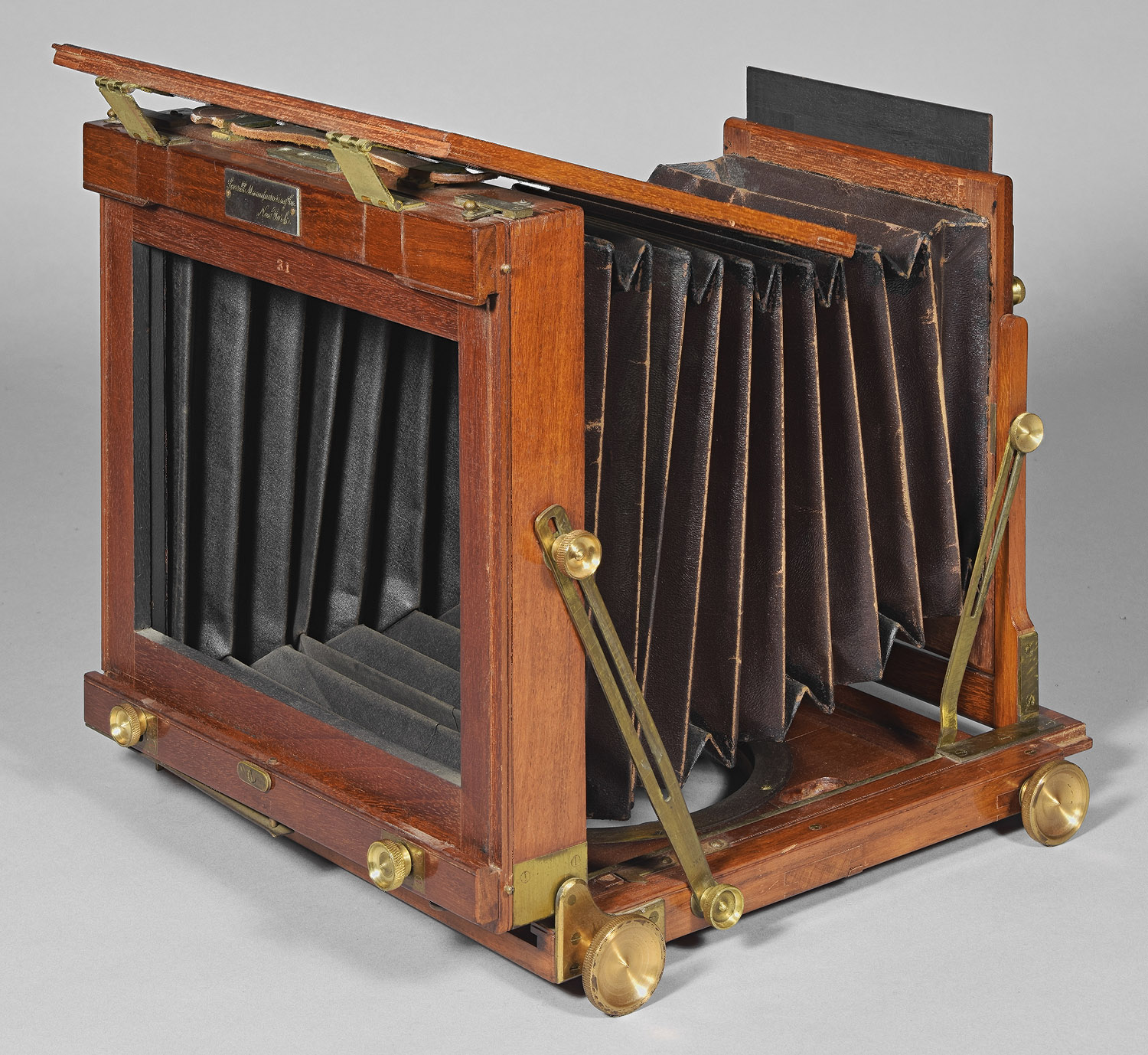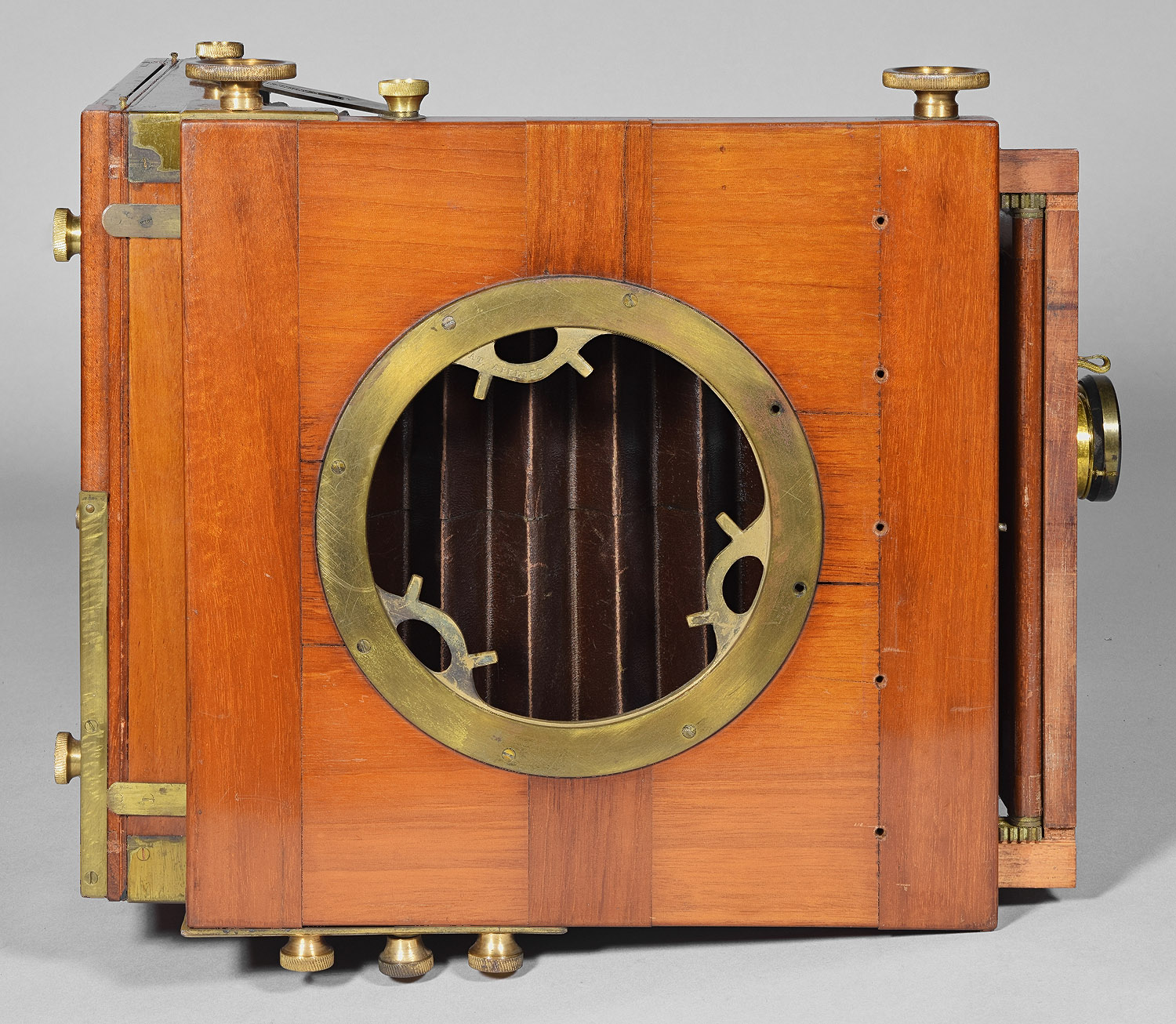 Metal label, top of the rear standard.
Below it: assembly no. 31 normally hidden by the ground glass frame.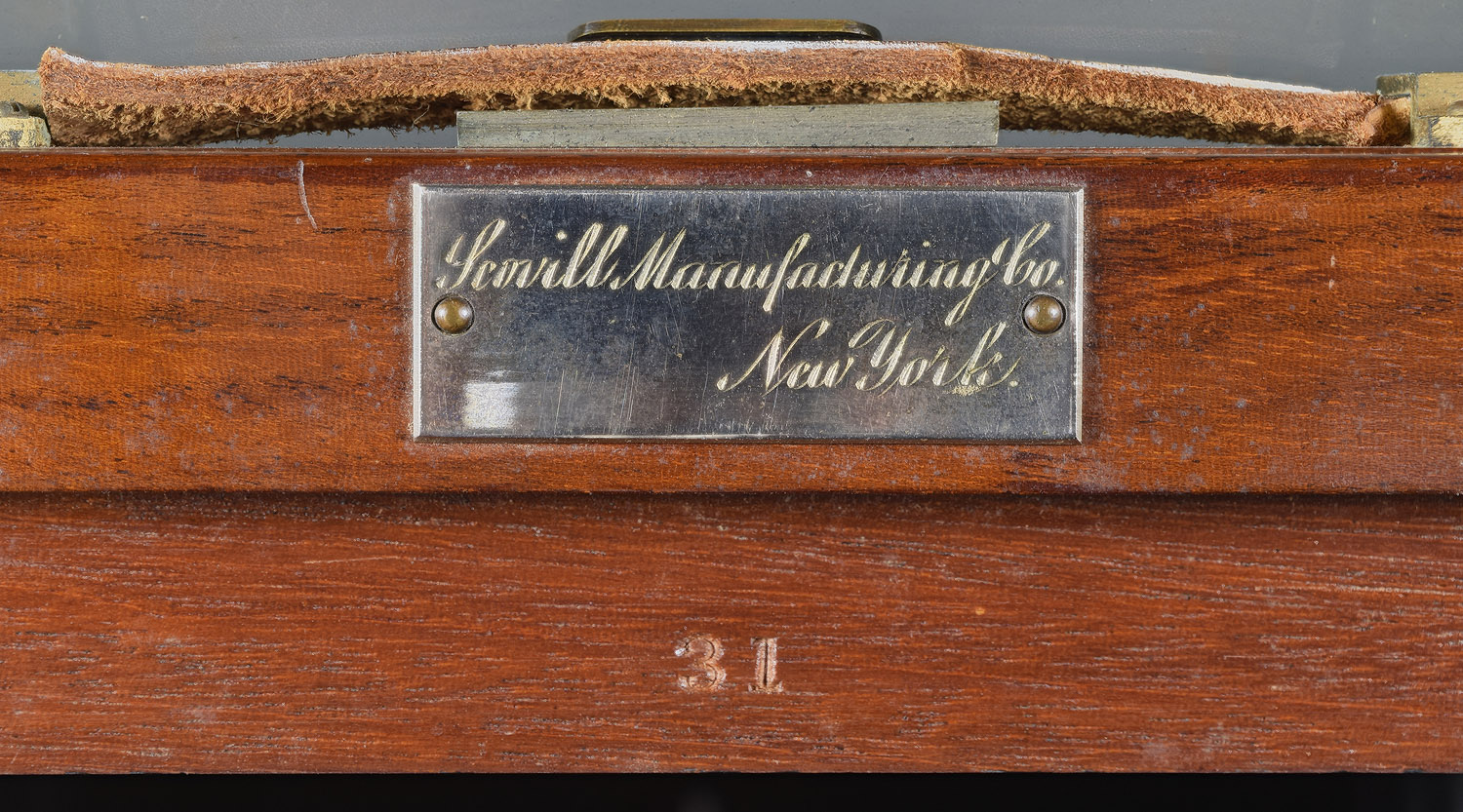 Manufacturer: American Optical Co. New York, NY factory
Date Introduced: c.1887 ; Years Manufactured: c.1887-1897
Construction: telescoping bed focus via rack and pinion (gear tracks hidden); single front and double back swing; reversing by removable back
Materials: mahogany body; mahogany bed; black fabric bellows; brass hardware
Sizes Offered: #550=4¼x6½; #551=5x7; #552=5x8; #553=6½x8½; #554=8x10
Notes:
The Albion is an English Compact style of camera - hence the name Albion, from the oldest (and Greek) name for the island of England. English Compact refers to the clamshell-like way the camera folds up, which was a design made by a large number of manufacturers in the United Kingdom. The Albion Variation 1 even has English-style plate holders, the insertion of which could be described as slide and interlock, common for cameras manufactured in the United Kingdom, but rare in the US. Even the canvas case above resembles cases of English manufacture rather than American canvas cases. The only thing that reveals an American source in the camera above is the Scovill-type clips that secure the removable back.
It is a high end camera for Scovill - normally, one would expect such a French-polished, decorated brass model to have been made by the American Optical Co., Scovill's high-end camera factory.
Albion Variation 2 has full length brass hardware on the side of the base. Inasmuch as the above camera is marked Scovill Mfg. Co. and one of the Variation 2 cameras is marked Scovill & Adams Co. (the successor to Scovill Mfg. Co.), Variation 2 may represent a later version than Variation 1. In the 1886 Queen catalog reference, a 4¼x5½" size is offered without lens on pages 84-85, and with a lens for bicycle use on page 77 as The Wheelman's Perfection Photographic Outfit. Introduced: not in the April 1887 catalog, but in the Sep. 1888 catalog.
Albion Variation 3 domesticates the model for American use. The back is now a spring back for American plate holders, and the built-in tripod head has been replaced by a tripod screw hole of standard size and thread pitch.
References:
The American Annual of Photography and Photographic Times Almanac for 1888, C.W. Canfield, ed.; Scovill Mfg. Co. (New York, NY), copyright 1887, ads p. 58-61
How to Make Photographs and Descriptive Price List, Scovill Mfg. Co. (New York, NY), undated but about January 1888, p. 34-37
How to Make Photographs and Descriptive Price List, Scovill Mfg. Co. (New York, NY), distributed by C.H. Codman & Co. (Boston, MA), September 1888, p. 23-26
How to Make Photographs and Descriptive Price List, Scovill Mfg. Co. (New York, NY), distributed by Buchanan, Bromley & Co. (Philadelphia, PA) Catalog, 1888
How to Make Photographs and Descriptive Price List, The Scovill & Adams Co. (New York, NY), January 1889, pp. 22-25
How to Make Photographs and Descriptive Price List, The Scovill & Adams Co. (New York, NY), distributed by Buchanan, Bromley & Co. (Philadelphia, PA) Catalog, 1889
American Annual of Photography and Photographic Times Almanac for 1890, The Scovill & Adams Co. (New York, NY), p. 104
How to Make Photographs and Descriptive Price List, The Scovill & Adams Co. (New York, NY), distributed by Oscar Foss (San Francisco, CA), June 1890, pp. 24-27
How to Make Photographs and Descriptive Price List, The Scovill & Adams Co. (New York, NY), distributed by Sargent & Co. (Cleveland, OH), April 1891, pp. 15-18
How to Make Photographs and Descriptive Price List, The Scovill & Adams Co. (New York, NY), distributed by Horgan, Robey & Co. (Boston, MA), June 1891, pp. 15-18
American Annual of Photography and Photographic Times Almanac for 1892, The Scovill & Adams Co. (New York, NY), 1891, ads p. 101
How to Make Photographs and Descriptive Price List, The Scovill & Adams Co. (New York, NY), January 1892, pp. 15-18
How to Make Photographs and Descriptive Price List, The Scovill & Adams Co. (New York, NY), April 1892, pp. 15-18
American Annual of Photography and Photographic Times Almanac for 1893, The Scovill & Adams Co. (New York, NY), 1892, ads p. 83
Wilson's Cyclopaedic Photography, Edward L. Wilson (New York, NY), copyright 1894, p. 477
American Annual of Photography and Photographic Times Almanac for 1897, The Scovill & Adams Co. (New York, NY), 1896, ads p. lxi (bargain page)

Back to American Optical Co. / Scovill Mfg. Co. (alphabetical)