American Optical Co.
Flandreau
4x5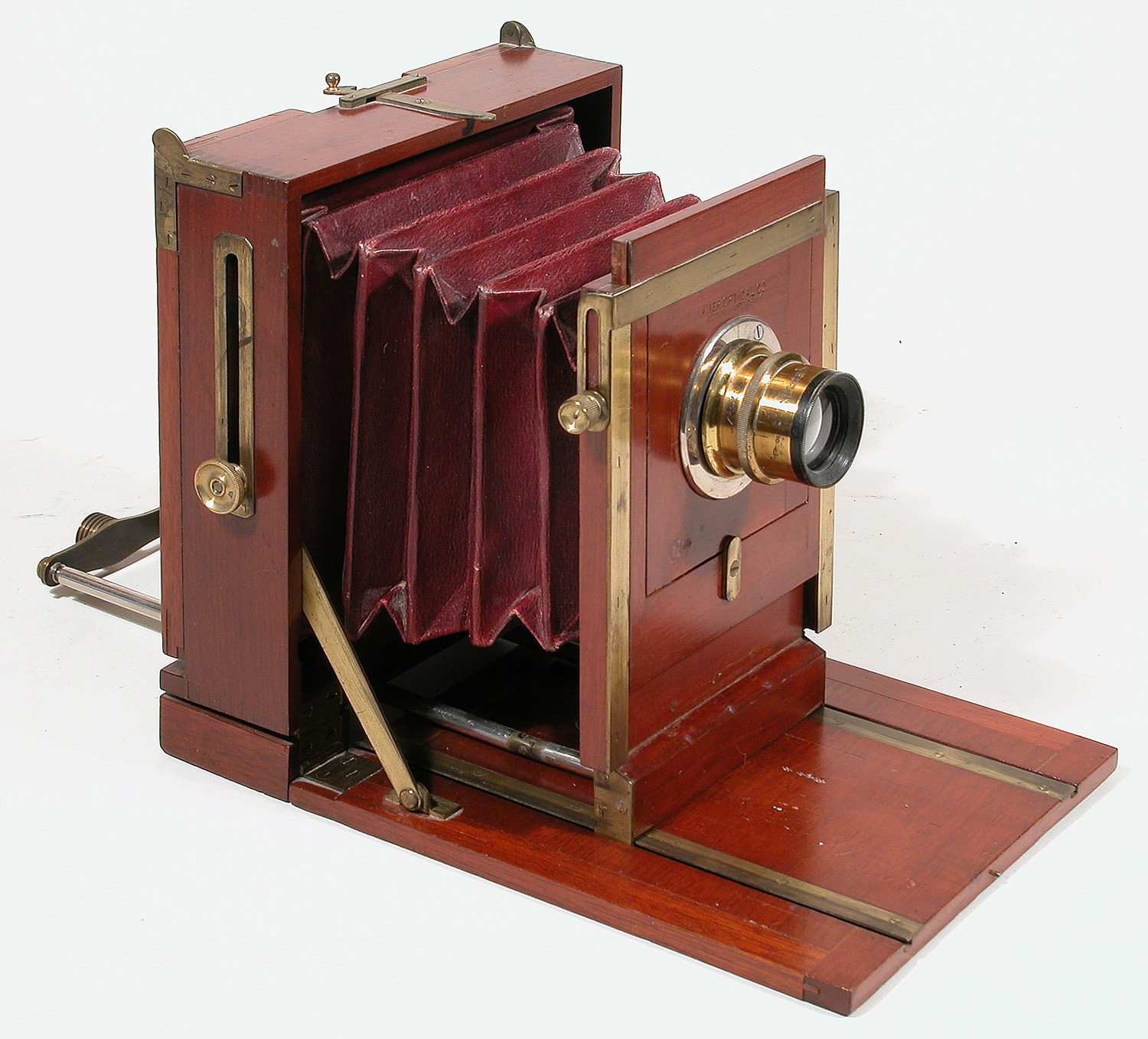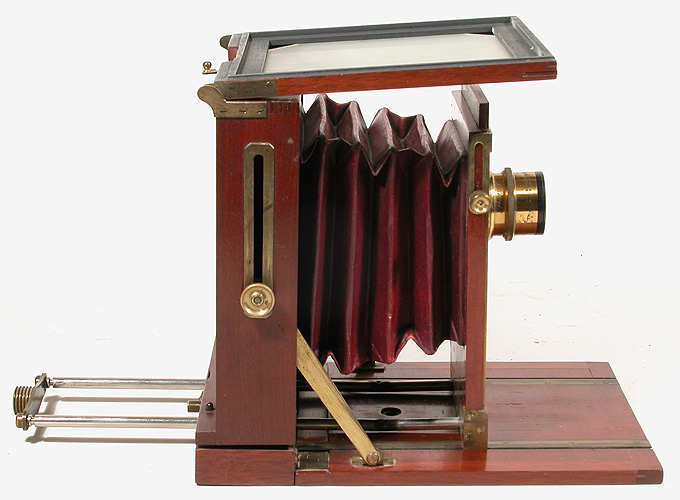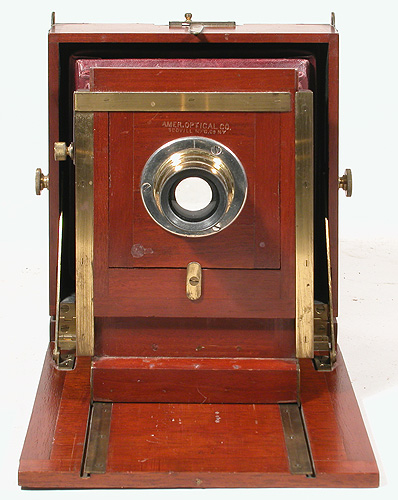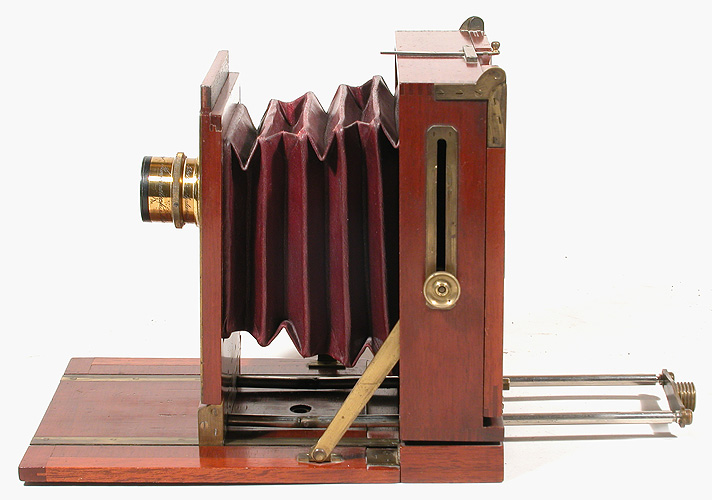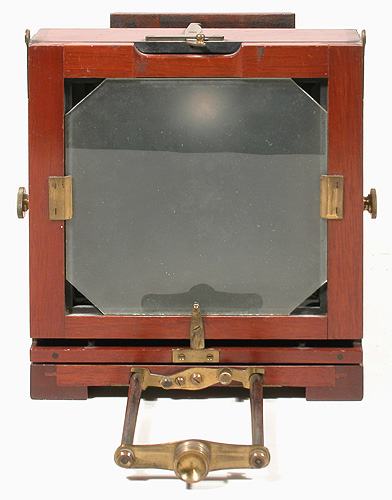 Date Introduced: - ; Years Manufactured: c.1888-1896
Construction: front focus via push-pull; single swing; reversing by two tripod mounts; three-piece lensboard
Materials: mahogany body; metal base rods; black fabric bellows; brass and nickeled brass hardware
Sizes Offered: 4x5; 5x7
Notes: A camera similar to the Tourist Pocket Camera, in that it has horizontal metal rods, and stated as such in the catalogs. Catalogs do not contain an engraving of the model, and the camera above is only stamped with the classic "American Optical Co., Scovill Mfg. Co. Prop.". The rods do not serve to extend the draw, but rather appear to merely be a way to push the front standard out from the back and lock it in place. When folded, the rods become a troublesome appendage next to the ground glass. The function of the large threaded piece at the end of the rod assembly is not apparent. Were the rods to be pushed entirely in (the bellows fully extended), a locking mechanism would keep them in place. This is not recommended, however, since the front standard (which is quite thin at one point) has previously been broken by such an attempt, and, besides, the current lens is in focus as shown. By late 1896, the Flandreau was consigned to the "Bargain Page" of the American Annual of Photography and Photographic Times Almanac for 1897 (page lxi), which probably indicates an attempt to get rid of discontinued stock.
References:
How to Make Photographs and Descriptive Price List, Scovill Mfg. Co. (New York, NY), distributed by C.H. Codman & Co. (Boston, MA), September 1888, p. 21
How to Make Photographs and Descriptive Price List, Scovill Mfg. Co. (New York, NY), distributed by Buchanan, Bromley & Co. (Philadelphia, PA) Catalog, 1888
How to Make Photographs and Descriptive Price List, The Scovill & Adams Co. (New York, NY), January 1889, p. 20
How to Make Photographs and Descriptive Price List, The Scovill & Adams Co. (New York, NY), distributed by Buchanan, Bromley & Co. (Philadelphia, PA) Catalog, 1889
How to Make Photographs and Descriptive Price List, The Scovill & Adams Co. (New York, NY), distributed by Horgan, Robey & Co. (Boston, MA), June 1891, p. 12
How to Make Photographs and Descriptive Price List, The Scovill and Adams Co. (New York, NY), January 1892, p. 11
American Annual of Photography and Photographic Times Almanac for 1893, The Scovill & Adams Co. (New York, NY), 1892, ads p. 145
The American Annual of Photography and Photographic Times Almanac for 1894, The Scovill & Adams Co. (New York, NY), 1893, p. 96
How to Make Photographs and a Descriptive Catalogue of Photographic Materials Illustrated, The Scovill & Adams Co. (New York, NY), 1896, p. 30
American Annual of Photography and Photographic Times Almanac for 1897, The Scovill & Adams Co. (New York, NY), 1896, ads p. lxi (Bargain Page)

Back to American Optical Co