Scovill Mfg. Co.
Kilburn Gun Camera
Scovill's Dry Plate Making for Amateurs, p. 70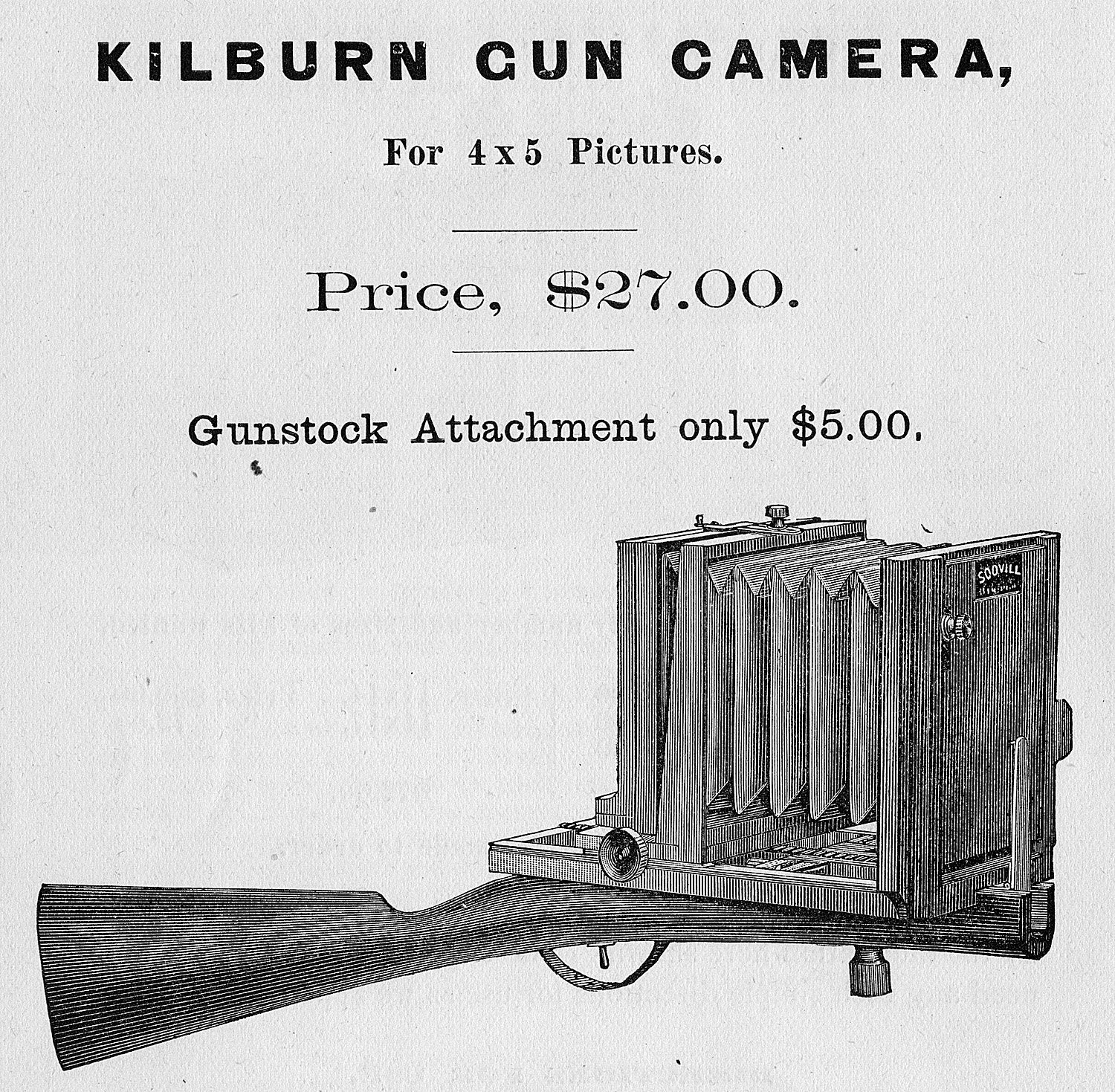 4x5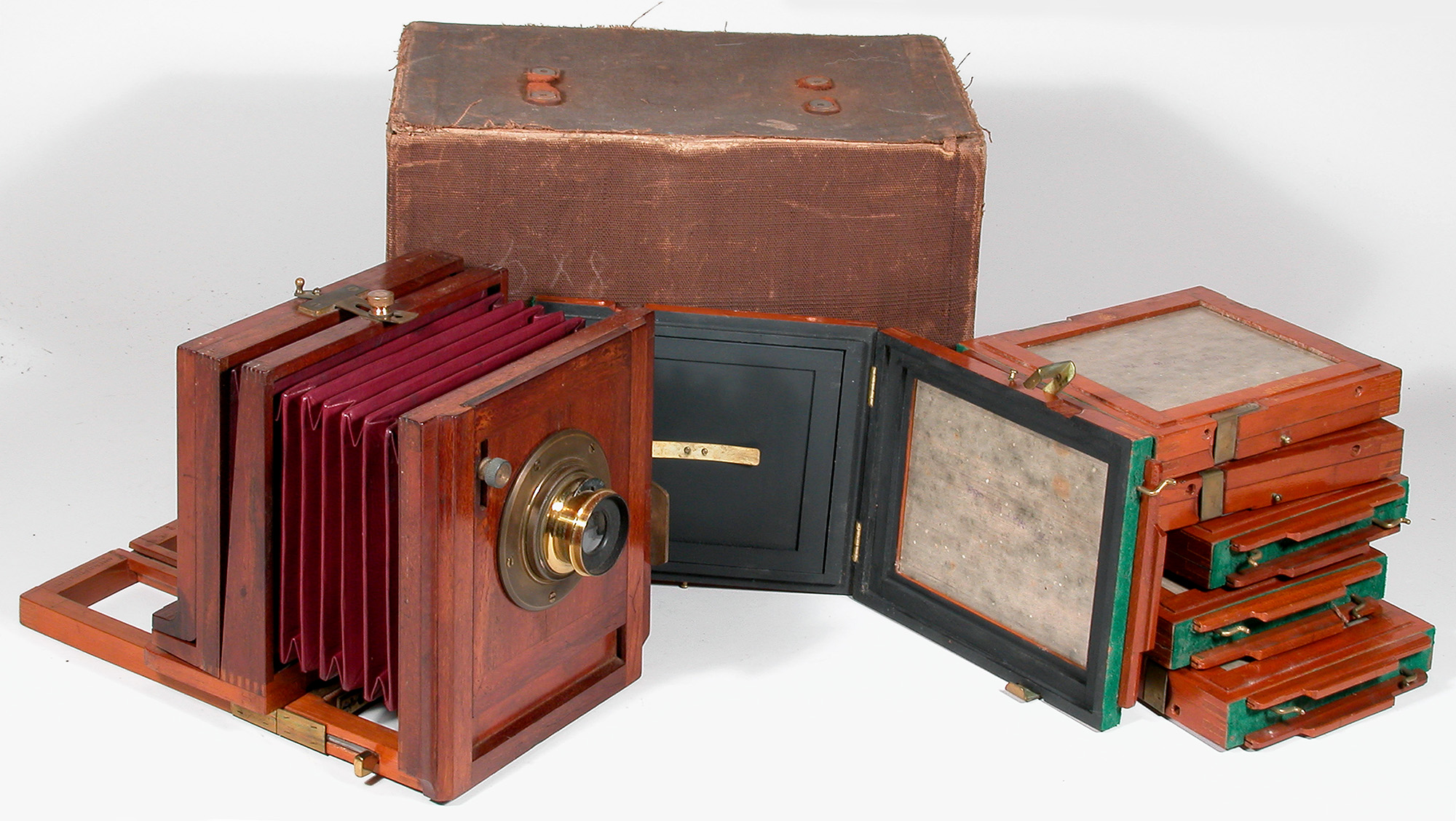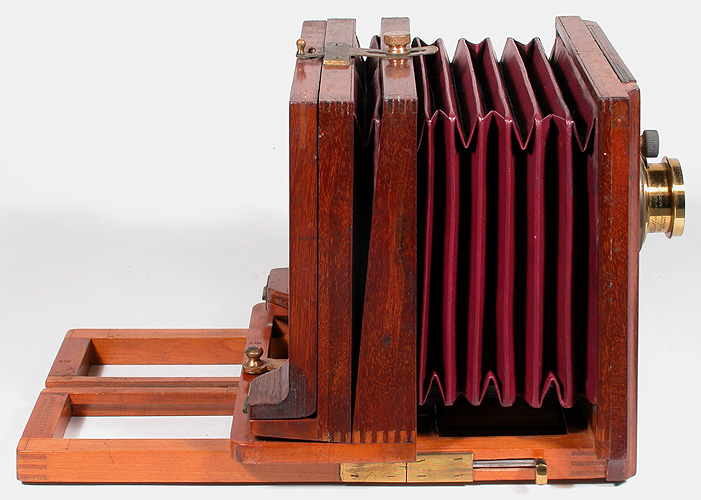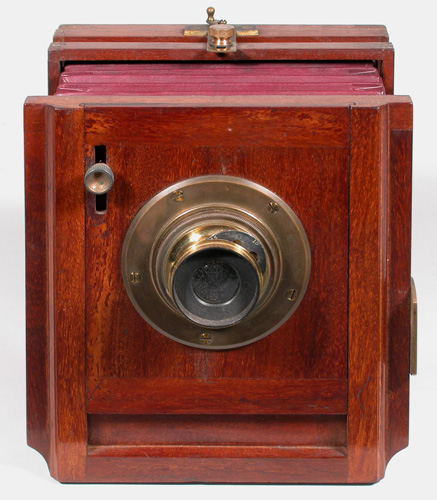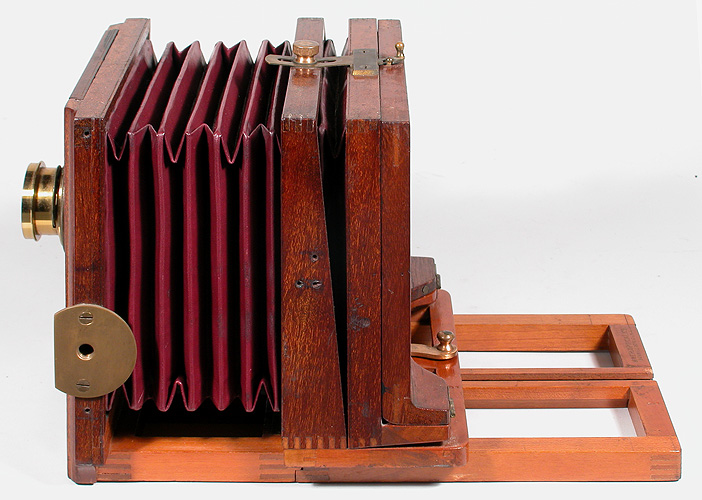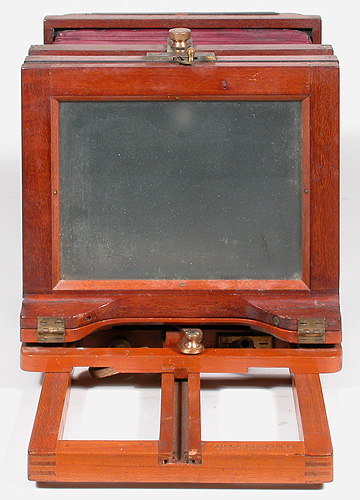 Date Introduced: - ; Years Manufactured: c.1882-1886
Construction: back focus via rack and pinion (single gear track on middle base rail) or push-pull; single swing; reversing by two tripod mounts;
Materials: mahogany body; cherry base; black fabric bellows; brass hardware
Sizes Offered: 4x5
Notes: This is a camera similar to the 76, except for the unusual lensboard arrangement, in which the knurled knob must be removed to slide the lensboard up and out. Depending on clearances, the lens may also have to be removed to change the lensboard. And yet these are found with multiple lensboards. The gunstock, rarely found with the camera, if at all, was sold separately. The photos show a camera having push-pull focus, whereas the engraving and other existing cameras have a rack and pinion focus. Despite not being advertised in catalogs after 1886, an engraving of the Kilburn was used to advertise The Waterbury Finder in the Scovill Almanac for 1895, p. 78.
References:
The Photographic Amateur, 2nd Edition, J. Traill Taylor, Scovill Mfg. Co. pub. (New York, NY), 1883, 2nd Ed. about 1885, p. a22
The Photographic Times, Vol. XIV, No. 171; New Series No. 81, Scovill Mfg. Co. (New York, NY), Dec. 26, 1884, p.717 (an engraving illustrating an ad for The Waterbury Finder, an accessory view lens that clips onto the front standard of a camera)
How to Make Photographs and Descriptive Price List, Scovill Mfg. Co. (New York, NY), distributed by Andrew J. Smith (Providence, RI), 1886, p. 50
Scovill's Photo. Series No. 12, Photographic Chemistry, Scovill Mfg. Co. (New York, NY), 1886, p. a30
Scovill's Photo. Series No. 20, Dry Plate Making for Amateurs, Scovill Mfg. Co. (New York, NY), 1886, p. a22
Catalog P, Photographic Material, J. W. Queen & Co. (Philadelphia, PA), 1886, p. 70

Back to American Optical Co