Seneca Camera Mfg. Catalogs
The catalogs listed below are specific to Seneca. All catalogs may be found here.
For each catalog, two facing pages are shown per image. Catalogs are marked as (complete), meaning all pages were scanned or (the pages scanned). Each image is about 1mb, so downloads can take considerable time for complete catalogs.
1906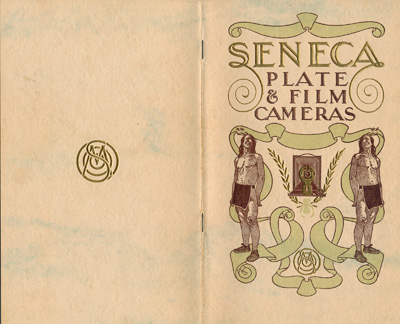 Seneca Plate & Film Cameras, Seneca Camera Mfg. Co. (Rochester, NY), dated 1906, ~5¼"x8¾", 48pp
c.1906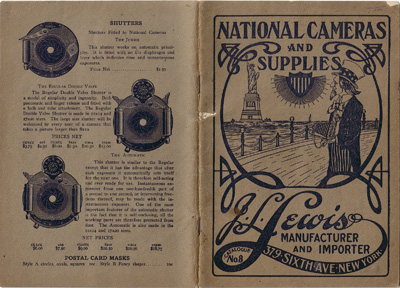 National Cameras and Supplies, Catalogue No. 8, J. L. Lewis (New York, NY), undated c. 1906, ~5¼"x7¾", 48pp
1907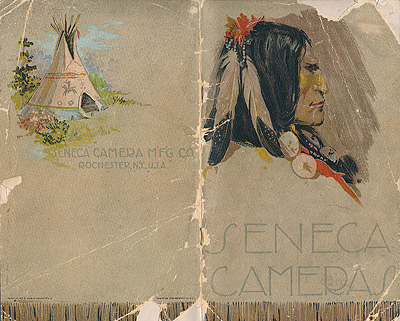 Seneca Plate, Film& View Cameras, Seneca Camera Mfg. Co. (Rochester, NY), dated 1907, ~5¼"x8¾", 48pp
1908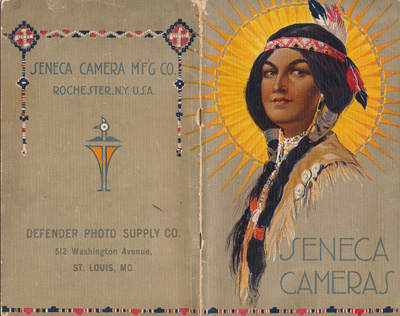 Seneca Plate, Film& View Cameras, Seneca Camera Mfg. Co. (Rochester, NY), dated 1908, ~5¼"x8¾", 64pp
1909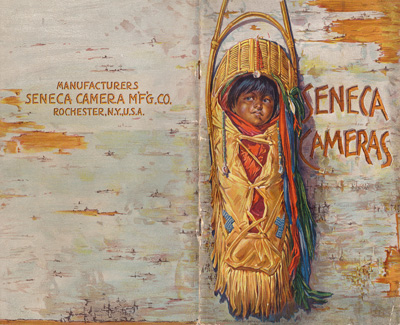 Seneca Plate, Film& View Cameras, Seneca Camera Mfg. Co. (Rochester, NY), dated 1909, ~5¼"x8¾", 64pp
1910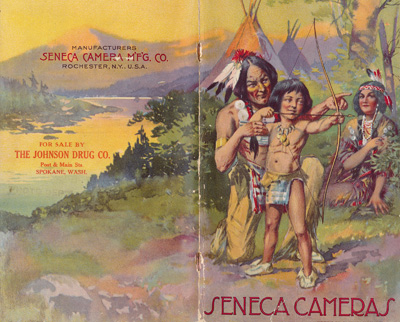 Seneca Cameras, Seneca Camera Mfg. Co. (Rochester, NY), Catalog J, dated 1910, ~5¼"x8¾", 76pp
c.1910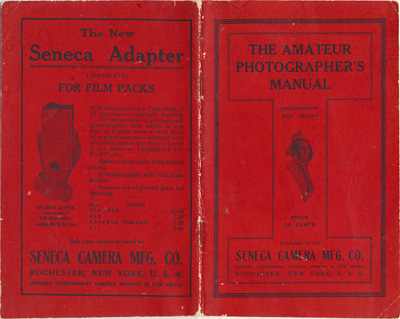 The Amateur Photographer's Manual, Seneca Camera Mfg. Co. (Rochester, NY), undated c. 1910, ~3¾"x6", 36pp
1911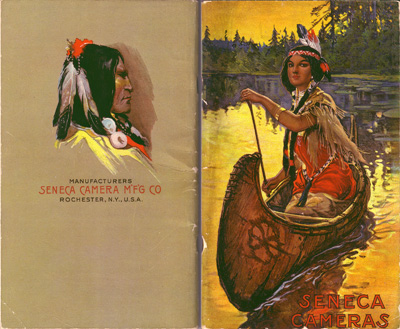 Seneca Cameras, Seneca Camera Mfg. Co. (Rochester, NY), Catalog K, undated but 1911, ~5¼"x8¾", 76pp
1912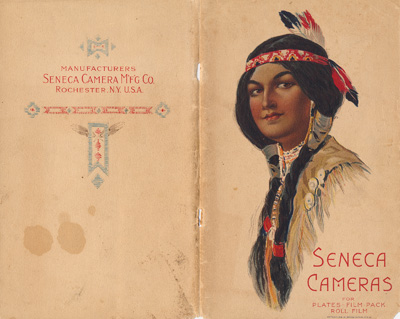 Seneca Cameras, Seneca Camera Mfg. Co. (Rochester, NY), Catalog L, dated 1912, ~5¼"x8¾", 76pp
1913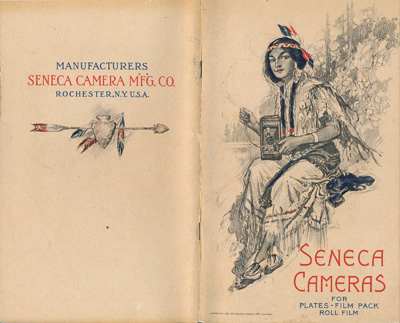 Seneca Cameras, Seneca Camera Mfg. Co. (Rochester, NY), Catalog M, dated 1913, ~5¼"x8¾", 76pp
c.1914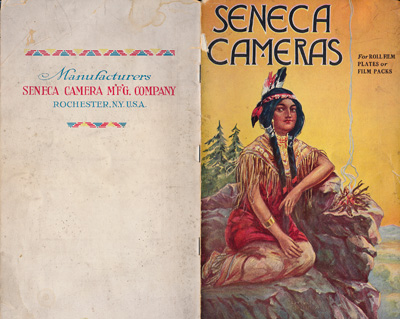 Seneca Cameras, Seneca Camera Mfg. Co. (Rochester, NY), Catalog N, undated c. 1913, ~5¼"x8¾", 76pp
c.1916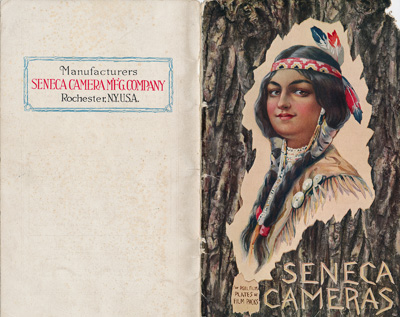 Seneca Cameras, Seneca Camera Mfg. Co. (Rochester, NY), Catalog P, undated c. 1916, ~5¼"x8¾", 72pp
c.1917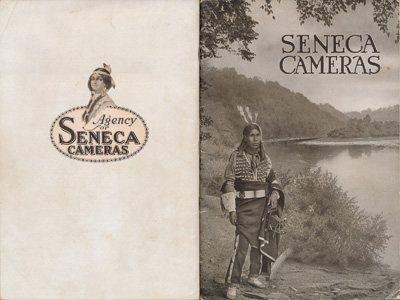 Seneca Cameras, Seneca Camera Mfg. Co. (Rochester, NY), Catalog Q, undated c. 1917, ~6"x9", 48pp
c.1918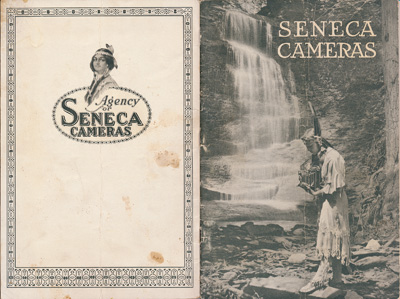 Seneca Cameras, Seneca Camera Mfg. Co. (Rochester, NY), Catalogue R, undated c. 1918, ~6"x9", 48pp
c.1919
Seneca Cameras, Seneca Camera Mfg. Co. (Rochester, NY), Catalogue S, undated c. 1919, ~6"x9¼", 40pp
1919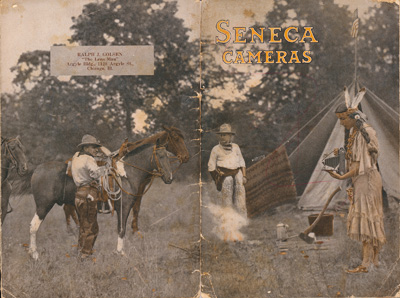 Seneca Cameras, Seneca Camera Mfg. Co. (Rochester, NY), Catalogue T, dated 1919 (late 1919 or early 1920), ~6"x9¼", 40pp
c.1920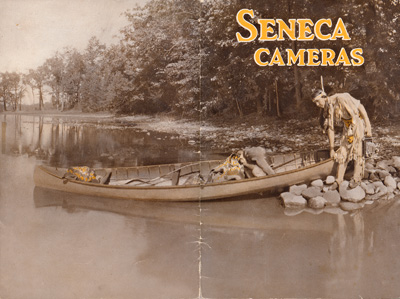 Seneca Cameras, Seneca Camera Mfg. Co. (Rochester, NY), Catalogue U, undated c. 1920, ~6"x9¼", 32pp
1921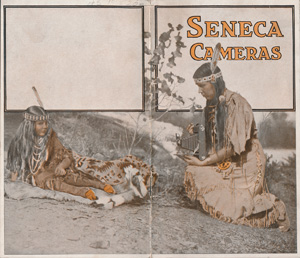 Seneca Cameras, Seneca Camera Mfg. Co. (Rochester, NY), Pocket Catalog), dated 1921, ~3½"x6", 32pp
c.1921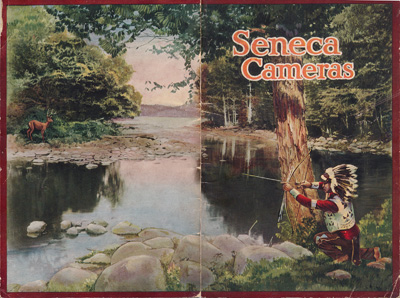 Seneca Cameras, Seneca Camera Mfg. Co. (Rochester, NY), Catalogue V, undated c. 1921, ~6"x9¼", 48pp
c.1923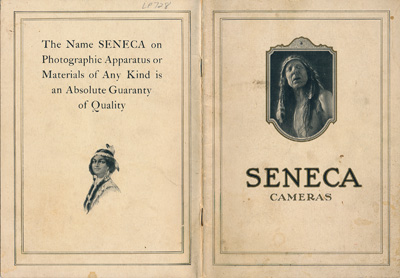 Seneca Cameras, Seneca Camera Mfg. Co. (Rochester, NY), undated c. 1923, ~5½"x7¾", 36pp