Manhattan Optical Co.
Wizard View
, Variation 2
Manhattan Optical Co. catalog, 1900/1901, pp. 30-31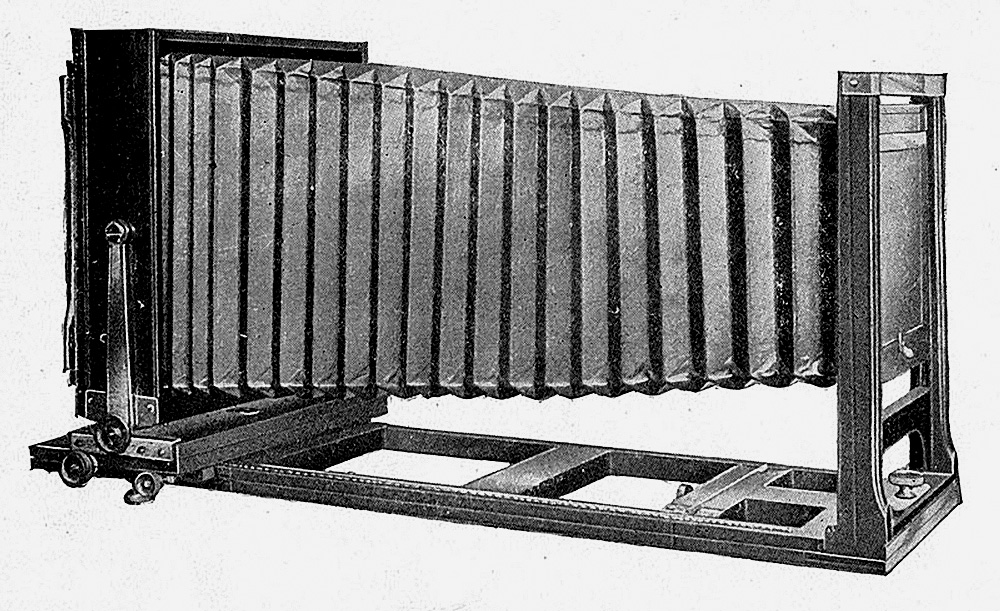 Date Introduced: - ; Years Manufactured: c. 1899- c. 1900
Construction: rear focus via rack and pinion (two gear tracks on top of base rails) ; double swing; shifting front, reversing by removable back; gears on top of both tops of base tracks
Materials: mahogany body, cherry base, nickeled brass hardware, red leather bellows
Sizes Offered: 4x5, 5x7, 6½x8½, 8x10
Notes:
This camera is the same basic design as the Criterion, and disappeared about the time the Criterion appeared, and so may be its fore-runner.
In 1899, Manhattan Optical made the front focus only Wizard View Variation 1 and the back focus only Wizard View Variation 2. They were replaced, by the time the 1903 catalog was printed, with the Wizard View Variation 3, which has both front and back rack and pinon focus.
Variation 4, also a front and back focus model, appeared about 1909. It differs from Variation 3 in that it has a ground glass frame that admits the plate holder using four complex spring clips. The 1909 reference below mentions an improved spring back which undoubtedly refers to this mechanism. The Wizard Variation 4 also came with two planks of wood that slide into retaining clips that are inlet into the bottom of the base (see above photos of the bottom with its planks). The purpose of the planks, according to the 1909 reference below, appears to be to brace the already fairly rigid bed of all cameras larger than 5x7.
References:
The Wizard Catalogue 1899, Manhattan Optical Co. of N.Y., 1899, pp. 26-27
The Wizard Catalogue, Manhattan Optical Co. of N.Y., 1900/1901, pp. 30-31

Back to Gundlach/Korona/Manhattan