Burke & James, Inc., Chicago, IL
Ideal View Camera/

Ingento View Camera No. 2

Burke & James Catalog, 1906-7, p.28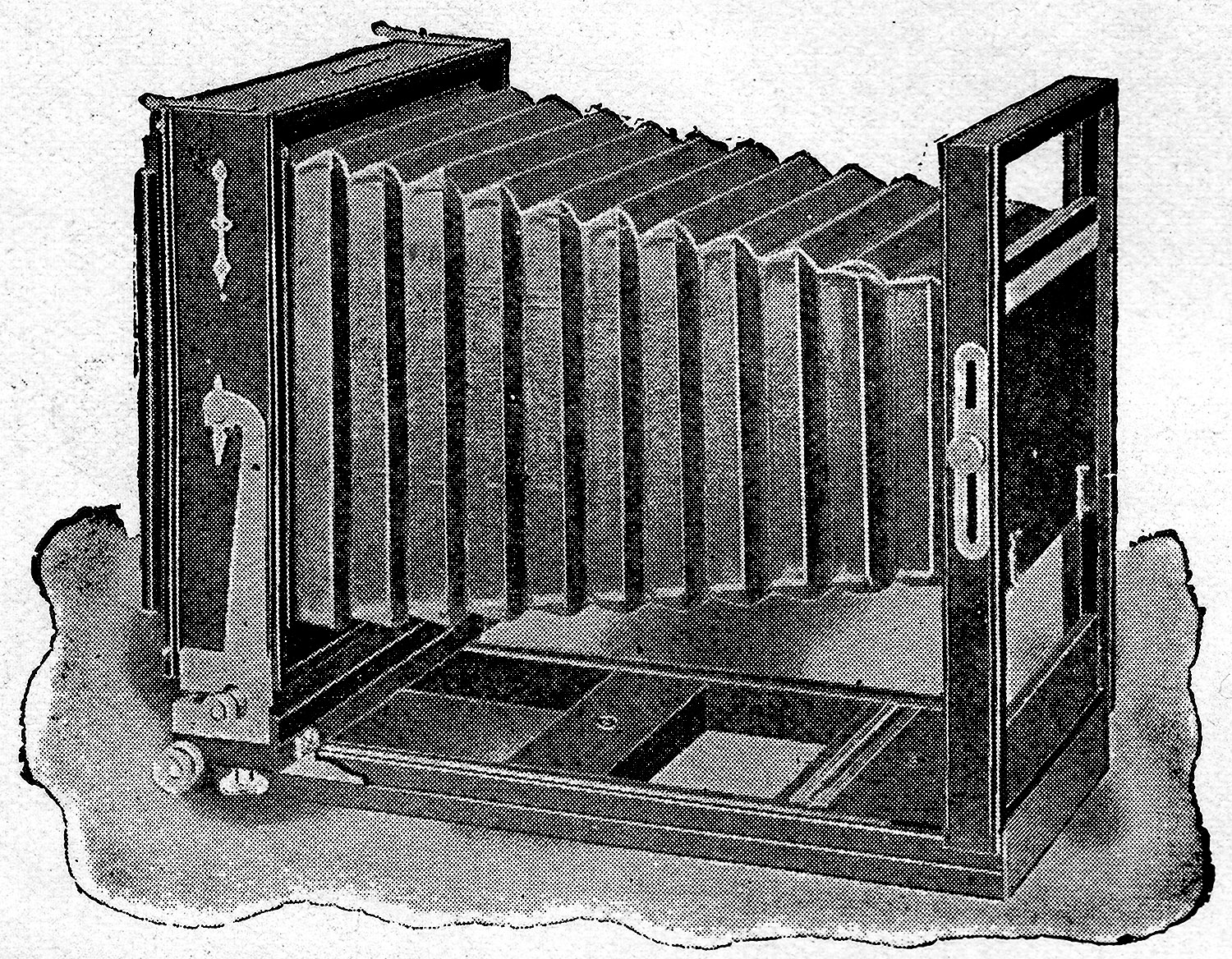 Date Introduced: - ; Years Manufactured: c. 1906-1920's
Construction: back focus via rack and pinion (two gear tracks on top of base rails); double swing; reversing by removable back; three-piece lens board
Materials:
Sizes Offered:
Notes: Ingento was the trademark name that B&J used for almost every item of equipment they made. Ideal was the name in 1906-7, but thereafter Ingento. By any name, it appears to be the Seneca Competitor.
References:
Catalogue No. 10, Photographic Apparatus & Supplies, Burke & James (Chicago, IL), dated 1906-1907, p. 28 (as The Ideal)
Catalogue No. 11, Photographic Apparatus & Supplies, Burke & James (Chicago, IL), dated 1908-1909, p. 24
Norman Encyclopedia of Photographic Apparatus & Supplies, Norman Photo Paper Co. (Rochester, NY), c. 1908, p. 25 (as Ingento No. 2)
Catalogue No. 12 of Photographic Supplies and Apparatus, Burke & James, Inc. (Chicago, IL), 1911-1912, p. 32
Cameras and Photographic Apparatus Catalog No. 13, Burke & James (Chicago, IL), c. 1913, p. 37
Catalog of Cameras, Photographic Apparatus and Supplies, Oklahoma Photo Supply Co. (Oklahoma City OK), c. 1914, p. 28 (as the Ingento View Camera No. 2)
Cameras, Photographic Apparatus and Supplies, General Catalog No. 15, Burke & James (Chicago, IL), c. 1915, p. 21
Catalog of Photographic Apparatus and Supplies, Catalog No. 121, Chicago Photo Supply House (Chicago, IL), c. 1926, p. 5 (as the Ideal View Camera)

Back to Miscellaneous