E. & H.T. Anthony & Co.

Victor, Variation 1
E. & H.T. Anthony catalog, 1895, p.12



4¼ x 6½





5x8



6½x8½



8 x 10





Metal label, top of rear standard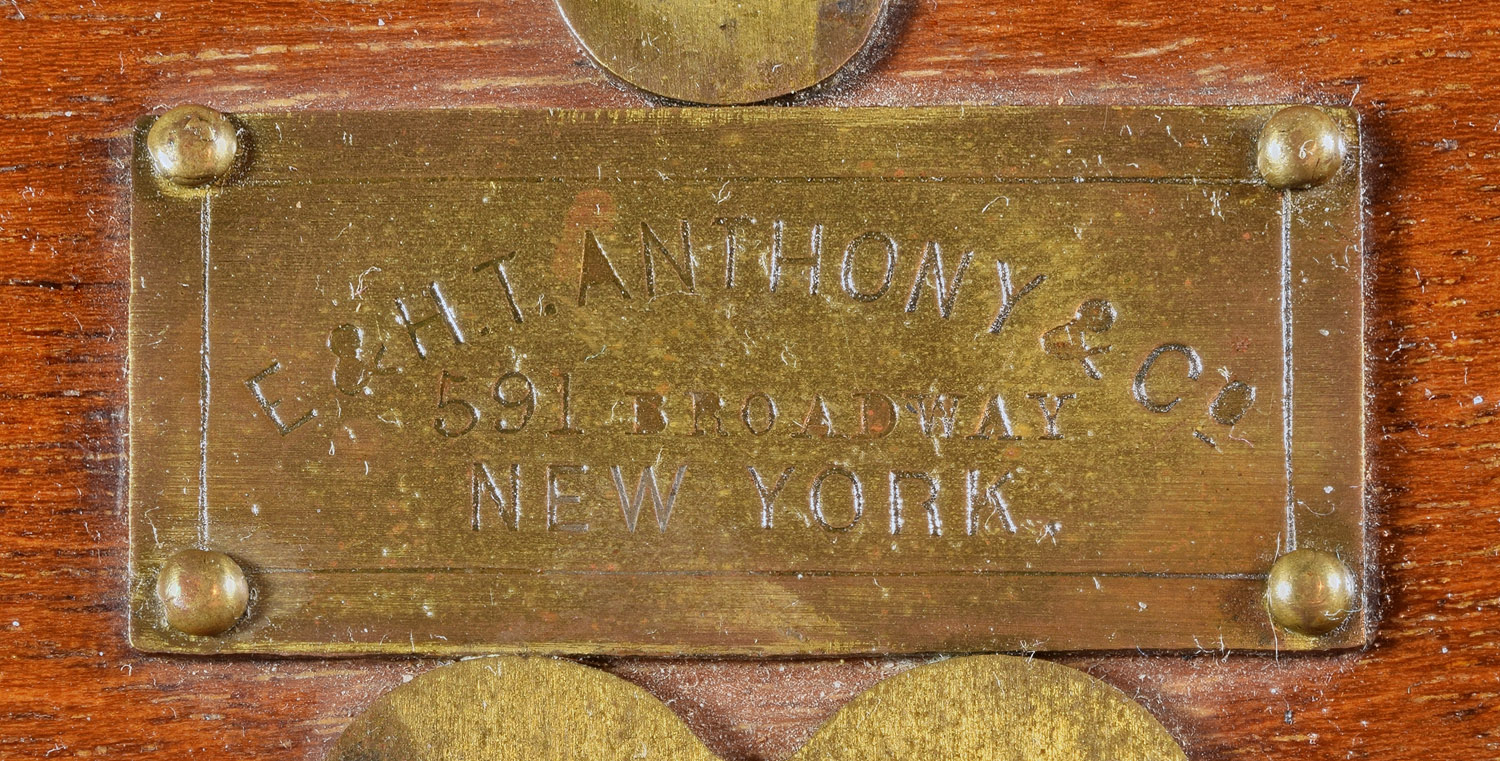 Patent Stamps, front of platform

Date Introduced: 1889 ; Years Manufactured: 1889-c. 1897
Construction: front and rear focus via rack and pinion (two gear tracks on top of base rails); single swing; reversing by two tripod mounts
Materials: mahogany or Circassian walnut body; mahogany or walnut base; black fabric bellows; brass hardware
Sizes Offered: 4x5; 4¼x6½; 5x7; 5x8; 6½x8½; 8x10
Notes: could be had as just camera, or equipment: camera & canvas case & lens & tripod. Variation 1, above, has brass hardware and a bulky spring back. Variation 2 has nickeled hardware and a lower profile spring back. Both the 5x8 and 6½x8½ examples above are contained in rather tight-fitting cases, which have hardly room for one plate-holder beside the camera.
References:
Not in The International Annual of Anthony's Photographic Bulletin, Vol. I, July 1888, page 53 (summary of Anthony current products).
The International Annual of Anthony's Photographic Bulletin, Vol. II, 1889, W. J. Harrison and A. H. Elliot, eds., E. & H. T. Anthony & Co. (New York, NY), ads p. 53
The International Annual Anthony's Photographic Bulletin, Vol. III, 1890-1891, W. J. Harrison and A. H. Elliot, eds., E. & H. T. Anthony & Co. (New York, NY), ads p. 101
Illustrated Catalogue of Photographic Equipments and Materials for Amateurs, E. & H.T. Anthony & Co. (New York, NY), January 1891, p. 5-6 (equipment); 8-9(camera)
How to Make Photographs. A Manual for Amateurs, C. T. Roche and H.T. Anthony, E. & H.T. Anthony & Co. (New York, NY), 1892, p. 14
The International Annual of Anthony's Photographic Bulletin Vol. VI 1894, edited by A.H. Elliott and F.P. Smith, E. & H.T. Anthony & Co. (New York, NY), 1893, p. 83
Illustrated Catalogue of Photographic Equipments and Materials for Amateurs, E. & H.T. Anthony & Co. (New York, NY), September, 1894, pp. 9-10 (equipment); pp. 12-13 (camera)
Illustrated Catalogue of Photographic Equipments and Materials for Amateurs, E. & H.T. Anthony & Co. (New York, NY), January 1895, pp. 9-10 (equipment); pp. 12-13 (camera)
Illustrated Catalogue of Photographic Equipments and Materials for Amateurs, E. & H.T. Anthony & Co. (New York, NY), December, 1895, pp. 9-10 (equipment); pp. 12-13 (camera)
Illustrated Catalogue of Photographic Equipments and Materials for Amateurs, E. & H.T. Anthony & Co. (New York, NY), August, 1896, pp. 9-10 (equipment); pp. 12-13 (camera)
Illustrated Catalogue of Photographic Materials, Thos. H. McCollin & Co. (Philadelphia, PA) undated, c. 1897, p. 43
Back to American Optical Co. / Scovill Mfg. Co. (alphabetical)