Blair Tourograph & Dry Plate Co.
Blair's

Utility Camera

Variation 1 (Rear Focus Screw)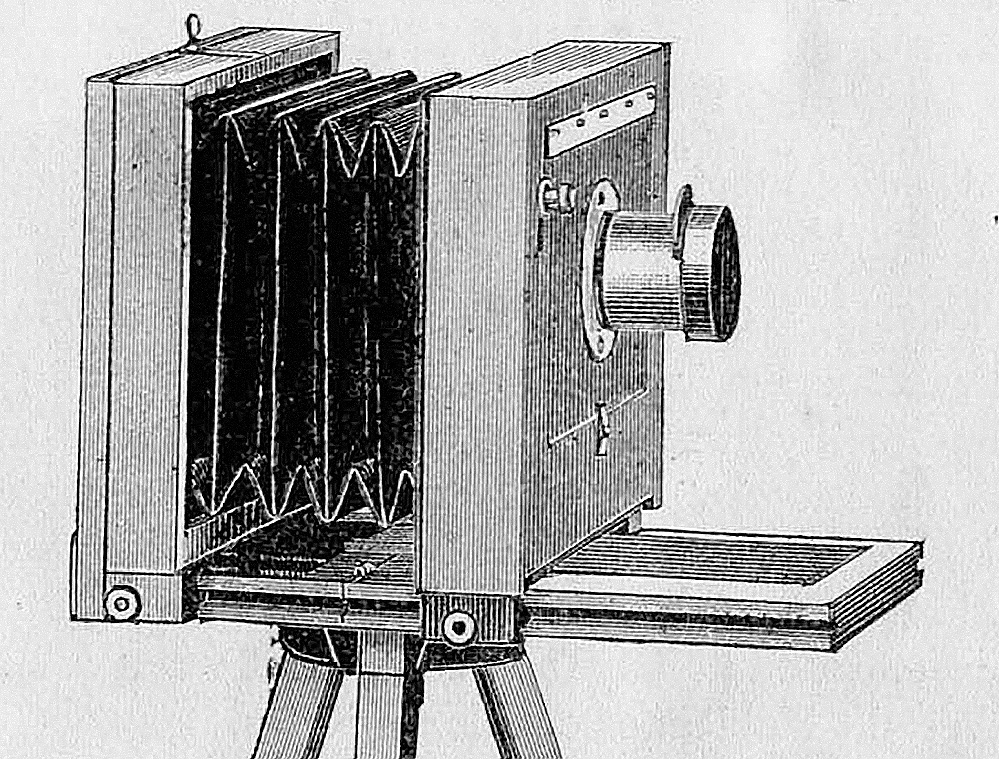 Date Introduced: - ; Years Manufactured: c.1884 - ?
Construction: front focus via push-pull, and limited rear focus via focusing screw, three-piece lens board, reversible by second tripod mount
Materials: polished cherry, nickel plated hardware
Sizes Offered: 4x5; 5x7; 5x8; 6½x8½
Notes:
The identification and description of the Blair Utility Camera should be relatively straightforward, given that it is advertised in Photographic Apparatus Manufactured by the Blair Tourograph & Dry Plate Co., 1884, p. 11-12. However, the identification of Blair camera models is seldom straightforward, and this one is less straightforward than most.
The usual problem with Blair cameras is that changes and improvements were apparently constant, which tends to give one the impression sometimes that no two Blair cameras are ever exactly the same. And this is indeed the case with the Utility Camera.
In these web pages, the Utility is split into two Blair variations and a variation made by L.M. Prince & Bro. of Cincinnati, Ohio:
Blair's Utility Camera Variation 1 is as described in the 1884 catalog, having with a rear standard that can be moved only slightly by a focus screw on the rear of the camera. Rather than having a hinged back, like the catalog engraving, these are usually found with a spring back of a type found on known Blair products (e.g., the Blair Roller Blind Shutter). In addition, Utility Cameras appear to all have a single swing. Any unmarked camera of this general description having a Blair-type spring back is assumed to have been sold by Blair, rather than L.M. Prince & Bros. - see below.
Blair's Utility Camera Variation 2 is not to be seen in any catalogs, and has no label or stamp indicating the maker. It differs from other Utility models by having been manufactured without a rear focus screw. In fact, its rear standard is as fully movable as the front standard. Its spring back is identical to that usually found on the Blair's Utility Variation 1, and also fits only Blair plate holders, so it is assumed to be a Blair product. Since it is less work / less expensive to make a camera without a focus screw, and the general trend over time for most camera models is toward a less expensive construction, it is further assumed that Variation 1 is the earlier version.
Prince's Improved Utility Camera is a camera similar or identical to the 1884 Blair's Utility Camera that was advertised at least in Illustrated Catalogue No. 18, L.M. Prince & Bros. (Cincinnati, OH), c. 1899, p. 37. L. M. Prince & Bros., at one time, carried the Blair line (see Scovill's Photo. Series No. 22, Photographic Printing Methods, Rev. W. H. Burbank, Scovill Mfg. Co. (New York, NY), 1887, ads page 19). Cameras having a Prince Label and therefore known to be Prince have a hinged back fastened with an ROC-type clasp. An unmarked Utility camera having such a hinged back and ROC clasp is assumed to be a Prince camera, rather than Blair (see above). The 1899 Prince catalog used the exact same engraving as was used in the 1884 Blair catalog. The implication is that Prince & Bros. bought cameras from Blair and labeled them as their own. Strangely, Blair catalogs between 1884 and 1899 do not advertise the Utility Camera, so was the Utility Camera resurrected in 1899 for Prince & Bros. after years of not being made?
The one example of a known and labeled Prince & Bros. Improved Utility Camera has a base rail with an L-shaped profile instead of the tongue-in-groove-shaped profile of the engraving (as do others that are assumed to have been sold by Blair). Additionally, the ground glass frame of the labeled Prince Utility has a Rochester Optical-type rotary clasp, and fits Rochester Optical plate holders. The fact that Prince & Bros. still called it a Utility Camera implies that the Blair company was still the manufacturer. If Prince was merely making a copy of the unpatented Blair design, they would hardly call attention to it by using the same name.
For identification purposes:
- Any camera which has a Rochester Optical-type clasp and fitting Rochester Optical plate holders is assumed to have been sold by L.M. Prince & Bros.
- Any camera which has a Blair-type spring back fitting Blair plate holders is assumed to have been sold by Blair.
References:
Untitled 8p. Catalog, The Blair Tourograph & Dry Plate Company, Boston, MA, undated, c.1884, un-numbered pages but appears to be p. 4
Blair Tourograph & Dry Plate Co. Catalog, 1884, p. 11-12
Back to The Blair Companies