Eastman Kodak Co.
Eastman

Home Portrait

Outfit

(No. 1?)


EKC Professional Catalog c.1911, p. 24-26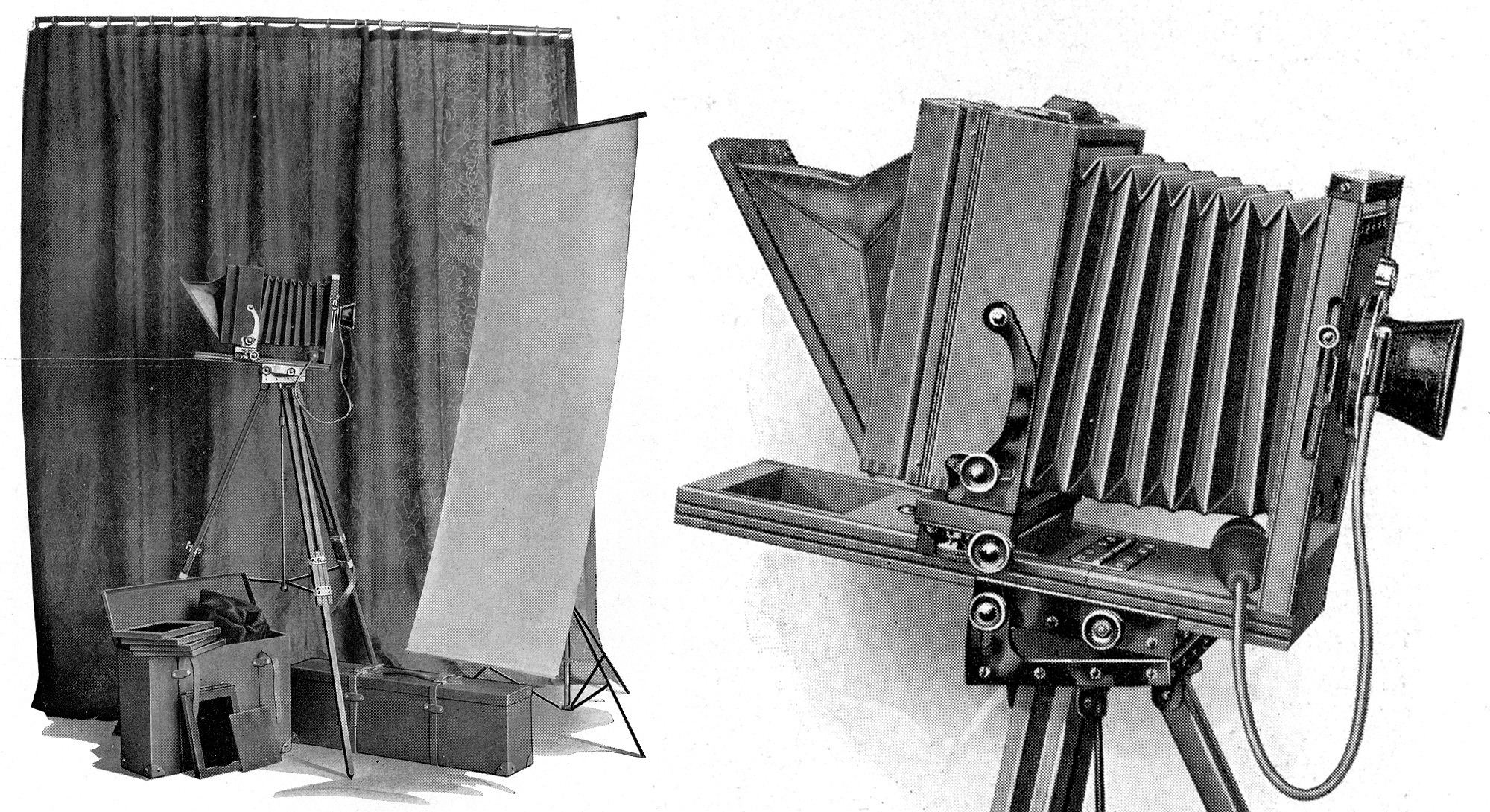 Date Introduced: - ; Years Manufactured: c. 1911
Construction: rear focus via rack and pinion (two gear tracks on top of base rails); double swing; reversing by removable back; three-piece lens board
Materials: cherry body, cherry base, red leather bellows; copper-oxidized brass
Sizes Offered: 8x10
Notes: Eastman Kodak made at least three versions of the Eastman Home Portrait, since there is a Home Portrait No. 3. They also made two versions of an F&S Home Portrait, based on Folmer & Schwing view camera designs. This un-numbered one would presumably be Eastman Home Portrait No. 1 if we were counting. The design of this camera is appears to be based on the contemporaneously manufactured R.O.C. View (Variation 4), from its distinctive tilt hardware, but even this hardware, while similar, is shorter than its R.O.C. View counterparts.
References:
Catalogue of Eastman Professional Photographic Apparatus and Material, Eastman Kodak Co. (Rochester, NY), c.1911, p. 24-26
Number 30 Illustrated Catalogue of Photographic Outfits, Lenses and Supplies, Robey-French Co. (Boston, MA), c. 1915, p. 46
Illustrated Catalogue of Photographic Outfits and Supplies No. 38, Sweet, Wallach & Co. (Chicago, IL), c.1915, p.55
Eastman Professional Photographic Apparatus and Materials 1917, Eastman Kodak Co. (Rochester, NY), pp. 22-23
Catalogue of Cameras, Kodaks, Lenses and Photographic Accessories 1919-1920, Central Camera Co. (Chicago, IL), 1919, p. 38
Catalogue No. 10 and Bargain Book No. 11 of Cameras, Kodaks, Lenses and Photographic Accessories, 1920-1921; Central Camera Co. (Chicago, IL), 1920, p.35

Back to Eastman Companies