Scovill Mfg. Co.
Scovill's Bicycle Camera
Pocket Bicycle Camera

Pocket Photographic Outfit
Scovill & Adams Catalog, 1890, p. 39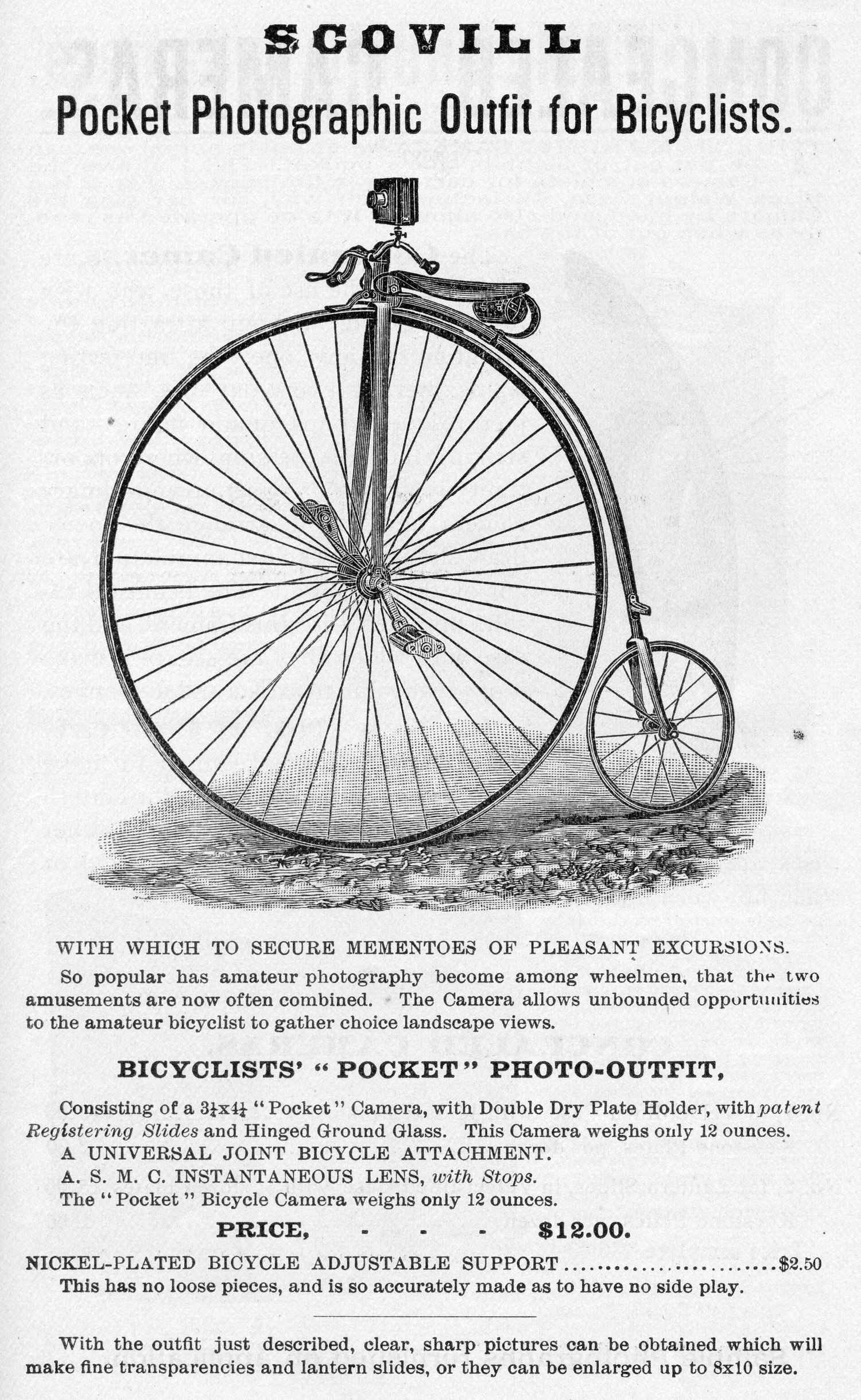 3¼x4¼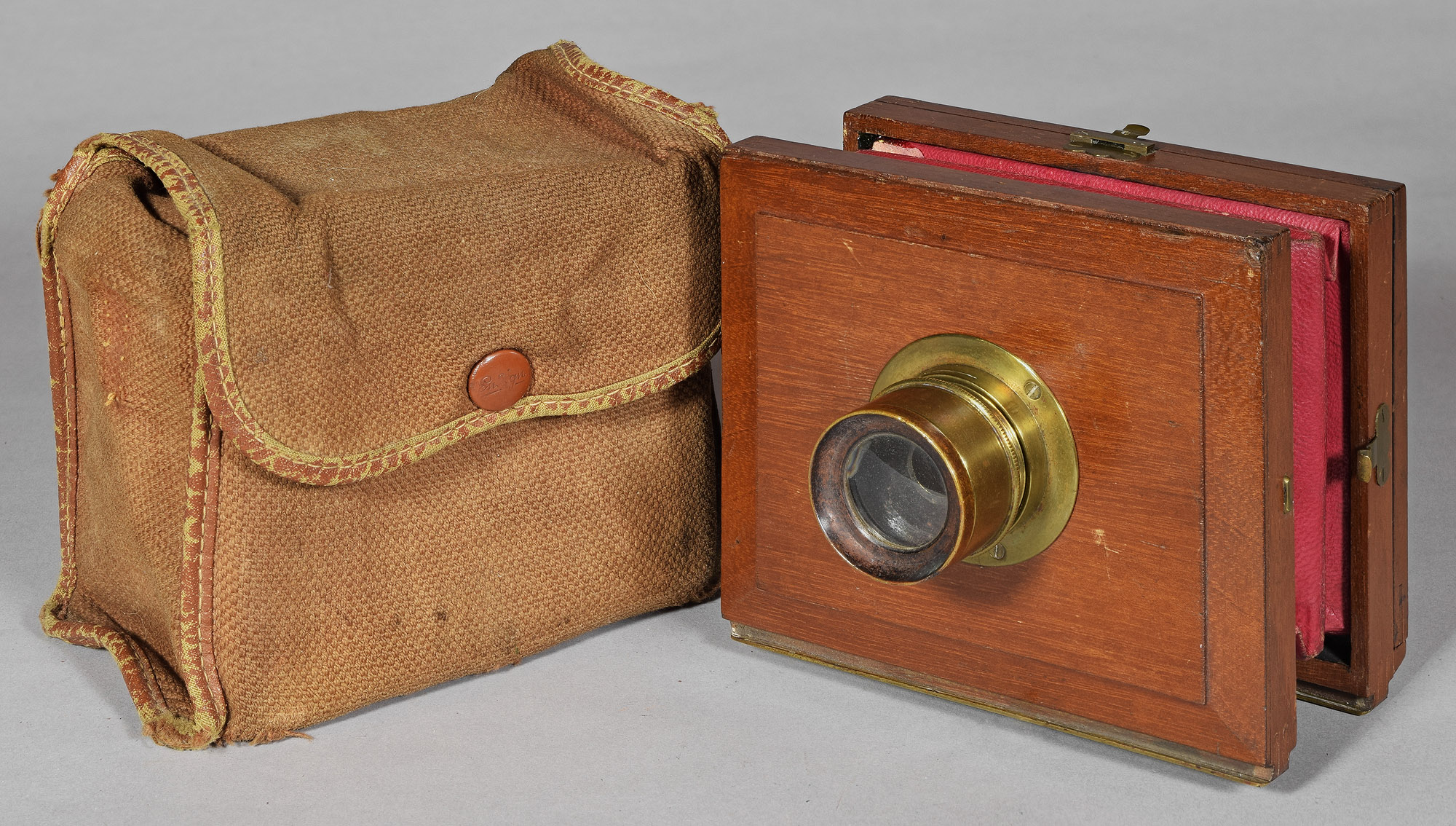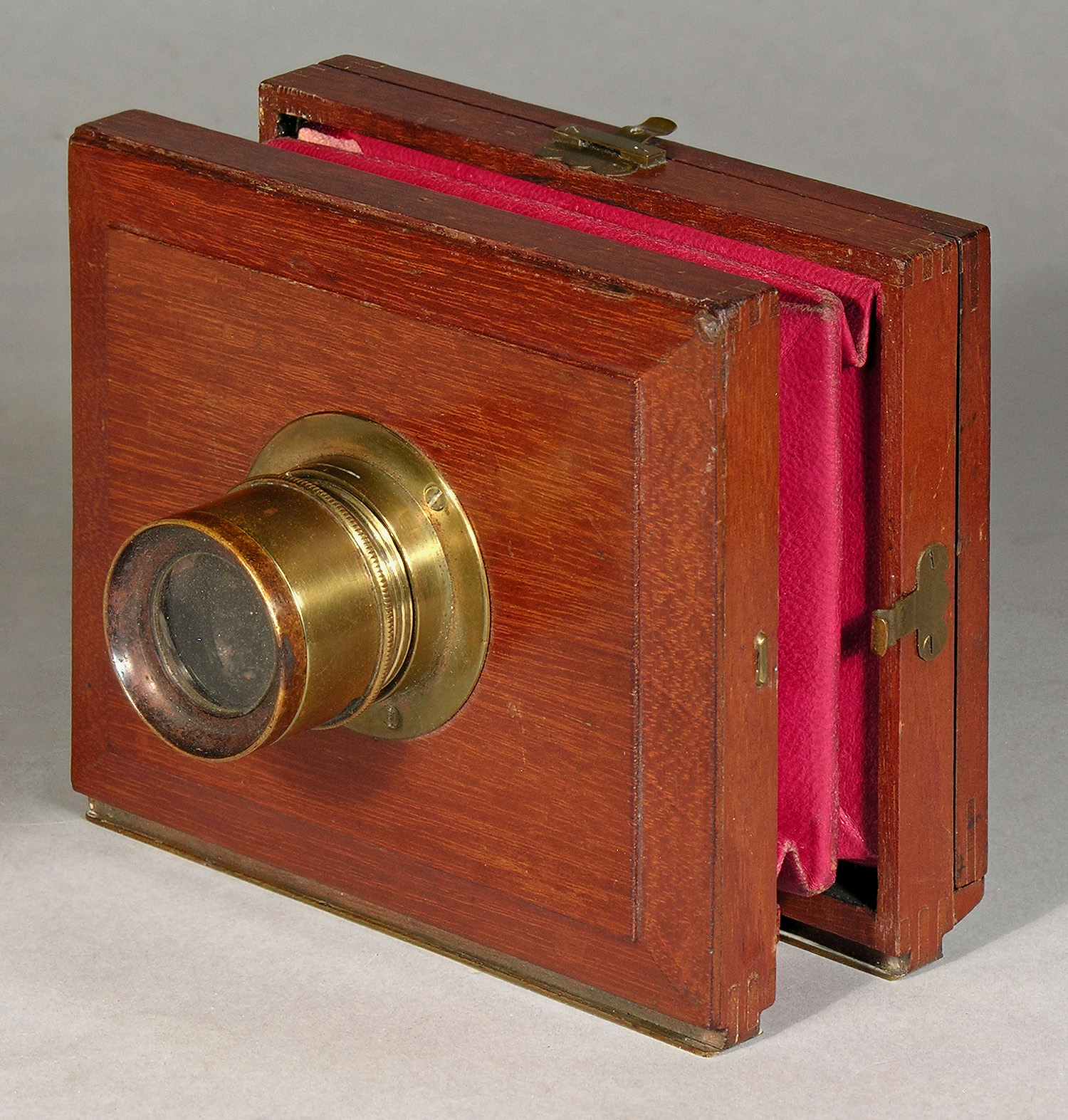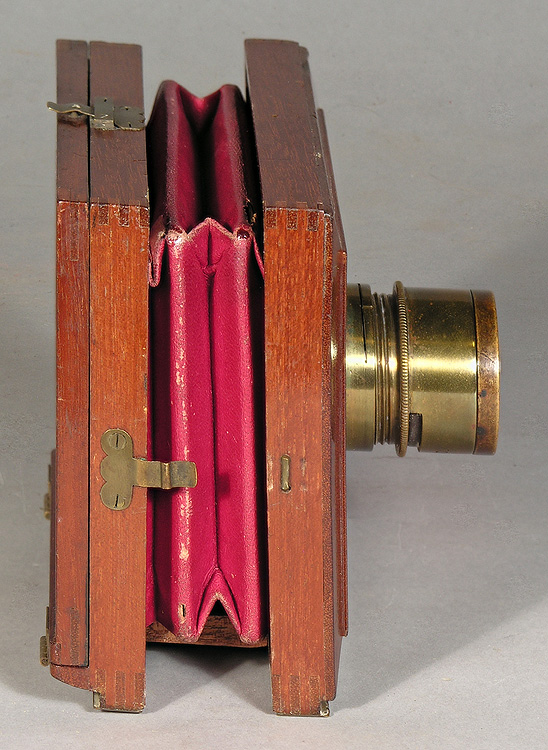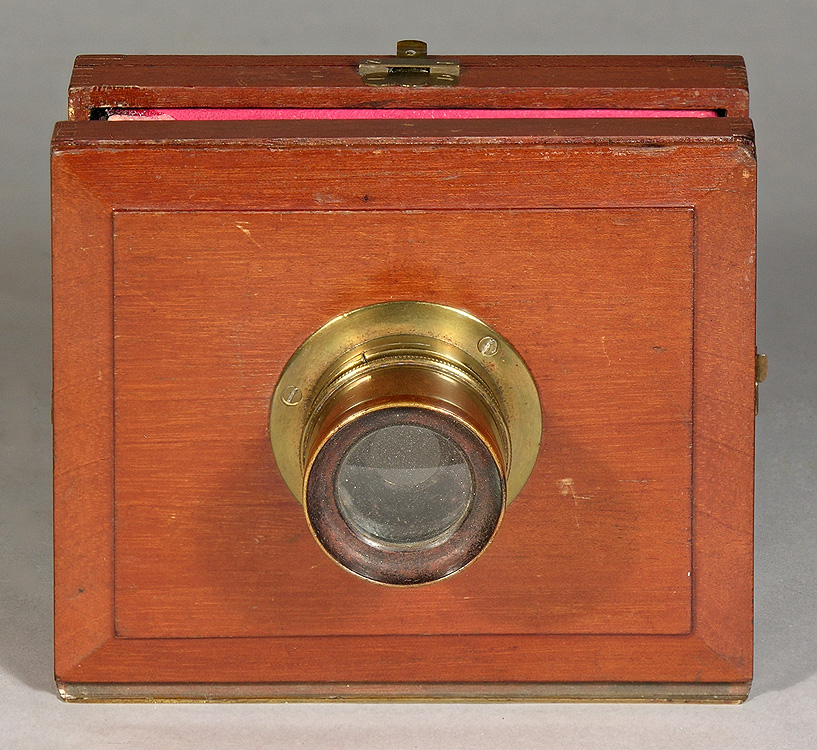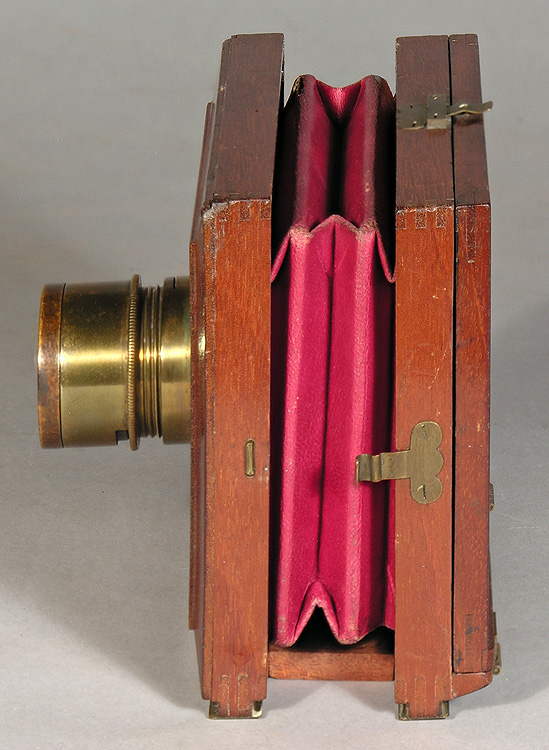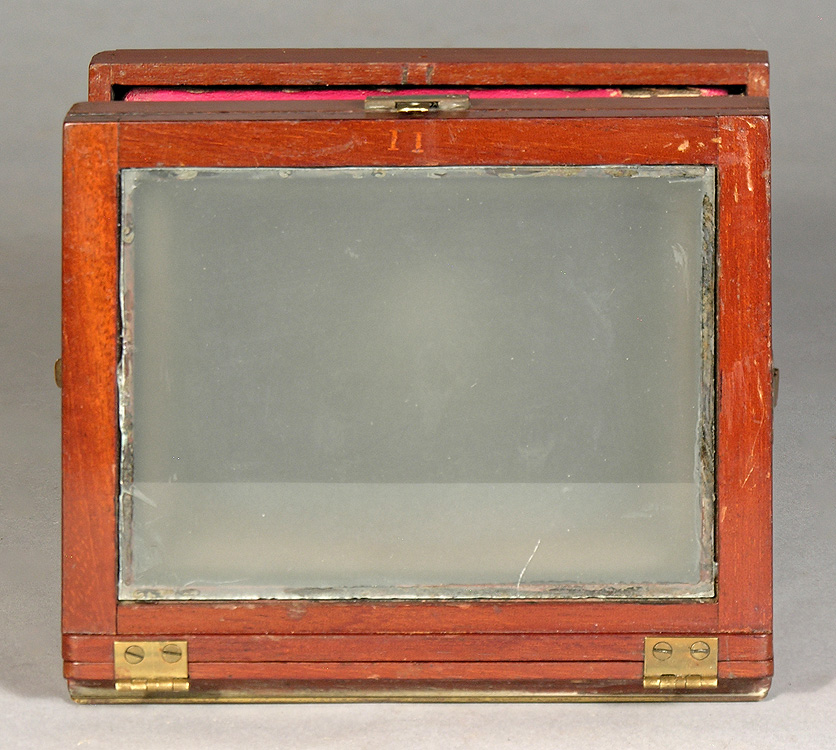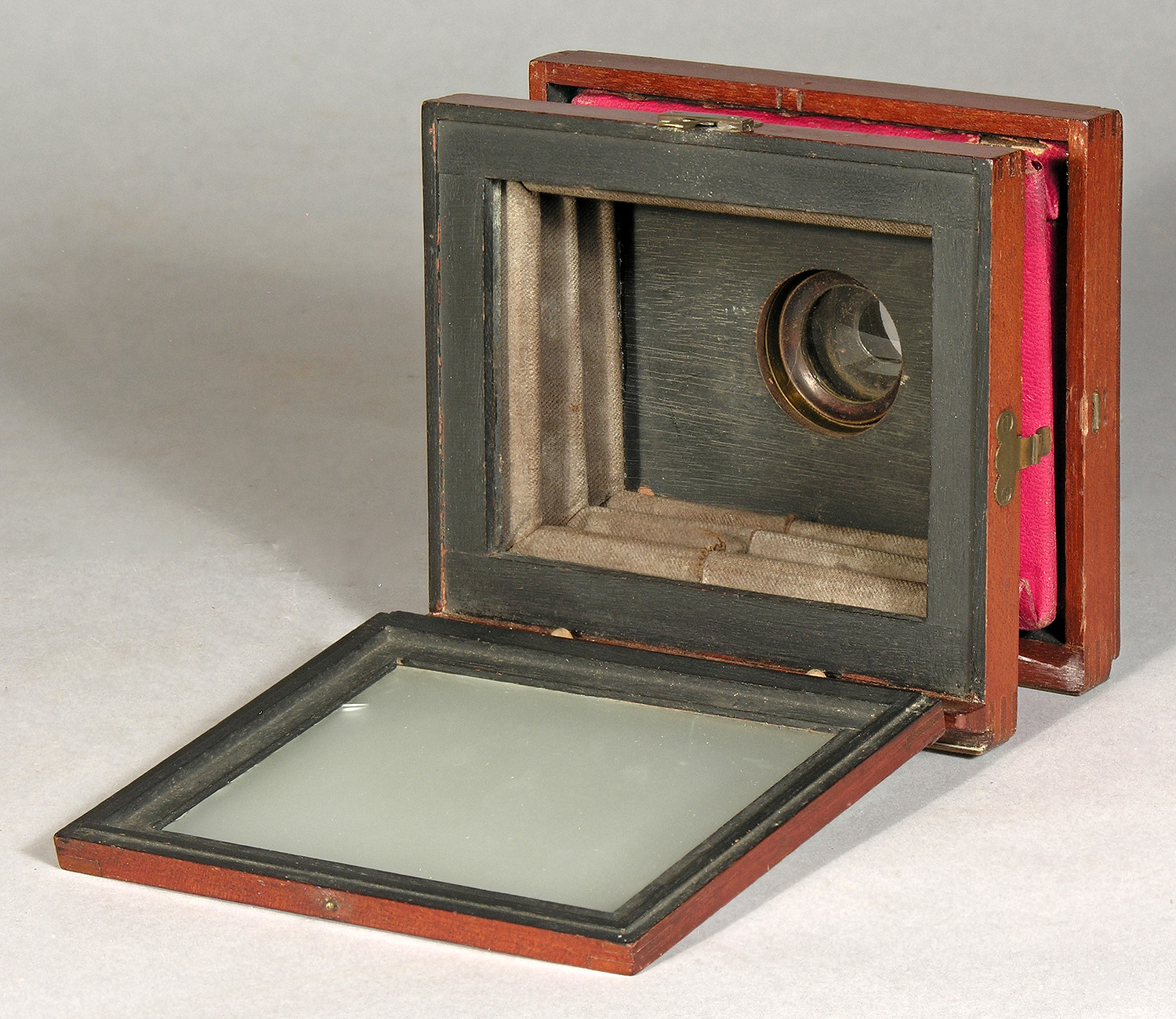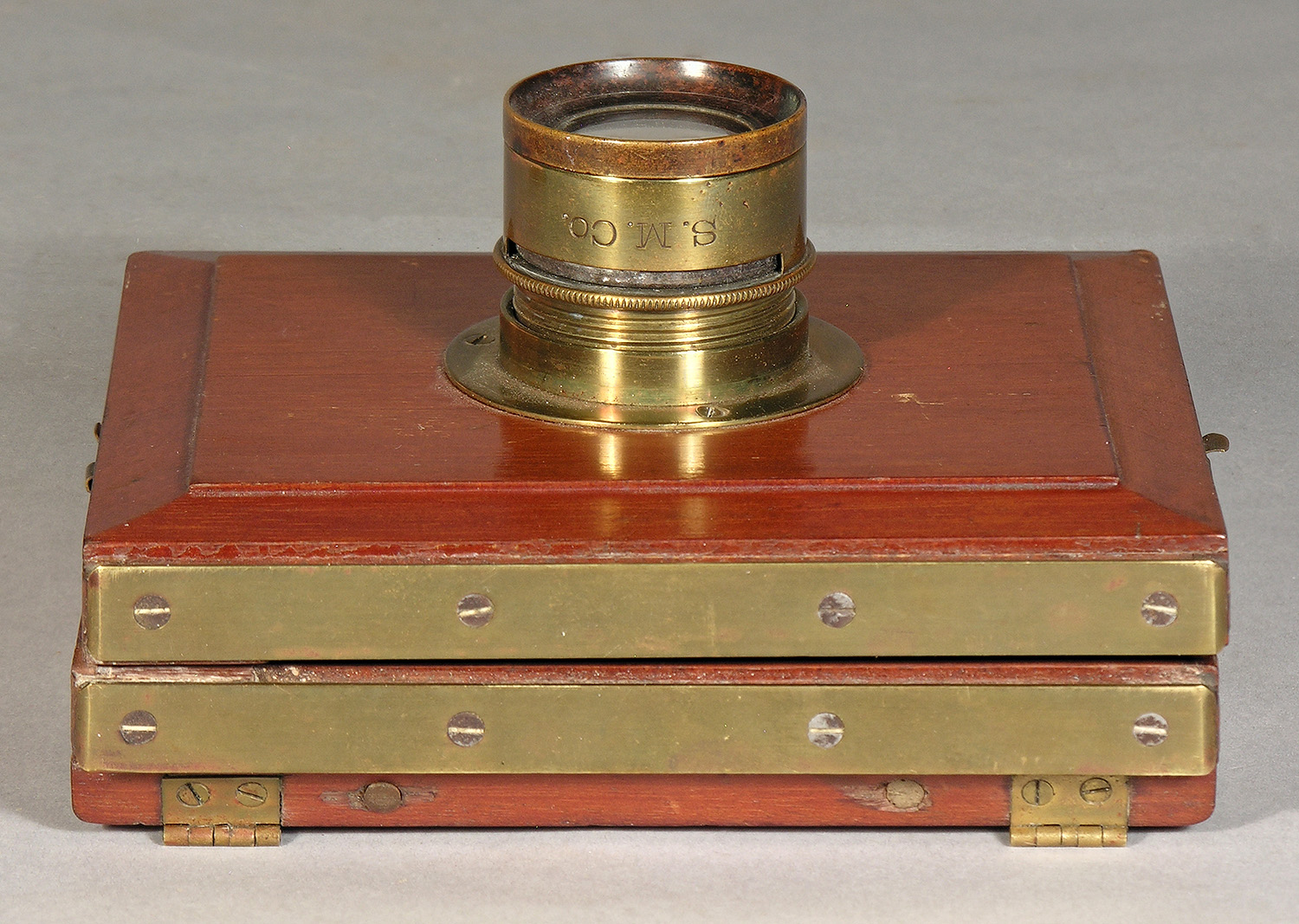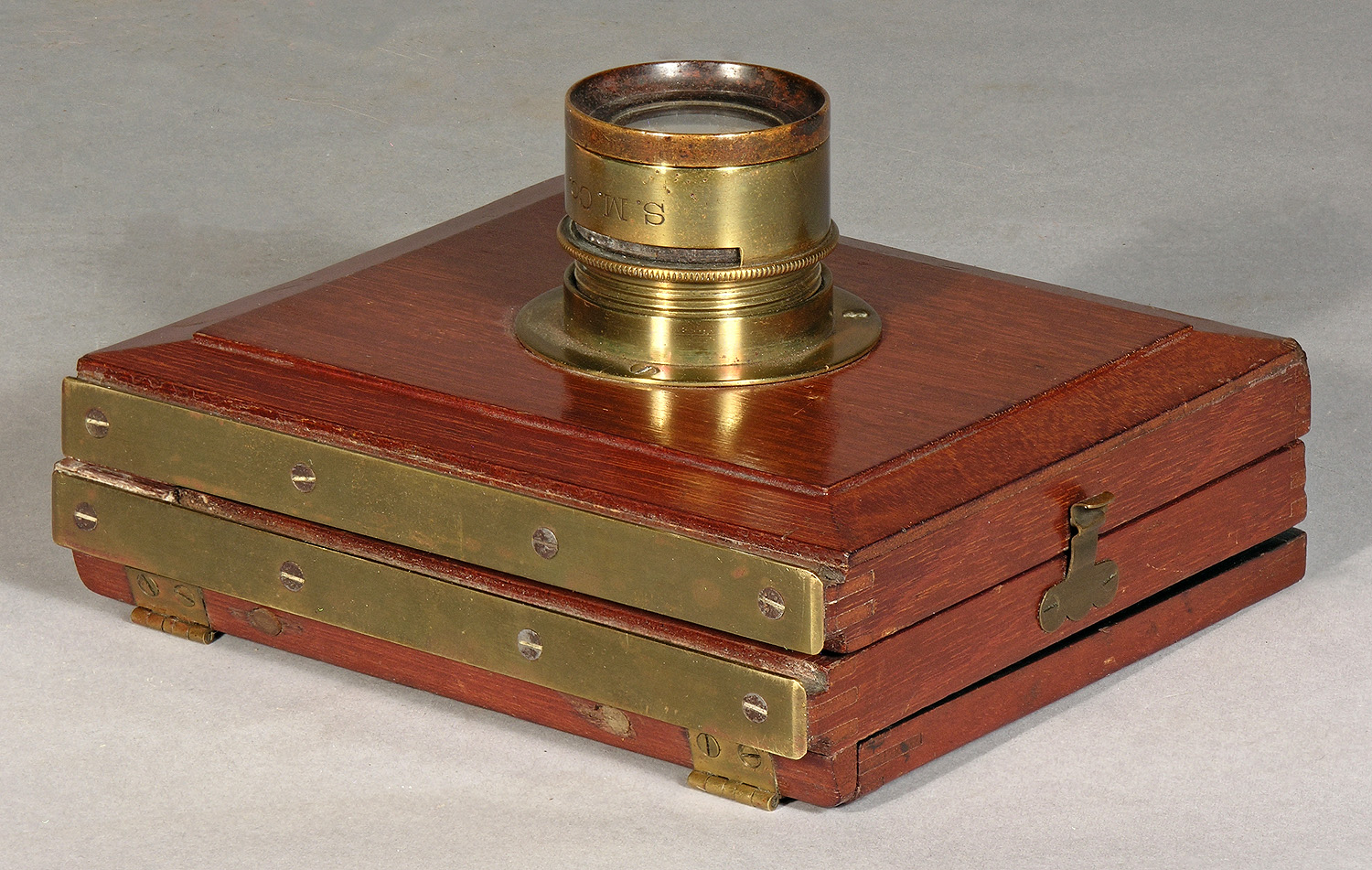 Manufacturer: Scovill Mfg. Co., New Haven, CT factory
Date Introduced: - ; Years Manufactured: c.1886 - c.1892
Construction: focus via lens; no swing; non-reversing; no lens board
Materials: mahogany throughout; red leather bellows; brass hardware
Sizes Offered: 3¼x4¼ only
Notes:
There are four models of view camera ever manufactured (other than the Midget Pocket, a combination view and box camera not included on this list of four) by American Optical, Scovill or Scovill & Adams. All described as a bicycle camera or suitable for bicycling, except the Petite, which is for Vassar pupils (women), they were (in order of increasing price):
--the Ne Plus Ultra Bicyclist's Camera/Outfit (Outfit: camera, Waterbury lens, plate holder, bicycle attachment, canvas bag = $10.00),
--the Scovill's Pocket Bicycle Camera/Outfit (Outfit: camera, with S.M.C. focusing lens, plate holder, bicycle attachment, = $12.00; it is not clear whether the canvas bag is not included in this outfit). The example above is shown with a canvas bag that fits it like a glove, but actually was appropriated from a Brownie box camera missing most of its covering.
--the Petite Camera/Outfit ($12 camera & plate holder w/o lens, $17 same with tripod and canvas bag) and
--the Mignon Camera/Outfit (Outfit: camera, plate holder, bicycle attachment, canvas bag = $25.00 w/o lens; $50.00 with; $70.00 with Morrison lens)
Unfortunately, Scovill never saw fit to picture the Ne Plus Ultra Bicyclist's Camera/Outfit or the Mignon Camera. The Petite has a large engraving that can be matched to a camera. Likewise, the Pocket Bicycle Camera, despite a very small engraving on top of a large wheel bicycle, can also be matched. The identity of the Ne Plus Ultra Bicycle Camera and the Mignon Camera are based on price, assuming that the better made camera would be the expensive Mignon.
The Pocket Bicycle Camera/Outfit first appears in a catalog dated 1887, but copyrighted 1886. It is stated there to weigh only 12 oz. The camera is quite compact when collapsed, because it has no bed. Clips on either side hold it in the collapsed position. To take a photo, the brass runners on the bottom would be slid into a metal rack (missing) which had previously been clamped onto the handlebar of a bicycle. The bellows are only about 1½" long when extended, and the distance between the standards would have been fixed. The image is focused on the ground glass by turning the helical focus on the lens, which was made by the Scovill Manufacturing Co. (hence the S.M. Co. engraving on the barrel) for this camera. The ground glass would then be hinged down, a plate attached, dark slide pulled out and a photograph taken.
The Pocket Bicycle Outfit would have come with a canvas case. Unfortunately, the canvas case for the above camera was not present with it. The canvas case in the photos is one that was taken from a box camera of the late 1890's. It fits pretty well, but is undoubtedly different in detail from an original Scovill canvas case.
References:
(All references use the same engraving)
How to Make Pictures, 4th edition, Henry Clay Price, Scovill Mfg. Co., publishers (New York, NY), dated 1887, copyright 1886, p.a16
How to Make Photographs and Descriptive Price List, Scovill Mfg. Co. (New York, NY), undated but about January 1888, p 44
How to Make Photographs and Descriptive Price List, Scovill Mfg. Co., distributed by C.H. Codman & Co. (Boston, MA), September 1888, p. 36 (As the Pocket Bicycle)
How to Make Photographs and Descriptive Price List, The Scovill & Adams Co. (New York, NY), January 1889, p. 34 (as Pocket Photographic Outfit for Bicyclists)
How to Make Photographs and Descriptive Price List, The Scovill & Adams Co. (New York, NY), distributed by Oscar Foss (San Francisco, CA), June 1890, p. 39 (as the Pocket Photographic Outfit for Bicyclists)
How to Make Photographs and Descriptive Price List, The Scovill & Adams Co. (New York, NY), distributed by Sargent & Co. (Cleveland, OH), April 1891, p. 32
How to Make Photographs and Descriptive Price List, The Scovill & Adams Co. (New York, NY), distributed by Horgan, Robey & Co. (Boston, MA), June 1891, p. 32
American Annual of Photography and Photographic Times Almanac for 1892, The Scovill & Adams Co. (New York, NY), 1891, p. 103
How to Make Photographs and Descriptive Price List, The Scovill & Adams Co. (New York, NY), January 1892, p. 33 (As the Pocket Bicycle)

Back to American Optical & Scovill