Scovill Mfg. Co.
Wonder Equipment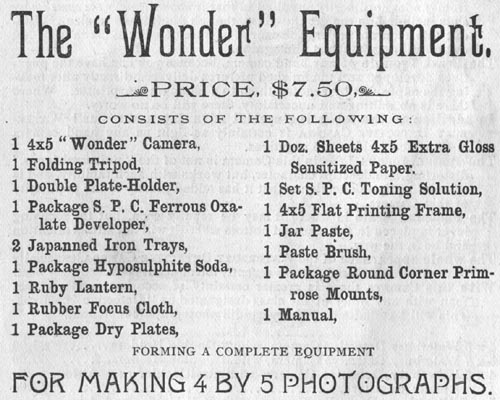 Manufacturer: Scovill Mfg. Co., New Haven, CT factory
Date Introduced: c. 1890 ; Years Manufactured: c. March 1890-c. 1896
Construction:
Materials:
Sizes Offered: #1=4x5; #2=4.25x6.5; #3=5x7
Notes: The catalog entries provide neither an engraving nor even any description of the camera, only that the package includes the camera, a "Wonder" lens, a folding tripod, a double plate-holder, a package of developer, two Japanned iron trays, a package of hypo, a ruby lantern, a rubber focus cloth, a package of Carbutt's dry plates, a package of sensitized paper, a jar of paste, a package of mounts with round corners in a Primrose color, a set of S.P.C. toning solution, a graduate, and a manual - all for $7.50 for the 4x5 size.
References:
Not in the Scovill & Adams March 1889 catalog
How to Make Photographs and Descriptive Price List, The Scovill & Adams Co. (New York, NY), March 1890, p. 20
American Annual of Photography and Photographic Times Almanac for 1890, The Scovill & Adams (New York, NY), ads p. 101
How to Make Photographs and Descriptive Price List, The Scovill & Adams Co. (New York, NY), distributed by Oscar Foss (San Francisco, CA), June 1890, p. 19
How to Make Photographs and Descriptive Price List, The Scovill & Adams Co. (New York, NY), distributed by Sargent & Co. (Cleveland, OH), April 1891, p. 4
How to Make Photographs and Descriptive Price List, The Scovill & Adams Co. (New York, NY), distributed by Horgan, Robey & Co. (Boston, MA), June 1891, p. 4
How to Make Photographs and Descriptive Price List, The Scovill & Adams Co. (New York, NY), January 1892, p. 3
American Annual of Photography and Photographic Times Almanac for 1892, The Scovill & Adams Co. (New York, NY), 1891, ads p. 86
American Annual of Photography and Photographic Times Almanac for 1893, The Scovill & Adams Co. (New York, NY), 1892, ads p. 137
The American Annual of Photography and Photographic Times Almanac for 1894, The Scovill & Adams Co. (New York, NY), 1893, p. 93
How to Make Photographs and a Descriptive Catalogue of Photographic Materials Illustrated, The Scovill & Adams Co. (New York, NY), 1896, p. 22


Back to American Optical & Scovill