Seneca Camera Manufacturing Co., Rochester, NY
Competitor Camera
, Variation 1 (brass)


(Ingento View Camera No. 2)
(Ideal View Camera)
(The Professional)


(New York View)

Seneca Camera Manufacturing Co. Catalog N, c. 1914, pp. 36-37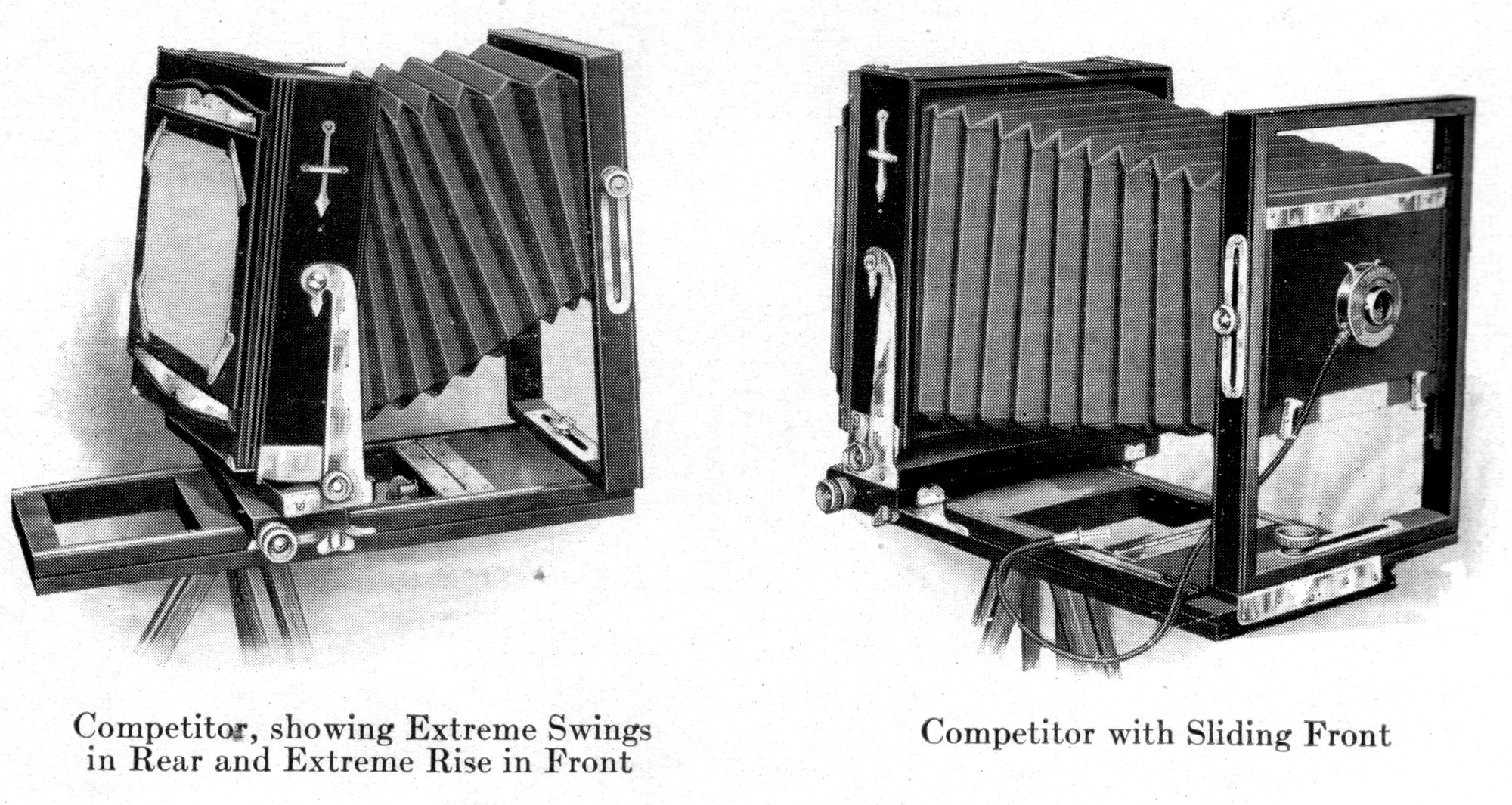 6½ x 8½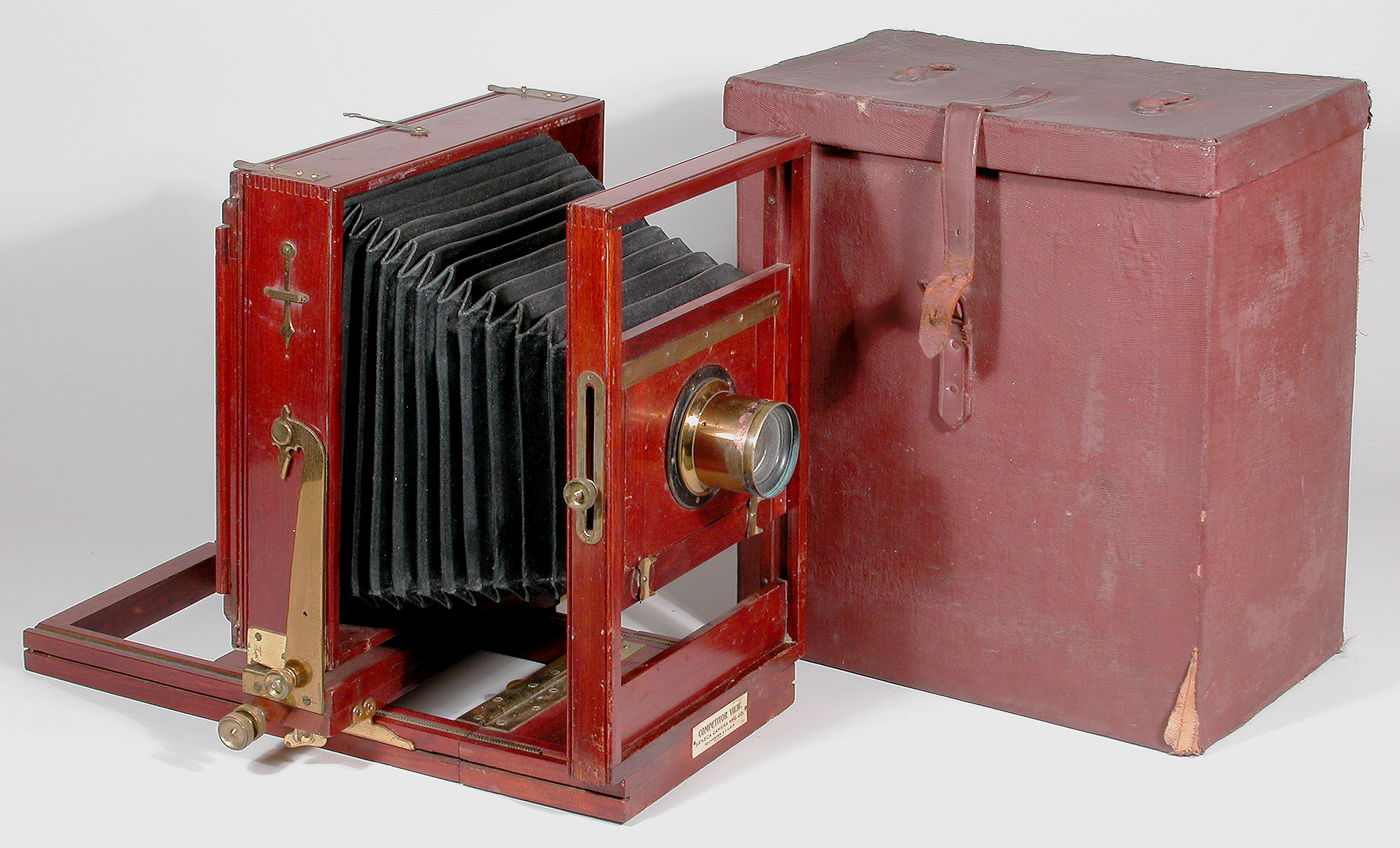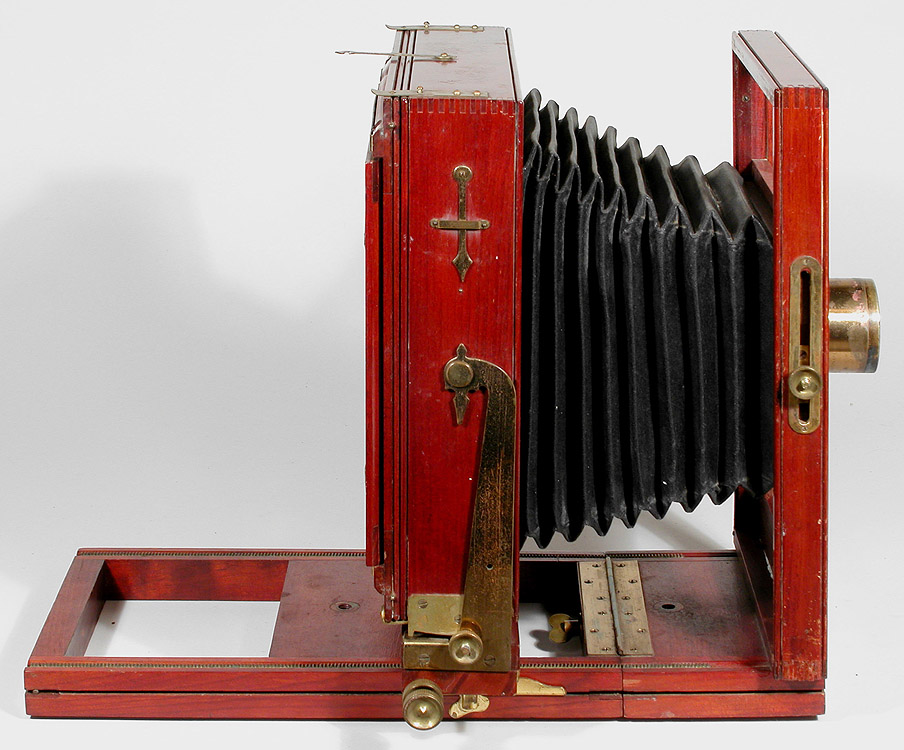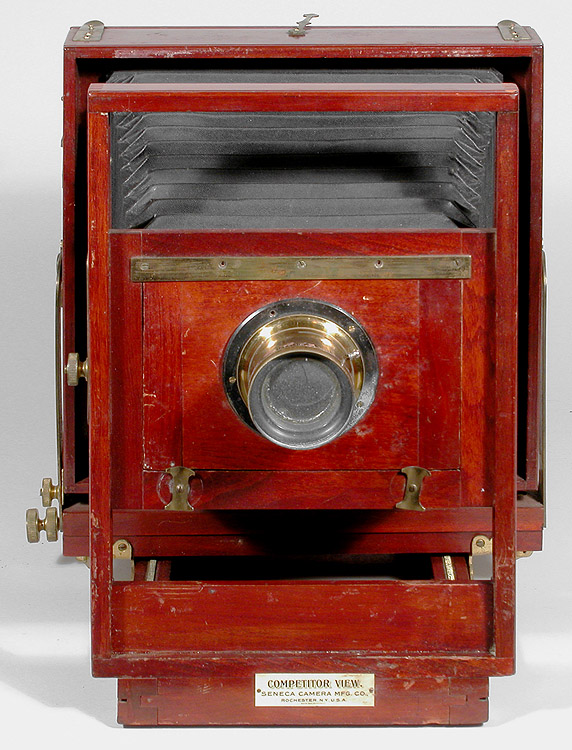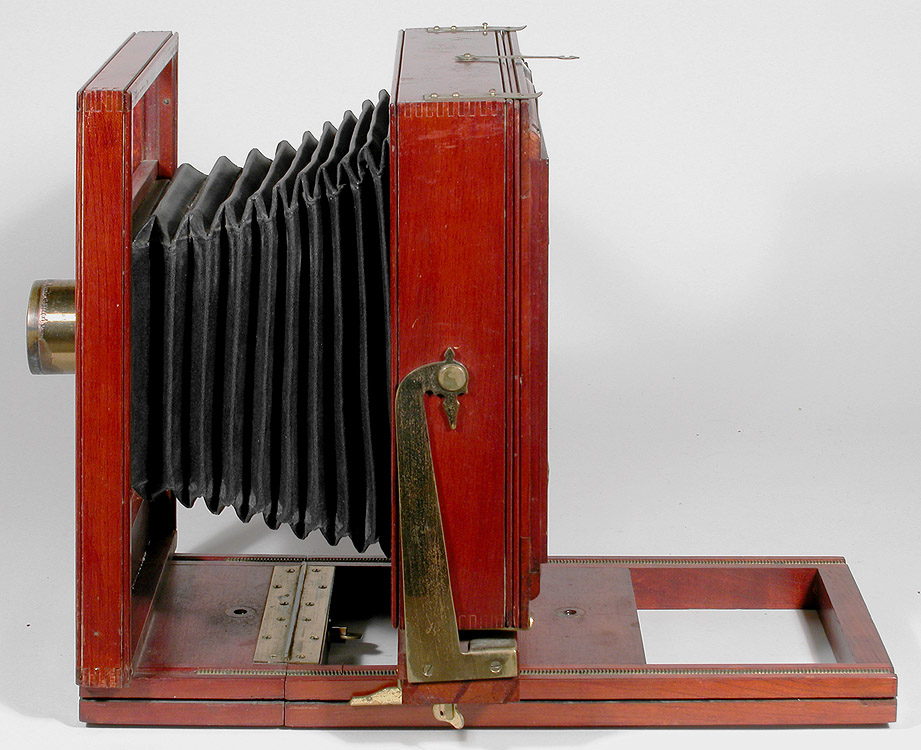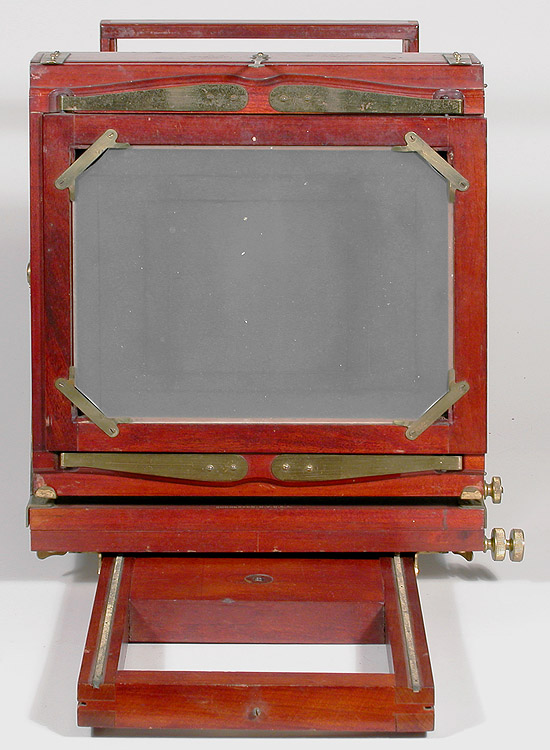 Date Introduced: 1907 ; Years Manufactured: 1907-c.1930
Construction: back focus via rack and pinion (two gear tracks on top of the base rails); double swing; reversing by removable back; shifting front standard
Materials: mahogany-finished wood (but not mahogany), lacquered polished brass hardware, leatherette bellows
Sizes Offered: 5x7; 6½x8½; 8x10
Notes:
The company that would become the Seneca Camera Manufacturing Co., The Sunart Photo Co., manufactured two view cameras: the Vici View and the Vidi View. The Competitor View is the continuation of the Vidi View.
The canvas case holds camera and six holders. The camera came with shifting front or not. The Penny Picture Outfit includes a Competitor camera, special multiple back and other equipment. Some would-be decorator has painted the originally gray case a hideous red.
References:
Seneca Plate & Film Cameras, Seneca Camera Manufacturing Co. (Rochester, NY), 1906, pp. 22-23
Seneca Plate, Film & View Cameras, Seneca Camera Manufacturing Co. (Rochester, NY), 1907, pp. 24-25
National Cameras and Supplies, J.L. Lewis (New York, NY) Catalog, c. 1907, pp. 20-21 (as The Professional)
Seneca Film, Plate & View Cameras, Seneca Camera Manufacturing Co. (Rochester, NY), 1908, pp. 33-34
Seneca Plate, Film & View Cameras, Seneca Camera Manufacturing Co. (Rochester, NY), 1909, pp. 33-34
Photographic Supplies and Cameras 1909-1910, Sunset Photo Supply Co. (San Francisco, CA) Catalog, 1909, p. 36
Seneca Cameras, Seneca Camera Manufacturing Co. (Rochester, NY), Catalog J, 1910, pp. 34-37
Cameras and Supplies, Catalog No. 12, J. L. Lewis (New York, NY), c. 1910, p. 15 (as the Professional Camera)
Cameras and Photo Supplies, Catalog H, Northern Photo Supply Co. (Fargo, ND), c. 1910, p. 26
Seneca Cameras, Seneca Camera Manufacturing Co. (Rochester, NY), Catalog K, 1911, pp. 38-40
Seneca Cameras, Seneca Camera Manufacturing Co. (Rochester, NY) Catalog L, 1912, pp. 40-42
Seneca Cameras, Seneca Camera Manufacturing Co. (Rochester, NY) Catalog M, 1913, pp. 39-41
Seneca Cameras, Seneca Camera Manufacturing Co. (Rochester, NY) Catalog N, c. 1914, pp. 36-37
Cameras, Photographic Apparatus and Supplies, General Catalog No. 15, Burke & James, Inc. (Chicago, IL), c. 1915, p. 21 (as the Ingento View No. 2)
Photographic Supplies, Apparatus, Photo Jewelry and Novelties, Sol Pudlin Co. (New York, NY), c.1915, p. 37 (as the New York View)
Seneca Cameras, Seneca Camera Manufacturing Co. (Rochester, NY) Catalog P, c. 1916, pp. 35-36
Seneca Cameras, Seneca Camera Manufacturing Co. (Rochester, NY) Catalog Q, c. 1917, p. 27
Seneca Cameras, Seneca Camera Manufacturing Co. (Rochester, NY) Catalog R, c. 1918, p. 27
Seneca Cameras, Seneca Camera Manufacturing Co. (Rochester, NY) Catalog S, c. 1919, p. 23
Kodaks, Cameras, Supplies and Other Standard Merchandise, Catalogue No. 102, David Stern Company, Chicago, IL, c. 1918, p. 16
Seneca Cameras, Seneca Camera Manufacturing Co. (Rochester, NY) Catalog T, 1919, p. 26
Catalogue of Cameras, Kodaks, Lenses and Photographic Accessories 1919-1920, Central Camera Co. (Chicago, IL), 1919, p. 33
Catalogue No. 10 and Bargain Book No. 11 of Cameras, Kodaks, Lenses and Photographic Accessories, 1920-1921; Central Camera Co. (Chicago, IL), 1920, p. 32
Seneca Cameras, Seneca Camera Manufacturing Co. (Rochester, NY), Catalogue V, c. 1921, pp. 32-33
Catalogue of Photographic Apparatus and Supplies, No. 72, G. Gennert (New York, NY), c. 1921, p. 25 (as the New York View)
Seneca Cameras, Seneca Camera Manufacturing Co. (Rochester, NY), undated c. 1923, p. 24
Seneca Camera Manufacturing Co. Catalog, 1925
Catalogue No. 27 of Cameras, Kodaks, Lenses and Photographic Accessories 1925-1926, Central Camera Co. (Chicago, IL), 1925, p. 63
Catalogue No. 31 of Cameras, Kodaks, Lenses and Photographic Accessories 1926-1927, Central Camera Co. (Chicago, IL), 1926, p. 72
Catalog of Photographic Apparatus and Supplies, Catalog No. 121, Chicago Photo Supply House (Chicago, IL), c. 1926, p. 5 (as the Ideal View Camera)


Back to Seneca