Darlot Opticien (Paris, France)
Darlot Hemispherical (Hemispherique) Wide-angle Lens (three-lever), c. 1870-c.1890's
No. 2, Serial No. 5434, B.F.&Co.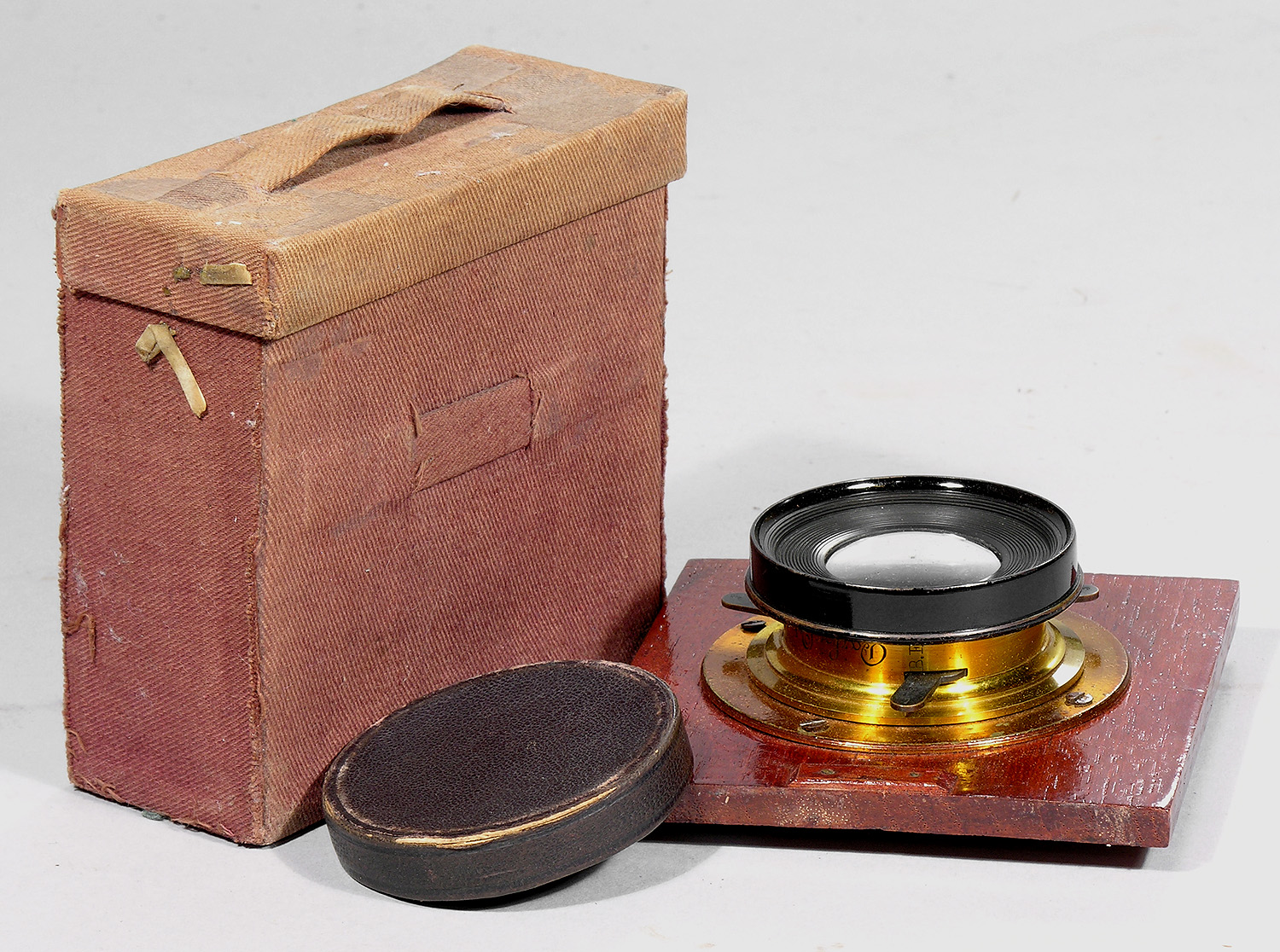 No. 3, Serial No. 1064, B.F.&Co.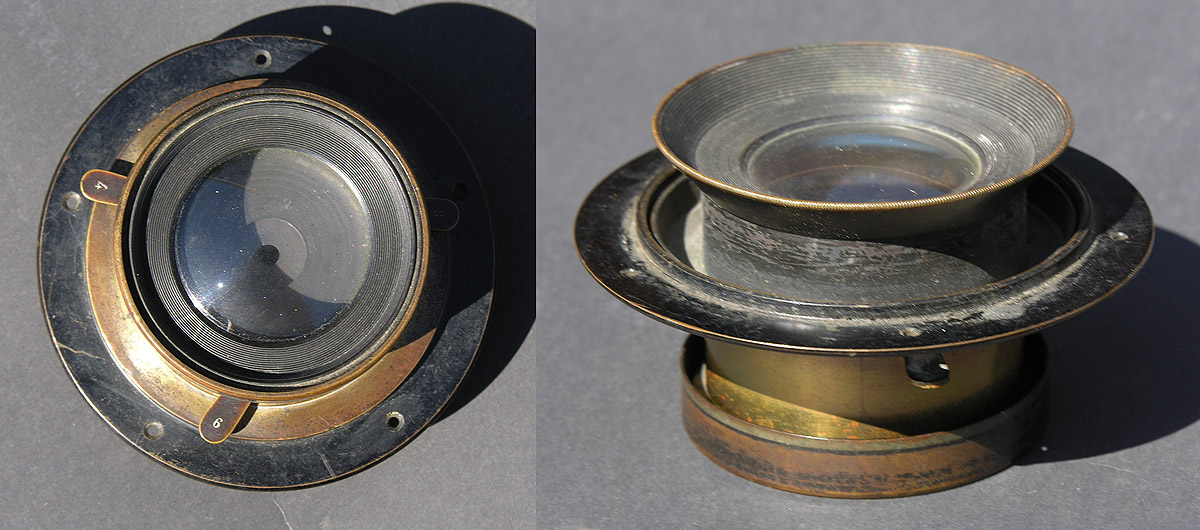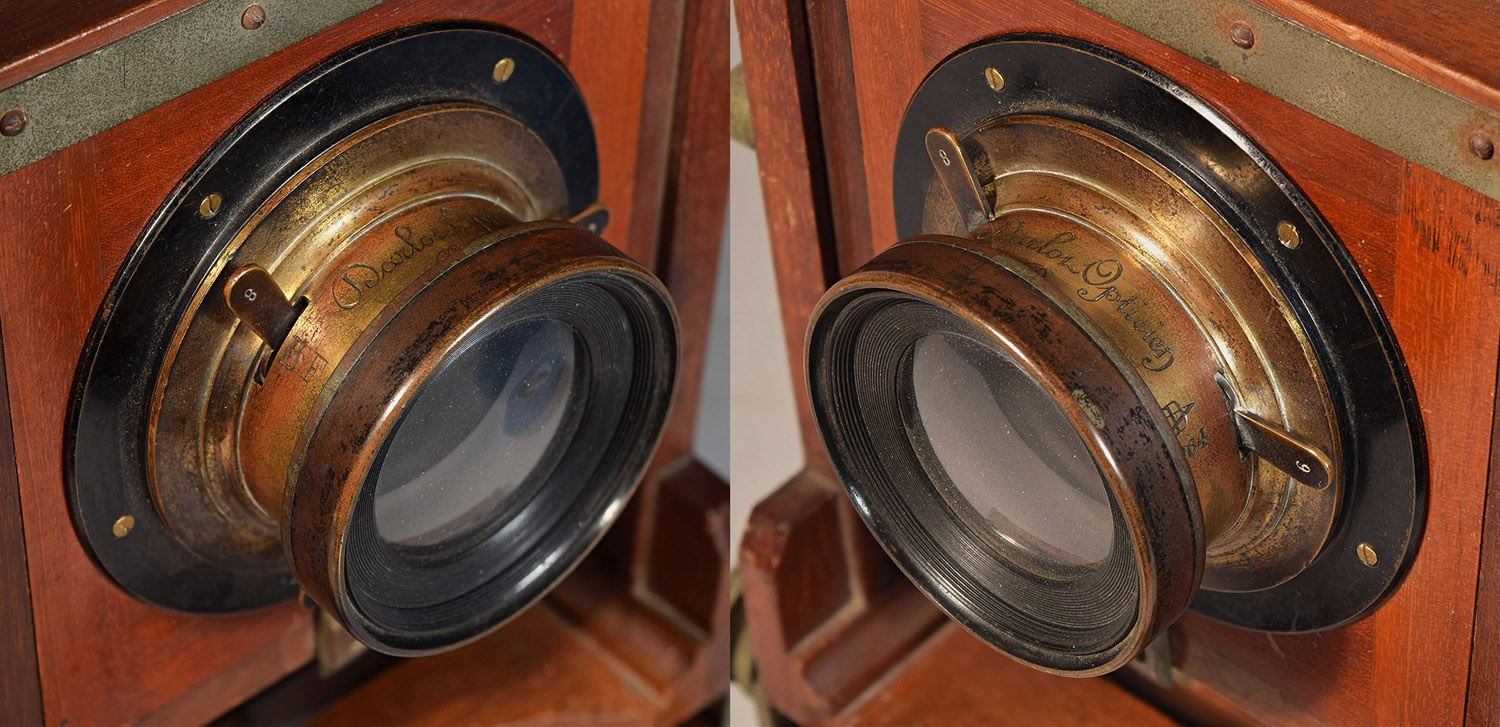 No. 3, Serial No. 2086, B.F.&Co.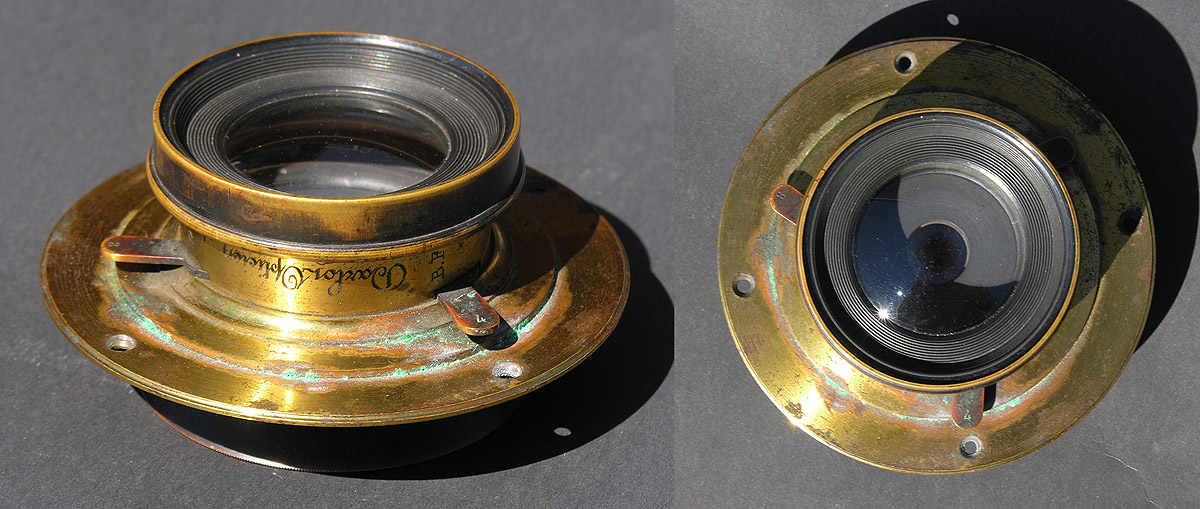 No. 3, Serial No. 5305, B.F.&Co.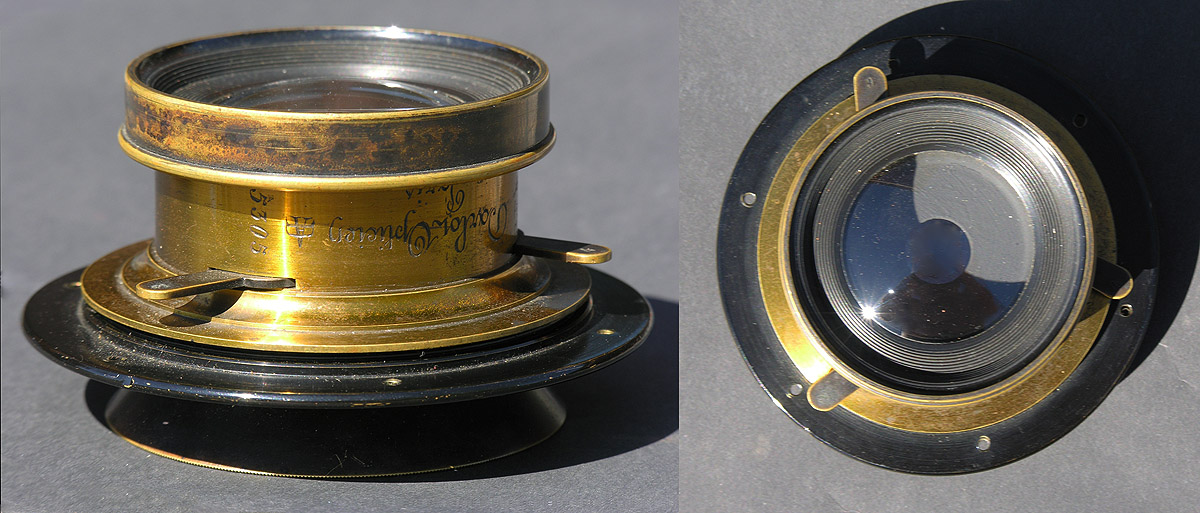 Notes: Judging from the number of these lenses in the U.S., they must have been rather popular - surprisingly so, since E. & H.T. Anthony seems to have had an exclusive contract with Dallmeyer (London, England) as the only non-EA-lens sold, and Scovill seems to have only carried their Morrison brand as a wide-angle. Most, if not all, appear to be marked "B.F.&Co." to indicate that they were imported by Benjamin French & Co., Boston. The levers control which of three f-stops or wide open is placed in the optical path.
References:
Illustrated Catalogue Issued Annually by Thos. H. McCollin, Thos. H. McCollin (Philadelphia, PA), January 1, 1876, p. 13
The Photographer's Friend, Richard Walsl (Baltimore, MD), 7th edition, 1882, p. 40
The Photographic Times and American Photographer, Vol. XIV, No. 171 (New Series No. 51), J. Trail Taylor, ed., Scovill Mfg. Co., pub., NY, December 26, 1884, ads page 12
Descriptive Catalogue and Price List of the Photographic Apparatus Manufactured by the American Optical Co., Scovill Mfg. Co., proprietors and managers (New York, NY), Sept. 1884, p.92
Scovill's Photo. Series No. 1, The Photographic Amateur, 2nd Edition, J. Traill Taylor, Scovill Mfg. Co. pub. (New York, NY), original copyright 1883, 2nd Ed. about 1885, ads p. 26
Catalogue No. 7, T.F. Indermill, (St. Joseph, MO), 1 Oct 1885, p. 88
How to Make Photographs and Descriptive Price List, Scovill Mfg. Co. (New York, NY), distributed by Andrew J. Smith (Providence, RI), 1886, p. 54
Illustrated Catalogue of Photographic Apparatus, C.H. Codman & Co. (Boston, MA), June 1886, p. 28
Scovill's Photo. Series No. 12, A Manual of Photographic Chemistry, Scovill Mfg. Co. (New York, NY), 1886, ads p. 34
Scovill's Photo. Series No. 20, Dry Plate Making for Amateurs, Scovill Mfg. Co. (New York, NY), 1886, ads p. 26
How to Make Photographs and Descriptive Price List, Scovill Mfg. Co. (New York, NY), distributed by C.H. Codman & Co. (Boston, MA), April 1887, p. 59
How to Make Photographs and Descriptive Price List, Scovill Mfg. Co. (New York, NY), distributed by C.H. Codman & Co. (Boston, MA), 1888, p. 56
How to Make Photographs and Descriptive Price List, The Scovill & Adams Co. (New York, NY), Jan 1889, p. 54
Illustrated Catalogue of Photographic Apparatus, Rochester Optical Co., Rochester, NY, June 1890, p. 36
How to Make Photographs and Descriptive Price List, The Scovill & Adams Co. (New York, NY), distributed by Oscar Foss (San Francisco, CA), June 1890, p. 51
How to Make Photographs and Descriptive Price List, The Scovill & Adams Co. (New York, NY), distributed by Sargent & Co. (Cleveland, OH), April 1891, p. 54
How to Make Photographs and Descriptive Price List, The Scovill & Adams Co. (New York, NY), distributed by Horgan, Robey & Co. (Boston, MA), June 1891, p. 53
How to Make Photographs and Descriptive Price List, The Scovill & Adams Co. (New York, NY), distributed by Horgan, Robey & Co. (Boston, MA), January 1892, p. 55
How to Make Photographs and a Descriptive Catalogue of Photographic Materials, Illustrated, The Scovill & Adams Co. (New York, NY), 1896, p. 71
Catalogue of Photographic Apparatus, Rochester Optical Co. (Rochester, NY), May 1897, p. 77
Illustrated Catalogue No. 18, L.M. Prince & Bros. (Cincinnati, OH), c. 1899, p. 64

Back to Lenses