Scovill Mfg. Co.

American Optical Company
Flammang's Patent Revolving Back Camera
,
Back Focus
Variation 1 (Nickel Hardware)
Scovill's Dry Plate Making for Amateurs, ads p. 14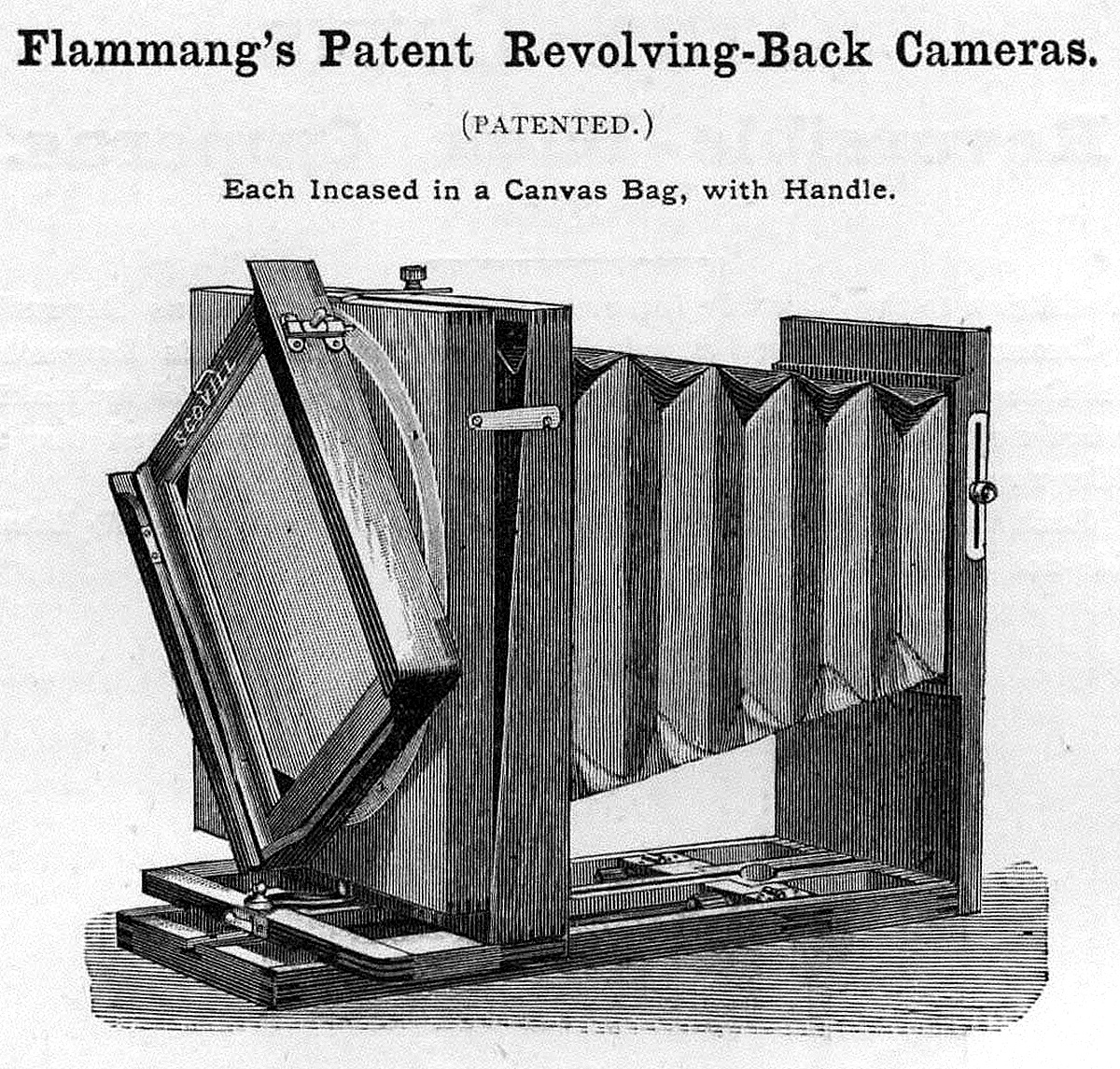 6 ½x8 ½ (has an extra 5x8 back and 5x8 holders)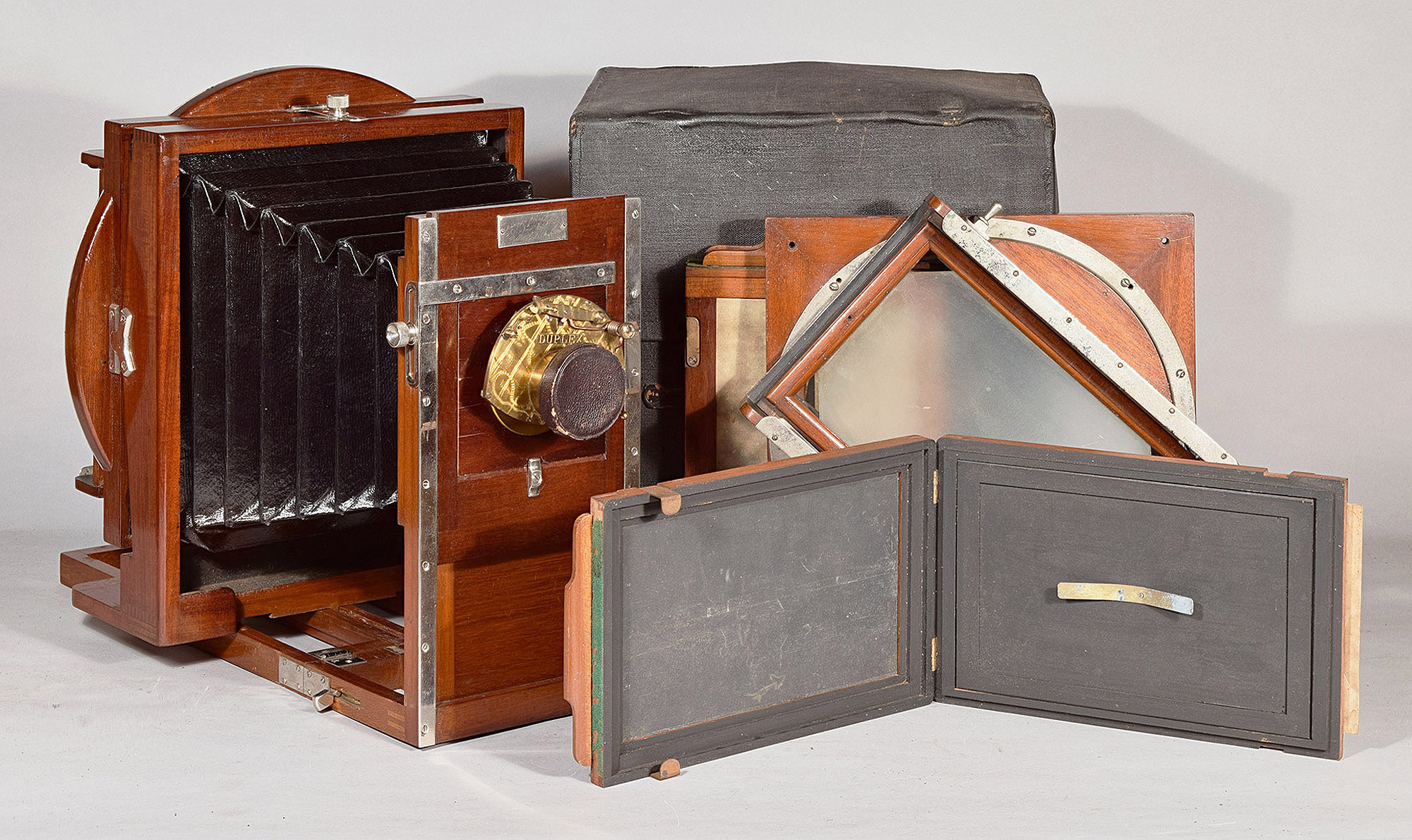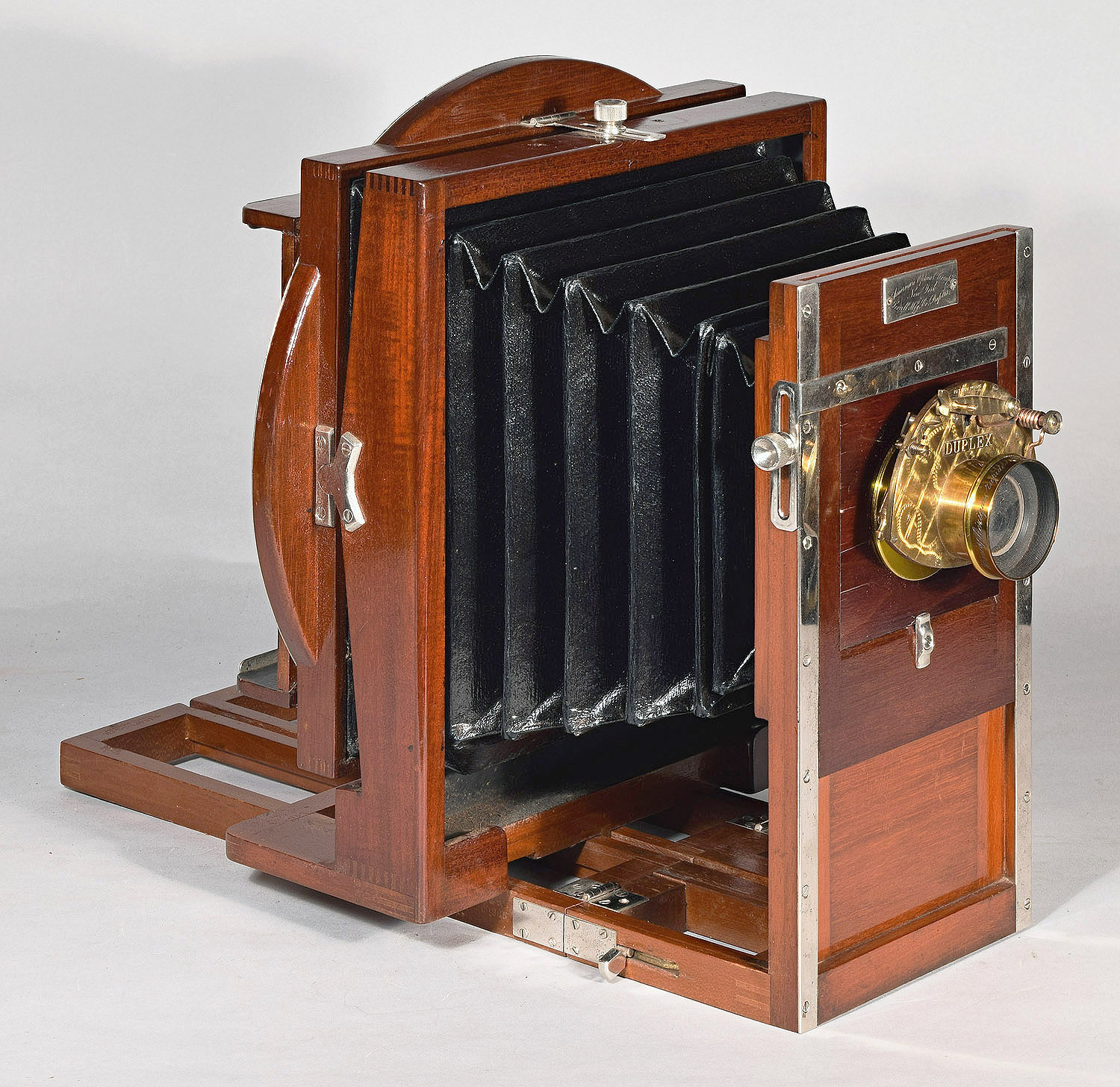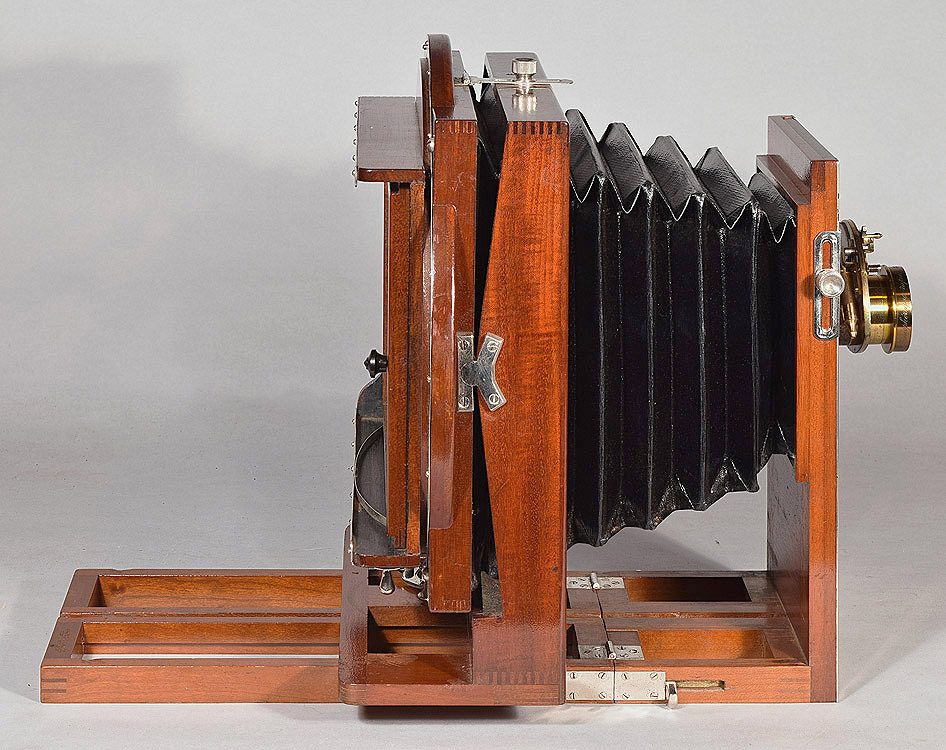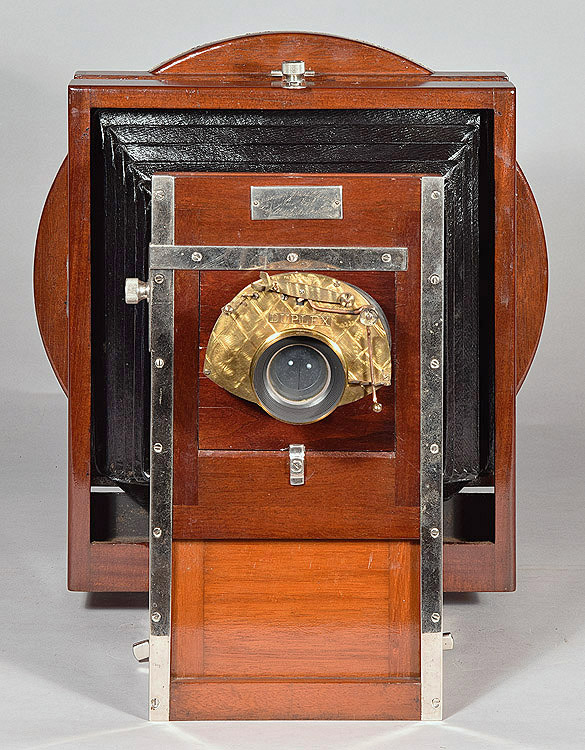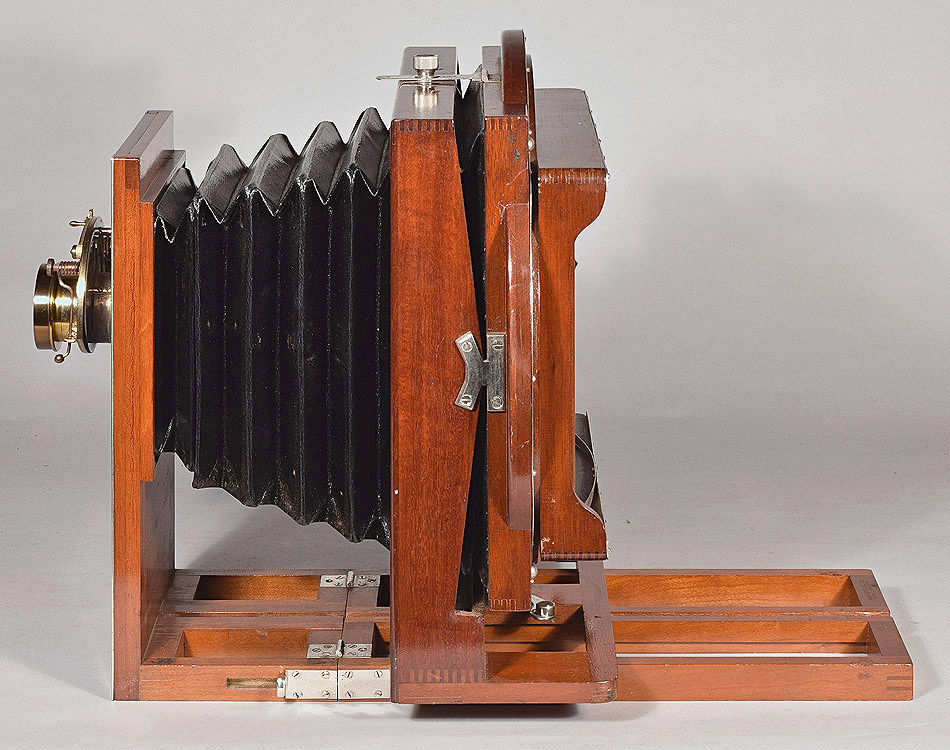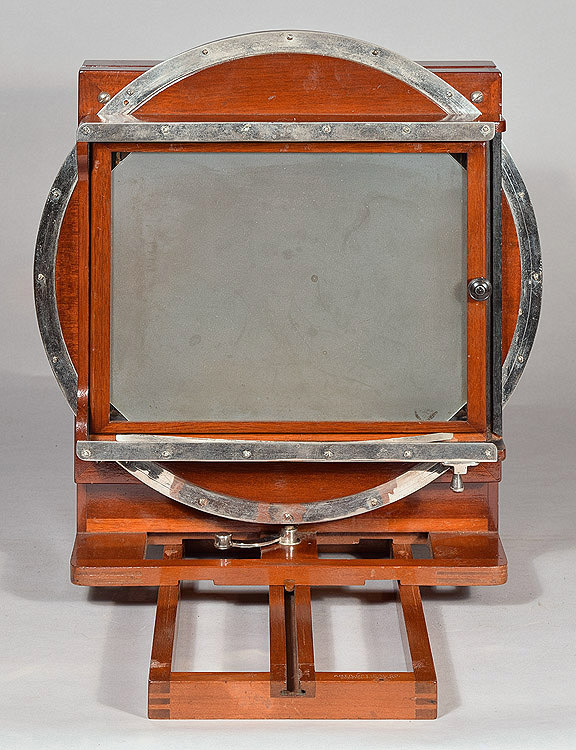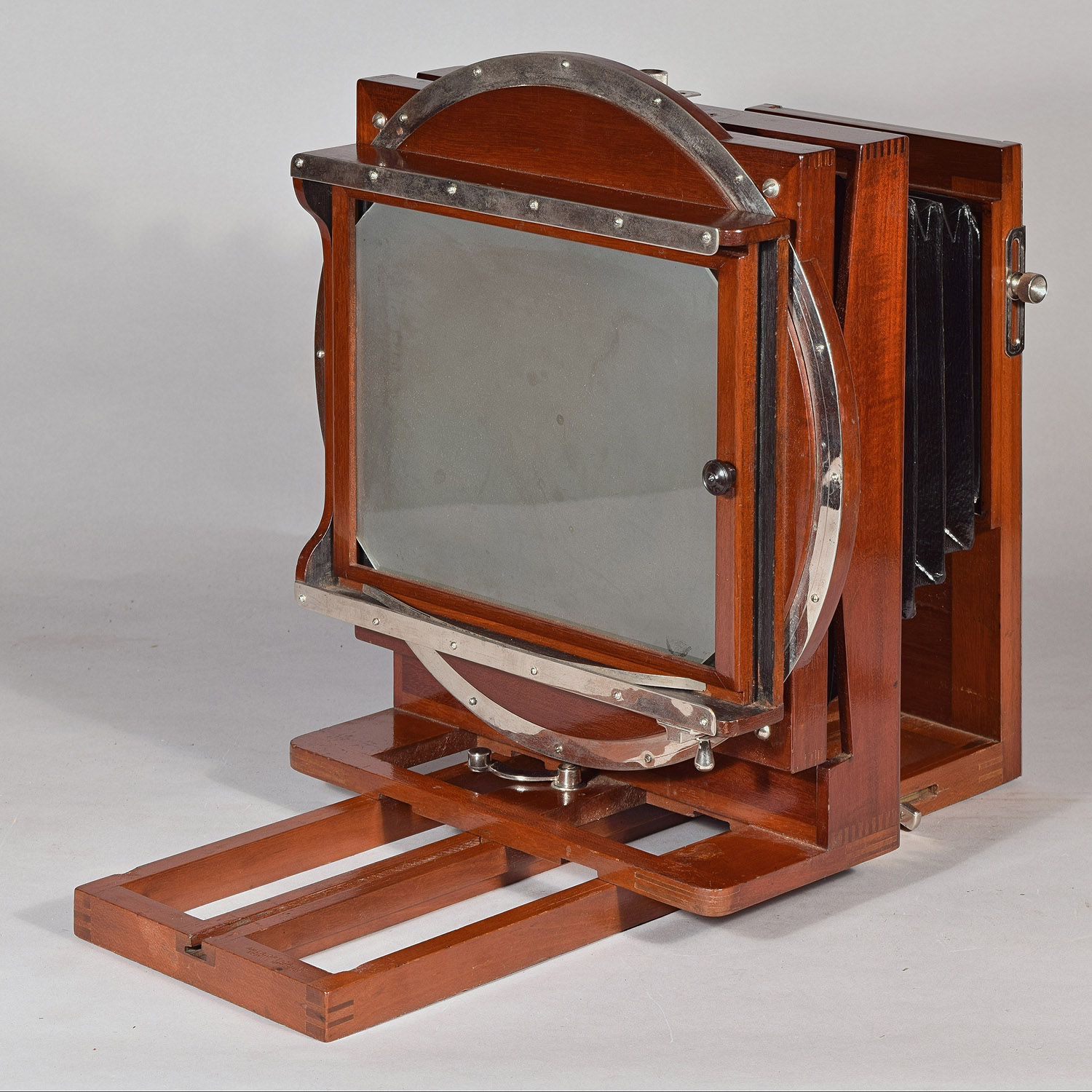 Nickel-plated label on front


Stamp on rear of base


Stamp next to the rod & piston device to make the bed rigid


Manufacturer: American Optical Co. New York, NY factory
Date Introduced: - ; Years Manufactured: c.1884 - 1896
Construction: rear focus via push-pull; single or double swing; reversing by revolving back (the Flammang patent); three-piece lens board
Materials: mahogany body; mahogany base; black fabric bellows; nickel-plated brass hardware
Sizes Offered: #550A=4x5; #551=4 ½x5 ½; #551AB=4 ½x6 ½; #551A=5x7; #551B=5x8; #552=6 ½x8 ½; #553=8x10; #554=10x12; #555=11x14; #556=14x17; #557=17x20; #558=20x24; #559=25x30 (1889 #'s 120-132)
Notes:
The Flammang's Revolving-Back Camera Back Focus Variation 2 (Brass Hardware) shares the same basic construction as the Acme Reversible Back View Box Variation 1, except for the presence of the patented revolving back. It could use either SGC (Scovill's Glass Corner) plate-holders (for wet plates) or Daisy plate-holders (for dry plates). The advertisements have but one price list for either the Front Focus Pattern or Back Focus Pattern. They came in a canvas "bag", which may be the term for the canvas-covered cardboard cases of the time, or, considering that they don't appear to show up now in any kind of case, it could have been as stated: a bag, none of which survived long.
The revolving back is usually stamped "Flammang's Pat. Aug. 21, '83 No. 283,589", not to be confused with Flammang's other major patent, the rod and cylinder device for making a folding bed rigid, which is usually stamped "Flammang's Pat. Oct. 20, 1885" (#328,664). Cameras have been erroneously sold as "Flammang's Patent" cameras merely because they were marked with the folding bed patent date. The 8x10 camera is pictured above and the 11x14 version below. By late 1896, the Rotating Back Cameras were consigned to the "Bargain Page" of the American Annual of Photography and Photographic Times Almanac for 1897 (page lxi), which probably indicates an attempt to get rid of discontinued stock.
There is also a version with nickel-plated hardware: Flammang's Revolving-Back Camera Back Focus Variation 1 (Nickel Hardware).
References:
Descriptive Catalogue and Price List of the Photographic Apparatus Manufactured by the American Optical Co., Scovill Mfg. Co., proprietors and managers (New York, NY), Sept. 1884, pp.54-55
The Photographic Amateur, 2nd Edition, J. Traill Taylor, Scovill Mfg. Co. pub. (New York, NY), 1883, 2nd Ed. about 1885, p. a14
Scovill's Photo. Series No. 20, Dry Plate Making for Amateurs, Scovill Mfg. Co. (New York, NY), 1886, p. a14
Catalog P, Photographic Material, J. W. Queen & Co. (Philadelphia, PA), 1886, p. 75 (As Revolving Back Camera, Back Focus)
How to Make Photographs and Descriptive Price List, Scovill Mfg. Co. (New York, NY), distributed by C.H. Codman & Co. (Boston, MA), April 1887, p. 36
How to Make Photographs and Descriptive Price List, Scovill Mfg. Co. (New York, NY), distributed by C.H. Codman & Co. (Boston, MA), September 1888, p. 28
How to Make Photographs and Descriptive Price List, Scovill Mfg. Co. (New York, NY), distributed by Buchanan, Bromley & Co. (Philadelphia, PA) Catalog, 1888
How to Make Photographs and Descriptive Price List, The Scovill & Adams Co. (New York, NY), January 1889, p. 27
How to Make Photographs and Descriptive Price List, The Scovill & Adams Co. (New York, NY), distributed by Buchanan, Bromley & Co. (Philadelphia, PA) Catalog, 1889
Photographic Material, Catalogue O & P, James W. Queen & Co. (Philadelphia, PA), 1891, p. 61 (as Revolving Back Camera Back Focus)
How to Make Photographs and Descriptive Price List, The Scovill & Adams Co. (New York, NY), distributed by Horgan, Robey & Co. (Boston, MA), June 1891, p. 20
How to Make Photographs and Descriptive Price List, The Scovill & Adams Co. (New York, NY), January 1892, p. 20 (as Revolving Back Camera Back Focus Pattern)
How to Make Photographs and a Descriptive Catalogue of Photographic Materials Illustrated, The Scovill & Adams Co. (New York, NY), 1896, p. 34
American Annual of Photography and Photographic Times Almanac for 1897, The Scovill & Adams Co. (New York, NY, 1896, p. lxi ("Bargain Page")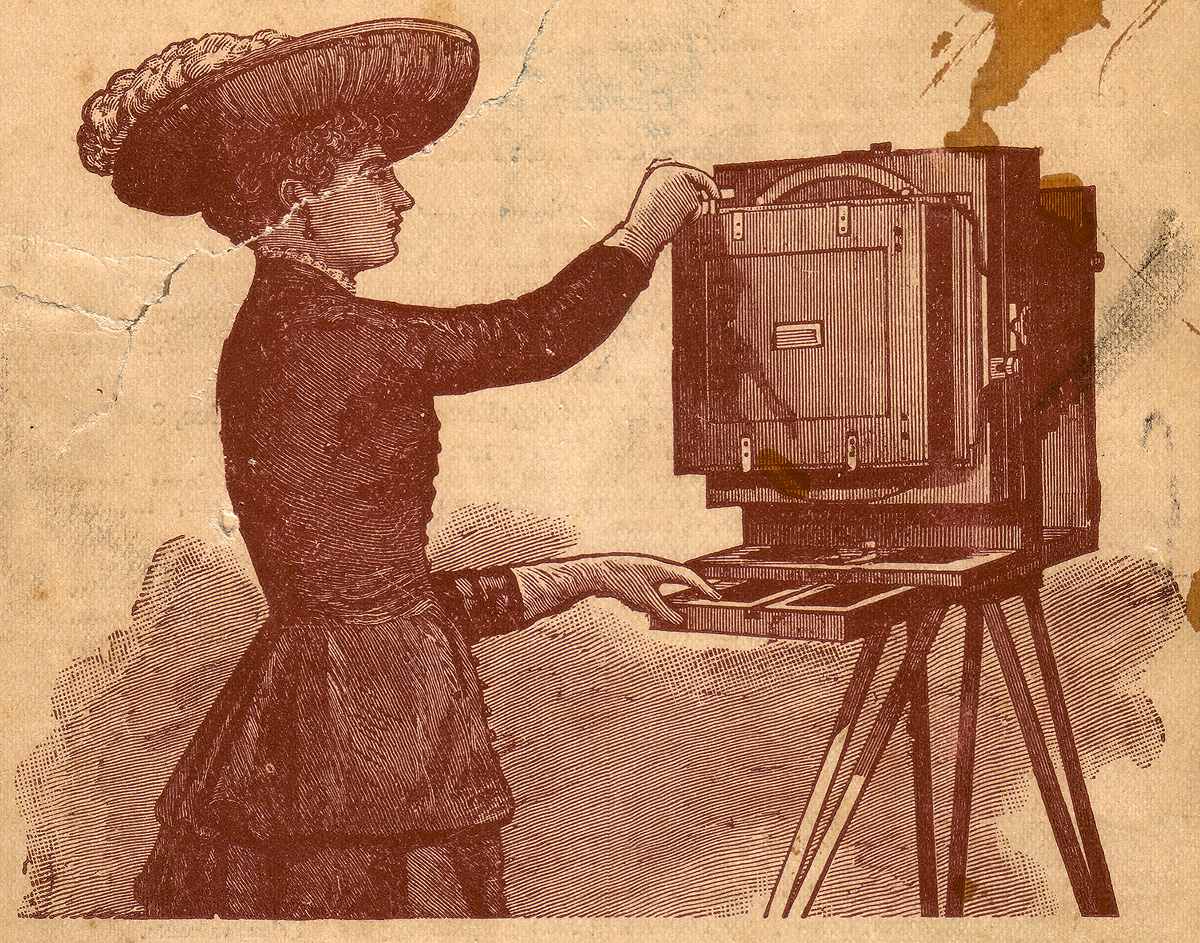 1891 James W. Queen (Philadelphia, PA) Back Cover (Flammang Rear Focus Camera with Eastman-Walker Roll Holder
Back to American Optical Co. / Scovill Mfg. Co. (alphabetical)