Chicago Supply House Catalogs
Though often not themselves manufacturers, the photographic supply houses of Chicago would seem to have produced a great number of catalogs 1900-1930s. The 1901 report of factory inspections shows the number of employees for firms in Illinois.
For each catalog, two facing pages are shown per image. Catalogs are marked as (complete), meaning all pages were scanned or (the pages scanned). Each image is about 1mb, so downloads can take considerable time for complete catalogs.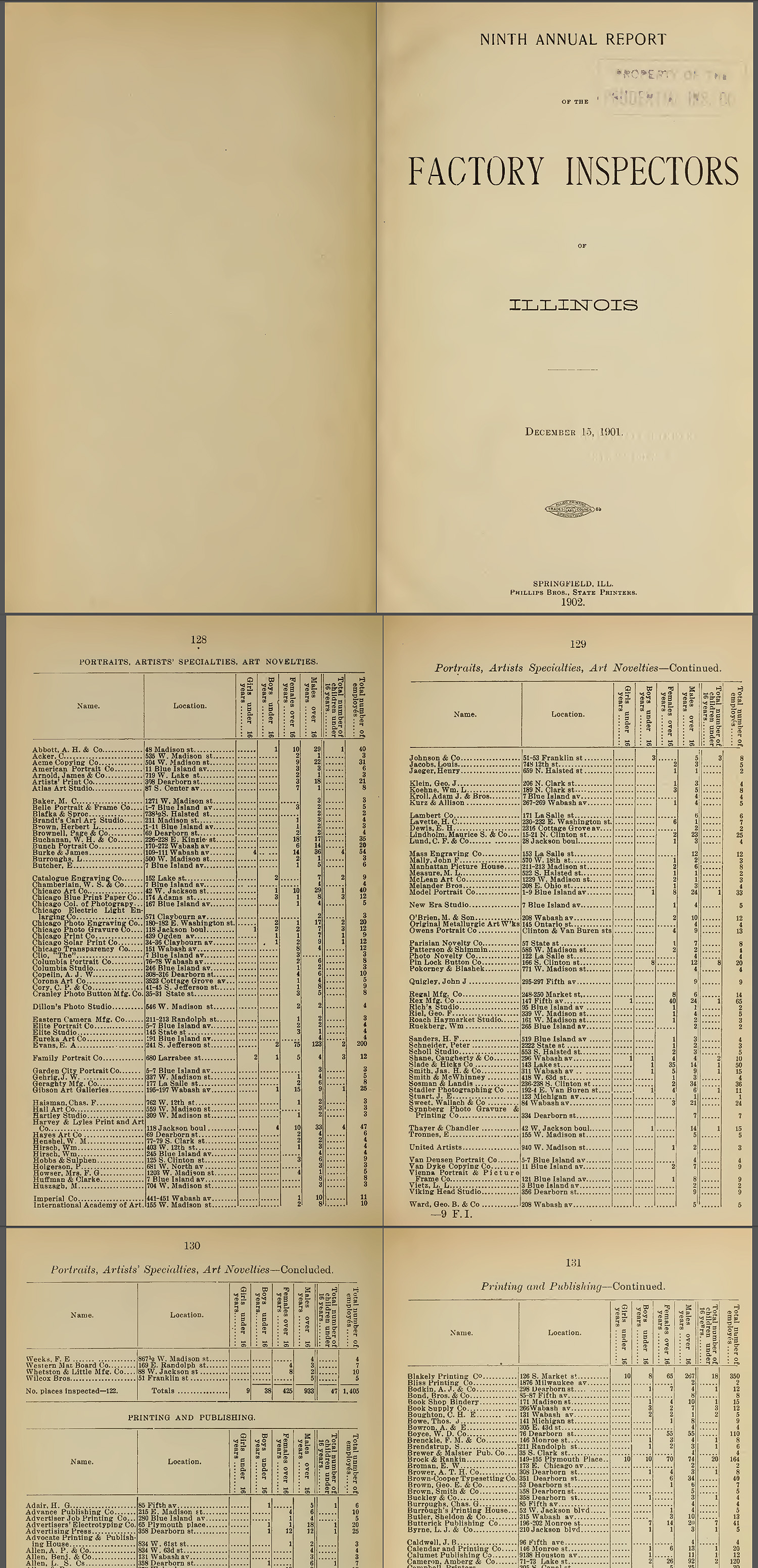 From the above, we find that Burke & James has 54 total employees, Eastern Camera Mfg. Co has 3, Jas. H. Smith has 15, and Sweet, Wallach & Co. has 24. Montgomery Ward & Co. appears elsewhere, but there is no way to tease out the number of employees involved in the photography department. Cash Buyers Union and Chicago Photo Materials Co. do not appear, presumably having been founded later than 1901.
1896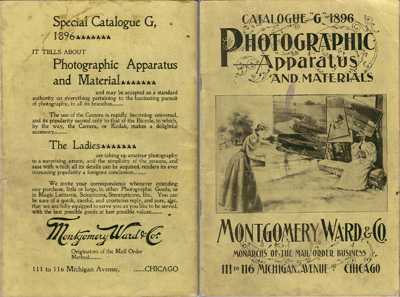 Catalogue "G" 1896 Photographic Apparatus and Materials, Montgomery Ward & Co. (Chicago, IL), dated 1896, ~6"x9", 84pp
1896-1897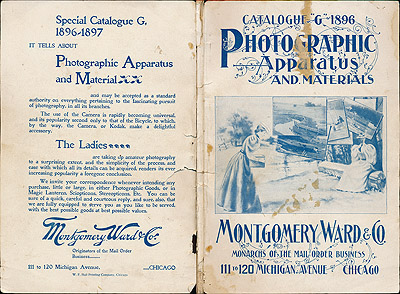 Catalogue "G" 1896-1897 Photographic Apparatus and Materials, Montgomery Ward & Co. (Chicago, IL), dated 1896-1897 (probably late 1896), ~6"x9", 88pp - .html version - .pdf version
1897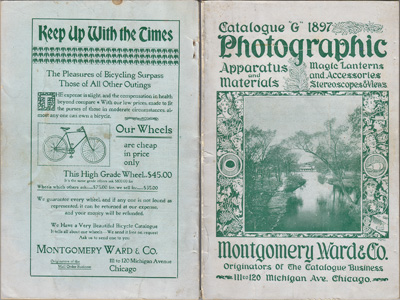 Catalogue "G" 1897 Photographic Apparatus and Materials, Montgomery Ward & Co. (Chicago, IL), dated 1897, ~5¾"x8¾", 84pp
1898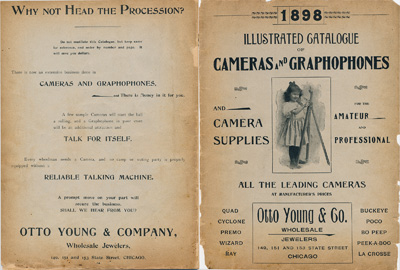 Illustrated Catalogue of Cameras and Graphophones, Otto Young & Co. (Chicago, IL), dated 1898, ~7¾"x10½", 33pp
c.1898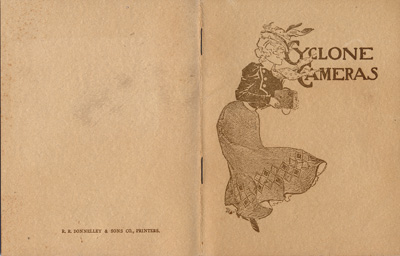 Cyclone Cameras, Western Camera Manufacturing Co. (Chicago, IL), undated c. 1898, ~4"x5", 32pp
1899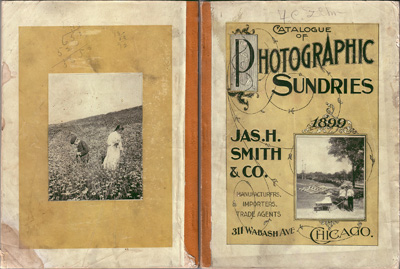 Catalogue of Photographic Sundries, Jas. H. Smith & Co. (Chicago, IL), dated 1899, ~6¼"x8½", 176pp
1901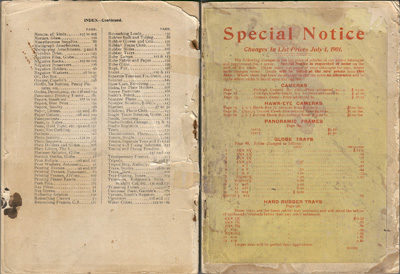 Catalogue of Photographic Sundries, Jas. H. Smith & Co. (Chicago, IL), dated 1 July 1901, ~5¾"x8", 210pp (no covers)
1901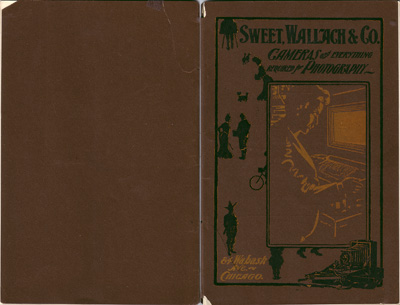 Cameras and Everything Required for Photography, Sweet Wallach & Co. (Chicago, IL), dated 1901, ~6½"x10", 48
1901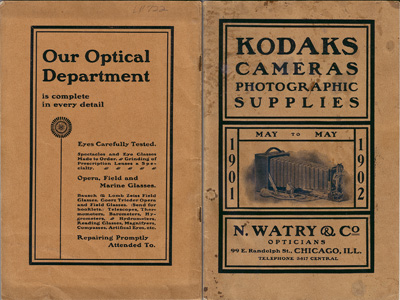 Kodaks, Cameras, Photographic Supplies, N. Watry & Co. (Chicago, IL), dated May 1901 to May 1902, ~6"x9", 84pp
c.1901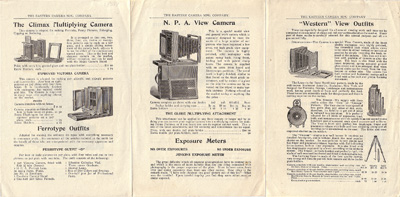 Tri-fold Flyer, Eastern Camera Mfg. Co. (Chicago, IL), undated c. 1901, ~5½"x8¼", 6pp
1903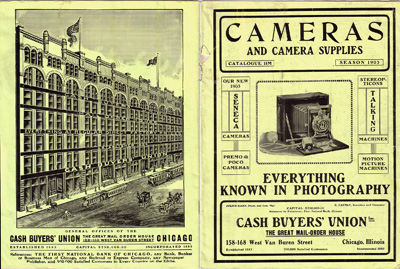 Cameras and Camera Supplies Catalogue 11M 1903 Season, Cash Buyers Union (Chicago, IL), dated 1903, ~8½"x11", 16pp
1903
Catalogue Photographic, Chicago Photo Materials Co. (Chicago, IL), dated 1903, ~6"x9", 96pp
1904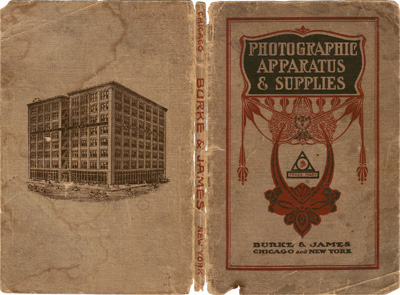 Catalogue No. 7 of Cameras, Photographic Apparatus and Supplies, Burke & James (Chicago, IL), dated 1904, ~6"x9", 216pp
c.1905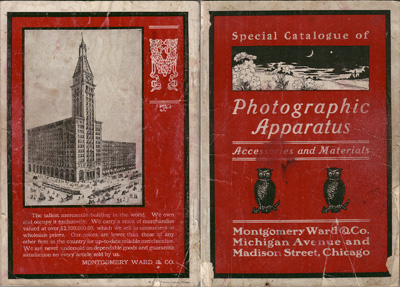 Special Catalogue of Photographic Apparatus, Accessories and Materials, Montgomery Ward & Co. (Chicago, IL, NY), undated c. 1905, ~6¾"x9½", 140pp
1906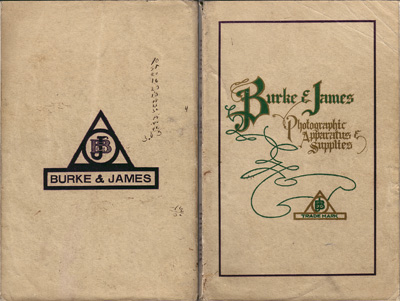 Catalogue No. 10 of Cameras, Photographic Apparatus and Supplies, Burke & James (Chicago, IL), dated 1906-1907, ~6"x9", 256pp
1908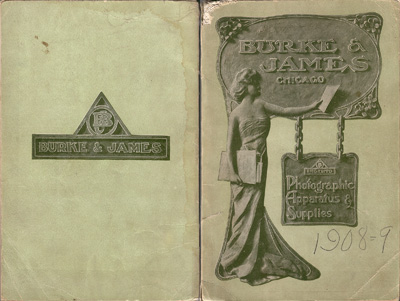 Catalogue No. 11 of Cameras, Photographic Apparatus and Supplies, Burke & James (Chicago, IL), dated 1908-1909, ~6"x9", 280pp
1908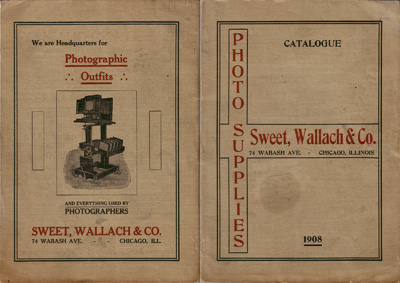 Illustrated Catalogue of Photographic Outfits and Supplies, Sweet, Wallach & Co. (Chicago, IL), dated 1908, ~7½"x10½", 128pp
c.1908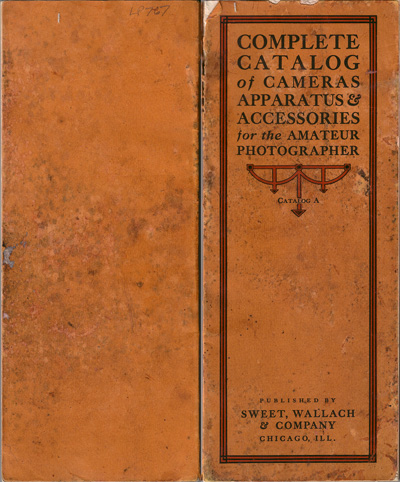 Complete Catalog of Cameras, Apparatus and Accessories for the Amateur Photographer, Catalog A, Sweet, Wallach & Co. (Chicago, IL), undated c. 19081, ~4¼"x10¼", 128pp
1909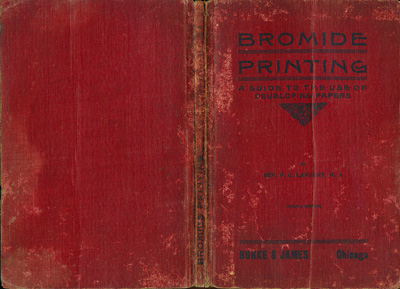 Bromide Printing - A Guide to the Use of Developing Papers, Rev. F. C. Lambert, M.A. (London, England), sold by Burke & James, Inc. (Chicago, IL), second edition dated 1909, ~4¾"x7", 72pp & 20pp ads (complete)
c.1910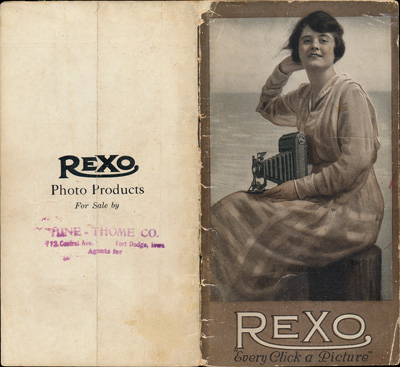 Rexo "Every Click a Picture", Burke & James, Inc. (Chicago, IL), undated c. 1910, ~3½"x6½", 40pp (complete)
c.1910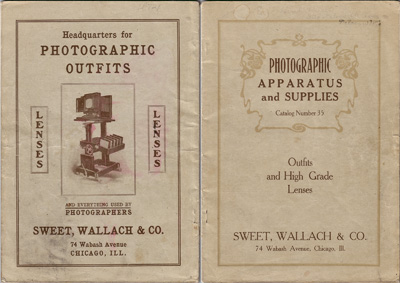 Photographic Apparatus and Supplies Catalog Number 35, Sweet, Wallach & Co. (Chicago, IL), undated c.1910, ~7½"x10½", 128pp
c.1910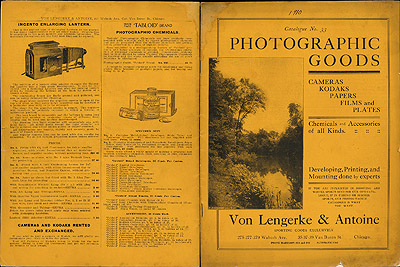 Catalogue No. 33 Photographic Goods, Von Lengerke & Antoine (Chicago, IL), undated c.1910, ~8"x10½", 32pp
1911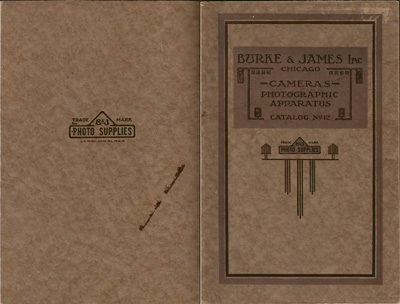 Catalogue No. 12 of Cameras, Photographic Supplies and Apparatus, Burke & James, Inc. (Chicago, IL), dated 1911-1912, ~6"x9", 320pp
c.1913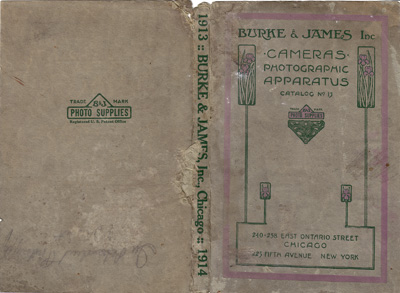 Cameras & Photographic Apparatus Catalog No. 13, Burke & James (Chicago, IL), undated c. 1913, ~6"x9", 304pp
c.1915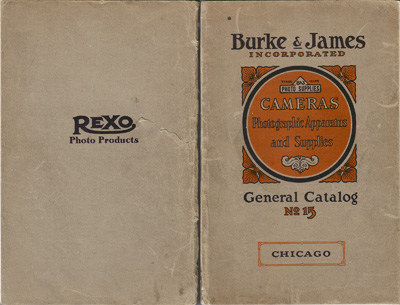 Cameras, Photographic Apparatus and Supplies, General Catalog No. 15, Burke & James (Chicago, IL), undated c. 1915, ~6"x9", 160pp
c.1915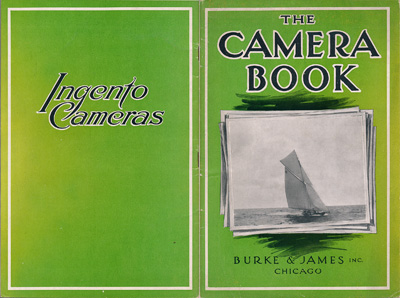 The Camera Book, Burke & James Inc. (Chicago, IL), undated c. 1915, ~6"x9", 40pp
c.1918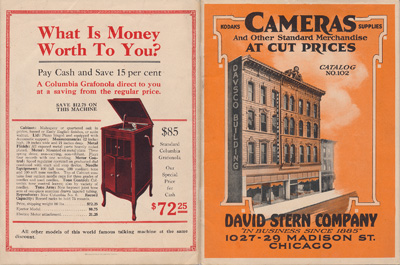 Kodaks, Cameras, Supplies and Other Standard Merchandise, Catalog No. 102, David Stern Co. (Chicago, IL), undated c. 1918, ~6½"x10", 96pp
1919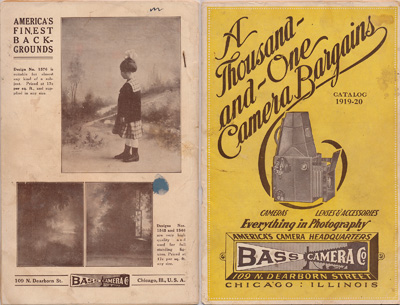 A Thousand-and-One Camera Bargains, Catalog 1919-20, Bass Camera Co. (Chicago, IL), dated 1919, ~6"x9", 640pp & 4 un-numbered pages at centerfold
1919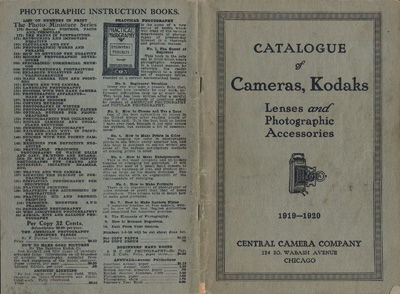 Catalogue of Cameras, Kodaks, Lenses and Photographic Accessories 1919-1920, Central Camera Co. (Chicago, IL), dated 1919, ~5¾"x8½", 120pp & Bargains a-h
1920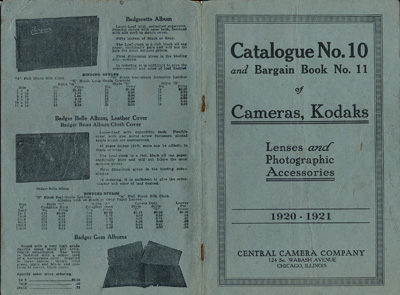 Catalogue No. 10 and Bargain Book No. 11 of Cameras, Kodaks, Lenses and Photographic Accessories 1920-1921, Central Camera Kodak Co. (Chicago, IL), dated 1920, ~5¾"x8¾", 118pp & Bargain Book a-j
c.1922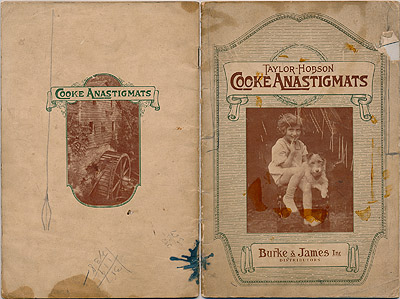 Taylor-Hobson Cooke Anastigmats for Fine Photography Catalogue No. 22, Burke & James, Inc. (Chicago, IL), undated c. 1922, ~6x9", 36pp
1925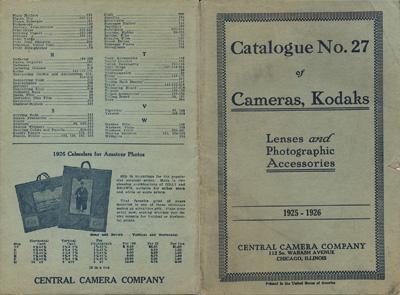 Catalogue No. 27 of Cameras, Kodaks, Lenses and Photographic Accessories 1925-1926, Central Camera Kodak Co. (Chicago, IL), dated 1925, ~5¾"x8½", 256pp
c.1925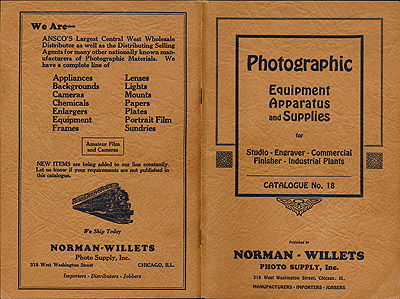 Photographic Equipment Apparatus and Supplies Catalogue No. 18 Studio - Engraver - Commercial Printer - Industrial Plants, Norman-Willets Photo Supply, Inc. (Chicago, IL), undated c.1925, ~5⅞"x9", 154pp - .html version - .pdf version
1926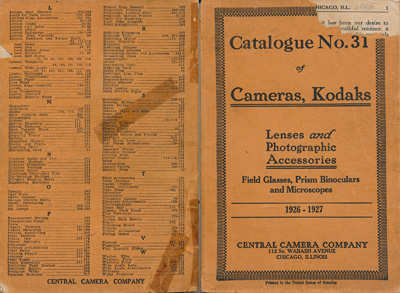 Catalogue No. 31 of Cameras, Kodaks, Lenses and Photographic Accessories 1926-1927, Central Camera Kodak Co. (Chicago, IL), dated 1926, ~5½"x8½", 288pp
c.1926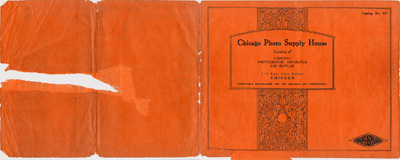 Catalog of Cameras, Photographic Apparatus and Supplies, Catalog No. 121, Central Chicago Photo Supply House (Chicago, IL), undated c. 1926, ~10"x8¼", 72pp
1931

Photographic Supplies, Catalog No. 250, Burke & James, Inc. (Chicago, IL), dated 1931, ~10"x8", 137pp
c.1931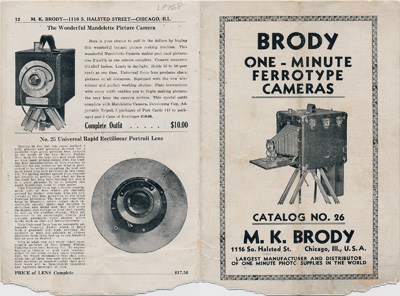 Brody One-Minute Ferrotype Cameras, Catalog No. 26, M. K. Brody (Chicago, IL), undated c. 1931, ~6"x9", 12pp (complete)
1932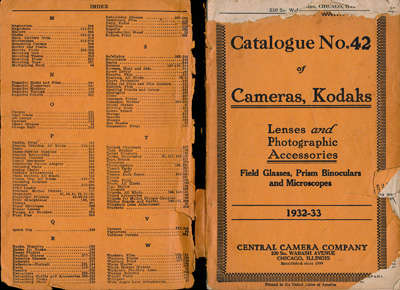 Catalogue No. 42 of Cameras, Kodaks, Lenses and Photographic Accessories 1932-1933, Central Camera Kodak Co. (Chicago, IL), dated 1932, ~5½"x8¼", 284pp
1933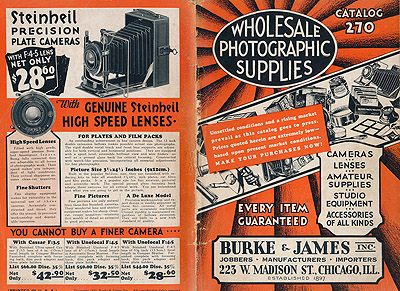 Wholesale Photographic Supplies Catalog 270, Burke & James, Inc. (Chicago, IL), copyright 1933, ~5⅞x8¾", 192pp (pages 1-81; 190-192) - .html version - .pdf version
c.1934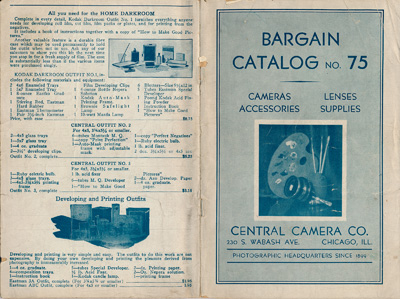 Bargain Catalog No. 75, Central Camera Co. (Chicago, IL), undated c. 1934, ~5½"x8¼", 130pp
c.1935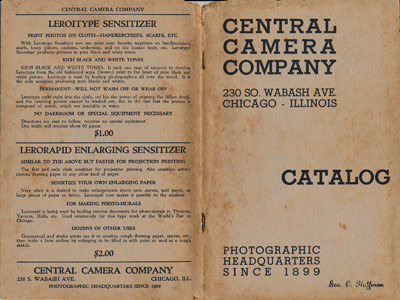 Catalog, Central Camera Co. (Chicago, IL), undated c. 1935, ~5"x7¾", 131pp
1936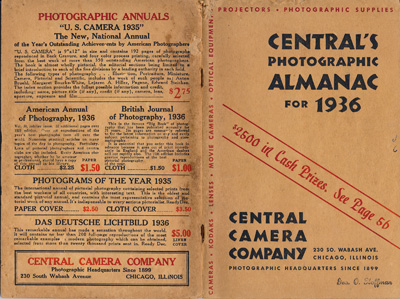 Central's Photographic Almanac for 1936, Central Camera Co. (Chicago, IL), dated 1936, ~5"x7¾", 131pp
1940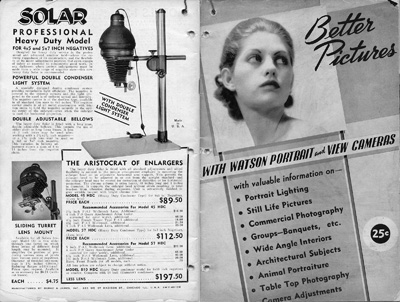 Better Pictures with Watson Portrait and View Cameras, Burke & James, Inc. (Chicago, IL), dated 1940, ~6"x9", 48pp (complete)
c.1943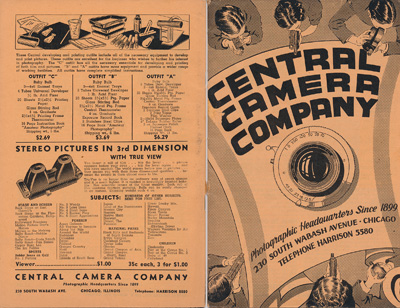 Central Camera Co., Central Camera Co. (Chicago, IL), undated c. 1943, ~6"x9", 64pp