Seneca Camera Manufacturing Co., Rochester, NY
Seneca View Camera, Improved
, Variation 1


(Ingento View Camera No. 1)
(National View Camera)
(Rexo Special)
(Montauk View, Improved)

c. 1906-1908 and c. 1922 and later; Seneca Catalog, 1906, pp. 18-21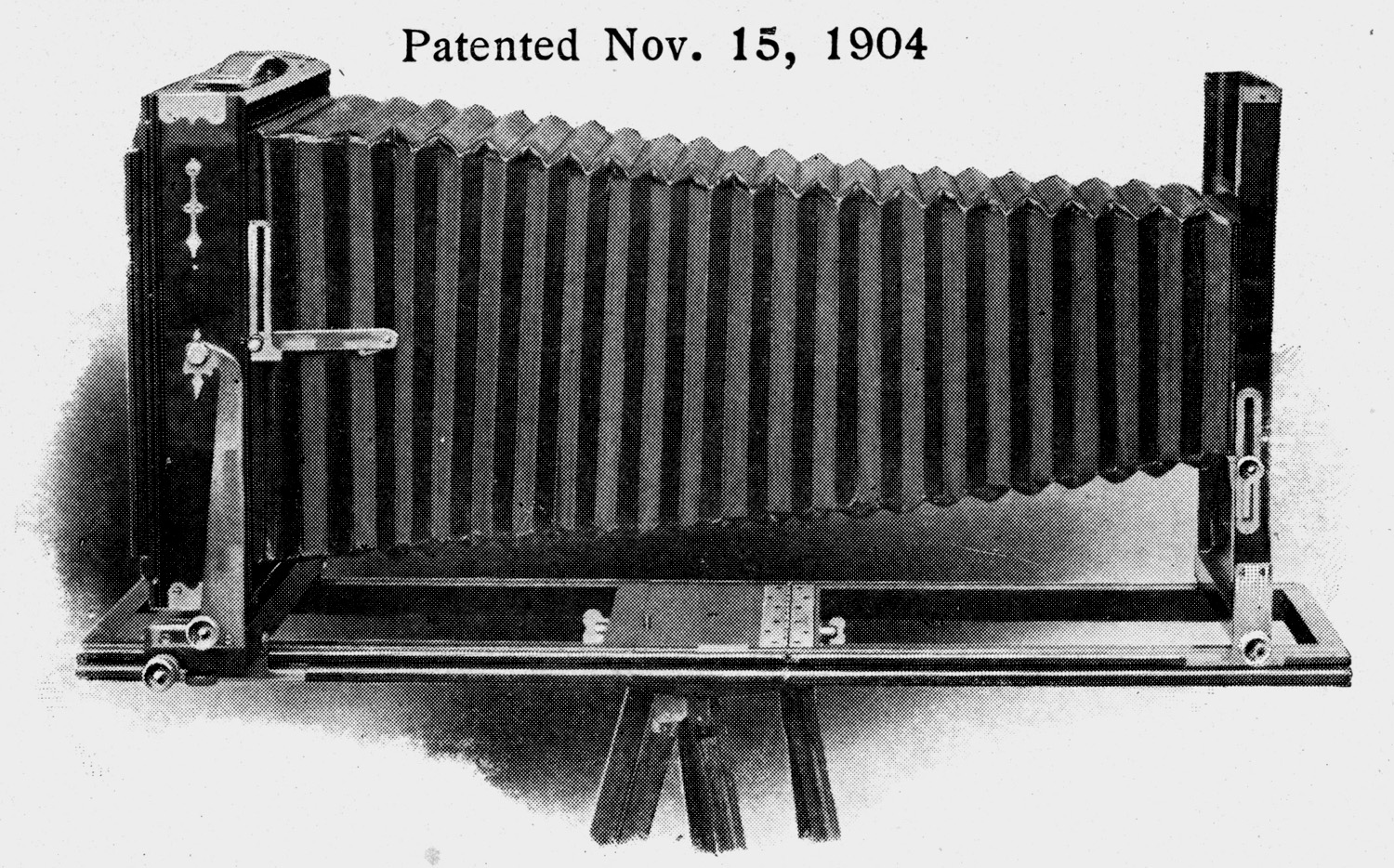 c. 1910-1920; Seneca Catalog J, 1910, pp. 22-28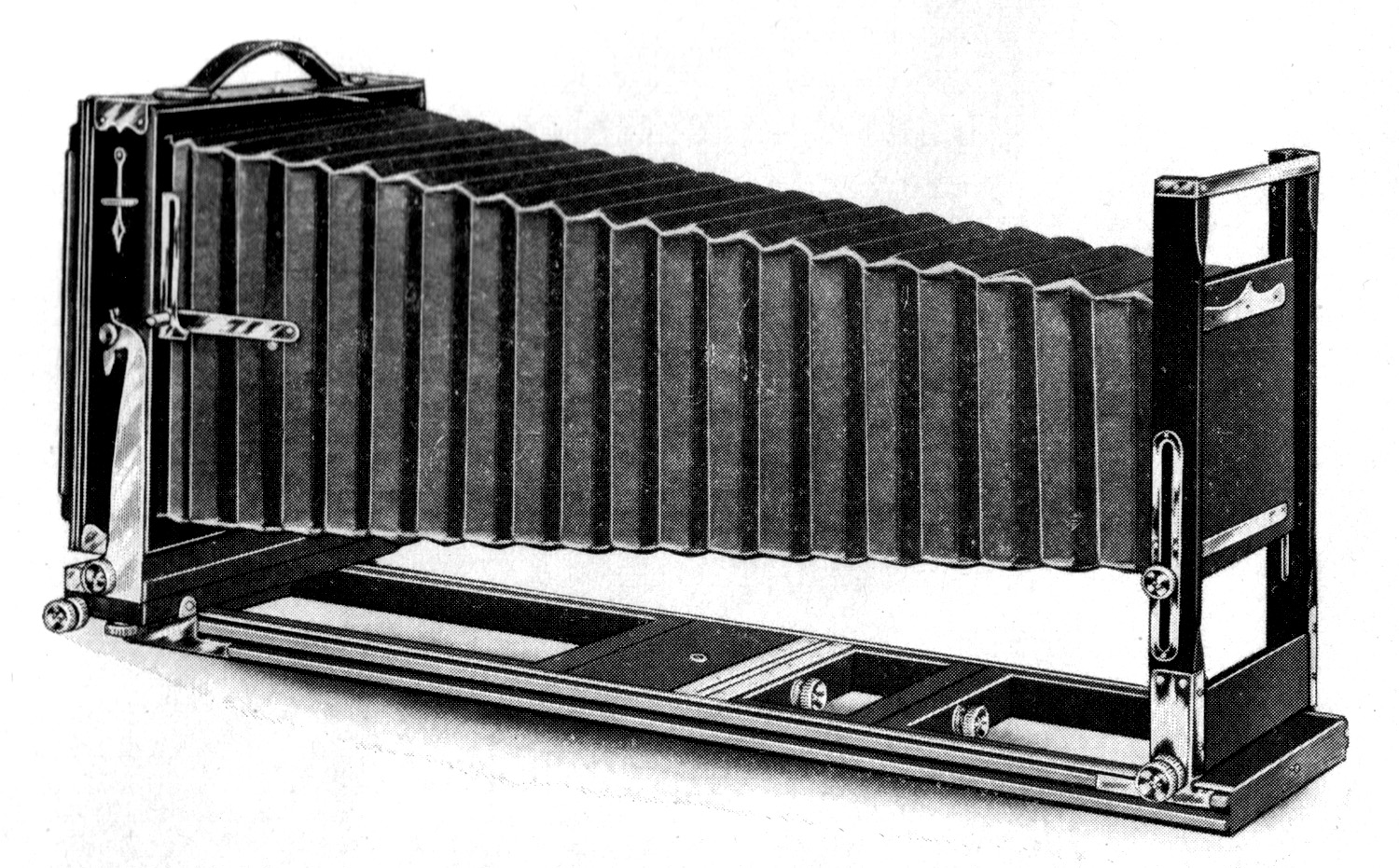 6½ x 8½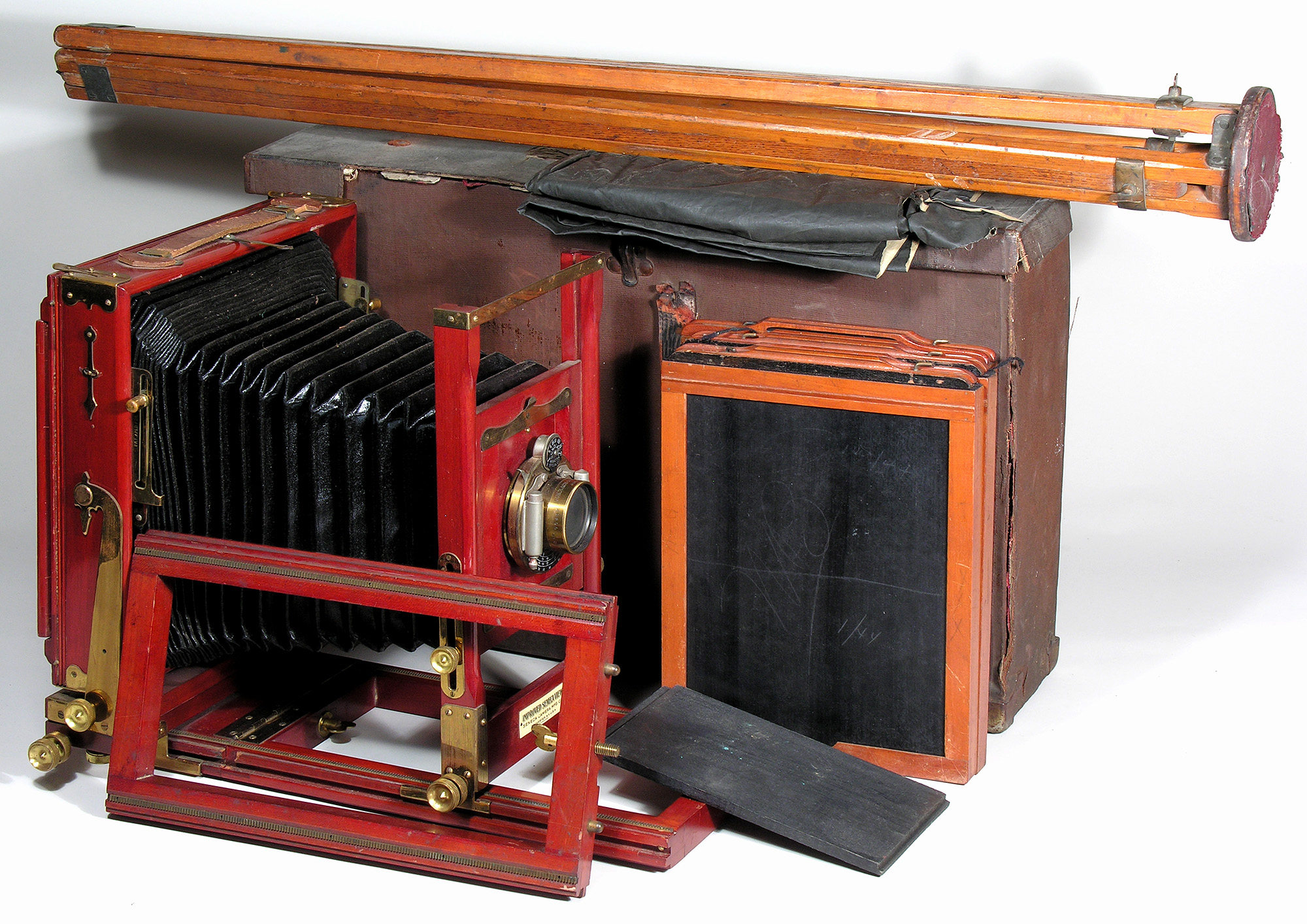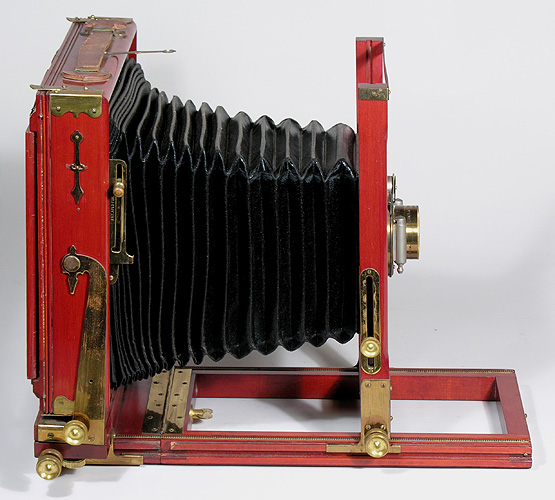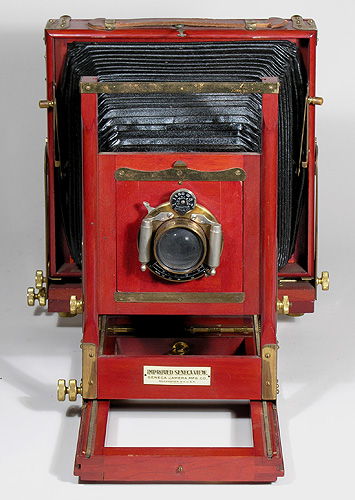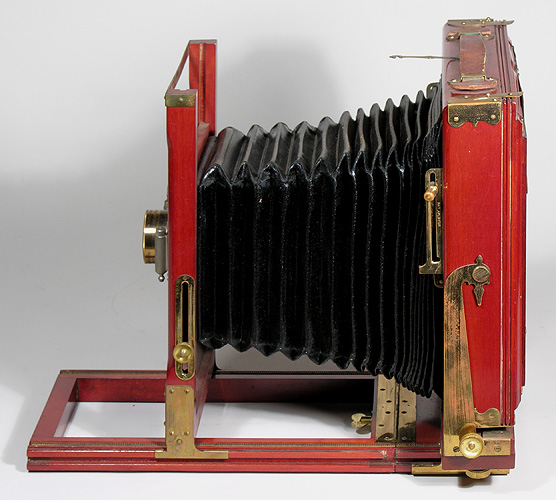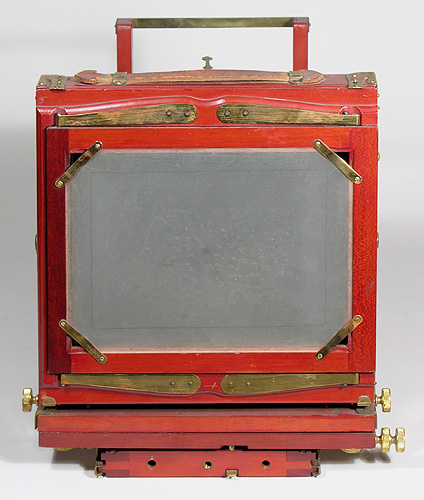 5 x 7 Ebonized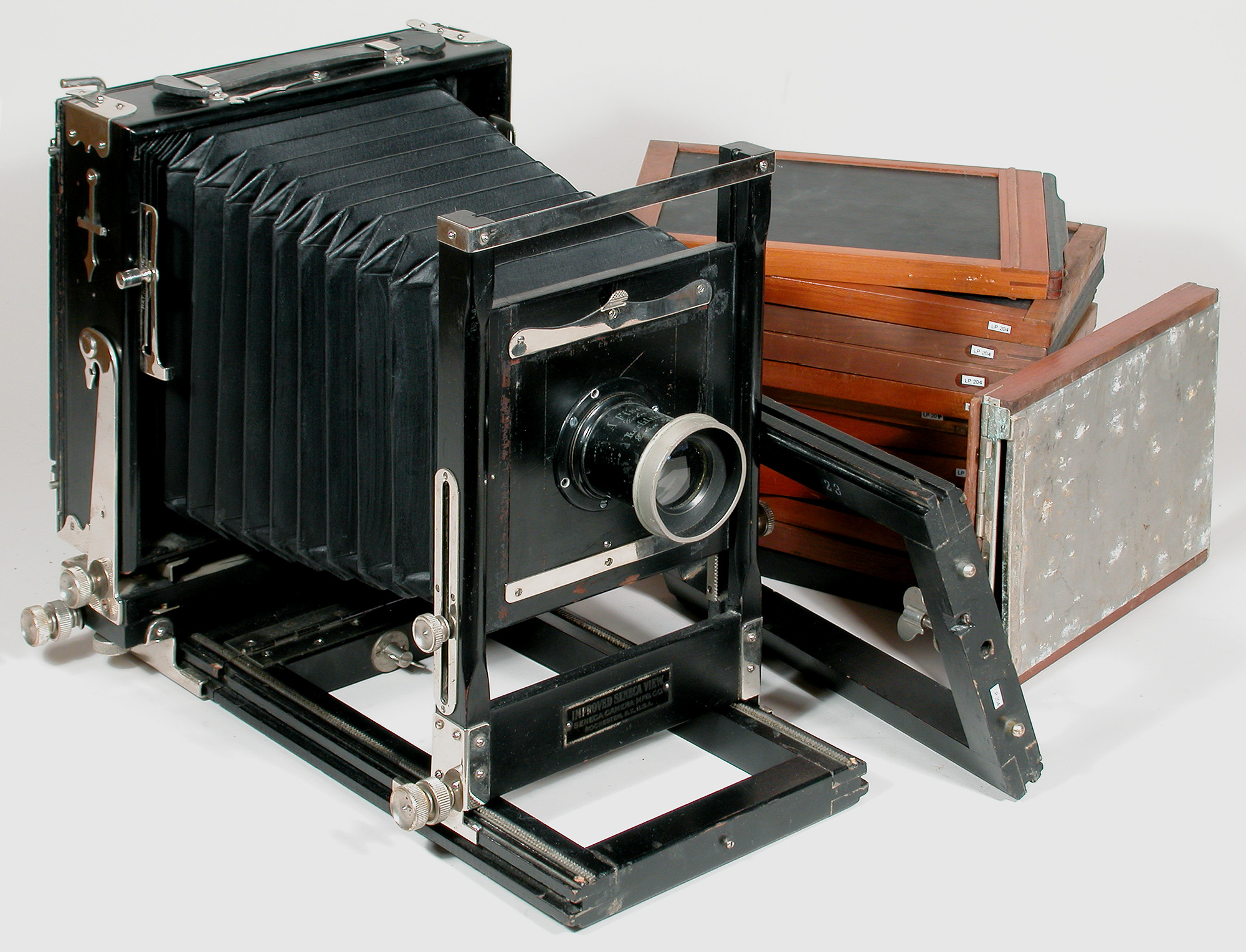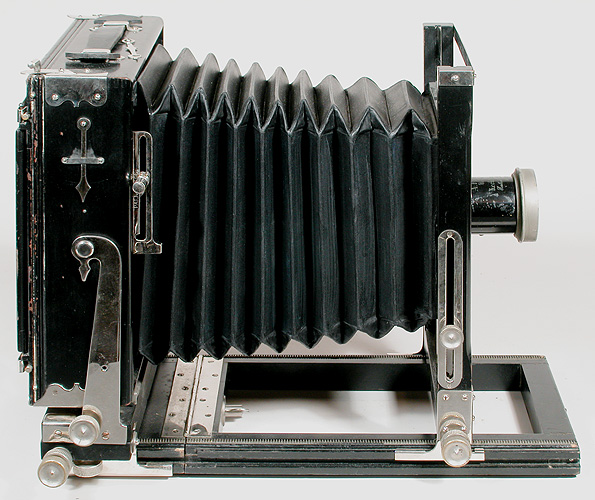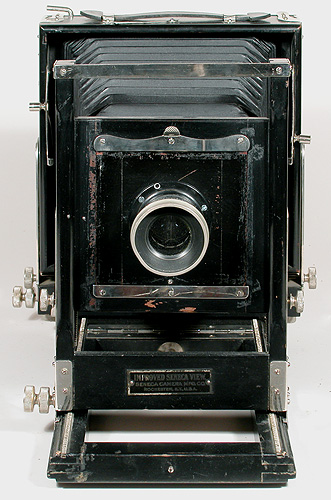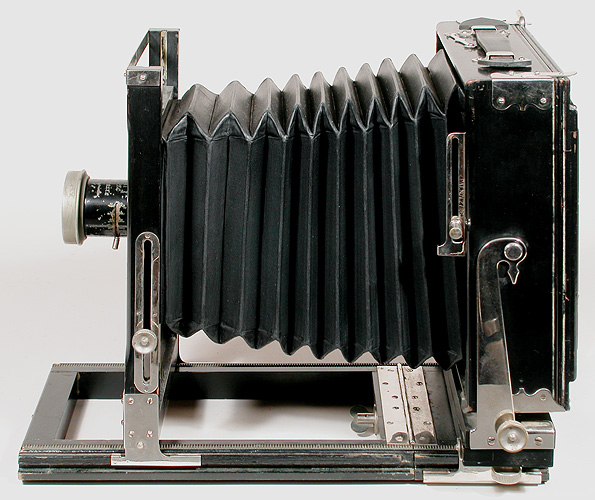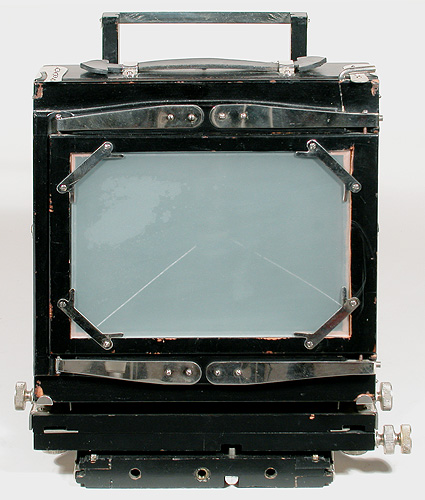 Date Introduced: 1904 ; Years Manufactured: 1904-c.1925
Construction: back and front focus via rack and pinion (two gear tracks on top of the base rails); double swing; reversing by removable back;
Materials: mahogany body and clear lacquer finish or ebonized (black pigmented lacquer finish) with corresponding polished brass or nickel hardware, cherry base
Sizes Offered: 5x7; 6.5x8.5; 8x10; 11x14; 14x17; 17x20
Notes: The differences between the Seneca View and the Improved Seneca View are: 1) the standards of the Seneca View ride on gears and two slots cut in the rail while the Improved standards ride on gears and the top and bottom of one thick slot, 2) the Seneca View back tilt gear is at the extreme right side while the Improved tilt gear is recessed 1/2#, 3) the Seneca View has no corner reinforcement while the Improved top rear standard clips act as reinforcement for the corners, 4) the Seneca View back is reversed by unclipping two separate clips while the Improved has an easy pull lever for back removal/reversal, 5) the Seneca View bellows is self-supporting while the Improved has the extra control and support of a bellows retainer clip patented Nov. 2, 1905, 6) the Seneca View base parts are connected with round thumbscrews while the Improved has a butterfly-shaped thumbscrews. The Improved is stated in the 1906 catalog to have been patented on November 15, 1904.
There are two finish variations, as shown above. One is a traditional reddish stain and clear lacquer with polished brass hardware. The other was a trend-setting ebonized finish, that is, pigmented black lacquer with polished nickel-plated brass hardware. Ebonized finishes had been used to cover the plain wood of most inexpensive cameras in the 1880's. In this case, however, seasoned mahogany was used for both finish types, and the ebonizing was strictly a different and elegant appearance. It must have been popular; before long, most manufacturers were offering an ebonized or at least darker finish.
Between 1910 and 1920, there is a slight difference in bed configuration: the front bed starts out in one piece 1906-1908; then has a removable front extension 1910-c. 1920, then reverts back to the one piece c. 1922 and later. Otherwise most Seneca View Improved cameras appear to be constructed identically. However, there is a hardware variation not supported by catalog engravings, Seneca View Improved, Variation 2.
Seneca maintained a thriving business providing cameras to other companies for resale; this camera is therefore also known as The National View from J. L. Lewis (New York), the Ingento View No. 1 from Burke & James (Chicago), and the Montauk View, Improved from G. Gennert (New York).
References:
Seneca Plate & Film Cameras, Seneca Camera Manufacturing Co. (Rochester, NY), 1906, pp. 18-21
Seneca Plate, Film & View Cameras, Seneca Camera Manufacturing Co. (Rochester, NY), 1907, pp. 18-21
National Cameras and Supplies, J. L. Lewis (New York, NY), c. 1907, pp. 18-19 (as The National View)
Seneca Plate, Film & View Cameras, Seneca Camera Manufacturing Co. (Rochester, NY), 1908, pp. 22-27
Seneca Plate, Film & View Cameras, Seneca Camera Manufacturing Co. (Rochester, NY), 1909, pp. 22-27
Photographic Supplies and Cameras 1909-1910, Sunset Photo Supply Co. (San Francisco, CA) Catalog, 1909, pp. 32-33
Seneca Cameras, Seneca Camera Manufacturing Co. (Rochester, NY), Catalog J, 1910, pp. 22-28
Cameras and Supplies, Catalog No. 12, J. L. Lewis (New York, NY), c. 1910, pp. 14-15 (as the New Improved National View Camera)
Cameras and Photo Supplies, Catalog H, Northern Photo Supply Co. (Fargo, ND), c. 1910, p. 27
Seneca Cameras, Seneca Camera Manufacturing Co. (Rochester, NY), Catalog K, 1911, pp. 26-32
Seneca Cameras, Seneca Camera Manufacturing Co. (Rochester, NY), Catalog L, 1912, pp. 28-34
Seneca Cameras, Seneca Camera Manufacturing Co. (Rochester, NY) Catalog M, 1913, pp. 29-34 (as the New Improved)
Seneca Cameras, Seneca Camera Manufacturing Co. (Rochester, NY) Catalog N, c. 1914, pp. 28-31 (as the New Improved)
Catalog of Cameras, Photographic Apparatus and Supplies, Oklahoma Photo Supply Co. (Oklahoma City OK), c. 1914, p. 27 (as the Ingento View Camera No. 1)
Photographic Supplies, Apparatus, Photo Jewelry and Novelties, Sol Pudlin Co. (New York, NY), c.1915, p. 37 (as the Montauk, Improved)
Seneca Cameras, Seneca Camera Manufacturing Co. (Rochester, NY) Catalog P, c. 1916, pp. 27-30
Seneca Cameras, Seneca Camera Manufacturing Co. (Rochester, NY) Catalog Q, c. 1917, pp. 28-29
Seneca Cameras, Seneca Camera Manufacturing Co. (Rochester, NY) Catalog R, c. 1918, pp. 28-29
Seneca Cameras, Seneca Camera Manufacturing Co. (Rochester, NY) Catalog S, c. 1919, pp. 24-25
Seneca Cameras, Seneca Camera Manufacturing Co. (Rochester, NY) Catalog T, 1919, pp. 22-23
Kodaks, Cameras, Supplies and Other Standard Merchandise, Catalogue No. 102, David Stern Company, Chicago, IL, c. 1918, p. 17
Catalogue of Cameras, Kodaks, Lenses and Photographic Accessories 1919-1920, Central Camera Co. (Chicago, IL), 1919, p. 34
Catalogue No. 10 and Bargain Book No. 11 of Cameras, Kodaks, Lenses and Photographic Accessories, 1920-1921; Central Camera Co. (Chicago, IL), 1920, p.30 (as the New Improved)
Cameras, Photographic Apparatus and Supplies, General Catalog No. 15, Burke & James, Inc. (Chicago, IL), c. 1915, p. 21 (as the Ingento View No. 1)
Seneca Cameras, Seneca Camera Manufacturing Co. (Rochester, NY), Catalogue V, c. 1921, pp. 28-29
Catalogue of Photographic Apparatus and Supplies, No. 72, G. Gennert (New York, NY), c. 1921, p. 24 (as the Montauk View, Improved)
Seneca Cameras, Seneca Camera Manufacturing Co. (Rochester, NY), undated c. 1923, p. 23
Seneca Camera Manufacturing Co. Catalog, 1925
Catalogue No. 27 of Cameras, Kodaks, Lenses and Photographic Accessories 1925-1926, Central Camera Co. (Chicago, IL), 1925, p. 60
Catalogue No. 31 of Cameras, Kodaks, Lenses and Photographic Accessories 1926-1927, Central Camera Co. (Chicago, IL), 1926, p. 71
Catalog of Photographic Apparatus and Supplies, Catalog No. 121, Chicago Photo Supply House (Chicago, IL), c. 1926, p. 5 (as the Ingento View Camera)

5 x 7 ebonized with case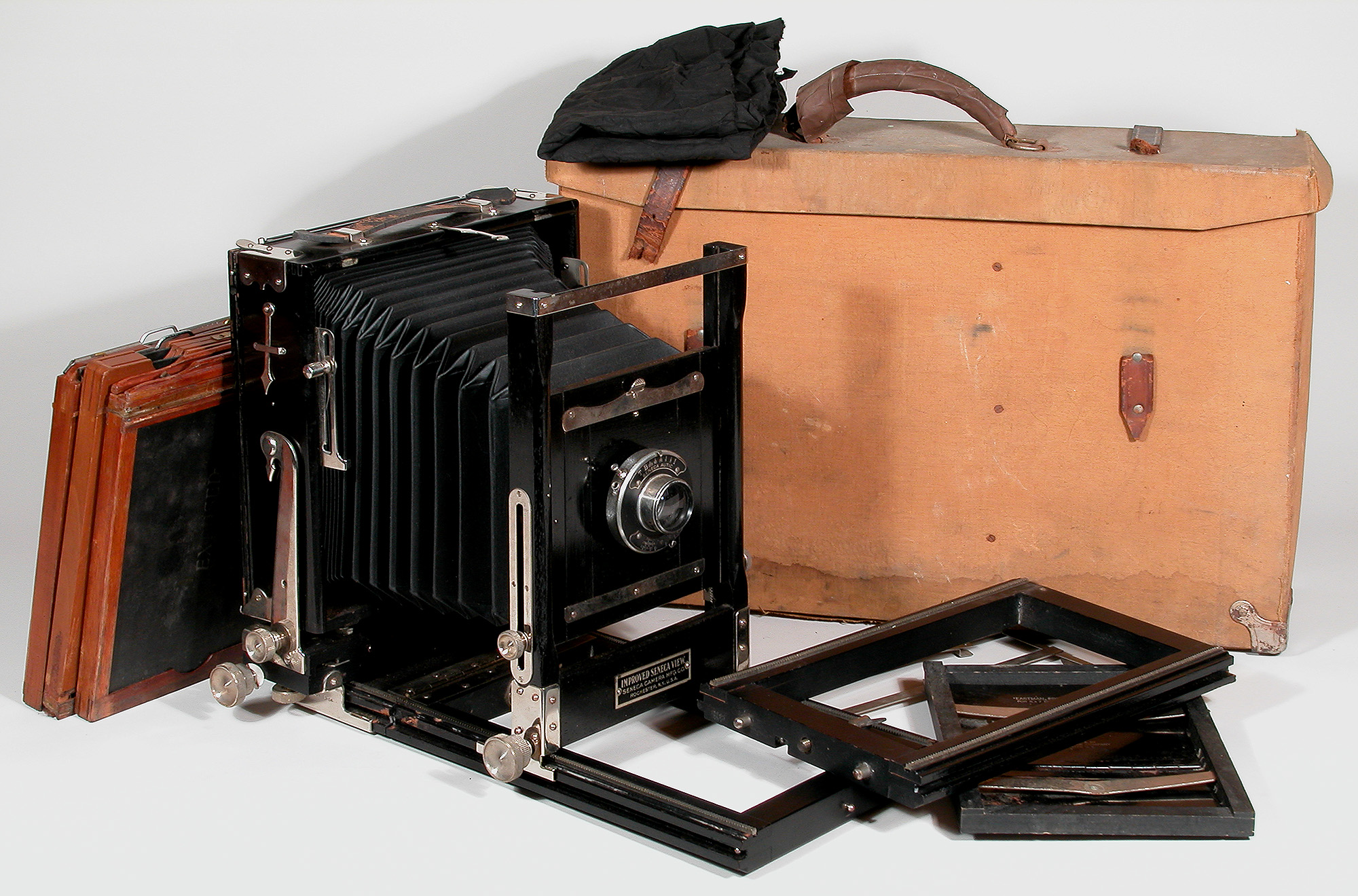 Back to Seneca