American Optical Co., Scovill & Adams Co., props.
Star View Camera
How to Make Photographs and Descriptive Price List, The Scovill and Adams Co., 1892, p. 19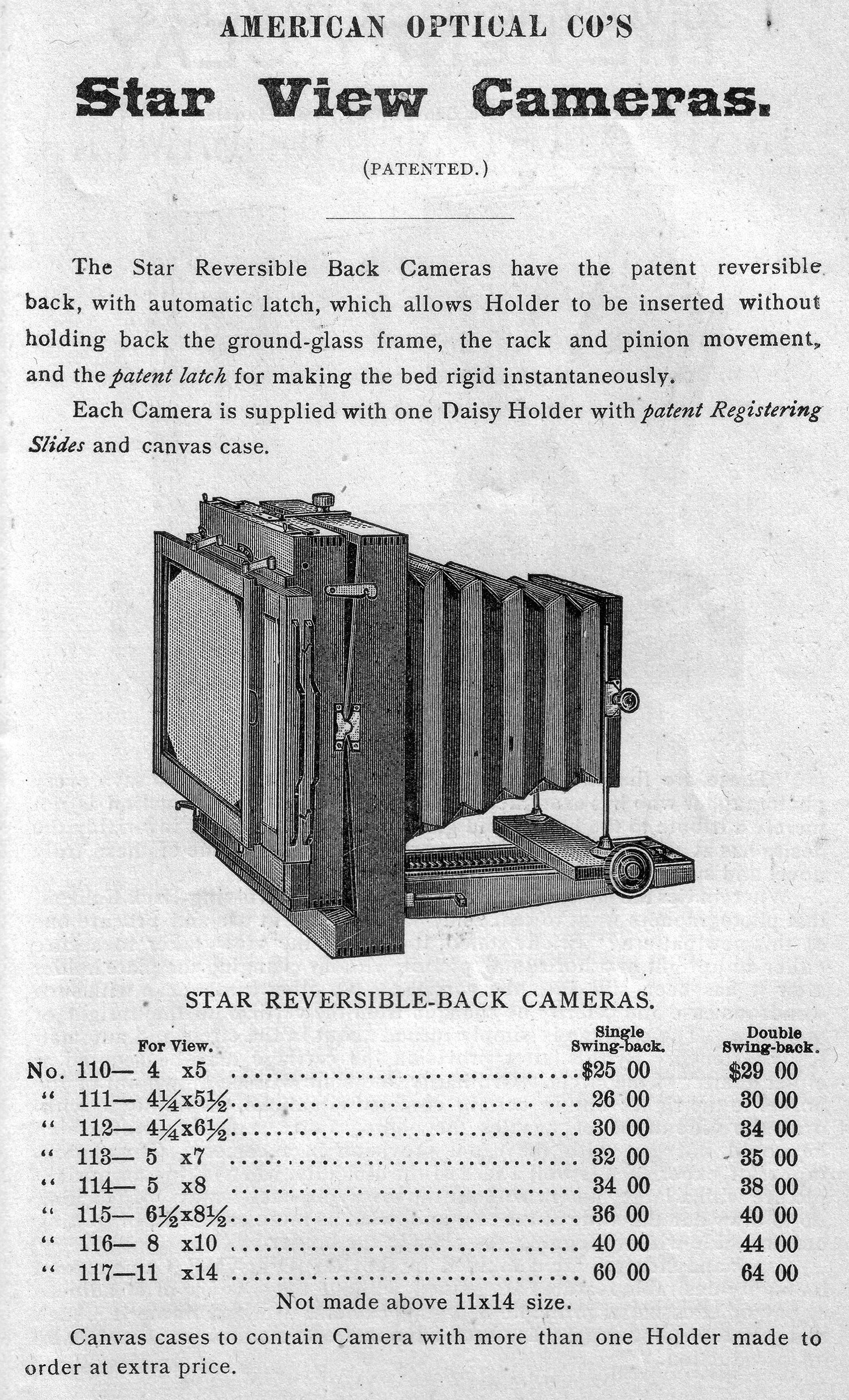 5 x 7, marked "The Scovill & Adams Co. New York"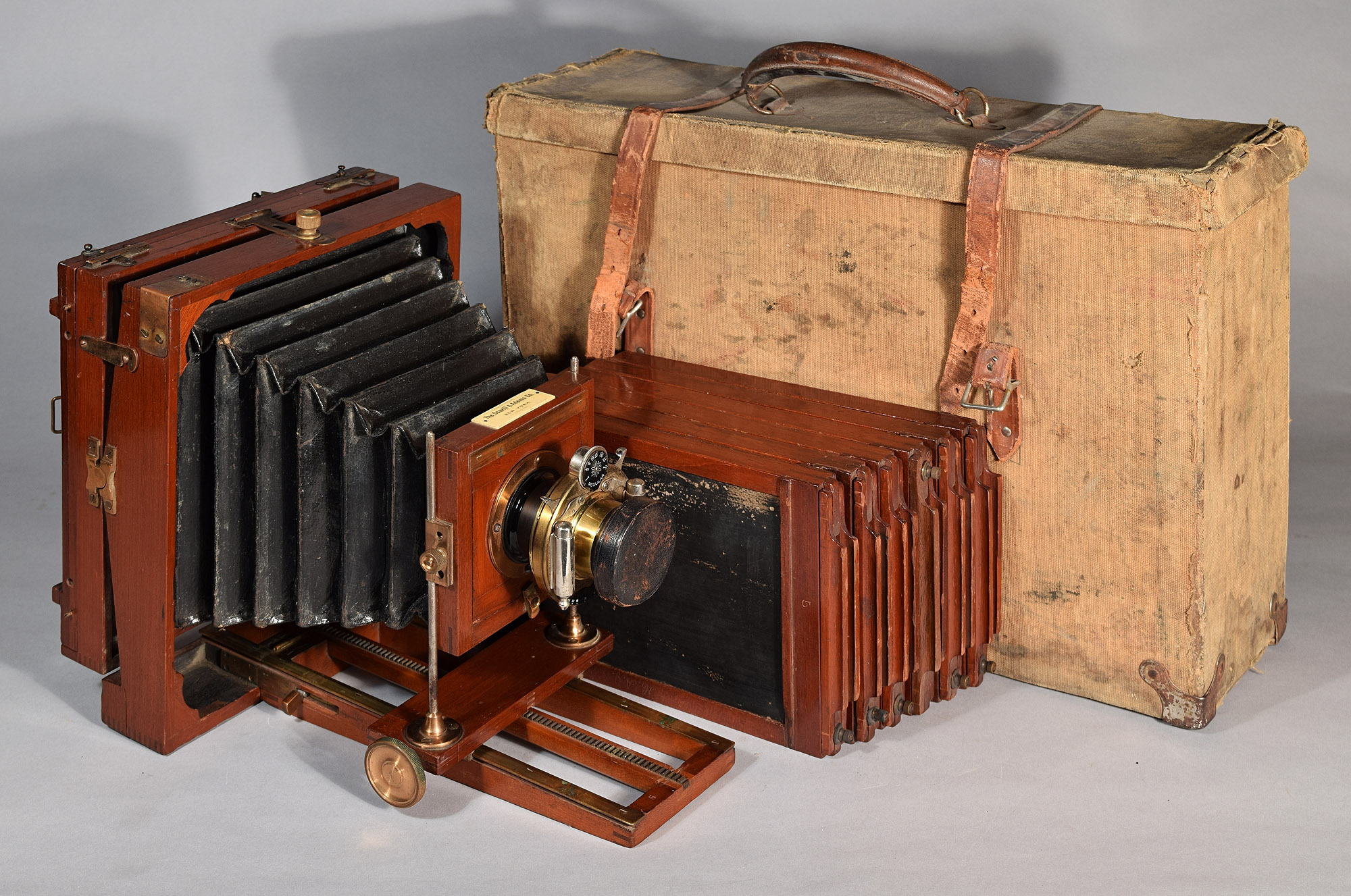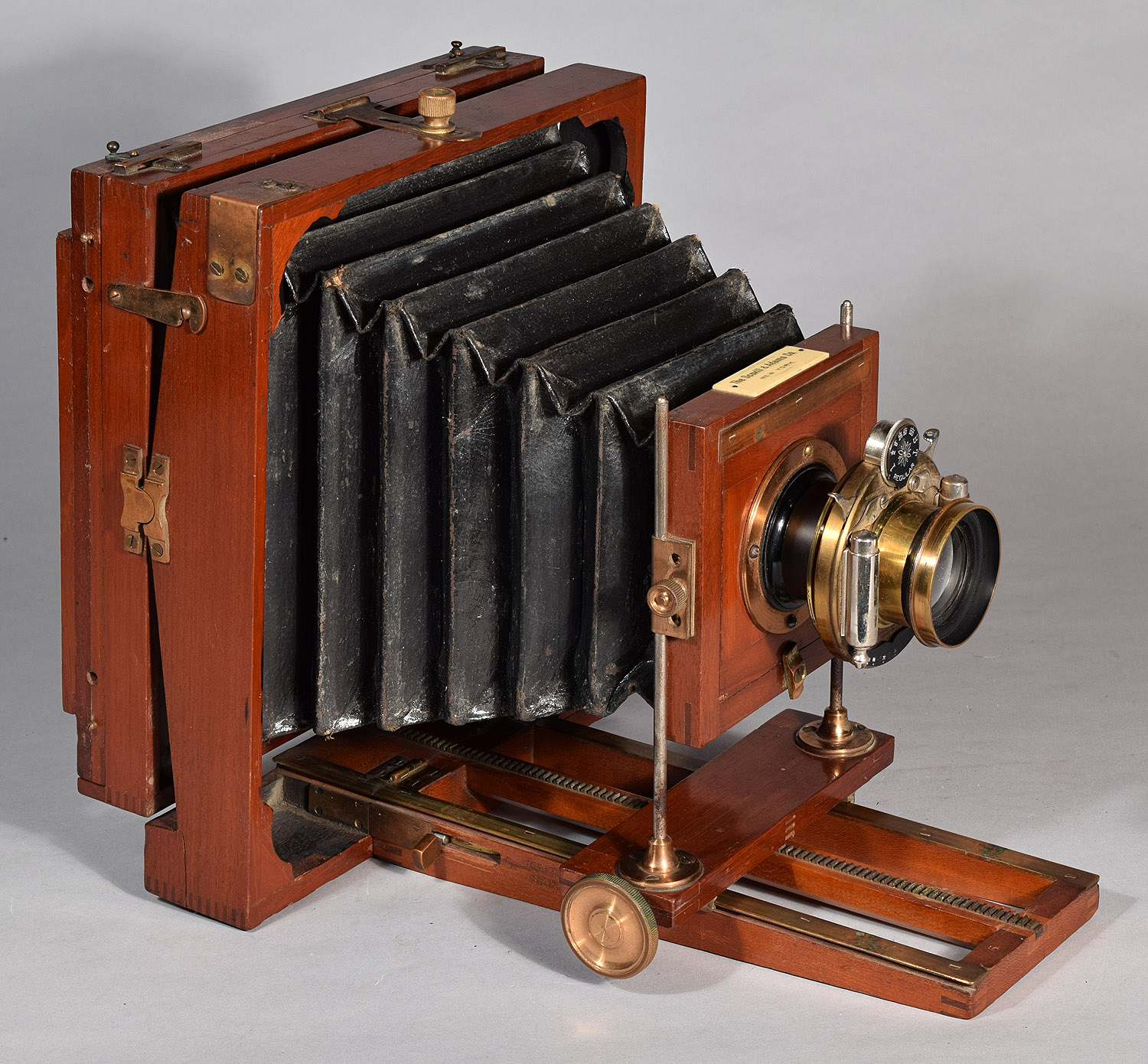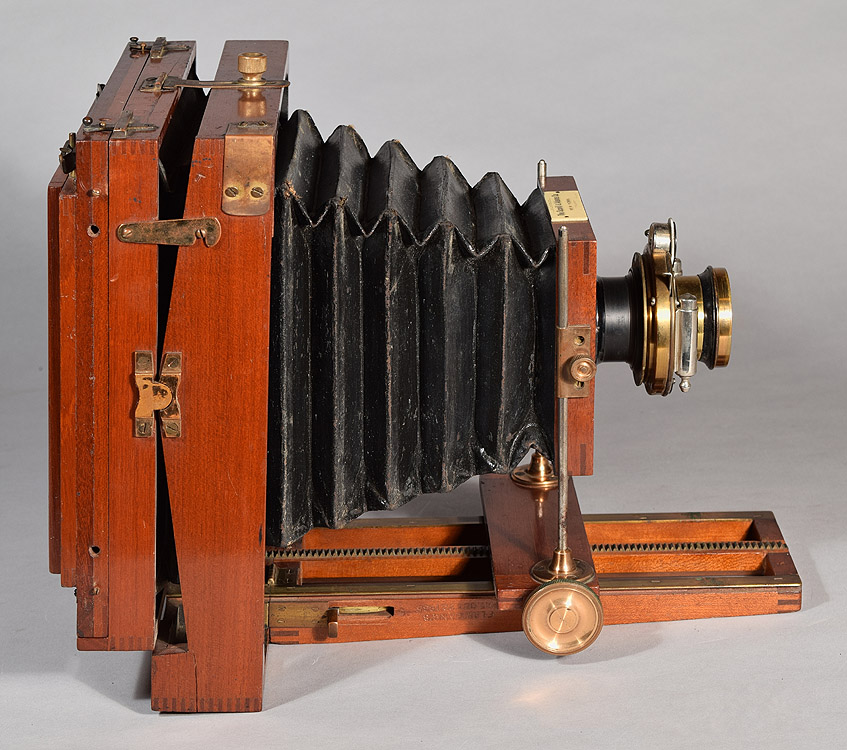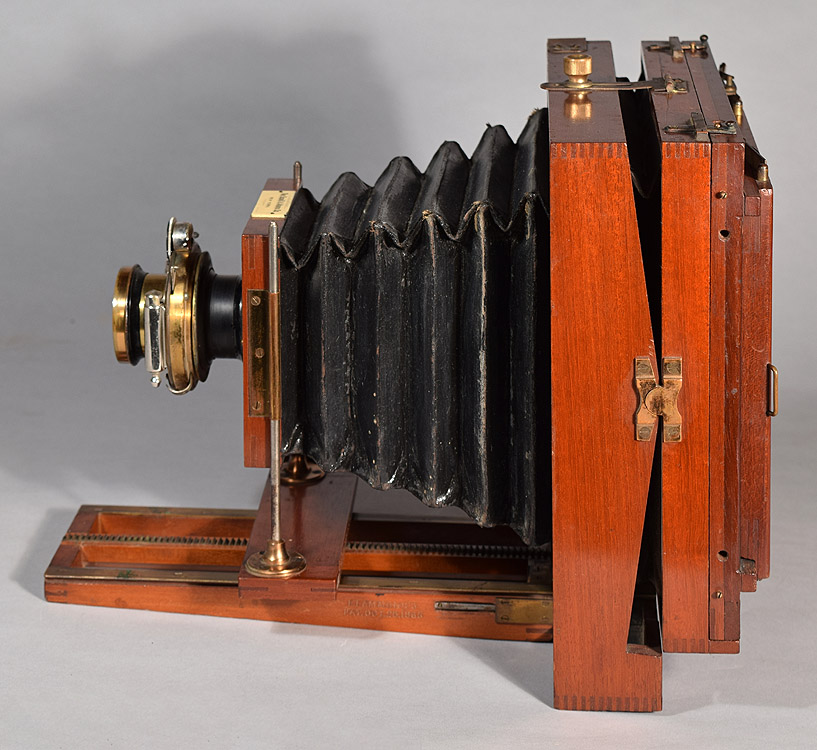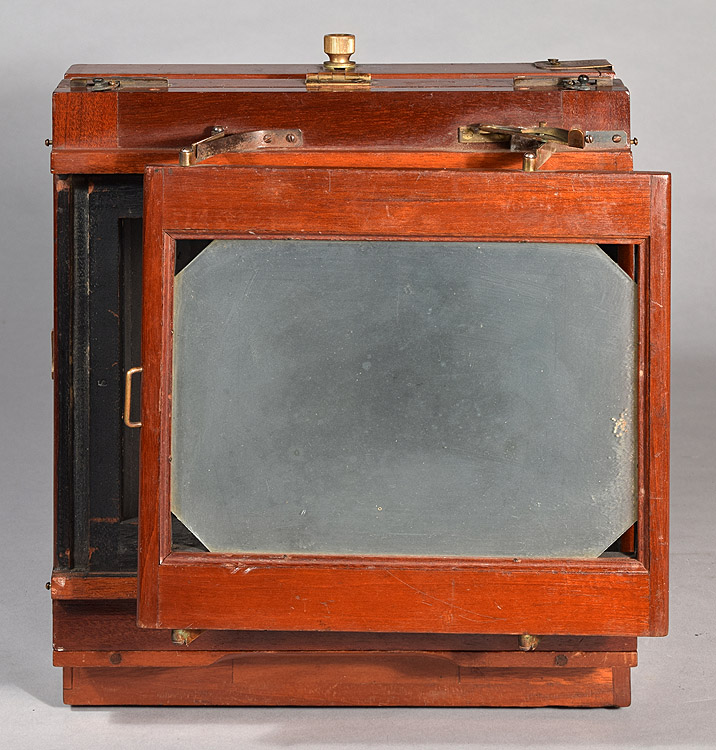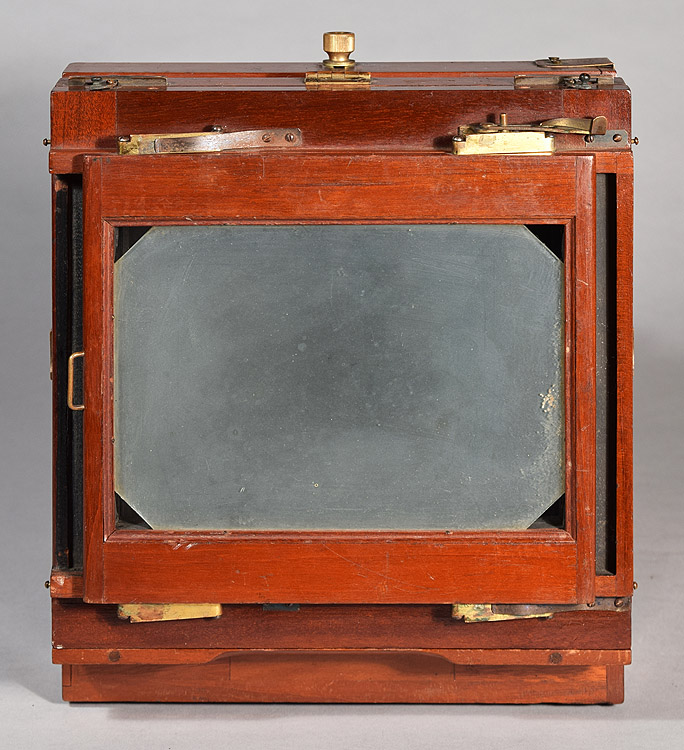 Label on Top of Front Standard: "The Scovill & Adams Co. New York"


6½ x 8½", marked "American Optical Co. New York The Scovill & Adams Co., Proprs."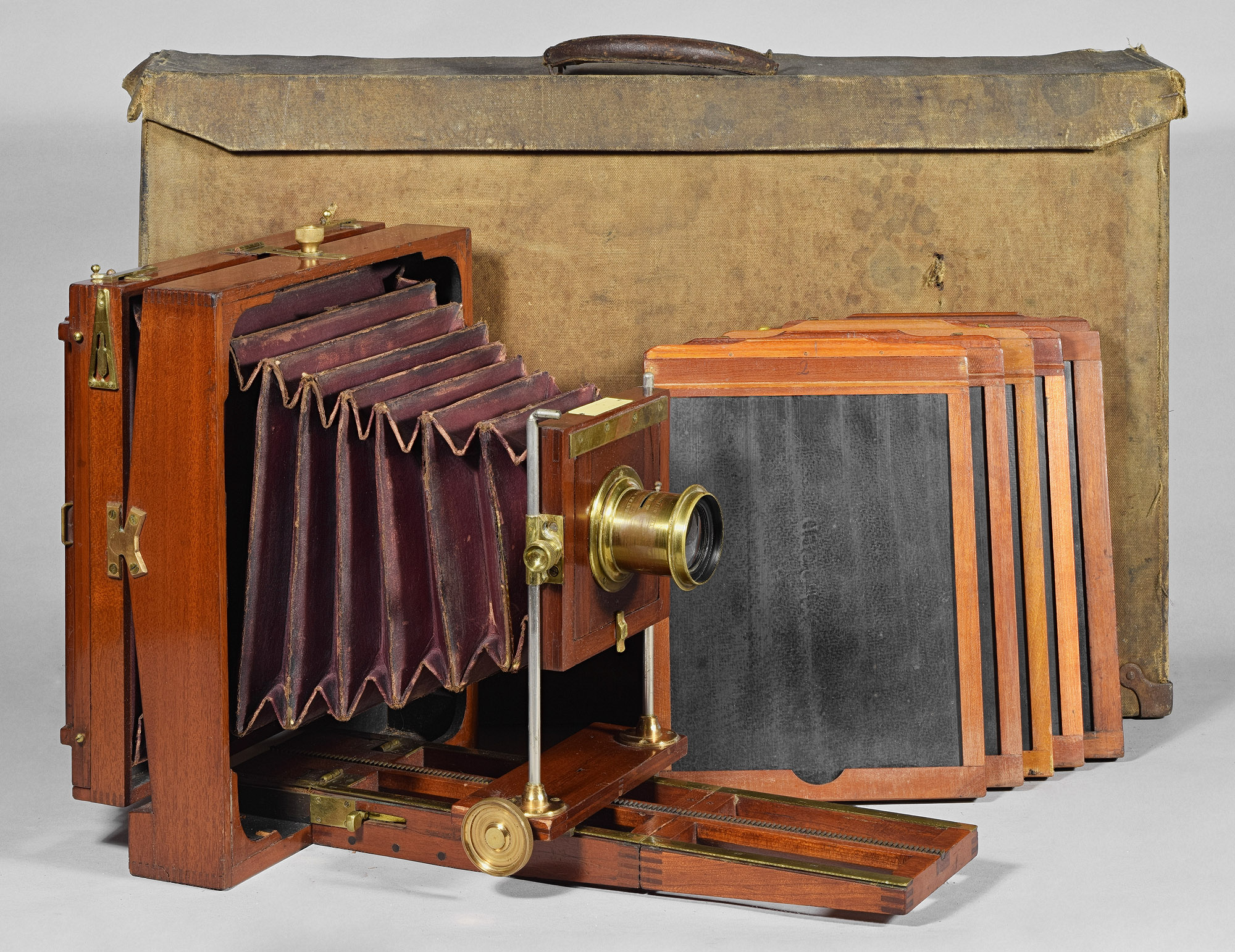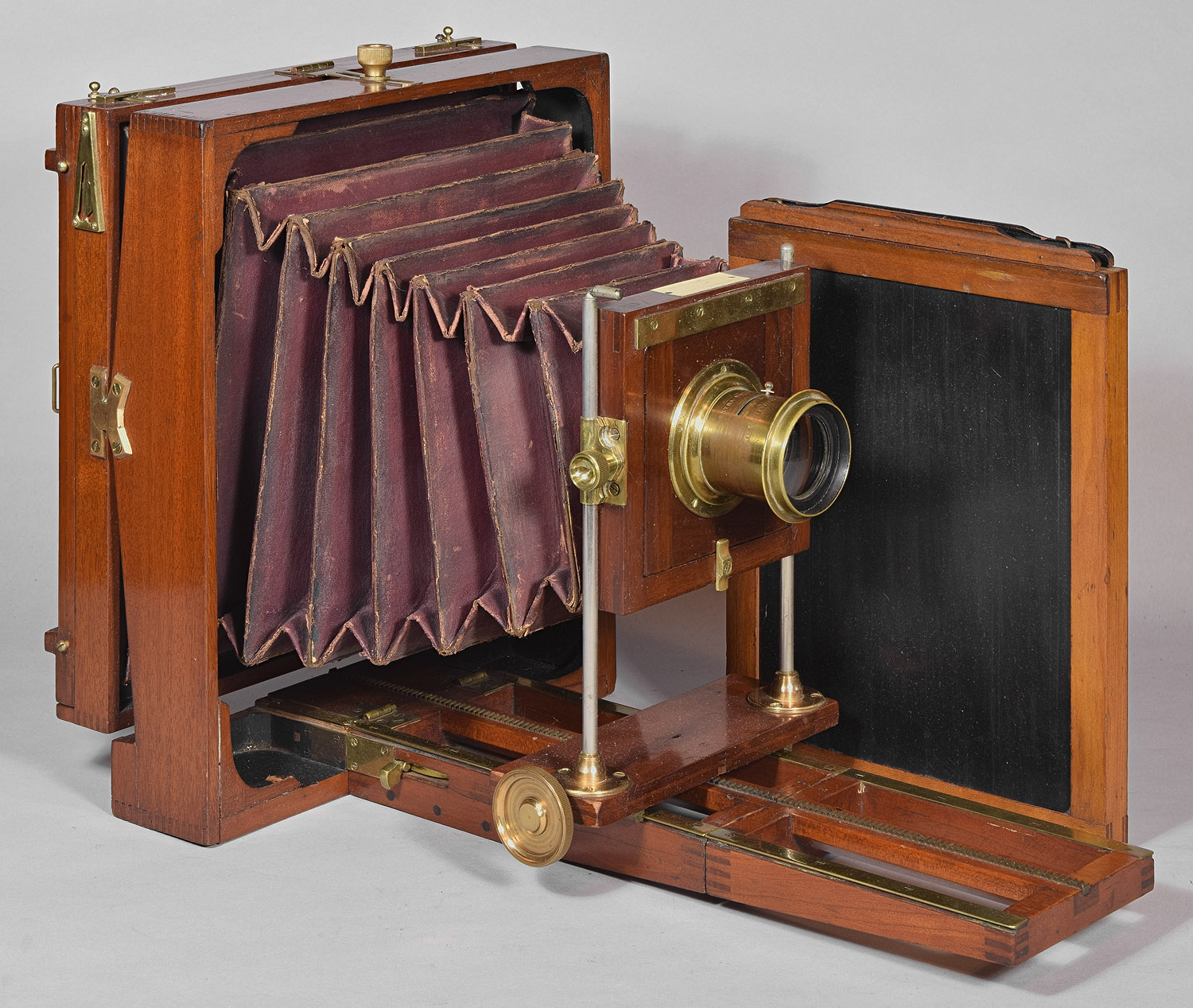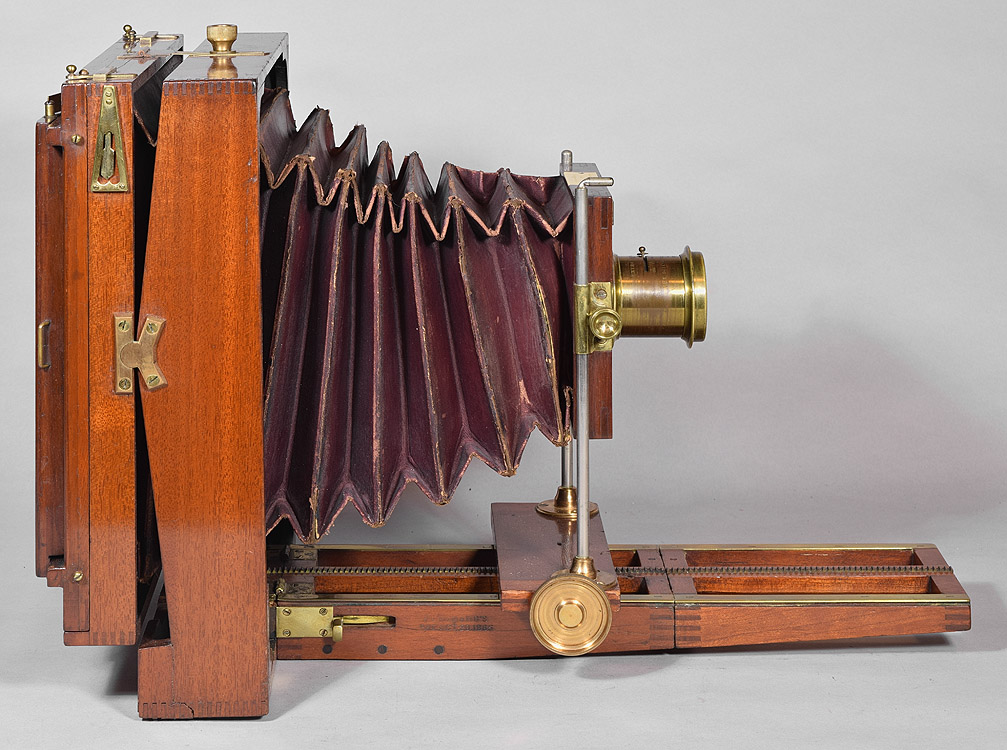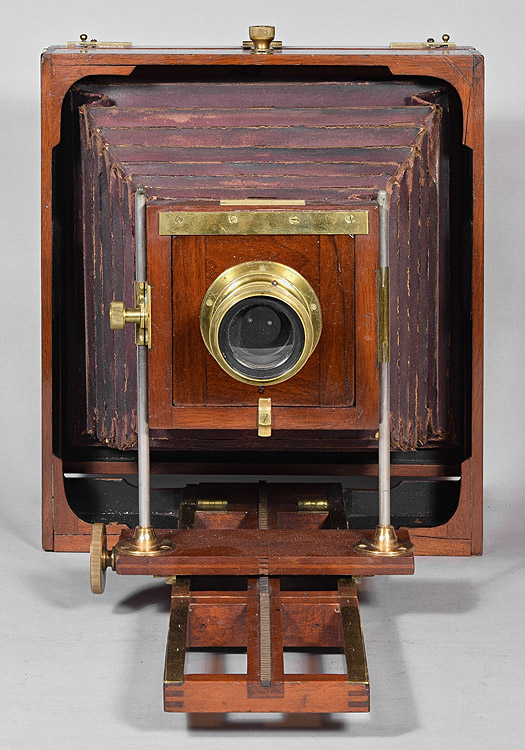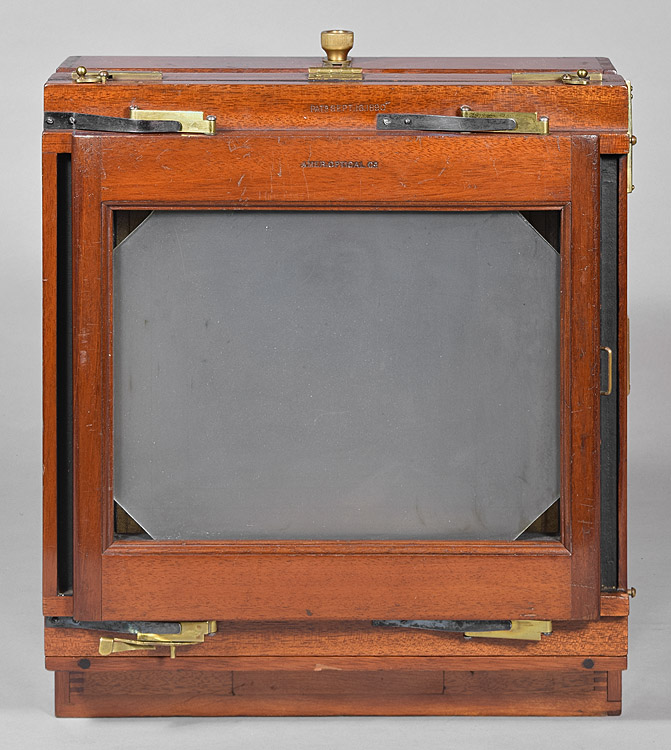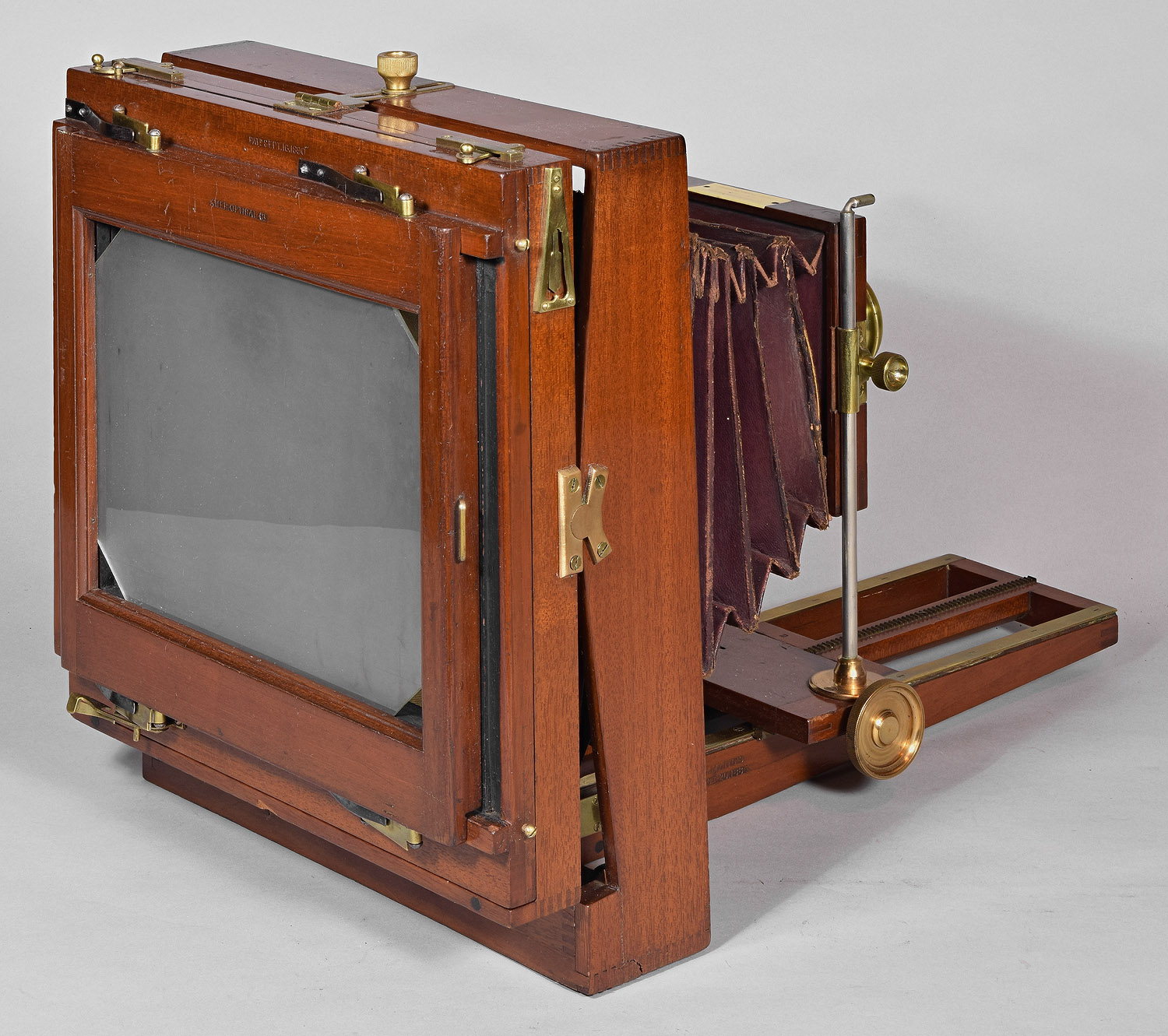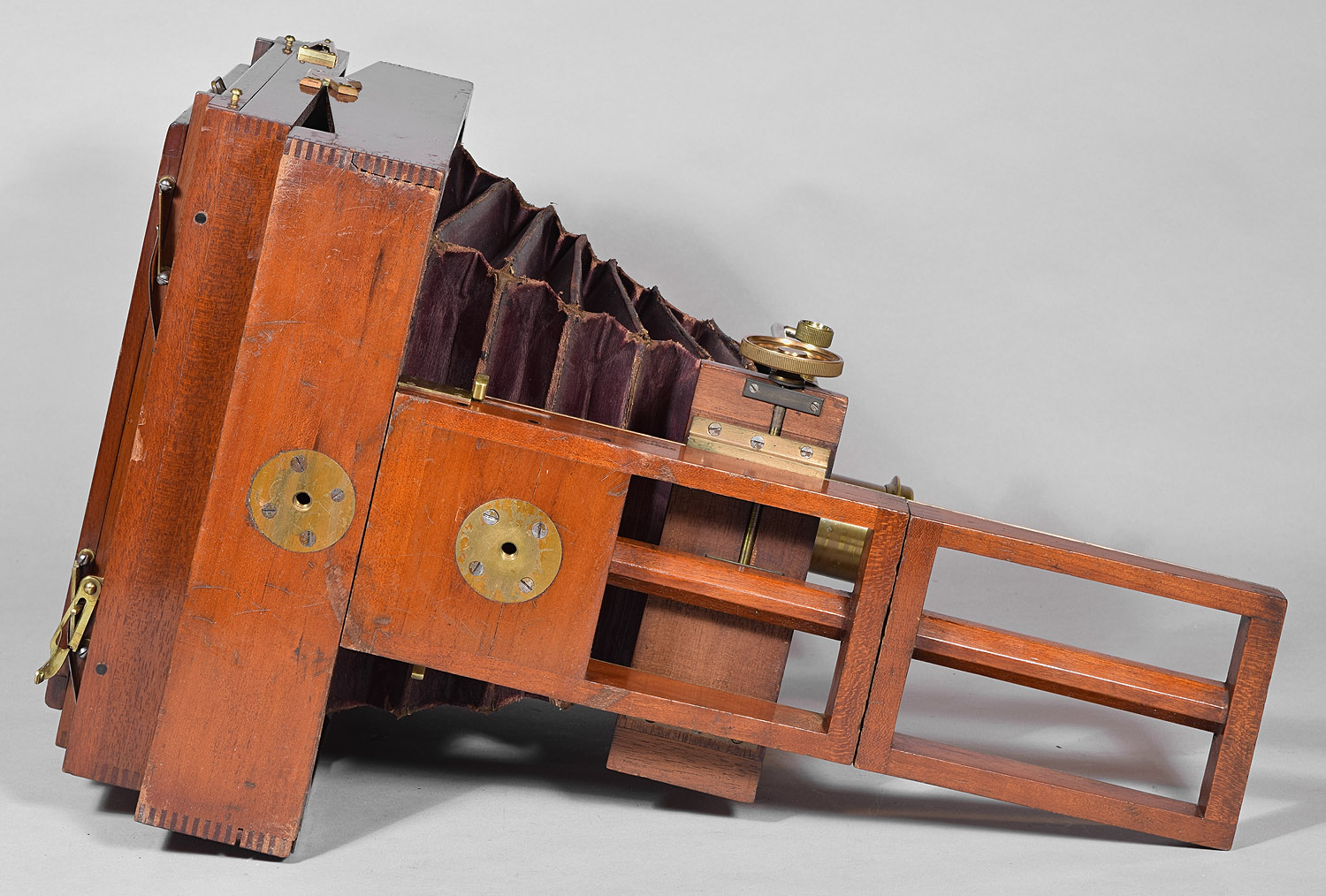 Celluloid Label on top of Front Standard: "American Optical Co. New York The Scovill & Adams Co., Proprs."


Stamps on the Removable Back: "Patd Sept. 16, 1890" and "Amer. Optical Co."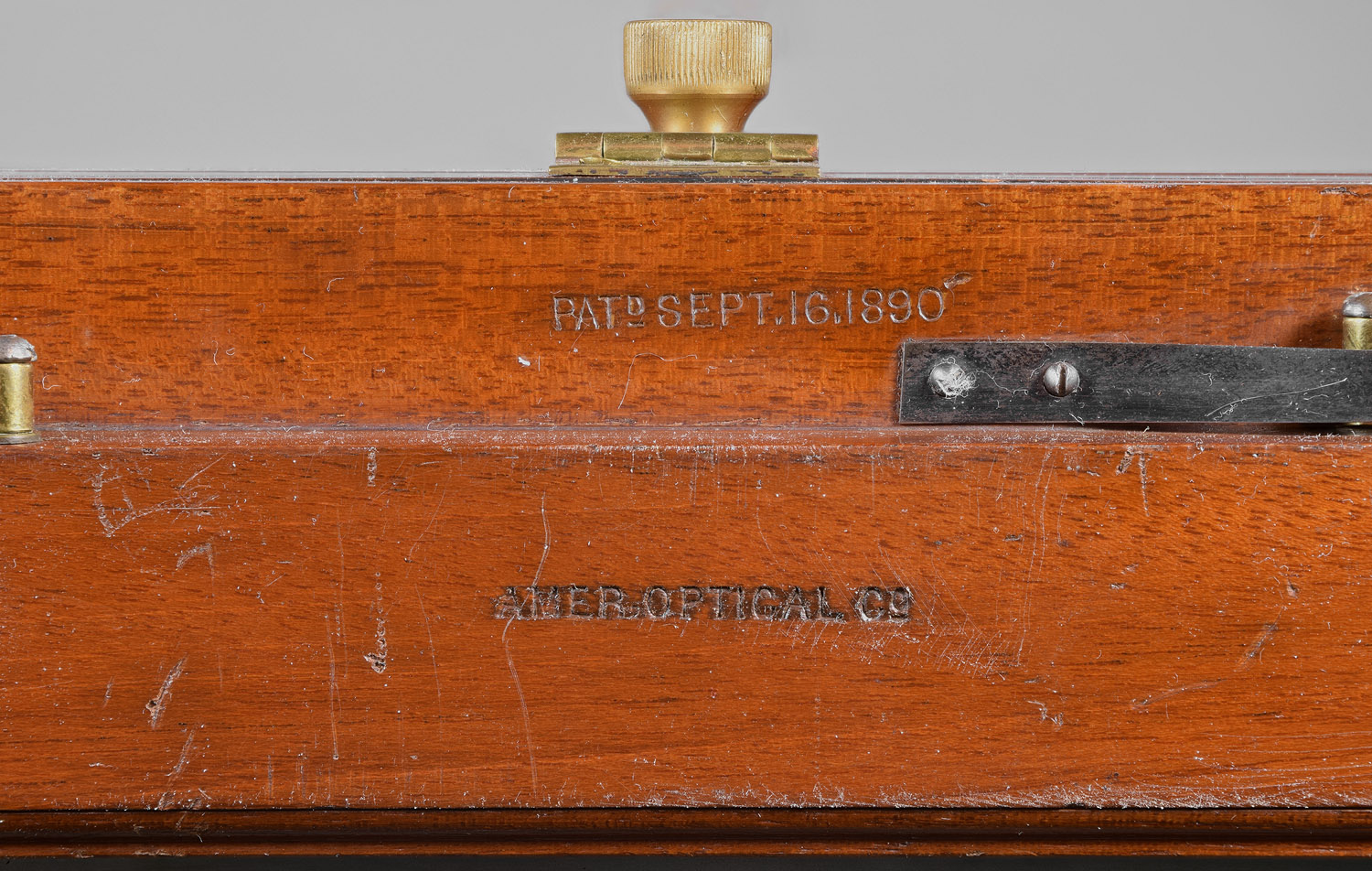 Stamp next to a Device (one of two) to Make the Hinged Bed Rigid: "Flammang's Pat. Oct. 20, 1885"


8x10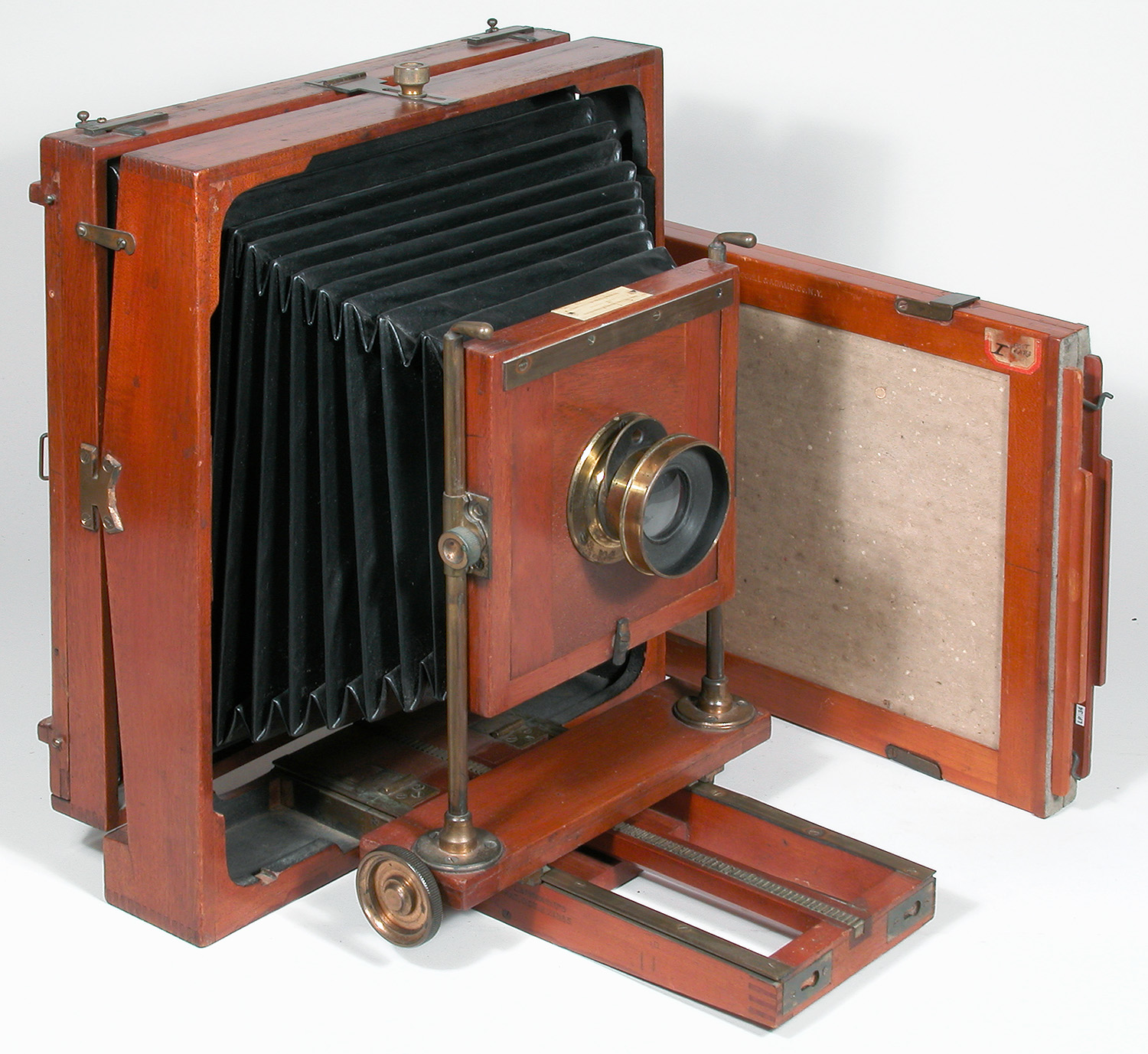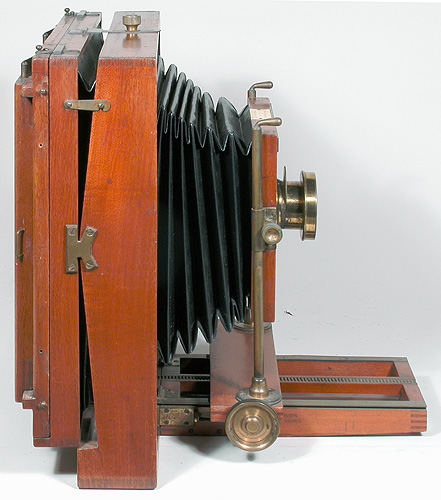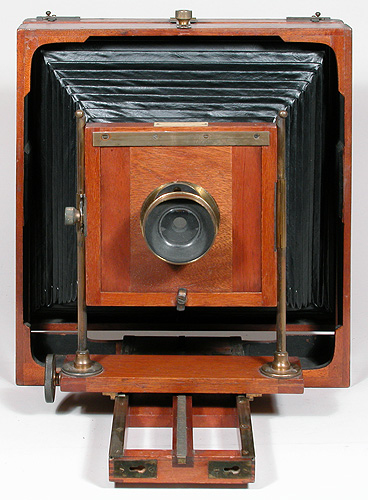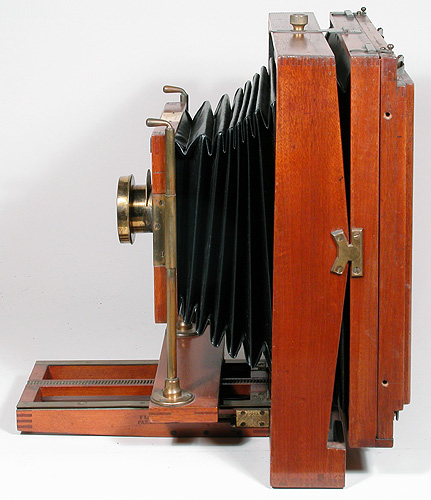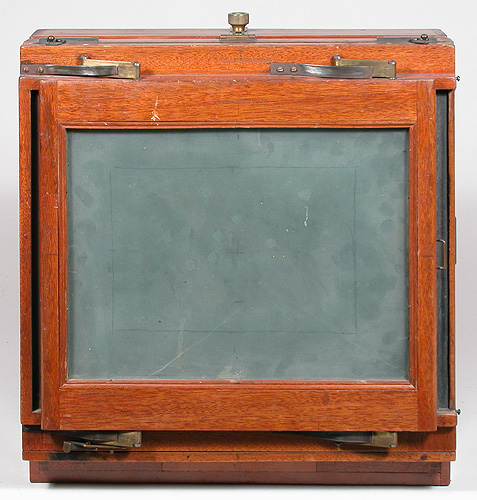 Manufacturer: American Optical Co. New York, NY factory
Date Introduced: - ; Years Manufactured: c.1890-1896
Construction: front focus via rack and pinion (single gear track on top of middle base rail); single or double swing; reversing by removable back; three-piece lens board
Materials: mahogany body; mahogany base; brass hardware
Sizes Offered: #110=4x5; #111=4.25x5.5; #112=4.25x6.5; #113=5x7; #114=5x8; #115=6.5x8.5; #116=8x10; 117=11x14
Notes:
Even though the label says American Optical, this camera is not as well finished as the similar Flammang Front Focus, and therefore may actually be a Scovill factory product. Scovill catalogs are not very clear on which cameras are Scovill and which American Optical, thereby trading on the American Optical brand, which had a deservedly high reputation.
This model is essentially a St. Louis, Variation 3, but with metal posts as a front standard. Indeed, it replaced the St. Louis model between the Scovill & Adams March 1889 catalog and the Scovill & Adams March 1890 catalog.
The bed is in three sections, with the front section removable, although you have to know the trick to pull the front section sideways to remove it. The front extension is missing on the above camera. The model was stated to come with a canvas case. By late 1896, the Star was consigned to the "Bargain Page" of the American Annual of Photography and Photographic Times Almanac for 1897 (page lxi), which probably indicates an attempt to get rid of discontinued stock.
Even though not marked as such, the Star View Camera is always seen with the patented system on the ground glass frame consisting of four springs, one of which has a detent to keep the frame open or loose for loading the plate (Scovill Mfg. Co. (W.H. Fuller, assignor), #407587, 23 Jul 1889).
References:
Not in the Scovill & Adams March 1889 catalog
American Annual of Photography and Photographic Times Almanac for 1890, The Scovill & Adams Co. (New York, NY), ads p. 73
How to Make Photographs and Descriptive Price List, The Scovill & Adams Co. (New York, NY), March 1890, p. 29
How to Make Photographs and Descriptive Price List, The Scovill & Adams Co. (New York, NY), distributed by Oscar Foss (San Francisco, CA), June 1890, p. 28
How to Make Photographs and Descriptive Price List, The Scovill & Adams Co. (New York, NY), distributed by Sargent & Co. (Cleveland, OH), April 1891, p. 19
How to Make Photographs and Descriptive Price List, The Scovill & Adams Co. (New York, NY), distributed by Horgan, Robey & Co. (Boston, MA), June 1891, p. 19
American Annual of Photography and Photographic Times Almanac for 1892, The Scovill & Adams Co. (New York, NY), 1891, ads p. 108
How to Make Photographs and Descriptive Price List, The Scovill and Adams Co. (New York, NY), January 1892, p. 19
American Annual of Photography and Photographic Times Almanac for 1893, The Scovill & Adams Co. (New York, NY), 1892, ads p. 107
The American Annual of Photography and Photographic Times Almanac for 1894, The Scovill & Adams Co. (New York, NY), 1893, p. 97
How to Make Photographs and a Descriptive Catalogue of Photographic Materials Illustrated, The Scovill & Adams Co. (New York, NY), 1896, p. 33
American Annual of Photography and Photographic Times Almanac for 1897, The Scovill & Adams Co. (New York, NY), 1896, p. 61 (Bargain Page)
American Annual of Photography and Photographic Times Almanac for 1898, The Scovill & Adams Co. (New York, NY), 1897, ads p. 115 (Bargain Page)

Back to American Optical & Scovill