American Optical Co., Scovill Mfg. Co., props.
Front Focus Cone
Camera Variation 1


Front Focus Reversible Back Camera Variation 1
St. Louis

Camera Variation 1




Scovill's Photo. Series No. 20, Dry Plate Making for Amateurs, 1886, p. a13

8x10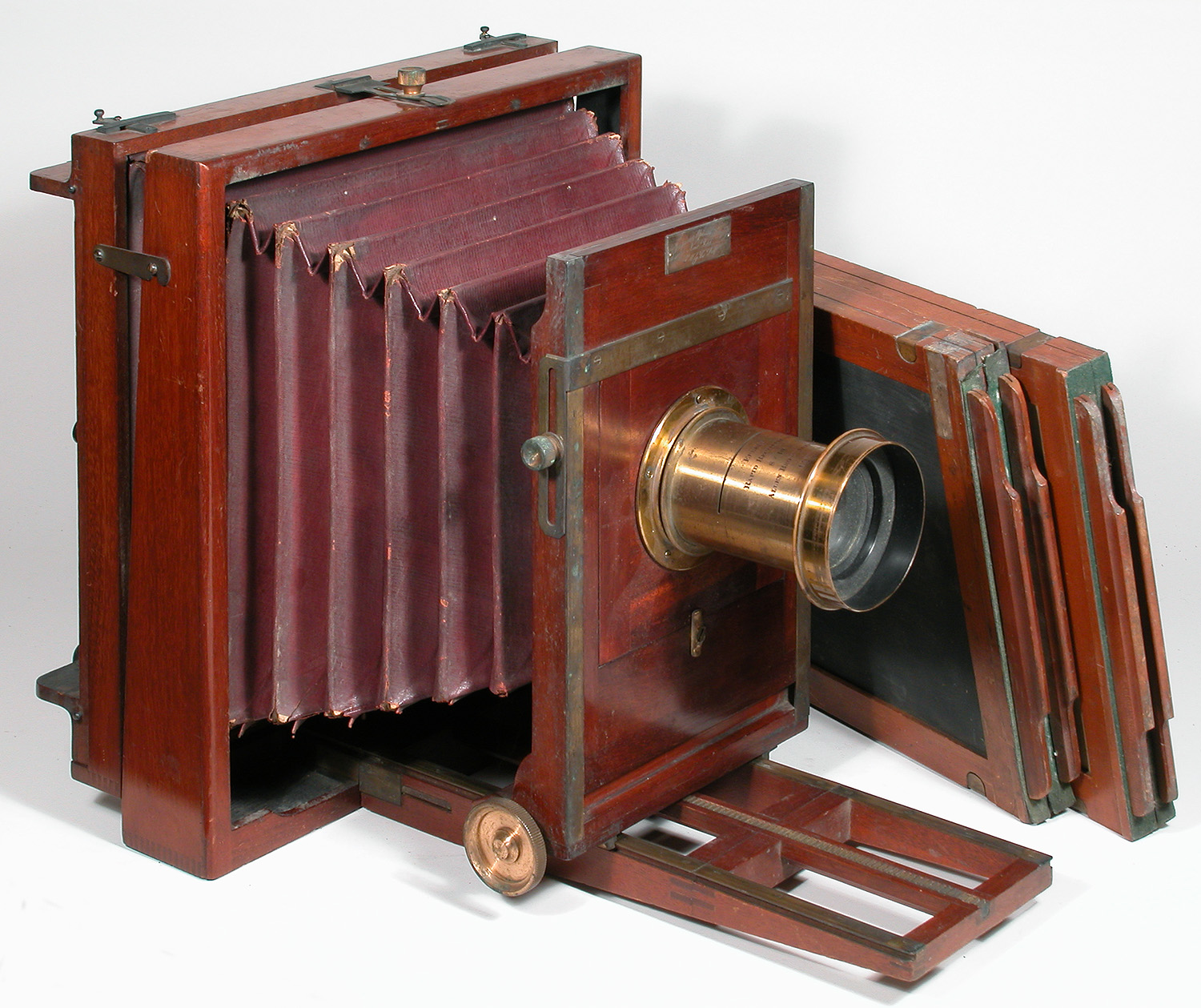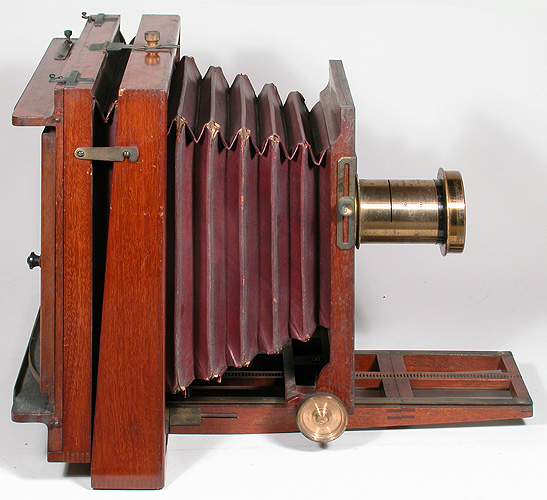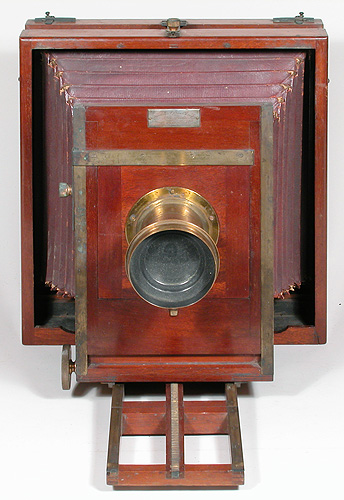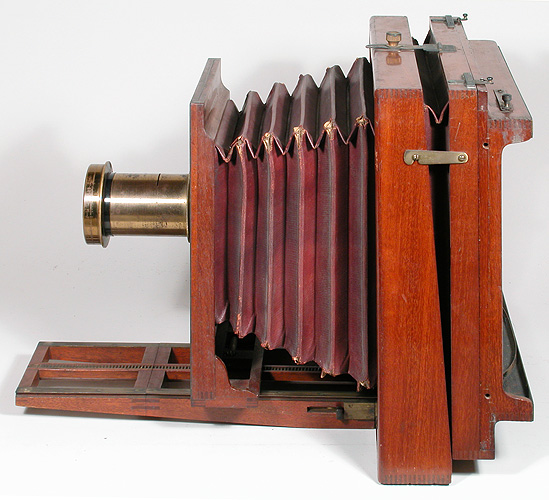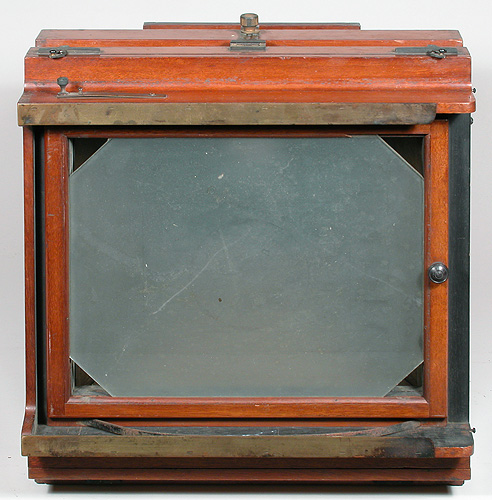 Manufacturer: American Optical Co. New York, NY factory
Date Introduced: - ; Years Manufactured: c.1885-1889
Construction: front focus via rack and pinion (single gear track on top of middle base rail); no, single or double swing; reversing by removable back; three-piece lens board
Materials: mahogany body; cherry base; black fabric bellows; brass hardware
Sizes Offered: #110: 4x5; #111: 4¼x5½; #112: 4¼x6½; #113: 5x7; #114: 5x8; #115: 6½x8½; #117: 8x10; #118: 11x14
Notes:
When advertised, engravings for this camera usually carry a "Scovill" identification (as above) rather than an "American Optical" identification. Yet cameras exist, such as the 8x10 version above, that are stamped American Optical or have a silver label marked American Optical. Such AO-marked cameras have the usual high quality construction and finish associated with the AO factory. This is apparently another example (see AO Waterbury-type) where a model appears to have been made both by Scovill and American Optical (even though Scovill owned American Optical). American Optical St. Louis cameras have smoother finishes in both wood and brass, and seem to always have a silver American Optical label. St. Louis cameras by Scovill may have had lesser quality wood selection and finish, hardware finish, etc.
This model is similar, except for its reversing rather than revolving back, to the American Optical Flammang's Revolving Back Front Focus Camera.
At least three variations of the St. Louis exist. The St. Louis, Variation 1 has a swing back hinged at the bottom. The St. Louis, Variation 2 is as Variation 1, except that the swing back has a center pivot rather than a bottom hinge. The St. Louis, Variation 3 has the bottom hinge, but also has a low profile spring back, and double, locking knurled focusing knobs. These details indicate that Variation 3 is probably a later version of Variation 1. A strange detail is that Variations 1 and 2 have the patent bed locking device going from the front to back, while Variation 3 has its patent bed locking device going from back to front.
References:
Photographic Times 15, 1885, p. 583
Scovill's Photo. Series No. 1, The Photographic Amateur, 2nd Edition, J. Traill Taylor, Scovill Mfg. Co. pub. (New York, NY), 1883, 2nd Ed. about 1885, p. a13
How to Make Photographs and Descriptive Price List, Scovill Mfg. Co. (New York, NY), distributed by Andrew J. Smith (Providence, RI), 1886, p. 37
Scovill's Photo. Series No. 20, Dry Plate Making for Amateurs, Scovill Mfg. Co. (New York, NY), 1886, ads p. 13
Catalog P, Photographic Material, J. W. Queen & Co. (Philadelphia, PA), 1886, p. 61 (As St. Louis)
Photographic Lenses and How to Select Them, James W. Queen & Co. (Philadelphia, PA), 1887, p. 27
How to Make Photographs and Descriptive Price List, Scovill Mfg. Co. (New York, NY), distributed by C.H. Codman & Co. (Boston, MA), April 1887, p. 35
The American Annual of Photography and Photographic Times Almanac for 1888, C.W. Canfield, ed.; Scovill Mfg. Co. (New York, NY), copyright 1887, ads p. 20 (engraving in a ad for N.C. Thayer & Co., Chicago, IL)
The American Annual of Photography and Photographic Times Almanac for 1888, C.W. Canfield, ed.; Scovill Mfg. Co. (New York, NY), copyright 1887, ads p. 55
How to Make Photographs and Descriptive Price List, Scovill Mfg. Co. (New York, NY), undated but about January 1888, pp. 39-40
How to Make Photographs and Descriptive Price List, Scovill Mfg. Co. (New York, NY), distributed by C.H. Codman & Co. (Boston, MA), September 1888, p. 27
How to Make Photographs and Descriptive Price List, Scovill Mfg. Co. (New York, NY), distributed by Buchanan, Bromley & Co. (Philadelphia, PA) Catalog, 1888
Scovill's Photographic Series No. 26, The Photographic Instructor, Prof. Charles Ehrmann, Scovill Mfg. Co., 1888, ads p. xv
How to Make Photographs and Descriptive Price List, The Scovill & Adams Co. (New York, NY), January 1889, p. 26
How to Make Photographs and Descriptive Price List, The Scovill & Adams Co. (New York, NY), distributed by Buchanan, Bromley & Co. (Philadelphia, PA) Catalog, 1889
Photographic Material, Catalogue O & P, James W. Queen & Co. (Philadelphia, PA), 1891, p. 49

Back to American Optical & Scovill