E. & H.T. Anthony
Bijou Camera
E.

&

H.T. Anthony

& Co. catalog,

May 1885, p. 10

Anthony Catalog, 1895, p. 12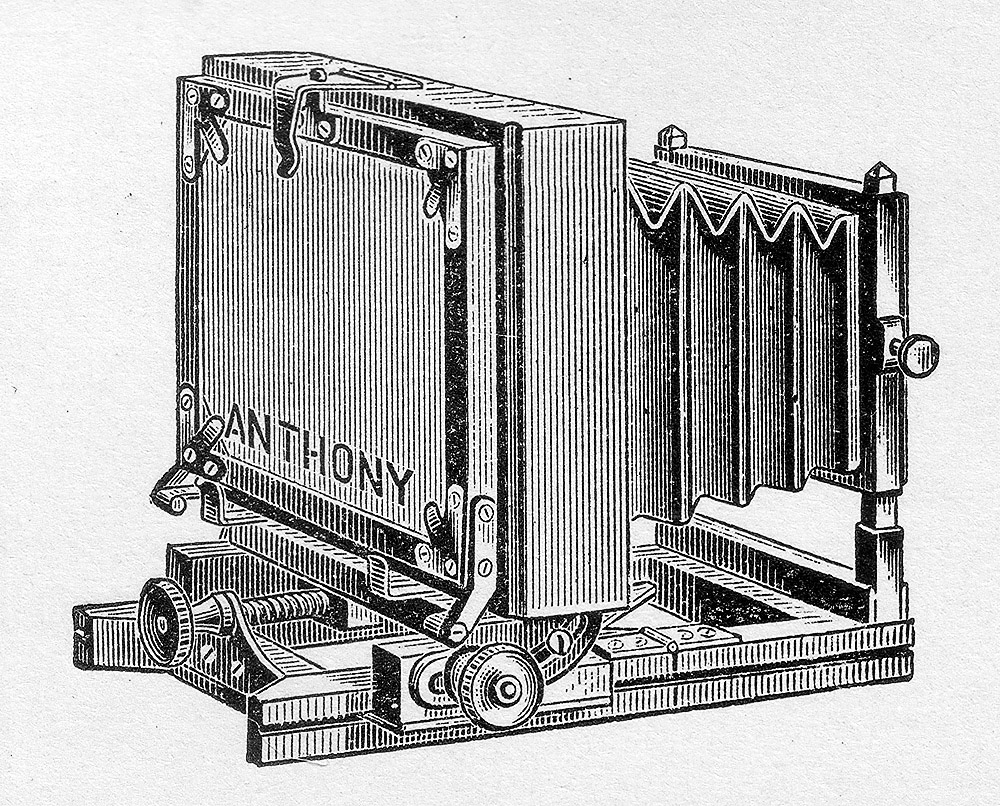 Date Introduced: - ; Years Manufactured: c.1885-1897
Construction: rear focus via push-pull but with fine-focusing screw; plain: no swing & brass hardware, or fancy: swing & nickeled hardware; no reverse
Materials: mahogany body; cherry base track; black fabric bellows
Sizes Offered: 3¼x4¼
Notes:
The front standard of this model appears to be metal, similar to the Novel or Novelette, but is same small size as the Bicycle Camera, which was advertised in the same catalogs. There is no mention of a Novel-style revolving bellows in advertising, however. It is stated to have a folding bed "which is provided with a novel arrangement for fixing it in position", which refers to a large metal plate that slides back and forth to fix the bed parts in the same plane, an arrangement just visible in the above engraving. It also has a large thumbscrew for focus.
It appears to have been discontinued between the December 1895 and the August 1896 Anthony catalogs. However, the undated McCollin & Co. (best estimate late 1896 - early 1897) still carried it.
References:
Illustrated Catalogue of Amateur Photographic Equipments & Materials, E. & H.T. Anthony & Co. (New York, NY), May 1885, p. 10
Illustrated Catalogue of Amateur Photographic Equipments & Materials, E. & H.T. Anthony & Co. (New York, NY), September 1885, pp. 9
Illustrated Catalogue of Amateur Equipments and Materials, E. & H.T. Anthony & Co. (New York, NY), September 1886, p. 12
Illustrated Catalogue of Amateur Photographic Equipments & Materials, E. & H.T. Anthony & Co. (New York, NY), August 1887, p. 11
Illustrated Catalogue of Amateur Photographic Equipments & Materials, E. & H.T. Anthony & Co. (New York, NY), January 1888, p. 13
The International Annual of Anthony's Photographic Bulletin, Vol. I, 1888, W. J. Harrison and A. H. Elliot, eds., E. & H. T. Anthony & Co. (New York, NY), July 1888, ads p. 72
Illustrated Catalogue of Amateur Photographic Equipments & Materials, E. & H.T. Anthony & Co. (New York, NY), January 1889, pp. 13
The International Annual of Anthony's Photographic Bulletin, Vol. II, 1889, W. J. Harrison and A. H. Elliot, eds., E. & H. T. Anthony & Co. (New York, NY), ads p. 53
The International Annual of Anthony's Photographic Bulletin, Vol. III, 1890-1891, W. J. Harrison and A. H. Elliot, eds., E. & H. T. Anthony & Co. (New York, NY), ads p. 101
Illustrated Catalogue of Photographic Equipments and Materials for Amateurs, E. & H.T. Anthony & Co. (New York, NY), January 1891, p. 8
The International Annual of Anthony's Photographic Bulletin Vol. VI 1894, edited by A.H. Elliott and F.P. Smith, E. & H.T. Anthony & Co. (New York, NY), 1893, p. 71 (list of view and other cameras)
Illustrated Catalogue of Photographic Equipments and Materials for Amateurs, E. & H.T. Anthony & Co. (New York, NY), September, 1894, p. 12
Illustrated Catalogue of Photographic Equipments and Materials for Amateurs, E. & H.T. Anthony & Co. (New York, NY), August, 1895, p. 12
Illustrated Catalogue of Photographic Equipments and Materials for Amateurs, E. & H.T. Anthony & Co. (New York, NY), December, 1895, p. 12
Not in the August 1896 Anthony Catalog
Illustrated Catalogue of Photographic Materials, Thos. H. McCollin & Co. (Philadelphia, PA) undated, c. late 1896 - early 1897, p. 42


Back to E.& H.T. Anthony