E. & H.T. Anthony
Novelette View Camera, Variation 1
Anthony Catalog January 1895, p. 14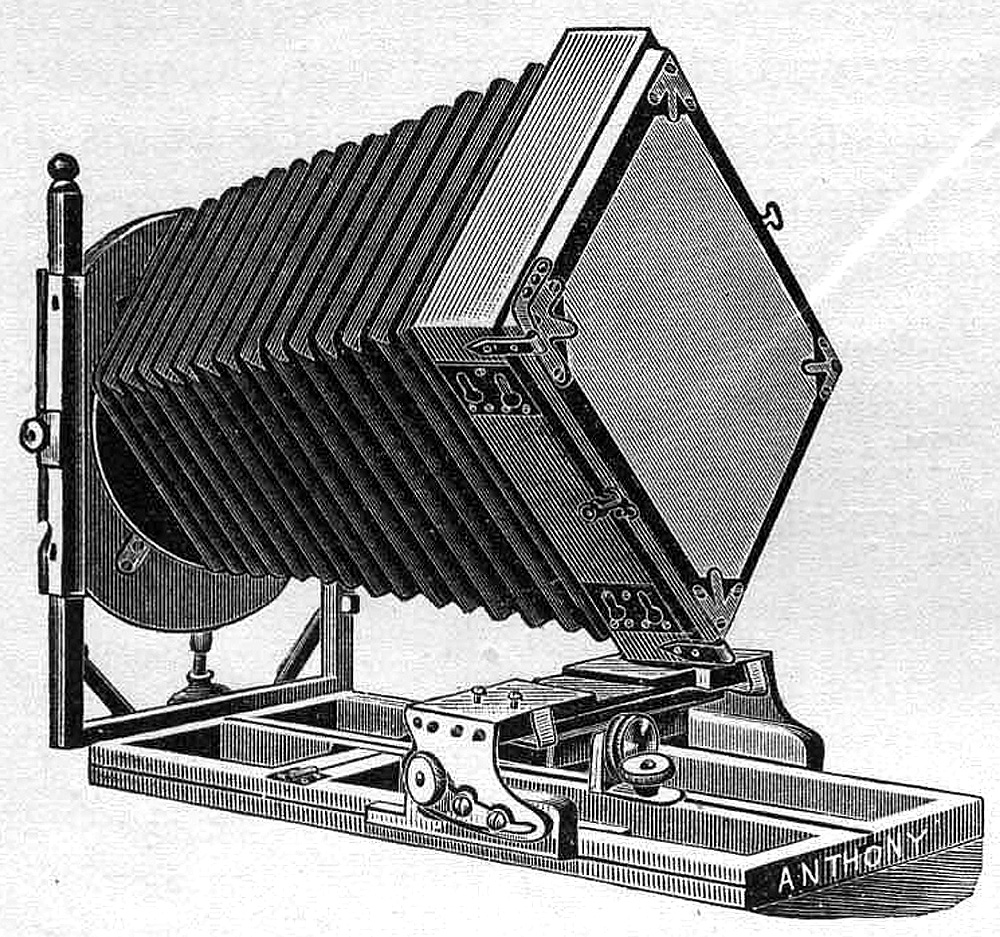 Examples on this page:
1) 5x8", round, wide front for stereo
2) 8x10" square front, non-stereo, with extra separate extension for long bellows work
3) 8x10", round, wide front for stereo, no provision for extra extension
5x8", round, wide front for stereo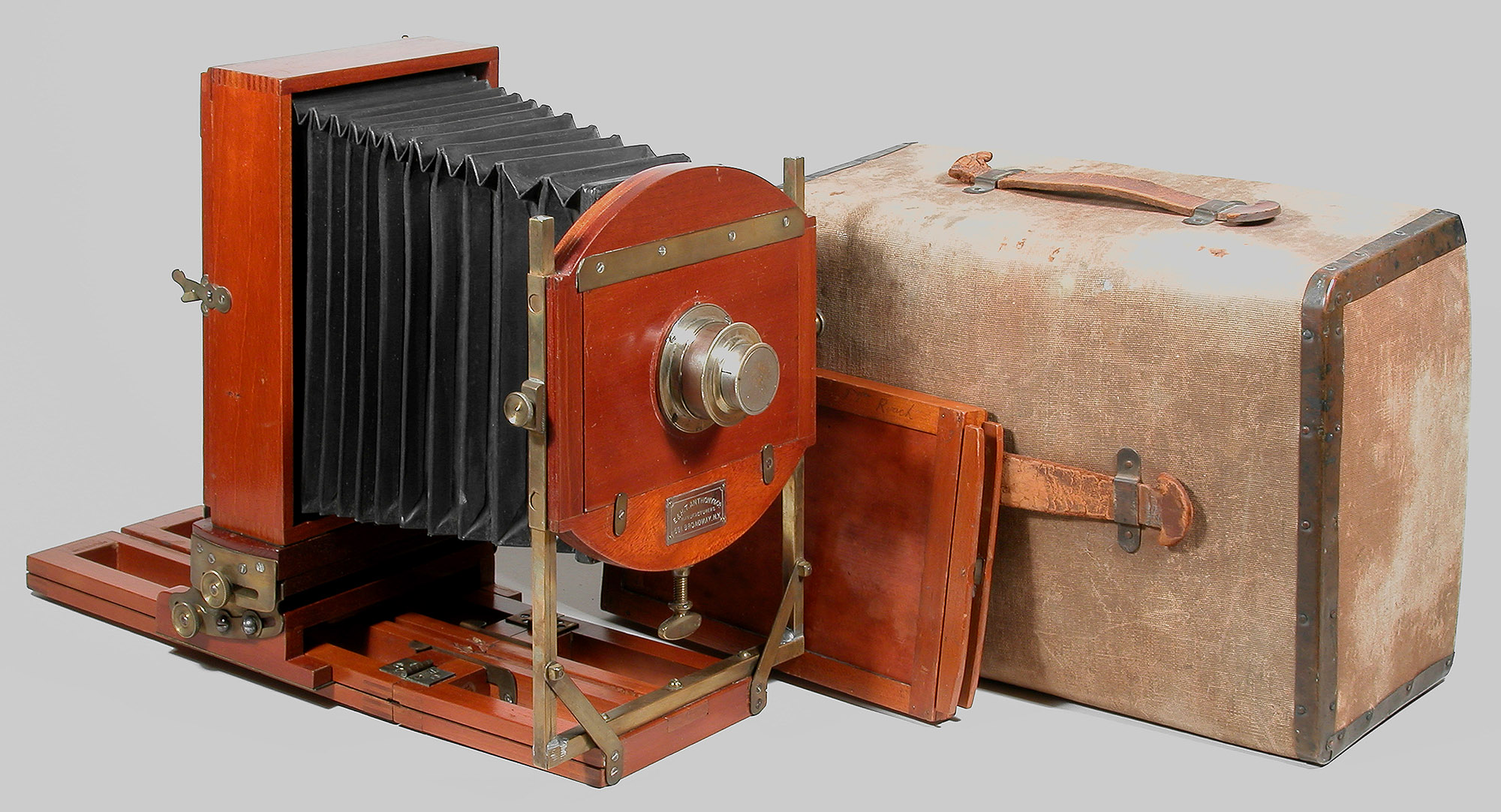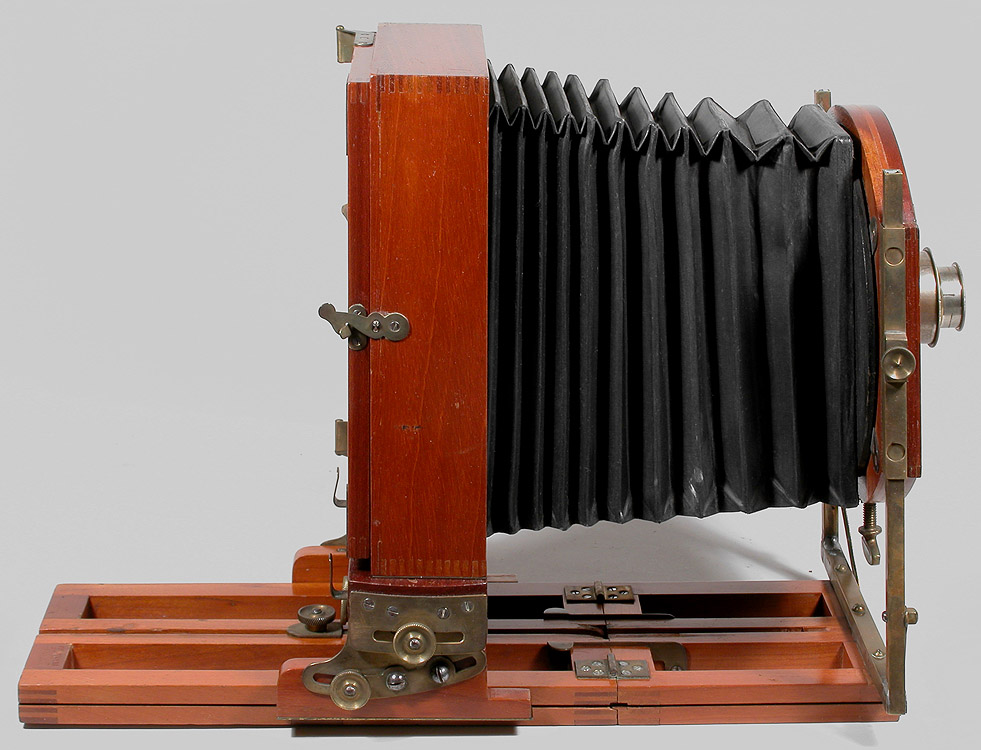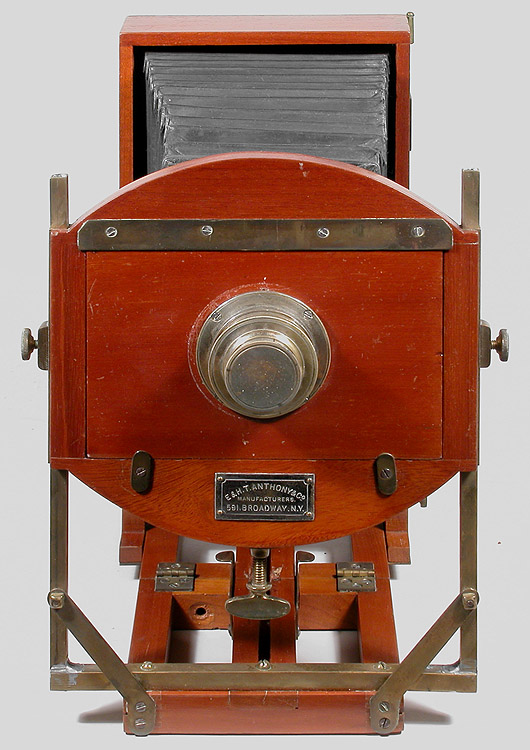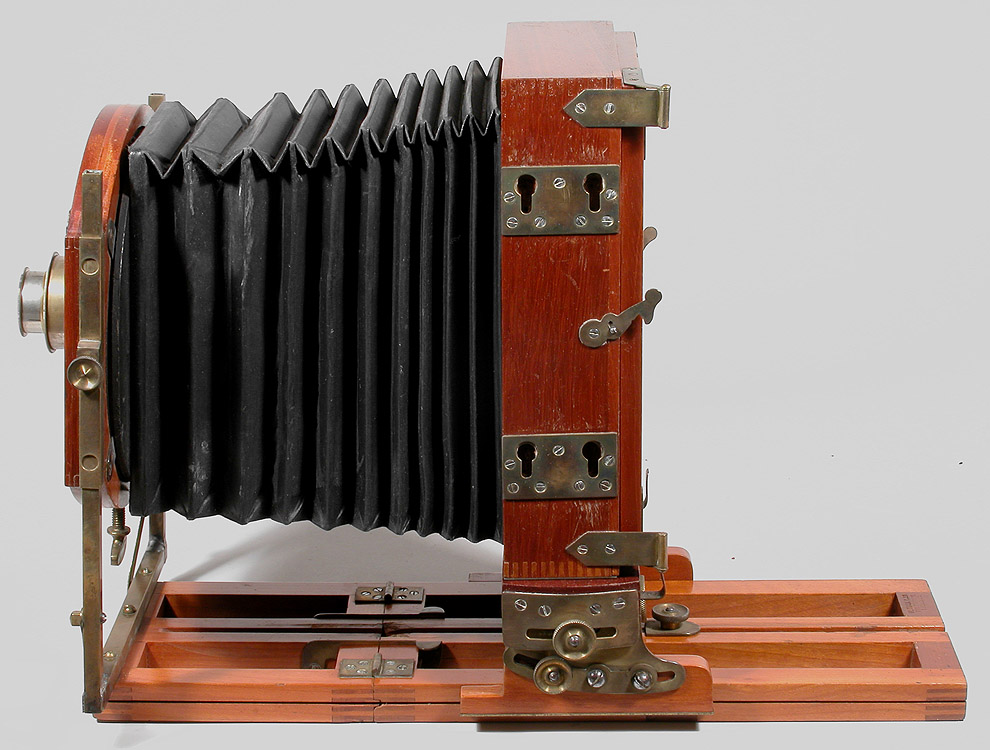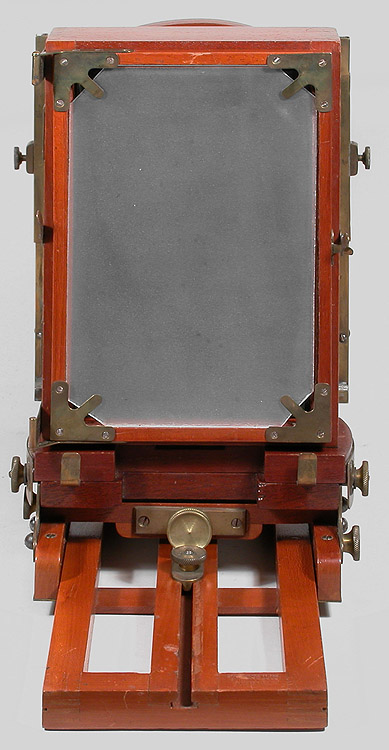 8x10" square front, non-stereo, with extra separate extension for long bellows work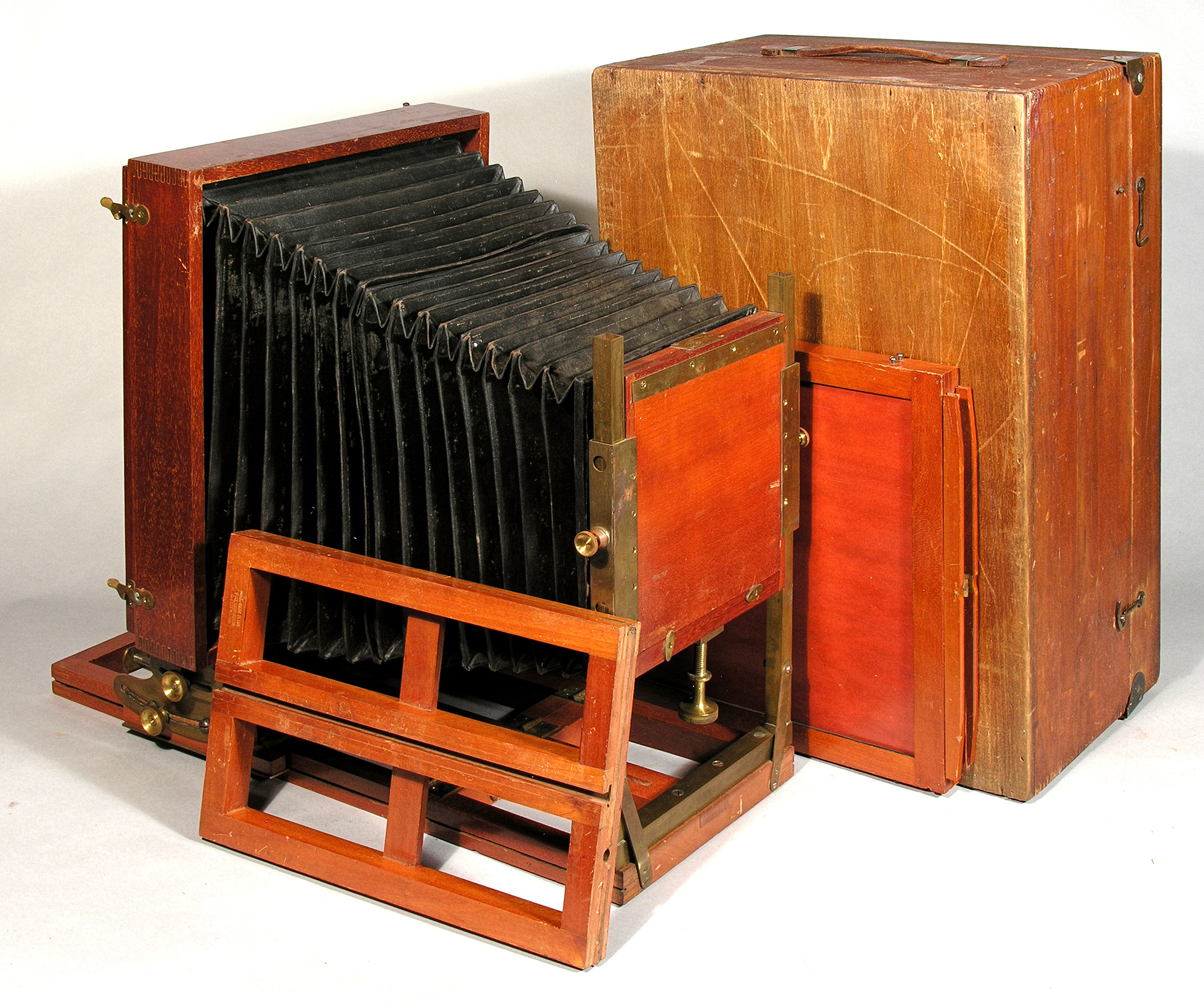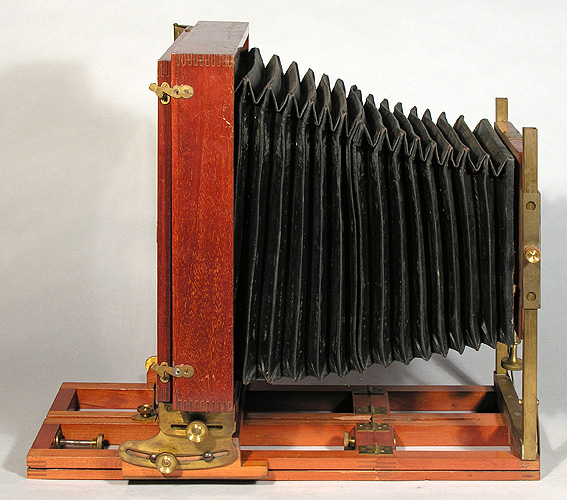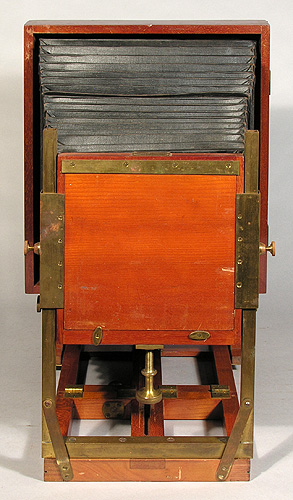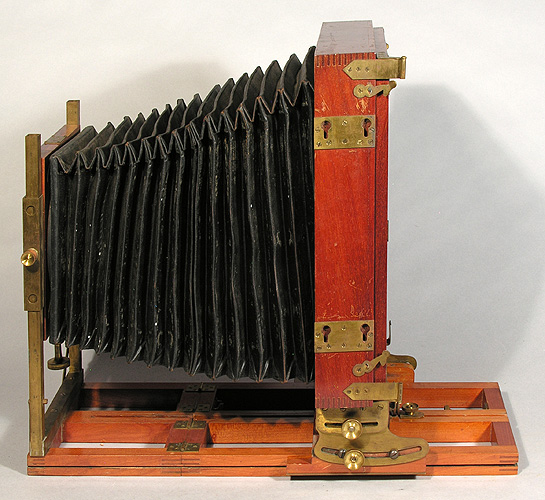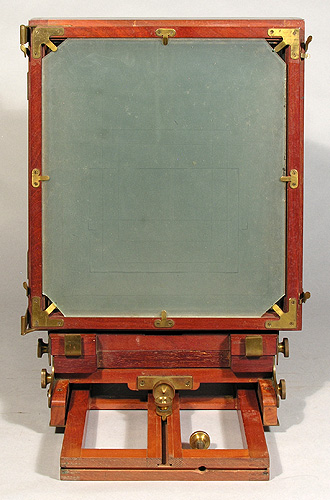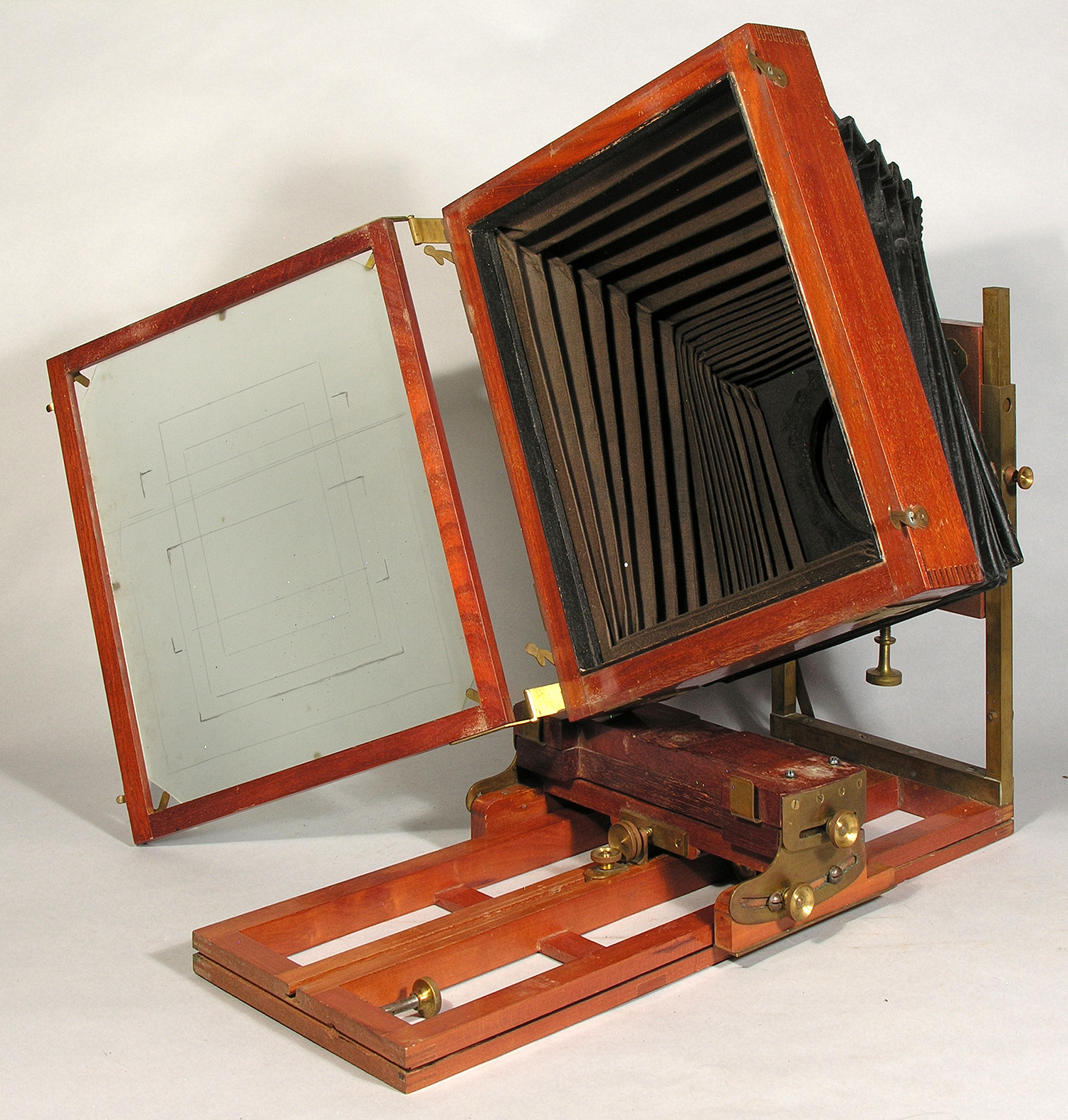 Date Introduced: - ; Years Manufactured: c.1886-1897
Construction: rear focus via push-pull but with fine-focusing screw; single or double swing; reversing by rotating bellows and back; plywood lens board
Materials: mahogany body; cherry base; black fabric bellows; brass hardware
Sizes Offered: 4x5; 4¼x6½; 5x7 (added "recently" per Feb. 1888 Anthony's Photographic Bulletin), 5x8 (shown); 6½x8½; 8x10; in 1891, add 10x12; 11x14
Notes:
There are two main variations of Novelette: 1) Novelette Variation 1, which has a normal frame-type base , and 2) Novelette Variation 2, which has a solid plywood base. Variation 2 was described by Christie's auction house as a "Bicycle Novelette", and referred to by William Marder in his Anthony book as "early". Both variations have folding bed.
In addition, depending on format, the Novelette can have a square front or a round front. When a wide, stereo-adaptable lens board is present, the top and bottom extensions (the round parts) are necessary to give the bellows something to revolve on; the bellows of such cameras are rectangular, matching the shape of the lens board. In the photos above, the 5x8" example, a classic format for stereo work, has a round front. The 10x12" example, a format that would be especially wasteful of film if used for stereo work, has a square front.
The tripod screw of the Novelette is neatly stored by screwing it into the bottom of the front standard. The 5x8 (top) example above has the patented bed hooks, one of the more sturdy and successful of many inventions to quickly make a folding bed rigid.
A detail of the double swing arrangement is shown above; the left-right swivel requires that the wood and hardware have a slight curvature, a difficult construction technique. The same type construction is also found in G. Gennert's Burlington/Nancy Hanks model.
References:
Illustrated Catalogue of Amateur Equipments and Materials, E. & H.T. Anthony & Co. (New York, NY), September 1886, pp. 14-15
Anthony's Photographic Bulletin, Vol. 17, No. 18, E. & H.T. Anthony & Co., (New York, NY), September 25, 1886, p. 10
Illustrated Catalogue of Amateur Photographic Equipments & Materials, E. & H.T. Anthony & Co. (New York, NY), August 1887, pp. 14-15
Illustrated Catalogue of Amateur Photographic Equipments & Materials, E. & H.T. Anthony & Co. (New York, NY), January 1888, pp. 14-15
The International Annual of Anthony's Photographic Bulletin, Vol. I, 1888, W. J. Harrison and A. H. Elliot, eds., E. & H. T. Anthony & Co. (New York, NY), July 1888, ads p. 72
Anthony's Photographic Bulletin, Vol. 19, No. 4, E. & H.T. Anthony & Co., (New York, NY), February 25, 1886, ads p. 18 (5x7 "something new", but the engraving in the ad is actually the Novel Variation 2)
Illustrated Catalogue of Amateur Photographic Equipments & Materials, E. & H.T. Anthony & Co. (New York, NY), January 1889, pp. 14-15
The International Annual of Anthony's Photographic Bulletin, Vol. II, 1889, W. J. Harrison and A. H. Elliot, eds., E. & H. T. Anthony & Co. (New York, NY), ads p. 53
The International Annual of Anthony's Photographic Bulletin, Vol. III, 1890-1891, W. J. Harrison and A. H. Elliot, eds., E. & H. T. Anthony & Co. (New York, NY), ads p. 101
Illustrated Catalogue of Photographic Equipments and Materials for Amateurs, E. & H.T. Anthony & Co. (New York, NY), 1891, pp. 9-11
How to Make Photographs. A Manual for Amateurs, C. T. Roche and H.T. Anthony, E. & H.T. Anthony & Co. (New York, NY), 1892, p. 29
The International Annual of Anthony's Photographic Bulletin Vol. VI 1894, edited by A.H. Elliott and F.P. Smith, E. & H.T. Anthony & Co. (New York, NY), 1893, p. 71 (list of view and other cameras)
Illustrated Catalogue of Photographic Equipments and Materials for Amateurs, E. & H.T. Anthony & Co. (New York, NY), September, 1894, p. 13-15
The International Annual of Anthony's Photographic Bulletin Vol. VII 1895,E. & H.T. Anthony & Co. (New York, NY), 1894, ads p. 99
Illustrated Catalogue of Photographic Equipments and Materials for Amateurs, E. & H.T. Anthony & Co. (New York, NY), January 1895, p. 13-15
Illustrated Catalogue of Photographic Equipments and Materials for Amateurs, E. & H.T. Anthony & Co. (New York, NY), August, 1895, p. 15-16
Illustrated Catalogue of Photographic Equipments and Materials for Amateurs, E. & H.T. Anthony & Co. (New York, NY), December, 1895, p. 13-15
Illustrated Catalogue of Photographic Equipments and Materials for Amateurs, E. & H.T. Anthony & Co. (New York, NY), August, 1896, p. 13-15
Illustrated Catalogue of Photographic Materials, Thos. H. McCollin & Co. (Philadelphia, PA) undated, c. 1897, p. 38-39
not in 1898 or later catalogs

Back to E.& H.T. Anthony
8x10", round, wide front for stereo, no provision for extra extension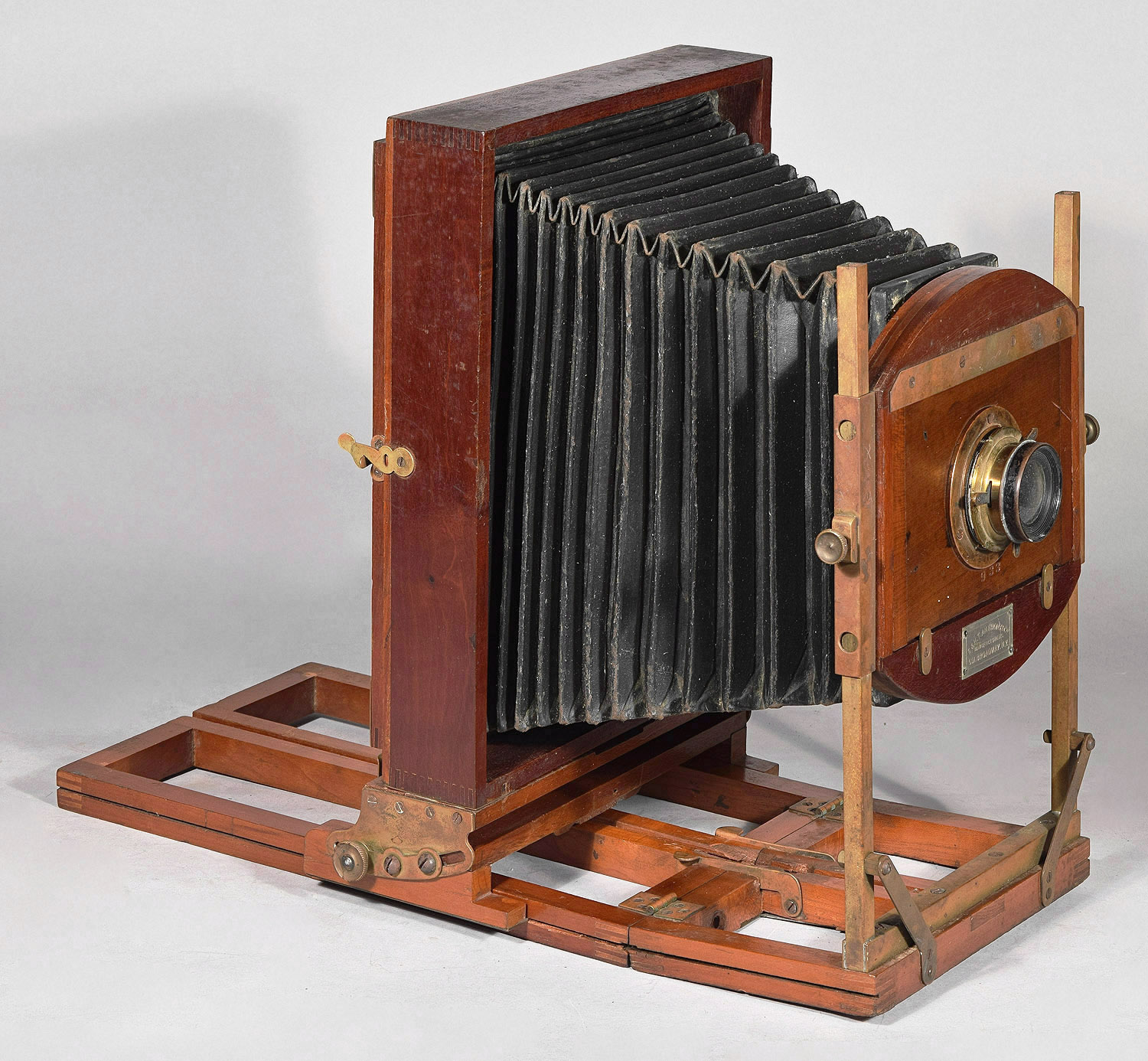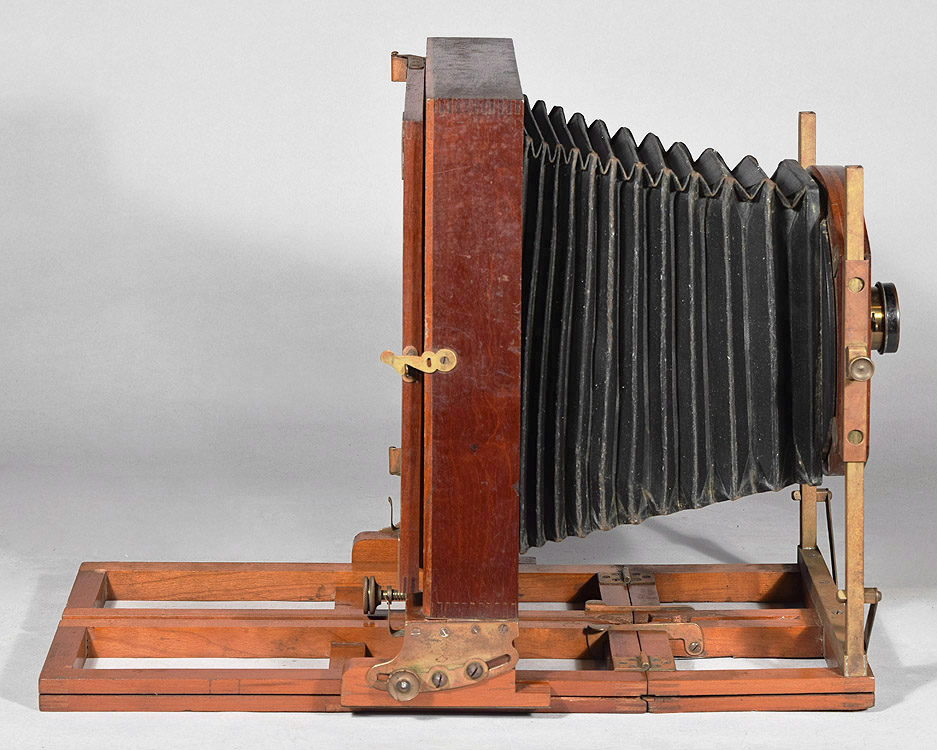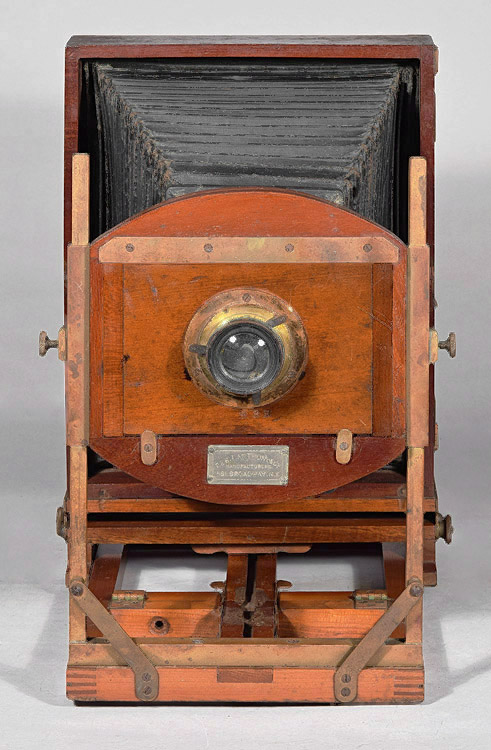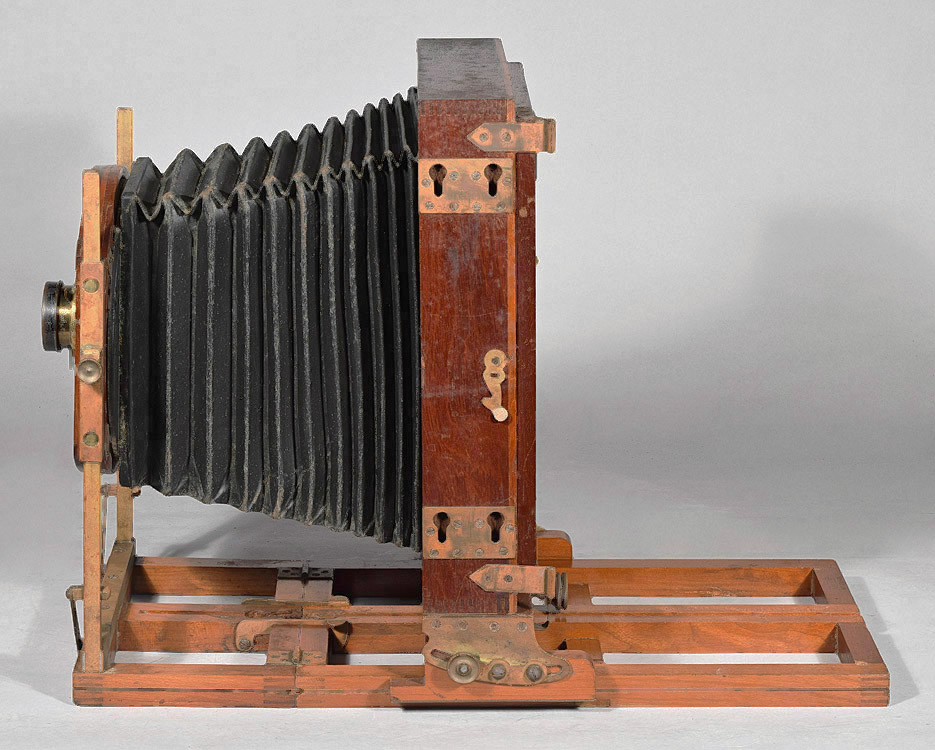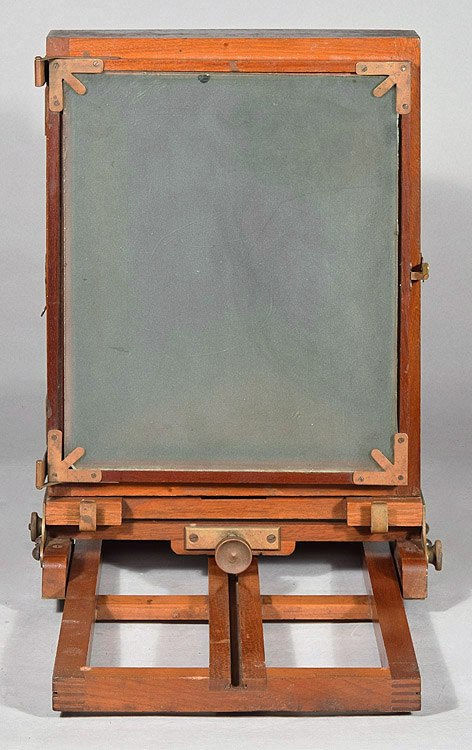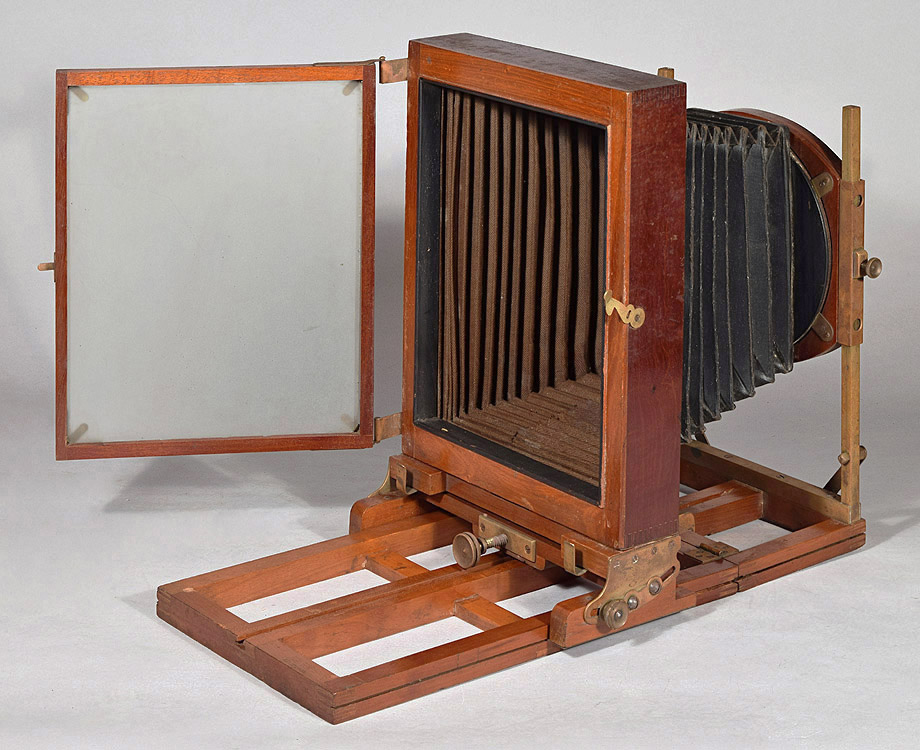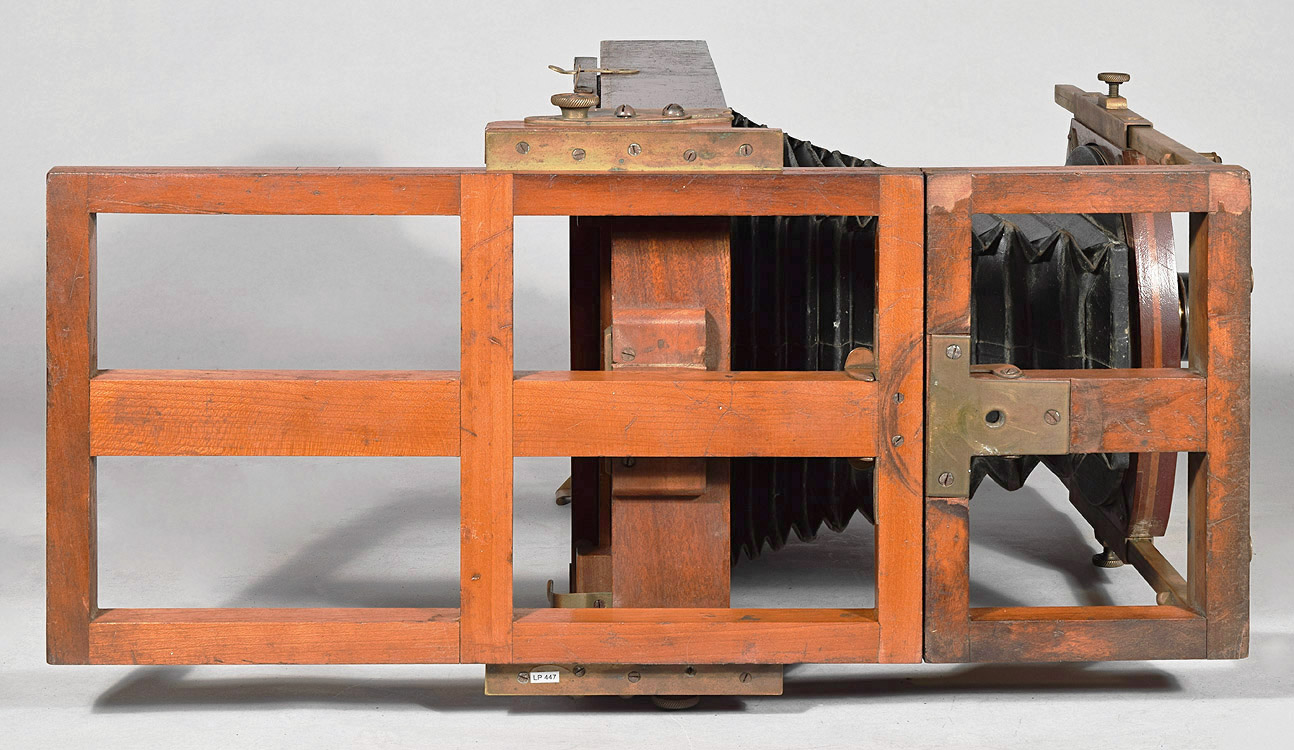 Label on front standard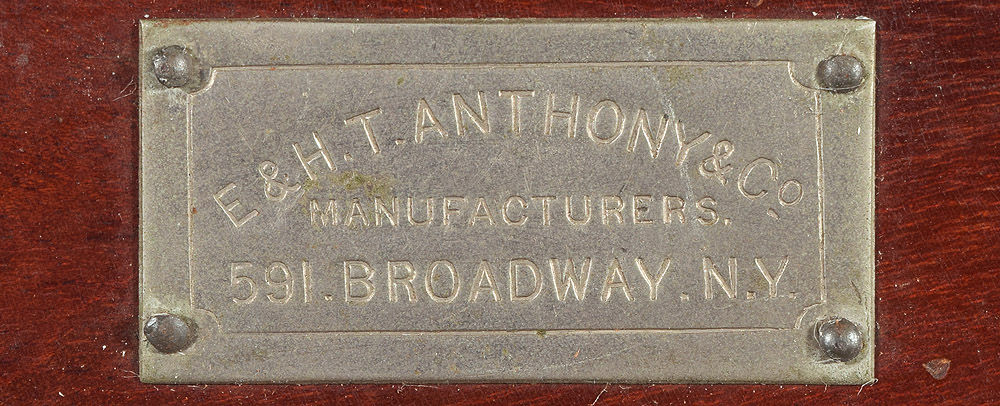 Patent stamps on rear base rail