E. & H.T. Anthony
Normandie Camera, Variation 1
Anthony Catalog January 1895, p. 14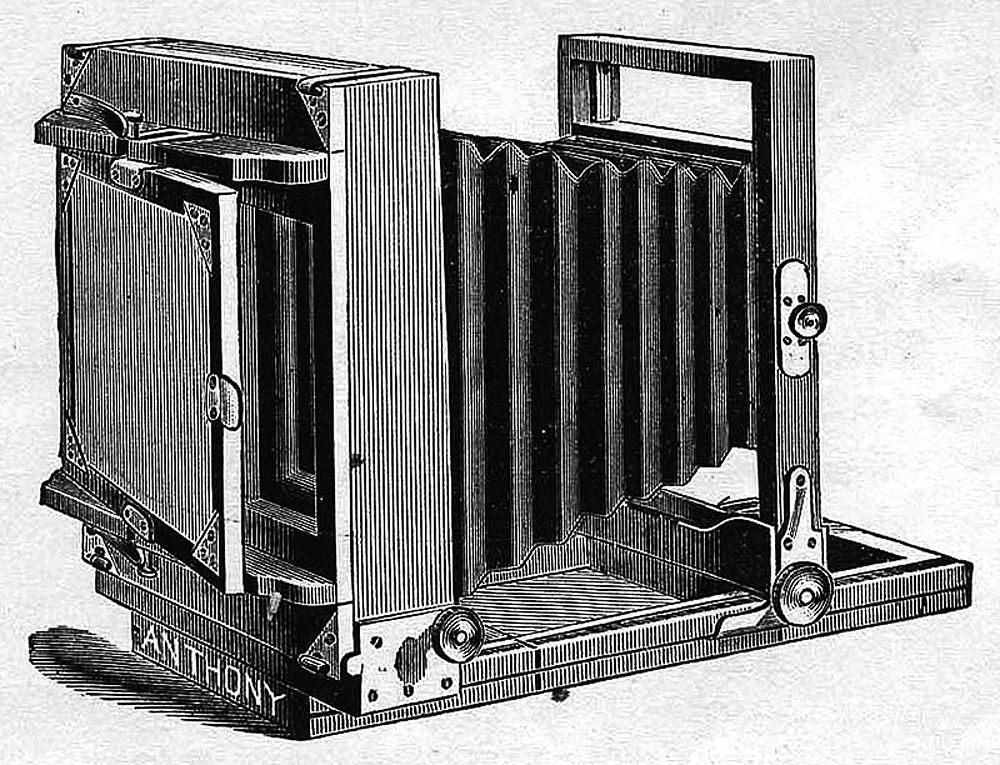 5 x 7" with Anthony's Telescopic Brass Bound Carrying Case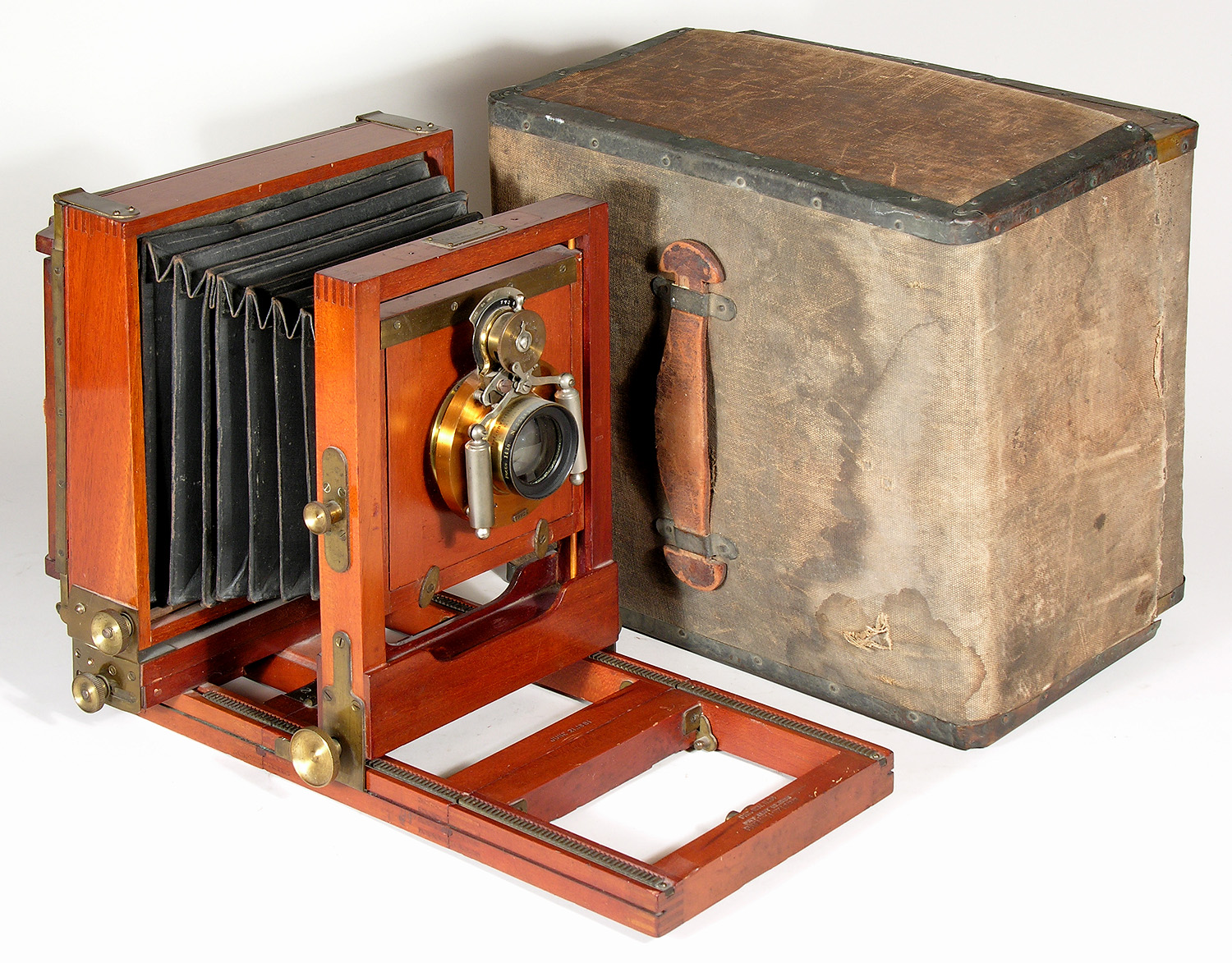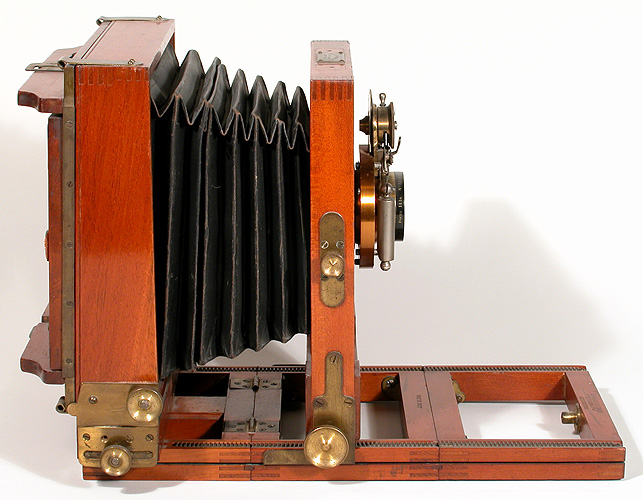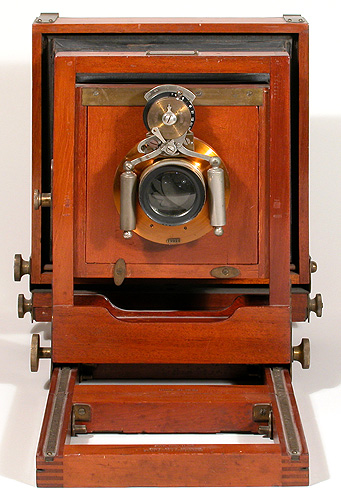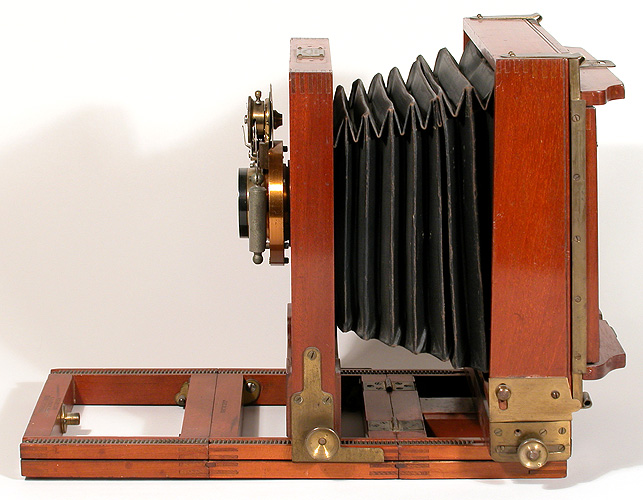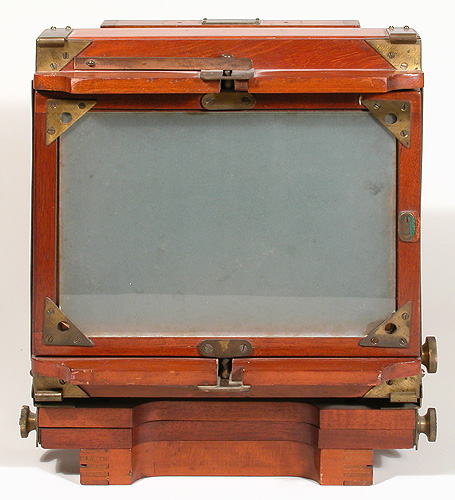 6½ x 8½" with Anthony's Telescopic Brass Bound Carrying Case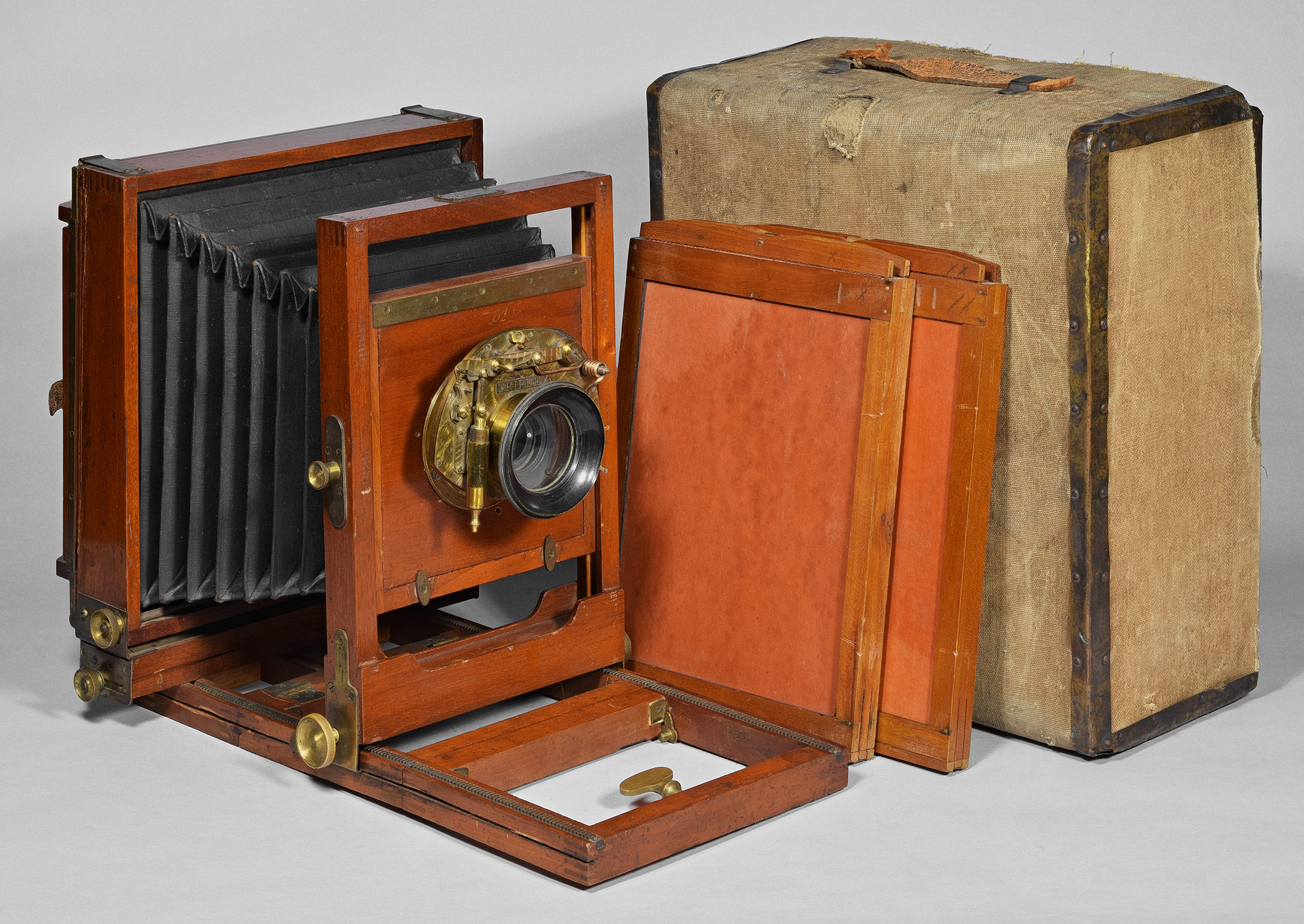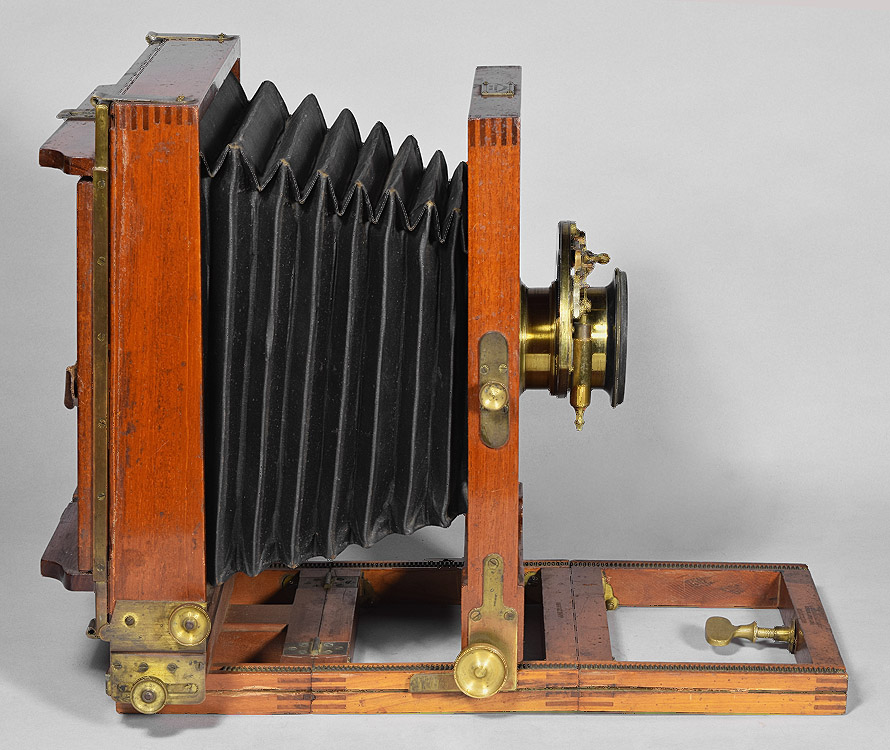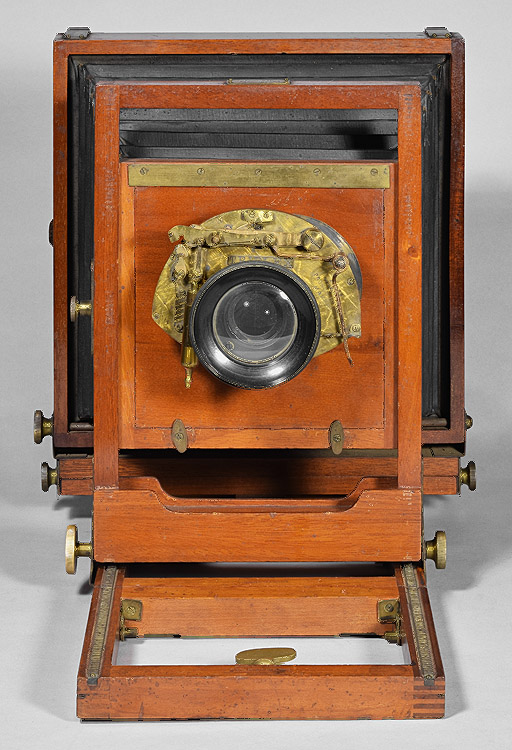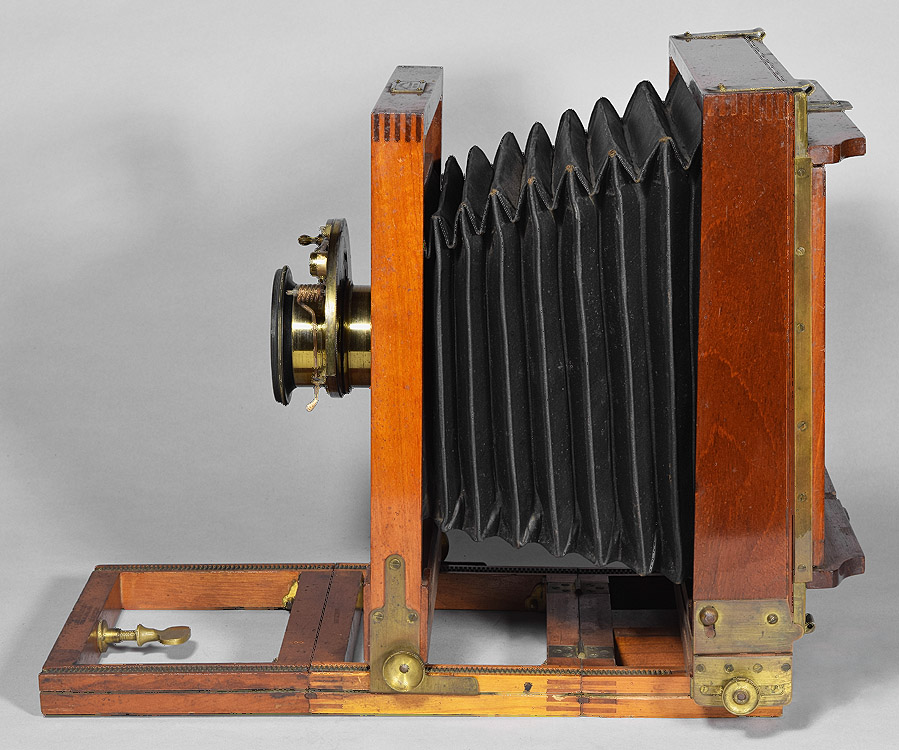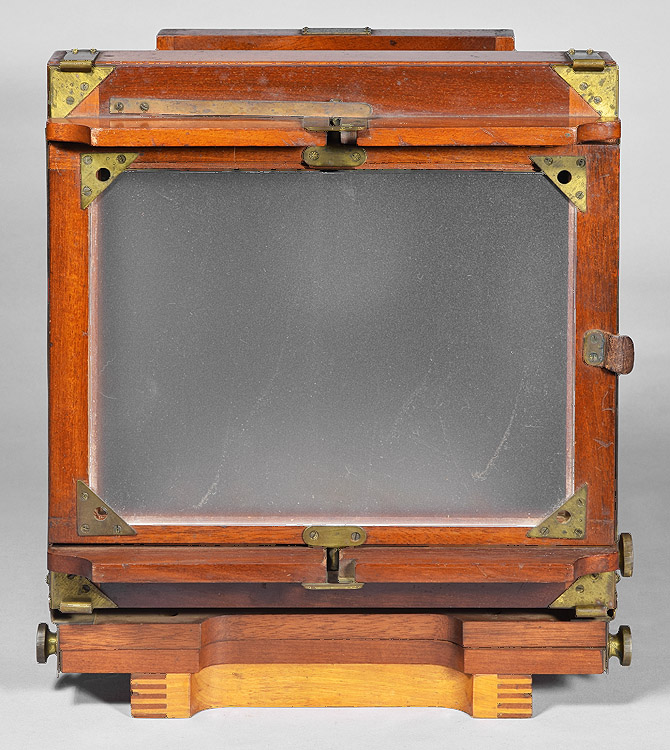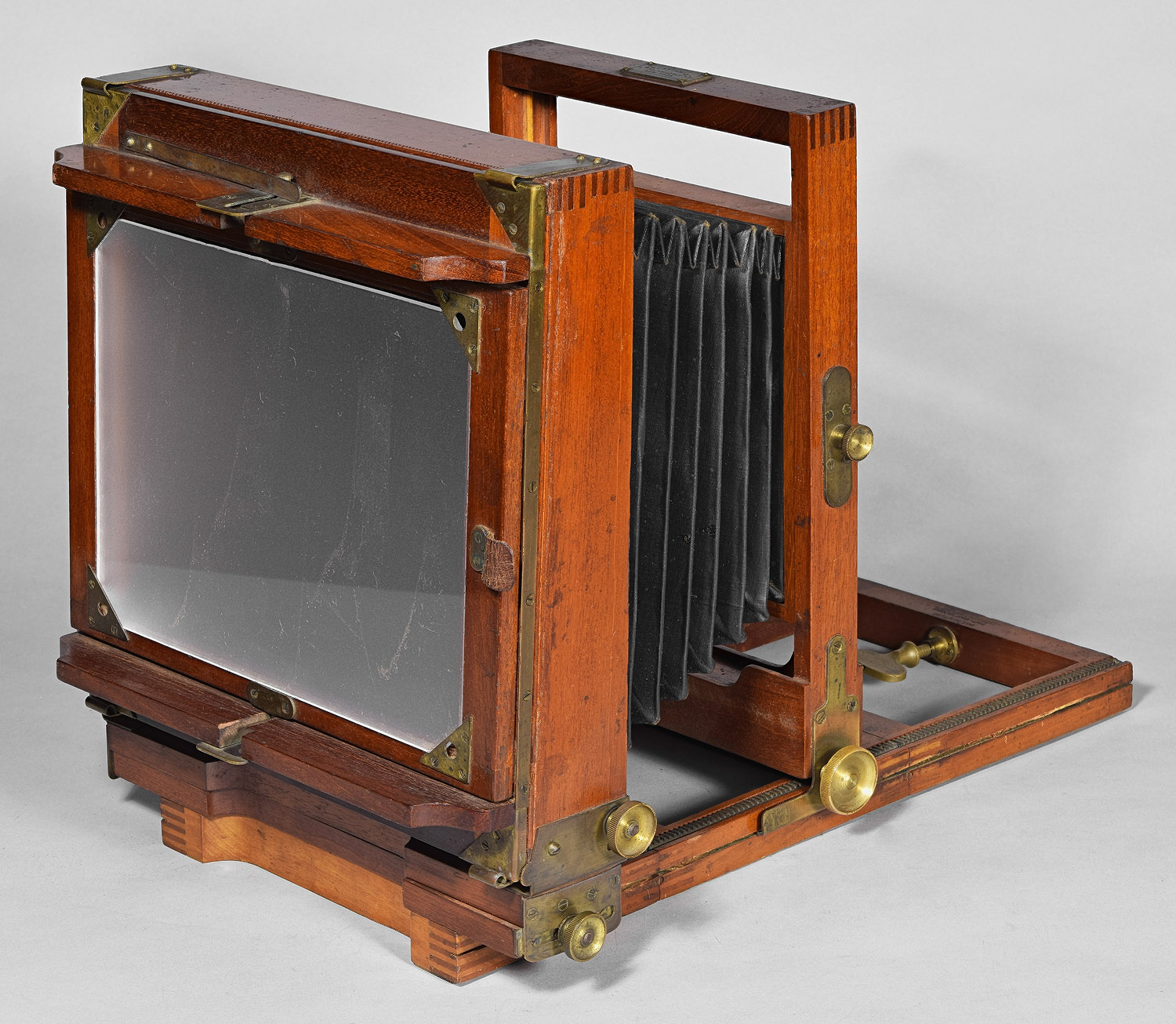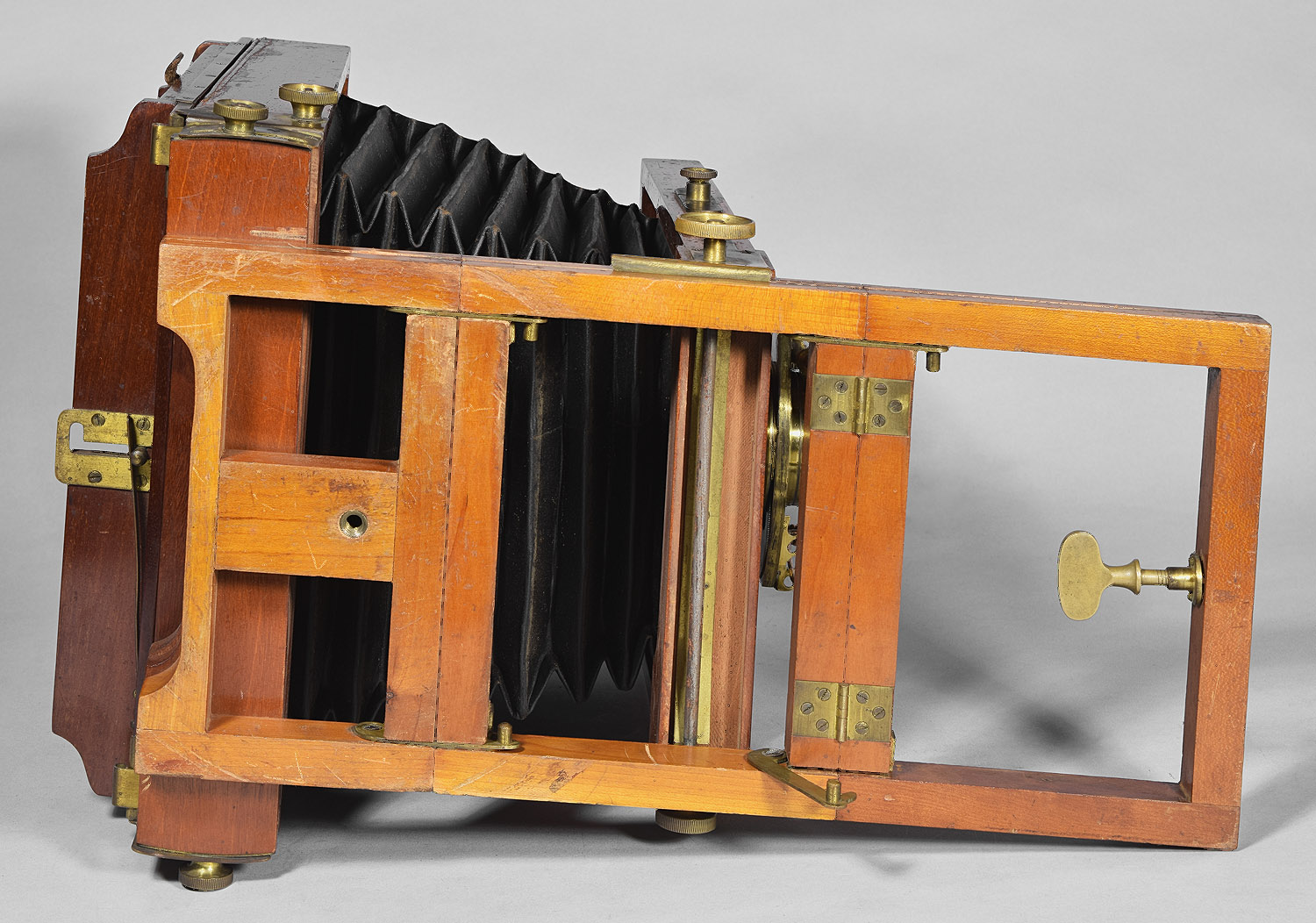 Brass Label, Top of the Front Standard


Patent Stamps, Front End of Platform ("Pat. Nov. 11, 84", "Pat. May 18, 1886" and "Pat. Mch. 27, 1888"


Date Introduced: 1889 ; Years Manufactured: 1889 - c.1901
Construction: front focus via rack and pinion (two gear tracks on top of base rails); double swing; reversing by removable back; plywood lens board; French polish finish; hinged front extension
Materials: mahogany body; cherry base; black fabric bellows; brass hardware
Sizes Offered: 5x7; 5x8; 6½x8½; 8x10; 10x12; 11x14 (in 1891 also 14x17)
Notes:
There are two variations seen of the Normandie. The Normandie Variation 1 (1889-c.1901) differs from Normandie Variation 2 (at least c.1903 and probably later) in a number of small details, the most obvious being that Variation 2 has nickeled hardware, a lower profile spring back and leather bellows.
Carrying Case
According to the Anthony catalogs 1888-1901 (all seen so far featuring the Normandie Variation 1), the Normandie Variation 1 came with an Anthony telescopic brass-bound canvas case. Sure enough, the Normandie Variation 1 cameras that came with a period case came with the Anthony brass bound case. The 1903 Anthony catalog that describes the Normandie Variation 2 refers to "our canvas carrying case", not mentioning "brass-bound". And sure enough, the Normandie Variation 2 having a period case has a plain canvas box - no brass edges.
The 5x7" camera above has at one time had a 3¼" long label on its top which has been replaced with an Anthony tag, yet the Anthony tag is correct. Below is illustrated a an outrageously sized 14x17 Normandie Variation 1.
References:
Not in The International Annual of Anthony's Photographic Bulletin, Vol. I, July 1888, page 53 (summary of Anthony current products).
Descriptive Catalogue and Price List of Photographic Apparatus, E. & H. T. Anthony & Co. (New York, NY), later 1889 (not in the January 1889 catalog), p. 34
The International Annual of Anthony's Photographic Bulletin, Vol. II, 1889, W. J. Harrison and A. H. Elliot, eds., E. & H. T. Anthony & Co. (New York, NY), ads p. 53
The International Annual of Anthony's Photographic Bulletin Vol. III 1890-1891, W. J. Harrison and A. H. Elliot, eds., E. & H. T. Anthony & Co. (New York, NY), ads p. 101
Illustrated Catalogue of Photographic Equipments and Materials for Amateurs, E. & H.T. Anthony & Co. (New York, NY), January 1891, p. 15-16
The International Annual Anthony's Photographic Bulletin Vol. VI 1894, edited by A.H. Elliott and F.P. Smith, E. & H. T. Anthony & Co. (New York, NY), ads p. 21 (engraving)
The International Annual of Anthony's Photographic Bulletin Vol. VI 1894, edited by A.H. Elliott and F.P. Smith, E. & H.T. Anthony & Co. (New York, NY), 1893, p. 71 (list of view and other cameras)
Illustrated Catalogue of Photographic Equipments and Materials for Amateurs, E. & H.T. Anthony & Co. (New York, NY), September, 1894, p. 19-20
Wilson's Cyclopaedic Photography, Edward L. Wilson (New York, NY), copyright 1894, p. 462
Illustrated Catalogue of Photographic Equipments and Materials for Amateurs, E. & H.T. Anthony & Co. (New York, NY), January 1895, p. 19-20
Illustrated Catalogue of Photographic Equipments and Materials for Amateurs, E. & H.T. Anthony & Co. (New York, NY), December, 1895, p. 19-20
The International Annual of Anthony's Photographic Bulletin Vol. VII 1895,E. & H.T. Anthony & Co. (New York, NY), 1894, ads p. 7, 99
Illustrated Catalogue of Photographic Equipments and Materials for Amateurs, E. & H.T. Anthony & Co. (New York, NY), August, 1896, p. 18-19
The International Annual of Anthony's Photographic Bulletin Vol. X 1897,E. & H.T. Anthony & Co. (New York, NY), 1896, p. 56
Illustrated Catalogue of Photographic Materials, Thos. H. McCollin & Co. (Philadelphia, PA) undated, c. 1897, p. 44
Illustrated Catalogue of Photographic Equipments and Materials for Amateurs, E. & H.T. Anthony & Co. (New York, NY), February, 1898, p. 12-13
Descriptive Catalogue and Price List of Photographic Apparatus (Professional Catalog), E. & H.T. Anthony & Co., New York, NY, July 1899, p. 41-42
Illustrated Catalogue of Photographic Equipments and Materials for Amateurs, E. & H.T. Anthony & Co. (New York, NY), August, 1899, p. 25
Illustrated Catalogue of Photographic Equipments and Materials for Amateurs, E. & H.T. Anthony & Co. (New York, NY), April, 1900, p. 25
Illustrated Catalogue of Photographic Equipments and Materials for Amateurs, The Anthony & Scovill Co. (New York, NY), June, 1901, p. 26
14x17 with Anthony's Telescopic Brass Bound Carrying Case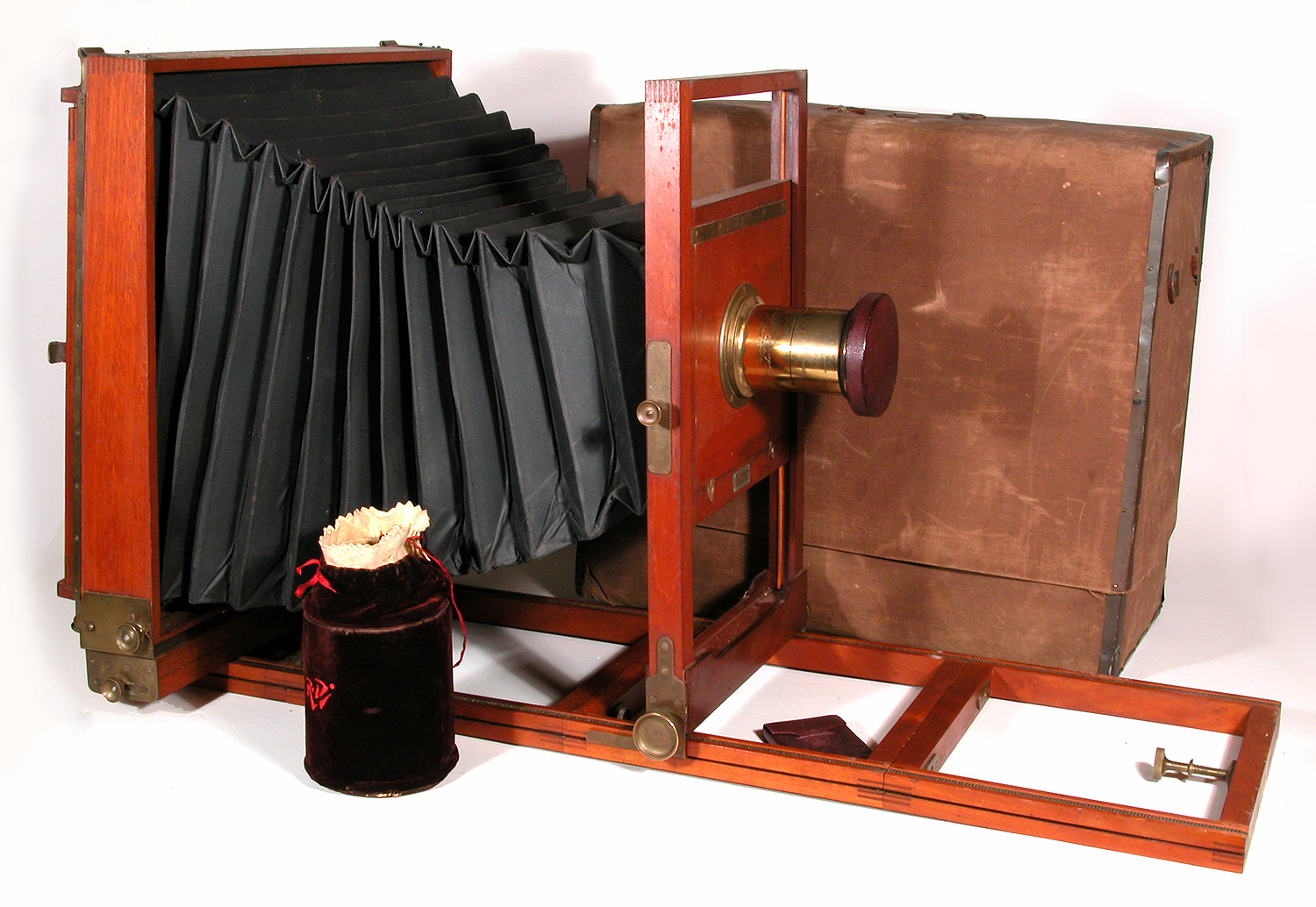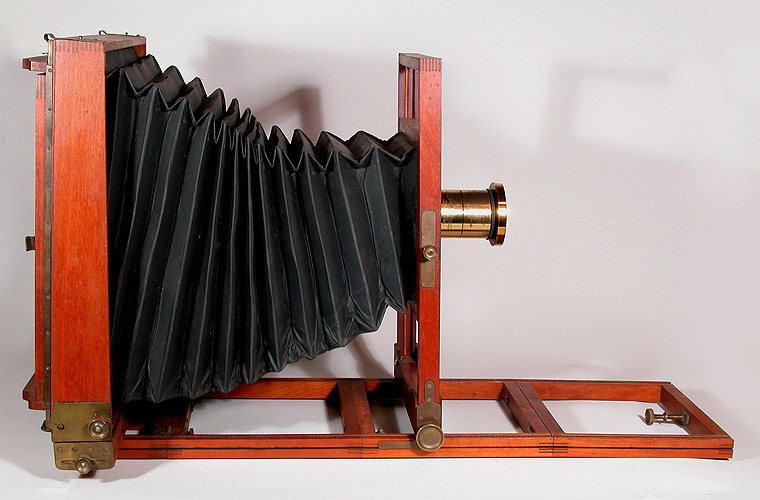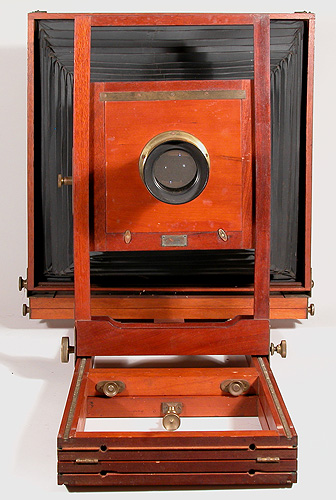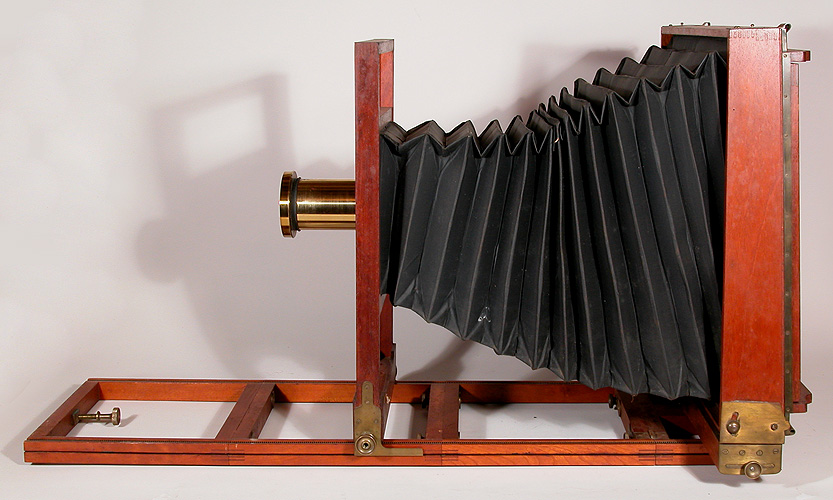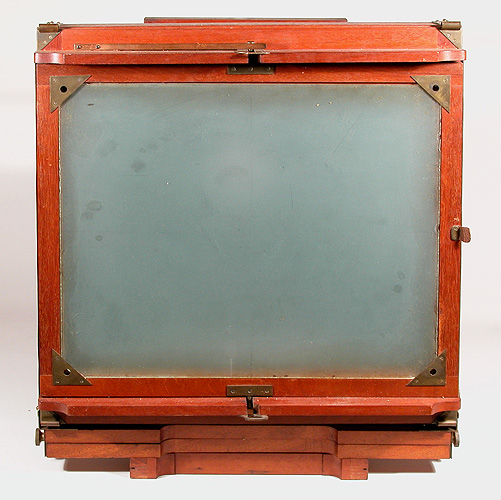 Back to E.& H.T. Anthony