Scovill Mfg. Co.
Favorite (A-EEE)
Scovill's Photo. Series No. 20, Dry Plate Making for Amateurs, Scovill Mfg. Co. (New York, NY), 1886, p. a3-a5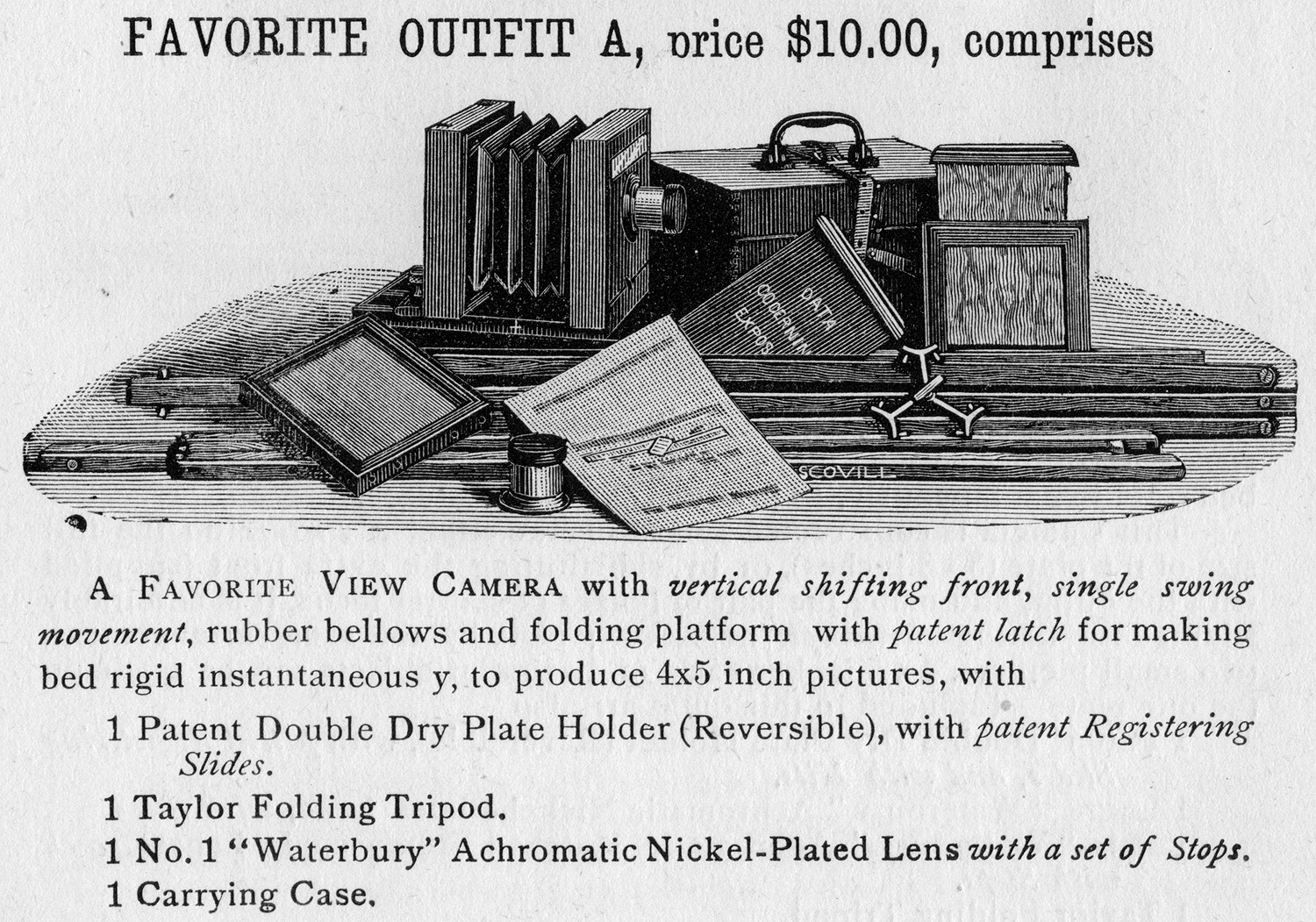 5 x 4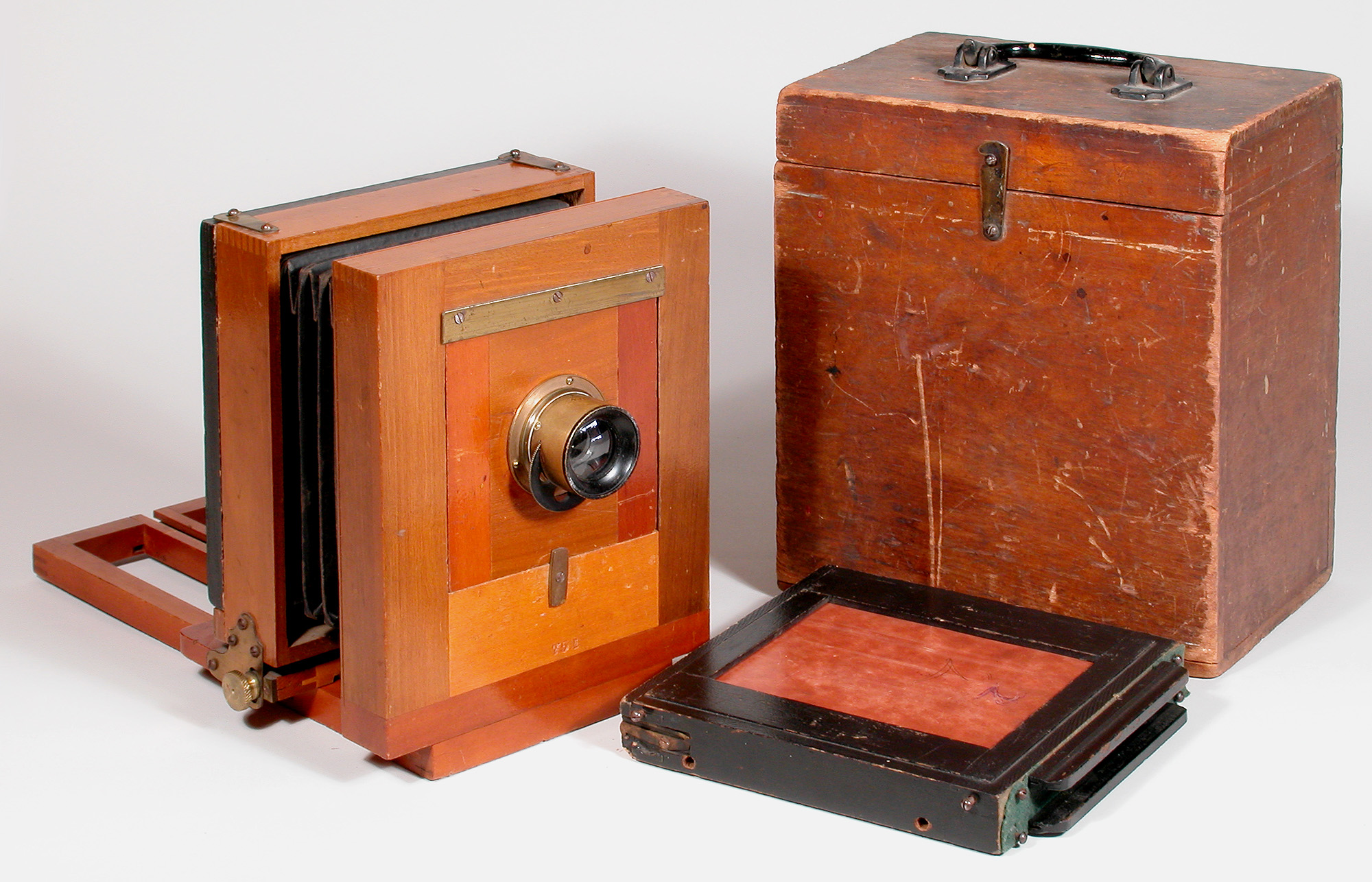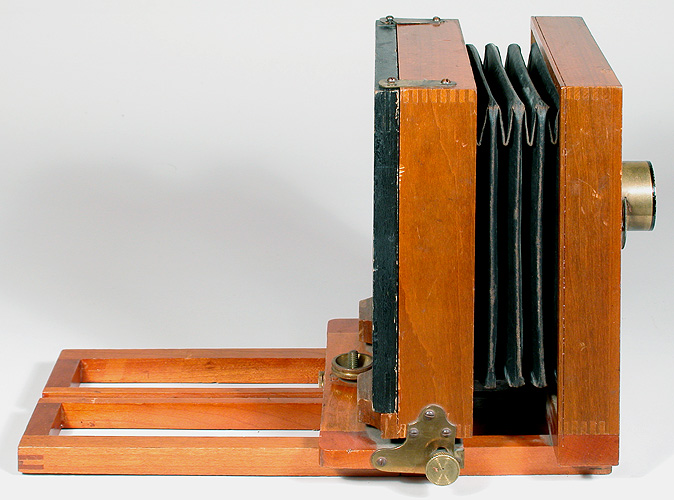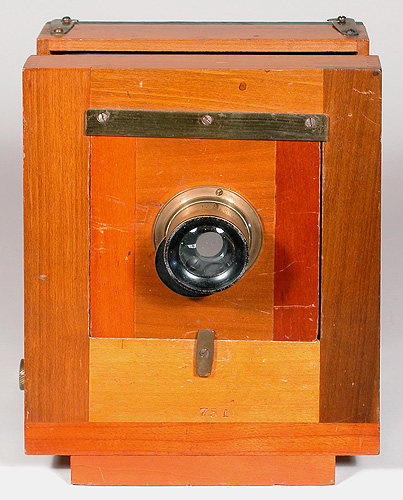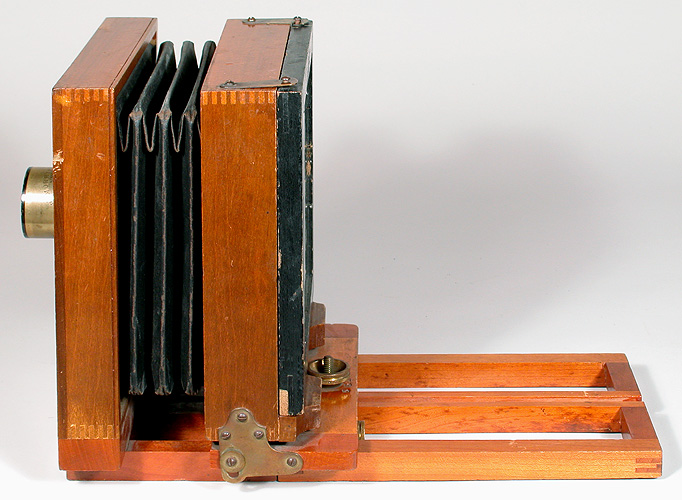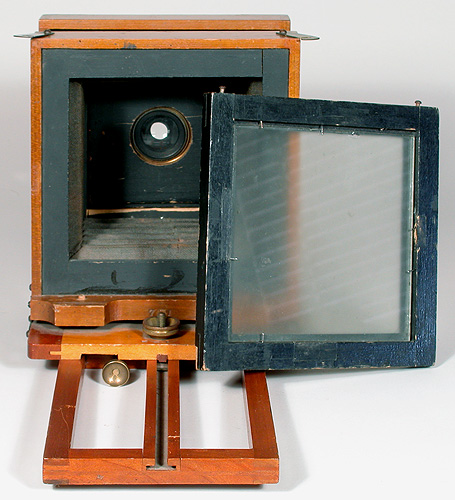 Manufacturer: Scovill Mfg. Co., New Haven, CT factory
Date Introduced: - ; Years Manufactured: c.1885-1898
Construction: back focus via push-pull; single swing; reversing by two tripod mounts
Materials: white wood (e.g. basswood) body; cherry bed; black fabric bellows; brass hardware
Sizes Offered: #A=4x5 (shown in photos above); #B=5x8 (shown in photos below); #C=5x8 stereo; #D=6½x8½; #E=8x10; all sizes and letters have folding beds
Notes:
This is a basic no-frills camera; came with a nickeled Waterbury lens w/ insertable stops (by 1889, the stops were revolving), plate-holder and wooden case. #'s AA-DD add a dark cloth, plates and ruby lantern. #'s AAA-EEE add what's in the AA's and a developing outfit and a printing outfit. The letter designations were general, and were also used to describe Ne Plus Ultra outfits.
It is of the few vertical 4x5 format cameras made, although it would be more accurately called 5x5; it had a special 4x5 holder which could be attached either horizontally or vertically without repositioning the camera.
The Favorite has very similar sizes and offerings to the earlier Tourist Amateur Outfits, and may be a re-naming or continuation of the same, since the Tourist Amateur Outfits apparently ceased being advertised about the time the Favorite started being advertised.
Not all Favorites match the catalog descriptions. The catalogs descriptions tout a "vertical shifting front", whereas the engravings that come with those descriptions show a camera that clearly does not have a vertical shifting front. Cameras such as the above example match the engraving, i.e., no vertical shifting front.
Usually, the ground glass from is not hinged, such as the above camera, but the below camera has hinges that appear to be original.
Some Putnam Marvel cameras are the Favorite re-stamped by Putnam.
References:
How to Make Photographs and Descriptive Price List, Scovill Mfg. Co. (New York, NY), distributed by Andrew J. Smith (Providence, RI), 1886, pp. 27-29, 32 (A-E, AA-DD, AAA-DDD)
Scovill's Photo. Series No. 12, A Manual of Photographic Chemistry, Scovill Mfg. Co. (New York, NY), 1886, ads p. 11-13 (A-E, AA-DD)
Scovill's Photo. Series No. 20, Dry Plate Making for Amateurs, Scovill Mfg. Co. (New York, NY), 1886, p. a3-a5 (A-E, AA-DD)
Obrig Camera Co. (New York, NY) Catalog, 1886
How to Make Pictures, 4th edition, Henry Clay Price, Scovill Mfg. Co., publishers (New York, NY), dated 1887, copyright 1886, p.a2-a5
Photographic Lenses and How to Select Them, James W. Queen & Co. (Philadelphia, PA), 1887, p. 27
How to Make Photographs and Descriptive Price List, Scovill Mfg. Co. (New York, NY), distributed by C.H. Codman & Co. (Boston, MA), April 1887, pp. 25-28 (A-E, AA-DD, AAA-EEE)
How to Make Photographs and Descriptive Price List, Scovill Mfg. Co. (New York, NY), July 1887, pp. 25-28 (A-E, AA-DD, AAA-EEE)
The American Annual of Photography and Photographic Times Almanac for 1888, C.W. Canfield, ed.; Scovill Mfg. Co. (New York, NY), copyright 1887, ads p. 65
How to Make Photographs and Descriptive Price List, Scovill Mfg. Co. (New York, NY), undated but about January 1888, pp. 23-26 (A-E, AA-DD, AAA-EEE)
How to Make Photographs and Descriptive Price List, Scovill Mfg. Co., distributed by C.H. Codman & Co. (Boston, MA), September 1888, pp. 10-12 (A-E)
How to Make Photographs and Descriptive Price List, The Scovill & Adams Co. (New York, NY), January 1889, pp. 10-12 (A-E)
How to Make Photographs and Descriptive Price List, Scovill Mfg. Co. (New York, NY), distributed by Buchanan, Bromley & Co. (Philadelphia, PA) Catalog, 1888 (A-E)
How to Make Photographs and Descriptive Price List, The Scovill & Adams Co. (New York, NY), distributed by Buchanan, Bromley & Co. (Philadelphia, PA) Catalog, 1889 (A-E)
American Annual of Photography and Photographic Times Almanac for 1890, The Scovill & Adams Co. (New York, NY), ads p. 93
How to Make Photographs and Descriptive Price List, The Scovill & Adams Co. (New York, NY), distributed by Oscar Foss (San Francisco, CA), June 1890, pp. 12-14 (A-E; AAA-EEE)
Photographic Material, Catalogue O & P, James W. Queen & Co. (Philadelphia, PA), 1891, p. 35-36 (as Standard Cameras)
How to Make Photographs and Descriptive Price List, The Scovill & Adams Co. (New York, NY), distributed by Sargent & Co. (Cleveland, OH), April 1891, pp. 5-7
How to Make Photographs and Descriptive Price List, The Scovill & Adams Co. (New York, NY), distributed by Horgan, Robey & Co. (Boston, MA), June 1891, pp. 5-7 (A-EEE)
American Annual of Photography and Photographic Times Almanac for 1892, The Scovill & Adams Co. (New York, NY), 1891, p. 102
How to Make Photographs and Descriptive Price List, The Scovill & Adams Co. (New York, NY), January 1892, pp. 4-6 (A-EEE)
How to Make Photographs and Descriptive Price List, The Scovill & Adams Co. (New York, NY), April 1892, pp. 4-6 (A-EEE)
American Annual of Photography and Photographic Times Almanac for 1893, The Scovill & Adams Co. (New York, NY), 1892, ads p. 146
The American Annual of Photography and Photographic Times Almanac for 1894, The Scovill & Adams Co. (New York, NY), 1893, p. 110
How to Make Photographs and a Descriptive Catalogue of Photographic Materials Illustrated, The Scovill & Adams Co. (New York, NY), 1896, p. 23-25 (A-EEE)

5 x 8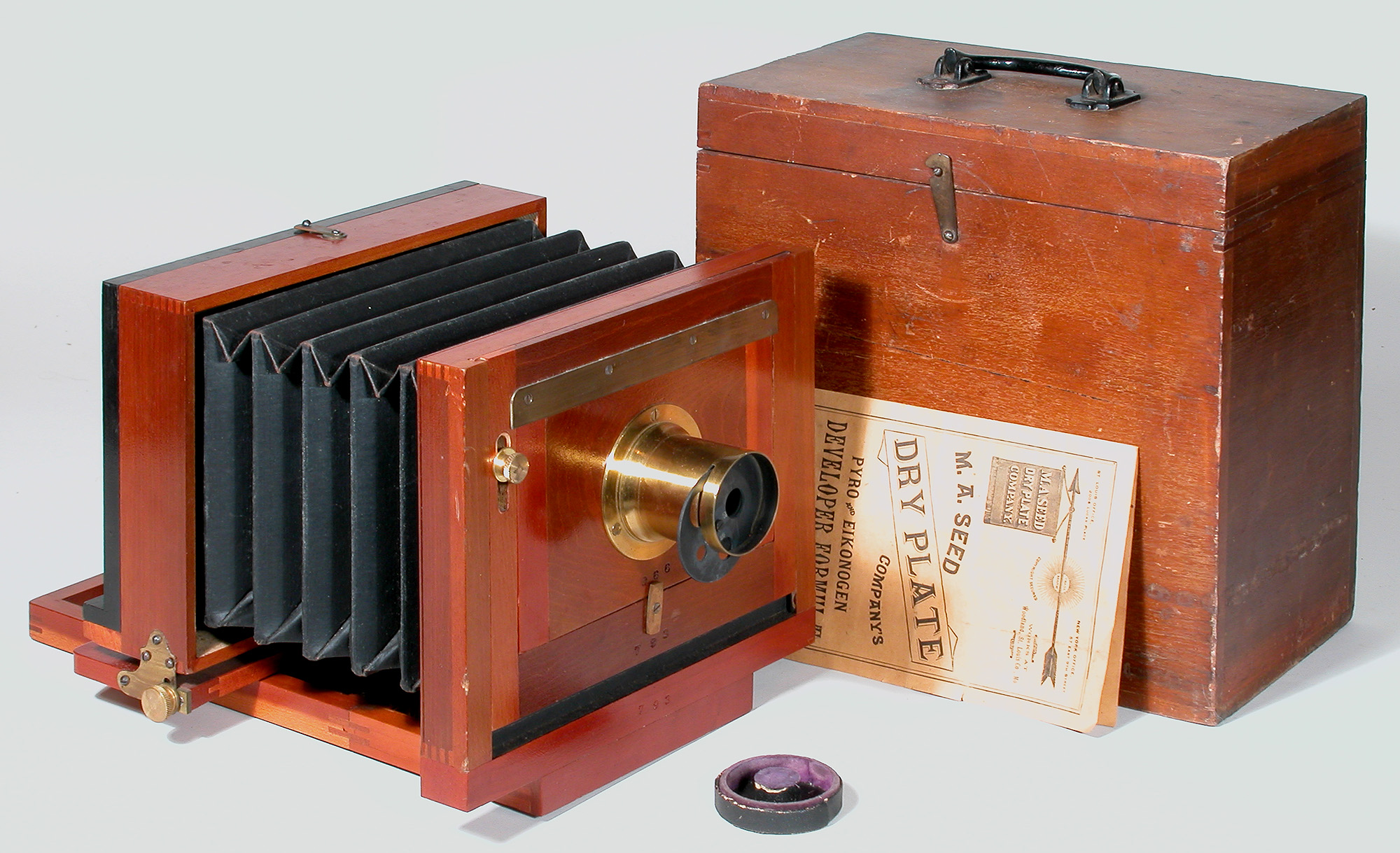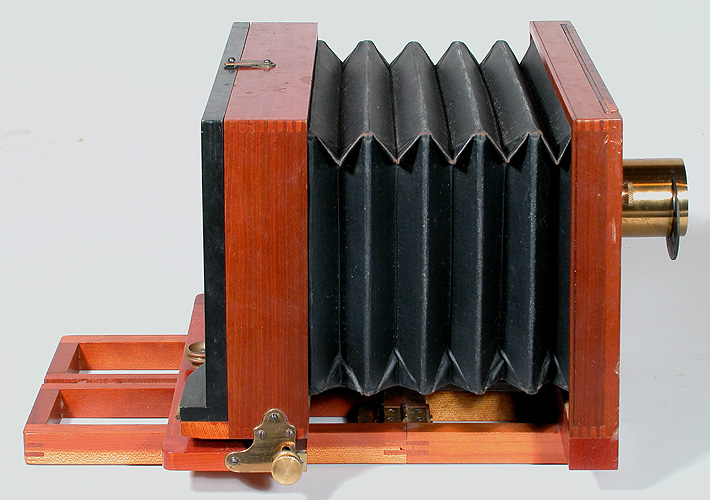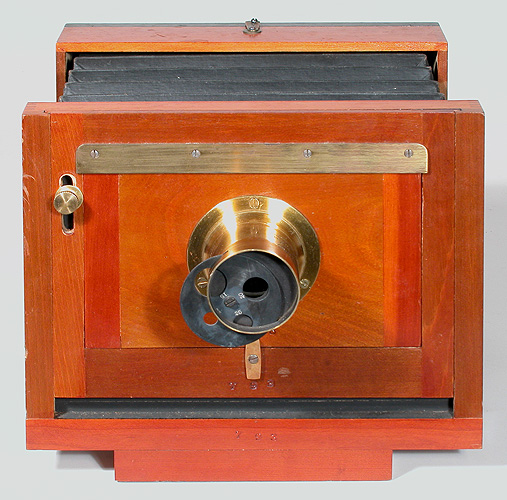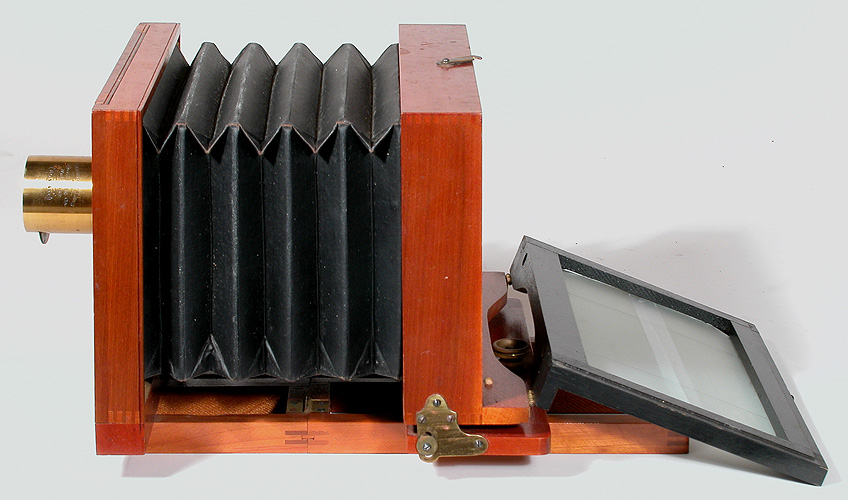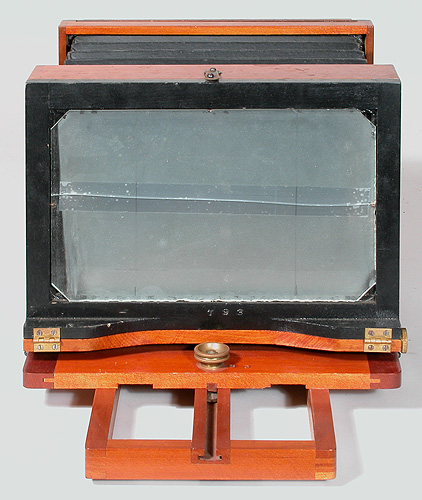 Back to American Optical & Scovill