Scovill Mfg. Co.
Ne Plus Ultra
Folding Platform

(A-

E

)

Catalogue No. 7, T. F. Indermill, St. Joseph, MO, Oct. 1, 1885, p. 97. This engraving was used for both the Ne Plus Ultra and Favorite models, neither of which has the very grained wood shown in the engraving.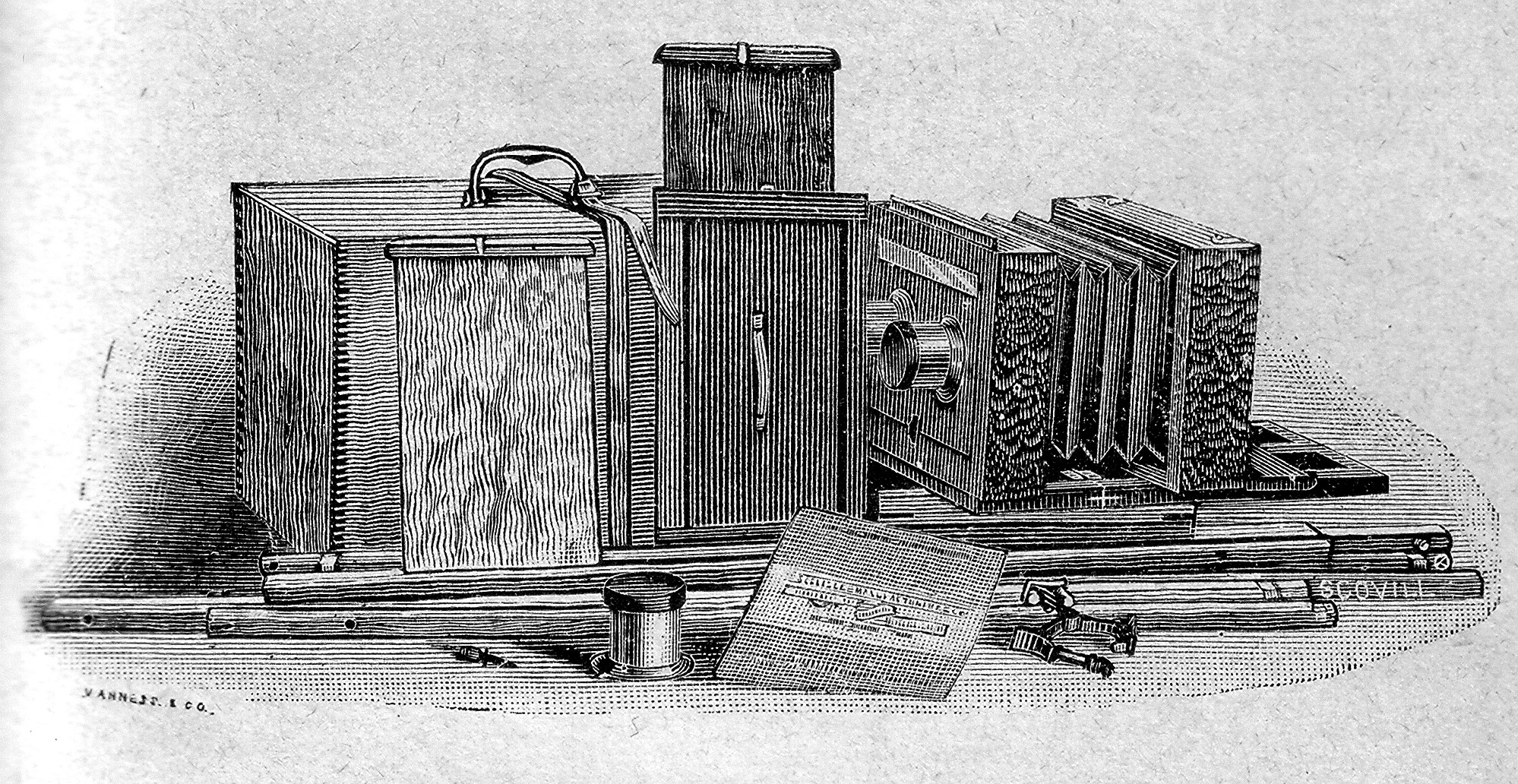 6½x8½, natural finish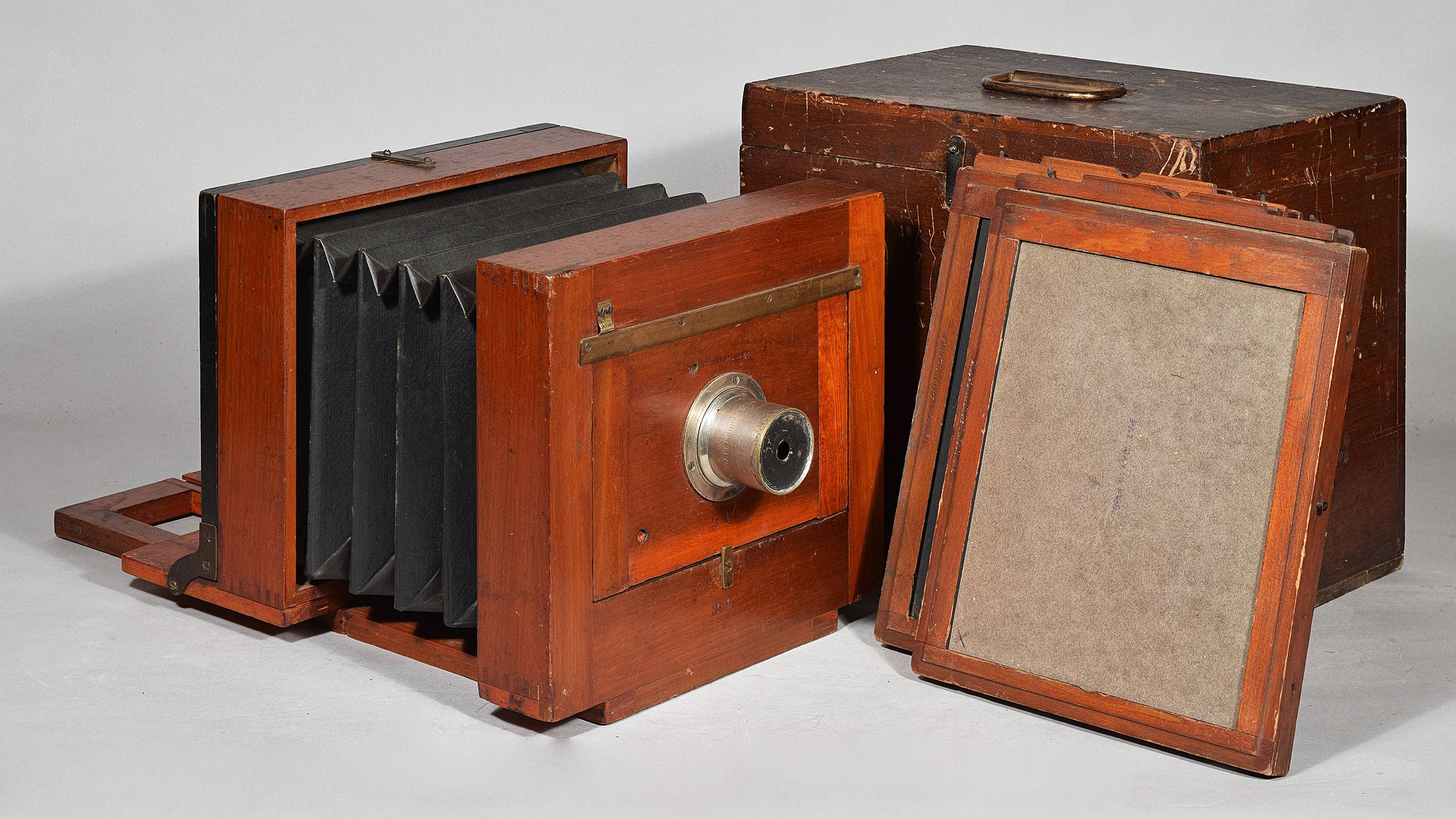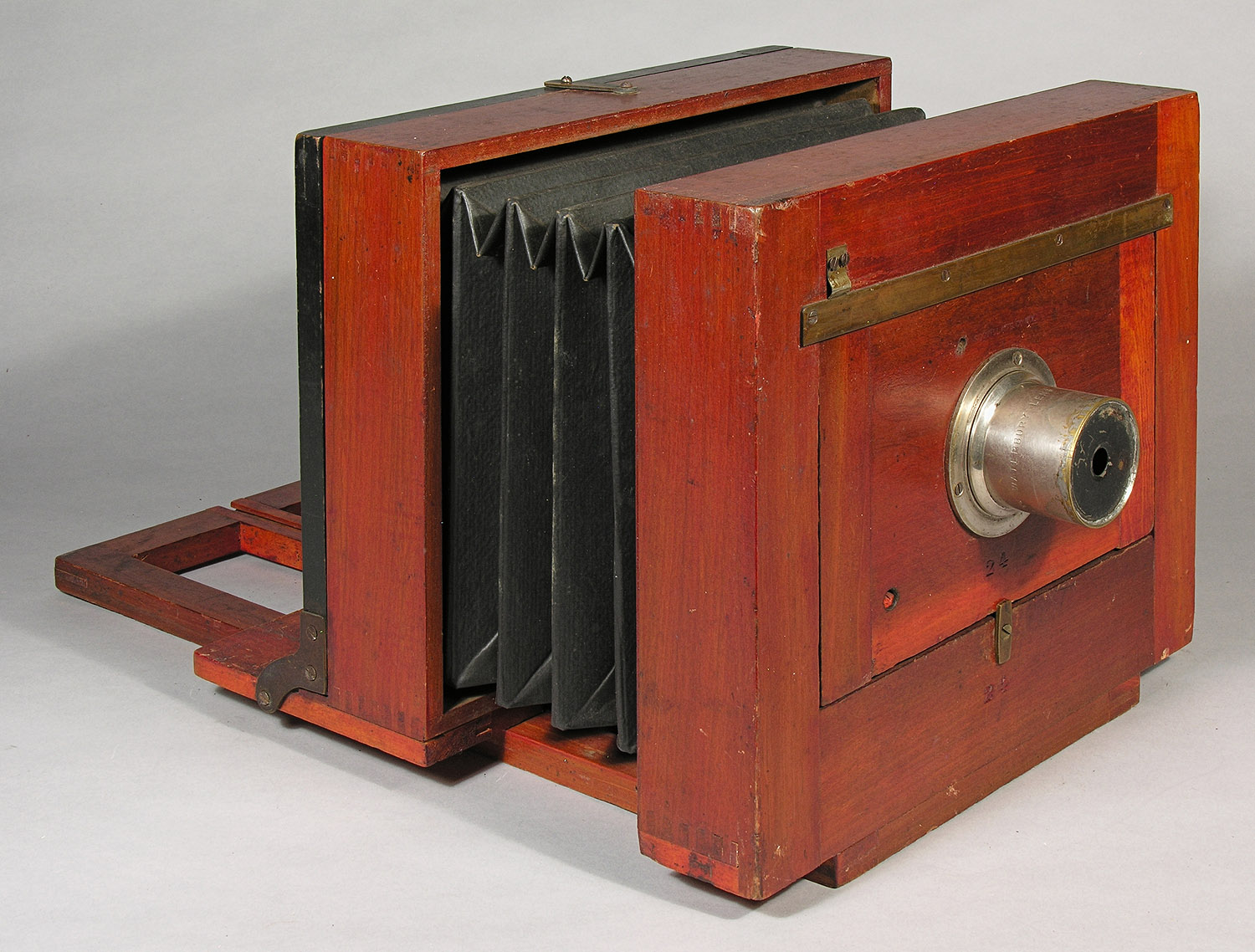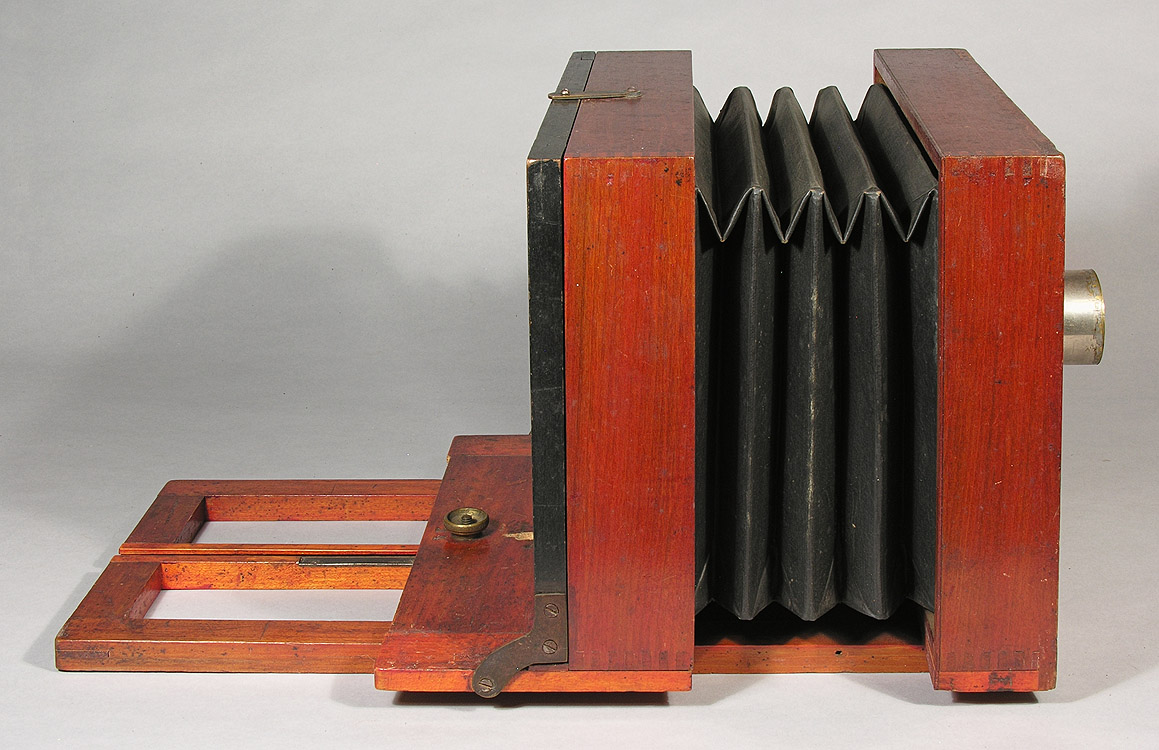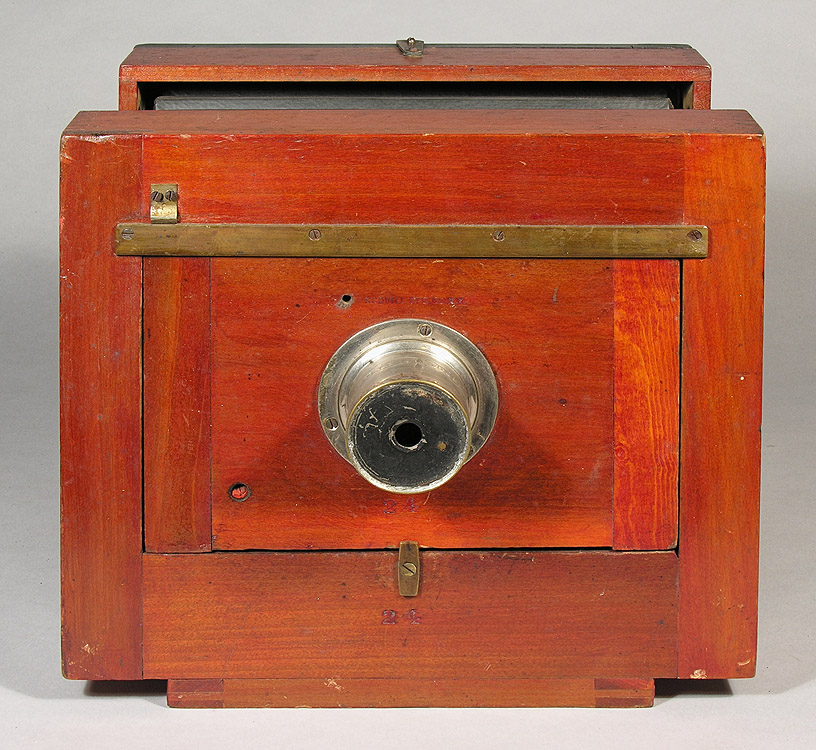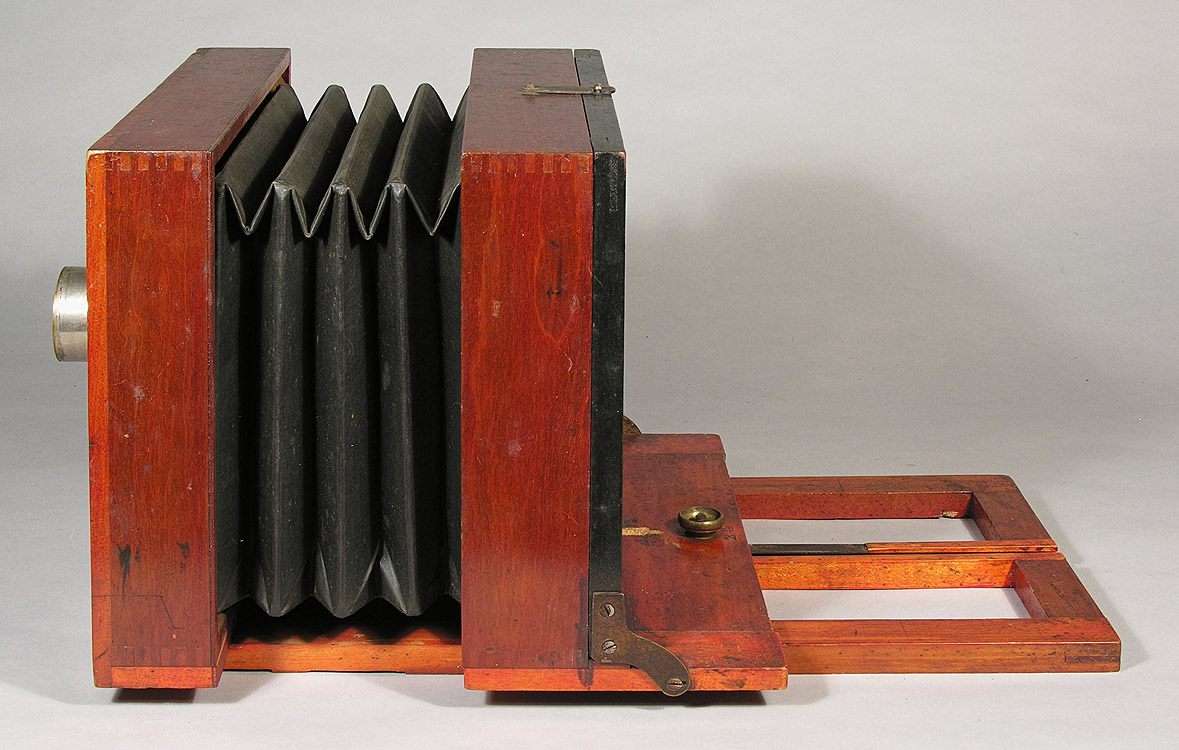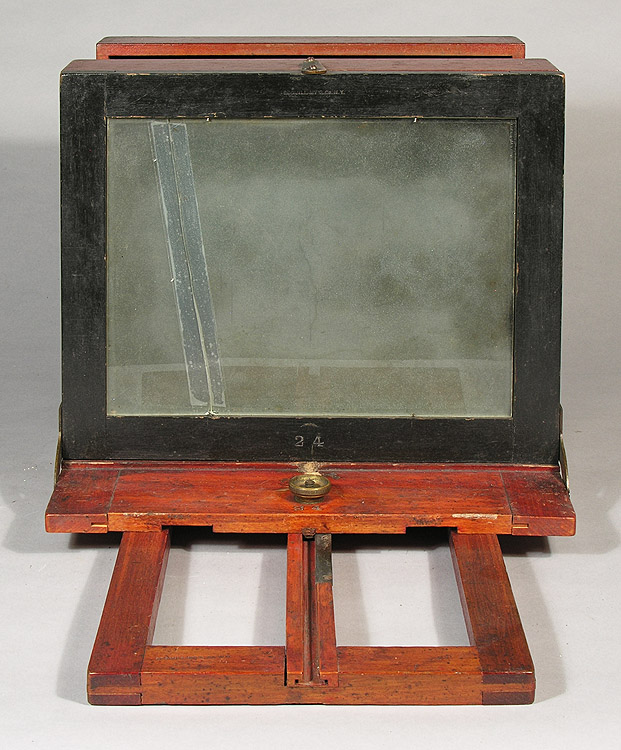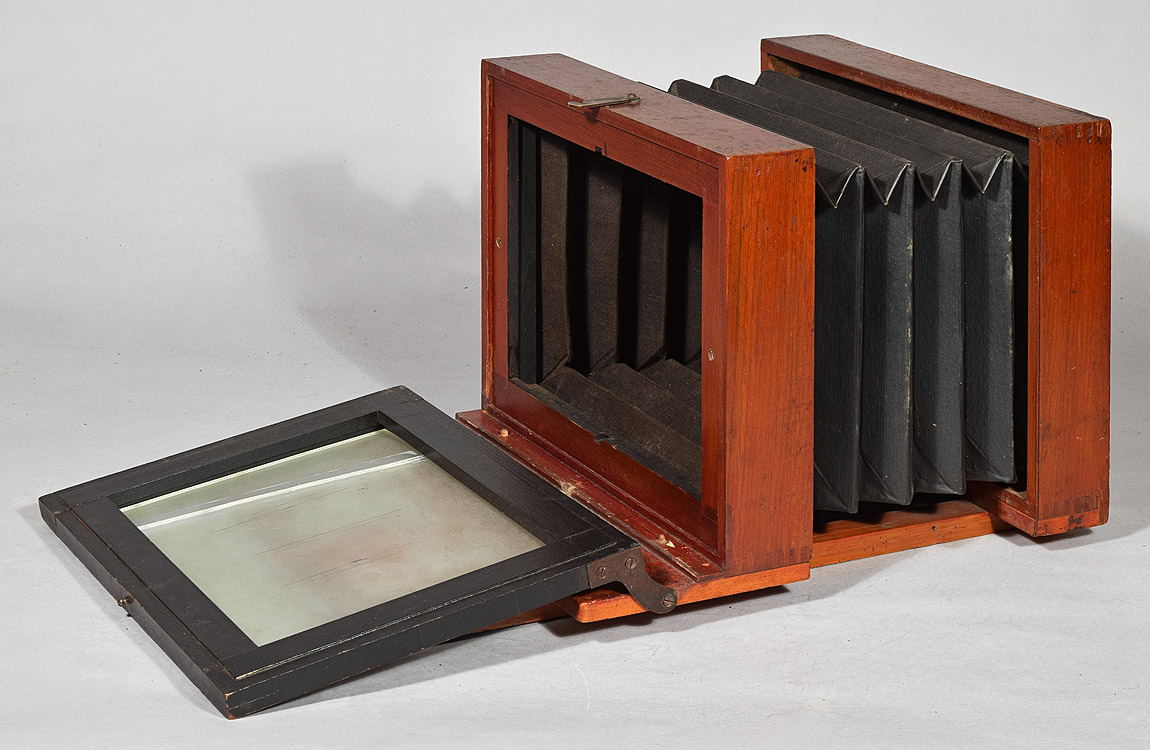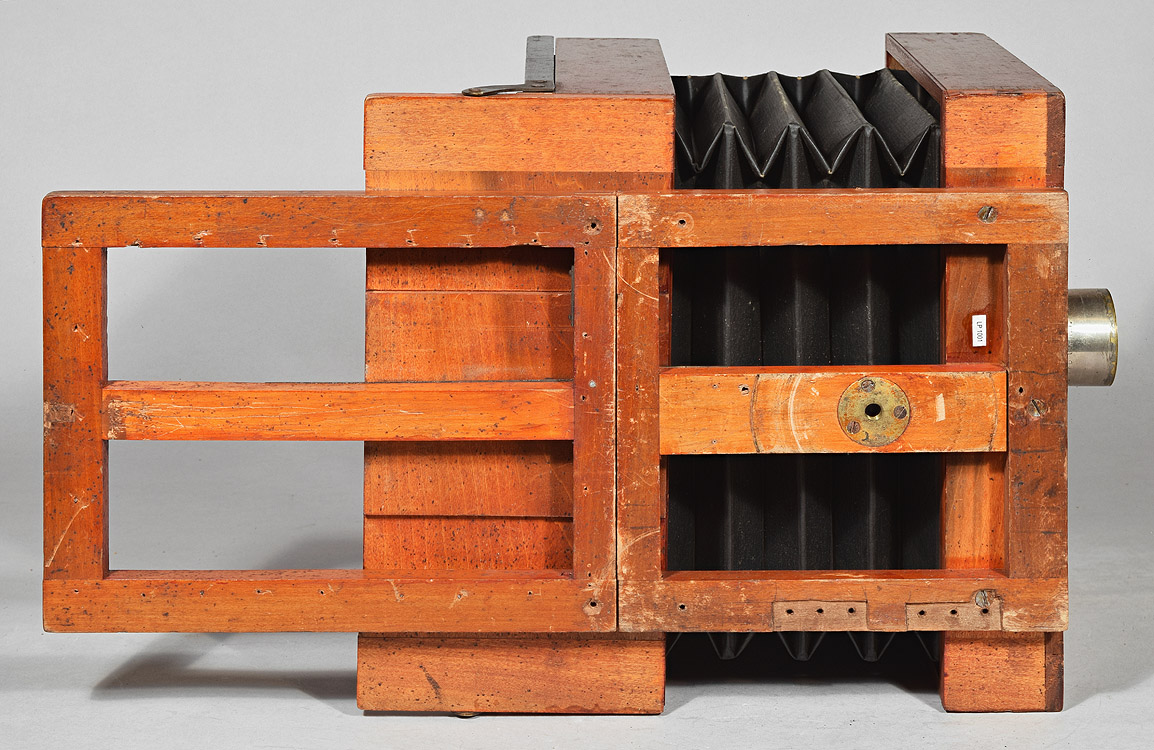 Stamp on lens board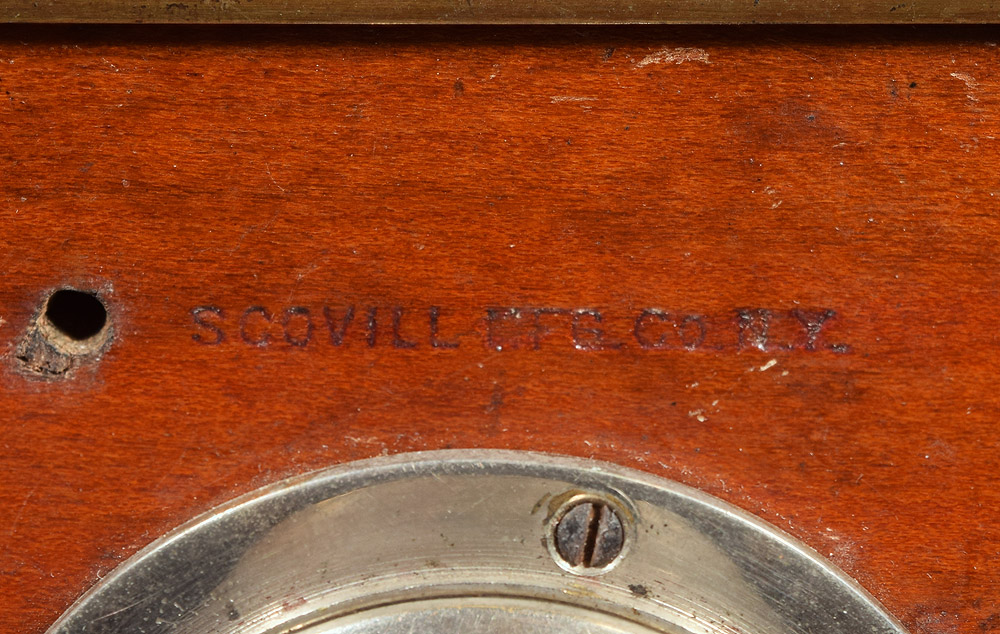 Stamp on rear rail


Manufacturer: Scovill Mfg. Co., New Haven, CT factory
Date Introduced: - ; Years Manufactured: c.1883 - c.1885; then c.1887 - c.1896
Construction: folding platform; back focus via push-pull; no swing; non-reversing; no lens board
Materials: white wood body; cherry base; black fabric bellows; brass hardware, varnish finish
Sizes Offered: #A=4x5; #B=5x8; #C=5x8 stereo; #D=6½x8½, #E=8x10
Notes:
The name Ne Plus Ultra has a long history in Scovill Mfg. Co.
In the early part of the 1880's, the Ne Plus Ultra was Scovill's low-priced entry into amateur photographer's equipment. It was a simple camera having a rigid bed and no movements, so was rather bulky in large sizes, for which reason it was only made in 6½x8½ and smaller. The Ne Plus Ultra designations A-D were Scovill's model number for a camera outfit: camera, lens, one plateholder, a tripod and a wooden case. Designations AA-DD were for the same outfit, but also including a box of dozen dry plates and a few darkroom items. Designations AAA-DDD included everything from AA-DD and a complete chemical/darkroom setup.
From c.1881 to c.1883, the platform of the Ne Plus Ultra was rigid. While a rigid platform is inexpensive to produce, it apparently didn't take long for Scovill to realize the advantage of a folding platform, and advertisements from c.1883 to c.1885 describe the Ne Plus Ultra as having folding platforms. Here, these are called: Ne Plus Ultra Rigid Platform (A-E) and Ne Plus Ultra Folding Platform (A-E).
Richard Walsl (The Photographer's Friend, 7th ed, Richard Walsl (Baltimore, MD) Catalog, 1882, p. 51) offered cameras having the same description as Ne Plus Ultra Rigid Platform (A-E), but he did not identify them as a Scovill product (a common practice then), and he called them, simply, Dry Plate Outfits.
In Scovill's 1886 catalog, How to Make Photographs and Descriptive Price List, copyright 1886 (distributed by Andrew J. Smith, Providence, RI), the low cost camera is the Favorite. The only camera using the name Ne Plus Ultra in the catalog is the Ne Plus Ultra Bicycle View, which is unrelated (other than co-opting the name) to the former Ne Plus Ultra , since the bicycle camera is in a size (3¼x4¼) in which the former Ne Plus Ultra was never made, and its bed folds, contrary to early Ne Plus Ultra specs. So it would appear that by the mid 1880's, amateurs demanded a folding bed camera, and therefore, the folding-bed Favorite apparently replaced the rigid bed Ne Plus Ultra as Scovill's low cost, entry level camera. The Favorite occupies the first few pages of Scovill catalogs, a position occupied by the Ne Plus Ultra in the 1883 catalog. The Favorite also took the Ne Plus Ultra letter designations, A-D, AA-DD and AAA-DDD, and the letters have the same meanings other than the camera model being different. So it seems that the Ne Plus Ultra was discontinued in favor of the Favorite.
In Scovill's 1887 catalog, How to Make Photographs and Descriptive Price List, dated April 1887 (distributed by C.H. Codman, Boston, MA), the Favorite occupies the first few pages, as usual. But the Ne Plus Ultra makes a come-back, immediately following the Favorite. In this era, the Ne Plus Ultra type is less expensive than the Favorite (also made of white wood) in the same size. It appears that Scovill needed a camera less-expensive than their already low cost Favorite, and resurrected the name Ne Plus Ultra for it. In 1887, only two sizes, 4x5 and 5x8, were advertised. By 1889, a 6½x8½ size was added, and this Ne Plus Ultra incarnation was advertised until at least 1896. Since the letters (A-E) that formerly were used for the Ne Plus Ultra were applied to the Favorite in 1886, the 1887 &ff. Ne Plus Ultra had no letters in advertising.
The Ne Plus Ultra came with either a natural varnish finish or a black painted "Ebonized" finish. The example above is natural except for its ground glass frame.
References:
Scovill's Photo. Series No. 1, The Photographic Amateur, 2nd Edition, J. Traill Taylor, Scovill Mfg. Co. pub. (New York, NY), original copyright 1883, 2nd Ed. about 1885, p. a3-a5, a8 (A-E, AA-DD, AAA-DDD)
Catalogue No. 7, T. F. Indermill, St. Joseph, MO, Oct. 1, 1885, p. 97 (as View Outfits A-D - identified by the Scovill engravings that are identical to the Ne Plus Ultra)
How to Make Pictures, 4th edition, Henry Clay Price, Scovill Mfg. Co., publishers (New York, NY), dated 1887, copyright 1886, p.a4
Photographic Lenses and How to Select Them, James W. Queen & Co. (Philadelphia, PA), 1887, p. 27
How to Make Photographs and Descriptive Price List, Scovill Mfg. Co. (New York, NY), distributed by C.H. Codman & Co. (Boston, MA), April 1887, p. 27
How to Make Photographs and Descriptive Price List, Scovill Mfg. Co. (New York, NY), July 1887, p 27
How to Make Photographs and Descriptive Price List, Scovill Mfg. Co. (New York, NY), undated but about January 1888, p. 25 (4x5, 5x8)
How to Make Photographs and Descriptive Price List, Scovill Mfg. Co., distributed by C.H. Codman & Co. (Boston, MA), September 1888, p 12
How to Make Photographs and Descriptive Price List, Scovill & Adams Co. (New York, NY), January 1889, p. 12
How to Make Photographs and Descriptive Price List, The Scovill & Adams Co. (New York, NY), distributed by Oscar Foss (San Francisco, CA), June 1890, p. 14
How to Make Photographs and Descriptive Price List, The Scovill & Adams Co. (New York, NY), distributed by Sargent & Co. (Cleveland, OH), April 1891, p. 7
How to Make Photographs and Descriptive Price List, The Scovill & Adams Co. (New York, NY), distributed by Horgan, Robey & Co. (Boston, MA), June 1891, p. 4
How to Make Photographs and Descriptive Price List, The Scovill & Adams Co. (New York, NY), January 1892, p. 2
How to Make Photographs and Descriptive Price List, The Scovill & Adams Co. (New York, NY), April 1892, p 4
How to Make Photographs and a Descriptive Price List, The Scovill & Adams Co. (New York, NY), 1896, p. 22

Back to American Optical & Scovill