Blair Tourograph & Dry Plate Co. / Blair Camera Co.
Blair Catalogs
The catalogs listed below are specific to Blair companies. All catalogs may be found here.
For each catalog, two facing pages are shown per image. Catalogs are marked as (complete), meaning all pages were scanned or (the pages scanned). Each image is about 1mb, so downloads can take considerable time for complete catalogs.
1882
The Photographer's Friend, Richard Walsl (Baltimore, MD), 7th edition, dated 1882 (including Semmendinger, American Optical, and Blair Tourograph), ~7"x10", 128p (complete) - .html version - .pdf version
c.1882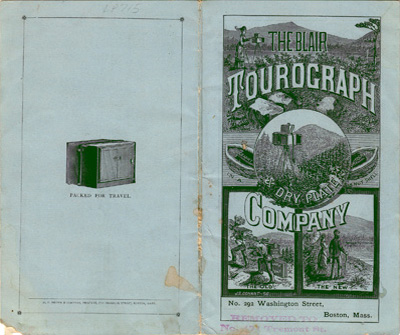 Blair Tourograph & Dry Plate Company (Boston, MA), undated c. 1882, ~4"x6 ½", 16pp (complete) - .html version - .pdf version
c.1884
Blair Tourograph & Dry Plate Company (Boston, MA), undated c. 1884, ~4"x6 ½", 8pp (complete) - .html version - .pdf version
1888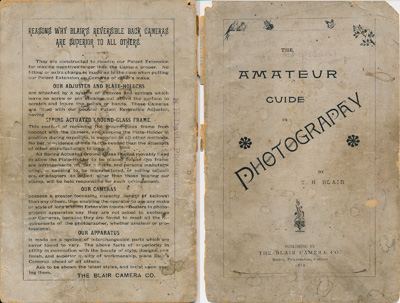 The Amateur Guide in Photography, T. H. Blair, Blair Camera Co. (Boston, MA), dated 1888, ~5 ½"x9", 50pp
1890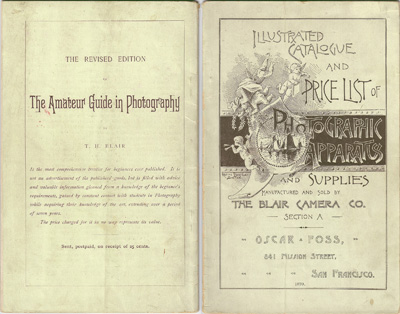 Illustrated Catalogue and Price List Photographic Apparatus and Supplies, Blair Camera Co. (Boston, MA), dated 1890 and 1889, ~6"x9 ½", 44pp
1891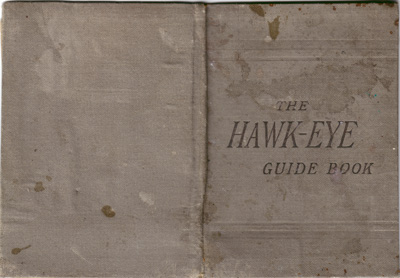 The Hawkeye Guide Book, Blair Camera Co. (Boston, MA), dated 1891, ~3"x4", 26pp
1895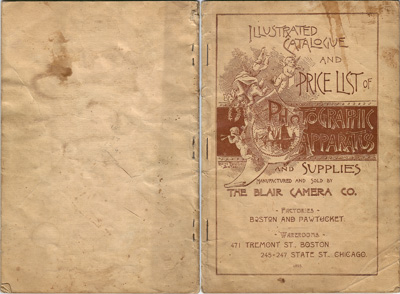 Illustrated Catalogue and Price List Photographic Apparatus and Supplies, Blair Camera Co. (Boston, MA), dated 1895, ~6"x9 ½", 52pp
1896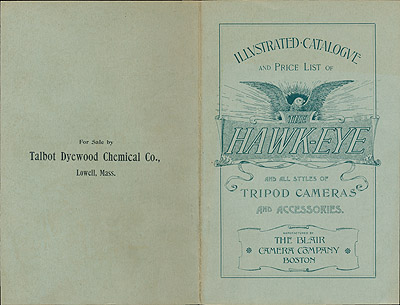 Illustrated Catalogue and Price List of the Hawkeye and All Styles of Tripod Cameras and Accessories, Blair Camera Co. (Boston, MA), dated 1896, 6x9", 42pp. - .html version - .pdf version
1898

Catalogue of Hawk-Eye Cameras and Photographic Supplies Season of 1898, Blair Camera Co. (Boston, MA), dated 1898, ~7"x5 ½", 72pp
1906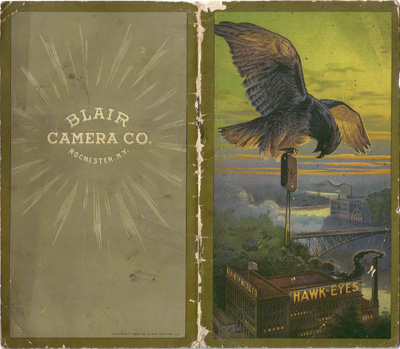 Hawkeyes, Blair Camera Co. (Rochester, NY), dated 1906, ~4 ½"x8", 28pp