American Optical Co., Scovill Mfg. Co., props.
The

Manifold Camera

Scovill Dry Plate Making for Amateurs, 1886, p. 16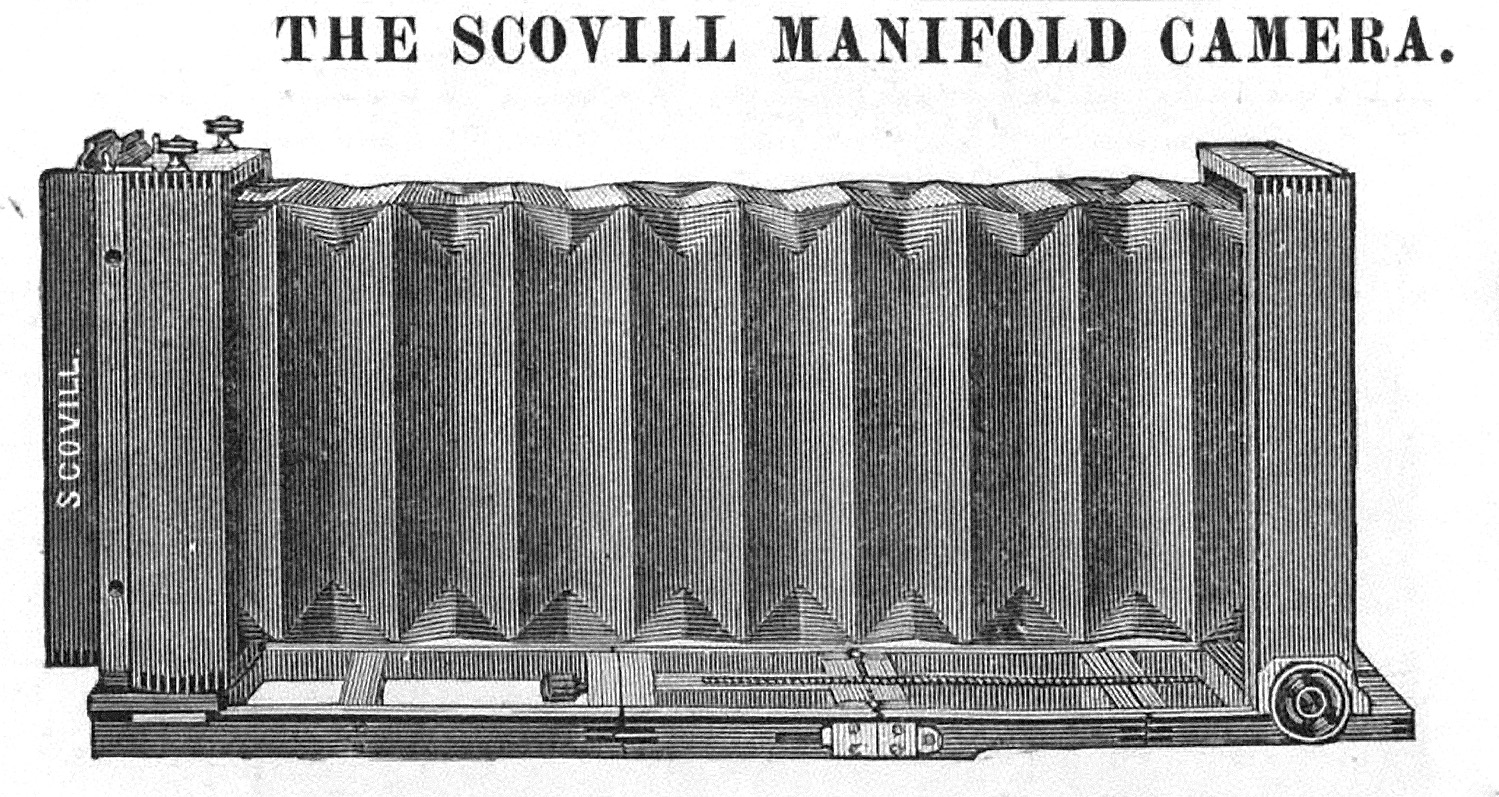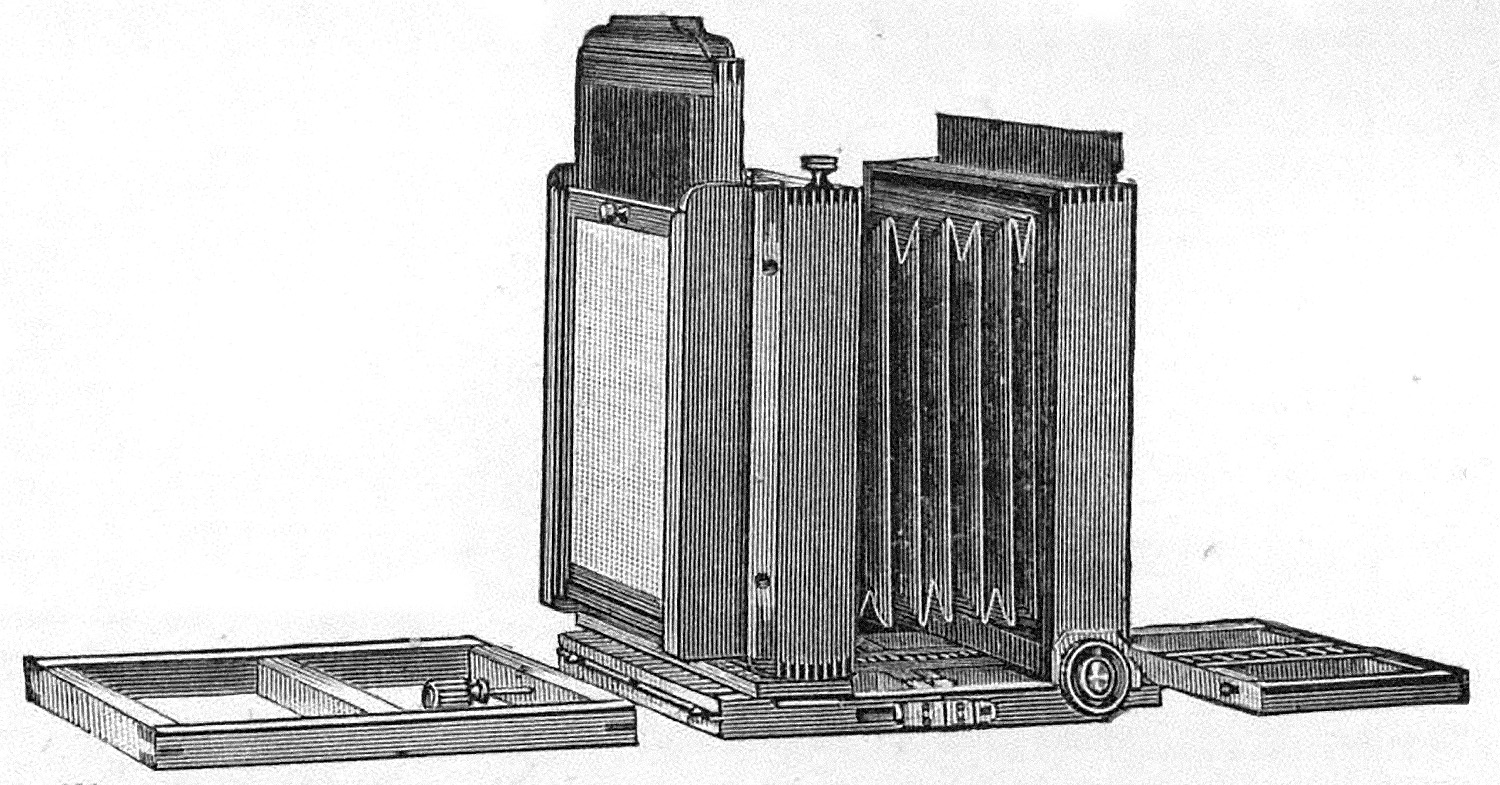 8 x 10 (6.5 x 8.5 back)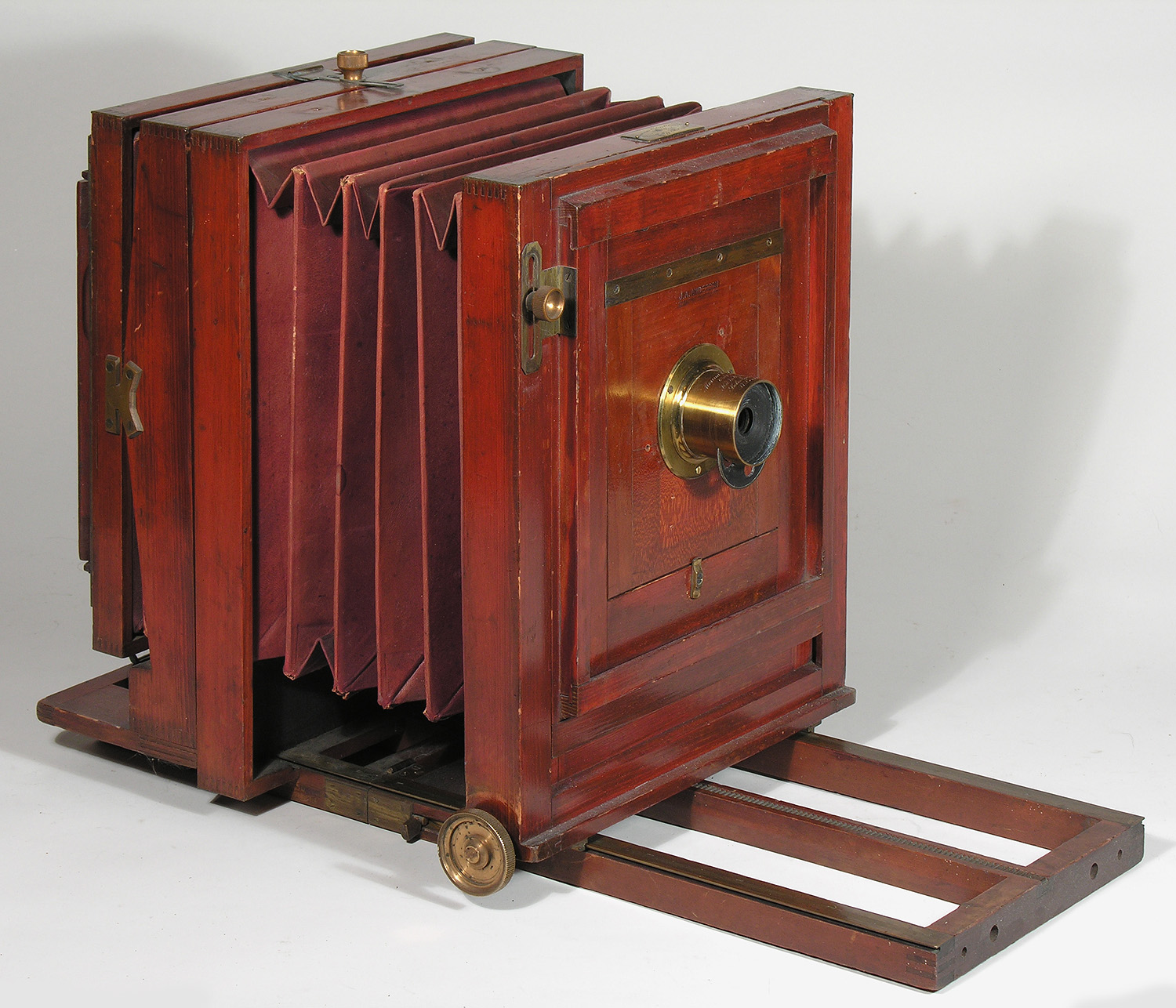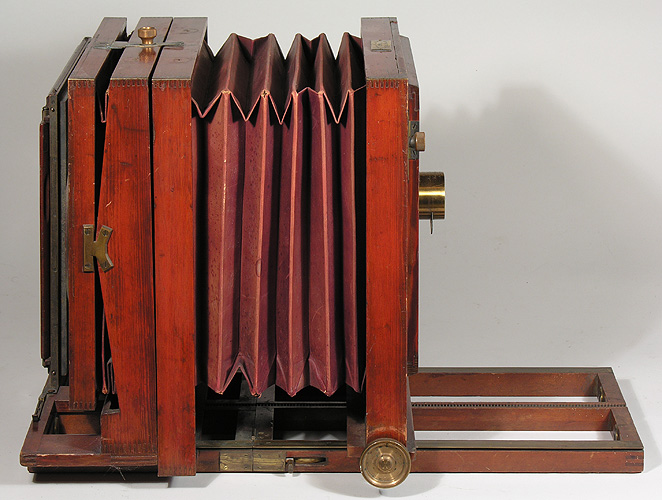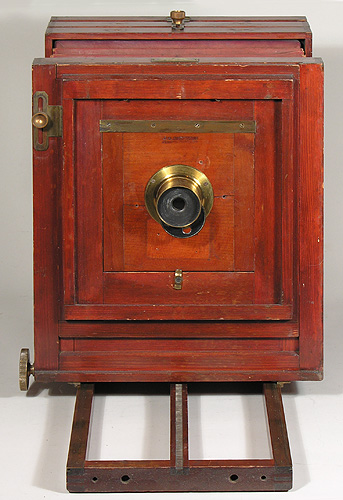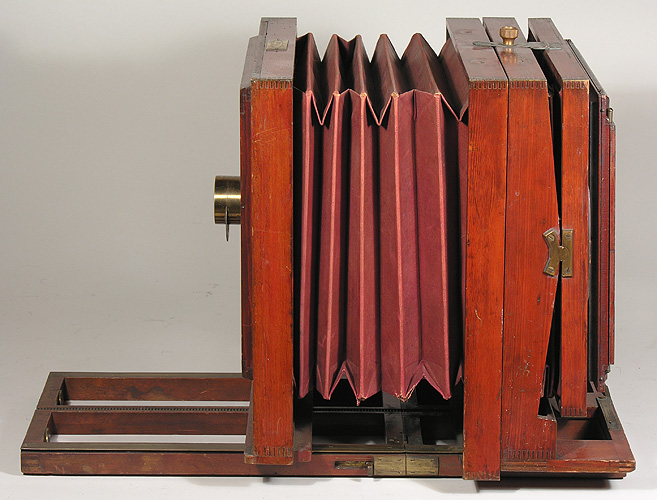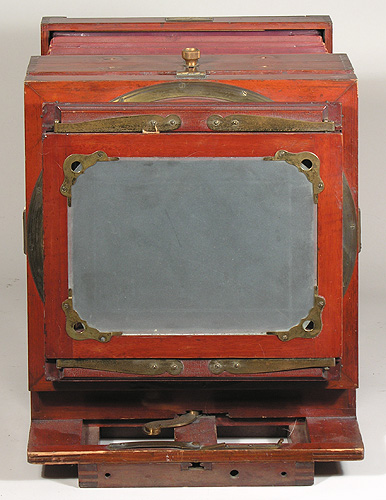 Manufacturer: American Optical Co. New York, NY factory
Date Introduced: - ; Years Manufactured: c.1885 - c.1896
Construction: front focus via rack and pinion (single gear track on middle base rail) and rear focus via push-pull; single or no swing; reversing by removable back
Materials: mahogany body; cherry base; black fabric bellows; brass hardware
Sizes Offered: 3¼x4¼;4x5; 4¼x5½; 5x7; 6½x8½; 8x10
Notes:
This is a long bellows camera which has removable extensions front and back in addition to a folding joint in the middle of the base; the front or back would be removed for shorter focal length lenses. The camera came with one Daisy plate-holder and canvas case. The use of both a front geared focus and a rear push/pull focus in this era is similar to the Gennert Brighton and the Sunart Vici (Smith Magic). Later, geared focus front and rear became the norm.
The photographed camera probably started as an 8x10, but currently has a 6½x8½ Rochester Optical Co. back cobbled-on (c.1910, as found on the Rochester View Variation 4). The camera differs from the engraving in that it originally had a Flammang patent revolving back, and the rear standard focuses via the usual flip switch rather than top-mounted rods.
References:
Scovill's Photo. Series No. 1, The Photographic Amateur, 2nd Edition, J. Traill Taylor, Scovill Mfg. Co. pub. (New York, NY), 1883, 2nd Ed. about 1885, p. a16
How to Make Photographs and Descriptive Price List, Scovill Mfg. Co. (New York, NY), distributed by Andrew J. Smith (Providence, RI), 1886, p. 40
Scovill's Photo. Series No. 12, Photographic Chemistry, Scovill Mfg. Co. (New York, NY), 1886, p. a24
Scovill's Photo. Series No. 20, Dry Plate Making for Amateurs, Scovill Mfg. Co. (New York, NY), 1886, p. a16
Catalog P, Photographic Material, J. W. Queen & Co. (Philadelphia, PA), 1886, pp. 53-54
How to Make Pictures, 4th edition, Henry Clay Price, Scovill Mfg. Co., publishers (New York, NY), dated 1887, copyright 1886, p.a14
Photographic Lenses and How to Select Them, James W. Queen & Co. (Philadelphia, PA), 1887, p. 27
How to Make Photographs and Descriptive Price List, Scovill Mfg. Co. (New York, NY), distributed by C.H. Codman & Co. (Boston, MA), April 1887, p. 38
How to Make Photographs and Descriptive Price List, Scovill Mfg. Co. (New York, NY), undated but about January 1888, p 41
How to Make Photographs and Descriptive Price List, Scovill Mfg. Co. (New York, NY), distributed by C.H. Codman & Co. (Boston, MA), September 1888, p. 30
How to Make Photographs and Descriptive Price List, Scovill Mfg. Co. (New York, NY), distributed by Buchanan, Bromley & Co. (Philadelphia, PA) Catalog, 1888
How to Make Photographs and Descriptive Price List, The Scovill & Adams Co. (New York, NY), January 1889, p. 29
How to Make Photographs and Descriptive Price List, The Scovill & Adams Co. (New York, NY), distributed by Buchanan, Bromley & Co. (Philadelphia, PA) Catalog, 1889
How to Make Photographs and Descriptive Price List, The Scovill & Adams Co. (New York, NY), distributed by Oscar Foss (San Francisco, CA), June 1890, p. 31
Photographic Material, Catalogue O & P, James W. Queen & Co. (Philadelphia, PA), 1891, pp. 41-42
How to Make Photographs and Descriptive Price List, The Scovill & Adams Co. (New York, NY), distributed by Sargent & Co. (Cleveland, OH), April 1891, p. 23
How to Make Photographs and Descriptive Price List, The Scovill & Adams Co. (New York, NY), distributed by Horgan, Robey & Co. (Boston, MA), June 1891, p. 23
How to Make Photographs and Descriptive Price List, The Scovill & Adams Co. (New York, NY), January 1892, p. 23
How to Make Photographs and a Descriptive Catalogue of Photographic Materials Illustrated, The Scovill & Adams Co. (New York, NY), 1896, p. 37


Back to American Optical & Scovill