American Optical Co., Scovill Mfg. Co., props.
The Economy Outfits (Economic

Camera

)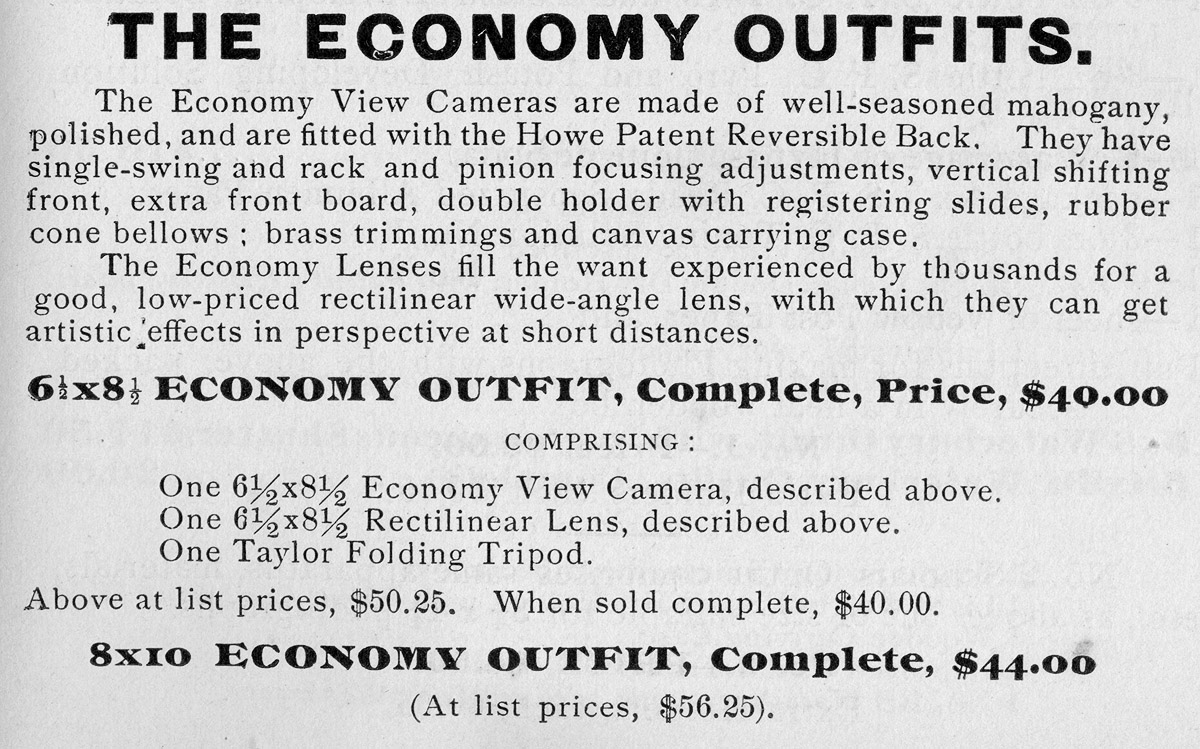 Manufacturer: American Optical Co. New York, NY factory
Date Introduced: - ; Years Manufactured: c. 1890 - c. 1896
Construction: back focus, rack and pinon focus, single swing
Materials: mahogany, polished finish, brass hardware
Sizes Offered: 5x7; 5x8; 6½x8½; 8x10
Notes:
The Economy Outfits are approximately first described in the Scovill & Adams June 1890 catalog (6½x8½ and 8x10 only) as "made of well seasoned mahogany, polished, and fitted with the Howe Patent Reversible Back ... single swing, rack and pinon focusing, vertical shifting front, extra lens board, brass hardware, one holder, an Economic wide angle lens and a canvas case.
The Economic, Elm City and Leader cameras are advertised on the American Annual of Photography and Photographic Times Almanac for 1897 "Bargain Page" only, which says "First quality American Optical's Cameras" (but some are made by Scovill rather than American Optical). This "Bargain Page" seems to be the last reference for a number of models, which implies 1) that Scovill & Adams discontinued a number of models around 1896, and 2) that the "Bargain Page" was an outlet for the left-over stock of these discontinued models.
The Howe Patent Reversible Back (U.S. Patent No. 243136, 21 June 1881, J. Milton Howe) also appears in advertisements for the Albion Variation 1 and the Irving, and is what we refer to as the "removable back" (that is, the back is square in aspect, and clipped onto the camera, so that it may be removed, rotated 90°, then re-attached), a simple configuration that became the almost universal back for view cameras to this day.
The price of the 6½x8½" outfit in 1890 for 6½x8½: $40 (list price for all items in the outfit was $50.25). Since the outfit prices include lenses, we must estimate the price of the Economic Camera alone. In the same catalog, the Taylor tripod was $2.25; an 6½x8½ Economic Lens was $18. Assuming that the case and extra lens board are included, the price of the camera alone is therefore about $30. In the same catalog, the 6½x8½ Waterbury Outfit (with lens and tripod) was $20; an Elite Outfit was $23; the Economic Camera $30 (without tripod or lens); a Centennial Camera (with tripod but without lens) was $36; the Star View Camera was $36; the Irving Camera was $40; a single-swing Flammang Revolving Back Camera was $40; the Manifold Camera was $45; and the Albion Camera was $50.
In the 1897 Bargain Page, the list price of a 6½x8½ Economic Camera was $30, compared to the Compact View ($25); Economic Camera ($30), Star View ($36); St. Louis ($40); and Flammang Revolving Back ($40).
Therefore, the best estimate of finish and style of the Economic would be something between the Centennial Camera or Compact View and the Irving and Flammang cameras.
References:
How to Make Photographs and Descriptive Price List, The Scovill & Adams Co. (New York, NY), distributed by Oscar Foss (San Francisco, CA), June 1890, p. 19
How to Make Photographs and Descriptive Price List, The Scovill & Adams Co. (New York, NY), distributed by Sargent & Co. (Cleveland, OH), April 1891, p. 4
American Annual of Photography and Photographic Times Almanac for 1897, The Scovill & Adams Co. (New York, NY), 1896, ads p. 61 ("Bargain Page")
American Annual of Photography and Photographic Times Almanac for 1898, The Scovill & Adams Co. (New York, NY), 1897, ads p. 115 ("Bargain Page")

Back to American Optical & Scovill