Scovill Mfg. Co.
Waterbury
View

Camera, Variation 2

American Annual of Photography and Photographic Times Almanac for 1890, The Scovill & Adams Co. (New York, NY), ads p. 69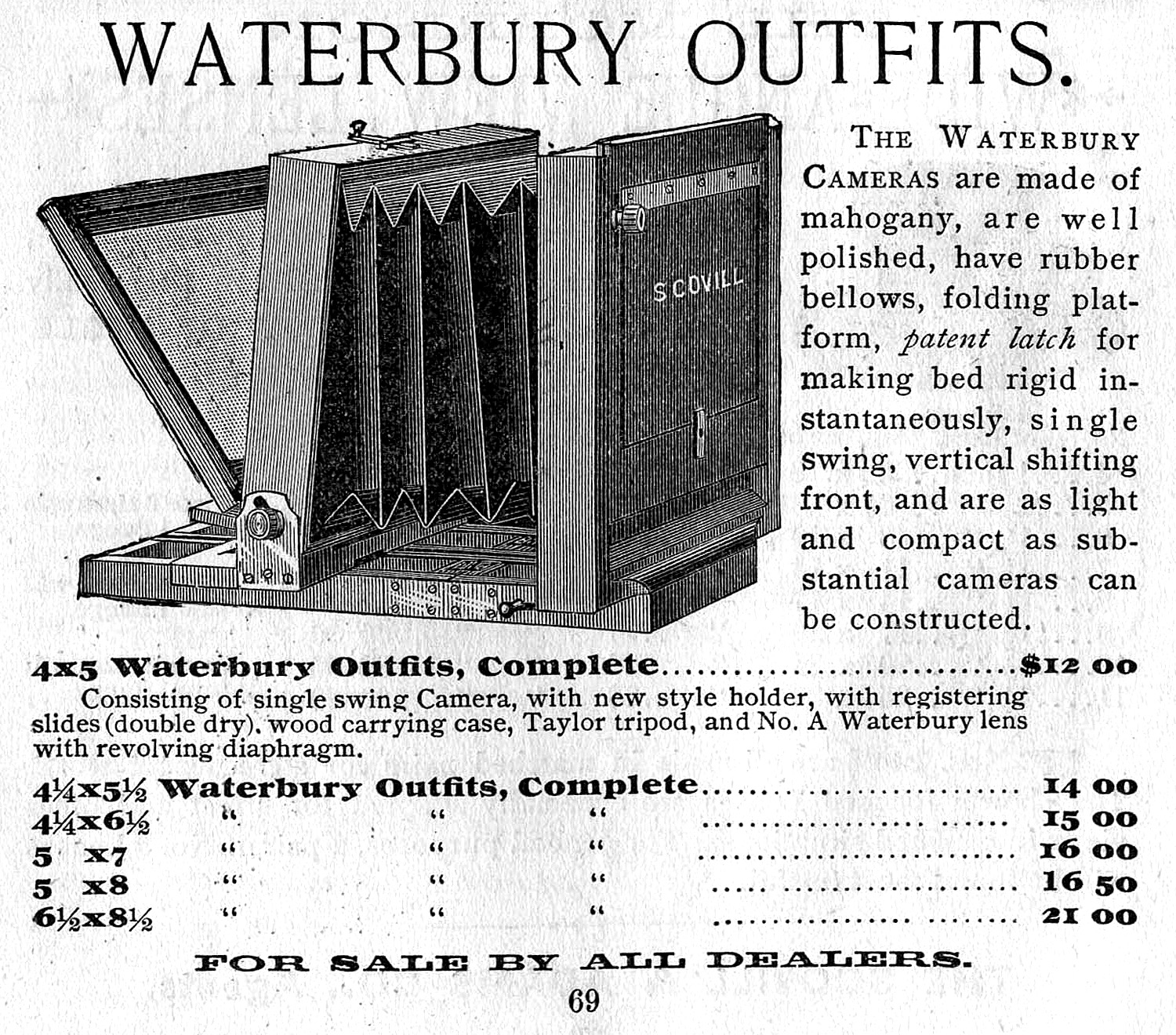 6½ x 8½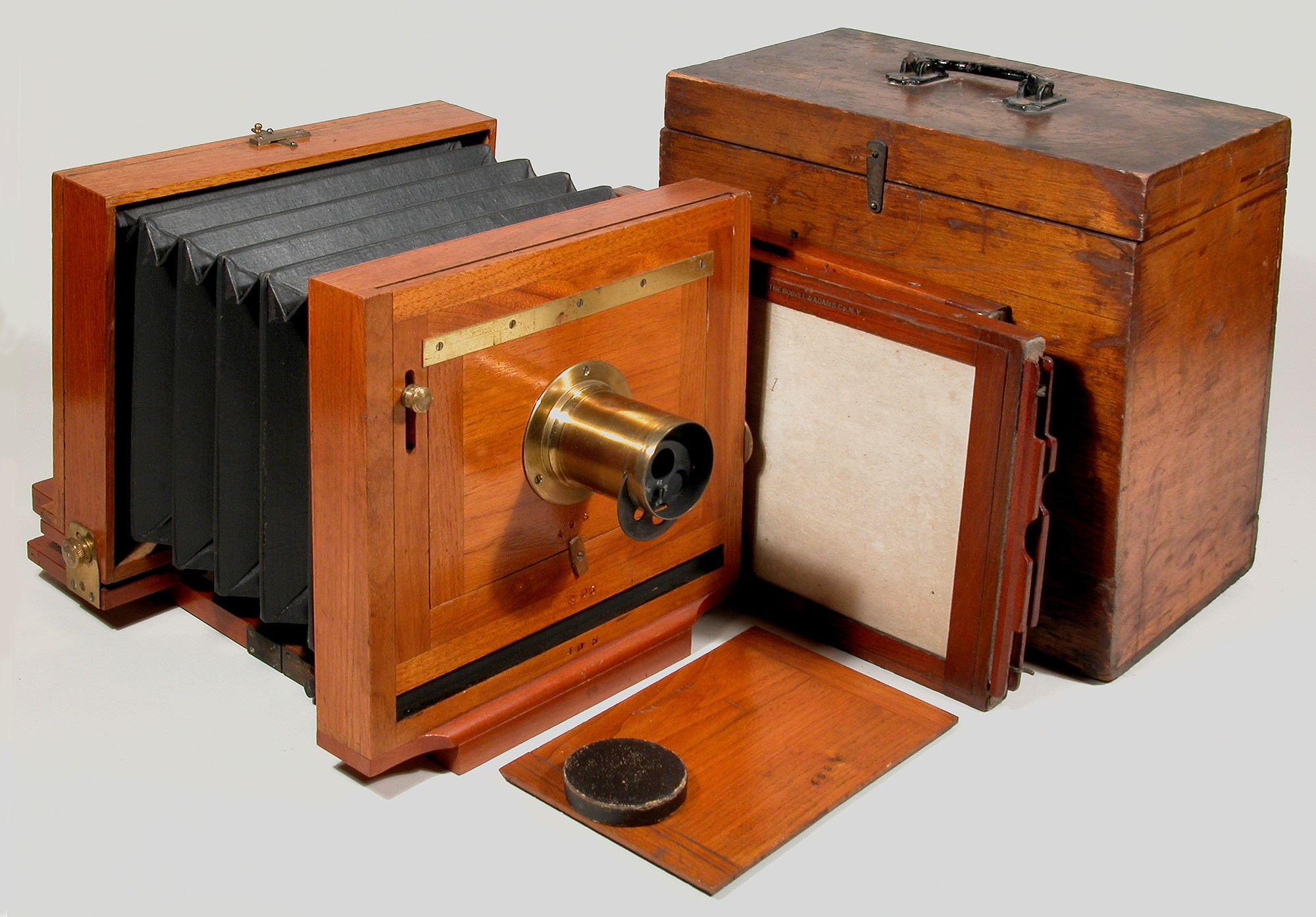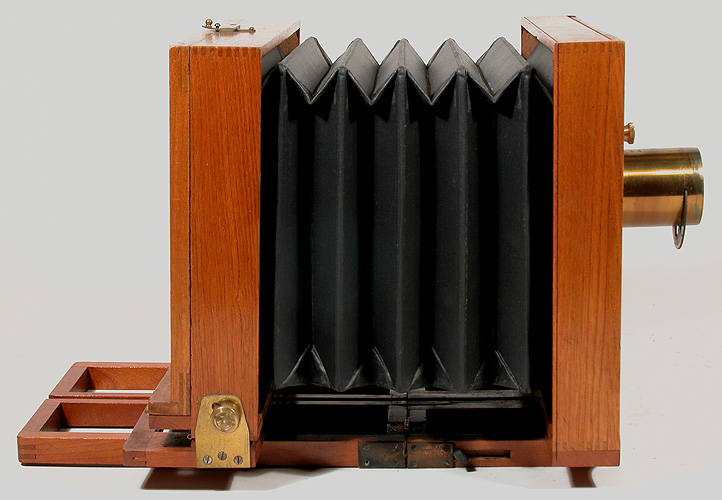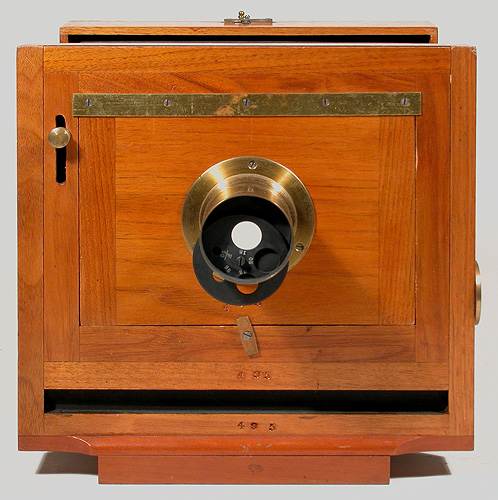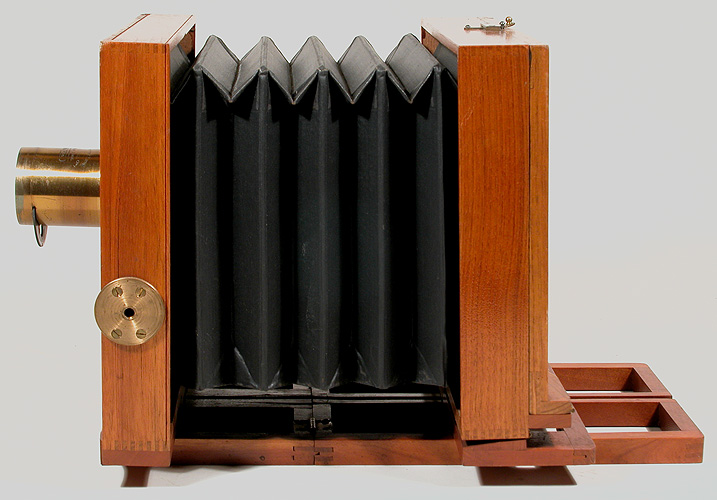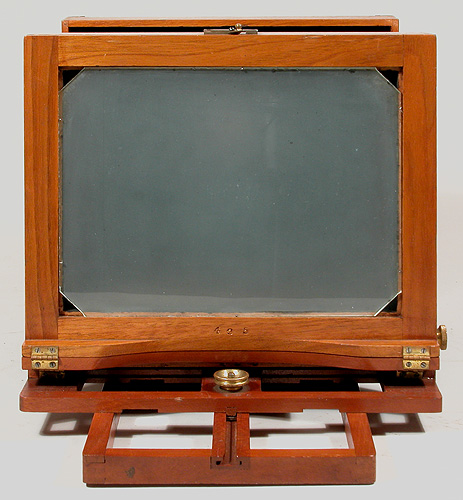 6½ x 8½; 5 x 8; 4 x 5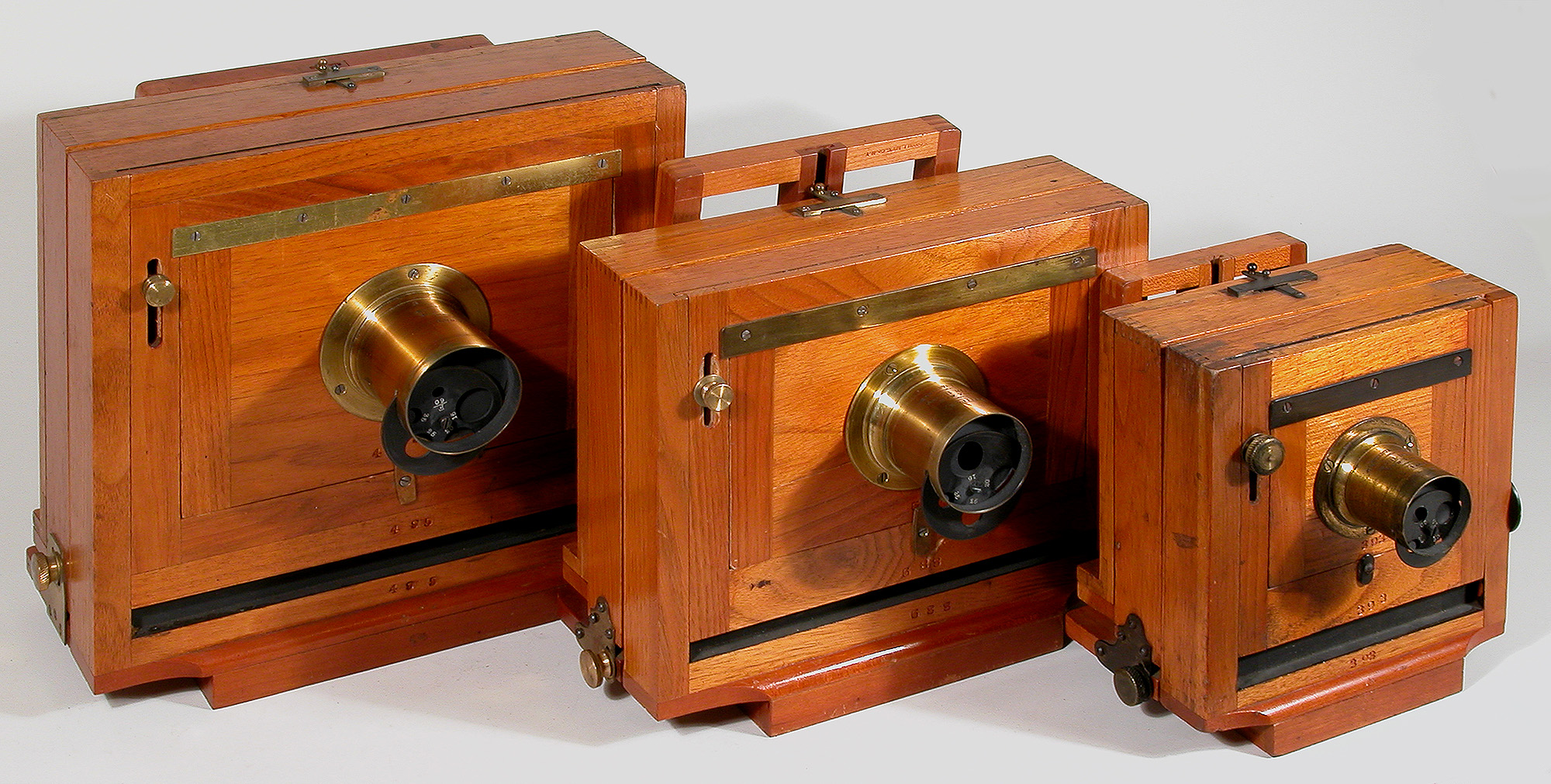 Manufacturer: Scovill Mfg. Co., New Haven, CT factory
Date Introduced: 1885 ; Years Manufactured: Variation 2: c. 1885-1898
Construction: back focus via push-pull; single swing via side thumbscrew; reversing by two tripod mounts
Materials: mahogany body; cherry base; black fabric bellows; brass hardware
Sizes Offered: 4x5; 4½x5½; 4¼x6½; 5x7 (starting in 1886); 5x8; 6½x8½;
Notes: The Waterbury, named for Scovill's factory city, is one of the most common Scovill view cameras. There are also Waterbury Detective Cameras. Waterbury View Camera Variation 1 had different swing hardware. The "Waterburys Three" photo features the 4x5, 5x8 and 6.5x8.5 versions. Waterbury cameras have a distinctive golden yellow finish, which is achieved by simply varnishing (not staining) the wood. It is not oak, as many suppose; it really is a type of mahogany wood, as stated in the catalogs, but perhaps a species not as dense and red as that used for American Optical cameras (the term mahogany refers to any one of dozens of tropical trees having red wood). Smaller sizes have one 1885 patent rod and sleeve device on the right hand side for making the bed rigid, but the 8x10 has the device on both sides. American Optical cameras usually have two such devices as well, for all sizes.
References:
Scovill's Photo. Series No. 1, The Photographic Amateur, 2nd Edition, J. Traill Taylor, Scovill Mfg. Co. pub. (New York, NY), 1883, 2nd Ed. about 1885, p. a10
How to Make Photographs and Descriptive Price List, Scovill Mfg. Co. (New York, NY), distributed by Andrew J. Smith (Providence, RI), 1886, p. 34
Scovill's Photo. Series No. 12, Photographic Chemistry, Scovill Mfg. Co. (New York, NY), 1886, p. a19
Scovill's Photo. Series No. 20, Dry Plate Making for Amateurs, Scovill Mfg. Co. (New York, NY), 1886, p. a10
Catalog P, Photographic Material, J. W. Queen & Co. (Philadelphia, PA), 1886, p. 51
How to Make Pictures, 4th edition, Henry Clay Price, Scovill Mfg. Co., publishers (New York, NY), dated 1887, copyright 1886, p.a8
Photographic Lenses and How to Select Them, James W. Queen & Co. (Philadelphia, PA), 1887, p. 27
Scovill's Photographic Series No. 26, The Photographic Instructor, Prof. Charles Ehrmann, Scovill Mfg. Co., 1888, ads p. xiv
How to Make Photographs and Descriptive Price List, Scovill Mfg. Co. (New York, NY), distributed by C.H. Codman & Co. (Boston, MA), April 1887, p. 32
How to Make Photographs and Descriptive Price List, Scovill Mfg. Co. (New York, NY), undated but about January 1888, p. 31
How to Make Photographs and Descriptive Price List, Scovill Mfg. Co. (New York, NY), distributed by C.H. Codman & Co. (Boston, MA), September 1888, p. 20
How to Make Photographs and Descriptive Price List, The Scovill & Adams Co. (New York, NY), January 1889, p. 19
American Annual of Photography and Photographic Times Almanac for 1890, The Scovill & Adams Co. (New York, NY), ads p. 69
How to Make Photographs and Descriptive Price List, The Scovill & Adams Co. (New York, NY), distributed by Oscar Foss (San Francisco, CA), June 1890, p. 20
Photographic Material, Catalogue O & P, James W. Queen & Co. (Philadelphia, PA), 1891, p. 39
How to Make Photographs and Descriptive Price List, The Scovill & Adams Co. (New York, NY), distributed by Sargent & Co. (Cleveland, OH), April 1891, p. 8
How to Make Photographs and Descriptive Price List, The Scovill & Adams Co. (New York, NY), distributed by Horgan, Robey & Co. (Boston, MA), June 1891, p. 10
American Annual of Photography and Photographic Times Almanac for 1892, The Scovill & Adams Co. (New York, NY), 1891, ads p. 106
How to Make Photographs and Descriptive Price List, The Scovill & Adams Co. (New York, NY), January 1892, p. 9
American Annual of Photography and Photographic Times Almanac for 1893, The Scovill & Adams Co. (New York, NY), 1892, ads p. 144
The American Annual of Photography and Photographic Times Almanac for 1894, The Scovill & Adams Co. (New York, NY), 1893, p. 96
How to Make Photographs and a Descriptive Catalogue of Photographic Materials Illustrated, The Scovill & Adams Co. (New York, NY), 1896, p. 28
Back to American Optical & Scovill