Eastman Kodak Co. / Folmer-Schwing Catalogs
The catalogs listed below are specific to the Eastman Kodak Co., mainly view cameras. All catalogs may be found here.
For each catalog, two facing pages are shown per image. Catalogs are marked as (complete), meaning all pages were scanned or (the pages scanned). Each image is about 1mb, so downloads can take considerable time for complete catalogs.
1894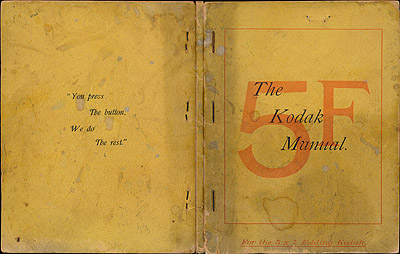 The Kodak Manual for the No. 5 Folding Kodak, Eastman Kodak Co. (Rochester, NY), dated June 1894, ~5"x6½", 80pp (complete)
1898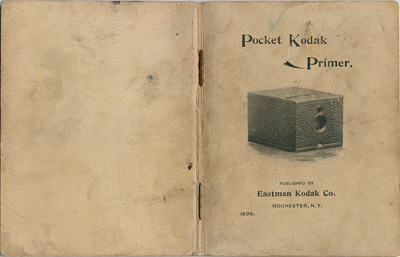 Pocket Kodak Primer, Eastman Kodak Co. (Rochester, NY), dated 1898, ~2¾"x3¾", 70pp (complete)
1899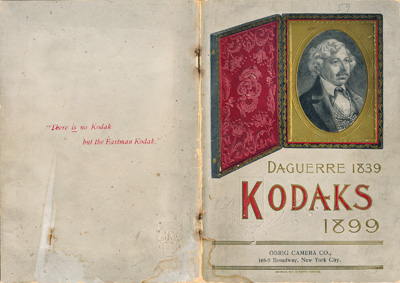 Daguerre 1839 Kodaks 1899, Obrig Camera Co. (New York, NY), dated 1899, ~5½"x7¾", 60pp (complete)
1901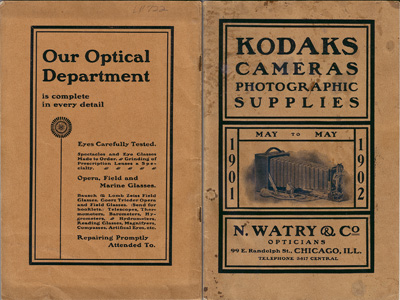 Kodaks, Cameras, Photographic Supplies, N. Watry & Co. (Chicago, IL), dated May 1901 to May 1902, ~6"x9", 84pp
1901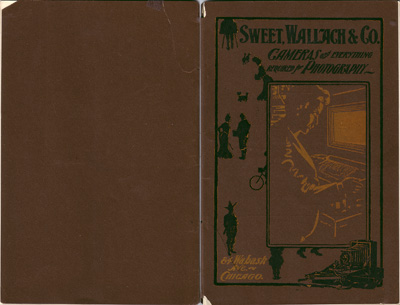 Cameras and Everything Required for Photography, Sweet Wallach & Co. (Chicago, IL), dated 1901, ~6½"x10", 48pp
1903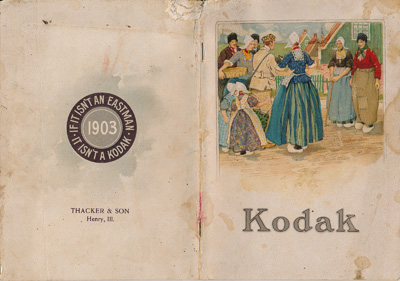 A Catalogue of Kodaks and Kodak Supplies, 1903, Eastman Kodak Co. (Rochester, NY), dated 1903, ~5½"x7¾", 72pp (complete)
1904

Kodaks and Kodak Supplies 1906, Eastman Kodak Co. (Rochester, NY), dated 1904, ~7¾"x5½", 64pp (complete) - .html version - .pdf version
1905
Kodak, Eastman Kodak Co. (Rochester, NY), dated 1905, ~3½"x5½", 32pp (complete)
1905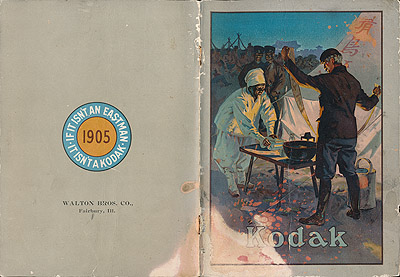 Kodaks and Kodak Supplies 1905, Eastman Kodak Co. (Rochester, NY), dated 1905, ~5½"x7¾", 64pp (complete)
1906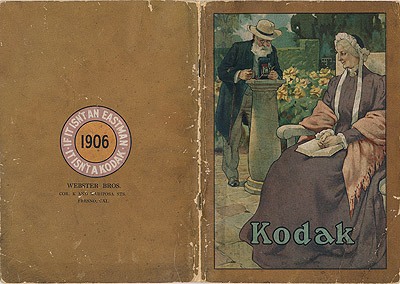 Kodaks and Kodak Supplies for 1906, Eastman Kodak Co. (Rochester, NY), dated 1906, ~5½"x7¾", 64pp (complete) - .html version - .pdf version
1906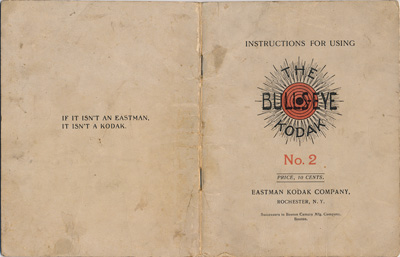 Instructions for Using the No. 2 Bulls-eye Kodak, Eastman Kodak Co. (Rochester, NY), dated Sept. 1906, ~4¾"x6¼", 40pp (complete)
1907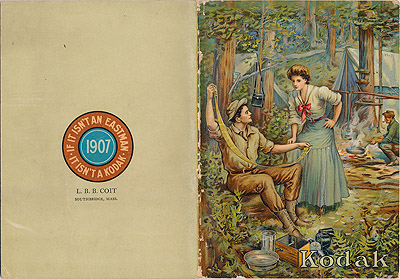 Kodaks and Kodak Supplies 1907, Eastman Kodak Co. (Rochester, NY), dated 1907, ~5½"x7¾", 64pp (complete)
1908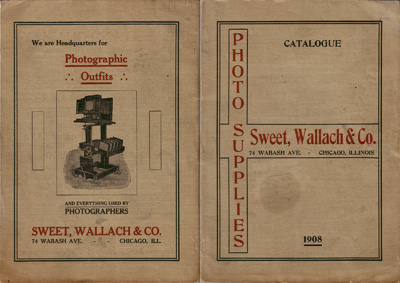 Illustrated Catalogue of Photographic Outfits and Supplies, Sweet, Wallach & Co. (Chicago, IL), dated 1908, ~7½"x10½", 128pp
c.1908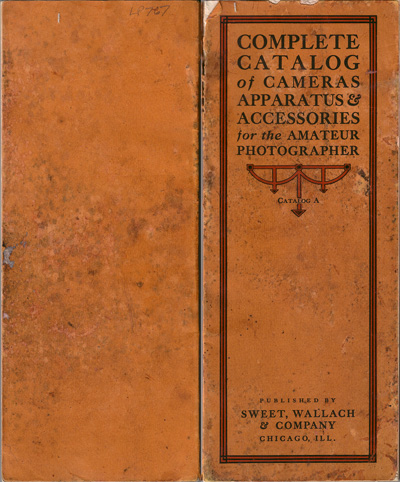 Complete Catalog of Cameras, Apparatus and Accessories for the Amateur Photographer, Catalog A, Sweet, Wallach & Co. (Chicago, IL), undated c. 1908, ~4¼"x10¼", 128pp
c.1908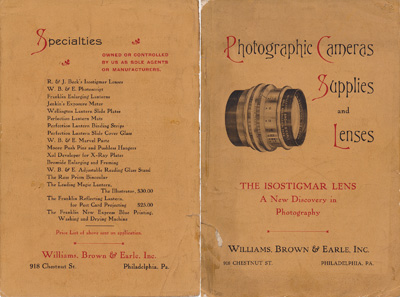 Photographic Cameras, Supplies and Lenses, Williams, Brown & Earle, Inc. (Philadelphia, PA), undated c. 1909, ~6"x9", 144pp
1909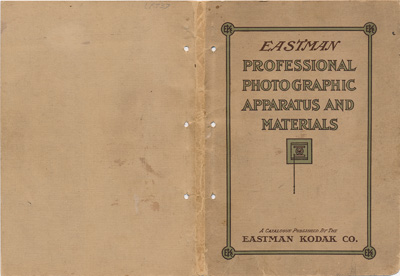 Catalogue of Eastman Professional Photographic Apparatus and Materials, Eastman Kodak Co. (Rochester, NY), dated 1909, ~6¾"x9¾", 112pp
1910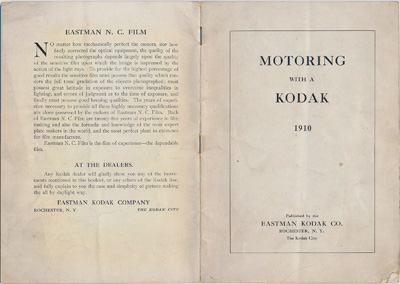 Motoring with a Kodak, Eastman Kodak Co. (Rochester, NY), dated 1910, ~5½"x7¾", 32pp (complete)
c.1910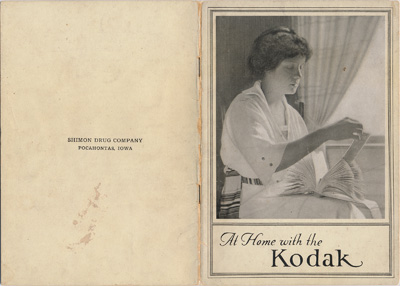 At Home with the Kodak, Eastman Kodak Co. (Rochester, NY), undated c.1910, ~5½"x7¾", 32pp (complete)
c.1910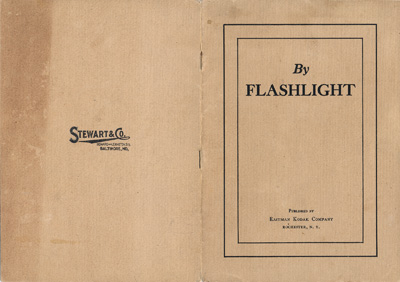 By Flashlight, Eastman Kodak Co. (Rochester, NY), undated c.1910, ~5½"x7¾", 16pp (complete)
c.1910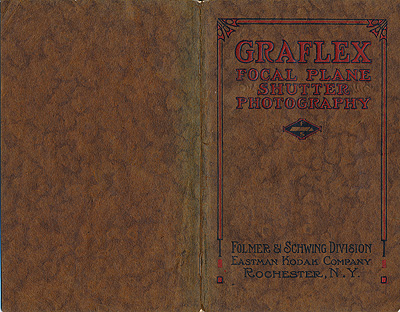 Graflex Focal Plane Shutter Photography, Folmer & Schwing Division, Eastman Kodak Co. (Rochester, NY), undated c.1910, ~5½"x8½", 56pp (complete)
c.1911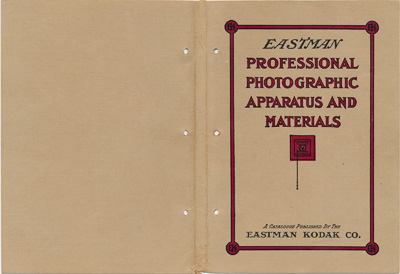 Catalogue of Eastman Professional Photographic Apparatus and Material, Eastman Kodak Co. (Rochester, NY), undated c.1911, ~6¾"x9¾", 176pp
1912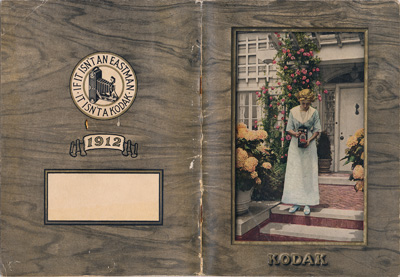 Kodaks and Kodak Supplies 1912, Eastman Kodak Co. (Rochester, NY), dated 1912, ~5½"x7¾", 64pp (complete)
1913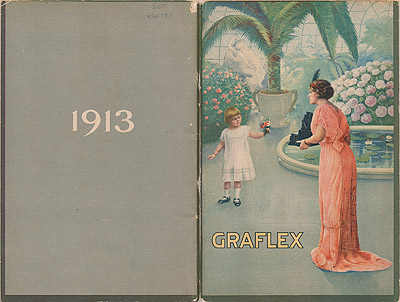 Graflex and Graphic Cameras, Folmer & Schwing Division, Eastman Kodak Co. (Rochester, NY), dated 1913, ~6⅜"x9¾", 60pp (complete)
1913
Kodaks and Kodak Supplies 1913, Eastman Kodak Co. (Rochester, NY), dated 1913, ~5½"x7¾", 64pp (complete)
1914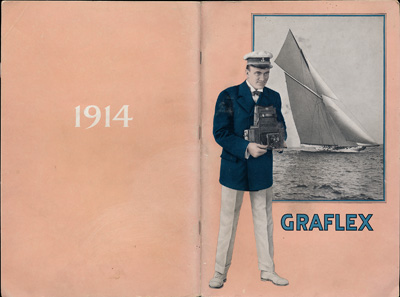 Graflex and Graphic Cameras, Folmer & Schwing Division, Eastman Kodak Co. (Rochester, NY), dated 1914, ~6½"x9¼", 64pp (complete)
1914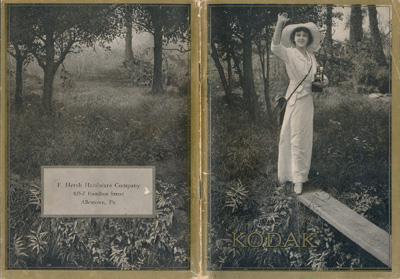 Kodaks and Kodak Supplies 1914, Eastman Kodak Co. (Rochester, NY), dated 1914, ~5½"x7¾", 64pp (complete)
1915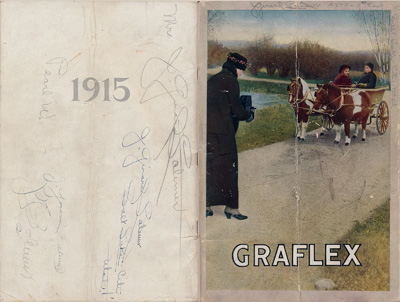 Graflex and Graphic Cameras, Folmer & Schwing Division, Eastman Kodak Co. (Rochester, NY), dated 1915, ~6¼"x9¾", 64pp (complete)
c.1915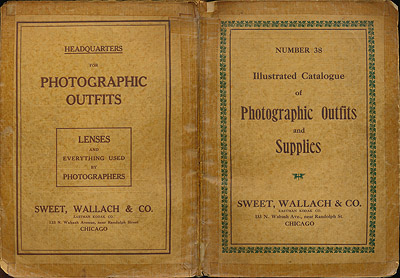 Illustrated Catalogue of Photographic Outfits and Supplies No. 38, Sweet, Wallach & Co. (Chicago, IL), undated c.1915, ~7½"x10½", 144pp - .html version - .pdf version
c.1915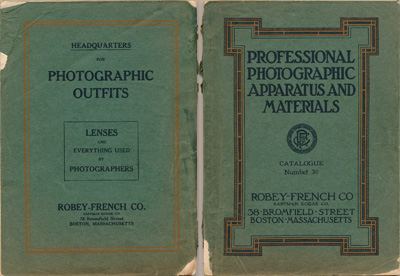 Number 30 Illustrated Catalogue of Photographic Outfits, Lenses and Supplies, Robey-French Co. (Boston, MA), undated c. 1915, ~7½"x10½", 152pp
1916
Kodaks and Kodak Supplies 1916, Eastman Kodak Co. (Rochester, NY), dated 1916, ~5½"x7¾", 64pp (complete)
1917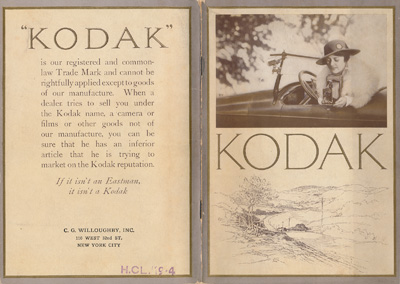 Kodaks and Kodak Supplies 1917, Eastman Kodak Co. (Rochester, NY), dated 1917, ~5½"x7¾", 64pp (complete)
1917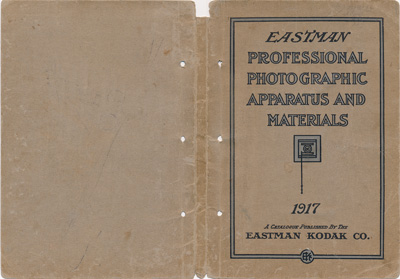 Catalogue of Eastman Professional Photographic Apparatus and Materials, Eastman Kodak Co. (Rochester, NY), dated 1917, ~6¾"x9¾", 188pp
1917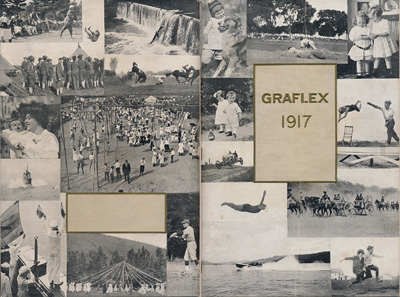 Graflex and Graphic Cameras, Folmer & Schwing Department, Eastman Kodak Co. (Rochester, NY), dated 1917, ~6½"x9½", 64pp (complete)
c.1917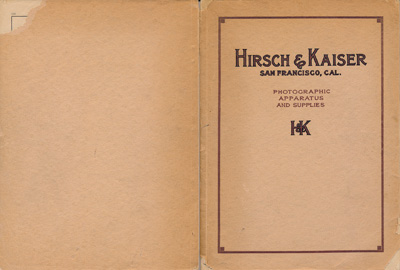 Cameras, Photographic Apparatus and Supplies, Eleventh Edition, Hirsch & Kaiser (San Francisco, CA), undated c. 1917, ~7¾"x10½", 164pp
1918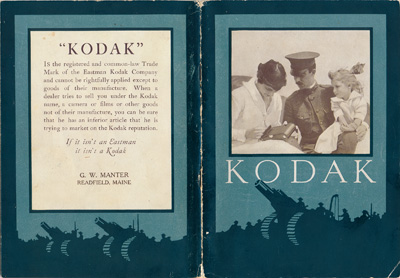 Kodaks and Kodak Supplies 1918, Eastman Kodak Co. (Rochester, NY), dated 1918, ~5½"x7¾", 64pp (complete)
1919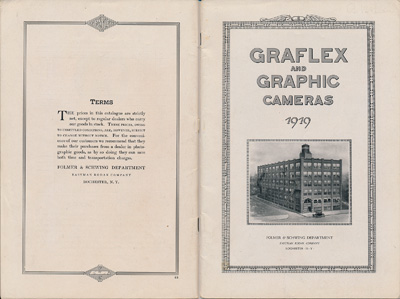 Graflex and Graphic Cameras, Folmer & Schwing Department, Eastman Kodak Co. (Rochester, NY), dated 1919, ~6½"x9¾", 64pp (complete)
1919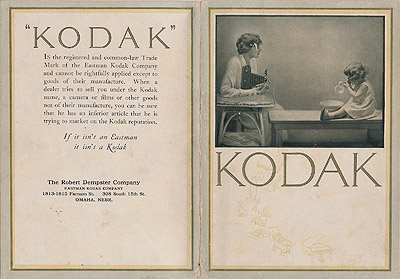 Kodaks and Kodak Supplies 1919, Eastman Kodak Co. (Rochester, NY), dated 1919, ~5½"x7¾", 64pp (complete)
1920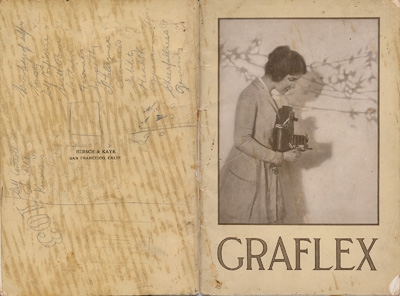 Graflex and Graphic Cameras, Folmer & Schwing Department, Eastman Kodak Co. (Rochester, NY), dated 1920, ~6½"x9¾", 64pp (complete)
1921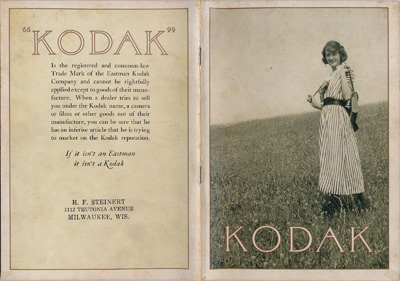 Kodaks and Kodak Supplies 1921, Eastman Kodak Co. (Rochester, NY), dated 1921, ~5½"x7¾", 64pp (complete)
1923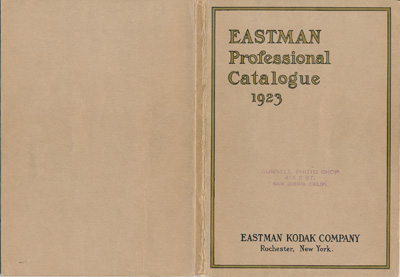 Eastman Professional Catalogue of Photographic Apparatus and Materials, Eastman Kodak Co. (Rochester, NY), dated 1923, ~5½"x7¾", 96pp
1923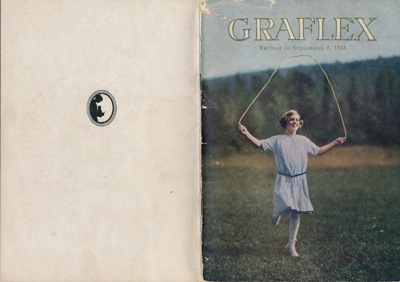 Graflex and Graphic Cameras, Folmer & Schwing Department, Eastman Kodak Co. (Rochester, NY), dated September 1, 1923, ~5½"x7¾", 48pp (complete)
1923
Kodaks and Kodak Supplies 1923, Eastman Kodak Co. (Rochester, NY), dated 1923, ~5½"x7¾", 64pp (complete)
1924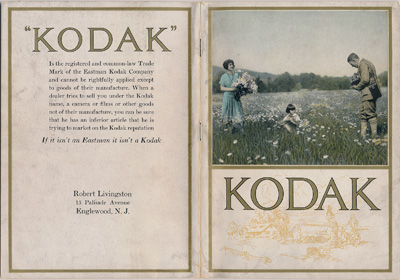 Kodaks and Kodak Supplies 1924, Eastman Kodak Co. (Rochester, NY), dated 1924, ~5½"x7¾", 64pp (complete)
1925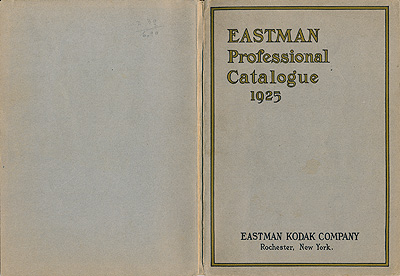 Eastman Professional Catalogue of Photographic Apparatus and Materials, Eastman Kodak Co. (Rochester, NY), dated 1925, ~5½"x7¾", 116pp
1925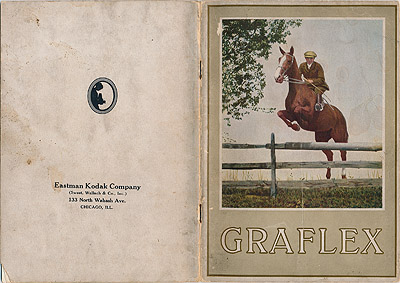 Graflex and Graphic Cameras, Folmer & Schwing Department, Eastman Kodak Co. (Rochester, NY), dated 1925, ~5½"x7¾", 40pp (complete)
1925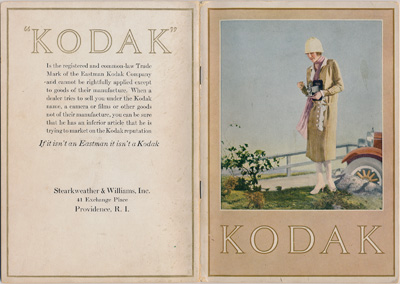 Kodaks and Kodak Supplies 1925, Eastman Kodak Co. (Rochester, NY), dated 1925, ~5½"x7¾", 64pp (complete)
c.1925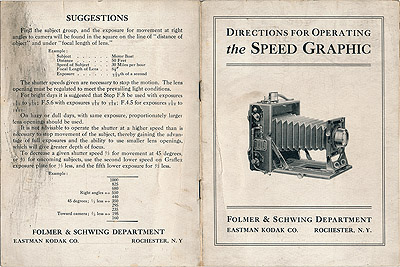 Directions for Operating the Speed Graphic, Folmer & Schwing Department, Eastman Kodak Co. (Rochester, NY), undated c. 1925, ~5¼"x7", 4pp (complete)
c.1925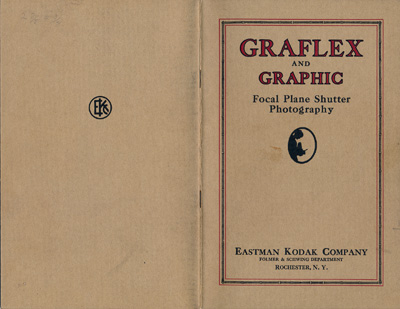 Graflex and Graphic Focal Plane Shutter Photography, Folmer & Schwing Department, Eastman Kodak Co. (Rochester, NY), undated c. 1925, ~5½"x8½", 40pp (complete)
1926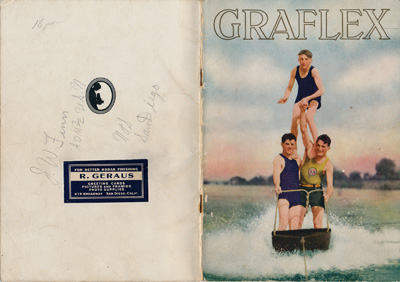 Graflex and Graphic Cameras, Eastman Supplies, Folmer Graflex Corporation (Rochester, NY), dated 1926, ~5½"x7¾", 40pp (complete)
1927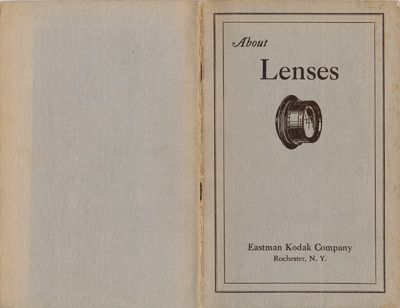 About Lenses, Eastman Kodak Co. (Rochester, NY), dated 1927, ~5½"x8½", 32pp (complete)
1927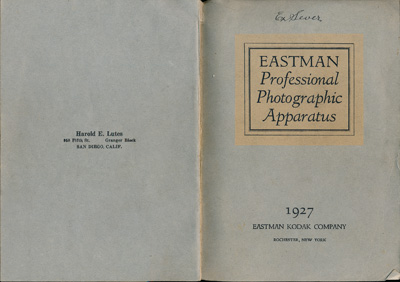 Catalogue of Eastman Professional Photographic Apparatus and Materials, Eastman Kodak Co. (Rochester, NY), dated 1927, ~5½"x7¾", 100pp
1927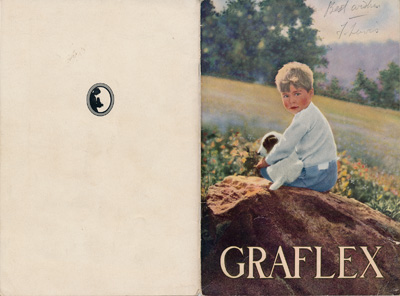 Graflex and Graphic Cameras, Eastman Supplies, Folmer Graflex Corporation (Rochester, NY), dated 1927, ~6"x9", 32pp (complete)
1927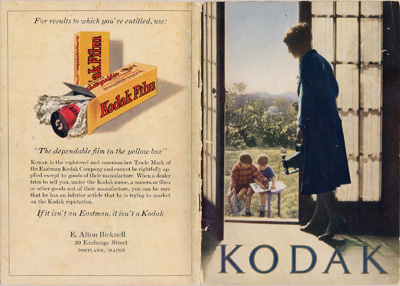 Kodaks and Kodak Supplies 1927, Eastman Kodak Co. (Rochester, NY), dated 1927, ~5½"x7¾", 64pp (complete)
c.1927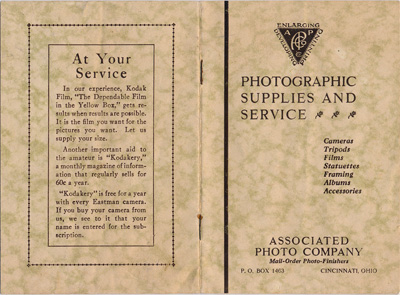 Photographic Supplies and Service, Associated Photo Co. (Cincinnati, OH), undated c. 1927, ~4"x6", 32pp (complete)
1928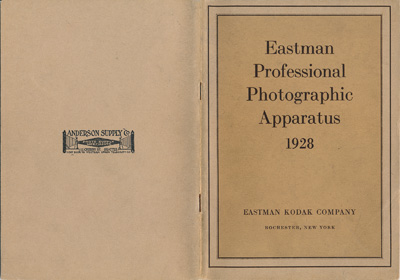 Catalogue of Eastman Professional Photographic Apparatus and Materials, Eastman Kodak Co. (Rochester, NY), dated 1928, ~5½"x7¾", 80pp (cameras pp1-17; lenses pp28-29)
c.1928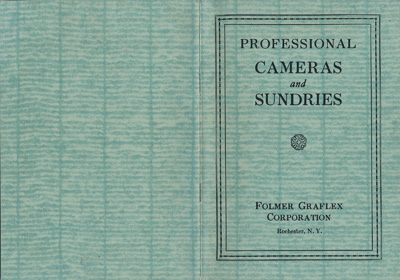 Professional Cameras and Sundries, Folmer Graflex Corporation (Rochester, NY), undated c. 1928, ~5½"x7½", 48pp (complete)
1929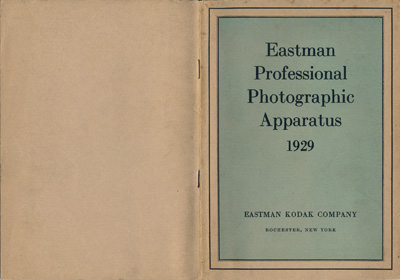 Catalogue of Eastman Professional Photographic Apparatus and Materials, Eastman Kodak Co. (Rochester, NY), dated 1929, ~5½"x7¾", 80pp (cameras pp1-17; lenses pp28-29)
c.1929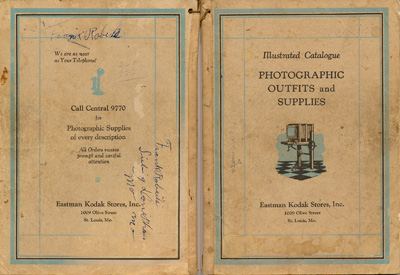 No. 29 Illustrated Catalogue of Photographic Apparatus, Lenses and Materials, Eastman Kodak Stores, Inc. (St. Louis, MO), undated c. 1929, ~7¼"x10¼", 160pp (cameras, lenses & shutters pp1-29; index pp154-160)
1930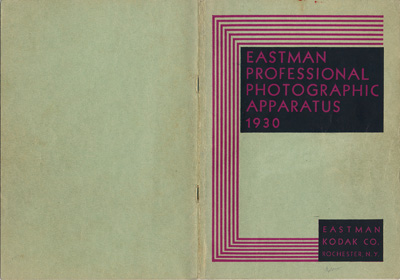 Catalogue of Eastman Professional Photographic Apparatus and Materials, Eastman Kodak Co. (Rochester, NY), dated 1930, ~5½"x7¾", 80pp (cameras pp1-17; lenses pp26-27)
1930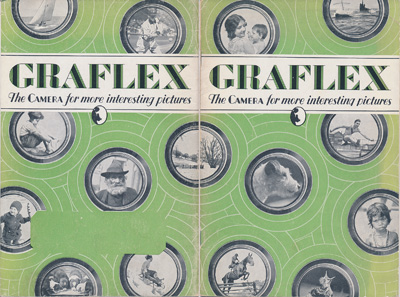 Graflex, Catalog 25-50M-8-30, Folmer Graflex Corporation (Rochester, NY), dated 1930, ~6"x9", 24pp (complete)
1931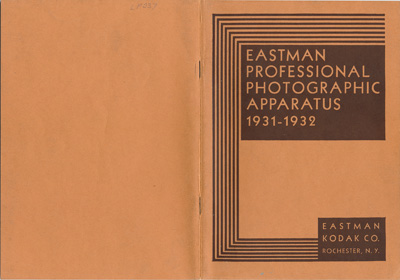 Catalogue of Eastman Professional Photographic Apparatus and Materials, Eastman Kodak Co. (Rochester, NY), dated 1931-1932, ~5½"x7¾", 80pp (cameras pp1-17; lenses pp26-27)
1932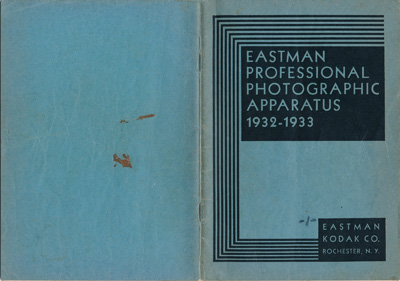 Catalogue of Eastman Professional Photographic Apparatus and Materials, Eastman Kodak Co. (Rochester, NY), dated 1932-1933, ~5½"x7¾", 52pp (cameras, lenses & shutters pp1-23)
1932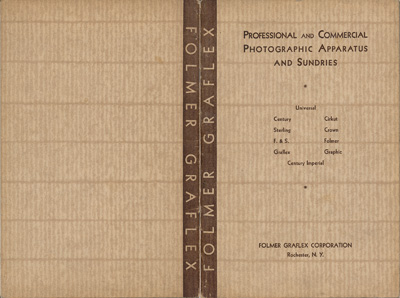 Professional and Commercial Photographic Apparatus and Sundries, Catalog 55-5M-7-32, Folmer Graflex Corporation (Rochester, NY), dated 1932, ~6"x9", 46pp (complete)
1934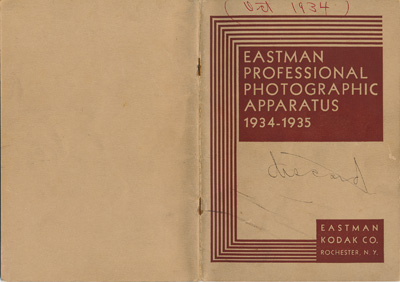 Catalogue of Eastman Professional Photographic Apparatus and Materials, Eastman Kodak Co. (Rochester, NY), dated 1934-1935, ~5½"x7¾", 56pp (pp1-17)
1934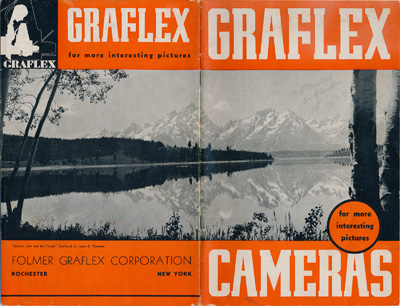 Graflex Cameras, Catalog 1-50M-6-33 with Supplement 5M 4-34 1A, Folmer Graflex Corporation (Rochester, NY), dated: catalog June, 1933, supplement effective May 1, 1934, ~5½"x8½", 28pp & 8pp supplement (complete)
1935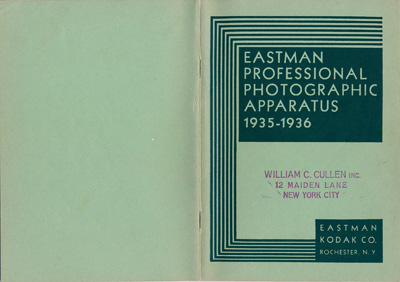 Catalogue of Eastman Professional Photographic Apparatus and Materials, Eastman Kodak Co. (Rochester, NY), dated 1935-1936, ~5½"x7¾", 60pp (pp1-13)
1936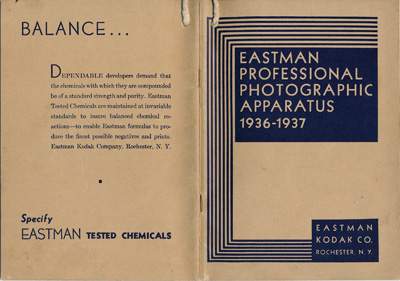 Catalogue of Eastman Professional Photographic Apparatus and Materials, Eastman Kodak Co. (Rochester, NY), dated 1936-1937, ~5½"x7¾", 60pp (pp1-13)
1936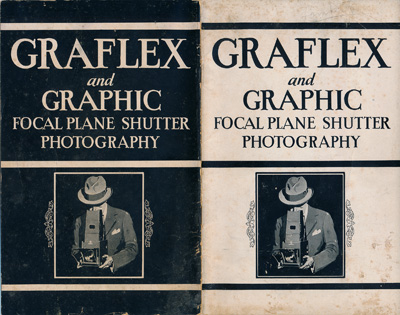 Graflex and Graphic Focal Plane Shutter Photography, Folmer Graflex Corporation (Rochester, NY), dated Third Revision 1936, ~5½"x8½", 24pp (complete)
c.1936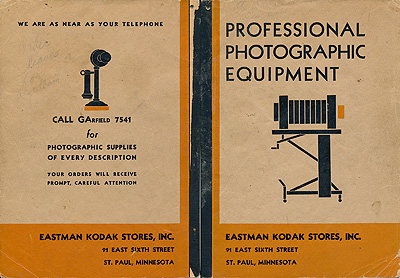 Professional Photographic Equipment, Catalogue No. 36, Eastman Kodak Stores, Inc. (St. Paul, MN), undated c. 1936, ~7½"x10½", 80pp (cameras & lenses pp1-19)
1937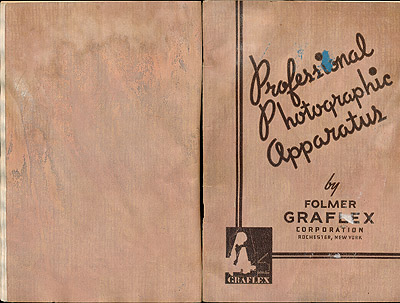 Professional Photographic Apparatus, Folmer Graflex Corp. (Rochester, NY), dated Aug. 1, 1937, ~6"x9", 32
1938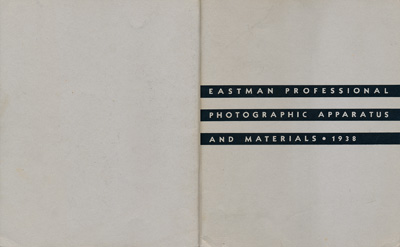 Catalogue of Eastman Professional Photographic Apparatus and Materials, Eastman Kodak Co. (Rochester, NY), dated 1938, ~8½"x10½", 64pp (pp1-11; 26-31; 34-35)